Exploring the Hidden Beaches of Puerto Rico – Playa Colora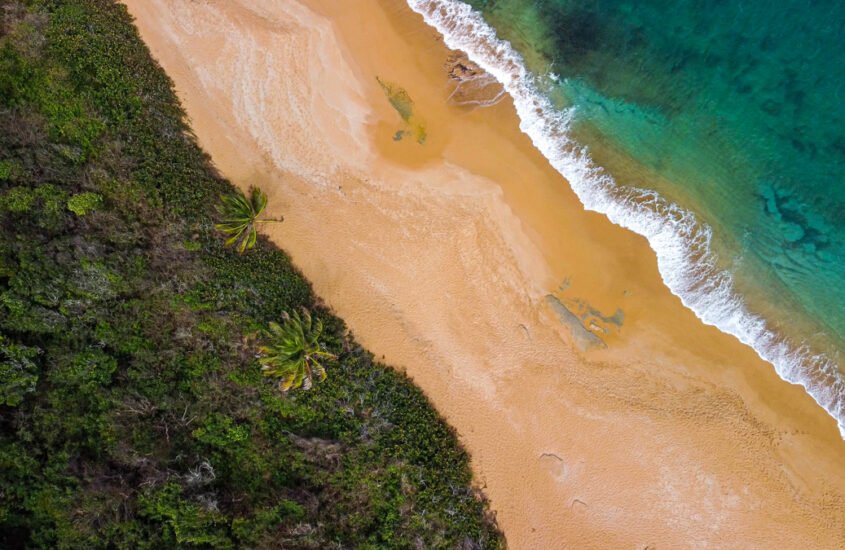 Best Hidden Beaches in Fajardo, Puerto Rico
If you're beach people like we are then here are two great beaches that don't get a lot of attention in the Fajardo area! After our preliminary research on both beaches by reading Google Reviews and TripAdvisor we still were not sure if we would like them. Let's just say the pictures we were seeing did not do them justice. These beaches make you feel like you're on a deserted tropical island!
Location and getting there
In this article we are talking about Playa Colora, a "hidden" or "Secret" beach located along the Northeast corner of Puerto Rico in Fajardo. To get to Playa Colora you must first find your way to Seven Seas Beach in Fajardo. It is an easy 45 minute drive East from San Juan. If you don't have a car you may be able to find a tour operator shuttle as Seven Seas is right next to the Cabezas de San Juan Nature Reserve.
Read More about Getting Around in Puerto Rico
If you're looking to travel to Puerto Rico in 2022, here's what you need to know about getting around in paradise! Getting around Puerto Rico is easy once you know
Parking at Seven Seas Beach
Public access to Playa Colora can be found at Seven Seas Beach in Fajardo. Once you have made your way to Seven Seas Beach you have a couple of easy options for parking.
Paid Parking
The easiest is the big paid parking lot (Estacionamiento Balneario Seven Seas) that will run you a few dollars. When we were there it was only open Thursday through Sunday but that was the off season and during Covid. During the busier season and on the weekends it can get quite busy. There is a path from the parking lot down to the beach as well as a food kiosk The House of Pastelillos at the edge of the lot and restrooms too.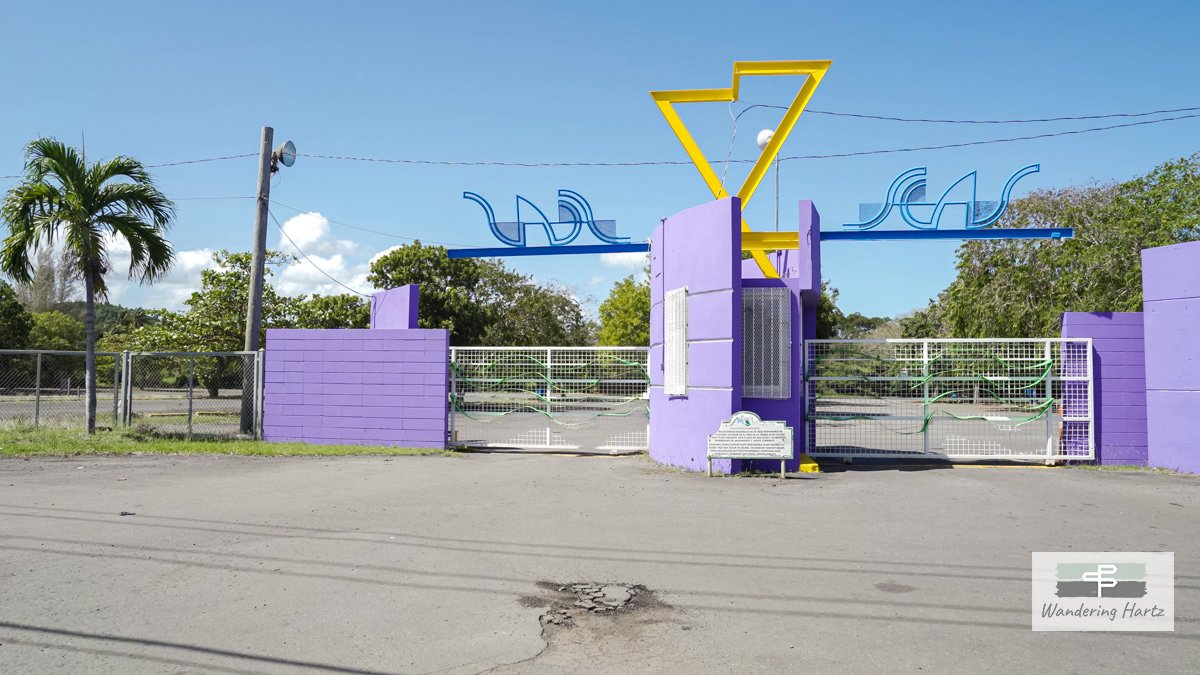 Free parking options
What if you're on a budget and would rather spend the couple of bucks it cost to park on ice cream or a cold beer? Well there are basically two "Free" parking options we found at Seven Seas Beach.
Park along the street
There are a handful of parking spots along Carr Cabezas de San Juan (PR-987) along the right side of the road. The spots are not marked except they are paved and between the white line and sidewalk. These can be found just before the road bends by the Palma Vista Condo complex and continue past the Costa Mia restaurant. Just be sure not to block any driveways, especially to the Condo complex if you don't want your car towed.
If you want to park on the street and not pay we would recommend getting to the beach early on the weekends. Locals and tourists head to the beaches on Saturdays and Sundays so be prepared for it to be busy.
During the week we found it to be much calmer, we usually arrived around 10AM-11AM and were able to find street parking. In the busier seasons your mileage may vary. Another word of caution: be sure to park completely off the roadway or risk being fined, towed or having your car damaged by passing cars. This includes parking on the sidewalks or dirt/grass side of the road despite seeing other cars there. The roads are narrow with no center line marking. We noticed people usually drive down the middle and move over as necessary. Read our article about Driving in Puerto Rico here.
Park in the Unofficial Lots
There are three "unofficial" lots that look like they are empty or abandoned private property that a lot of folks park on when it is busy. We would not recommend this. We spoke with some locals from the area and they were also skeptical about it as well.
What to bring with you
You will definitely want to wear at least water shoes or sturdy sandals as the trail can flood or be muddy after a rain in spots. The trail is easy and mostly level after the first few meters. In those first few meters you will traverse an incline that has ruts before leveling out. Watch for roots along the trail so as not to trip. I nearly did this a few times as I was focused on filming and taking photos!
Make sure to bring a small backpack with water and snacks if you plan on staying for a couple of hours. We recommend a reusable water bottle to help reduce trash. A beach blanket or even a small cooler is a good idea as well.
There are no bathrooms or amenities at Playa Colora or Playa Escondida so be sure to use the restrooms at Seven Seas Beach prior to setting out. Since there are no trash receptacles bring a small bag to place your trash and any you may find and be sure to pack it out.
Finding the trail to Happiness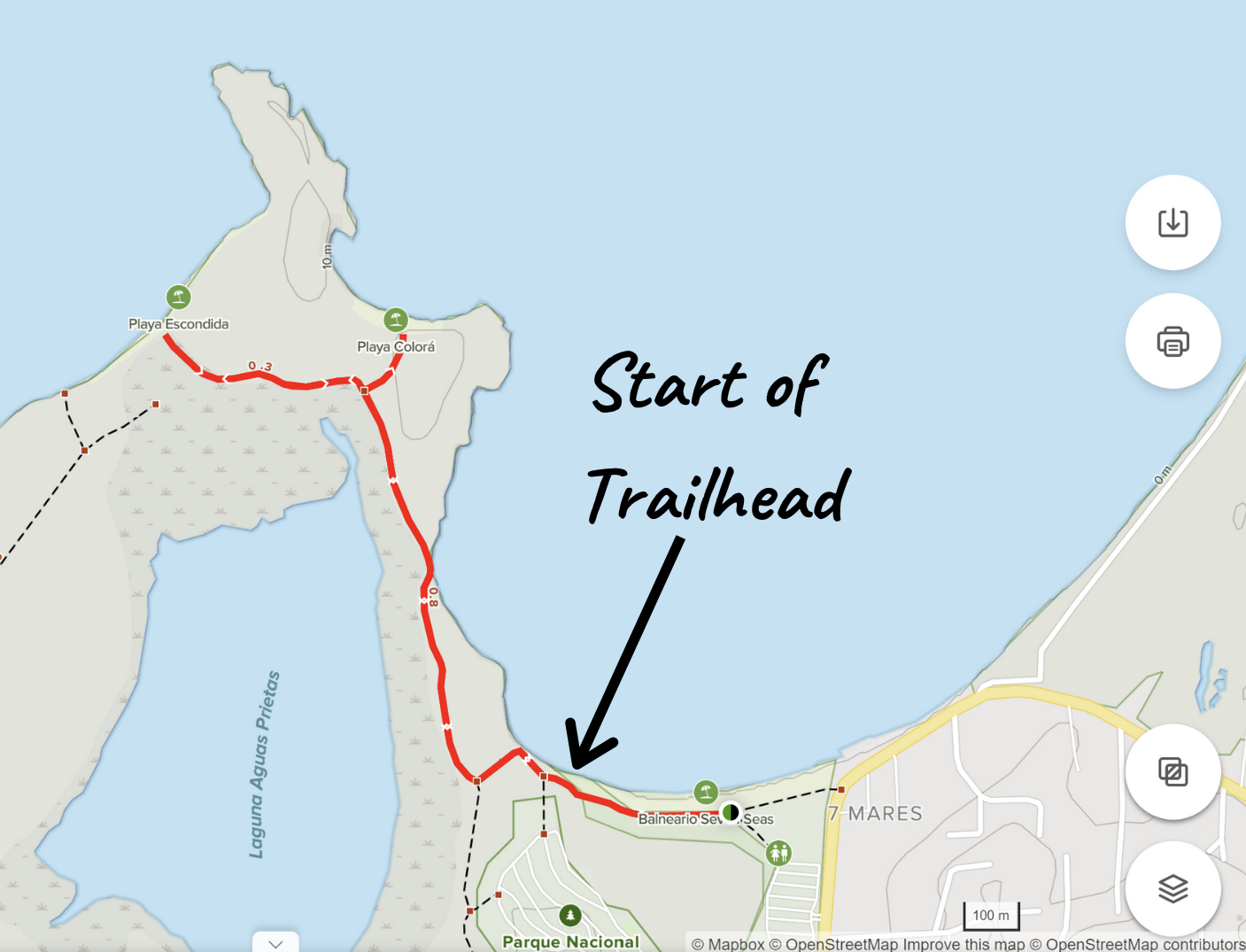 Once parked make your way toward Seven Seas Beach and walk west all the way to the end of the beach (.5 km) until you see a sign that reads "Limite De Seguridad" (Safety Limit) on the right. Here is where you will find the trailhead.
The trail to Playa Colora is an easy, peaceful and mostly shaded 2 km walk there and back. It will take you about 15-20 minutes each way to walk to Playa Colora depending on how much stuff you're carrying and your fitness level.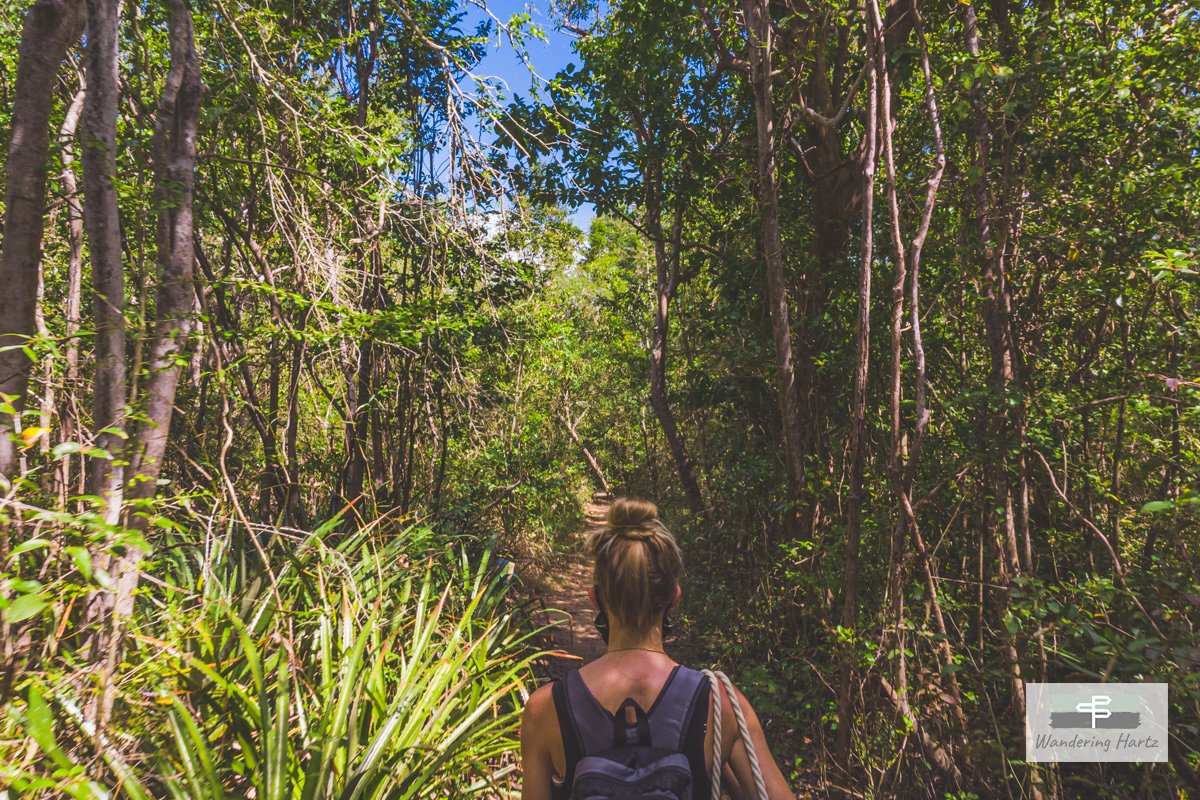 After a few minutes the trail opens up and you can see the Seven Seas Beach back to your right and a short path on your left leading to a cool mangrove tunnel into the neighboring Laguna Aquas Prietas.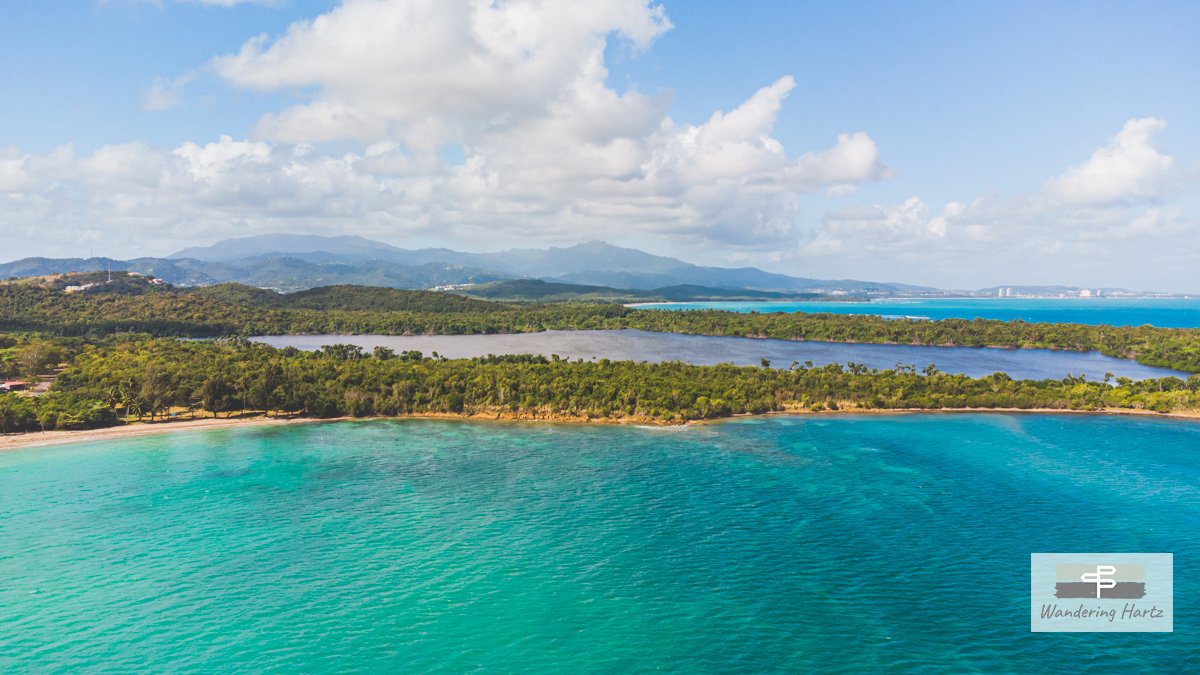 Continue straight ahead as the trail takes you back into the jungle and veers slightly left. You will find yourself walking along the Northern edge of Laguna Aquas Prietas.
Unfortunately there is not a good view of the Lagoon from the trail. You will no doubt find plenty of crabs and birds on the trail as well as some really big termite nests built in the trees.
After another few minutes you'll see a sign on your right hand side for Playa Colora, follow that trail and you'll find the beach! The trail turns to deep sand and gains slightly in elevation as you make your way to Playa Colora so take your time, we are in good shape and it slowed us down especially in the Puerto Rico heat.
Playa Colora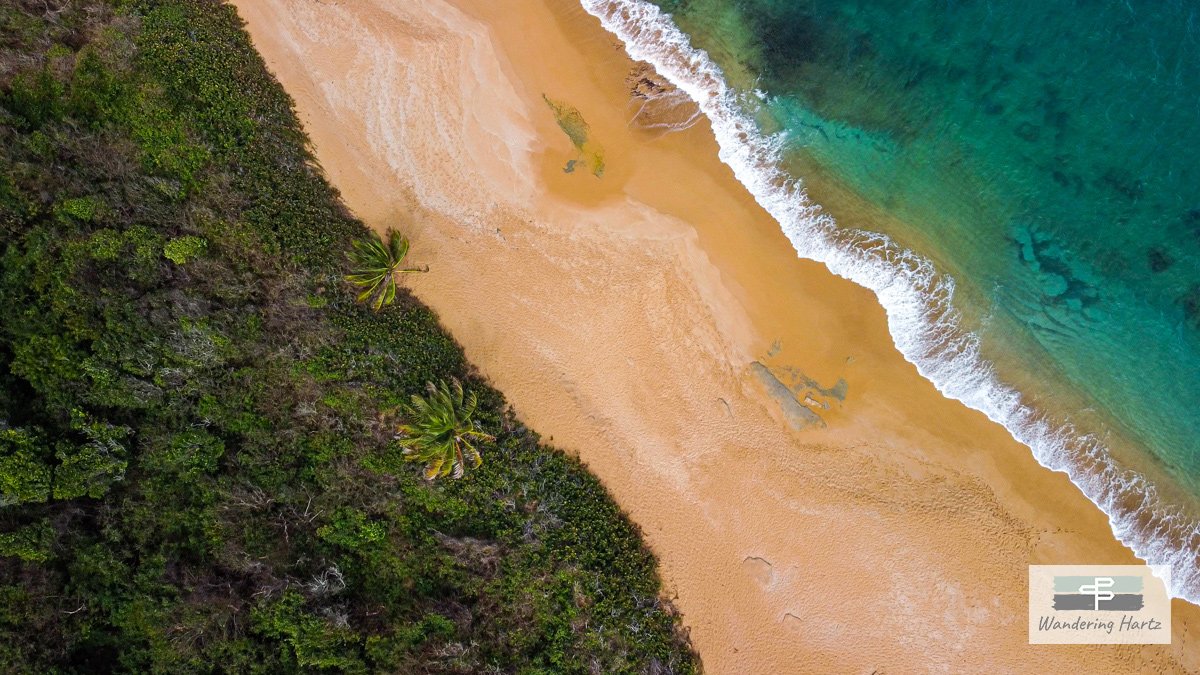 As you exit the trail reddish sand will greet you as you walk to the beach set against beautiful blue water. There's a couple of palm trees on the beach if you need some shade but other than that you will be in full sun. Be sure to pack a beach umbrella, wear a wide brimmed hat, cover up or rash guard if you're concerned about getting too much sun.
TIP: Bring lots of sunscreen and keep applying. Since you're in the Caribbean the sun is very intense.
We went during the week and it was super quiet. Only one other person was on the beach so it felt like we had it all to ourselves.
The waves were pretty strong so we would advise not to get all the way in the water or any swimming at Playa Colora. Rip tides and strong undertows can pull you out to sea or down under the water. If you want to swim we would recommend staying at Seven Seas Beach. It can be quite windy here especially during the winter months.
None the less, we had fun splashing around in the shallow areas and relaxing under a palm tree. It is a fantastic beach for sunning and relaxing.
If you're adventurous you can make your way to the other side of the beach at low tide or climb the rocks over. We watched one local do this and it was very treacherous! We do not recommend it.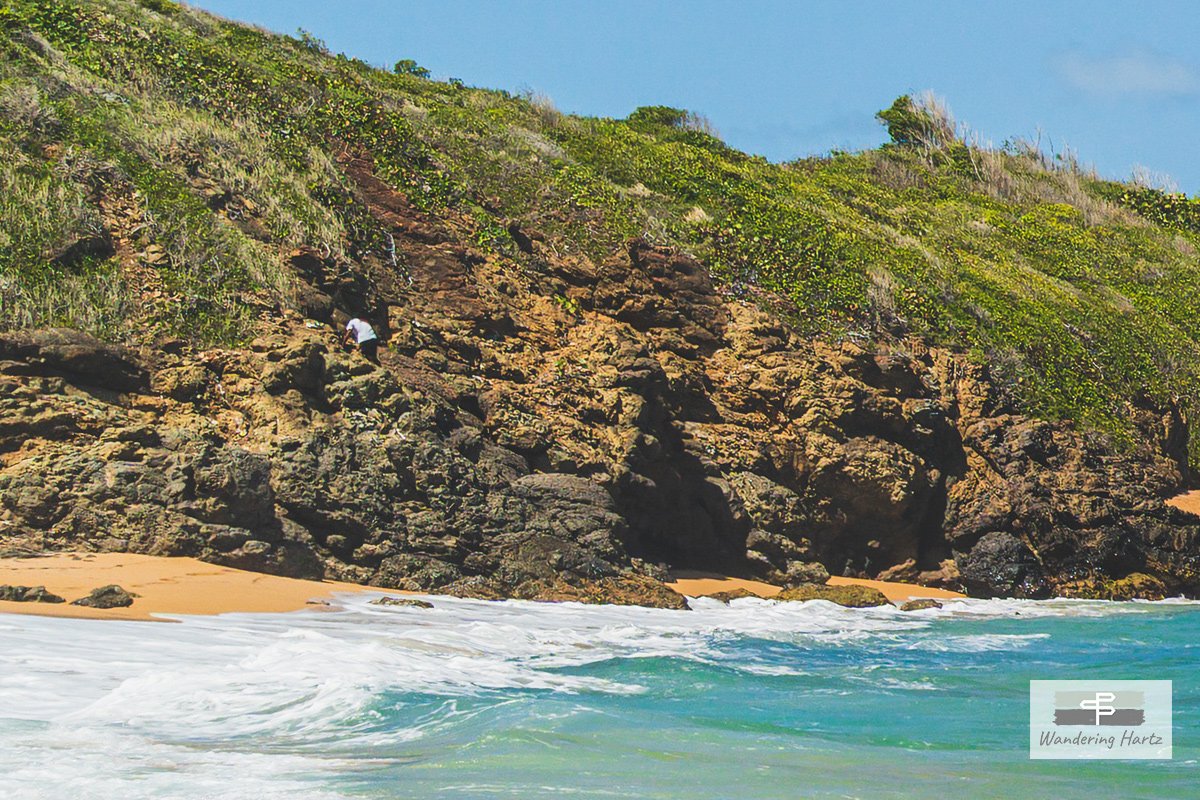 One the other side of the beach there is also a secret little spot in the rocks where the water forms a natural bath. We didn't make it over there but watched that same local do it. It is hidden from view of the beach and so you might find some folks skinny dipping if you do try to find it. So be courteous and give some privacy if you happen across that.
Want to earn up to 60,000 bonus points for travel? We use our Chase Sapphire Preferred card to earn points for all of our travels and you can to. Sign up and you will get 60,000 bonus points after spending $4,000 in the first three months your account is open.
More Tours and Adventures in Fajardo
Stays Near Playa Colora
You also might like another hidden beach in Puerto Rico… Playa Escondida
---
Using our affiliate links (hotels.com, expedia.com, VRBO, Hertz, Chase Sapphire Prefered, Viator, etc.) supports great content on wanderinghartz.com and our Youtube channel.
None of the affiliate links cost you anything or increase the price you pay, and we may earn a small referral commission.
Or if you're feeling generous you can buy us a much appreciated glass of wine (or whiskey)!
Cheers,
Happy Wandering!
Joel and Michelle
What does your perfect beach look like?
Let us know in the comments