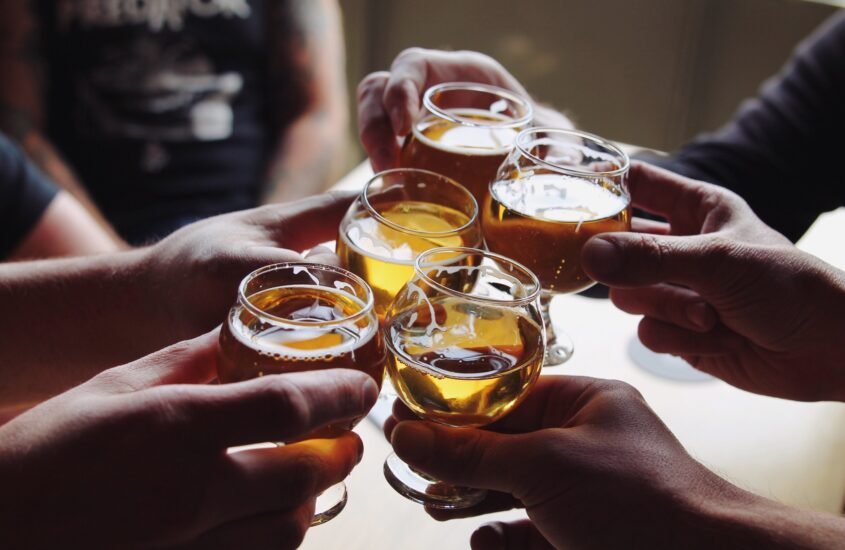 How To Take Advantage of Happy Hour in Las Vegas
It's easy to spend a lot of money in Las Vegas, between all of the fabulous restaurants, shows, and multitude of things to see and do, it can quickly add up. We've come up with a list of helpful happy hour tips to make your money and enjoyment go further on your next visit to Las Vegas. If you're planning a trip to Las Vegas soon read our trip report from the summer of 2021 with helpful tips.
Save some Money and take advantage of Happy Hours in Vegas
Luckily a lot of restaurants in Las Vegas have some kind of happy hour. This can save you quite a bit of money considering most drinks on the Las Vegas strip can run you $10-$25 per drink. Yikes! A lot of restaurants will also have a happy hour menu so be sure to ask your server for one. We've found most happy hours run anywhere from 3pm-6pm during the week often with a late night happy hour as well. Weekends will be a little harder to find but they're certainly out there! We included one in this list, see tip 3.
Want to earn up to 60,000 bonus points for travel? We use our Chase Sapphire Preferred card to earn points for all of our travels and you can to. Sign up and you will get 60,000 bonus points after spending $4,000 in the first three months your account is open.
Some of our favorite Happy Hours in Las Vegas
Without further ado, here are some of our favorite happy hours to take full advantage of in Las Vegas. We tried to balance the list with options all up and down the strip so there should be a happy hour close to wherever you are staying.
Sugar Cane in the Venetian
Happy Hour | Daily 3 PM – 6 PM / Friday & Saturday 10 PM – 12 PM
We love this restaurant for the cool vibe, raw bar and artisanal cocktails. Wine by the glass is $6, Beer/drafts $6, & cocktails will run $7-$8. If you're in the mood for a tasty mojito which is one of Joel's favorite drinks this is the place to try one.
Buddy V's Ristorante in the Venetian
4:30pm – 6:00pm Daily Available at the Bar Counter & High Tops in the Lounge
This is a home-style Italian restaurant with a big bar and lounge area. Drinks will run you $5 which is a great deal and food is $6. Our favorites are the meatballs and eggplant parm.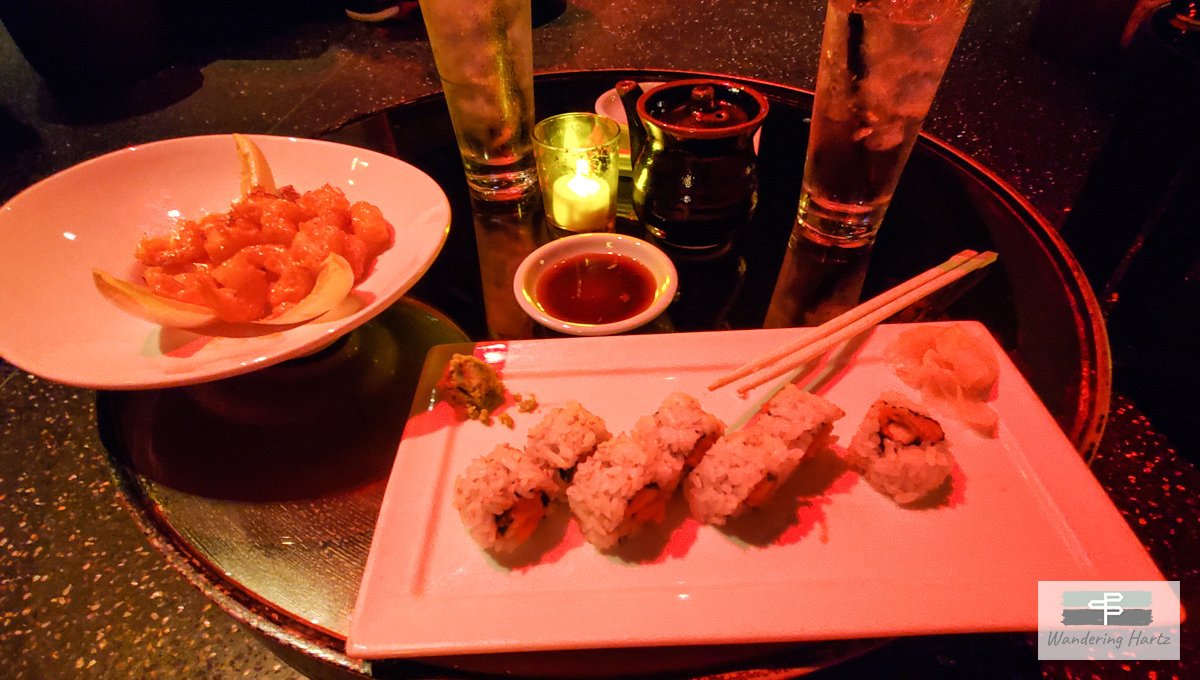 HAPPY HOUR SUNDAY – SATURDAY 5:00 – 9:00 pm
We discovered this restaurant on our most recent trip to Las Vegas in 2021. It's located on "The Mezz" level in Planet Hollywood and serves Japanese inspired cuisine. Their Signature cocktails are $7 with happy hour bites ranging from $6-$10. Try the shrimp Tempura or spicy tuna roll, both were yummy and full sized portions!
Ocean One Bar and Grille in The Miracle Mile Shops
Always 3 For 1 Cocktails $10-All Day Every Day
One of our go-to restaurants for an affordable meal and you can't beat 3 for 1 cocktails for $10! During lunch every meal is $4.99. We've had the grilled salmon and a couple of the pasta dishes and they've all been quite good. This restaurant can get very busy so try to go during off peak times. Maybe a late lunch or early dinner.
Peppermill Restaurant-Located on the Strip across from Resorts World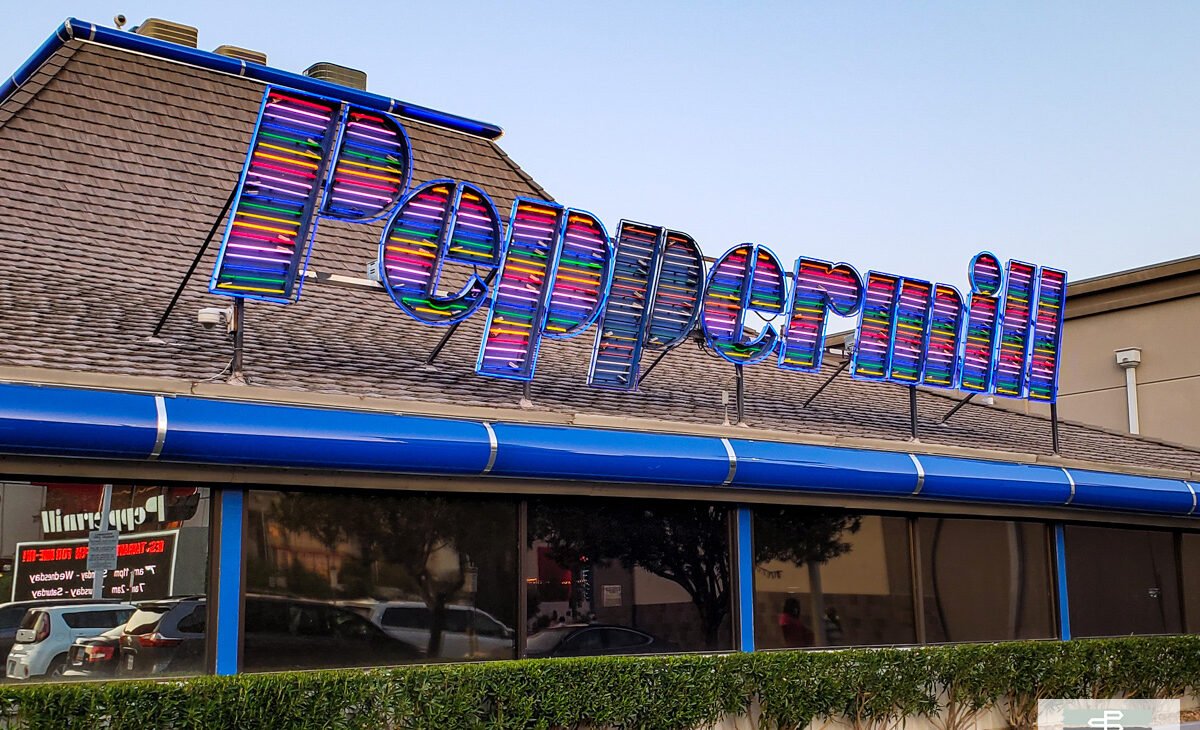 Enjoy Happy Hour every day from 3pm – 6pm. Special pricing on well drinks, select beers, and house wines.
This is old school Las Vegas and has been serving customers since 1972. The inside has a fun kitschy atmosphere with neon lighting, cozy booths and a comfortable bar. It has both a dining side and a cocktail bar side. Check out the Fireside Lounge.
Rí Rá Irish Pub – Located at the South end of the strip at Mandalay Bay
They have daily happy hours specials on beer and drinks. Also 1/2 Price Appetizers at the Bar
JALEO – Located in The Cosmopolitan
TUESDAY – SATURDAY | 5 – 7PM
Serving up authentic Spanish flavor during Sangria Hour, enjoy select tapas starting at $5 each with $8 cocktails & wines by the glass and $6 beer or sangria.
108 Drinks – Located in the Strat
Available from 3-7pm, Monday through Thursday
Happy hour with iconic views feature two-for-one SkyPod admission access and two-for-one cocktails.
Stay Mid Strip for the Most Happy Hour Deals
There's loads more happy hour deals in Las Vegas but this short list will get you started. Most of the deals can be found mid strip at the larger hotel/casinos that have a lot of food options as well places like the Miracle Mile Mall or The Linq Promenade.
You can help us bring you more great content on wanderinghartz.com and our Youtube channel by using our affiliate links like hotels.com, expedia.com, VRBO, Hertz, Chase Sapphire Prefered, Viator and more. 
None of the affiliate links cost you anything or increase the price you pay and we earn a small referral commission.
Or if you're feeling generous you can buy us a much appreciated glass of wine (or whiskey)!
Cheers, and have a safe and wonderful new year full of travel and new experiences!
Happy Wandering!
Joel and Michelle