Our First Trip to Hawaii exploring waikola and hawi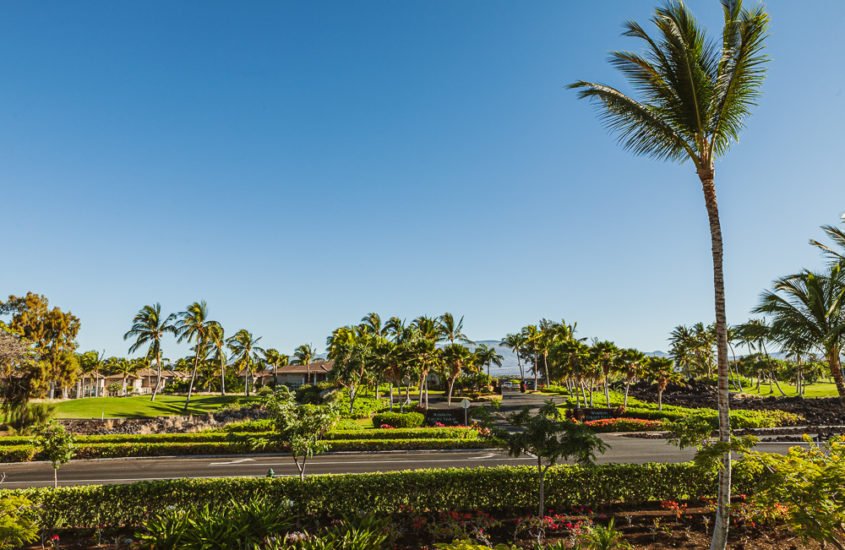 Hawaii had always been on our bucket list so when we got the opportunity to go to The Big Island in 2012 we said YES! We flew into Kona International Airport and as we stepped out of the plane and onto the tarmac we were welcomed by the warm Hawaiian air.
It felt amazing! After being cooped up in a cold plane for the last 6 hours I was finally able to take off my sweatshirt!
Tip: wear layers on the plane, especially if you're coming from a cold climate. Almost everything in Hawaii is open air, even the airport so you'll definitely get hot waiting for luggage or picking up your rental car if you're all bundled up like I was.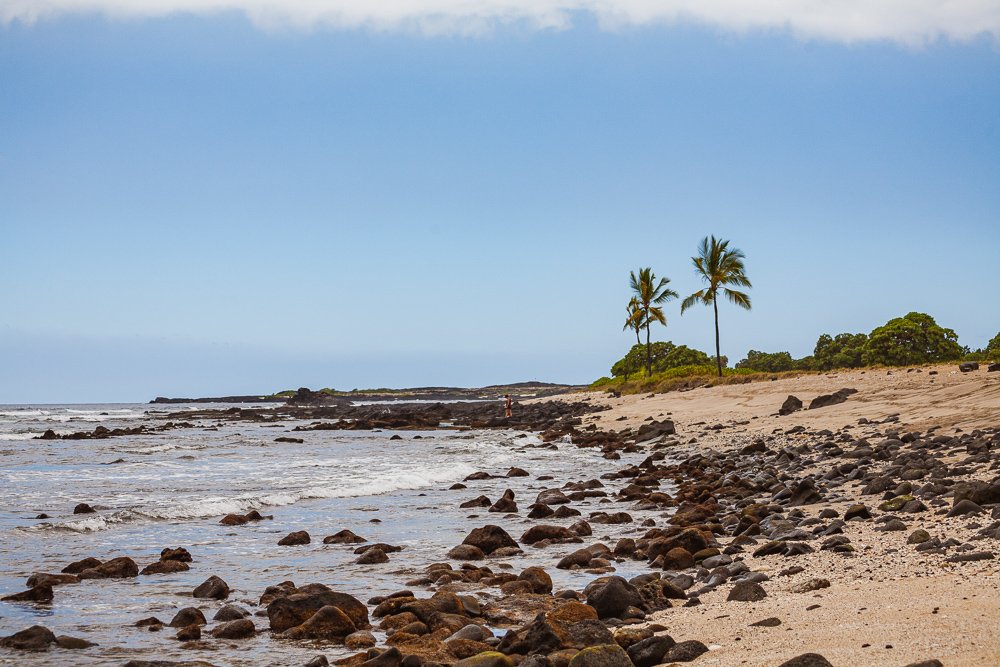 From Kona it was an easy car ride north of about 30 minutes to Waikoloa Village to get checked into our hotel Kohala Suites by Hilton Grand Vacations.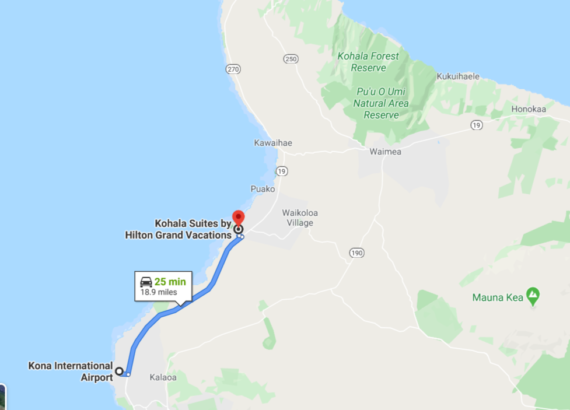 Our first week was spent exploring Waikoloa Village and the west side of the island. Since we had access to a free shuttle courtesy of our hotel we visited some of the other resorts close by.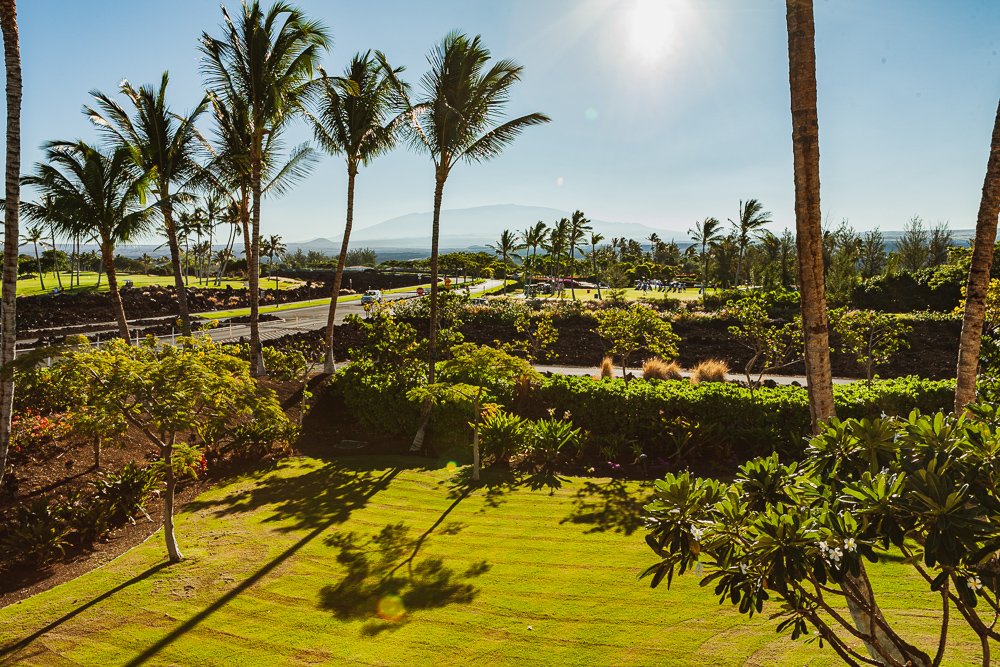 We spent some time at the beautiful beachfront Hilton Waikoloa Village, a sprawling oceanside resort with pools, a lagoon and multiple restaurants with epic views. We took advantage of the pool and the tasty drinks from the bar.
The shuttle will also take you around to Kings Shops and Queens Marketplace where you can find a Whalers's General Store, grocery and more restaurants.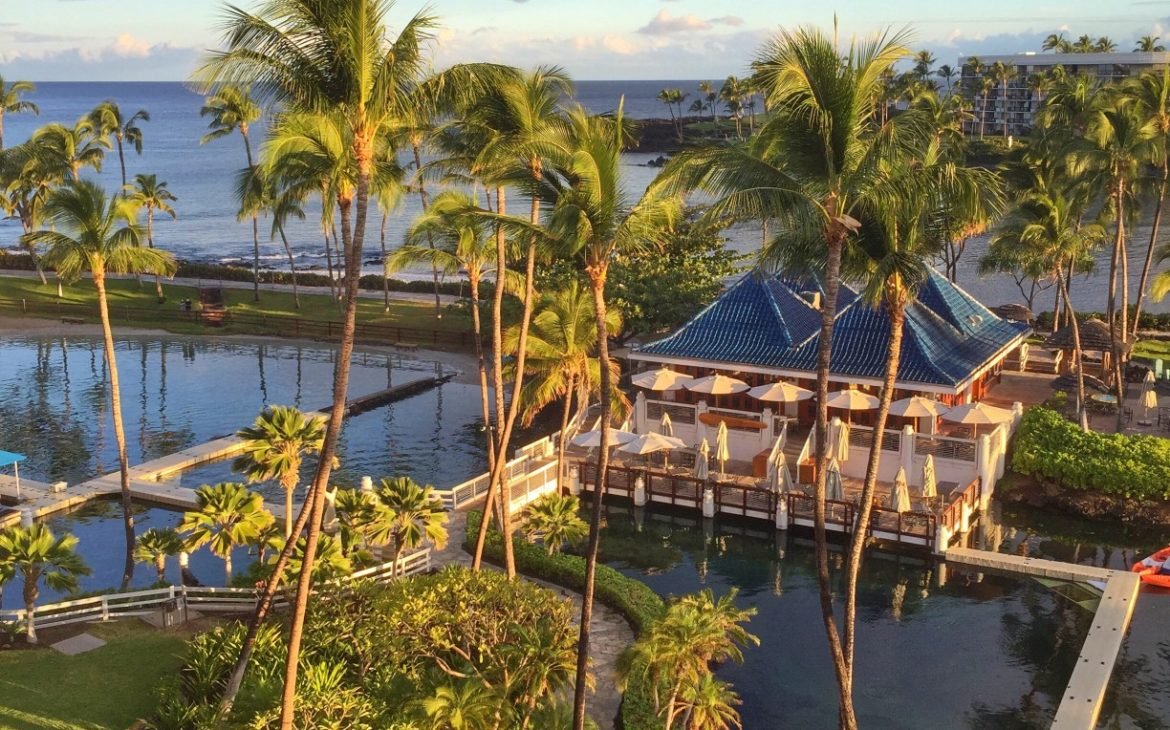 Our Favorite Beach
Driving along Old Puako Rd. we stumbled upon a secluded white sand beach, perfect for snorkeling, sunbathing and swimming. The water was calm, and warm and Joel ended up snorkeling in the ocean with his dad.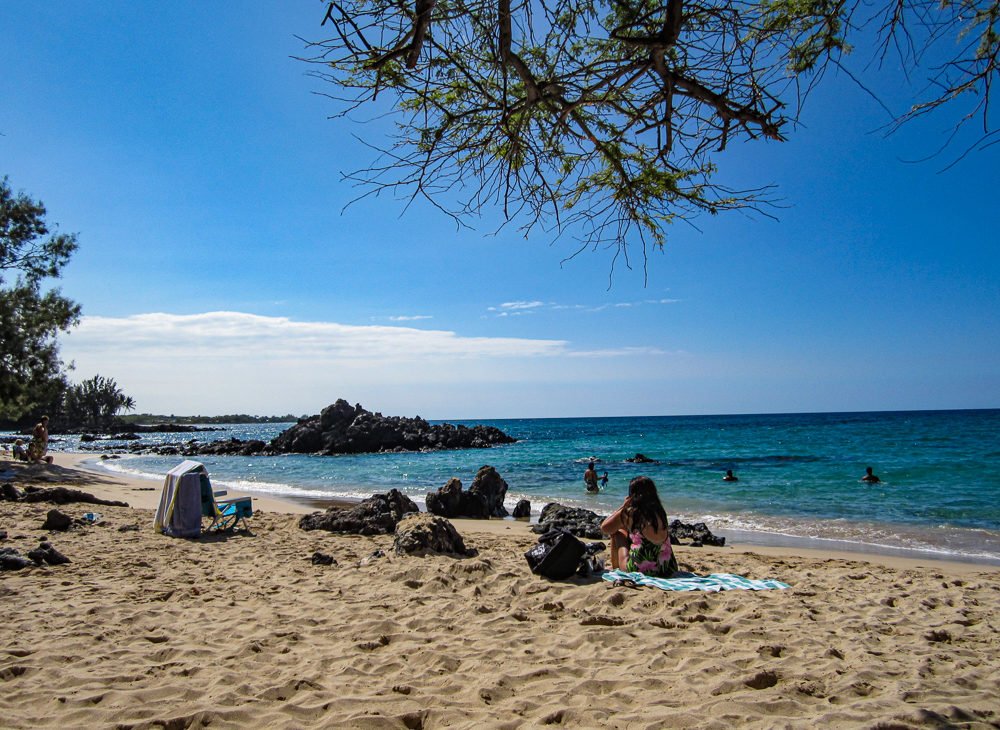 A huge bonus for this beach is it's shaded! Great for someone who has to stay out of the sun (like me!) or if you forget your beach umbrella. We loved this beach so much we went back a couple of times, usually in the morning when the temperature was mild and not as many people were there. We will definitely be going back to this beach again on our next visit to the Big Island.
Our First Luau
Another first for Joel and I was to experience a Luau. Smoked meat, lots of food, dancing with fire and learning about Hawaiian traditions and culture, what's not to love! There are several Luau options on the Island and we took a tip from Joel's parents and decided to go with the Haleo Luau at the Sheraton Kona Resort and Spa at Keahou Bay.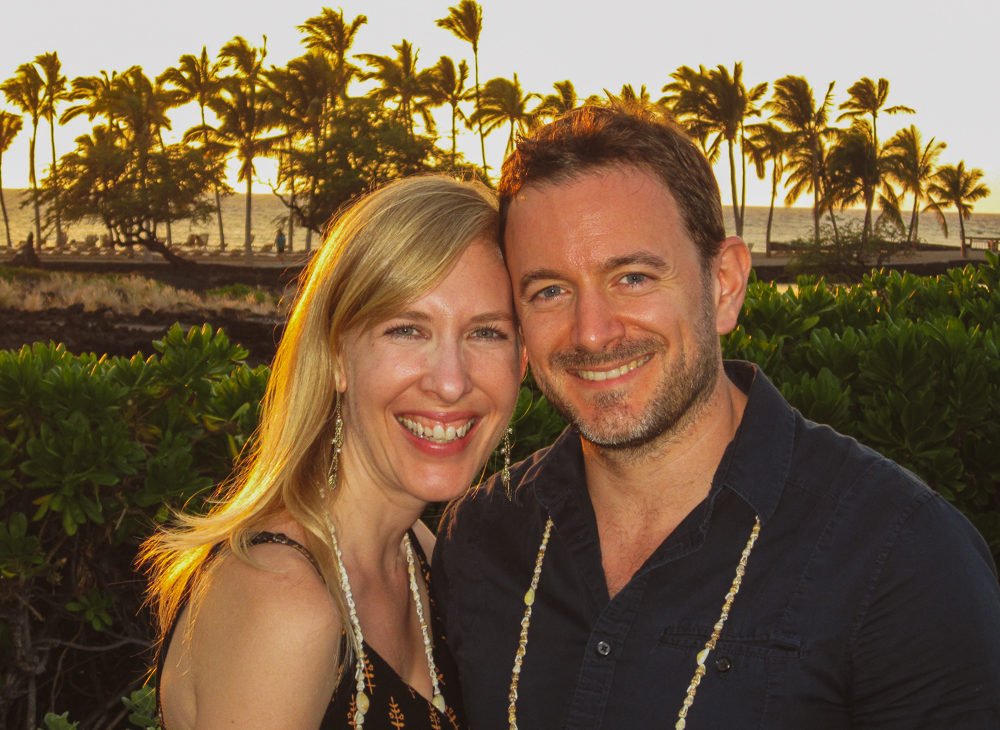 We were not disappointed! The open air location was so beautiful, set close to the ocean with palm trees swaying in the breeze. The setting is perfect to experience a stunning sunset as dinner transitions into the Luau show. Shows are held every Monday and Friday with seating beginning at 5:30pm.
Tip for the Luau, there is an open bar which is great but it only lasts from 5:30pm-7:30pm so just make sure to keep track of time. You can't miss it, as the line immediately forms once you walk in, so get there early if you want to partake of the more festive drink offerings.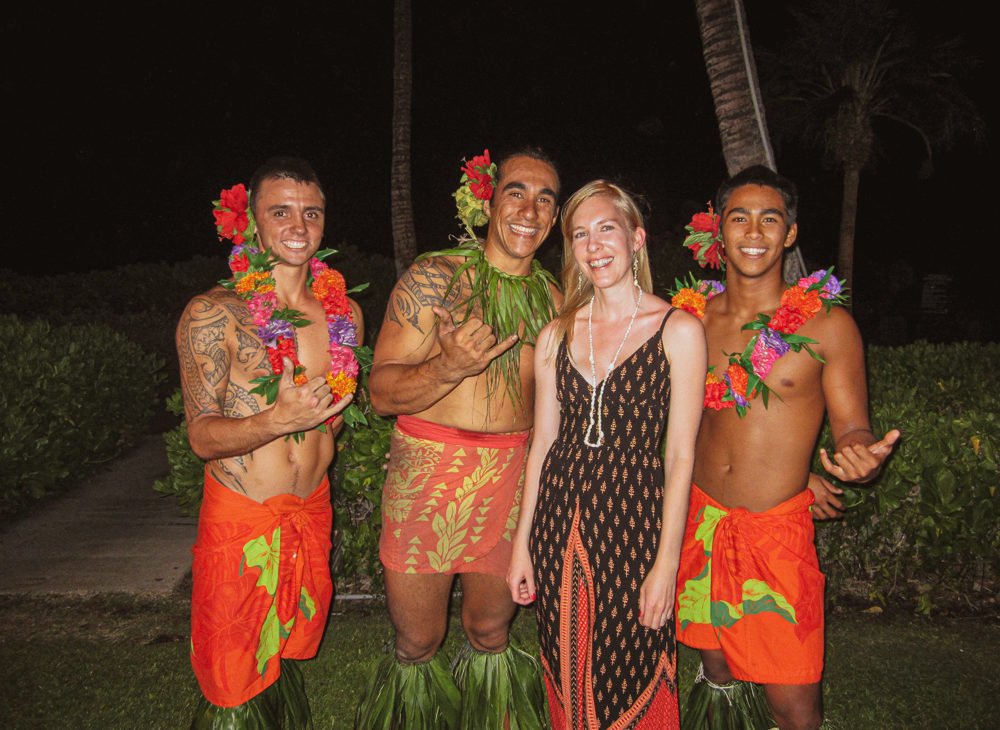 Zip lining the Halawa Gulch
Another fun adventure took us up to the northwest side of the island. Joel and his dad wanted to go ziplining so they booked a tour with Kohala Zipline in Hawi. The tour we took was about 3 hours long beginning at their main office. They also have a full day tour available that even takes you to some waterfalls.
You are fitted up with helmets and a harness at the main office after check in which includes the obligatory wavier that all fun requires these days. Afterwards they drive you a short distance to the zip lines where the adventure begins. The course was a blast with several long zip lines taking you through the lush green canopy.
Tip for the tour, it gets quite humid in Halawa Gulch so be sure to bring some anti fog for your action camera if you have an underwater housing.
Shopping in Hawi
While Joel and his dad ziplined I hung out in the town of Hawi with Joel's mom and strolled around, visiting the cute artist boutique shops and jewelry stores.
Be sure to check out Aloha Man, Elements Jewelry and Fine Crafts, As Hawi Turns, and if you need an afternoon snack grab coffee or ice cream at Kohala Coffee Mill.
A couple of other attractions to check out in Waikoloa.
More to come from Hawaii
That's it for the west side of the island, obviously there's a lot more to do than just what I've listed here but this will definitely get you started. There's so much to experience on the Big Island of Hawaii that we'll have a couple of other posts dedicated to Volcano National Park, the Black Sand Beaches and what to do in Kona.