Seven Seas Beach In Fajardo Amazing Views, Good Eats And Family Fun
Seven Seas Beach is one of the most popular beaches in Fajardo, Puerto Rico with beautiful turquoise water and calm seas for swimming and snorkeling. Known locally as Balneario Seven Seas it is part of the Parques Nacionals.
If you're curious about traveling to Puerto Rico and how to get around the island check out our other articles here.
Where is Seven Seas Beach?
Seven Seas Beach is in Fajardo, Puerto Rico, an easy 45 minute drive East from San Juan. It is located along the North East corner of the island facing North to the Atlantic ocean just beyond Bahia las Cabezas. It is just a few minutes outside of Fajardo, the main city on the east side of Puerto Rico.
Since our VRBO was only about 5 minutes from Seven Seas this was our go-to beach for hanging out and relaxing.
How to get to Seven Seas Beach
The easiest way to get to Seven Seas Beach Park in Puerto Rico is by car.
Cars can be rented in many cities around Puerto Rico but your largest selection will be in San Juan at the airport. If you don't have a car you may be able to find a tour operator shuttle as Seven Seas is right next to the Para La Naturaleza Las Cabezas de San Juan.
Additionally you can hire private ground transportation or take a taxi. You can expect to pay around $160 or more round trip to San Juan.
If you're looking to travel to Puerto Rico in 2022, here's what you need to know about getting around in paradise! Getting around Puerto Rico is easy once you know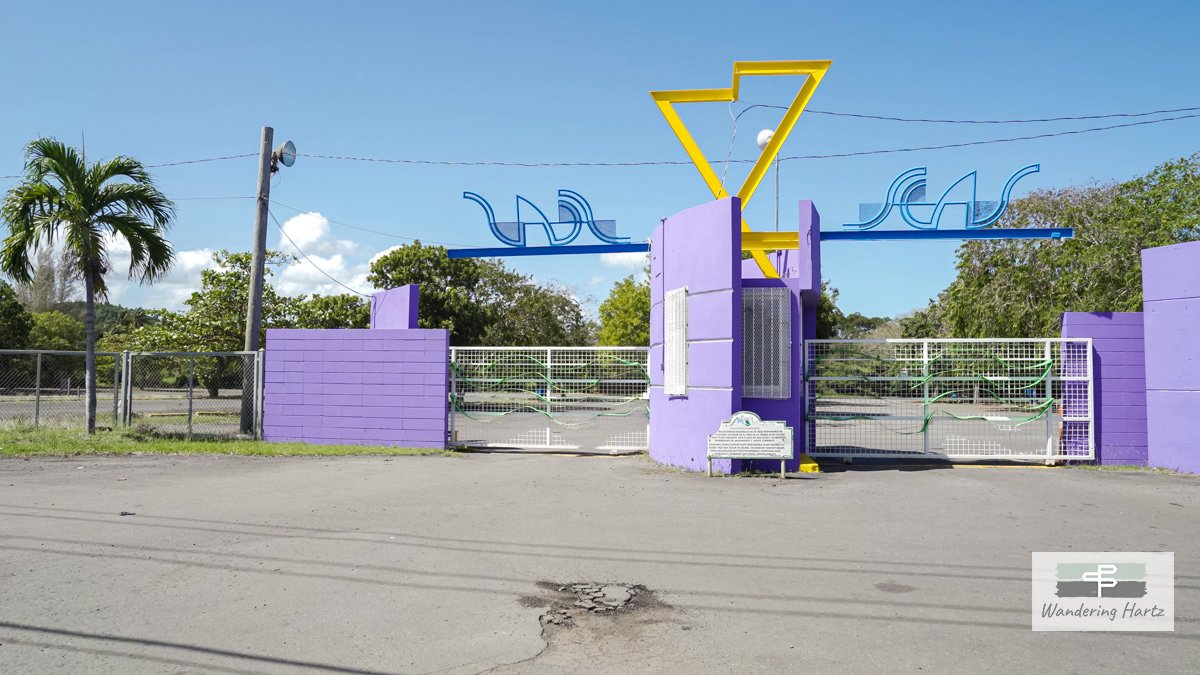 Parking at Seven Seas Beach
Once you have made your way to Seven Seas Beach you have a couple of easy options for parking.
The parking options are also the same for Playa Colora and Playa Escondida. Click the links to read more about two of Fajardo's lesser known beaches.
Paid Parking
The easiest is the big paid parking lot (Estacionamiento Balneario Seven Seas) that will run you a couple of dollars. When we were there it was only open Thursday through Sunday but that was the off season and during Covid. During the busier season and on the weekends it can get quite busy.
Free parking options
What if you're on a budget and would rather spend the couple of bucks it cost to park on ice cream or a cold beer? Well there are basically two "Free" parking options we found at Seven Seas Beach.
Park along the street
There are a handful of parking spots along Carr Cabezas de San Juan (PR-987) along the right side of the road. The spots are not marked except they are paved and between the white line and sidewalk. These can be found just before the road bends by the Palma Vista Condo complex and continue past the Costa Mia restaurant.
Just be sure not to block any driveways, especially to the Condo complex if you don't want your car towed.
If you want to park on the street and not pay we would recommend getting to the beach early on the weekends. Locals and tourists head to the beaches on Saturdays and Sundays so be prepared for it to be busy.
During the week we found it to be much calmer, we usually arrived around 10AM-11AM and were able to find street parking. In the busier seasons your mileage may vary.
Another word of caution: be sure to park completely off the roadway. Otherwise you risk being fined, towed or having your car damaged by passing cars.
This can be an issue especially during busy days as the roads are narrow with no center line marking. This includes parking on the sidewalks or dirt/grass side of the road despite seeing other cars there.
Read our article about Driving in Puerto Rico here.
Park in the Unofficial Lots?
There are three "unofficial" lots that look like they are empty or abandoned private property that a lot of folks park on when it is busy.
Despite looking tempting we would not recommend this.
We spoke with some locals from the area and they were also skeptical about it as well. Our suggestion is to error on the side of caution.
The last thing you want, would be trying to figure out where you rental car went after a day at the beach.
Want to earn up to 60,000 bonus points for travel? We use our Chase Sapphire Preferred card to earn points for all of our travels and you can to. Sign up and you will get 60,000 bonus points after spending $4,000 in the first three months your account is open.
Seven Seas Beach A Family Friendly Beach
If you're looking for a family beach day, Seven Seas is perfect. There are BBQ/picnic areas, bathrooms, showers, food nearby and you can even camp at the beach for $10 a night per person.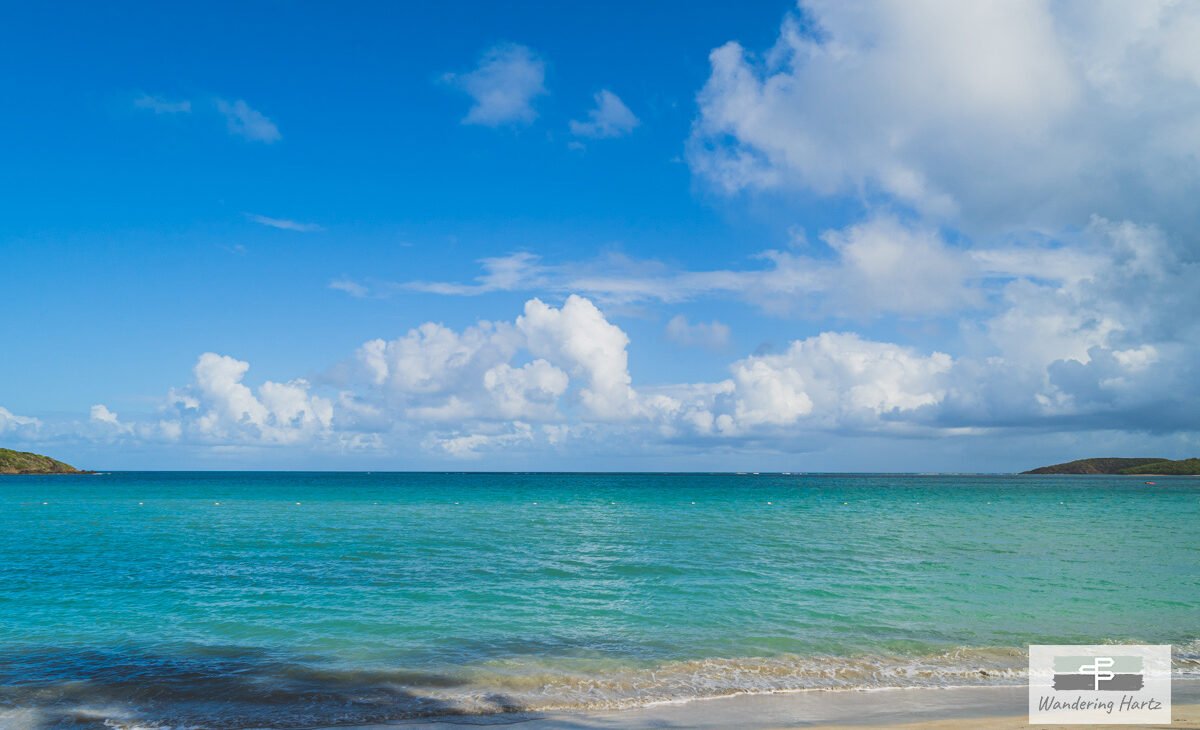 Seven Sea Beach is a crescent shaped sandy beach protected from the Atlantic ocean. The beach itself isn't as wide as some of the other's we've visited but there's still plenty of room to spread out.
The water is warm and calm pretty much all year round. There is even a swimming area roped off perfect for little ones.
There are twenty covered shelters you can rent at the park as well if you have a larger group. Reservations for the shelters are $10 ("toldos y canopies pagan $10"). The large open grassy areas are perfect for picnicking, kids to play or get some exercise.
TIP: Seven Seas is very busy on the weekends so if you're looking for a quieter experience come during the weekday.
One huge draw to Seven Seas beach are all of the trees that line the beach offering plenty of shade. Those trees also make for a perfect place to string a hammock for a relaxing view.
Make sure to bring sunscreen if you plan to be in the sun or swimming as the Caribbean sun is quite intense.
Where to grab some Food at Seven Seas Beach Park
If you would rather not picnic at the beach and grill your own food on one of the BBQ grilles you're in luck. At the edge of the parking lot you can find a food kiosk and The House of Pastelillos. There is even a nice path that runs from the main parking area to the beach.
A short walk along the sidewalk toward the other side of the Bay will take you to Costa Mia, another super popular spot for food and drinks. This is also where you can rent stand up paddle boards, but more on that in a minute.
If food trucks are your thing then just down the road from the beach you will find the 7 Seas Food Park. It is an easy 5 minute walk there from the Seven Seas Parking lot. As of writing this article it's open Friday, Saturday, and Sunday with multiple food truck options to satisfy your hunger.
Water Sports at Seven Seas Beach
Just a hundred yards down the street from the main part of Seven Seas Beach you can find vendors that offer snorkeling gear, stand up paddle boards, and kayaks to rent. Perfect for exploring the bay a bit more.
Relaxing is more your speed? You can even bring an inflatable floatie and chill on the water with drink in hand. FYI there are a few watersports shops and a small Walmart in Fajardo where you can buy snorkels, floatie's, masks and more.
Just note that surf and body boards are not permitted at Seven Seas Beach. Other sports like volleyball and baseball must use designated areas.
We had such a great time in Fajardo visiting some of the most beautiful beaches on the east side of the island. If you're looking for a day trip from San Juan or you're staying in the area we would highly recommend you visit all three beaches, Playa Colora, Playa Escondida, and Seven Seas!
You can see all three in a single day if you are more of an explorer than sunbather and even have time for a lovely Pina!
More to do near Seven Seas Beach
Playa Colora and Playa Escondida, two more secluded beaches just a short hike from Seven Seas Beach.
Para La Naturaleza Las Cabezas de San Juan, famous for the Bio Bay Fajardo, Faro Las Cabezas de San Juan, and more hiking trails.
Parque De Niños Activos, a kids park right next to Seven Seas Beach Park
78 Pueblos y 1 Bandera – Fajardo, a small park with multiple restaurants and parking that overlooks the water. There is a giant watch tower painted with the Puerto Rico flag on it, perfect for a instagram shot.
Stays In Fajardo, Puerto Rico
Using our affiliate links (hotels.com, expedia.com, VRBO, Hertz, Chase Sapphire Prefered, Viator, etc.) supports great content on wanderinghartz.com and our Youtube channel.
None of the affiliate links cost you anything or increase the price you pay, and we may earn a small referral commission.
Or if you're feeling generous you can buy us a much appreciated glass of wine (or whiskey)!
Cheers,
Happy Wandering!
Joel and Michelle