Cost of Living Saranda, Albania as Digital Nomads
We stayed for two months in the resort town of Saranda/Sarandë on the Albanian Riviera. As digital nomads and full-time slow travelers, we work from our laptops while exploring the world and enjoying life abroad.
In this article, we'll give you an idea of our cost of living expenses in Saranda, Albania, so you can decide if it's the right place for you to live a more abundant life.
Where is Saranda, Albania?
Saranda is a beautiful coastal city located in the southern part of Albania, known for its picturesque beaches and thriving tourism industry. It's only an hour away by car from the Greek border and a 30 minute ferry ride from Corfu, Greece.
Visa Free Travel to Albania
First off, if you're an American passport holder then you can take advantage of the special relationship the United States has with Albania. You see as an American you get visa free travel to Albania for up to one year upon arrival.
This is a pretty big deal especially if you're a digital nomad or slow traveler. During our time living in Saranda we even met several other Americans living in Albania or were in the process of becoming residents.
Beware of High Season in Saranda, Albania
We lived in Saranda Albania in the off season during the months of April and May. This is important to note as the costs of nearly everything increase during the summer high season. The high season generally begins around mid June and ends about the middle of September in Saranda, Albania.
How high will the costs increase? Well, housing nearly triples, dining costs go up about 20 – 30% and the local taxi rates go up nearly 30% as well.
Living in Saranda, Albania
Whether you are considering moving to Saranda or simply planning a visit, understanding the cost of living is essential for managing your budget effectively.
We'll explore the various aspects of daily life in Saranda, including housing, transportation, food, and entertainment, to give you a comprehensive overview of the expenses you can expect during your stay. So, let's dive right in and discover the cost of living in Saranda!
What does it cost to live in Sarande, Albania?
Before we head to a new place, we like to check out Numbeo and Nomad List to get an idea of the cost of living.
According to Numbeo, it's estimated that two people would spend around $1,100 per month, including rent, living in Albania.
Over on Nomad List there is no listing for the city of Saranda. The closest pricing we have is for Tirana, the capital of Albania. If you're a digital nomad living in Tirana, Nomad List estimates the cost of living to be around $1,800 per month, also including rent.
Keep reading to see how much we spent living in Sarada, Albania as digital nomads and if those estimates are accurate.
How Much is it To Rent an Apartment in Saranda, Albania
Unfortunately, our go-to booking platform Flatio.com didn't have any apartments available in Saranda during the time of our stay.
So, we ended up booking an apartment through Airbnb for our first month in Albania. It was a small one-bedroom place, and we paid $680 for it. Actually we paid for a 2 bedroom at that price but since we got sick right before our original reservation we had to cancel. Long story short, we rebooked months later and the apartment we rented was no longer available.
We totally overpaid for our first month.
After meeting other fellow nomads and expats living in Saranda and getting the low down on the best areas to stay in Saranda we decided to move to another apartment after our 30 days were finished in our Airbnb.
For our second month, we found a local landlord who had a much better deal for us. We got a bigger one-bedroom apartment in a more convenient location, and it only cost us $460 for the month of May. And the best part? All utilities and fiber internet were included in that price and this time the stove worked.
| | | | |
| --- | --- | --- | --- |
| | OUR COSTS | LOCALS COST (NUMBEO) | NOMAD LIST |
| Rent 1st Month | $680 | $300 | $1400 |
| Rent 2nd Month | $460 | $300 | $1400 |
| Utilities | included | $87 | included |
More Accommodations options in Saranda, Albania
Grocery Costs in Saranda, Albania?
With an offseason population of over 30,000 people we were a bit surprised to not see more larger grocery stores in Saranda.
Getting the hang of grocery shopping took us about two weeks. There are lots of small markets selling fresh produce like veggies and fruits which we found was the cheapest and best way to buy those products.
You can also find larger stores like Planet Market and Big Market, where you can find a wider variety of products including household items.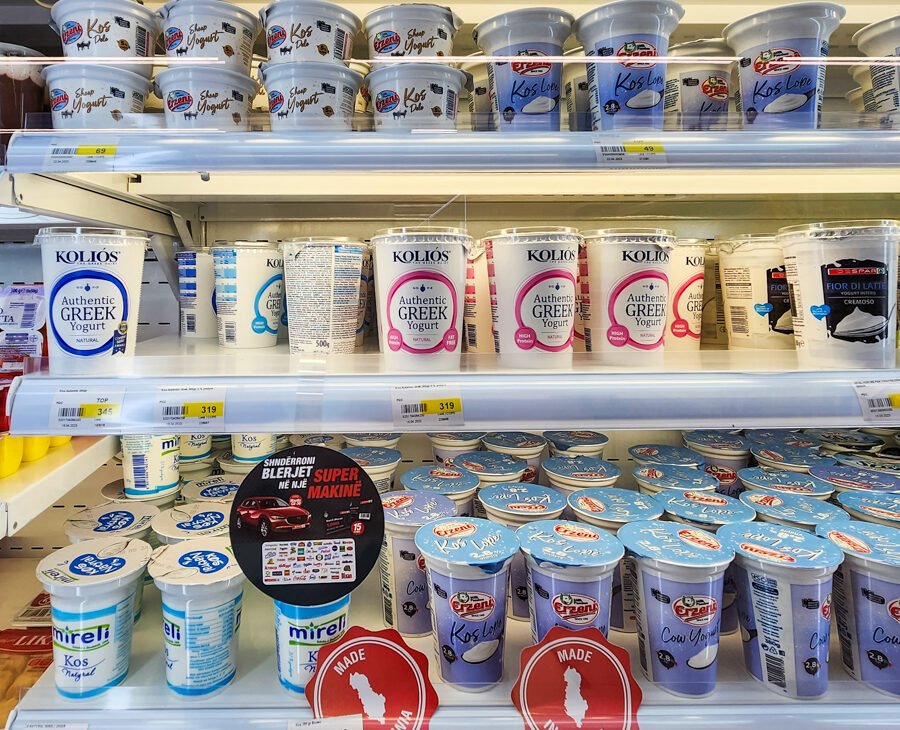 But here's the good news: in the Kodrra area of Saranda, we found a Spar that carried our favorite Greek Yogurt and had more choices of cheese, pasta, and frozen items we were used to. So that was a nice find.
Groceries in Albania vs. United States
Our grocery costs cover a wide range of essentials including breakfast, snacks, adult beverages such as beer or wine, as well as household items like toilet paper and detergents.
When comparing the prices to those in the United States, we have discovered that groceries in Albania are generally more affordable.
Even though grocery prices are more affordable in Saranda vs. the United States, we still found the grocery costs in Saranda were a bit higher than we expected. Since Saranda isn't part of the European Union, import costs are higher, which can drive up prices.
And since it's a resort town, you can expect even higher prices.
TIP: You will want to have plenty of cash in Saranda. Most business do not accept Credit or Debit Cards.
There's also a store called Cash & Carry where we found the best deals for wine, beer, snacks, coffee and other beverages.
| | |
| --- | --- |
| Groceries (Includes beverages, Alcohol, snacks, breakfast and household) | $310.96 |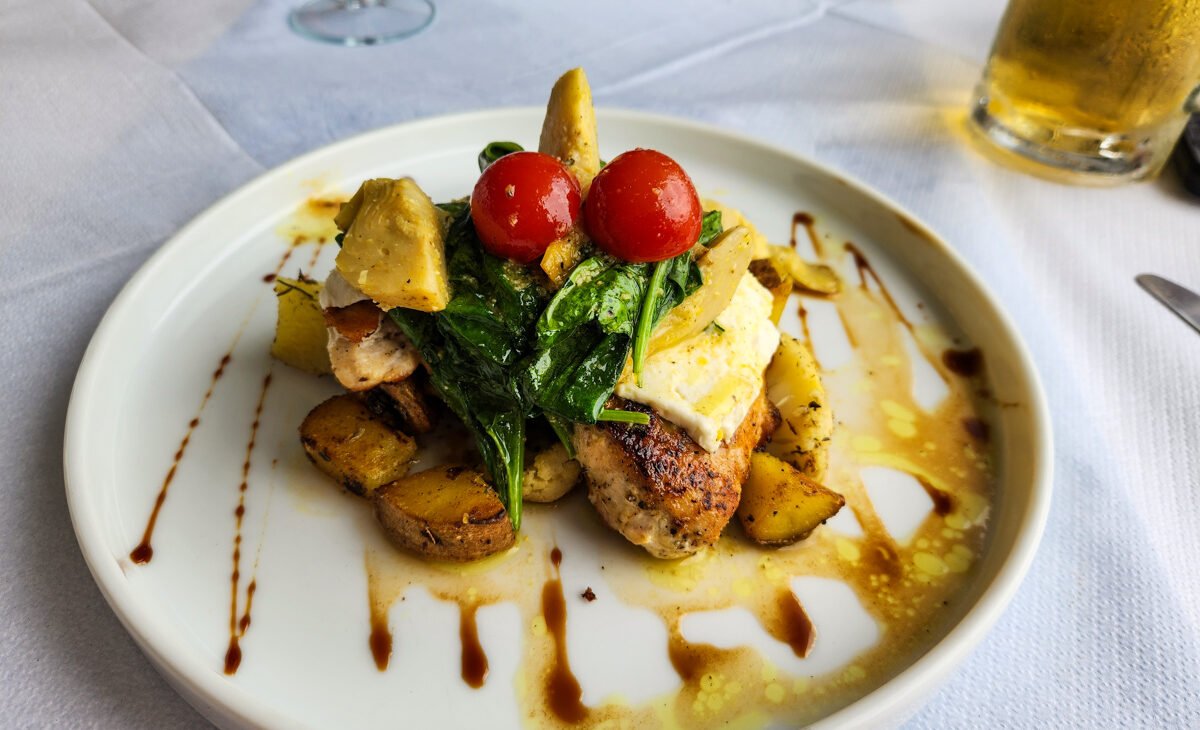 How Much Does it Cost to Dine Out in Saranda, Albania?
As you can tell from our spending, we had a great time dining out in Saranda! Our apartment kitchen was tiny with only one working burner, so it was much easier for us to eat out.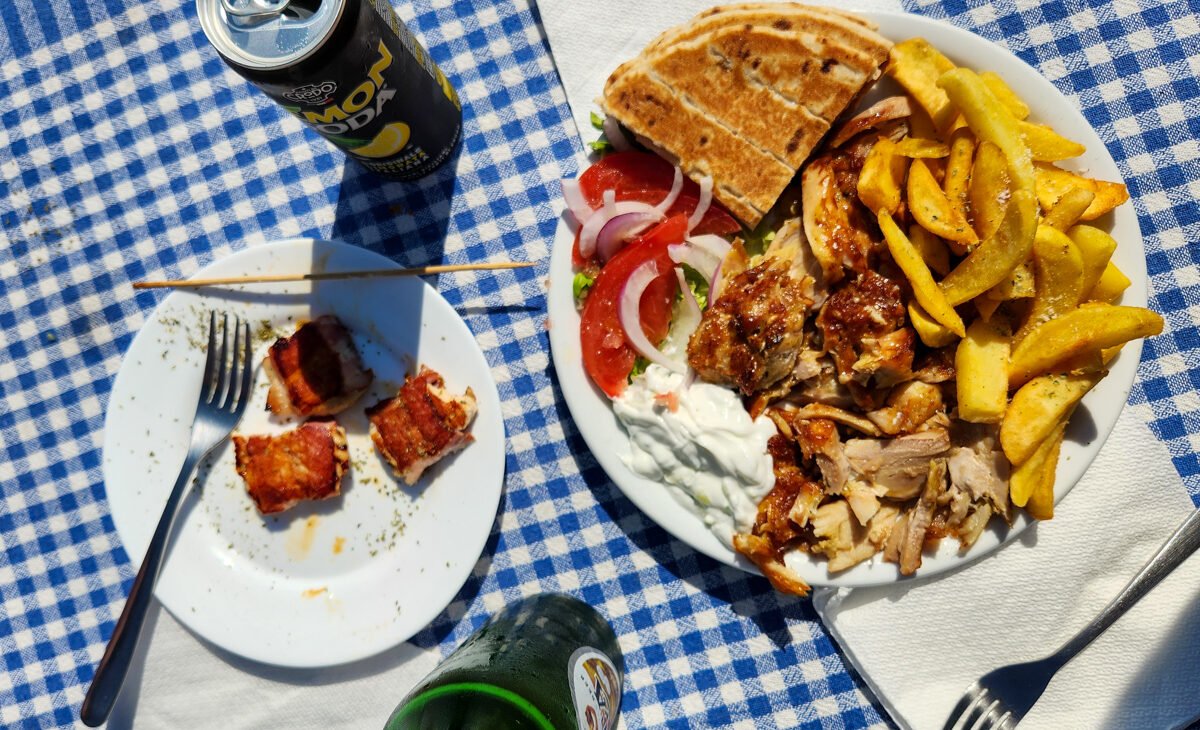 Saranda has a great selection of Albanian food and also Greek and Italian cuisine including fresh fish, grilled meats, Mediterranean salads, and pizza.
We found pizzas cost anywhere from 700-1250 Lek which is about $7.00-$12.00 USD. Gyro or Souvlaki will cost about 380 Lek or $3.80 USD.
Half liters of wine which we usually shared typically costs 600 Lek or $6.00 USD.
Coffee throughout Saranda is about $250 Lek or $2.50 USD.
Tip: Many business in Saranda will accept Euros as well as their local currency. But at a cost. You will get a better exchange rate with the Albanian Lek.
We also became regulars at the expat bar Dick and Devils, where we made friends with the owners and met some amazing people, mostly expats and digital nomads like ourselves.
Our dining out expenses include adult beverages, as we usually enjoy wine or beer with our meals. It's hard to separate those costs, so we included everything together.
| | |
| --- | --- |
| Dining Out (Meals & Drinks out) | $447.50 |
Want to earn up to 60,000 bonus points for travel? We use our Chase Sapphire Preferred card to earn points for all of our travels and you can to. Sign up and you will get 60,000 bonus points after spending $4,000 in the first three months your account is open.
Transportation costs?
Getting around Saranda without a car can be a little tricky. Unfortunately, there are no trains or rideshares available in the area. But don't worry, there are still a few options available to you.
You can either rent a car, rely on taxis, or simply walk to get around. During our time in Saranda, we decided to do a lot of walking. It's a great way to explore the city but be prepared for lots of walking up and down steps and steep inclines since Saranda is built into the side of a hill.
When we arrived at the port of Saranda from Corfu with all of our luggage, we opted for a taxi to take us to our Airbnb. It made things much easier for us. You can expect a taxi fare from the port of Corfu to be about 1000 lek or $10.
If you're planning on taking day trips to the countryside of Albania, we highly recommend going with a couple of friends and hiring a private driver. It's a convenient and enjoyable way to explore the stunning landscapes outside of Saranda.
| | |
| --- | --- |
| TRANSPORTATION | |
| Rental Car | NA |
| Gas & Tolls | NA |
| Car Insurance | Our U.S. policy covered Credit Card covered Damage Waiver |
| Totals | $10 |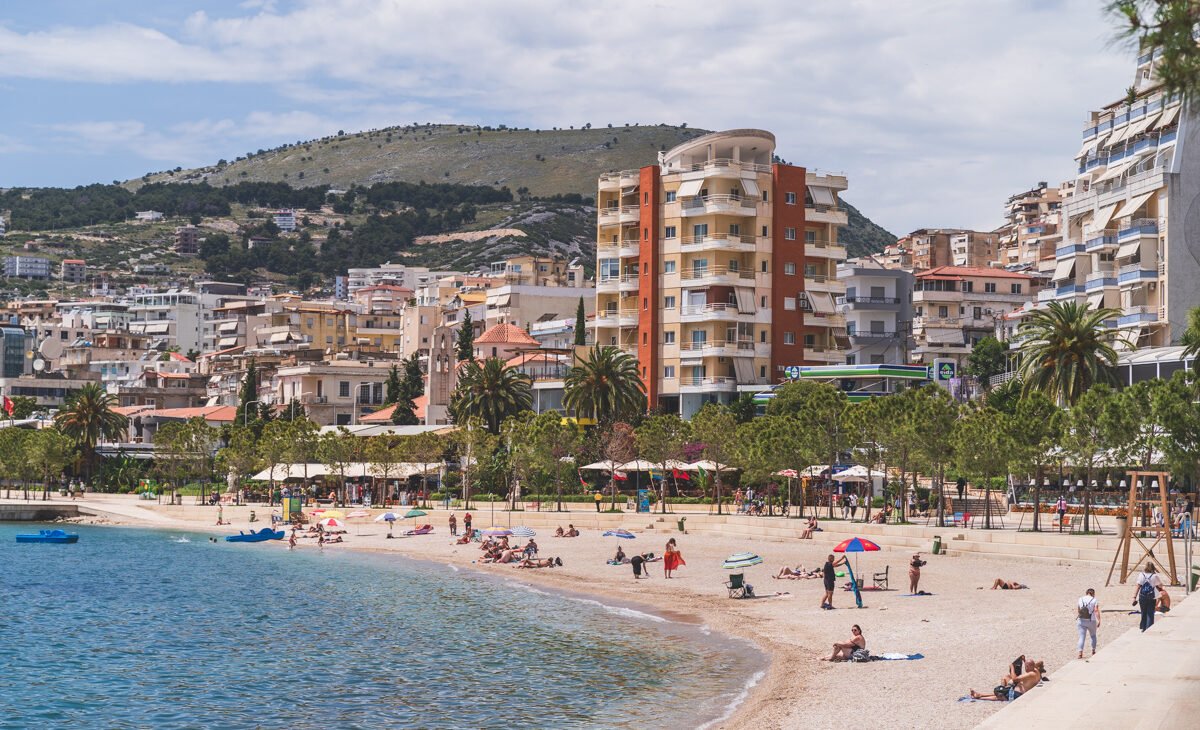 Things to do in Saranda, Albania
So, what activities did we do while we were in Saranda, Albania? We like to book experiences that let us see and explore our surroundings. For our bigger adventures, we usually rely on trusted travel sites like Viator or Get Your Guide.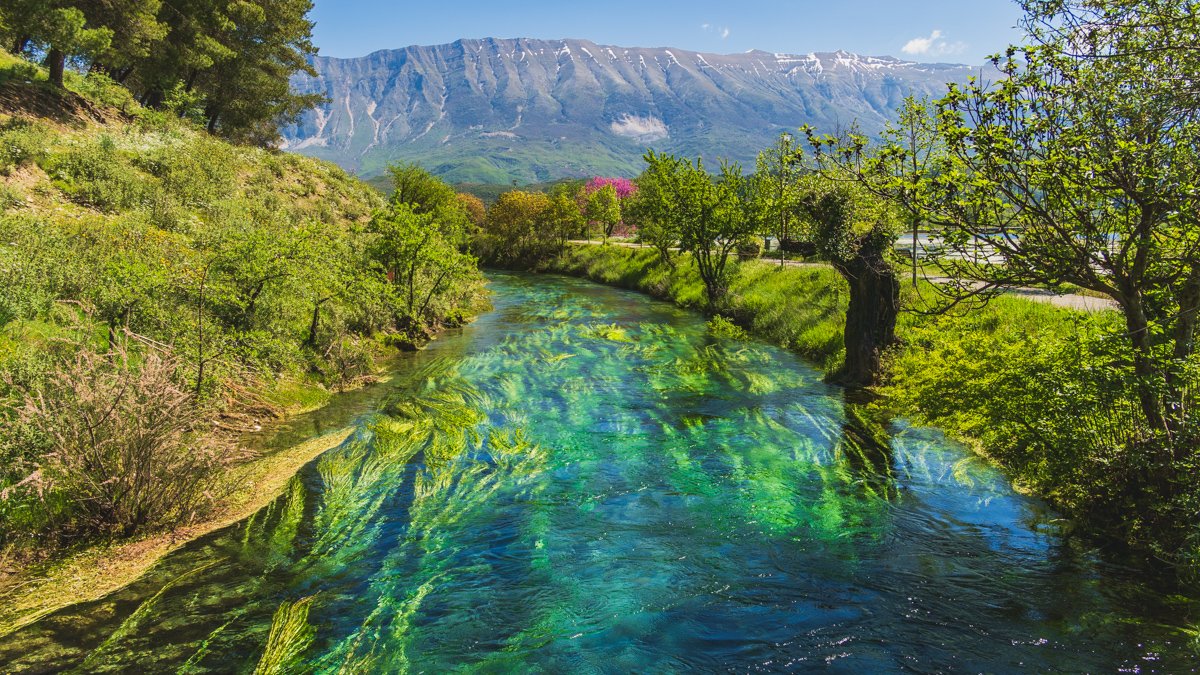 This time, we decided to book a private tour with friends. We headed out to the stunning spring-fed Lake Viroit and the charming "museum town" of Gjirokastër, which is also on the UNESCO World Heritage list.
Our total costs for both of us were:
Our Fixed Costs while Traveling as Nomads
There are a few fixed costs that we have as digital nomads no matter where we travel. We include the following costs of living that are directly related to our time in Saranda, Albania.
Travel Medical Insurance
First up we used Nomad Insurance from SafetyWing during our time living in Albania. If you're not familiar with Nomad Insurance from SafetyWing, it provides travel coverage plus Medical benefits worldwide.
You can read more about Travel Medical Insurance here.
We have been using the Nomad insurance for all of our travels abroad since 2022. We don't want to leave anything to chance especially if we have a medical emergency, or get stranded somewhere due to circumstances outside of our control. For us it's just not worth the risk of NOT having coverage.
They have monthly and per trip options available depending on your travel style. We opt for the monthly option as it is really easy to set up and automatically charges to our card.
The cost to provide both of us with Coverage was: $136.08
Another thing we like about the monthly option is it is also really easy to cancel once your trip ends. Just send a message to customer service and they can cancel it and prorate your refund.
⚕ Are you covered with International Travel Medical Insurance? Get worldwide coverage with SafetyWing
Mobile Phone Service
We could save some money on our phone service by getting sim cards or e-sims when we travel. But for now, we've been using our U.S. T-Mobile service in Albania because it worked just like it back home. We did not notice any network or data issues while in Saranda. Our coverage was pretty good even when in Gjirokaster.
Another great thing about our T-Mobile service is that it comes with some nice perks like Netflix and Apple.
We're on the Magenta Plus plan, and since Joel is a veteran of the U.S. Air Force, we also get a sweet discount which really helps.
VPN
When we travel, we always use a VPN (Virtual Private Network) for added security. It's a great way to protect ourselves both in the U.S. and abroad.
Plus, VPNs are super handy for accessing geolocated websites and services, like our favorite streaming platforms, when we're traveling overseas. So, it's definitely worth having one!
We are using Surfshark as our VPN of choice. Surfshark does not log your activity and has an excellent price too.
| | |
| --- | --- |
| Mobile Phone & Internet | $112.50 |
| Nomad Insurance by SafetyWing | $136.08 |
| VPN (Surfshark) | $2.21 |
| Fixed Cost Totals | $250.79 |
👉Keep Your Data Safe While Traveling: Sign up for Surfshark ✈
Now before we get to our total costs, we would like to ask that if you're finding this helpful then share it with others and subscribe to our newsletter for more content like this! Our goal is to help you Live an abundant life through slow travel.
Total Costs to live in Saranda, Albania as Digital Nomads
Let's talk about the total costs of our stay in Saranda, Albania. Keep in mind that your expenses might be different depending on where you choose to stay, your dining preferences, and the activities you want to do.
In Saranda, if you avoid the peak season (June, July, and August), you can find accommodations for as low as $300 to $500 per month.
As digital nomads, our cost of living in Saranda might be higher compared to locals or long-term expats who have been in the same place for years.
Our total costs for 2 people living in Saranda, Albania were:
| | |
| --- | --- |
| | OUR COSTS in Sarande, Albania |
| Total Costs | $1,816.96 |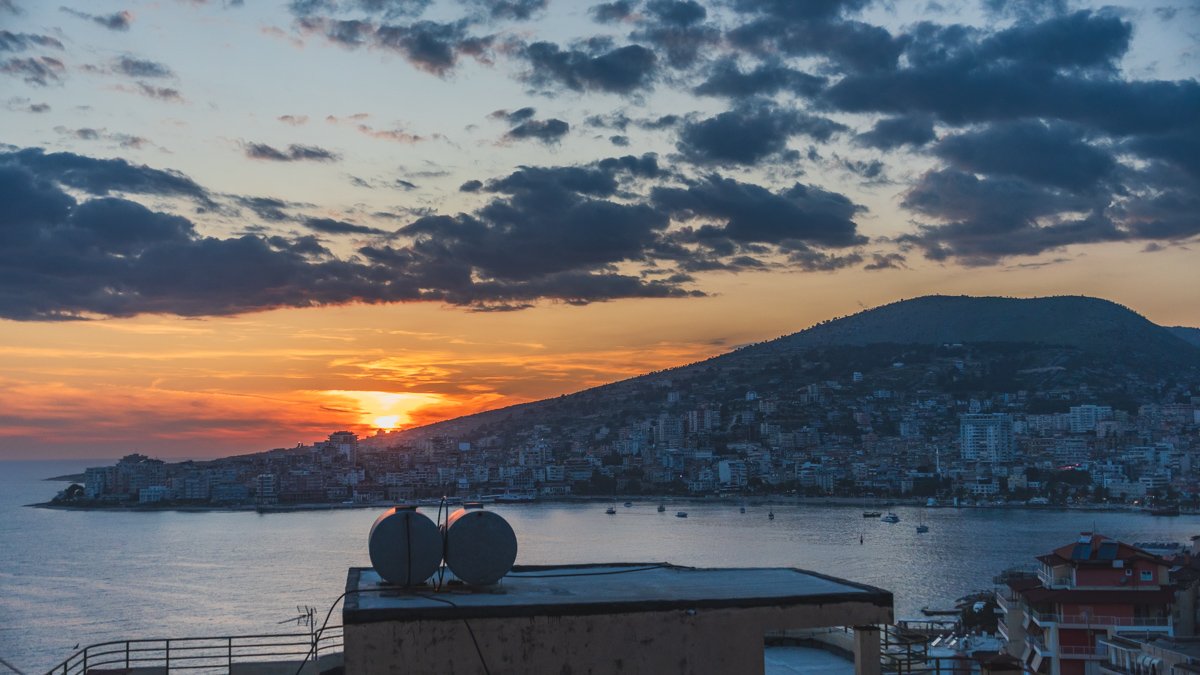 Should you Live in Saranda, Albania?
We enjoyed our time in Saranda and particularly getting outside of the city and exploring the gorgeous countryside. The promenade in Saranda is lovely with views of Corfu Greece and the beautiful Ionian Sea.
Despite it being off season when we visited we still felt Saranda was a bit more touristy than we liked. The town itself is full of high rise apartment buildings so we were missing some of that European charm.
There is a thriving nomad and expat community in town so we stayed busy meeting new people every week, going out to dinner and having drinks with new friends.
Be sure to check out our other Cost Of Living articles from our travels around the globe.
FAQ
Is Saranda, Albania Safe?
Yes, we felt very safe walking around Saranda, in fact Albania is considered one of the safest countries in Europe and violent crime is very low. 
Is Saranda, Albania Worth Visiting?
Yes, we think so especially if you're looking for beautiful views of the sea, beaches, affordable food and accommodations. 
Can You Drink the Water in Saranda, Albania?
No, you will need to buy bottled water since tap water has heavy metals in it. It's fine for showering, brushing your teeth and cooking.
What is the Closest Airport to Saranda?
The closest airport to Saranda is on the island of Corfu, Greece. If you take the high speed hydrofoil ferry it's about a 30-40 minute ride from the port of Saranda to Corfu.
Is Albania a Cheap Country to Live In?
Yes, compared to Western Europe and North America Albania is about 35%-45% less expensive.
Using our affiliate links (hotels.com, expedia.com, VRBO, Hertz, Chase Sapphire Prefered, Viator, etc.) supports great content on wanderinghartz.com and our Youtube channel.
None of the affiliate links cost you anything or increase the price you pay, and we may earn a small referral commission.
Or if you're feeling generous you can buy us a much appreciated glass of wine (or whiskey)!
Cheers,
Happy Wandering!
Joel and Michelle