Top 12 Best Restaurants in Bansko You HAVE to Visit
Before our visit to Bansko, we didn't know much about Bulgarian food or what to expect. But after living in Bansko for almost three months, we got quite familiar with a lot of the town's restaurants and Bulgarian cuisine.
From the hearty stews of the Rhodope Mountains to the traditional banitsa pastries of the Pirin region, Bansko is a great place for food lovers. There are many delicious restaurants to choose from, and you can find almost any type of food you're craving. With its vibrant digital nomad community and its world-class ski resort, Bansko is a great place to explore the culinary delights of Bulgaria.
Looking for a quick bite or a fine-dining experience? Bansko has something for everyone. During our stay, we made it a point to try as many places to eat in Bansko as we could. Partly because we were creating a Bansko cost of living article for digital nomads, but also because we love food!
If you're coming to Bansko as a digital nomad there are also a couple of great digital nomad friendly cafes and restaurants in this list that we personally frequented. In this blog post, we'll be highlighting 12 of the best restaurants in Bansko that you simply have to visit. So, let's get started!
Is Traditional Bulgarian Food Good?
Yes, traditional Bulgarian food is good. It is hearty and filling, and often includes meat and vegetables. There are many different types of traditional Bulgarian dishes, so there is something to suit everyone's taste. The combination of meats, cheeses, and vegetables create a flavor profile that is unique and intensely satisfying.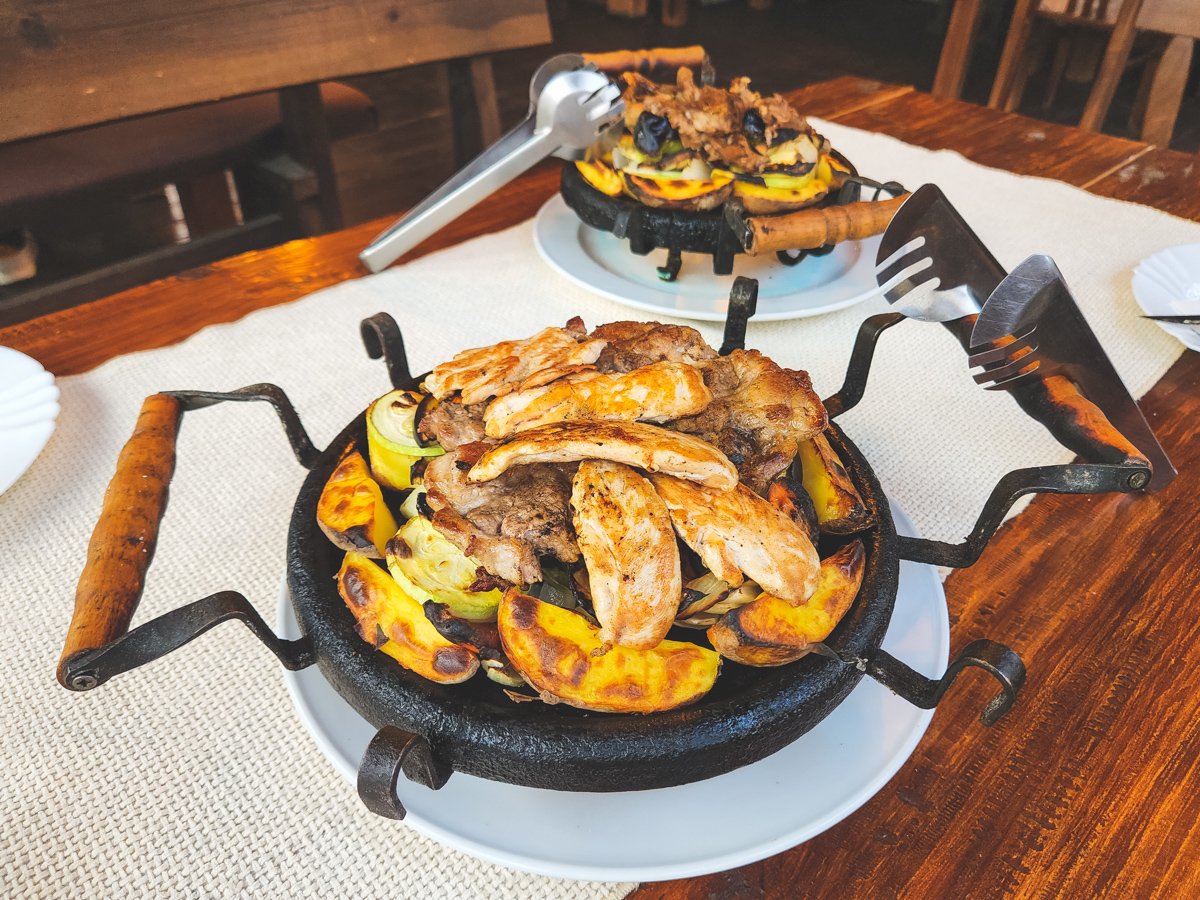 Some of the most popular traditional Bulgarian dishes include shkembe chorba (a soup made with tripe), kavarma (a stew made with meat and vegetables), and banitsa (a type of pastry filled with cheese). Other Bulgarian dishes include hearty meals such as Sache, a large plate of grilled peppers, onions, potatoes and your choice of chicken, pork or lamb. Meat or vegetable skewers are also very popular and really good.
shopska salad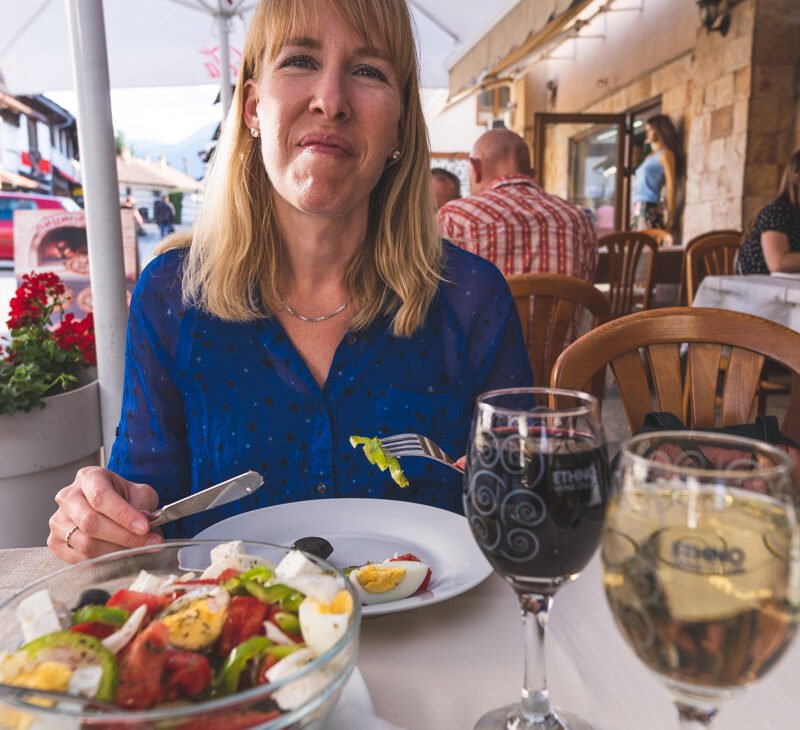 One of the most popular traditional Bulgarian foods is the famous Shopska Salad which consists of tomatoes, cucumbers, peppers, onions and cheese sprinkled on top. Definitely one of our favorites.
We can't get over how delicious the fruits and vegetables are in Bulgaria. The produce is amazing! The tomatoes are outstanding, they actually taste like the organic tomatoes we grew in our garden in Nashville. We also had a lot of watermelon which seemed to be in season in the summer and man was it good. Sweet and juicy with so much flavor. Even Joel liked it and he is not a fan of watermelon in the States!
Although not Bulgarian, you can get pizza at a lot of restaurants especially in Bansko. Most of the pizza we found was wood fired thin crust with minimal marinara sauce but lots of toppings and cheese.
Bansko Restaurants near the Town Square and Old Town Bansko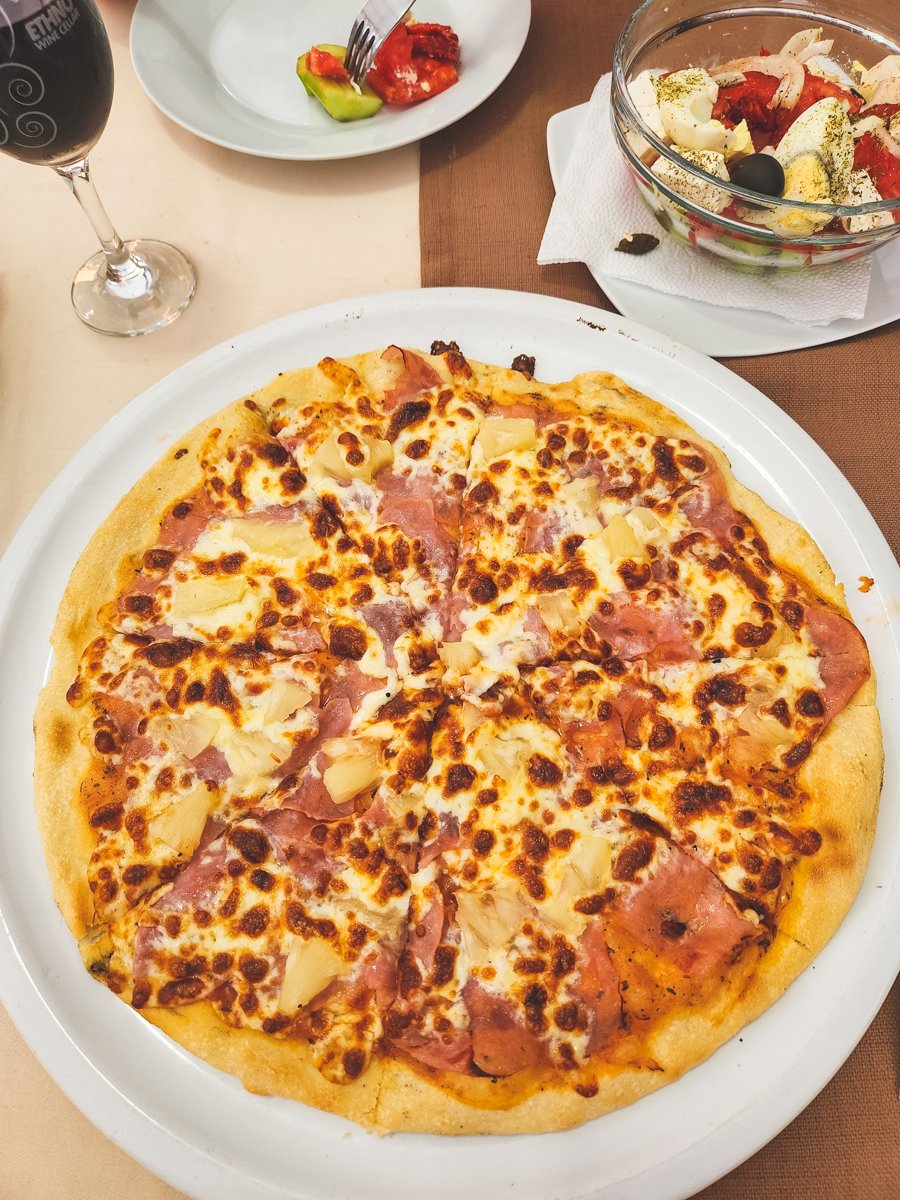 Pizzeria Boyanovi
If you're a fan of pizza, you'll love Pizzeria Boyanovi! It's our favorite spot for pizza in Bansko. The location is perfect, right in the center of town along Pirin street with views of the clocktower and its famous storks. The owner of this pizzeria is very friendly and welcoming. We often went there and he would always remember us or wave at us as we walked by. The service was always great and the pizzas came out quick. We never had a bad meal there. This is definitely a great place to go for some good pizza!
Banski Aiduti Tavern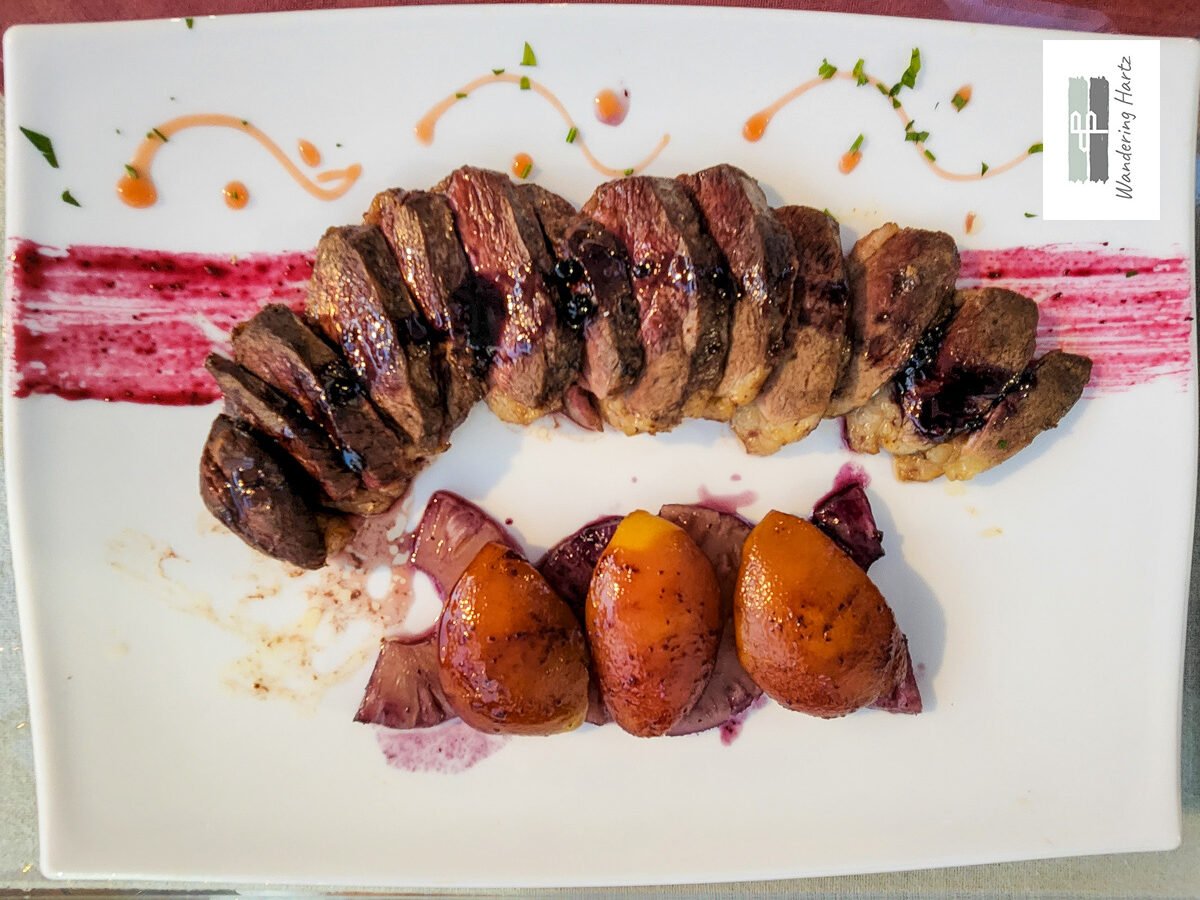 In the mood for some fine dining? Banski Aidukti is Joel's favorite mehana restaurant and best place to get duck! We love going here at least once a week! The prices are unbeatable for such fine dining. The owner is welcoming and very sweet. The restaurant itself is big with a lot of indoor seating and a balcony with outdoor seating in the summer months.
When searching for open hours online, it looks like they're open every day but it in our experience it was a bit more unpredictable during the summer months. They're usually open on weekends at the very least during the summer, and during the Bansko Jazz Fest they were open every day.
Emar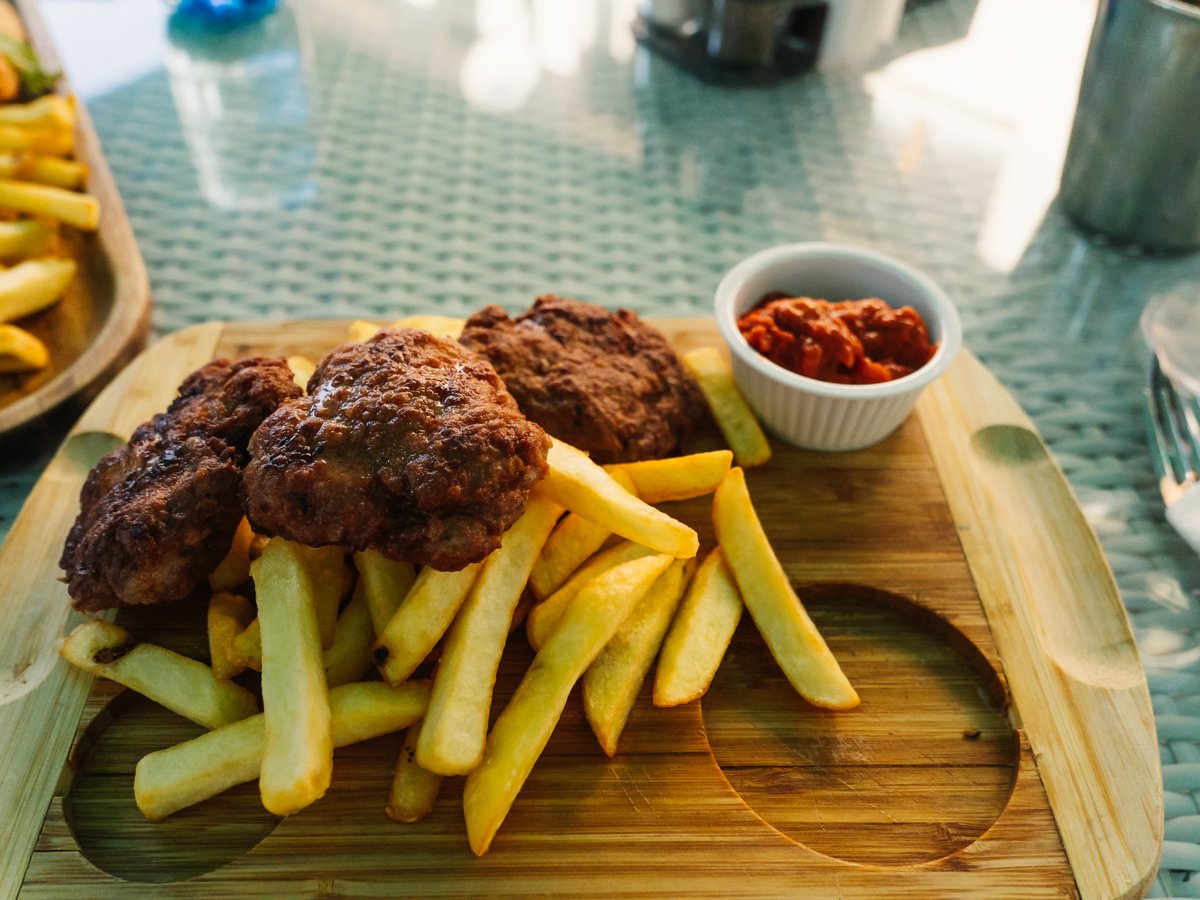 Emar is located right in the heart of Bansko with lovely views of a park just next to the main square. The restaurant is one of our top lunch spots – the sandwiches and pizza are both excellent choices. Be sure to ask for the lutenitsa, a traditional Bulgarian pepper-based chutney, to dip your fries in – it's delicious! The food is always great and the staff are friendly and helpful, making it a great choice for a quick bite. The seating is comfortable and the wifi is fast. It's a great place to go with your laptop to work, relax or for people watching.
If you're looking for a great spot to work as a digital nomad, this is the place for you! They're happy to let you stay as long as you're ordering food or drinks, so you can get some work done in between.
Wine Bar 25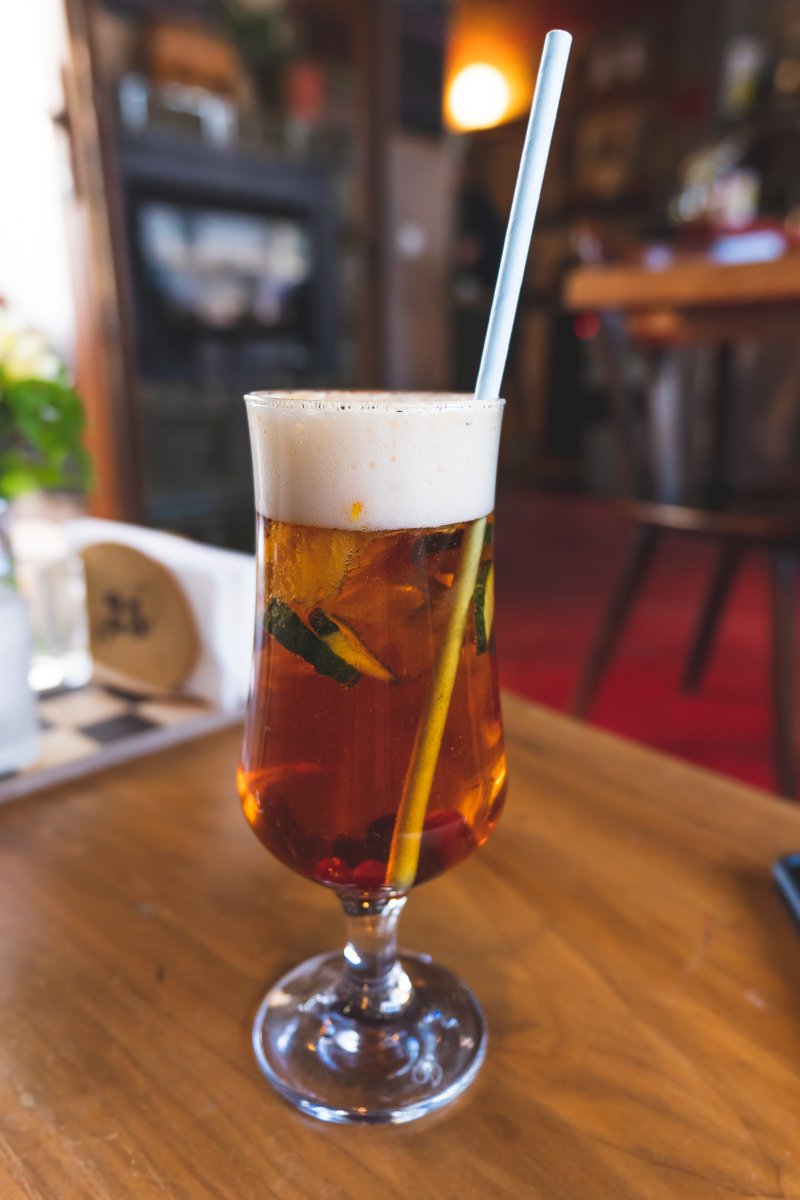 We are certainly fans of wine and Wine Bar 25 quickly became one of our favorite places to grab a drink. It's quite popular with the expat community in Bansko and the atmosphere is quiet and warm.
The wine bar is digital nomad friendly and another great place to get some work done during the day. We popped in here in the midst of Nomadfest and it was a nice reprieve from the chaos.
In the morning you can get coffee and fresh made specialty pastries made by the owners. At night you will want to stop by for a glass of wine or cocktail. The owner always has a weekly drink special and a great section of Bulgarian wines
Le Petit Nicolas
If you're in the mood for something other than Bulgarian food, Le Petit Nicolas is the place to go. At this French inspired cafe/bakery the sandwiches here are made fresh to order and are absolutely delicious. In the mornings, they have the best pastries and coffee.
We recommend ordering something to take away and eating it in the park or on one of the many benches around town. The space is small and can get quite busy in the mornings, but it's definitely worth a visit!
Restaurants in Bansko – Mid Town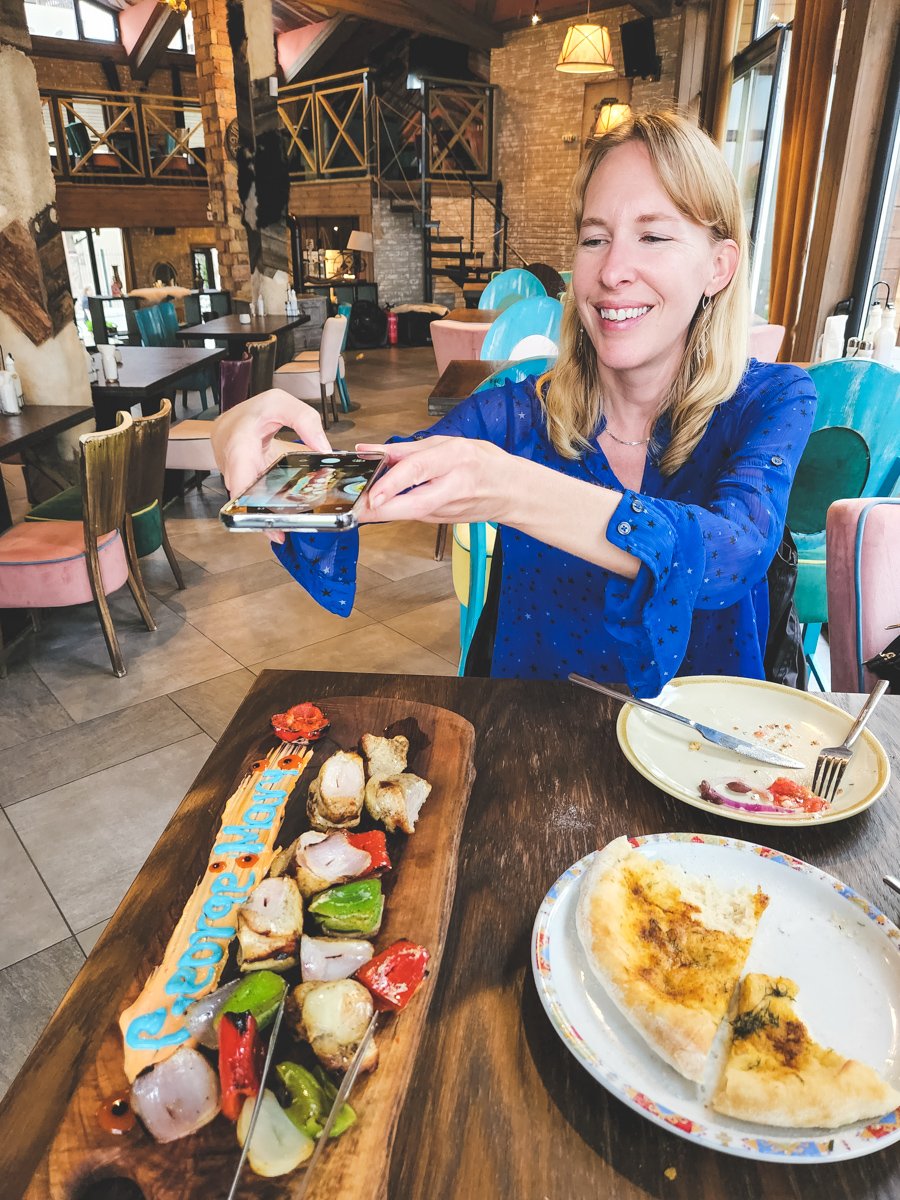 George & Mary Family Restaurant
One of the best restaurants in Bansko is George & Mary's. This restaurant is very popular in Bansko and is known for its grilled meats. The menu is extensive, so come with a hearty appetite! We would usually split a meal and order a salad to share. Even though this is a large restaurant, the ski lodge style interior is cozy and inviting. They also have a nice patio and deck with outdoor seating for the summer months. We were very happy with the food and service was fast every time we visited.
"Five M" Restaurant & Good Bar
Five M is one of the fancier and more pricey restaurants to eat in Bansko. If you looking for a romantic vibe, dine on the back patio for the perfect place for a date night. The food is exquisite and the service is wonderful. The menu has a great variety of items to choose from, including steak and duck, and the wine list is outstanding.
It is a popular restaurant in Bansko for meeting up with friends and chilling on the patio. You might want to make a reservation in the busier winter season.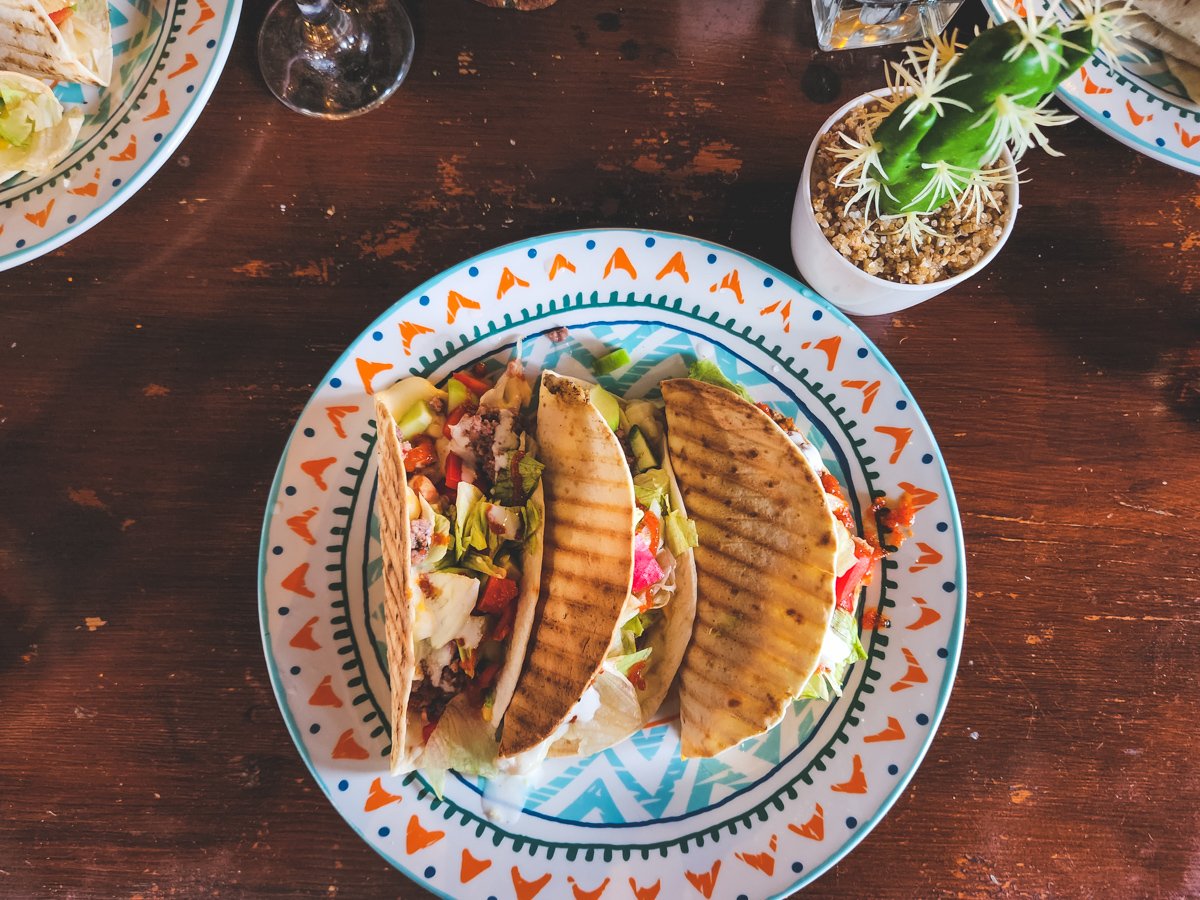 Danny's Bar & Mexican Restaurant
Danny's Bar & Mexican Restaurant is not your typical authentic Mexican food. However, the food is still incredibly delicious and you will not be disappointed.
The owner/chef always greeted us warmly on every visit. The bar area was designed to look like a garden and is very beautiful at night. The prices for food and drinks are very affordable and it makes for a great bar to visit. We loved the taco plate but don't expect a lot of spiciness.
A Hidden Gem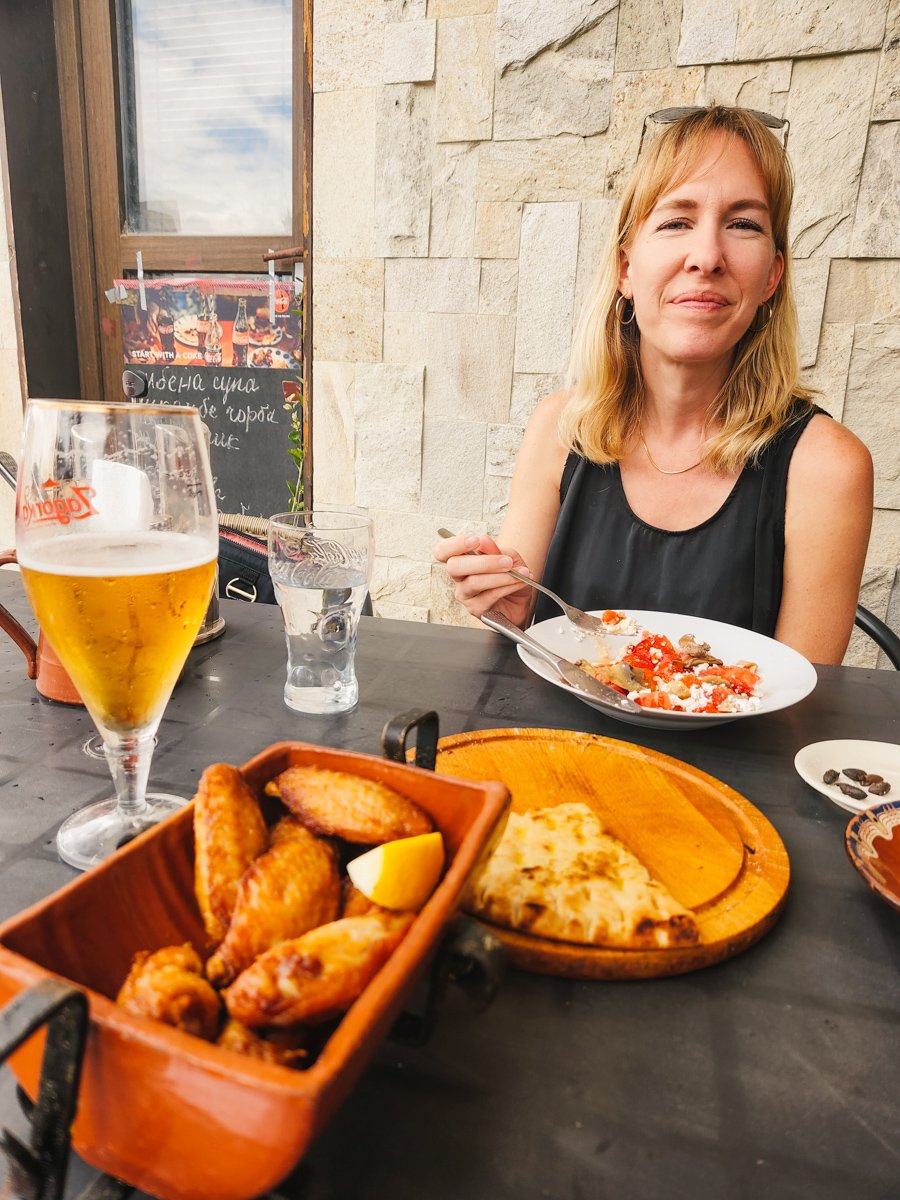 Snack Bar-Mitko & Nadya
One of our go-to spots in Bansko was a small little restaurant in front of Alpine Lodge. The restaurant is owned and operated by Mitko & Nadya, a lovely couple who make you feel right at home. You will find good quality food full of flavor at affordable prices. The menu is mostly comprised of traditional Bulgarian and Russian dishes with other offerings like some of the best chicken wings Joel has had. Try the meatball dish, chicken wings, mishmash and dont forget to get the parlenka!
Mitko & Nadya's is located across the street from our apartment complex (Four Leaf Clover) in Bansko and it is popular karaoke spot on friday nights too!
Restaurants in the Gondola Area of Bansko, Bulgaria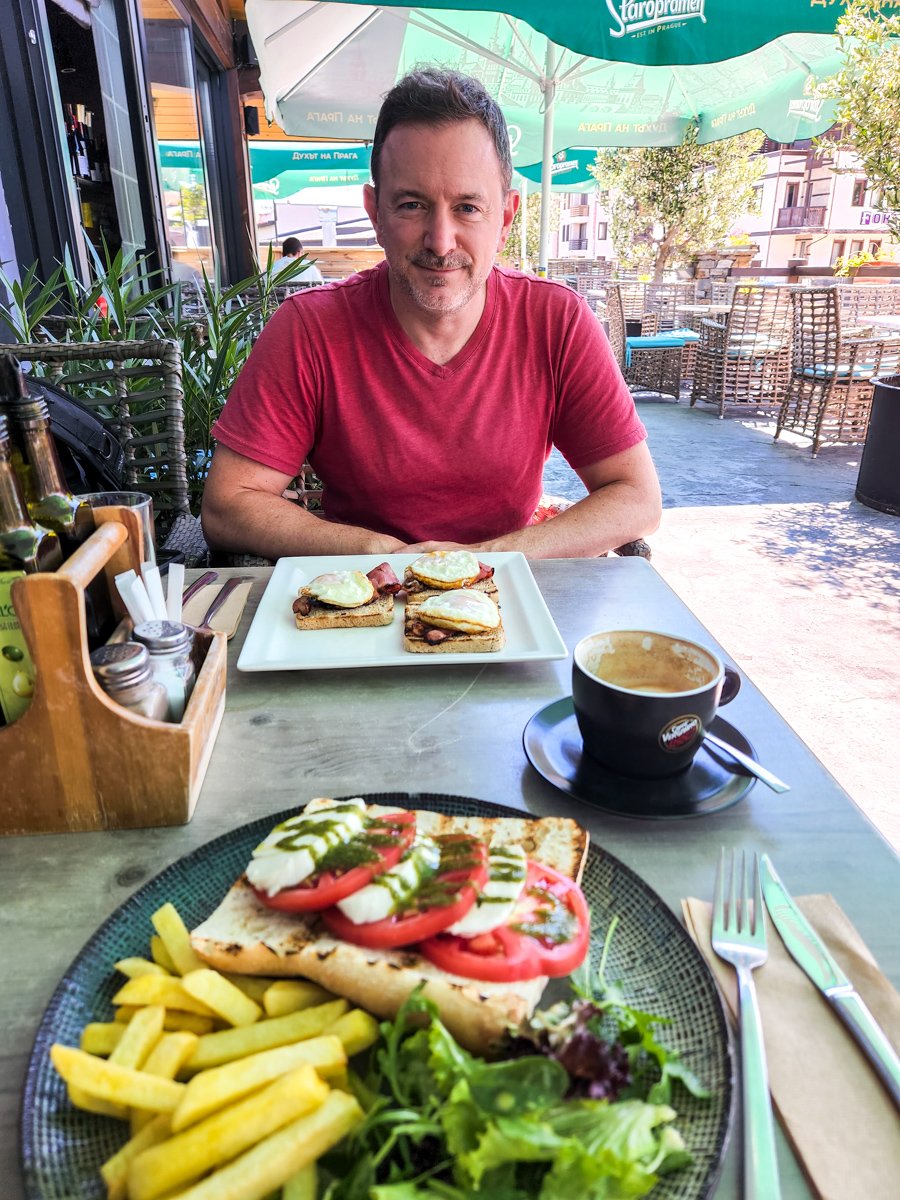 Ginger Bar and Dinner
Another of our favorite restaurants in Bansko is Ginger Bar and Dinner. We frequented this restaurant multiple times. It's huge with lots of outdoor and indoor seating. Portions are large and they have an extensive menu with pizzas, Bulgarian food, pasta, seafood and they even serve breakfast.
The service at Ginger Bar is pretty fast and the staff is friendly. This restaurant is also laptop friendly, especially in the summer months. If the coworking was full we would see other digital nomads working at Ginger. As long as you're ordering drinks or food you're welcome to stay.
TIP: This was our go to place to hang out with friends during Jazz Fest for live music. A lot of the musicians come to this restaurant for jam sessions once they're done playing for the night in the center of town. The action starts pretty late and goes for quite some time. If you're visiting during the summer we highly recommend checking it out!
Station Bansko
If you're looking for another great Bansko restaurant, check out Station Bansko! They serve delicious gyros, pizza, and salads using fresh ingredients from Greece. The owner is from Greece, so you can trust that the food will be excellent. Plus, the staff is super friendly!
They have outdoor seating across the street and it's always busy. You can also get breakfast, take away, and delivery! One of the most affordable restaurants in the area.
The House
The House Bansko has a warm atmosphere that serves up delicious traditional Bulgarian dishes. The portions are quite big so we would usually split a meal.
The food was great, and I would definitely recommend this restaurant if you are looking for some traditional Bulgarian cuisine. The service was a little slow, but the waiters were friendly and the food more than made up for it.
The Wrap Up
These are just a few of the restaurants that Bansko has to offer. Whether you're a digital nomad or just on vacation in Bansko you will not have trouble finding a place to eat or get some work done. With its vibrant digital nomad community, world-class ski resort, and delicious restaurants, Bansko is the perfect place to explore the culinary delights of Bulgaria. Whether you're looking for a quick bite or a fine-dining experience, Bansko has something for everyone. And if you're looking for other activities to do in Bansko, like hikes near Bansko or atv tours and wine tours near Bansko, you won't be disappointed. So, if you're looking for a unique destination with plenty of delicious food and exciting activities, Bansko is the place for you!
Using our affiliate links (hotels.com, expedia.com, VRBO, Hertz, Chase Sapphire Prefered, Viator, etc.) supports great content on wanderinghartz.com and our Youtube channel.
None of the affiliate links cost you anything or increase the price you pay, and we may earn a small referral commission.
Or if you're feeling generous you can buy us a much appreciated glass of wine (or whiskey)!
Cheers,
Happy Wandering!
Joel and Michelle