Explore the Schengen Zone and What You Need to Know Before You Travel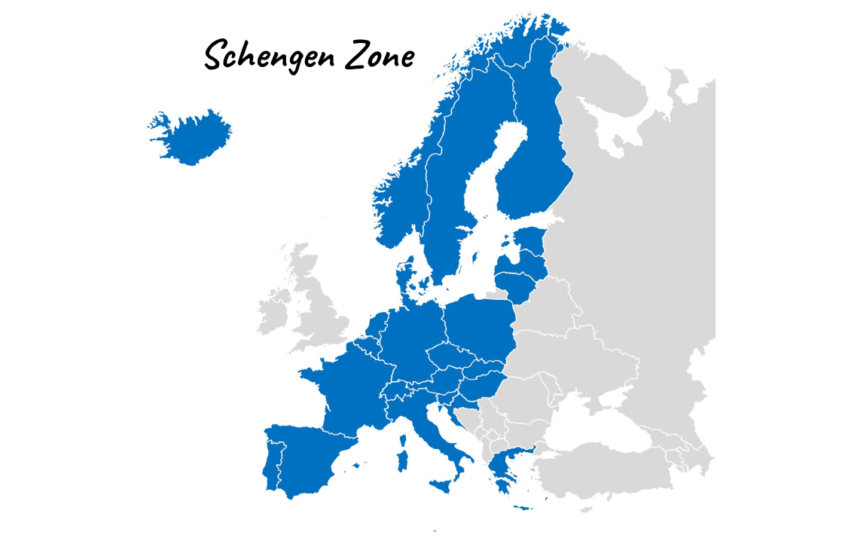 What is the Schengen Zone?
The Schengen Zone is a unique agreement among European countries that allows for free movement within the designated area. It is named after the tiny village of Schengen in Luxembourg, where the agreement was first signed in 1985.
Since the agreement was signed, a total of 27 countries have joined the Schengen Zone with Croatia being the most recent, having joined on January 1st 2023.
Countries in the Schengen
These countries have agreed to a unified visa policy, allowing visitors to travel freely within the Schengen Zone.
European Union Vs. The Schengen Zone
The European Union and the Schengen Zone are two separate entities. The EU is a political and economic union of 27 countries, while the Schengen Zone is an area within the EU where citizens can travel between countries without a passport or visa.
Don't forget a VPN to access all of your favorite streaming content while traveling Europe
Countries Part of The EU But Non-Schengen
Bulgaria, Romania, Cyprus, and Ireland are countries part of the European Union but are non-Schengen. If you are from a country, like the United States, with a 90 day visa, these countries are great options to travel to while you wait to reset your visa time.
Or you can opt to do what we did, start your long term European trip in a non Schengen country. We traveled to Bulgaria first for two and a half months then made our way to Slovakia and the Czech Republic. Click to read more about our Bulgaria adventures. A Bulgaria Schengen Visa is not currently necessary as Bulgaria is not apart of the Schengen Area. This allowed us 4 months of travel in Europe.
Benefits of the Schengen Zone as a Traveler
The biggest benefit of the Schengen Zone is to be able to travel freely throughout the 27 countries with no additional visa requirements or border checks. This makes it easy to visit multiple countries throughout Europe without worrying about long waits at the border, applying for multiple visas and paying extra visa costs.
Traveling within The Schengen Zone
The Schengen Zone agreement allows most travelers to enjoy a "Schengen visa", meaning they can travel freely within the Zone up to a certain period of time. As United States passport holders we get an automatic "Schengen Visa" upon arrival valid for 90 days in a 180 day period, which means you can stay in the Schengen Zone for up to three months at a time. For United States passport holders it is a no cost Schengen Visa.
For example, with an U.S. passport you can book a flight without applying for a visa ahead of time. You could then enter the Schengen Zone on the 1st of March and stay for 90 days. You would then need to leave the Schengen Zone on May 29th. After a 90 day wait you could then re-enter the Schengen area.
Both the day you arrive and the day you leave the Schengen Zone count as time in the zone. So it is best to leave a few days shy of your 90 days for good measure.
TIP: Use a Schengen calculator for your long term trip to Europe. This will help you plan and navigate a 90 day Schengen visa if you have a complicated itinerary.
This is the one we like to use: https://www.schengenvisainfo.com/visa-calculator/
Do not overstay your Schengen visa, depending on the country you can be hit with expensive fines or banned from reentering a country for several years.
Bring Your Passport Traveling in The Schengen
Bring your passport with you when traveling from country to country in the Schengen Zone. Even if there are no border checks, countries can reinstate border controls without notice.
Make sure to check and double check your passport expiration date. It's best to have at least six months of validity remaining on your passport when traveling abroad. You may even be denied entry if you do not have at least 3 months time on your passport upon entering.
When entering and leaving the Schengen Zone your passport must be stamped. This is very important because without a stamp at your port of entry you may encounter problems with local authorities or immigration officials when you leave.
For example if you fly from the United States to Amsterdam enroute to another Schengen destination, like Austria, you will go through passport control in Amsterdam. Here you will receive your Entry Stamp. Your next flight to Austria is considered Domestic (within the zone). Now if you leave Austria and fly to Sofia, Bulgaria then you would get an exit stamp in Austria.
Challenges of Traveling in the Schengen Zone
One of our main challenges traveling in the Schengen Zone is that with our American passport we're limited to 90 days within 180. As digital nomads we slow travel, so that means we stay in a city or country for 1-3 months at a time to get a feel for the area and local culture. With so many countries and cultures in the European Union to explore, our 3 month time limit goes by quickly!
Another challenge is the language barrier. Even though English is widely spoken throughout the Schengen Zone, it's still a very diverse area with each country having its own language and cultural norms. It's best to learn some of the local language to ensure you can communicate with locals and service providers. We always try to learn how to say hello, goodbye, please, and thank you in the local language. This will go a long way in your travels and can act as an icebreaker. Besides, it is simply polite.
What is the Best Schengen Travel Insurance?
There are plenty of insurance options if you are not a citizen of a European Union country while traveling in the Schengen Area. Personally we are using SafetyWing's Nomad Insurance during our travels in Europe. The Nomad Insurance from SafetyWing provides us with global Travel Medical Benefits for emergencies and even trip delays or interruptions.
Schengen Zone Wrap Up
Overall, the Schengen Zone provides a great opportunity for travelers to experience multiple countries in a more convenient and economical way. With the removal of border checks and the possibility for visa-free travel, travelers can now visit a number of different countries within a short space of time.
Using our affiliate links (hotels.com, expedia.com, VRBO, Hertz, Chase Sapphire Prefered, Viator, etc.) supports great content on wanderinghartz.com and our Youtube channel.
None of the affiliate links cost you anything or increase the price you pay, and we may earn a small referral commission.
Or if you're feeling generous you can buy us a much appreciated glass of wine (or whiskey)!
Cheers,
Happy Wandering!
Joel and Michelle