Prepping For Our Amazing Puerto Rico Adventure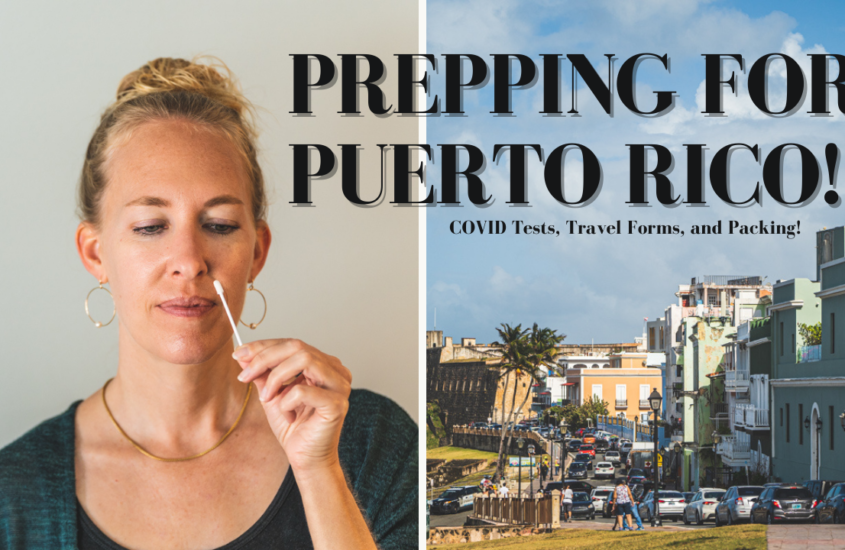 After one failed attempt to get to Puerto Rico the time had come back around. We had been planning this trip for months but travel restrictions and local lockdowns in Puerto Rico kept us from visiting the island.
With our eyes peeled for any news about the travel restrictions we were delighted to see news that Puerto Rico was lifting their stay at home orders and allowing people to visit the beaches and restaurants again. Moments later we were back on our laptops and immediately rebooked our vacation rentals, car and our flights!
Covid Testing Prior Arrival
We still had a couple of things to take care of before we could skip out of Florida. The most important and most pressing one was taking a COVID test. At the time of our trip Puerto Rico was requiring a Covid PCR test to be taken 72 hours before arrival at the San Juan Airport.
The easiest option for us at the time was to order at home COVID tests. After scouring the Tripadvisor Puerto Rico travel forums to figure out what visitors were using we decided on ordering tests from lapcorpOnDemand. The test was surprisingly easy, just read the instructions, do a quick nostril swab and you're done! We shipped it off to the lab and crossed our fingers the results would come in before we landed in Puerto Rico.
If the results were not arrive in time for our arrival, the rule in place at the time would have us quarantine in our Vacation Rental until we got the negative results. We were big time crossing our fingers that we would not have to be stuck inside for honestly any amount of time. The Caribbean waters were calling our names!
A Wee Bit of Overpacking
The second thing we had to deal with was an overpacking issue. As it turned out we packed too much for our 6 month trip so we had to lighten our load. There were a few things that we had brought but yet had not used at all. Joel had packed his flippers for diving and also an underwater housing case that sadly never got used. I had packed some extra bags and clothes that I didn't need so we boxed them up and sent them back to our home base in Washington State. This was our first time packing for an extended trip so we definitely learned what we needed and what we didn't. 
With our COVID tests and packing out of the way we were all set. We planned for our last day to head to Caddy's on Sunset Beach for lunch and then do one last walk along the water and reflect on our time spent in Florida. You can watch and read our review of Caddy's Restaurant here. 
Want to earn up to 60,000 bonus points for travel? We use our Chase Sapphire Preferred card to earn points for all of our travels and you can to. Sign up and you will get 60,000 bonus points after spending $4,000 in the first three months your account is open.
Say Thanks!
Using our affiliate links (hotels.com, expedia.com, VRBO, Hertz, Chase Sapphire Prefered, Viator, etc.) supports great content on wanderinghartz.com and our Youtube channel.
None of the affiliate links cost you anything or increase the price you pay, and we may earn a small referral commission.
Or if you're feeling generous you can buy us a much appreciated glass of wine (or whiskey)!
Cheers,
Happy Wandering!
Joel and Michelle