Vacation Rental Life: Enjoying Siesta Key Florida as a Digital Nomad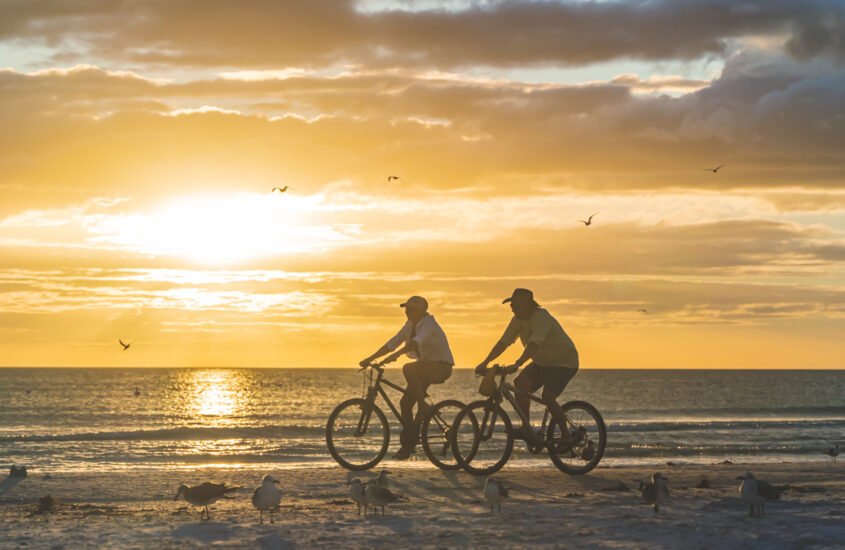 Siesta Key, a small island off the coast of Florida has become one of the top vacation destinations for families and couples. But what is it like to rent a vacation rental for a month or more as a Digital Nomad, remote worker or as a workcation? In this article we share our experience living on Siesta Key as nomadic travel bloggers.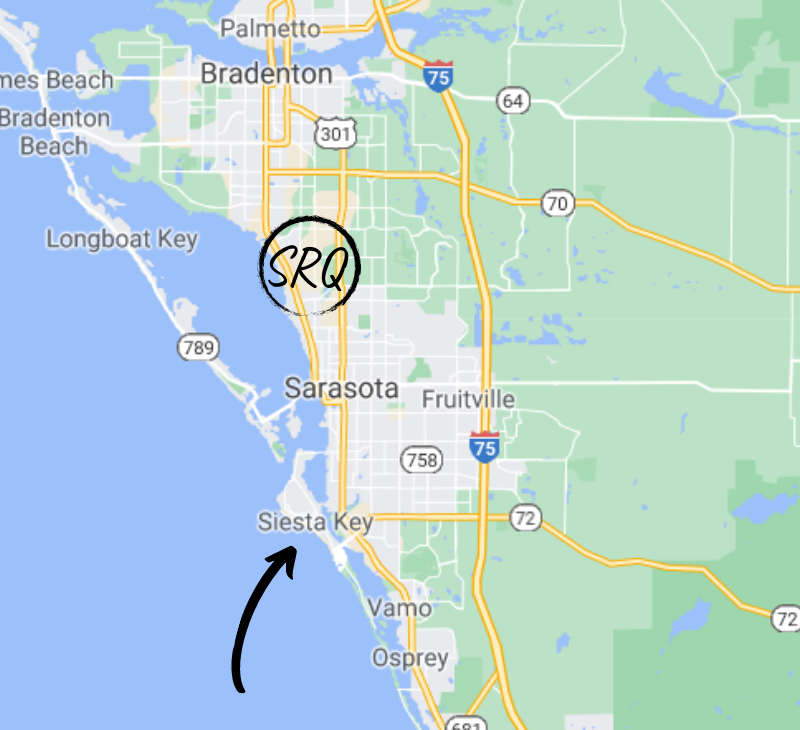 The Magic of Siesta Key
Siesta Key beckons with an array of desirable vacation rentals. From the famed Siesta Beach and its breathtaking sunsets to its bustling nightlife in the village, it's no wonder why this idyllic island destination has become one of Florida's most popular getaways.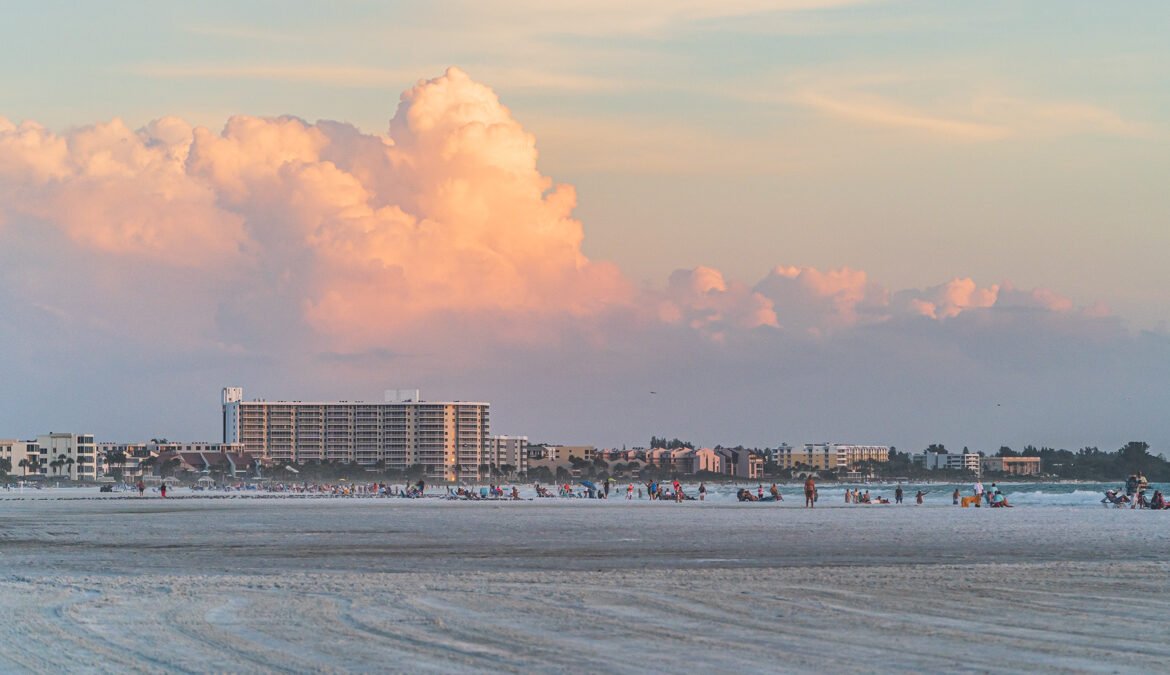 For five weeks, we lived on Siesta Key as digital nomad travel bloggers, gleaming valuable info for our articles and videos to ensure that you get the most out of your trip. Whether you're a digital nomad, snowbird or on vacation, there is something for everyone here on Siesta Key.
Our Unforgettable Siesta Key Rental at Harbor Towers Yacht and Racquet Club
Our condo rental at Harbor Towers Yacht and Racquet Club was perfect for those looking for a nice getaway. Boasting lovely views of the intercoastal waterway and a private marina, all just steps away from the condo.
Harbor Towers is conveniently situated in the middle of the island on Midnight Pass Road, providing a 15-20 minute walk or a 6 minute drive to Siesta Key Village. We enjoyed a 10 minute stroll to the renowned Siesta Key beach, and were able to admire the boats in the back bay.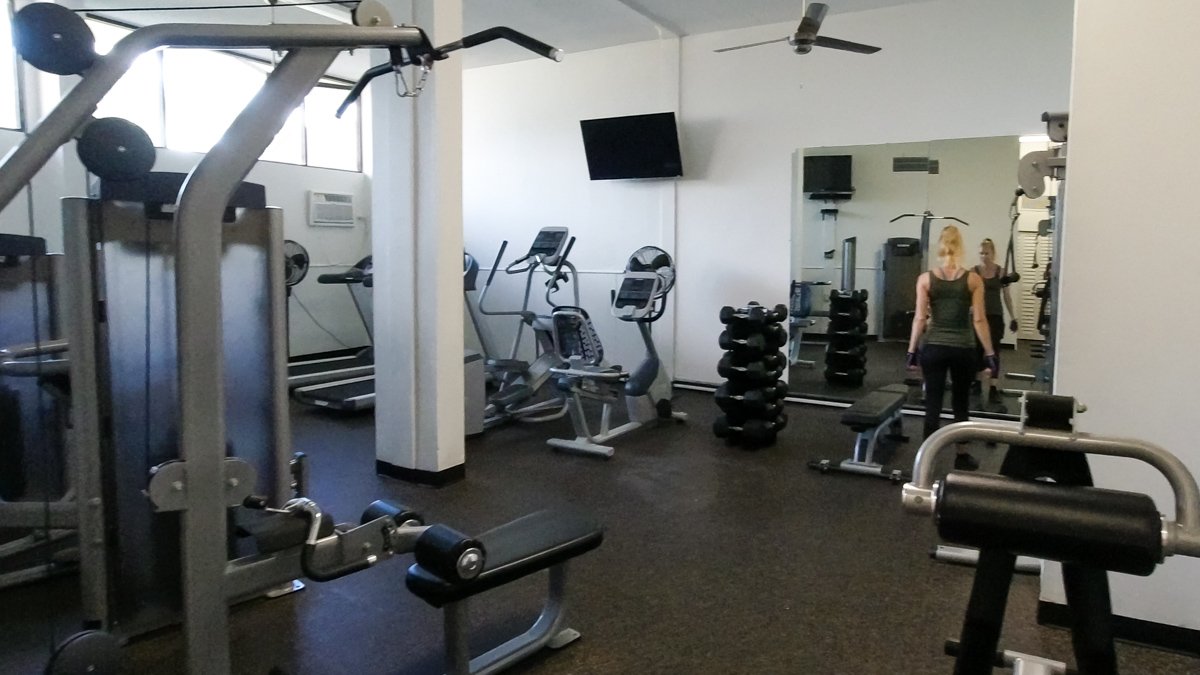 Amenities at Harbor Towers Yacht and Racquet Club
For those who enjoy staying in shape, Harbor Towers provides a fantastic gym as well. Equipped with all the latest cardio equipment, plenty of free weights and an abundance of workout stations – it was the ideal place to get some exercise!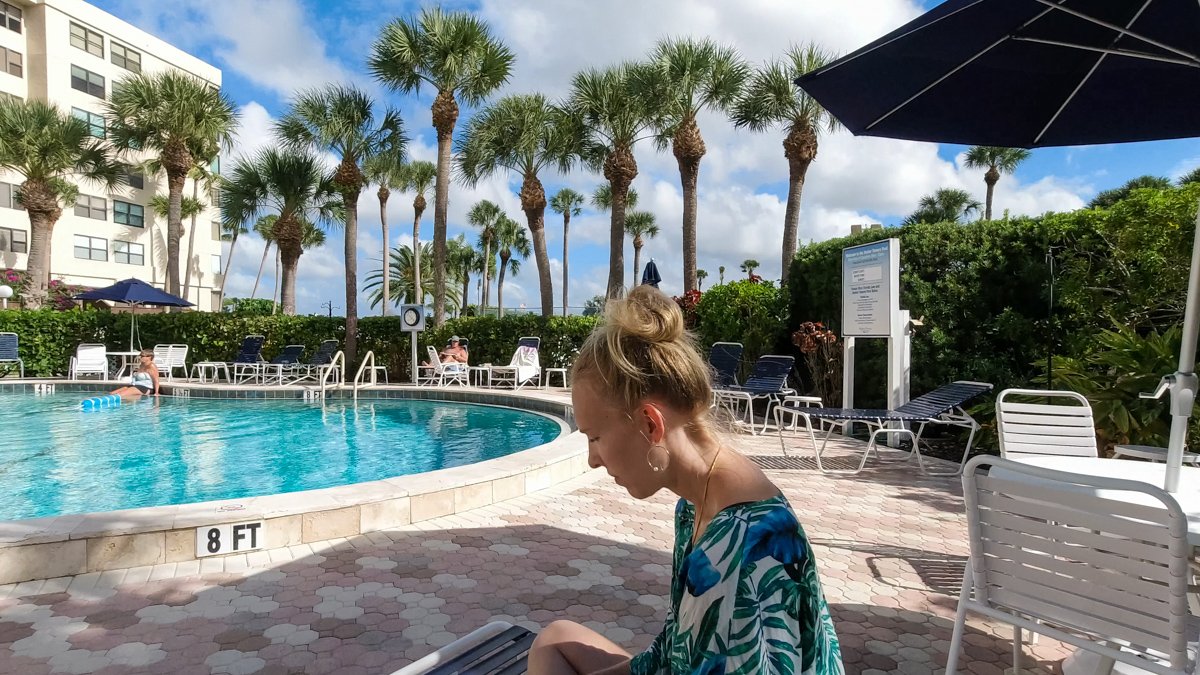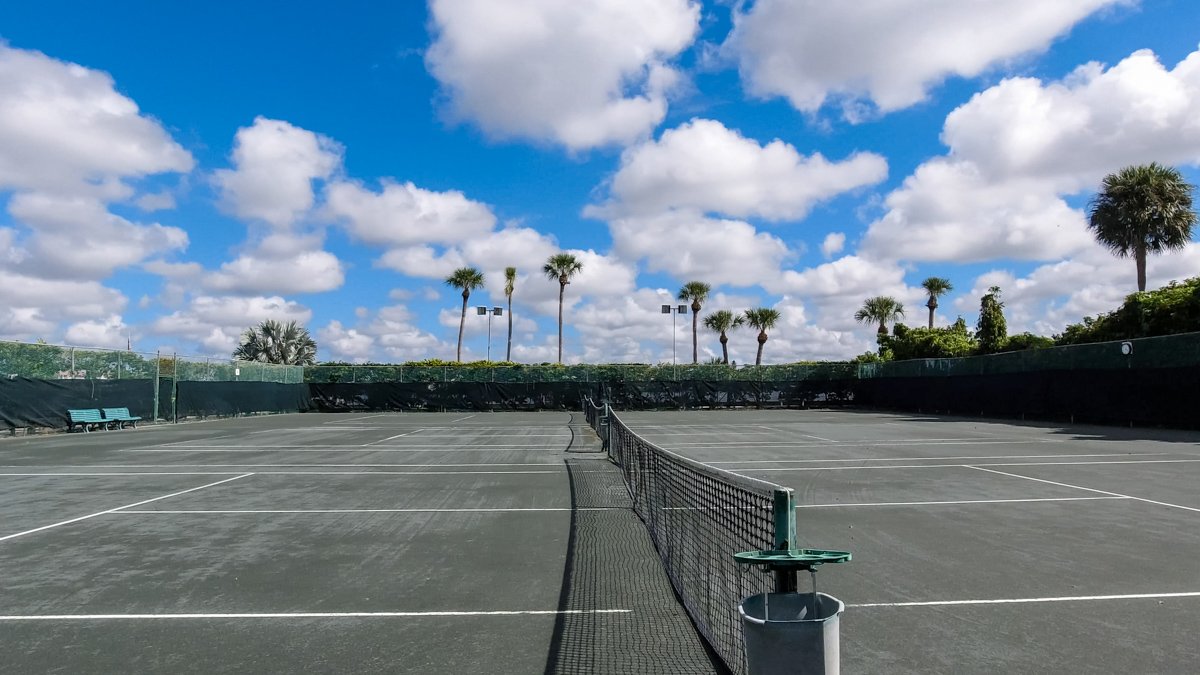 In addition the complex boasts a glorious pool with an inviting kiddie pool; perfect for families on vacation. There are also two tennis courts, benches and sun chairs along the intercoastal waterway to take in the sun or the views! If you like to grill there is a large outdoor patio space with several grills. There is also an indoor kitchen, recreation room with pool table. Our lunch breaks were usually spent recharging in the sun by the pool before returning to our condo to work or exploring this tropical paradise!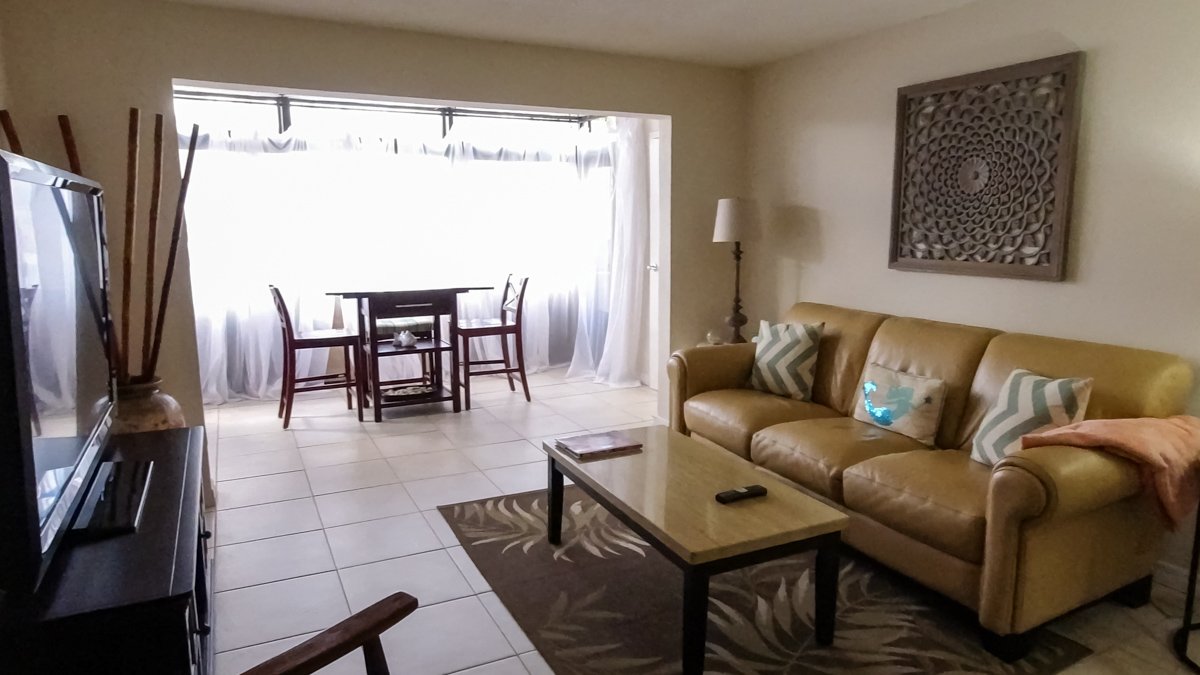 Our Spacious Siesta Key Vacation Rental
Our spacious condo was ideal for enjoying our stay without feeling confined. All units come equipped with a fully-furnished kitchen area, living space and bedrooms. After careful consideration, we decided to book a spacious 2-bedroom 2-bath unit which was more than sufficient for our needs. Joel utilized the second bedroom as an editing space/office and we also enjoyed the bright sunroom our unit had providing a partial view of the marina and intercoastal waterway.
Nestled in the midst of Siesta Key's alluring natural beauty, Harbor Towers Yacht and Racquet Club was the ideal destination for our long term stay. It would also be a great base for a family on vacation or a workcation.
We booked our 5 weeks stay at Harbor Towers on Siesta Key through VRBO
Looking for a shorter term rental? Check Hotels.com, Booking.com or Expedia to see what is available for your dates.
No Full Service Siesta Key Hotels
If you're planning a trip to Siesta Key, one thing that should be taken into consideration is the lack of full service hotels. There are quite a few full service resorts and independent vacation rentals dotted along the island if you're looking for a more a luxurious experience. But expect to pay accordingly. If you're looking to use your Hyatt points, the Hyatt Residence Club Sarasota, Siesta Key Beach is your best option.
Unfortunately we have not found any cheap Siesta Key rentals. For more budget-friendly accommodations, we recommend looking for rentals further from the village. During peak season, Siesta Key beachfront rentals can cost up to $300-$500+ per night.
Do you need a car while staying on Siesta Key?
Having a car while staying on Siesta Key can be a convenient way to explore the island and all its attractions. There are no car rentals agencies on the island itself, but there are a few just a short rideshare away if you want to explore off island. Having a car is great but if you're on a budget like us it just wasn't the best use of our money to rent a car for 5 weeks straight.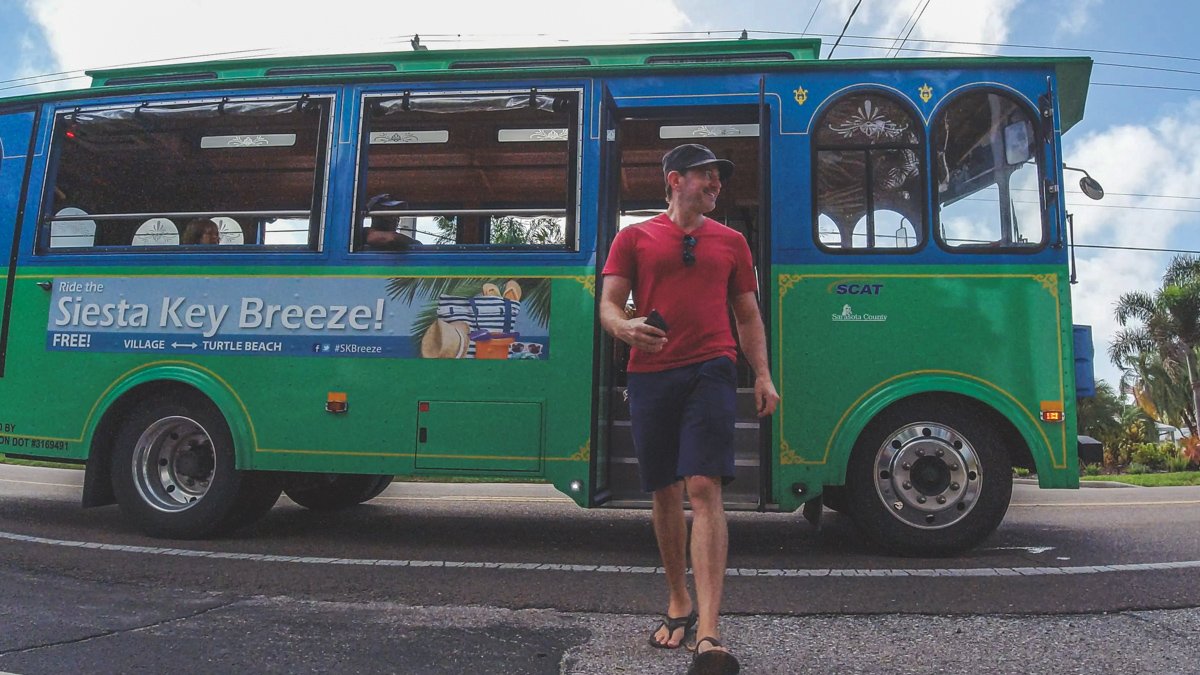 Luckily public transportation is available on the island and off. There's a even free trolley called the Siesta Key Breeze that runs up and down the island about every 30 minutes. We found two stops right outside Harbor Towers making it very convenient to get into Siesta Key Village. The trolley is hop on hop off, just tell the driver where you would like to be dropped off. It does have limited hours and can fill up quickly on the weekends or in high season. Read more about getting around Siesta Key here.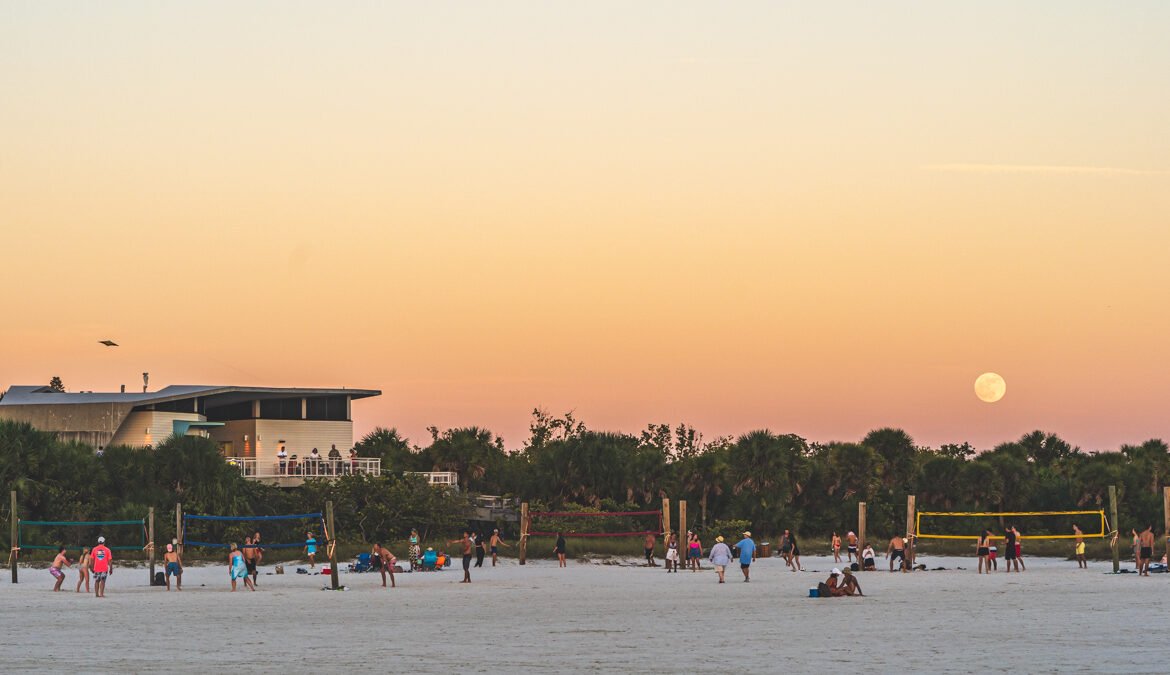 Things to See and Do on Siesta Key
With its massive white sandy beach, you can spend your days soaking up the sun, or take a leisurely stroll and pick up some shells. There are plenty of water activities to take part in such as fishing, kayaking, paddleboarding, or boat tours. If you're looking for something more adventurous, you can explore the nearby natural preserves and take part in fun outdoor activities like hiking and biking nearby.
Siesta Key is also known for its restaurants and bars. We enjoyed a some delicious meals and plenty of cocktails during our stay. No matter you're reason to spend time on the island, Siesta Key has something for everyone!
Conclusion
Overall, Siesta Key was a great place for us to explore and focus on our work life balance. Our stay at Harbor Towers provided us with the resources and amenities for us to enjoy life to the fullest. With a variety of transportation options available, from the trolley to bike rentals, it was easy for us to explore the island and all its attractions.
Additionally, with plenty of restaurants, bars and shops throughout the island, it's easy to stay entertained while in Siesta Key. Our favorite thing about Siesta Key was enjoying sundowners on the gorgeous beach with its powdery white sand and idyllic lifeguard huts. With so much to do, it's no surprise that Siesta Key is one of Florida's favorite tourist destinations and a great digital nomad destination.
Using our affiliate links (hotels.com, expedia.com, VRBO, Hertz, Chase Sapphire Prefered, Viator, etc.) supports great content on wanderinghartz.com and our Youtube channel.
None of the affiliate links cost you anything or increase the price you pay, and we may earn a small referral commission.
Or if you're feeling generous you can buy us a much appreciated glass of wine (or whiskey)!
Cheers,
Happy Wandering!
Joel and Michelle