A VISIT TO THE LEGENDARY PINK PALACE – DON CESAR HOTEL
Waking up to lovely skies we take an easy day trip down to St. Pete Beach to check out the lovely Don CeSar Hotel!
Our day started with a quick ride from our VRBO on Treasure Island to St. Pete Beach. We called up a local "Free Taxi" you can find along the suncoast. 15 minutes later and a $6-12 tip later, we had arrived.
The Don CeSar Hotel
St. Pete Beach is home to some very lovely beaches and cool mid century hotels. Michelle wanted to check out the famous, and pink, Don CeSar Hotel. The Don CeSar Hotel is a 1920's art deco hotel that is beautifully restored and located right on St. Pete beach.
While exploring the hotel we could imagine the lavish parties thrown back in the day. High society dancing late into the summer nights with nonstop champagne flowing. It was giving us major Great Gatsby vibes.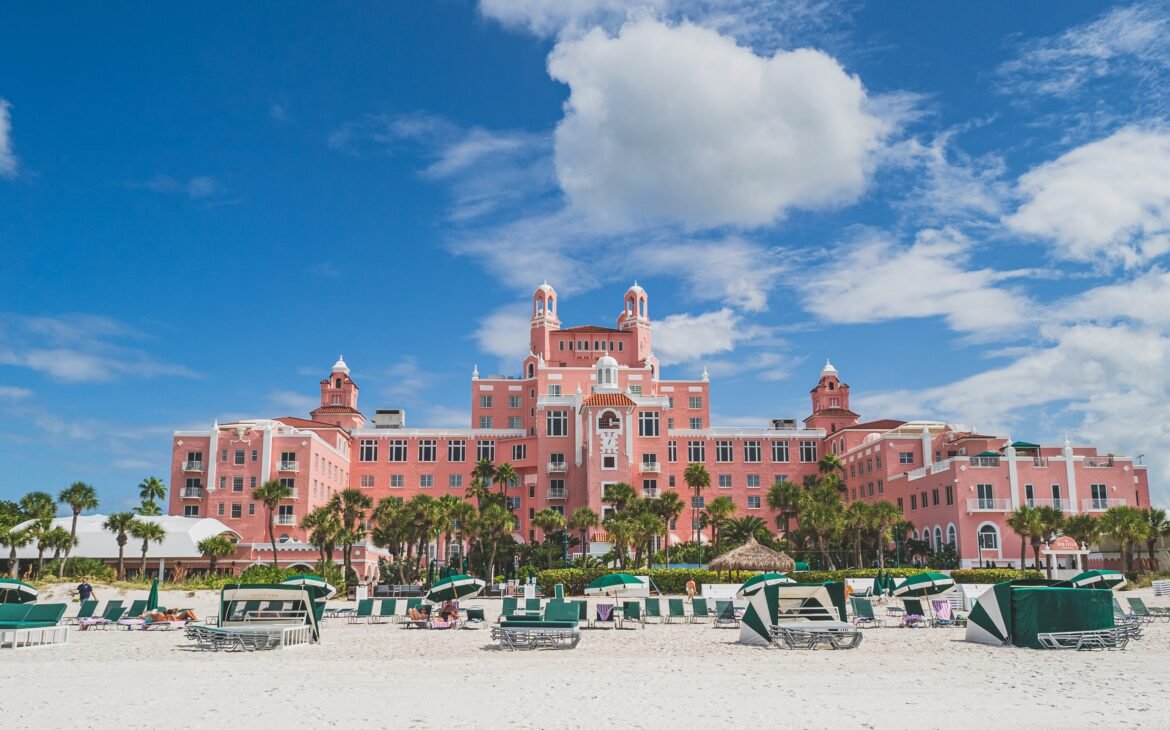 "The Pink Palace" as it's affectionately known is a quite impressive hotel. You get the full beauty of its architecture looking at it from St. Pete Beach. Along the beach the Don CeSar Hotel has beach chairs, cabanas, and umbrellas for rent. Perfect for spending all day relaxing on the sugary white sand and enjoying the ocean breeze.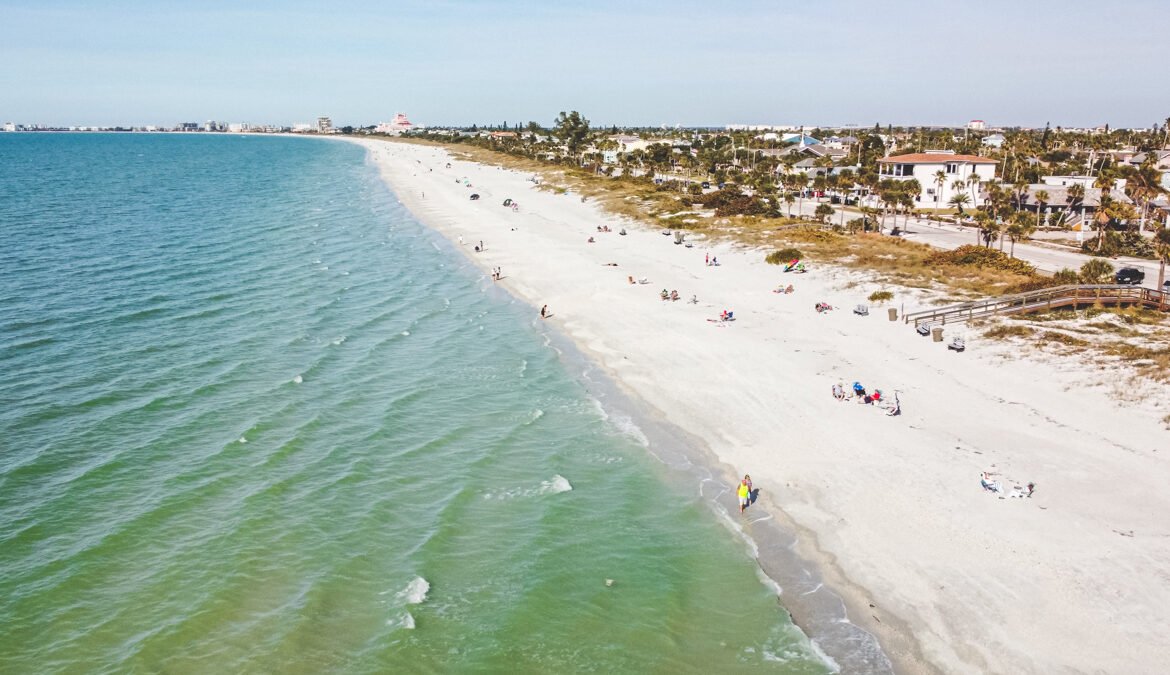 While we didn't get to enjoy the cabanas or stay overnight on this visit, staying at The Don CeSar would certainly be a luxury getaway. There's even a full spa and wellness retreat, 4 restaurants, and 2 heated pools. The Hotel is quite popular for destination weddings and we even have some friends who got married here.
Or, if you want less commitment, you could just book your next vacation here!
Check rates:
Perfect Day for a Stroll Along the Beach
The Florida weather was perfect for our visit to the Don CeSar and St. Pete Beach. The white soft sand was inviting our bare feet. So off with the flip flops, our footwear of choice, and we decided to walk all the way down the beach to Paradise Grille in Pass-a-Grille.
You can't beat beachfront dining and so we ordered our food and grabbed a table with a view. The food was reasonably priced and pretty good too! Drinks weren't overpriced, especially for a beach restaurant and they even serve breakfast everyday till 11:30 AM.
If you want to stay and check out Pass-a-Grille there's plenty to keep you busy. Stroll through historic 8th Ave. lined with boutique clothing shops, art galleries and restaurants. At the corner of 8th Ave. and Pass a Grille Way is Merry Pier. You can charter a boat for deep sea fishing, find rental bicycles and even take a cruise out to Shell Key Wildlife Preserve.
Birdwatching is particularly good at Merry pier too. Get there when the fisherman come back in and watch the pelicans and egrets jockey for fish scraps as the fisherman clean the fish.
Our beautiful Florida weather decided to briefly throw a little fit as it sometimes does. That's sub tropical weather for you! And we managed to get caught in a typical Florida pop up rainstorm while eating our fish tacos! Once the deluge ended a few minutes later and the sun shining bright again, we decided to head back up to Treasure Island beach for sunset.
Treasure Island Beach
Treasure Island Beach is massive! It is also one of our go to places to enjoy the epic sunsets on the Gulf Coast. With sundowners in hand we enjoyed the show for the evening. As the sun began its last descent we watched the boats take tourists out along the coast to watch the sun drop behind the clouds. I photographed far too many birds doing bird things along the beach and in the surf. A great end to a lovely day.
Check out our guide to Treasure Island, we have a whole blog post about how to get around, where to eat, and what to see!
Using our affiliate links (hotels.com, expedia.com, VRBO, Hertz, Chase Sapphire Prefered, Viator, etc.) supports great content on wanderinghartz.com and our Youtube channel.
None of the affiliate links cost you anything or increase the price you pay, and we may earn a small referral commission.
Or if you're feeling generous you can buy us a much appreciated glass of wine (or whiskey)!
Cheers,
Happy Wandering!
Joel and Michelle