Why We Love the Hotels.com Rewards Program
In this Cheap Travel Hack Series we look at different ways to save money and maximize our travel budget. We are always looking for ways to get the best bang for our travel dollars so we can "spend less in order to experience more".
Today we are going to look at one of our go to travel hacks to save money, the Hotels.com rewards program.
Full disclosure: We are affiliates with Expedia.com, Booking.com and Hotels.com because we actually use them. So if you use our links we earn a small commission on any bookings you complete. It helps us pay for this site and the travel that makes these articles possible. Thanks in advance!
Where to Start Looking for a Hotel when Planning a Trip?
Booking a hotel these days can be a bit intimidating. There are a seemingly endless amount of options available online that were not around even 20 years ago. And, if you're like us, you're are always wondering if you are getting a fair deal.
We travel a lot. We do it because we love to travel and also because we want to share our experiences with you to inspire your travel and to make it easier.
One of the easiest ways we have found to book hotels is with Hotels.com . There are lots of great options including Booking.com, priceline.com, and Expedia.com but Hotels.com has a really great advantage, its' reward program.
Needless to say we are huge fans of the Hotels.com Rewards Program.
What is the Hotels.com Rewards Program?
The Hotels.com Rewards Program is a loyalty program that is free to enroll in and is a great way to earn free room nights at properties all over the world.
Collect Stamps for Free Stays
Do you remember those reward cards you would get at the coffee shop? One stamp for each coffee and once you fill it up you get a free coffee? Well the Hotels.com Rewards Program works the same.
You receive a Stamp for every night's stay at an eligible property. For every 10 Stamps you earn, you receive a Reward Night! Just like at the coffee shop. Each Reward Night is worth the average cost (before taxes and fee) of your 10 completed stays.
So if your 10 stays average $200 each before taxes and fees, you would earn Reward Night worth $200.
Your Reward night can be redeemed at over 1,000,000 eligible properties world wide! You would just have to pay any taxes and fees on your reward night. The best part is that you can even use your reward night credit towards a pricier property, you pay the difference.
Member Price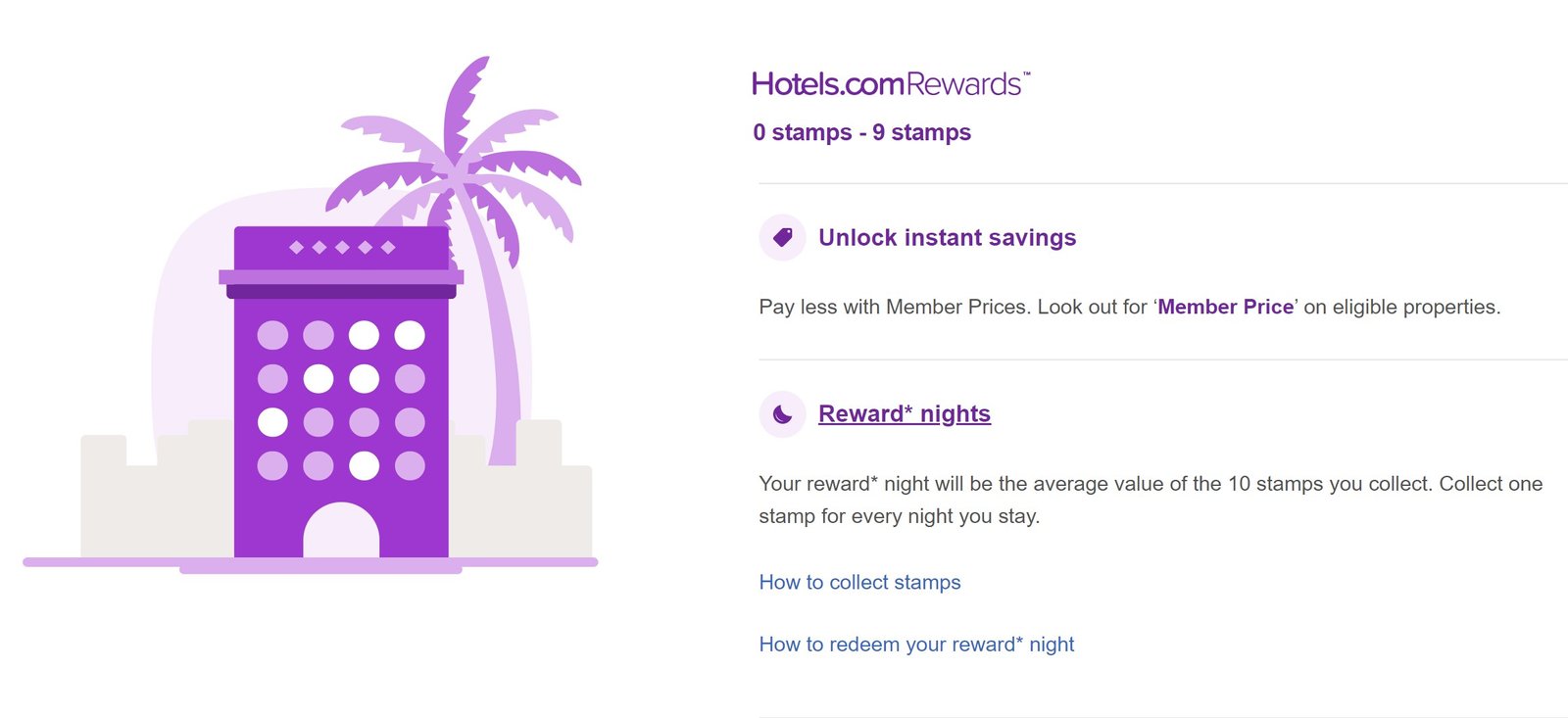 As a member you also get immediate access to member only discounts with the "Member Price" on select properties. Just look for "Member Price" next to a property. In our experience this is usually around 10% off.
VIP Perks with Silver or Gold Status
For those of you who spend a lot of nights in hotels you can also achieve silver or gold status giving you VIP status perks at some participating hotels. The status perks are in addition to earning room nights!
The Silver VIP status perks we've seen include free parking, a bottle of wine or even breakfast credit for two. Sometimes it can be a gourmet breakfast like the one we got in Scottsdale.
Another Silver perk is the Price Guarantee Plus, where Hotels com will match a price if you find a better one prior to check in. You also get access to a priority customer service line.
The Gold VIP perks includes the Silver Perks and adds; free room upgrades, early check-in and "guaranteed late check-out" of two hours at VIP Access properties.
To earn the Silver you need to stay 10 nights in one year (10 stamps). Gold is achieved with 30 nights in a year (30 stamps).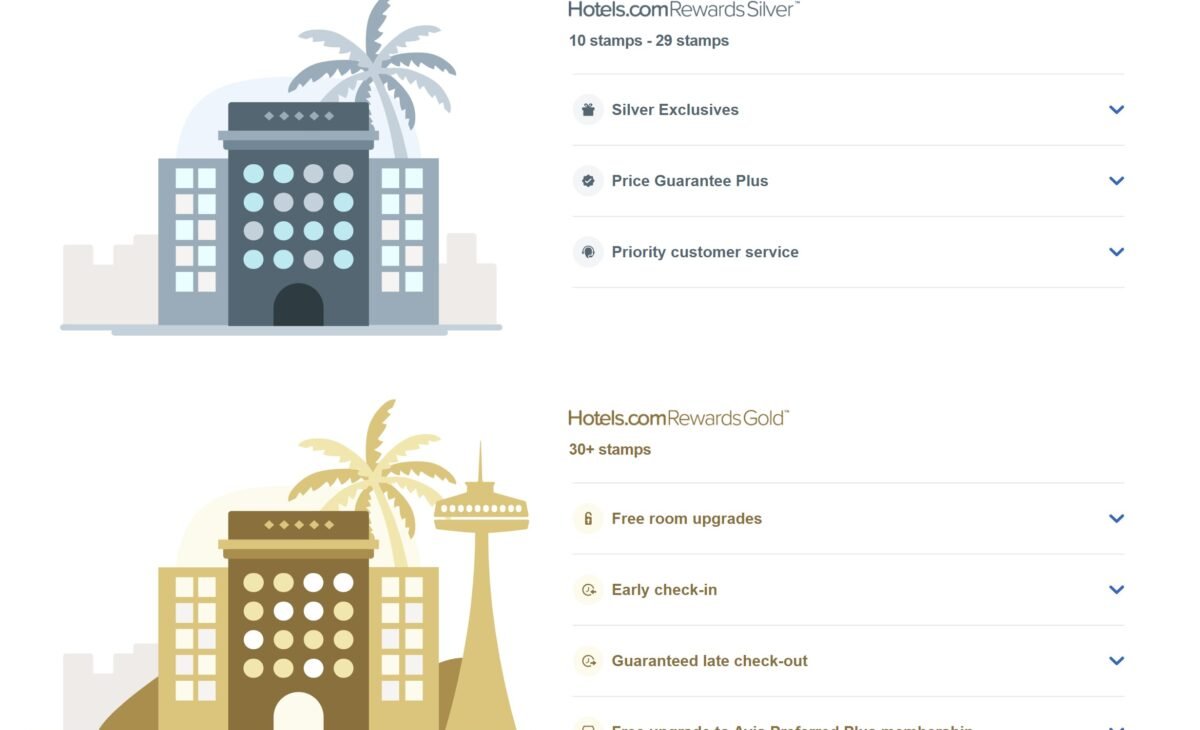 How We Use The Hotels.com Reward Program in Our Travels
We prefer to slow travel in general, usually staying in a vacation rental like a VRBO for weeks to even months at a time. The way we usually use the Hotels.com rewards program is for our shorter stays like long layovers, overnights, city breaks or even a weekend getaway.
Another way that we use Hotels.com when traveling is by booking a few nights or a week when we first arrive in a new city or country. This is especially helpful if we haven't locked down our longer term accommodations yet, giving us more time to look for an ideal longer term stay.
Even More Reasons We Use Hotels.com
Lots of Accommodation Options
A great benefit to using Hotels.com is you have access to lots of hotel brands. Hotels.com has a large selection of independent and smaller hotels and resorts worldwide. In the last few years this selection has expanded even further with vacation rentals like the one we stayed in at Mammoth Lakes. There are over 1,000,000 different properties available worldwide.
Easy to Filter for Your Preferences
Hotels.com makes it really easy to filter for all kinds of useful parameters. I like that I can easily filter by proximity to a location like an airport, attraction or neighborhood. You can even filter places by guest rating, price, amenities with breakfast included, VIP rewards, gym's or even kitchenettes.
No Pricing Tricks
Transparency is important to us and we hate to find something on a popular vacation rental platform only to find that the "total price" listed next to the property is not actually the total price.
We have seen this happen a lot with AirBnB and other platforms. It goes something like this: I search for accommodations in my budget range only to be shown listings pre tax and fees. This has probably happened to you as well. It is frustrating and makes me feel like I am being tricked, not a good way to start a transaction.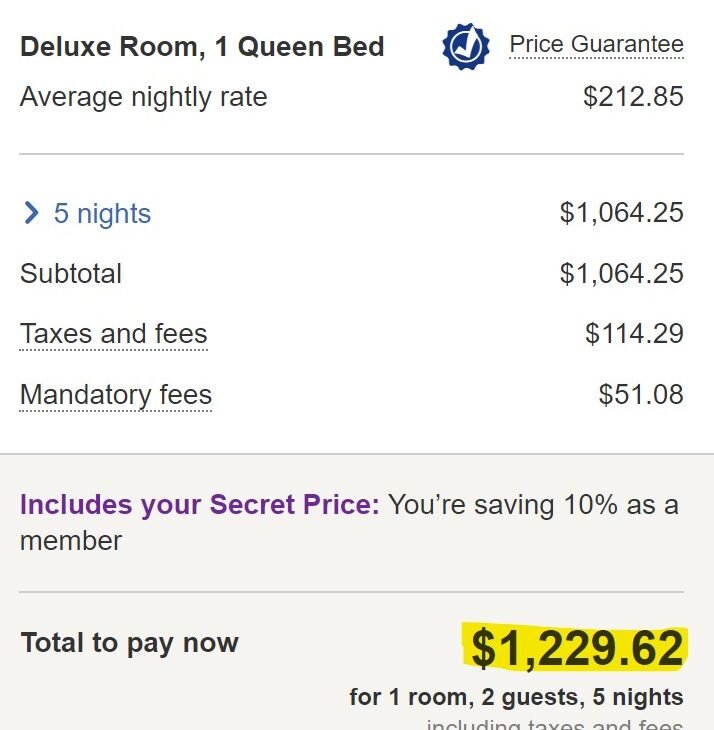 Hotels.com recently made a pretty great change that places the "Total Price" you will pay right next to the room with the listing. The price includes taxes and you won't have any surprise costs added when you get to the booking screen. I really appreciate this as will you.
Is The Hotels.com Reward Program Right For You?
Well if you travel for pleasure or business and prefer shorter stays of up to a week then we think the Hotels.com Reward Program could be a great fit for you. The best part about using Hotels.com in our opinion is the ease of use.
The interface is easy to use and filter for your specific Needs.
Followed by a great reward of a room night for collecting just ten stamps (stays). That's essentially getting a 10% credit for each stay.
Over 100,000,00 eligible hotels available worldwide
VIP Status Perks like free breakfast or valet parking
Members Price offers that can save even more money upfront
Price Transparency
Join Hotels.com and start earning reward nights
As always this article is our option from our experience, your mileage may vary or Hotels.com may not be the best fit for you. Either way we would love to hear your thoughts in the comments!
Get inspired with our latest travel articles!
---
Using our affiliate links (hotels.com, expedia.com, VRBO, Hertz, Chase Sapphire Prefered, Viator, etc.) supports great content on wanderinghartz.com and our Youtube channel.
None of the affiliate links cost you anything or increase the price you pay, and we may earn a small referral commission.
Or if you're feeling generous you can buy us a much appreciated glass of wine (or whiskey)!
Cheers,
Happy Wandering!
Joel and Michelle