The Dali Museum: A Surreal Florida Experience you won't soon forget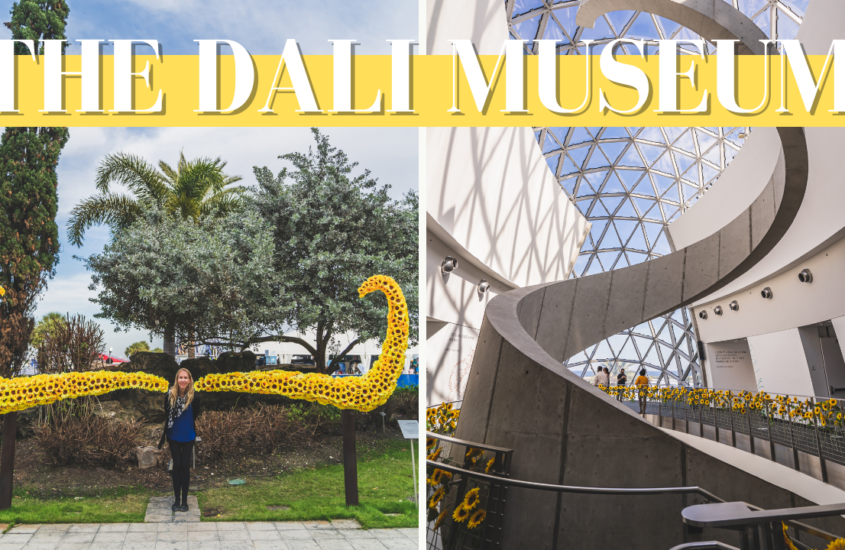 Our day started off bright and sunny as we traveled from Treasure Island to The Dali Museum in St. Petersburg, FL. The Museum opened in 1982 and is the only Salvador Dali Museum outside of Spain. It hosts over 2,400 works of art from Dali and is one of the most comprehensive in the world.
How To Get to the Dali Museum
There are several ways to get to The Dali Museum from the barrier islands or if you're coming from the Tampa area. During our visit we were staying on Treasure Island, one of the barrier islands along the gulf coast.
To get there from Treasure Island, St. Pete Beach or Madeira Island you can take the Pinellas Sun Coast buses but it takes about an hour and a half. By car it's about 30 minutes but if you don't have a car you could take a rideshare with the cost averaging about $35-$40.
Travel from the Tampa area takes about the same time as from the barrier Islands as it's pretty centrally located between the two. Expect 30 minutes by car and between an hour and half to a little over 2 hours by bus public transit.
Since we didn't have a car in Florida at the time we decided to just rent one. Our car rental cost us $55 for the day plus the cost to pick it up and return it via Uber. We decided to rent for the week instead so we could venture out a bit further while we were on the SunCoast. The total cost for us was $219 or about $31 a day plus pick up and return costs. 
Want to earn up to 60,000 bonus points for travel? We use our Chase Sapphire Preferred card to earn points for all of our travels and you can to. Sign up and you will get 60,000 bonus points after spending $4,000 in the first three months your account is open.
Parking and Admission for The Dali Museum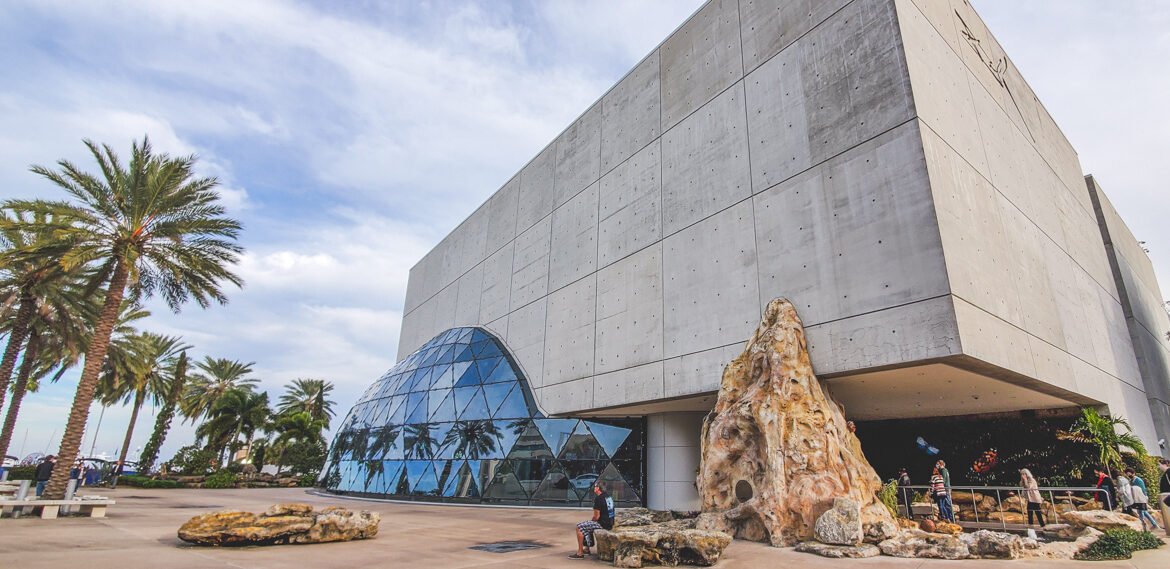 Arriving and parking at the museum was fairly easy. We did have a tiny bit of confusion since the St. Petersburg boat show was going on during our visit. We chose to park in the main parking lot of the Dali Museum for convenience and it was $10. That parking is good until when the museum closes at 8pm.
For our RV friends, their lot is Rv friendly if it fits in a standard spot, 9 x 18 feet. They also have two oversized spots but they are first come first served and cost $20.
Pro Tip: Enjoy a stroll down to the St. Pete Pier to get more value from the parking costs.

As of January 2022 you still have to make reservations online and secure a timed entry. We picked an afternoon spot and it cost $29 per person or $27 if you're a veteran. To save even more cash they have a 50% off on Thursday nights after 5pm, but all the spots were taken when we tried booking.
Check the Dali Museum's website for the most updated reservation policy.
The Dali Museum
Once inside we spent the rest of the afternoon soaking up all the art we could. There's a lot to see since the collection spans Salvador Dali's entire career. It takes most people between 2.5 to 3 hours to experience the entire museum and grounds.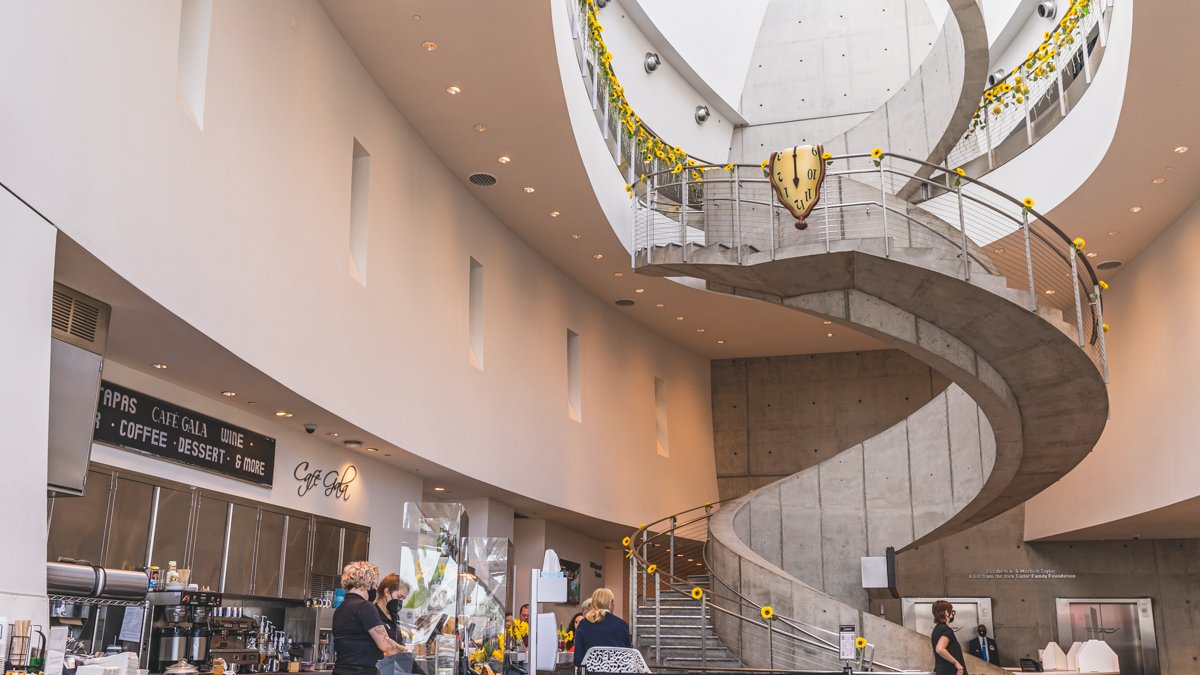 If you're in the mood for a bite to eat we highly recommend Gala Cafe located on the first level. There's a great selection of soups, salads, tapas and yummy sandwiches. There are tables inside and even more outside next to the Avant-Garden.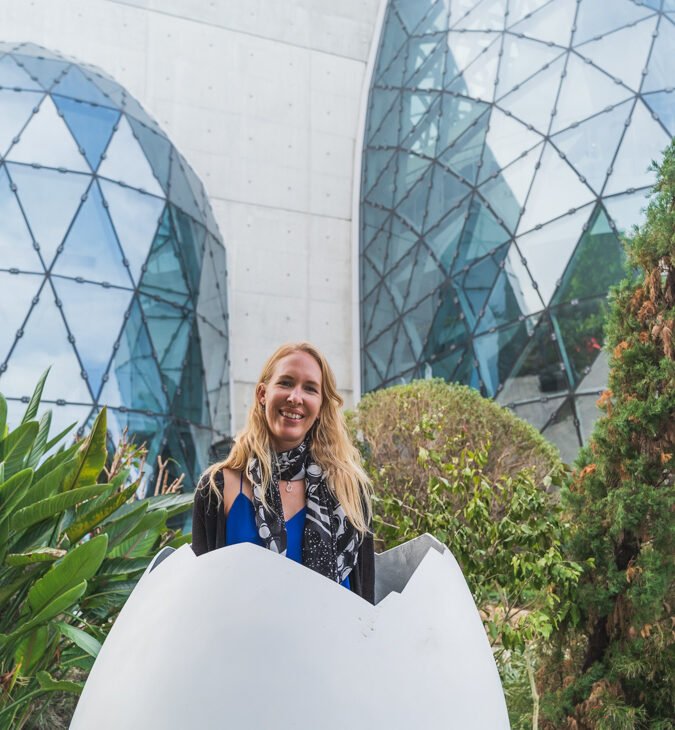 Make sure to give yourself some time to walk around the Avant-Garden in back of the museum. There's fun art installations to interact with and get your picture taken. A beautiful ficus is at the center with a labyrinth to walk for quiet contemplation.
TIP: Download the free Dali Museum App. This app is really cool and comes with Augmented Reality, themed tours and a map.
The Dali Museum also offers free lockers to store your belongings while visiting. Their policy is to not allow any backpacks, large bags, umbrellas, helmets or child backpacks into the museum.
Our trip to the Dali museum was the perfect day out. The collection is expertly curated and is a joy to walk through and experience the extraordinary talent of Dali. While visiting the Dali Museum we highly recommend the 15 minute walk to the Saint Pete Pier just a mile North along the boardwalk.
Discover more Florida Articles
Local Stays near the Dali Museum
Using our affiliate links (hotels.com, expedia.com, VRBO, Hertz, Chase Sapphire Prefered, Viator, etc.) supports great content on wanderinghartz.com and our Youtube channel.
None of the affiliate links cost you anything or increase the price you pay, and we may earn a small referral commission.
Or if you're feeling generous you can buy us a much appreciated glass of wine (or whiskey)!
Cheers,
Happy Wandering!
Joel and Michelle