Visiting Puerto Rico: El Yunque National RainForest in 2024
No trip to Puerto Rico is complete without a visit to El Yunque National Forest. As we were planning our trip to Puerto Rico we kept seeing El Yunque pop up as a must see on all of the "top to do in Puerto Rico" lists. Intrigued yet unfamiliar set out to find out more.
Our research lead us to articles on blogs like our own and YouTube videos, from people who had actually been there! It became apparent we definitely needed to check it out this magical place on the Isle of Enchantment.
The Only Tropical Rainforest in the United States
As it turns out El Yunque is the only tropical rainforest in the United States National Forest System. It's small by comparison to the other forests in the system at 29,000 acres. It is also one of the most biologically diverse and breathtakingly beautiful forests as we discovered for ourselves.
There are over 240 species of native trees, with 23 tree species that only can be found in the forests of El Yunque. If you listen you can hear all of the amazing wildlife including the Coquis, the native frogs. It is also home to one of the world's most endangered birds, the Puerto Rican parrot!
In fact some part of the Luquillo mountains in which El Yunque is nestled in, have been a protected area since 1876 while under Spanish control. Luckily it still remains a protected area today even after the U.S. gained control of the island after the Spanish American War.
Want to earn up to 60,000 bonus points for travel? We use our Chase Sapphire Preferred card to earn points for all of our travels and you can to. Sign up and you will get 60,000 bonus points after spending $4,000 in the first three months your account is open.
What is Open in El Yunque National Forest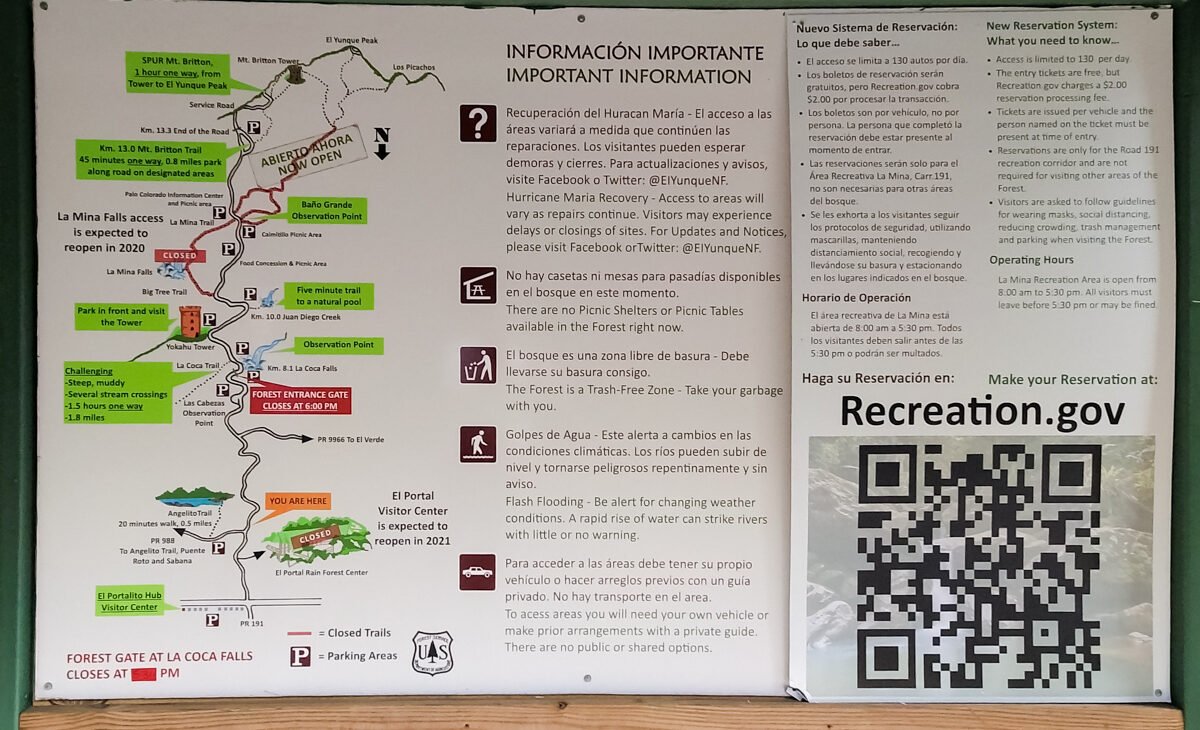 When hurricanes Irma and Maria swept through Puerto Rico in 2017 they caused quite a bit of destruction to the island including the rainforest. Recovery efforts have been slowly ongoing with most of the 24 miles of trails back open but there's a few still closed. The most notable and popular trail is La Mina which is still closed as of early 2022, so be sure to check the hiking trails website and map before you go.
El Portal de El Yunque (the visitor center) is now open again after a 30 month renovation ending in January 2022. The new center offers exhibits, a cafe, theater and the opportunity to see and learn about the endangered Puerto Rican Parrot.
Admission is $8 and open daily from 9AM-5PM. The visitor center is located along Carr 191 before you get to the heart of El Yunque and the La Mina Recreation area.
Reservations for the La Mina Recreation Area
El Yunque National Forest has many free places to visit but perhaps the most visited is the La Mina Recreation Area on Carr 191 (road 191). The recreation area has the bulk of the trails and sites concentrated together.
Due to a combination of Covid restrictions and in an effort to reduce overcrowding a timed entry ticket has been required for La Mina Recreation Area since it reopened in July of 2020.
Note: If you booked a reservation with an authorized tour an entry ticket is not required.
You can book your timed reservation tickets up to one month in advance. The fee is just $2 for the whole vehicle and can be booked online. Just show your printed or digital ticket to enter. There are additional tickets released 24 hours hour in advanced but they go quickly.
We recommend getting your ticket as soon as you know you will go. If your worried about any temporary closures to inclimate weather then do what we did, purchase an alternative date ticket as well. We loved it so much we went back on our alternative day too.
You can check on the latest Covid-19 information at the forest service page here.
Book your tickets here: El Yunque Reservations.
Your ticket will get you entry to the La Mina Recreation area between 8 a.m. and 3 p.m. and this part of the park closes promptly at 5:00 p.m. so be sure to watch your time!
During our trip here we really appreciated the timed ticket. With a limited number of people in this popular area it made it feel more magical. Another plus was we had no trouble finding parking!
How To Get to the El Yunque National Forest
El Yunque is an easy day trip if you're staying in San Juan. Plan for a 45 minute to 1 hour drive depending on traffic if you're coming from San Juan. If you're staying in Luquillo it's only a 10-15 minute drive and if you're in Fajardo add another 10 minutes.
What is the Best Way to Explore El Yunque?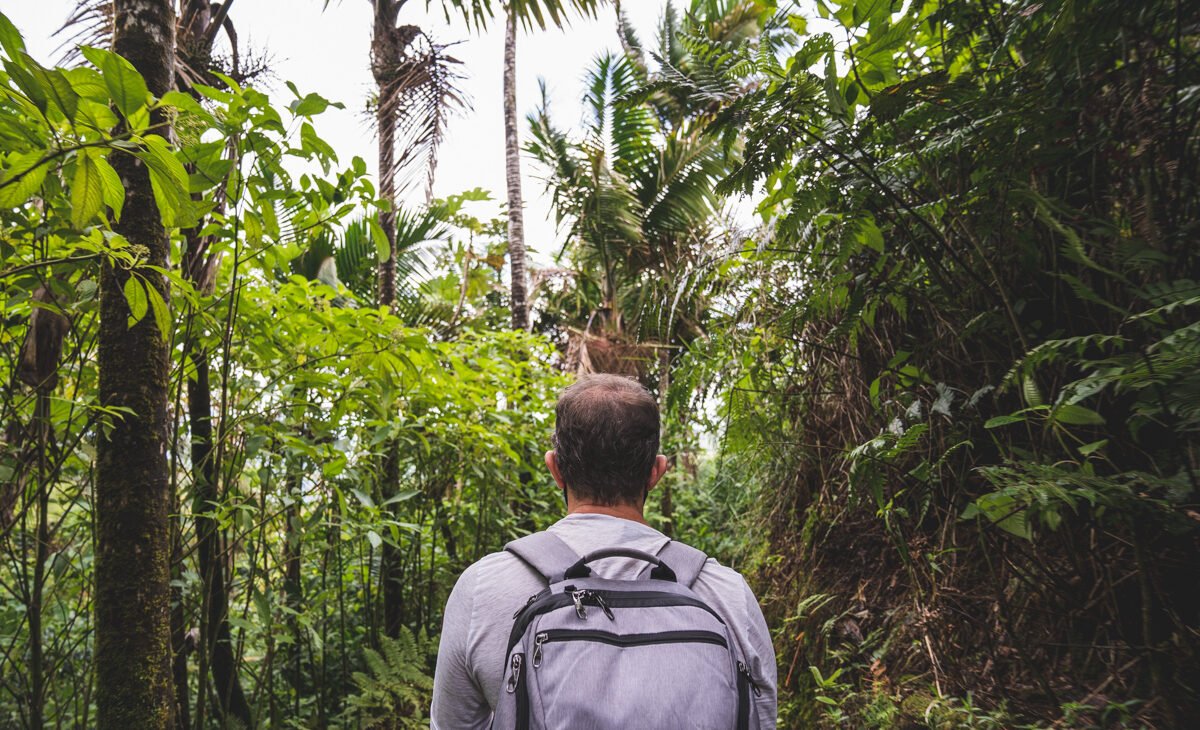 Depending on how much time you have to explore will determine the best way to visit El Yunque. If you have loads of time to explore and want to see every natural feature then booking a rental car would be your best option. If your short on time or nervous about dodging potholes or the narrow roads, then a tour might be your best option. None the less it is easy to navigate and we had no trouble using our phones GPS.
Rental Car
Renting a car is by far the best option if you have the time or even better already have the rental car. You can book a rental car for just the day but logistically only if you are staying in the Greater San Juan area, or Fajardo. There are just not as many car rental options on the island outside of the major towns of San Juan, Fajardo, Aguadilla, Mayagüez and Ponce. Read about getting around in Puerto Rico here. Driving yourself you will need a time reservation ticket, like we mentioned earlier.
Rideshares Taxis and Private Cars
FYI if you were planning on booking a Rideshare, they are not allowed in the park and don't operate outside of San Juan. Taxi or private car services are also not allowed inside El Yunque without a special permit.
Book a Tour Operator
Booking one of the many tours that take you into the El Yunque National Forest is actually pretty easy. There are a lot of providers offering excursions to different areas of El Yunque including the La Mina area. You may be able to book a tour though your hotel or through Viator, GetYourGuide, or Expedia.
Note: Entry ticket reservations are not required for tours booked with an authorized tour operator under a special use permit.
Here are a few highly rated ones we found that include transportation from San Juan:
El Yunque National Forest Half Day Tour – admission to La Mina area and El Portal de El Yunque visitor center
El Yunque National Forest Tour from San Juan – This tour is outside of the La Mina area
Casual One- El Yunque Rainforest, Waterslide, Beach, Dine, and Shop w/ Transport
From San Juan: El Yunque Forest Off the Beaten Path Tour
During our trip we had a rental car so we drove to El Yunque from our Vacation Rental in Fajardo. Once on Carr 191 the drive up is a lovely, windy and sometimes narrow road but easy to navigate.
What to Wear Hiking
The El Yunque rainforest receives an average of 120 inches of rain a year with some parts seeing nearly 200 inches! You will want to be prepared to deal with weather while you're hiking as it's almost a guarantee you will get wet! Dress in layers because if the sun comes out it can be warm and quite nice.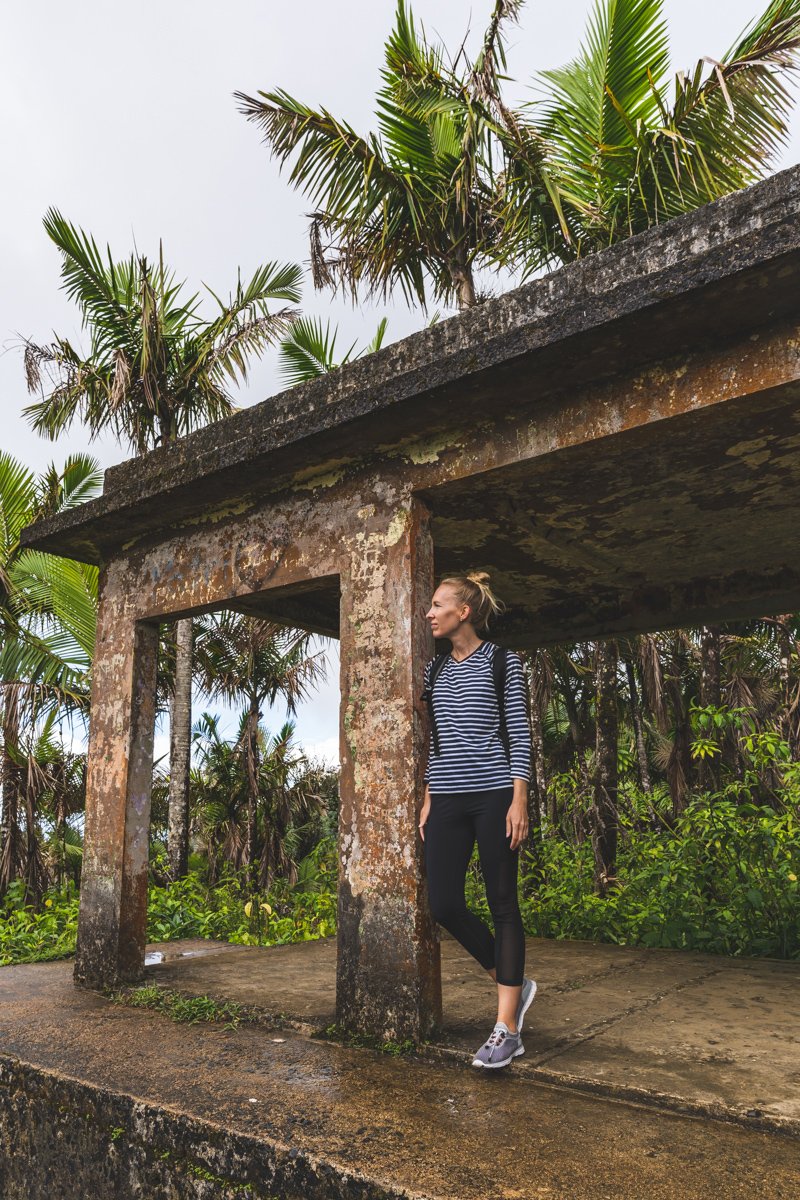 Bring a raincoat with a hood, hiking boots, backpack, water, snacks and a towel. We based our reservations by looking at the weather each day and hoped for the best. Don't forget your sunscreen either!
Tip: Wear proper footwear that can get dirty! It can be slippery on the trails and muddy.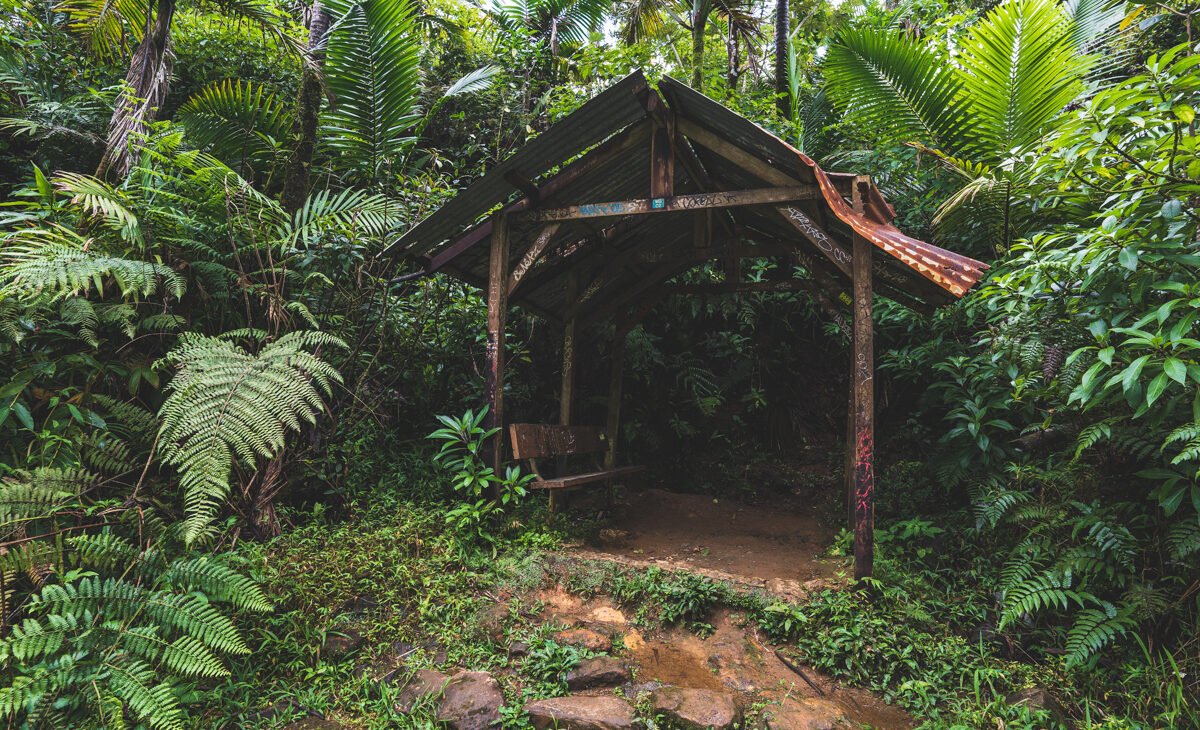 Our first day hiking we got wet but there are a lot of small shelters along the trails. When it rained we ducked into a shelter for about 10-15 minutes and waited out the worst of the downpour. Our second day hiking we had beautiful weather and it actually got warm enough for us to peel off our coats and soak up some sun.
Things to See and Do in El Yunque's La Mina Recreation Area
La Coca Falls
Upon entering the La Mina Recreation area you are greeted with the waters of La Coca Falls dropping 85 ft on your right hand side. are There's parking and a small gift shop to check out as well.
Mt. Britton Trail and Tower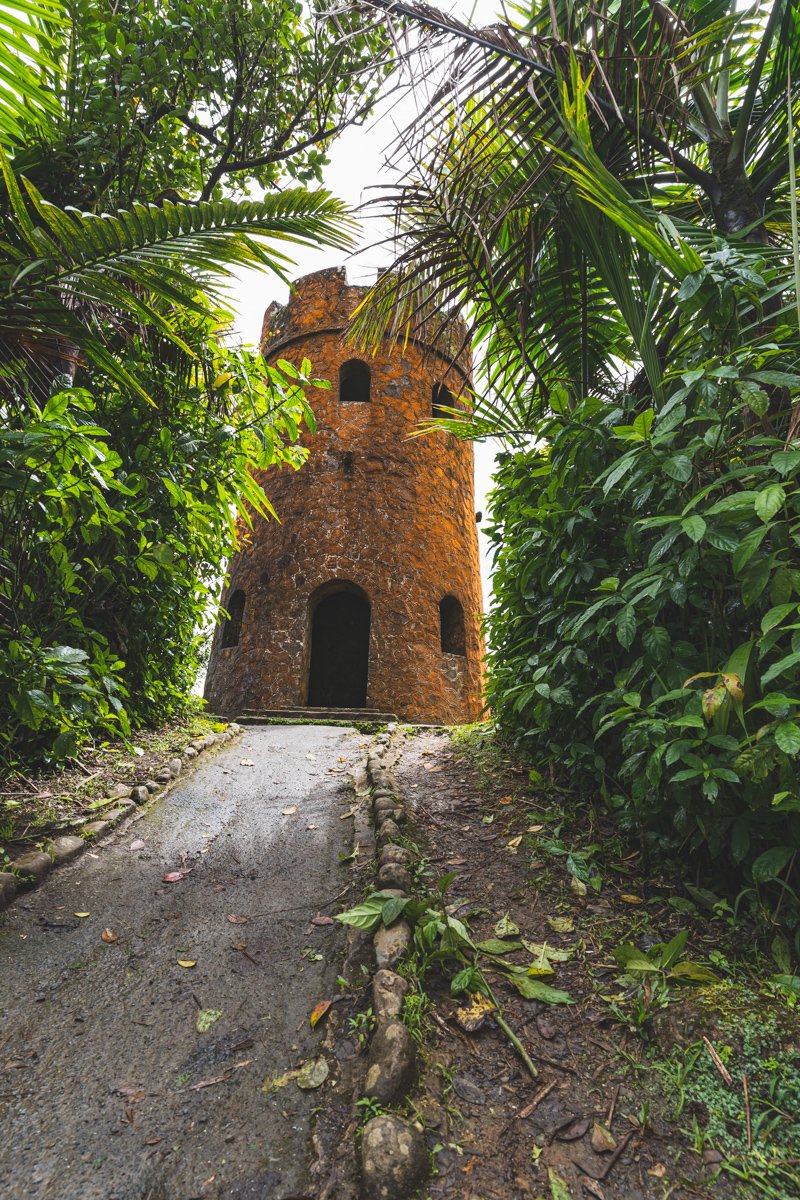 We loved our time in El Yunque so much that we actually spent 2 days hiking throughout the rainforest. Our first day we entered the La Mina Recreation area around 11AM and immediately hit the Mt.Britton Trail.
Check out more about the Mt. Britton Trail Here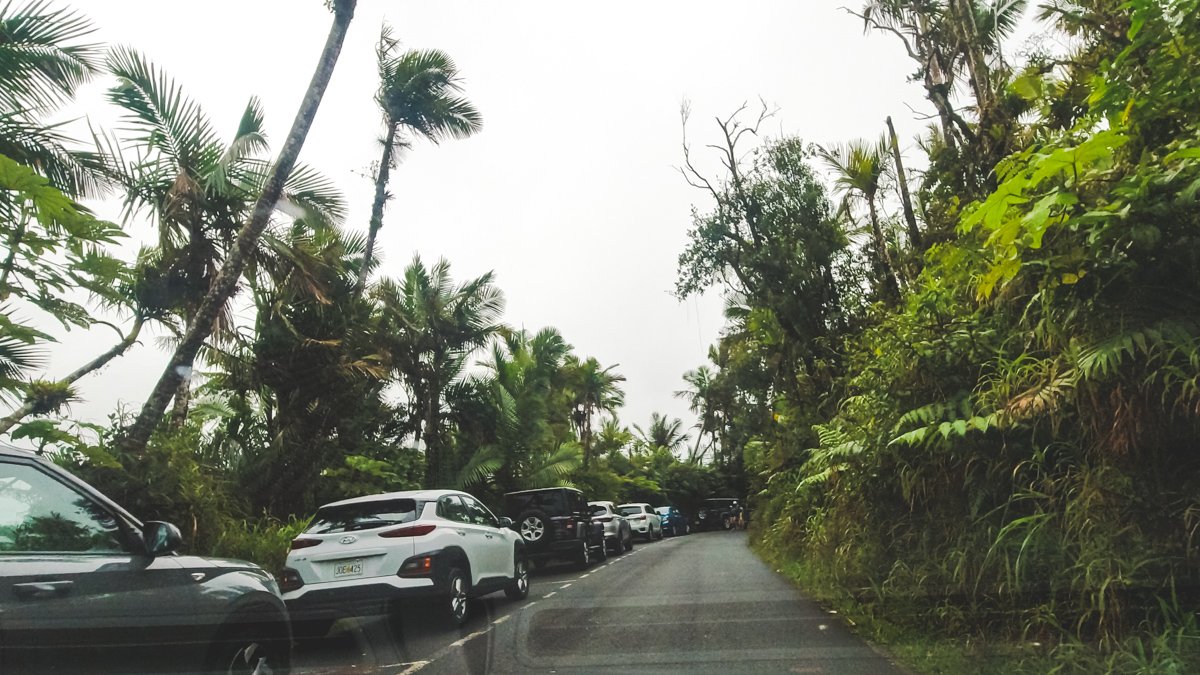 The trailhead is off a one way road that is magical. I mean you are in a rainforest! The parking near the trailhead is limited and fills up quickly. Expect to park along the one way road where you can and you may have to do the loop again!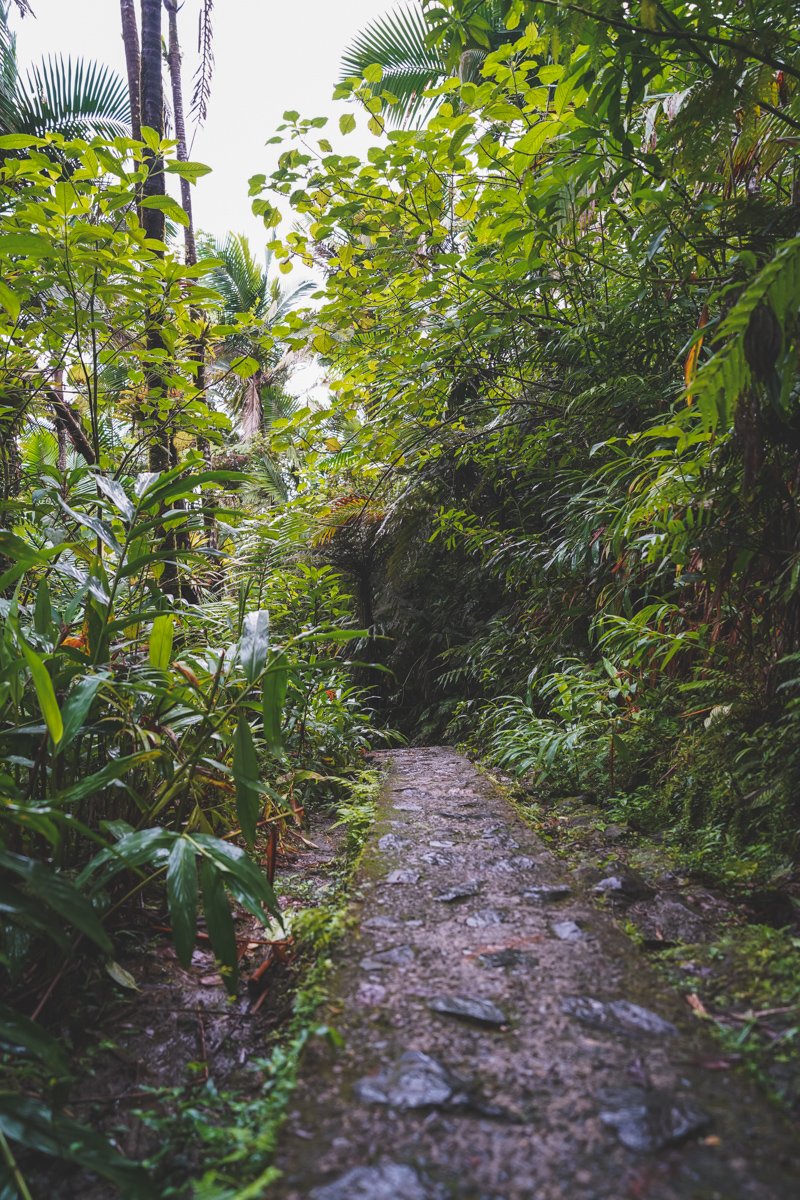 It took about 45 minutes for us to reach Mt. Britton tower. The trail was paved with a steady moderate incline all the way up. It is .8 miles long but has a 594 foot elevation gain with a good bit of it a little steep towards the top which you might feel in the morning. Ah, but the views, the views are well worth it and quite spectacular.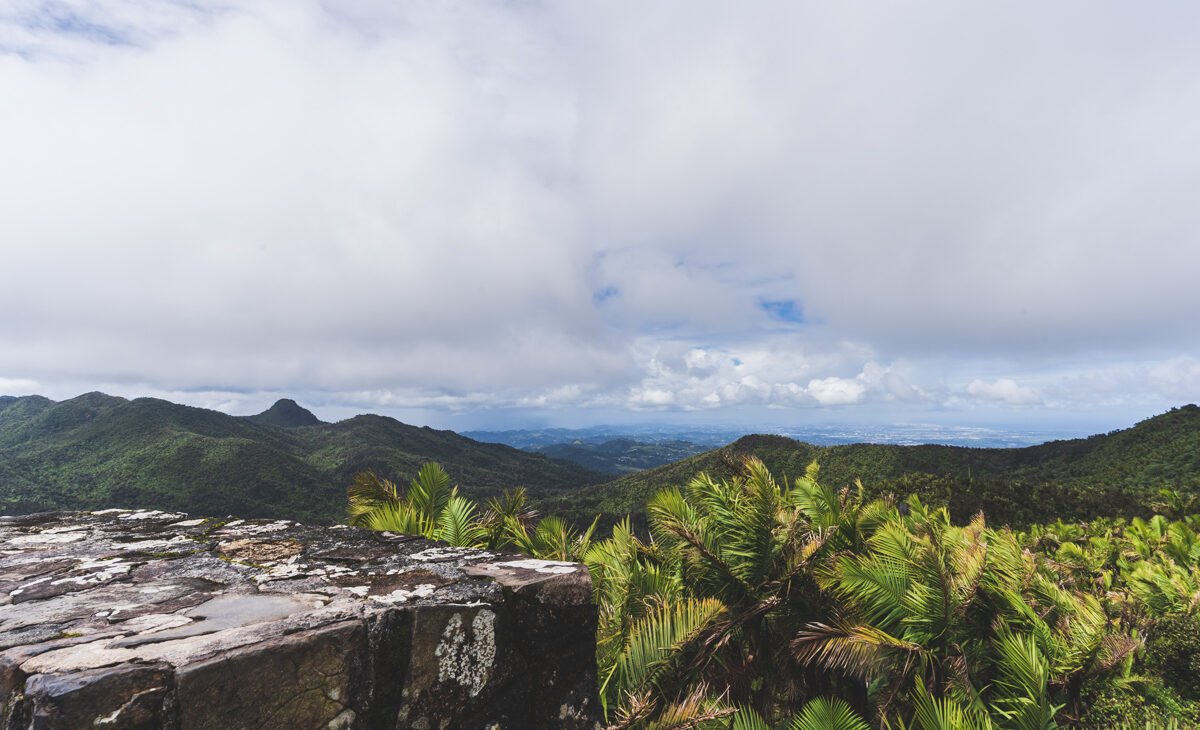 On a clear day you can see the Atlantic Ocean, panoramic views of the forest and Caribbean Sea. You can easily see Luquillo to the Northeast. It was pretty windy the day we were there and the clouds rolled in fast along with fog.
Sierra Palma Picnic Area & Trail to Cascada La Mina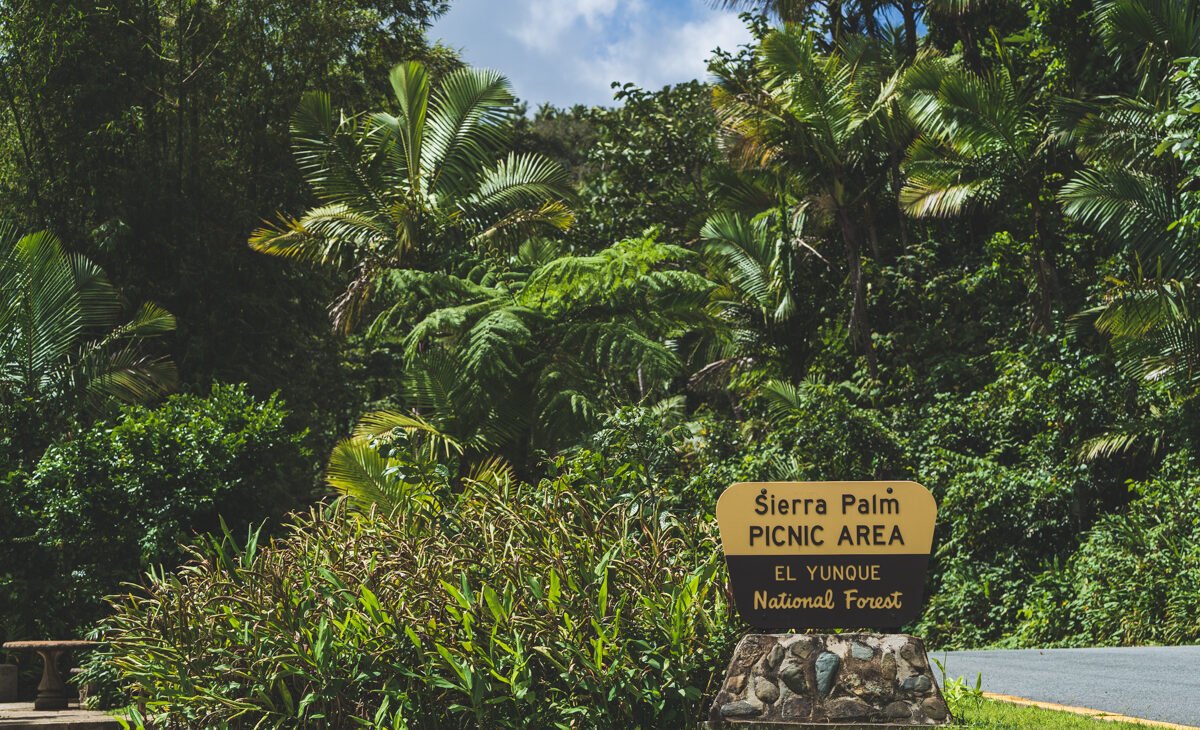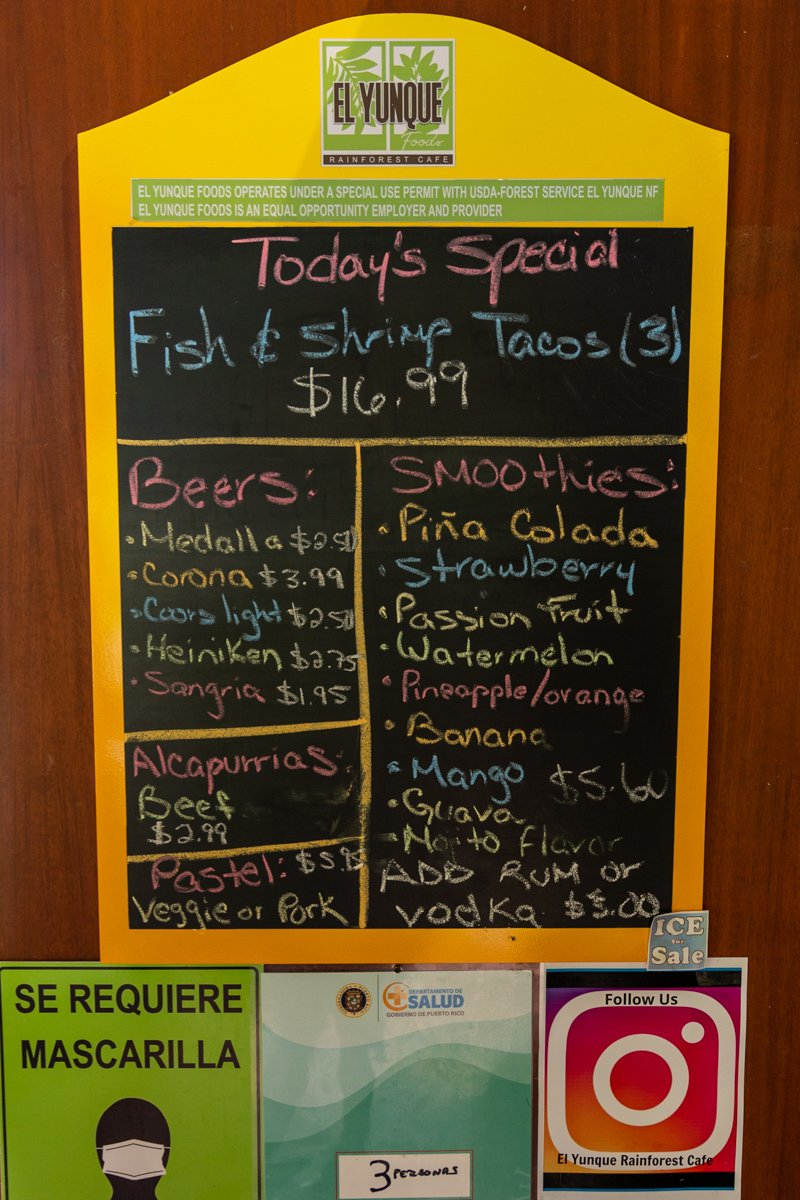 We stopped for a snack at the Sierra Palma Picnic Area and ended up having a nice restful lunch with some yummy food. The Rainforest Cafe has some tasly food and drink options at reasonable prices. We decided to venture down the trail towards Cascada La Mina for the 85 foot waterfall but ended up turning back, as we just didn't have enough time. Hopefully we'll make it here on our next visit!
Juan Diego Trail and Falls (Not so Hidden Gems)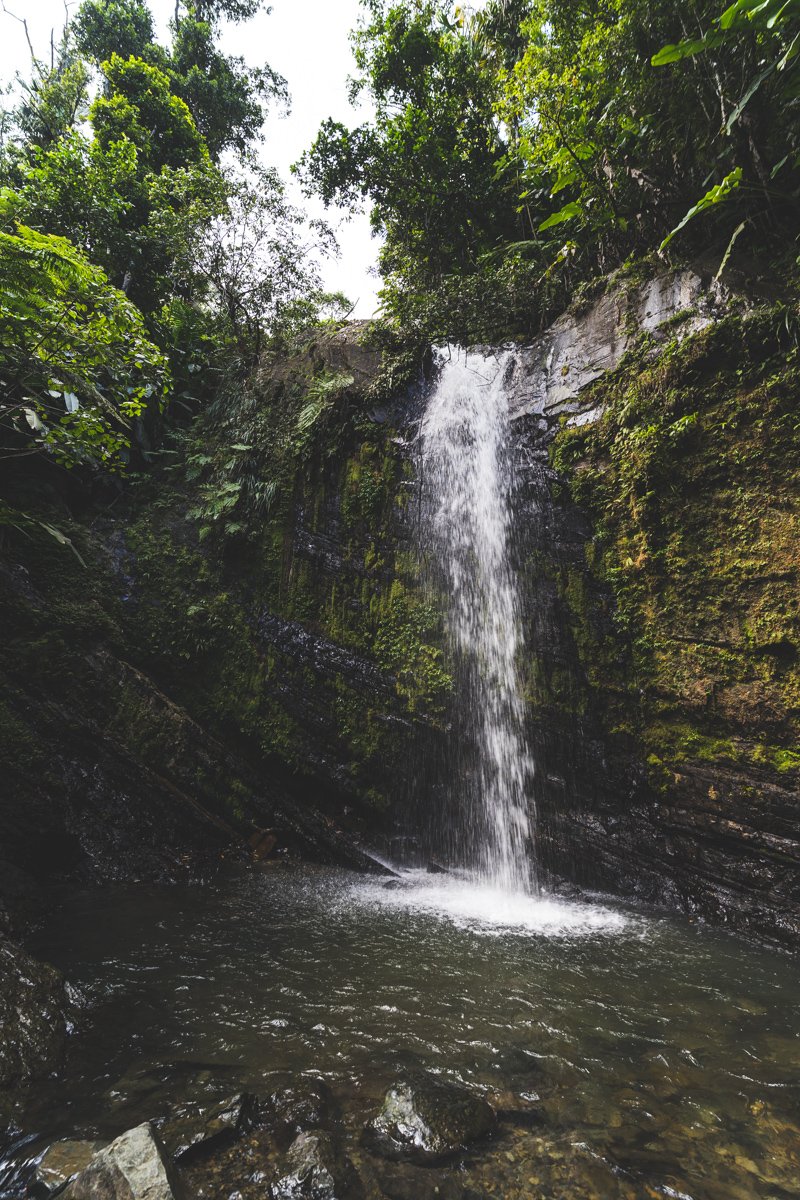 The Juan Diego trail takes you to not one, but two waterfalls. The second is often touted as a hidden gem, but that was not what we experienced.
The first is just a short walk to a natural pool and little waterfall. If you look to right you will see a small path that goes straight up. This is the path to the upper falls. You will want to visit the beautiful natural pool and much more impressive falls at the end! Bring a swimsuit if you plan to wade in but it can get quite crowded.
You will get muddy feet and don't make the mistake we did thinking the trail keeps going up. Technically there is a path but you don't want to go that way. It leads to the top of the fall and is very treacherous.
There is a 30 minute time limit on parking in this area.
Baño de Oro, Baño Grande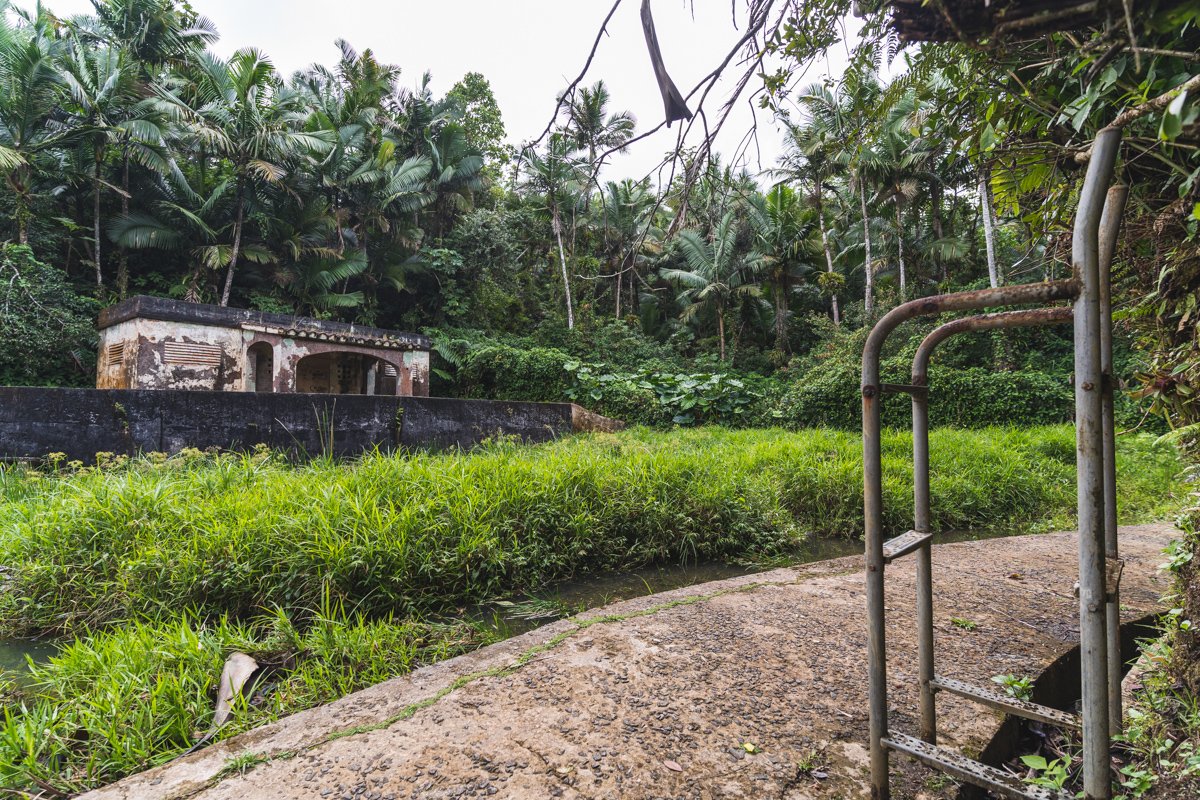 Bano de Oro was once a swimming hole built in the 1930's. There is parking across the street and it's a short 5 minute walk with lots of photo opportunities.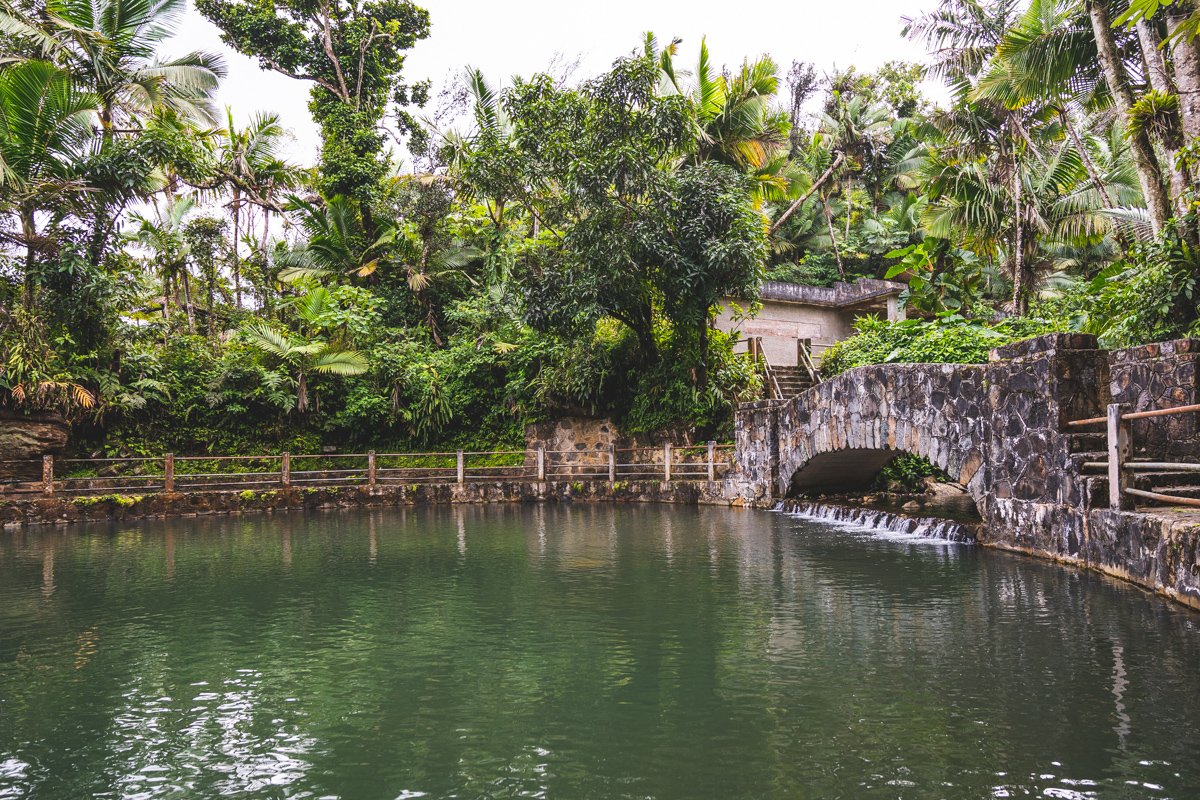 Next door is Bano Grande, with a cobblestone path and picturesque stone arch bridge. Multiple shades of lush green vegetation surround this area. We spent a good 45 minutes taking lots of pictures.
Yokahú Tower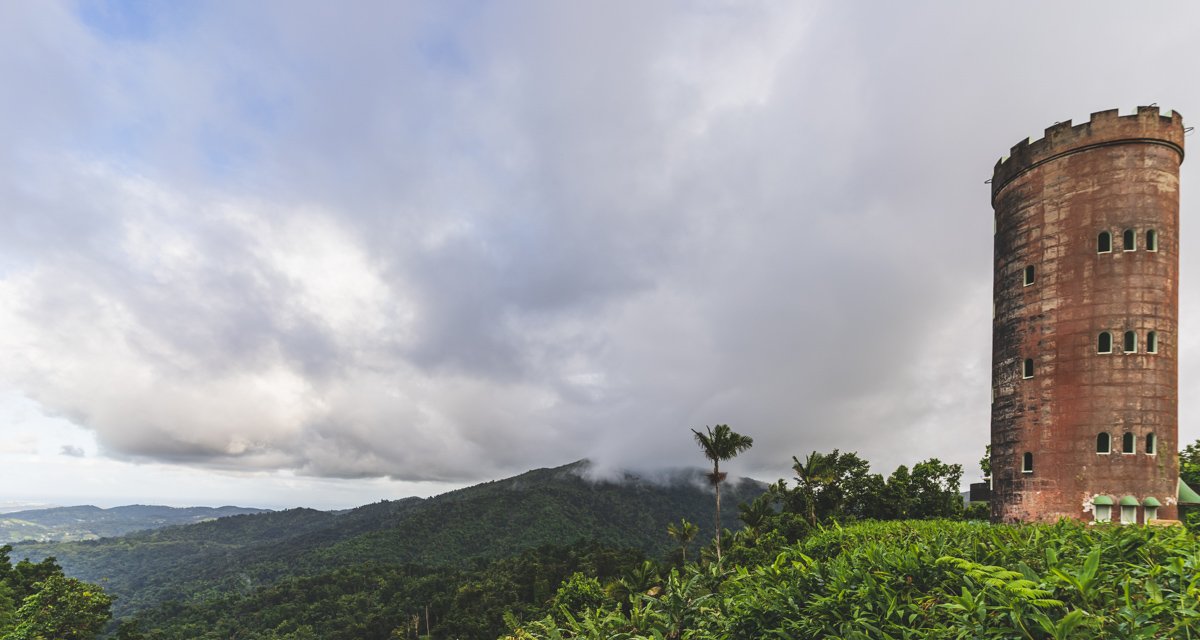 Built in the 1960s and 69 feet tall the tower is open from 9AM-4PM. At On a clear day you can see almost 10 miles and can even see the Virgin Islands. Unfortunately on our visit it was closed due to Covid restrictions but it was still fun to walk around and observe from the ground.
More El Yunque Tips
Expect no or limited cellular coverage, GPS work fine.
Download the National Forest App is a handy guide https://www.fs.usda.gov/detail/elyunque/home/?cid=fseprd697990
Don't lock your keys in your rental car! Yep we did this.
Watch your time so the rangers don't have to search for you at closing time!
Be prepared for closures if there has been a lot of rain or inclimate weather
Hurricane season is June – November
Rainy season is May, August – November
Put El Yunque on Your List to See in Puerto Rico
In our opinion El Yunque is a must see on your visit to Puerto Rico. If your from a temperate climate like us, it's not very often one gets to visit a tropical rainforest. Despite closures of some notable trails there's still so so much to do. Hiking, swimming, birdwatching, or just getting all zen in the magical gem that is El Yunque.
If you want to nerd out check out this awesome General Technical Report about El Yunque National Forest! It has tons of great info, maps and history of the forest and its bio diversity!
https://www.fs.usda.gov/detail/elyunque/home/?cid=fseprd697990
Using our affiliate links (hotels.com, expedia.com, VRBO, Hertz, Chase Sapphire Prefered, Viator, etc.) supports great content on wanderinghartz.com and our Youtube channel.
None of the affiliate links cost you anything or increase the price you pay, and we may earn a small referral commission.
Or if you're feeling generous you can buy us a much appreciated glass of wine (or whiskey)!
Cheers,
Happy Wandering!
Joel and Michelle