Living the Digital Nomad Dream: Our Cost of Living in Puerto Rico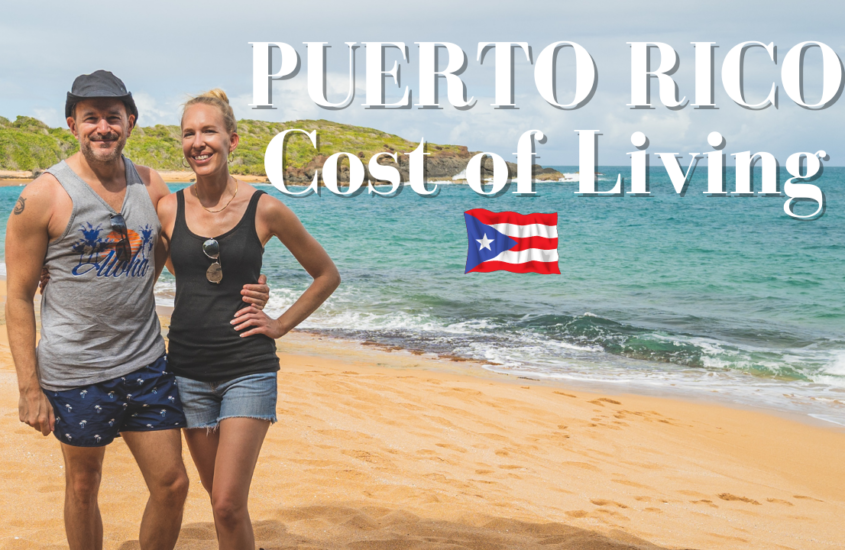 We spent a glorious month living in Fajardo, Puerto Rico February of 2021. It was paradise!
In this article we are going to break down our cost of living in Puerto Rico as digital nomads. We will cover expenses like accommodations, grocery costs, dining out, transportation, experiences and our fixed costs like travel insurance and our phone plan.
Read More about our Digital Nomad Life in Fajardo
Let's be real, living location independent as a digital nomad or even working remotely is not a cheap thing to do in Puerto Rico.
As a digital nomad in Puerto Rico, it's important to be aware that the cost of living may be higher than that of a local resident. This is particularly true given the added expense of living on a Caribbean island.
People are flocking to Puerto Rico from all over the world to enjoy the amazing beaches, warm water and bask in the sun.
What are the Average Costs of Living in Fajardo, Puerto Rico?
According to Numbeo, the cost of living in Fajardo, Puerto Rico is around $2,400.
When you do a search on Nomadlist the closest estimated costs to live as a nomad are $4,118.00.
Those numbers are for San Juan, close, but not Fajardo.
Now that we got that out of the way let's get into our numbers and a bit of commentary.
How Much is it to Rent a Condo in Fajardo, Puerto Rico?
For our stay in Fajardo we booked a vacation rental through VRBO at the Pena Mar Ocean Club. Our stay was definitely way more room than just the two of us needed. We had three bedrooms and two bathrooms with a huge kitchen, living room and a pretty sweet balcony overlooking the Marina.
Originally we were expecting friends to join us, hence the extra room, but unfortunately since this was still only a year into the pandemic no one was able to join us. Nonetheless our accommodation in Fajardo was a bit overkill, but we still enjoyed it!
| | Our Costs | Locals Cost (Numbeo) | Nomad list |
| --- | --- | --- | --- |
| Rent | $2850.55 | $1600 | $3,300 |
| Utilities | included | $280 | included |
| Totals | $2850.55 | $1880 | $3,300 |
Learn more about our stay at Pena Mar Ocean Club
More Accommodations options in Fajardo
Grocery costs in Fajardo, Puerto Rico?
So what is the grocery situation in Fajardo? Fajardo actually has a number of grocery stores and it was quite easy to find most of what we were used to on the mainland. We visited the Econo, Ralphs, Pueblo and there is even a small Walmart.
Our food costs in Fajardo, Puerto Rico mostly include breakfast, snacks, adult beverages like beer or wine and also included household items like toilet paper, detergents and the like. We ate almost every meal at home, cooking to our hearts content.
We found that in Puerto Rico food costs in grocery stores were generally more expensive than in other places we have lived like: Florida, Tennessee, Wisconsin and Washington State.
In addition, a lot of imported groceries were similar prices but in smaller packages than on the mainland. The one area that was cheaper was the beer and of course local Rum. Michelle's love for the delicious red wines also set us back a few more dollars than we were used to.
| | |
| --- | --- |
| Groceries (Includes beverages, snacks, breakfast and household) | $873.41 |
How much did we spend dining out in Fajardo?
As we already mentioned we ate nearly all of our meals at home, this was mostly due to the travel restrictions that were in place at the time of our stay. Not very many restaurants were open or had restricted hours. We did however enjoy a few lunches at one of our favorite restaurants in Los Croabas as well as in Luquillo and El Yunque Rainforest.
Tipping in Puerto Rico is similar to that on the mainland in the United States.
Our totals also include adult beverages, as we usually had wine or beer with our meals. It is nearly impossible to sort those separately so we included it all together.
| | |
| --- | --- |
| Dining Out (Meals & Drinks out) | $179.44 |
To give you an idea of some drink costs, beers at restaurants were between $2.50-$3.50 and wine was $6.50-$10.
Whereas at the grocery store you could easily find a beer for $6-$7 for a 6 pack of 10 oz beers (again everything is smaller). A bottle of wine will run $10-$20 and good Puerto Rican rum could be found for as little as $10 750ml.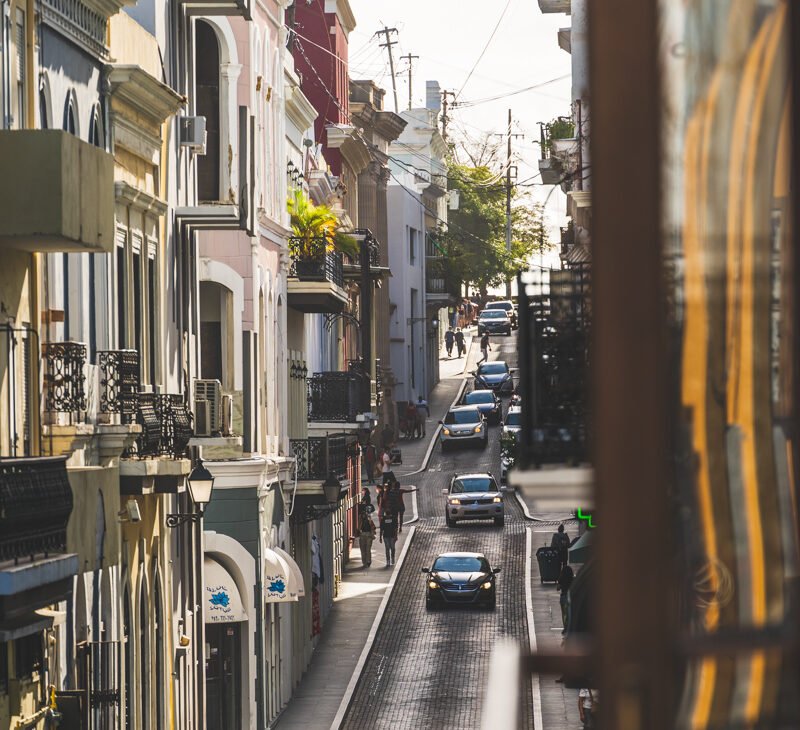 Transportation costs?
While living in Fajardo Puerto Rico we had rented a car for the entire month. We had probably the best deal you will ever get on a car rental in Puerto Rico! Prices have gone through the roof since our stay and are not looking to go down anytime soon. 
If you're curious, a US driver's license will cover you to rent and drive in Puerto Rico. We have a whole article you should read about how to get around in Puerto Rico.
Our stateside auto insurance also covered us for liability in Puerto Rico. You will want to check with your provider ahead of time.
Want to earn up to 60,000 bonus points for travel? We use our Chase Sapphire Preferred card to earn points for all of our travels and you can to. Sign up and you will get 60,000 bonus points after spending $4,000 in the first three months your account is open.
Final note is we used our Chase Sapphire Preferred Credit Card Travel benefits to cover our Rental Car Damage Waiver. That alone will save you some cash! 
| Transportation | |
| --- | --- |
| Rental Car | $408.60 |
| Gas & Tolls | $41 |
| Car Insurance | Our U.S. policy covered Credit Card covered Damage Waiver |
| Totals | $449.60 |
Activities in Fajardo, Puerto Rico
This is our category for all of the activities that we partake in where we are staying. Depending on where we are, we try to book experiences that will let us see and explore our surroundings.
Sometimes we find cool experiences talking with other nomads or on Facebook groups. But often we like to book our bigger experiences through a travel site like Viator or Get Your Guide.
While in Fajardo we took advantage of our proximity to the beaches and local hikes. Basically a lot of free stuff.
Although some of our favorite beaches in Puerto Rico, like Luquillo beach, did have a small parking fee for one of the main parking areas. One of the other amazing experiences we had in El Yunque rainforest cost a small reservation fee. 
By far our favorite thing to do in was a Fajardo catamaran tour. We had an amazing Sail and Snorkel Tour we took to Icacos Island. It was also the most expensive experience we had.
We barely scratched the surface and there are some pretty great experiences you can do while on the East side of the island. 
Our total costs for both of us were:
Like most of the places we live for weeks or months at a time, our stay in Fajardo was actually pretty chill as we are focused on our work life balance. Which is the main reason we are traveling. Work, Play, Repeat.
Our Fixed Costs while Traveling as Nomads
As a couple of Americans living in Puerto Rico we have do have some fixed costs that we included that are directly related to our time living in Fajardo as digital nomads.
Travel Medical Insurance
Normally we would discuss our Travel Medical Insurance that we each carry. We use Nomad Insurance from SafetyWing which provides travel coverage plus Medical benefits worldwide. But as United States residents, Safety Wing only covers us for 15 days while in the U.S..
Puerto Rico is considered in the United States since it is a territory. So we did not carry any additional Travel Medical Insurance during our stay in Puerto Rico.
You can read more about Travel Medical Insurance here.
Mobile Phone Service
Our phones are pretty much an extension of our lives as travel bloggers and a fixed cost for us. Our T-Mobile service worked just like on the mainland and we had quite good coverage except for in the El Yunque rain forest. 
Included with our T-Mobile service is also streaming entertainment services like Netflix ans Apple+.
We were on the Magenta plan during our stay. Since Joel is a veteran of the U.S. Air Force, we also get a nice discount.
VPN
We use a VPN (virtual Private Network) while traveling as a extra layer of protection for our financial transactions while traveling.
VPN's are also great for unlocking geolocated websites and services like our favorite streaming services while abroad, although this was not necessary in Puerto Rico. We are using Surfshark as our VPN of choice. No logs and excellent price too.
| | |
| --- | --- |
| Mobile Phone & Internet | $87 |
| VPN (Surfshark) | $2.21 |
Misc costs
Total Cost to live in Fajardo, Puerto Rico as Digital Nomads
Alright, now for the total costs or our stay in Fajardo, Puerto Rico. Your Puerto Rico cost of living will vary based on your accommodations, dining out and the experiences you partake in. You can definitely spend a lot less than we did, especially on accommodations! 
Obviously our cost of living in Puerto Rico as digital nomads is a lot higher than locals or retirees who gain a lot more advantages to being in place for years at a time. The bulk of those savings are in accommodations.
So our total costs for 2 people were:
| | Our Costs in Fajardo |
| --- | --- |
| Total Costs | $4,749.10 |
Final Thoughts about Living in Fajardo, Puerto Rico
We want to share our real-life expenses during our stay in Puerto Rico with the intention of assisting you in planning your budget for your own time in Fajardo. If you are considering moving to Puerto Rico as a remote worker, digital nomad, or retiree, we hope that our experience can provide some helpful insights.
Finally, there are other costs that we are not including like replacing a pair of pants or makeup, as those are pretty specific to your situation.
We are also not including airfare and our other travel blogger business costs. As these vary or are not relevant to most of our readers.
We truly enjoyed our time in Fajardo and just love Puerto Rico. The work life balance for us was actually pretty amazing. Be sure to read about our cost of living in Rincon, Puerto Rico as well.
Honestly though it might be awhile before we come back for another stay because it is quite a bit more expensive than our current travel budget allows.
Be sure to check out our other Cost Of Living articles from our travels around the globe.
Using our affiliate links (hotels.com, expedia.com, VRBO, Hertz, Chase Sapphire Prefered, Viator, etc.) supports great content on wanderinghartz.com and our Youtube channel.
None of the affiliate links cost you anything or increase the price you pay, and we may earn a small referral commission.
Or if you're feeling generous you can buy us a much appreciated glass of wine (or whiskey)!
Cheers,
Happy Wandering!
Joel and Michelle