An Amazing Sail And Snorkel Tour In Puerto Rico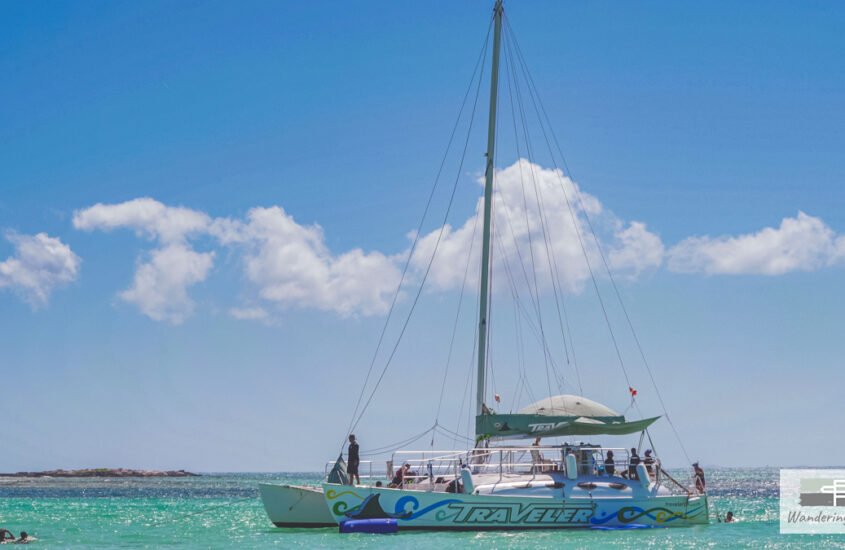 FAJARDO MARINA
Our first stop in Puerto Rico was Fajardo on the east side of the island. You can read our blog post all about traveling to Puerto Rico here. Our short term rental we booked through VRBO was directly across the street from the marina. We had an awesome view and would watch all of the boats head in and out on their daily excursions. 
We could only handle so much of watching everyone else sail out to have fun. So it was settled, we were definitely booking some kind of sail/snorkel tour!
BOOKING OUR SAIL AND SNORKEL TOUR
After some research we settled on a 6 hour sail/snorkel tour to Icacos Island with Traveler Catamaran.
Adults: $115
Children (5-12) $95
You can check here if you're interested in other excursions, like a power boat cruise to the Island of Culebra and a snorkel & sunset tour. 
The sail included:
Unlimited soft drinks and complimentary piña colada and rum punch drinks in the afternoon
Lunch-(Veggie Option is available)
Local beer available at cash bar
Quality snorkeling gear provided
Flotation devices
Snorkeling instructions
Fun water slide
If you're on the northeast coast or metro San Juan (Rio Grande, Rio Mar, Luquillo, and Fajardo) you can arrange roundtrip transportation at $30 per person with Traveler Catamaran. This is pretty sweet since getting around in Puerto Rico can have its challenges if you don't have a car. 
WHAT TO EXPECT ON YOUR SAIL AND SNORKEL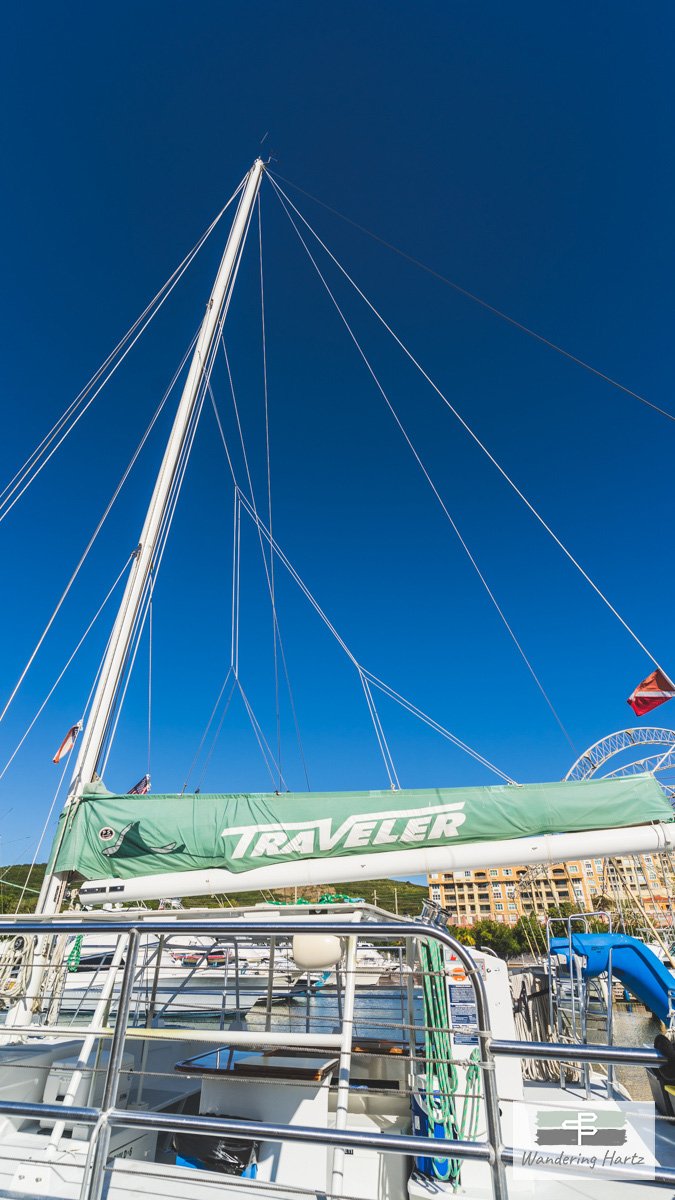 The check in time is 8AM-8:30AM and you will be briefed about safety procedures before hopping aboard. Expect this to last about 15 minutes and it is all done in a nice shaded area at the dock. It is a good time to apply liberal amounts of sunscreen if you're not used to the scorching Caribbean sun!
What to Bring
Towel & Beach bag/dry bag or small backpack
Baseball cap or wide brimmed sun hat
Bathing suit
Sunscreen….lots of sunscreen and keep reapplying! (aerosol not allowed) You will be in full sun pretty much all day with little shade on the boat and on Icacos Island.
Dry change of clothes
Waterproof case for your phone
Want to earn up to 60,000 bonus points for travel? We use our Chase Sapphire Preferred card to earn points for all of our travels and you can to. Sign up and you will get 60,000 bonus points after spending $4,000 in the first three months your account is open.
THE SAIL!
It was a party atmosphere as soon as we were on the boat! We puttered out of the marina on motor and then the sails went up and we sailed out to our first stop, Cayo Icacos. Music was playing, everyone was in a good mood and Joel was certainly in his element standing at the bow of the boat taking far too many pictures.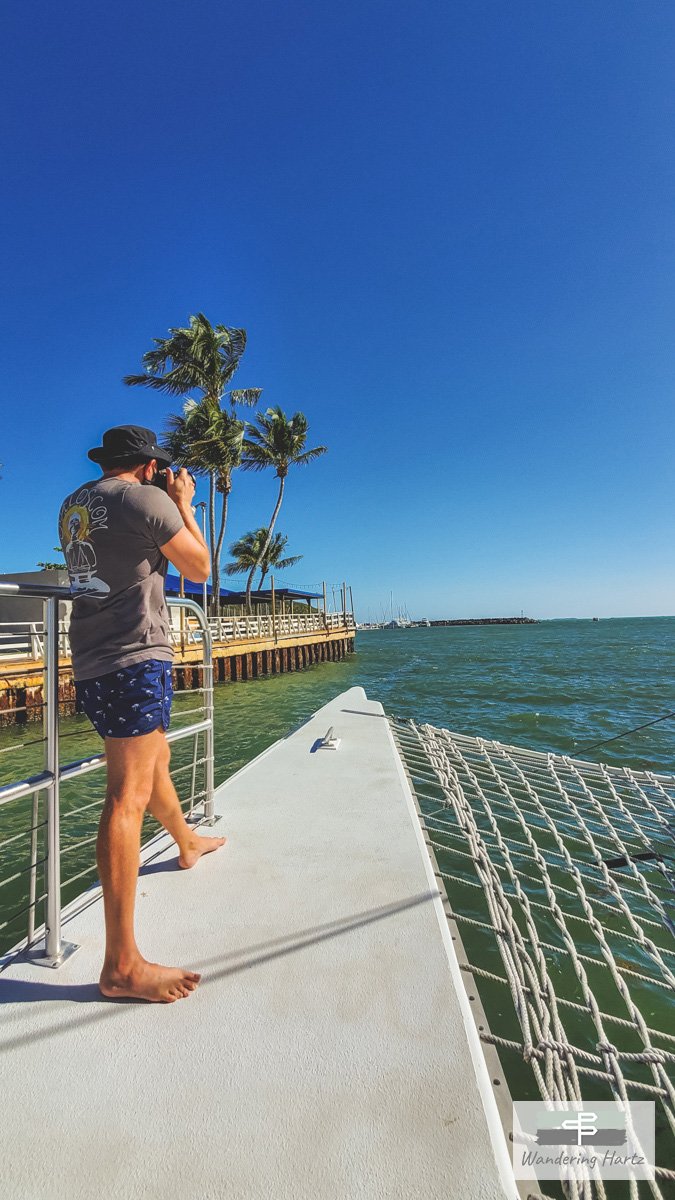 We settled into a nice rhythm and enjoyed the 30 minute sail to Cayo Icacos and it's beach. The turquoise Caribbean water was breathtaking! I enjoyed the sound of it lapping against the boat as we slowed down and made our way to the anchorage.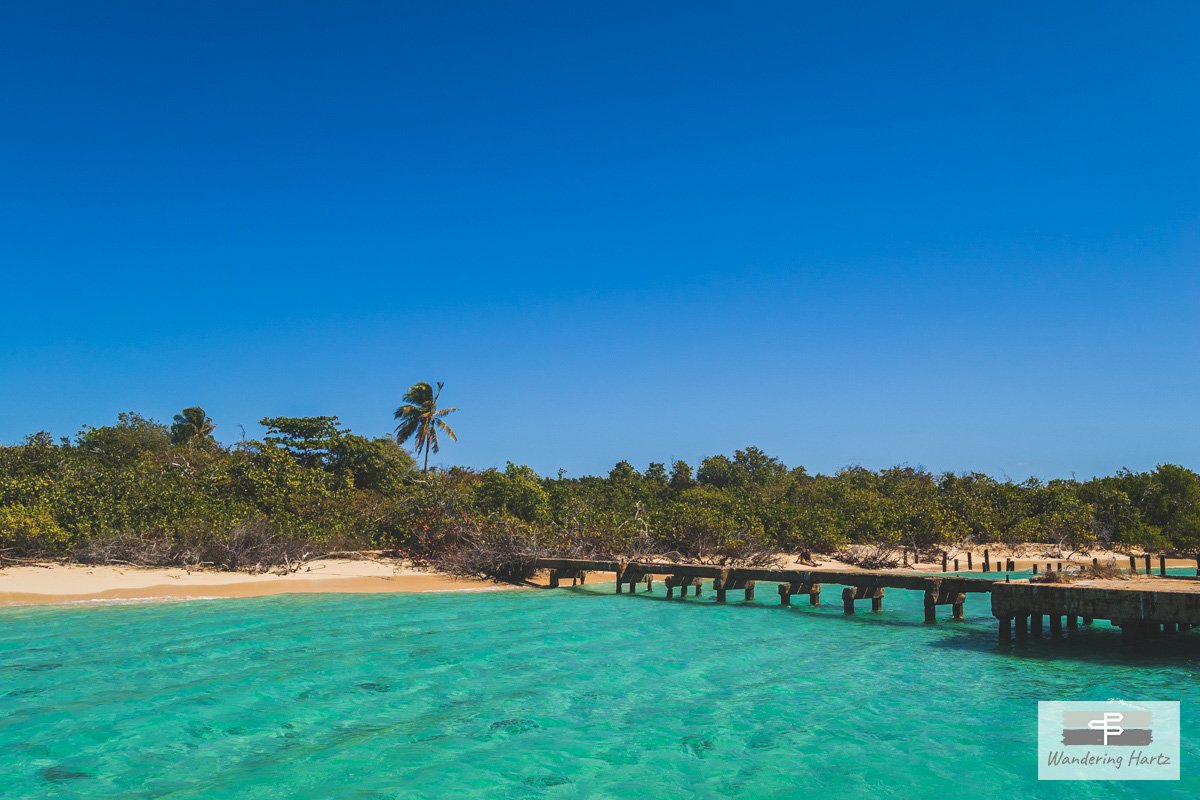 Once the crew got the boat anchored we were free for the next 3 hours to explore the island, play in the ocean or just hang out on the boat and relax. We were provided with splash pads, snorkels, a water slide on the back of the boat and flotation devices.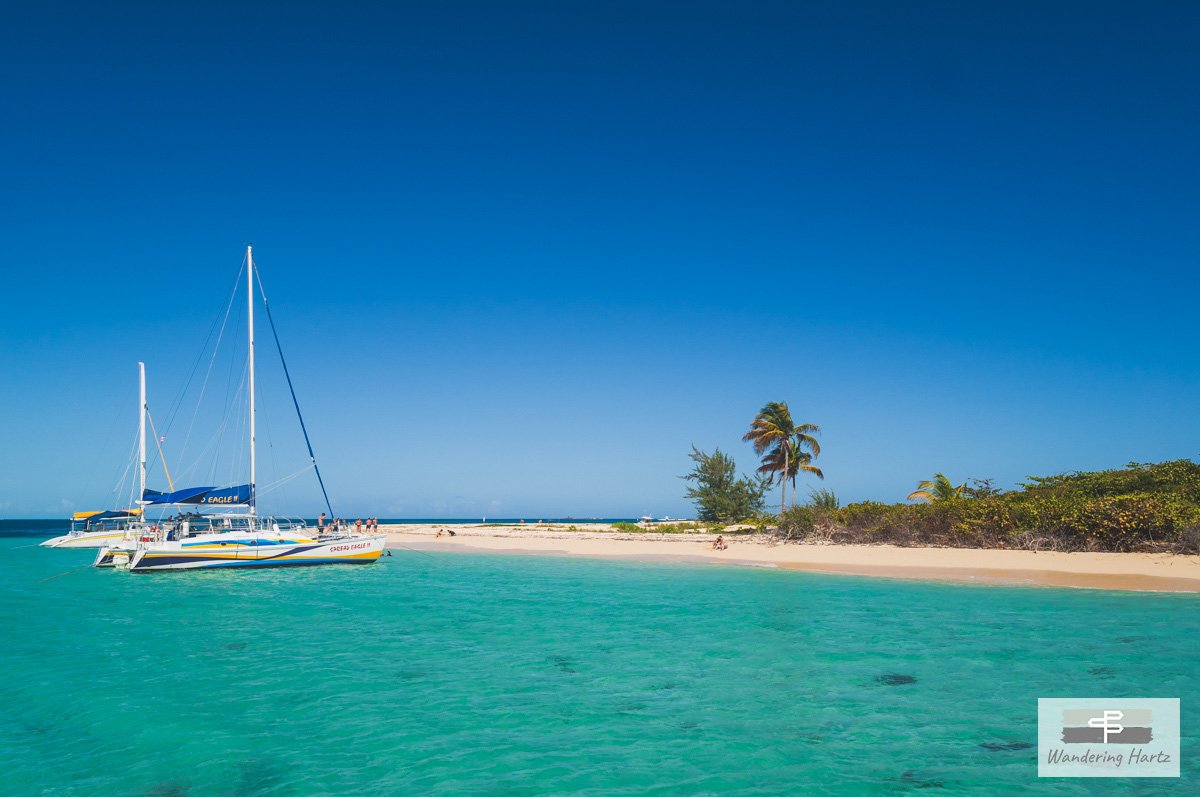 The beautiful white sand was calling our name so we decided to walk the beach and enjoy the warm tropical turquoise waters. Luckily we brought our dry bag with us since the boat was not allowed to anchor right on the beach. We hoped in the water and swam about 15 feet until we could touch the bottom on our way into the shore. The crew made sure everyone was staying safe and had floatation devices for anyone who wanted one.
TIP: If you want to bring your camera, phone, or towel with you to the beach, pack a dry bag.
Our stuff including Joel's A7III and lens stayed dry as did our phones! Drybags work and don't go on a boat without one!
CAYO ICACOS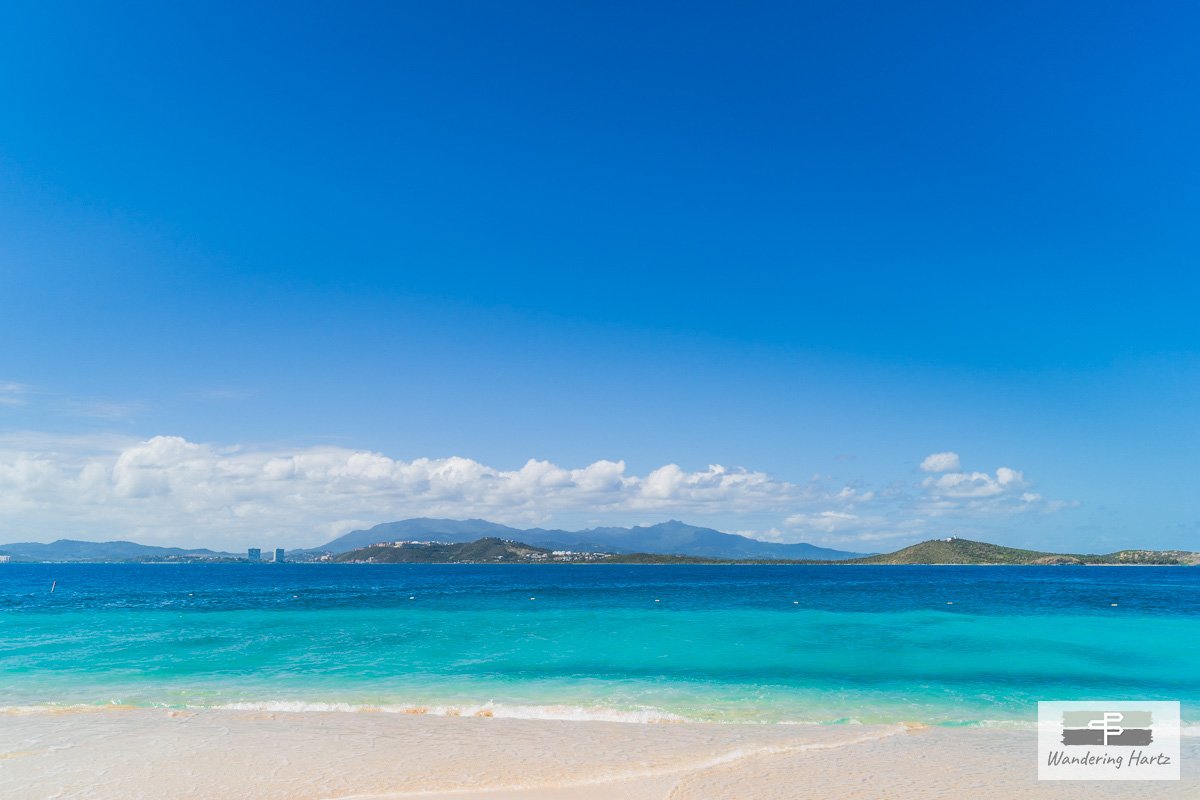 Cayo Icacos is just what you expect for a remote tropical island with palm trees waving in the wind and crystal clear water to dip your toes in. The water is warm like most of the Caribbean and the sand is soft and hot on your feet in the midday sun. There's not a ton of shade so bring a sunhat or cover up with you to shore.
There's plenty of photo ops too for all your Instagram pics!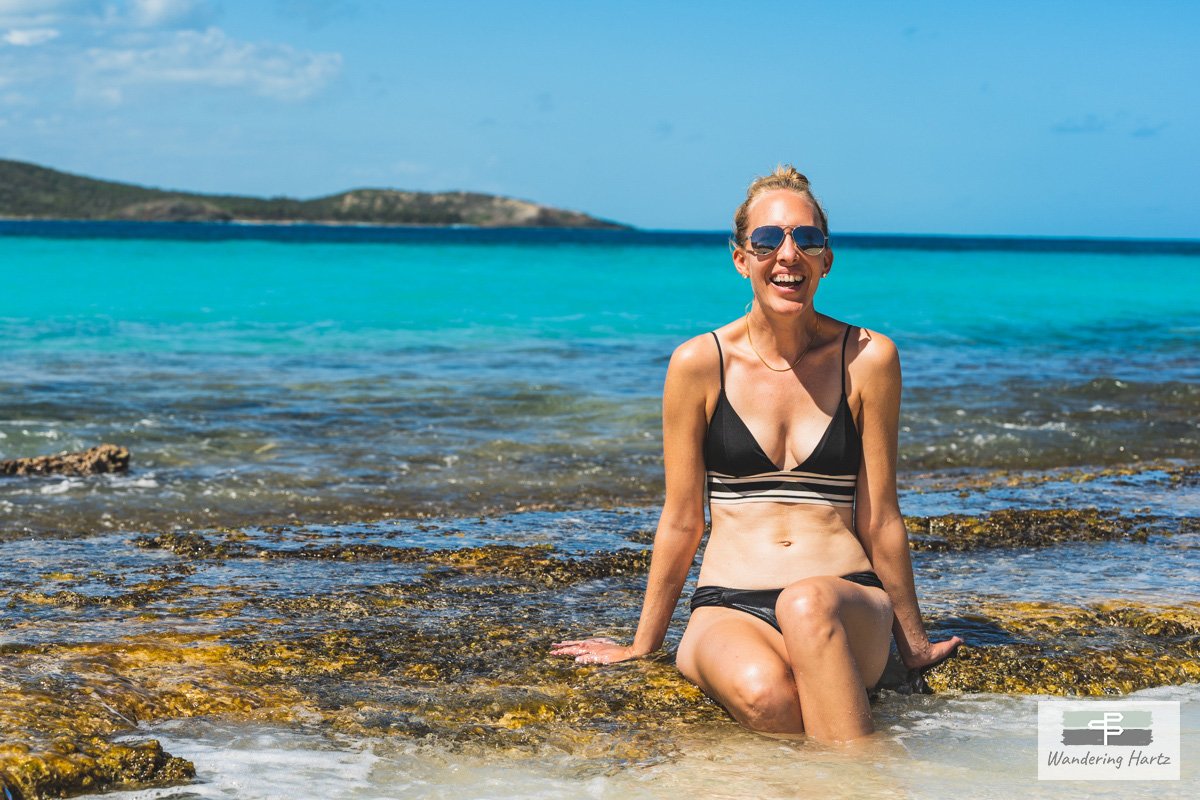 As the sun continued to climb we made our way back to the boat for lunch and more than a few festive drinks. After short rest period it was time for us to move to our next spot for snorkeling.
There is not a ton of shade, so bring a sunhat or cover up with you to shore.
SNORKELING
Our captain started the engine and we motor sailed over to our snorkeling spot on a reef on the North side of Cayo Icacos. Technically we were in the Caribbean, but just on the other side of the reef was the mighty Atlantic ocean! 
The crew gave us some brief instructions about where we could go and what to watch out for in the water. The reef offered excellent protection for our snorkeling adventures. After that it was time to jump in and explore.
Caribbean water is like bath water so Joel had a pleasant snorkel as he swam around looking for fish to film with his action camera. I stayed on board and enjoyed the views. We stayed at our snorkel spot for a good hour until it was time to head back to the marina.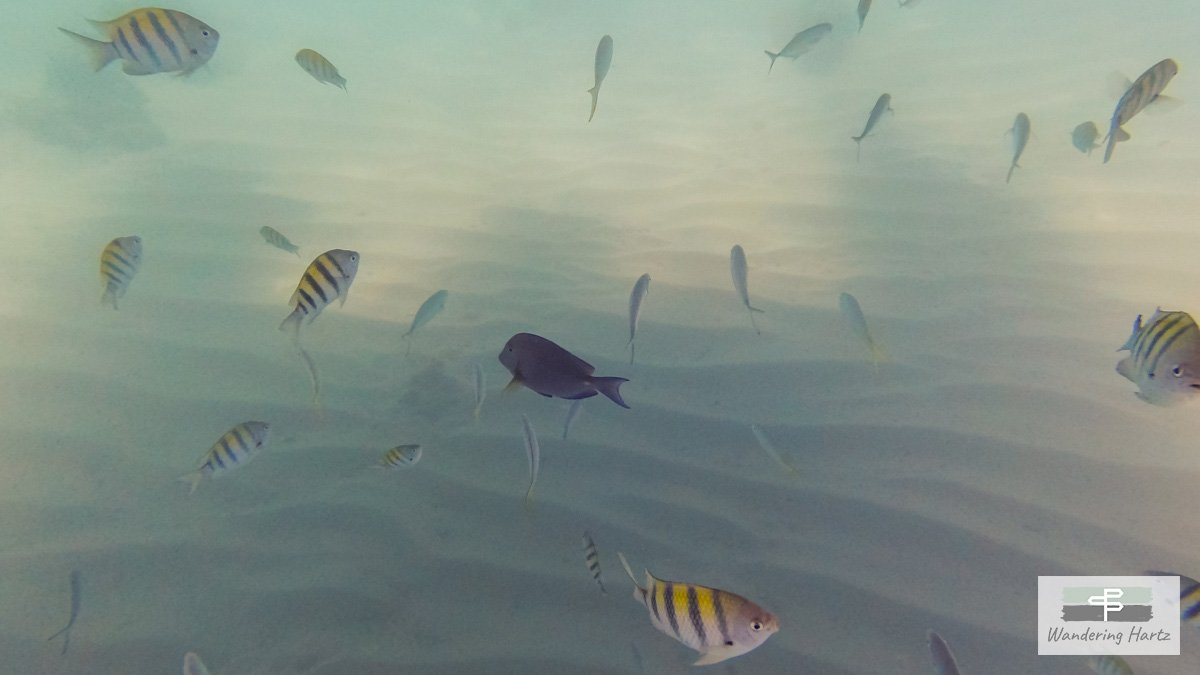 SAIL BACK TO FAJARDO
More celebratory drinks were poured as the crew raised the sails and we made our way back to the marina in Fajardo. To be We actually sailing back was such a treat for us as Joel is a sailor himself. If you've sailed before you know what we're talking about. It's such an exhilarating feeling, and just makes us so happy.
WOULD WE RECOMMEND A SNAIL & SNORKEL TOUR TO CAYO ICACOS?
Yes indeed! We loved our sail and snorkel adventure with Traveler Catamaran. The crew was friendly, entertaining, and laid back and made sure everyone had fun. If we make it back to Puerto Rico this is one excursion we would book again!
As much as we loved Traveler Catamaran, you don't have to use the same company we sailed with. There are quite a few different tour excursions in Fajardo to choose from. Additionally, some tour operators offer excursion combinations with the Bio Bay in Fajardo or even El Yunque Tropical Rain Forest!
Here are a few other tours and options you can do during your stay in Fajardo, Puerto Rico.
Stays near Fajardo Puerto Rico
Let us know if you have any questions!
Using our affiliate links (hotels.com, expedia.com, VRBO, Hertz, Chase Sapphire Prefered, Viator, etc.) supports great content on wanderinghartz.com and our Youtube channel.
None of the affiliate links cost you anything or increase the price you pay, and we may earn a small referral commission.
Or if you're feeling generous you can buy us a much appreciated glass of wine (or whiskey)!
Cheers,
Happy Wandering!
Joel and Michelle