What to Pack for Full Time Travel Abroad in Europe [2023]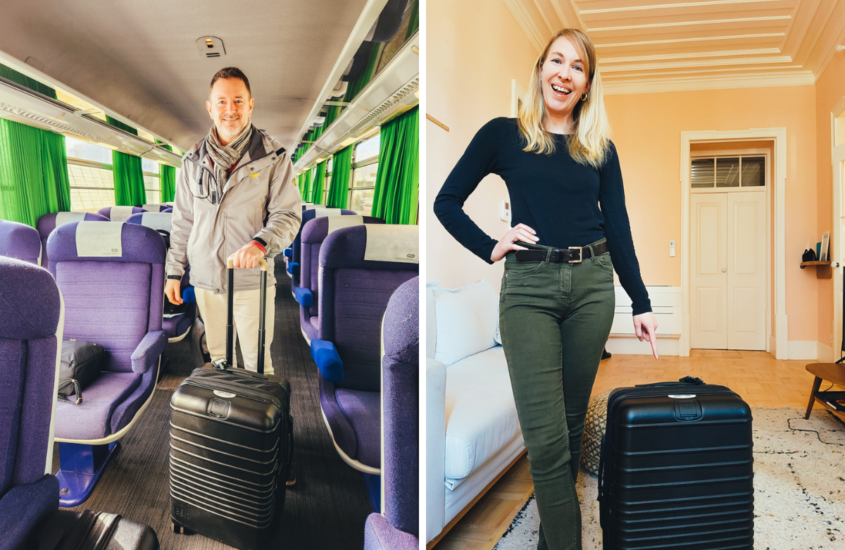 Packing for full-time travel abroad can be a daunting task, but with proper planning, it can be made easier. As full time slow travelers for the last three years we've overpacked, repacked, and made multiple mistakes and adjustments to our packing style.
We're going to tell you exactly how we packed for our eight month trip abroad to Europe. Keep reading to learn from our mistakes. We'll help you pack lighter and more efficiently for your own travels abroad as you live a more abundant life!
Before You Start Packing For Travel Abroad
Here are some tips to consider when packing for your travels: Make a packing list: Create a list of all the items you need to bring with you. This will help you stay organized and ensure that you don't forget anything important.
Pack light: Try to pack as light as possible. Only bring the essentials and avoid bringing items that you can easily purchase at your destination. Unless you're traveling to a really remote location we've found you can usually purchase essentials like toothpaste, toothbrushes, razors and body wash pretty much everywhere you travel.
Layout everything you plan to take with you so you can look and see what you have and try to remove one or two items. This will help with overpacking.
Use packing cubes: Packing cubes are a great way to stay organized and maximize space in your luggage. We actually started using packing cubes about 2 years ago and they really help with keeping our clothes tidy and secure in our suitcases.
Purchase a hanging toiletry case or bag. Most bathrooms in Europe tend to be smaller than in the United States with not a lot of counter space. You can usually find a hook or door to hang your case from, freeing up precious space.
Purchasing the Right Luggage for Full Time Travel Abroad
In our opinion purchasing the right luggage will be one of the most important items on your journey to traveling full time. We did a ton of research before settling on our luggage of choice for our eight month trip abroad.
When it comes to purchasing luggage for full-time travel abroad, there are a few things to consider.
Firstly, you want to make sure that it's durable and can withstand the wear and tear of constant travel. Look for luggage made from high-quality materials such as ballistic nylon or polycarbonate.
Another important factor to consider is size and weight. Many airlines have strict regulations on the size and weight of luggage, so make sure you choose a bag that meets these requirements.
Traveling abroad with luggage is different than in the United States. Most airlines in Europe and Southeast Asia have stricter size limits and guidelines than U.S. based carriers.
You will probably find yourself on different modes of transportation as well, like trains, trams, trolleys and much smaller cars with limited trunk space.
Essentials for Full Time Travel Abroad
Passport
Passport and other travel documents: Make sure to pack your passport, visas, travel insurance, and any other important documents in a secure and easily accessible place.
The most important document you need is your passport, which serves as your identification when traveling internationally. You should also check the visa requirements for your destination country and make sure you have the appropriate visa if necessary.
Additionally, it is recommended to purchase travel insurance to protect yourself against unexpected events such as flight cancellations or medical emergencies. We recommend Nomad Insurance from SafetyWing that provides you travel medical insurance.
It is essential to keep these documents in a secure and easily accessible place, such as a passport holder or a travel document organizer. By taking these precautions, you can enjoy a stress-free and hassle-free travel experience.
⚕ Are you covered with International Travel Medical Insurance? Get worldwide coverage with SafetyWing
Clothing
Pack versatile and comfortable clothing that can be worn in a variety of settings and climates. Consider packing layers, as well as clothing that can be easily washed and dried. This means that you should carefully consider the activities you will be doing and the weather conditions you will be facing in each destination.
For the ladies: Michelle packed one pair of jeans, one pair of lightweight jogger pants, one pair of black leggings and soft thin pajama leggings.
Michelle purchased the Cole Haan Women's Packable Anorak Raincoat in 2017 for our 2 week trip to Ireland and so far it's held up nicely. It comes with a packable small bag, removable hood and it's lightweight. It's a great coat for spring, summer and fall.
TIP: For the long plane ride over to Europe, Michelle wore both of her leggings on the plane. The thin pajama pants with the leggings over top to save on space in her luggage. It can also get quite chilly on the plane so she stayed nice and warm.
For the guys: Joel packed three pairs of pants. One pair of jeans, tan lightweight pants, and travel/hiking pants.
Footwear
Probably one of the most important articles of clothing you will pack. We cannot stress enough, bring comfortable and durable shoes that can be worn for walking, hiking, and exploring.
It's also a good idea to pack a pair of sandals or flip flops for beach days or casual outings.
Michelle always brings her reliable NAOT Women's Dorith Sandals with her, which have been her go-to for the past six years, traveling with her across the United States and Europe. Although she plans to replace them soon, these sandals have been a great walking shoe and even useful for light hiking.
After a long search for the perfect ankle boot, she discovered the Cobb Hill Crosbie Gore Ankle Boot, which has become a new favorite. These boots were perfect for exploring Lisbon and multiple cities in The Algarve region in Portugal.
During our travels we try to incorporate workouts or hiking if we're in the right location. These Women's shoes from Reebok are comfortable and super lightweight and have held up nicely for the last three years Michelle has been wearing them.
Incorporating stretching and yoga into our daily routine is essential, especially for those of us who spend the majority of our day sitting in front of a computer. Not only does it provide a much-needed mental and physical break, but it also promotes overall well-being.
To enhance your yoga experience, try these soft and durable non-slip yoga socks. They not only provide excellent grip, but also keep Michelle's feet warm on those chilly European tiled floors.
For the guys:
Joel packed three pairs of shoes, a nice pair of flip flops that he bought during our three month stay in Bansko, Bulgaria, everyday walking shoes that can be worn with nice pants, and ultra lightweight trail running shoes he uses for hiking and adventurous activities.
Toiletries
When it comes to packing toiletries for your trip, don't forget the essentials: toothbrush, toothpaste, shampoo, and soap. To save space in your luggage, consider opting for travel-sized items.
If you're embarking on a long-term or slow travel adventure, or even remote working from one location for weeks or months at a time, it may be wise to purchase your essentials at your destination.
This allows you to save room in your suitcase and can even be more cost-effective than buying them in your home country. While traveling abroad we always buy toothpaste, makeup, soap, and razors upon arrival and restocking as needed.
One item we did purchase before traveling abroad was bar shampoo and bar conditioner. We've been pleasantly surprised by how long they have lasted. We're on month 8 into our European travels and we probably have about 1 month of product left. It's also environmentally friendly, no plastic bottles to further contribute to more plastic waste.
Skincare Paula's Choice
Michelle has been loyal to Paula's Choice for over 15 years. Since its establishment in 1995, this brand has been committed to producing cruelty-free and mostly vegan products. For those interested in learning more about the products and their ingredients, a comprehensive list is available to read on their website.
One of the many benefits of Paula's Choice is its international presence. So, no matter where we travel, she can conveniently replenish her favorite products. Here are just a few of Michelle's top picks from the brand.
Extra Care Non-Greasy Sunscreen SPF 50
Anti-Aging Clear Skin Hydrator
Super-Light Wrinkle Defense SPF 30
Makeup
Makeup is a pretty personal choice but there's a couple of products that Michelle uses consistently throughout the year. These products also tend to be cheaper in the United States so she stocks up before we head overseas.
L'Oréal Paris Makeup Visible Lift Serum Absolute Concealer-the best concealer out there, covers red marks and stays put.
Maybelline New York Lash Sensational Sky High Washable Mascara Makeup This is the best mascara Michelle has found in a long time. It's long wearing on travel days, the product doesn't flake off, smudge or transfer up to her eyelids.
Neutrogena Mineral Sheers Compact Powder Foundation Neutrogena Mineral Sheers Compact Powder Foundation has become Michelle's ultimate go-to face powder. Despite trying other brands, she always finds herself reaching for this one. Its lightweight formula doesn't crease and helps control oil, making it the perfect companion on long travel days. Once we return to the U.S, she plans on stocking up on this product.
Electronics
It goes without saying that when traveling, especially extended trips, you will want to bring a camera, phone, laptop, and any other electronics you may need. Make sure to pack chargers and adapters that are compatible for the countries you will be visiting.
Here is what we pack as travel bloggers and content creators. Your needs will likely be far less extensive, however you might find something useful to your situation.
The Asus Pro Duo Laptop is a beast. You likely don't need this level of performance and power unless you're a content creator. Having said that this is what we use to edit 4k video and photos.
It has not one but two 4k screens, color corrected from the factory, which is crucial to what we do. It is also rocking a GTX 3080 graphics card which turns out to be pretty good at games too.
But the biggest drawback to this laptop workstation is its weight at over 7 lbs with power adapter.
👉Keep Your Data Safe While Traveling: Sign up for Surfshark ✈
Hard Drives
As content creators we have the need for a lot more in the way of storage for all of the photos and videos we generate. We take with us 14TB of drives when we travel.
Generally speaking we could store some of that content online in the cloud, which we also do, but the internet is not constant everywhere we find ourselves. Even when we do have great internist speeds, we can't wait hours to download files before we edit.
In the past we have traveled with these rugged WD 5TB Portable Game Drives. They have been great, but at 8 oz. each weight really adds up quickly. So before this 8 month trip we made a few changes.
We have begun to swap out our big bulky hard drives with super light and much faster SSD's.
The main SSD we use is a 4TB SanDisk Extreme Portable SSD, not only is this drive fast, but it is super light and compact at only 1.76 oz.
In addition to the 4TB SanDisk Extreme SSD we also use the 2TB version of the Crucial X6 Portable SSD hard drives. At just 1.5 ounces each these little SSD's are compact and provide good speed while saving a ton of weight vs. the drives I used to carry.
At a superlight light 3.3 oz the Crucial X8 Portable SSD is a great drive. It has a rating of over 4.6 on Amazon and connects with USB 3.2 delivering up to 1050MB/s of read speed.
We always travel with a USB power bank as it always seems that your phone battery dies right when your plane lands in your new destination. There are a lot of great power banks available and we recommend one with at least 15000mAh (55Wh) of capacity if you're traveling with two people. That is more than enough capacity to charge two phones and a tablet in one session.
As a bonus we can use our Power Bank to extend the battery life of our A7III or ZV-E10 cameras. We just plug it in and we no longer have to change out batteries when filming or when using the camera on a video call.
Photography and Video Gear
Joel has been a photographer and filmmaker for over 20 years. For most of you this part of the list will be far too much. You don't need all of this gear to slow travel, but it is what we take with us. Trust me it is an ongoing struggle to take LESS each trip.
If you're not into photography then you could skip this section, but if you want to up your vlogging game or your travel pictures, you might find a few items helpful.
The Sony A7III has been Joel's main photography camera for several years now. It is a pretty robust and versatile camera. Specs here
It is so versatile that this camera was even used to film several music videos that Joel Produced. Including Danny Gokey's "Haven't Seen it Yet", which won a Dove award. Of course we also use it when vlogging too.
The majority of the images Joel submits to stock photography agencies and seen on wanderinghartz.com are also captured with the Sony A7III and a combination of the following lenses, too follow.
The Tamron 28-75 is a great mid range zoom lens in the most useful focal range. When I used to photograph weddings and events this was the go-to focal length zoom for 75% of the time. I find that translates to travel photography as well.
If you find yourself in compact areas a lot and needing something wider the Tamron 17-28 is a great option. Narrow streets, interiors and facades of buildings open up with a wide angle lens like this. It is also a great lens for filming yourself in a small space.
The Sony ZV-E10 is our back up camera and has become our main camera for our Cost of Living Videos and similar styled content. Placed on a tripod or gimbal it is a great little video camera. It lacks in-body stabilization which limits its use as a handheld video camera.
As for still images, the ZV-E10 does a pretty fantastic job. It has a smaller profile, which makes it both lighter and more compact. Joel has been using the ZV-E10 more and more as a great walk around street photography camera.
This ultra wide angle Sony 11mm F 1.8 Lens is the newest lens to my kit. It is specifically an APS-C lens so it is meant for cameras like the ZV-E10 that have a smaller sensor. So when you compare this 11mm to a full frame sensor, like the A7III, you get an equivalent focal length of 16.5mm. All of this to say that it is wide, light weight, and bright.
I use this lens with the ZV-E10 on the Crane M3 Gimbal (see below) for walking videos and tours of our long term stays. This combination is much more high quality than a GoPro, especially indoors.
It is also great for filming oneself for an informational video like our digital nomad cost of living videos
My number 1 travel lens lately has been the Tamron 18-300. It is less in weight than my amazing Tamron 70-180 (which I left at home), and yet still delivers good performance and more range.
When I pair it with the ZV-E10 I have a lightish camera system that captures high quality images with the equivalent full frame focal range of 27-450mm.
No wonder I take it almost everywhere. The lens also has vibration control to help with stabilization, very helpful when zoomed out. However it does not help too much when filming handheld video past 50mm or so.
The Sirui travel 5C tripod was a last minute purchase for me before our first trip to Bulgaria. I was looking to reduce my weight and my trusty monopod was just far too heavy at 6 lbs. The Sirui is made of carbon fiber and ultra compact coming in at just 1.87 lbs.

The ball head is just strong enough to support either camera and lens combination, up to 8.8 lbs. But since it is so lightweight, I find I have to use my backpack like a sandbag if it's windy. It is our main tripod for all of our videos.
Admittedly I don't use my DJI Mini 2 drone nearly enough. There are a lot of rules and regulations to follow no matter where you travel and navigating those often has me erroring on the side of not flying it.
But nonetheless I have been traveling with it and filmed some pretty cool stuff with the DJI Mini 2. If you get one I would recommend getting the extra batteries, but as a warning they do add considerable weight. There is a new DJI Mini 3 that has even more features I would recommend over the Mini 2.
The Zhiyun Crane M3 gimbal is a great compact gimbal and strong enough to hold either of my cameras. If you want silky smooth walking videos you need a gimbal. The internal battery lasts nearly 8 hours and is pretty easy to balance.
Check out a comparison of it here.
GoPros have a great reputation for quality and the Hero 10 is a great action camera. I find the GoPro to be a great replacement for our DJI Osmo action camera we had previously. It has slightly better lower light performance and much better stabilization. It is our goto camera basic vlogging and is small and inconspicuous.
If you want to up your audio game with your GoPro then you will need to get the GoPro Media Mod. The module has a built-in microphone that is better in quality than the onboard GoPro mic. It also has mic jacks so you can add an external mic. We like to pair it with our Rode Go II wireless mics when you want to be less obvious when filming in public. People stare and its awkward.
The Rode Go II wireless mics are amazing little mics. They are easy to use and get great audio even far away from the camera. We use these for nearly everything we film. The best part is they can record internally too. So you have a backup in case you lose signal.
I like to pair these with a lavalier mic to get even better audio like the Cos-11D.
Cos-11D Lavalier Mic
The Cos-11D Lavalier mic is a professional mic used in the film and television world. You certainly don't need this level of quality for 90% of what most people are filming. However, since I am a filmmaker and location sound recordist I use what I already had laying around.
My Cos-11D's are wired for a sennheiser plug which works perfectly with the Rode Go's.
Sennheiser MKE 2-EW Gold are also of similar quality if you're looking for the best.
If you want a decent quality lav mic for less money you can also look at this one and this one here.
The Deity D4 Duo external microphone is another great little mic for capturing audio. The interesting thing about the D4 Duo is that it has front and rear facing microphones. So you can capture clean audio from in front of the camera and even behind the camera. We find this really useful for vlogging or when filming and instructional video.
It also comes with two "dead kittens", the film industry name for the fuzzy things over the mics. These do a fantastic job of reducing any wind noise. I have filmed in 20+ mph winds and still had good audio.
One last feature is there is an additional microphone plug so you can use a second microphone for the 2nd channel instead of the rear mic. I also use this mic to record our voice overs for our videos.
Travel Accessories
A cozy travel blanket, earplugs, and an eye mask can make all the difference when it comes to blocking out unwanted noise and light. Whether you're facing construction noise, loud neighbors, or staying in an unfamiliar area, these travel accessories will ensure you get a peaceful night's rest.
Joel has a case similar to the Yundoor electronics pouch bag and it works great to help keep all of his cables, external hard drives and chargers organized in a compact bag.
A good travel hair dryer is a must, especially traveling overseas. If you're staying in a hostel or apartment sometimes you won't have one. We found a great compact travel hair dryer that we've been using for the last 2 years. It's great for traveling abroad since it has a dual voltage function (125/250V). A small wrench placed on the hook helps to easily switch to the proper voltage.
Clean water is an essential requirement while traveling abroad. However, not all travel destinations have access to the best water quality. To ensure access to clean water no matter where you go, using a water filter is a smart choice.
We hook up our Sawyer Tap Water filtration System to the kitchen sink and it works great as long as there are no heavy metals in the water. Not only does it remove nasty pathogens and microplastics from the tap water, but also saves us money and reduces our plastic usage.
It utilizes Hollow Fiber Membrane technology that treats up to 500 gallons/day at 0.1-micron standard. The Tap Water Filter weighs just 2.9 oz. and comes with an extension for shallow sinks and adapters.
Sawyer's Tap Water Filtration System removes Bacteria, Protozoa, E. Coli, Giardia, Vibrio cholerae, Salmonella Typhi, Leptospirosis, and microplastics!
Michelle also carries with us a LifeStraw water Bottle and Filter. It utilizes a similar hollow fiber membrane technology as the Sawyer filter. We just fill it up with untreated or suspect water and the natural suction through the straw draws the water through the filter and cleans it.
Our Lifestraw Water Bottle is also incredibly useful during day hikes in the mountains as they eliminate the need to carry extra water and reduce the burden of the weight.
Laundry sheets have revolutionized our laundry routine, especially while living abroad. During our travels through Europe in 2022, we faced a challenge of finding small bottles or packets of detergent for our shorter stays.
However, upon returning to the United States, we discovered Sheets Laundry Club's No Plastic Jug – New Liquid-Less Technology. These laundry sheets are a game changer as they are lightweight, easy to pack in our suitcase, and reduce plastic waste. The best part is that they don't require any heavy bottles to lift or any messy liquids to deal with.
If you're in the market for travel earbuds consider the COMISO Wireless Earbuds that Michelle found on Amazon. With their over-the-ear hooks, these earbuds offer a secure fit to prevent accidental loss or slipping out of your ear.
After losing her earbuds on the plane due to falling out Michelle has been using them with great success so far!
There are lots of options when it comes to adapting the typical two pronged plugs found in the U.S. to other countries. We have tried several over the years and often they are too heavy or clunky.
I found the All in one Ceptics Plug Adapter kit just before this trip and I like that it is lightweight, compact and fits together.
We like to use this plug in conjunction with country or region specific plug adapters like the ones we mention in our Travel essentials article.
When you travel with a lot of electronic devices you need lots of plugs and USB charging ports. The NtonPower Travel Power strip has served us faithfully.
It is small, compact, and even has a built in 4ft cord. What makes this power strip stand out is that it is rated for 50/60Hz and 100-250V up to 1250W. There are 4 plug outlets and it has 3 5V USB charging ports delivering up to 3.1A.
We can run both of our laptops and charge devices like batteries or phones and still have extra plugs available. It even comes with a built-in strap to keep the cord tidy and neat.
Backpacks and Daypacks
A daypack or small backpack is useful for carrying essentials while exploring a destination. Sometimes we're out exploring for hours at a time so we pack snacks, our Lifestraw water bottle, tissues, and hand sanitizer.
PacSafe Day Pack
The Citysafe® CX Anti-Theft Mini Backpack has quickly become Michelle's go-to travel companion. As a popular travel brand among digital nomads and full-time travelers, Pacsafe has a reputation for producing high-quality products that stand up to the rigors of the road.
What sets the Citysafe Mini apart from the pack is its unbeatable combination of convenience and security. With reinforced straps designed to withstand slashing attempts, interlocking zippers, cables and security hooks to attach your bag to a fixture, you can rest easy knowing your belongings are safe and secure.
Michelle has been traveling with the Citysafe Mini Backpack for a year now and it's held up beautifully. The nylon fabric is easy to wipe down after a day out in the city and it's the perfect size for a daypack.
Looking for the perfect travel companion for your next long term trip abroad? This is the bag that we will be purchasing for our next long term trip abroad. With its streamlined design, it's the perfect upgrade from Michelle's current Pacsafe backpack. The clamshell opening makes it a breeze to access your belongings, especially when you're going through airport security.
amazon pic joel backpack
Joel's Photography Backpack
As far as photography backpacks go I have been really happy with the Stratacus Series Radpak 2.0. It is a 38.5 Liter backpack made of 900D Ballistic Nylon exterior with rip-stop stress points that are water resistant.
It uses a clamshell or book-style opening with Snowboard/skateboard carrying straps and side load ski carrying straps. I don't use the straps for skiing but I find them useful for carrying a tripod, ground mat or my jacket.
It also has an Integrated external USB connection which you can connect to your power bank for powering devices. The best part: it's travel ready design for TSA Compliance measuring 21"x14"x8" and weighs 5 lbs empty.
Medications
Don't forget to pack any necessary medications, as well as a first-aid kit with essentials such as band-aids. You will want to place these in your carry-on luggage in case you need them and if it may also be necessary for navigating customs. It is suggested to have a copy of your prescription form your doctor just in case as well.
We always travel with a antacids, pain medication and pepto bismol (in tablet form) just in case on travel days.
Conclusion
If you have made it this far, congratulations! We know this is a big list of items but we hope that it is helpful for when you pack for your next trip abroad. Let us know if we missed something too in the comments here or on the appropriate video.
Using our affiliate links (hotels.com, expedia.com, VRBO, Hertz, Chase Sapphire Prefered, Viator, etc.) supports great content on wanderinghartz.com and our Youtube channel.
None of the affiliate links cost you anything or increase the price you pay, and we may earn a small referral commission.
Or if you're feeling generous you can buy us a much appreciated glass of wine (or whiskey)!
Cheers,
Happy Wandering!
Joel and Michelle