The Best Stay In Vila Real De Santo Antonio Portugal
If you are planning a month-long stay in the Algarve region of Portugal, Vila Real de Santo Antonio is a great choice for your base. Located on the southeastern coast along the Guadiana River that separates Portugal and Spain, Vila Real de Santo Antonio is a charming town known for its quiet beaches, lovely town square and promenade.
Why Stay in Vila Real de Santo Antônio?
Well, we asked the same question! We actually didn't know where Vila Real de Santo Antonio was or had even heard of it when we began researching the Algarve. Michelle happened to come across this small town while searching for places to stay on our favorite European booking platform, Flatio.com.
What to See Near VRSA
What really made it appealing was the proximity to Spain. A 10 minute ferry ride across the Guadiana River and you'll find yourself in the beautiful town of Ayamonte, Spain.
The beaches in VRSA, as it's called locally, are super quiet with beautiful white sand. You can access the beach by walking through the shaded walking trails in the Mata Nacional das Dunas Litorais de Vila Real de Santo António nature preserve.
And if you're up for more adventure, just north of VRSA there's an even bigger nature preserve called Castro Marim and Vila Real de Santo António Marsh Natural Reserve. It has stunning walking trails and bike paths along the marsh. Oh, and if you're a bird lover, you'll be thrilled to see lots of different birds, including flamingos! How cool is that?
What is Vila Real de Santo Antonio Known For?
Vila Real de Santo Antonio used to be a big fishing harbor and is still an important coastal town. But things took a bad turn when a tsunami hit it after the huge Lisbon earthquake in 1755. The town was rebuilt in just two years, following the same grid pattern as Lisbon. The famous Marquis of Pombal gets the credit for planning and designing this impressive "Royal Town."
VRSA now relies heavily on tourism and is a great option for a Portugal vacation due to its proximity to Spain and Monte Gordo.
Golf Vacation in Vila Real de Santo Antonio
If you're into golf there's multiple golf courses and clubs to choose from. North of Vila Real de Santo Antonio by the small town of Castro Miram and also northwest of Monte Gordo. There are even more golf courses to choose from in neighbouring Spain. Just take the ferry or drive over the Guadiana International Bridge to Spain!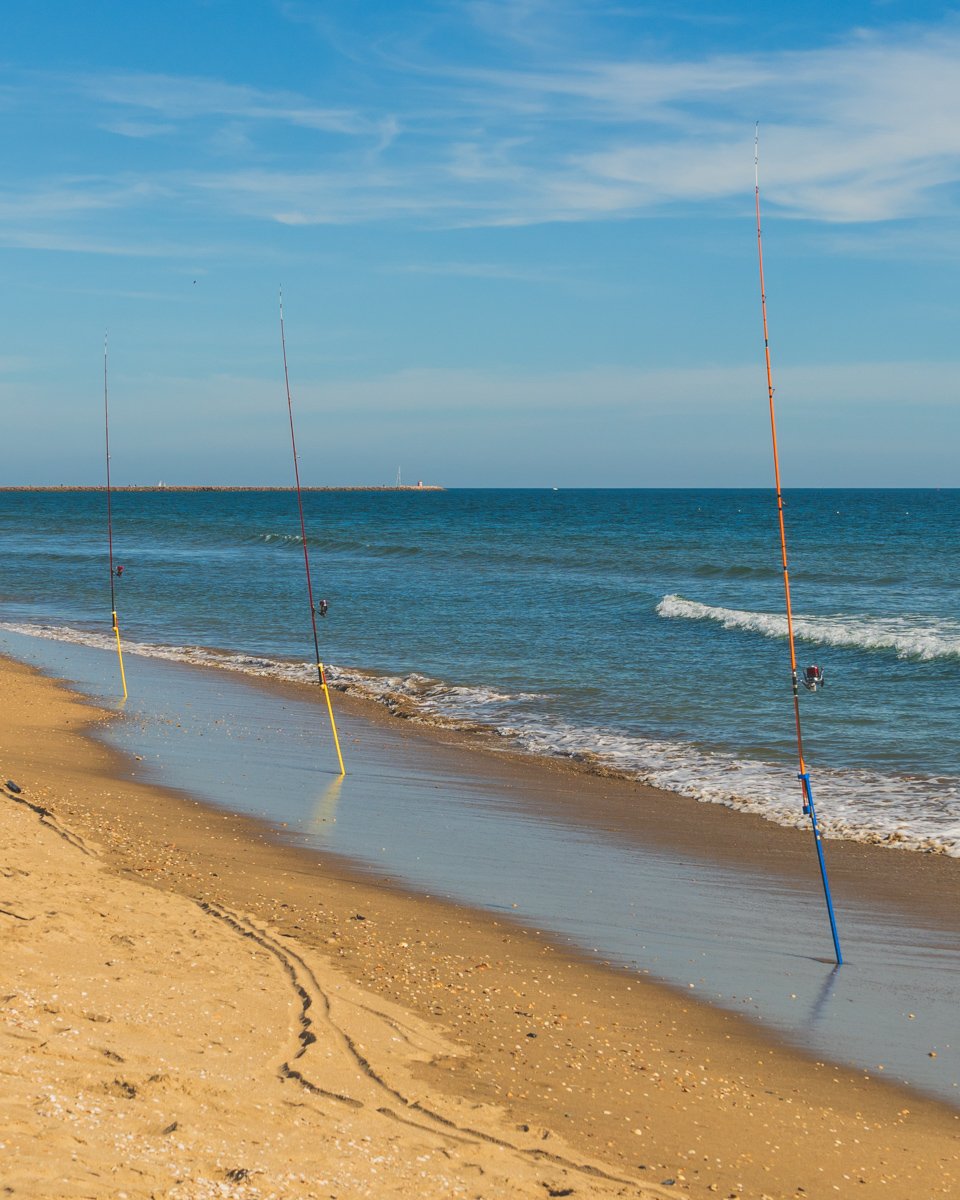 Praia de Santo António
The beaches of Portugal are beautiful and Praia de Santo António is no exception. Unlike the western coast of the Algarve with dramatic cliffs, the beaches of the eastern Algarve are flat with soft white sand.
Castro Marim
Castro Marim is a picturesque small town just 10 minutes north of Vila Real de Santo Antônio. It is known for the Knights Templar Castle, Castelo da Vila de Castro Marim and the impressive Forte de São Sebastião. There is even a popular four day medieval festival held every August bringing in lots of tourists.
Town Square
Praça Marquês de Pombal is Vila Real de Santo Antonio's town square. You will find the town hall, a church, small street stalls, and a monument to the marques de Pombal in the center. The square is a lovely place to just sit on one of the many benches and take it all in or to enjoy the surrounding restaurants and shopping.
⚕ Are you covered with International Travel Medical Insurance? Get worldwide coverage with SafetyWing
Where to Stay in Vila Real de Santo Antonio
There are a couple of great things about VRSA that make choosing where to stay much less of a difficult choice.
Firstly, the town is relatively small at around 20,000 full time residents covering 61.25 km². Which makes it easy to walk from one end to the other in less than 30 minutes.
Secondly, since VRSA is a "Royal town" it is laid on a grid pattern which means that it is pretty hard to get lost!
For our stay in VRSA we chose to stay near the marina which was centrally located and close to everything. We found our lovely VRSA stay on Flatio.com. Flatio was our first choice after our excellent experience using the platform for our short term rental in Portimao.
Pombaline Building W/Pool Vila Real de Santo Antônio
Our stay was at the lovely Pombaline building, which is hard to miss with its bright pink exterior. It's conveniently located across the street from the bus station and port. The building is elegantly renovated and consists of 6 different apartments.
We had all the essentials for a cozy stay: a big kitchen for cooking meals, a spacious bedroom and bathroom, and a separate living room with a flat screen TV. The high ceilings, bright walls, and soft pink interior gave the apartment an open and airy vibe.
Bedroom
The bedroom was very spacious with built-in side tables on either side of the bed. There were even USB ports for our phones and tablets. The queen bed was comfortable with soft linens and plenty of blankets.
Large windows let in lots of light during the day. At night we could close the heavy duty shudders from the inside of the room which kept it dark and very quiet. There was even a full length mirror which is something we don't get very often.
There was also an open wardrobe next to the bed so we could hang jackets and a couple of clothes.
Bathroom
The bathroom sink was separate from the shower and toilet which is always nice, especially if you have 2 or more people getting ready in the morning. There's also lots of storage space with extra towels, blankets, bedding and a washing machine in the bathroom area.
Kitchen
The kitchen was fully stocked for cooking meals and included a microwave, coffee maker, toaster, induction stovetop, dishwasher and large refrigerator. Plenty of utensils, cups, glasses and silverware filled in the cupboards.
Living Room and Dining Area
The couch was comfy and had a fold out bed in case you had extra guests. There was also a dining room table in the kitchen area that seats four.
Dedicated Workspace
In the apartment, there was no dedicated workspace. We had to make do with using the dining room table as a workspace. The table was large enough to fit our laptops and hard drives. It's not the best setup, but most of the places we stay at don't have spare rooms or dedicated workstations, so we have to compromise.
Workout or Meditate Area in the Apartment
There was no dedicated space in the apartment to use for working out or meditating. However Michelle used the extra space in the bedroom as a workout area since it was so large. The space could also be used for meditation.
Smart TV
A nice size 4k smart TV in the living room was convenient so we could sign in to our favorite streaming apps and watch our shows. There were also available HDMI ports on the TV that were easy to access.
Wi-Fi
We love that stays booked through Flatio always include WIFI. The connection was pretty stable during our six week stay and speed was usually around 28.5 Upload and 13.5 Download. As travel creators we always make sure to check with the landlord first about internet speed before booking.
👉Keep Your Data Safe While Traveling: Sign up for Surfshark ✈
Noise
Noise was not a problem during our stay. The shudders inside the apartment did a great job of blocking out any noise from the street. We were a bit concerned about road noise since the apartment is located on the ground floor across from the bus station. Our fears were in vain as we didn't hear any noises, especially at night with the shudders shut tight.
Amenities at Pombailine Building in Vila Real de Santo Antonio
The property has a small pool and sundeck located on the top floor of the connected building. Our stay was during the months of February and March so it wasn't pool weather yet but we did enjoy the sundeck.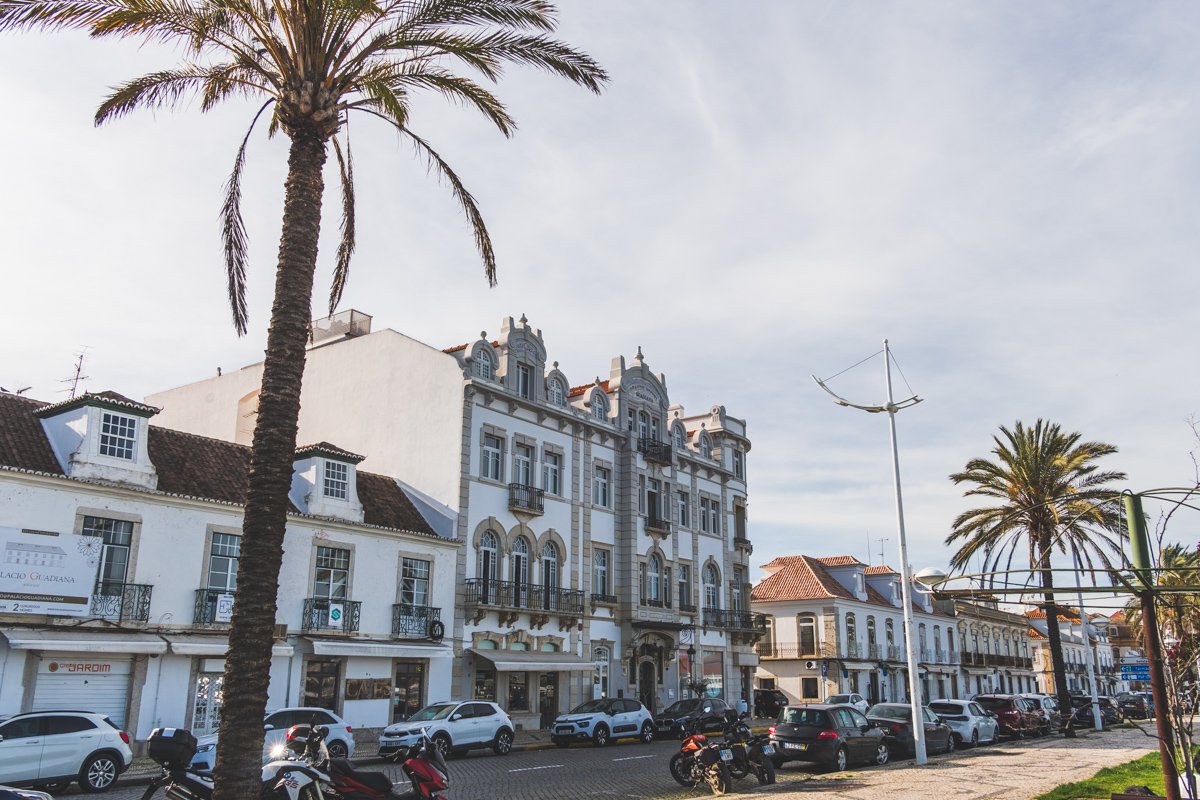 Why Stay in Vila Real de Santo Antônio as Digital Nomads?
For our case, we found Vila Real de Santo Antonio to be an ideal spot to work from. It was small and easy to get around with lots of tasty Portuguese cuisine restaurants, cafes, cute boutique stores and plenty of grocery options. During the weeks we were there it ended up being a laid back and quiet stay.
CoWorking
Unfortunately there are no dedicated coworking establishments in Vila Real de Santo Antonio as of our time living there.
However there are many cafes dotted throughout VRSA with WiFi access. Due to the laid back nature of Portugal it is not uncommon for someone to spend most of the day at a cafe enjoying several coffees and snacks. So you should be just fine working from your laptop while enjoying an inexpensive and tasty beverage of your choice.
Transportation in Vila Real de Santo Antonio
Getting around Vila Real de Santo Antonio was a breeze. Our apartment was conveniently located just across the street from the main bus station. Also across the street was the ferry port that takes you to Ayamonte, Spain.
Search Buses Vila Real de Santo Antonio
Exploring the Algarve by train was super easy. As it was just a 15-minute walk from our apartment to the train station.
Rental Cars
We found that popular rideshare apps like Bolt and Uber were available in VRSA. Although they seemed to be more common on weekends or in the evenings. Perhaps this was due to the time of year we were staying. The more popular months may have more rideshares available.
How Much Did It Cost to Stay in Vila Real de Santo António Portugal?
One of the reasons we decided to stay in the Algarve region during the low season is because prices are cheaper in February and March.
If you're interested in staying longer term, we recommend reading the breakdown of our living costs in Vila Real de Santo Antônio. It can help you plan your stay in this charming town.
Be sure to check out our Cost Of Living articles from our travels around the globe.
Based on our research, you can expect to pay around $800-$1200 per month for a short-term furnished one-bedroom, one-bathroom apartment in Vila Real de Santo Antonio in 2023.
Just keep in mind that prices will increase starting in May, which is when the high season begins.
Want to earn up to 60,000 bonus points for travel? We use our Chase Sapphire Preferred card to earn points for all of our travels and you can to. Sign up and you will get 60,000 bonus points after spending $4,000 in the first three months your account is open.
Pros and Cons of our Stay in Vila Real de Santo Antonio, Portugal
PROS
The apartment is only an eight minute from the main square in Vila Real de Santo Antonio
Access to public transportation is easy with the main bus stop and ferry port just across the street.
Lots of restaurants, cafes and grocery stores are within walking distance.
The apartment was stocked with essentials.
Beautiful nature reserves and beaches are all within a 20-30 minute walk.
CONS
The town was small so you could run out of things to do and see if you're there for an extended period of time.
Business hours can vary and a lot of shops and restaurants close everyday from 3pm-6pm but this is very common in Portugal and Spain.
We thoroughly enjoyed our time in Vila Real de Santo Antonio soaking up the laid back Portuguese culture and the beautiful weather. VRSA is definitely a destination we see ourselves returning to over and over.
If you're finding this helpful then share it with others and subscribe to our newsletter for more content like this! Our goal is to help you live an abundant life through slow travel.
More Vila Real de Santo Antonio Hotels
FAQ
How big is Vila Real de Santo Antonio, Portugal
The population of Vila Real de Santo Antonio is around 20,000 people.
Where is Vila Real de Santo António, Portugal?
Vila Real de Santo Antonio is the most southeastern town in the Algarve in Portugal along the Guadiana River that separates Spain. 
Using our affiliate links (hotels.com, expedia.com, VRBO, Hertz, Chase Sapphire Prefered, Viator, etc.) supports great content on wanderinghartz.com and our Youtube channel.
None of the affiliate links cost you anything or increase the price you pay, and we may earn a small referral commission.
Or if you're feeling generous you can buy us a much appreciated glass of wine (or whiskey)!
Cheers,
Happy Wandering!
Joel and Michelle