Cost of Living in Portugal: Vila Real de Santo Antônio As Digital Nomads
In this article we give you a detailed breakdown of our real-life expenses as Americans living in Portugal. Specifically we will discuss the cost of living in Vila Real de Santo Antônio for a month in the Algarve during the winter/spring season.
On this trip we spent a little over two months living in the Algarve region of Portugal. Our first month was spent living and working remotely in the city of Portimao, Portugal which lies about midpoint along the southern coast of Portugal.
After our time in Portimao we packed up our Beis suitcases and boarded the train to Vila Real de Santo Antônio.
Living in Vila Real de Santo Antonio Portugal
Southern Europe, especially in the Algarve is lovely, laid back and affordable. It is no wonder why so many expats, slow travelers and digital nomads alike move to or make Portugal their home. The Algarve is a really popular place for expats to live due to the mild winters and 300 days of sun.
If you're a sun lover like ourselves then that doesn't sound like too bad of a place to live.
One such lovely place is Vila Real de Santo Antonio or VRSA as it is also known. VRSA is a small town of 20,000 people in the Algarve region of Portugal. VRSA is the most southeastern town in Portugal. The town is located right along the Guadiana river which sits on the the border with Spain.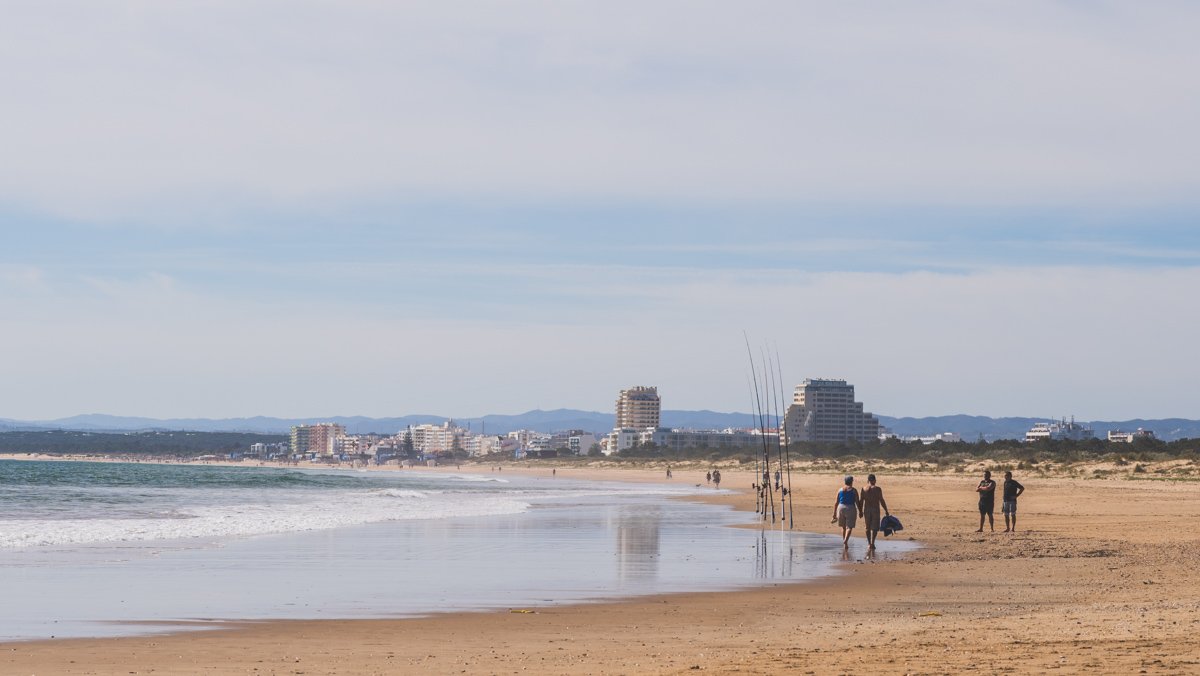 Living in the Algarve
Our time living in the Algarve reminded us a lot of San Diego, California. San Diego weather but with 1990's prices. Does that sound good?
Well if you're now considering living in VRSA as a digital nomad, expat or retiree you probably want to know the actual expenses, not just an average estimate.
If you're like us then you understand how knowing true costs can really help when you're creating your own budget for your travels. Whether you're planning a short trip, slow traveling like ourselves, or even considering a long term stay as an expat.
For the sake of simplicity there are other costs that we are not including; like life insurance, medications, travel costs or our travel blogger business costs.
What does it cost to live in Vila Real de Santo Antonio, Portugal?
According to the website Numbeo, they estimate the cost of living in Portugal to be around $1,500 per person for an expat.
A search on Nomadlist estimated the costs to live as a digital nomad are $2,233 per person.
For a lot of people in the United States $1,500 – 2,200 is quite affordable, especially if they have retirement income, some side income like a rental or even social security.
You're probably thinking that sounds really reasonable. Perhaps even planning your own exploratory trip to Portugal. Before you start planning that trip let's see how expensive it is to live in Vila Real de Santo António for a month as travel bloggers and digital nomads.
Read on to see just how accurate those monthly estimates were compared to our experience in Vila Real de Santo Antonio.
How Expensive is it to Rent an Apartment in Vila Real de Santo Antonio, Portugal?
Finding affordable accommodations is one of the biggest factors we use when choosing our next destination. When we were looking for places to stay in the Algarve we hopped on Flatio.com to book our stay in Vila Real de Santo Antônio. It was our first choice after we had such a good experience using the platform for our short term rental in Portimao.
Now with two great experiences with the platform's booking process and ease of communication with the landlord, we became affiliates!
Our Vila Real de Santo Antonio apartment was a ground floor brightly decorated one bedroom and one bathroom with a large kitchen, living room, interior courtyard, pool and sundeck.
The apartment wasn't as fully stocked like our last stay in Portimao but they did provide us with shampoo, body wash and a couple of cleaning tablets for the dishwasher. Yes, we even had an elusive dishwasher!
| | | | |
| --- | --- | --- | --- |
| | OUR COSTS | LOCALS COST (NUMBEO) | NOMAD LIST |
| Rent | $958.50 Includes the Service Fee | $650 | $2,476 |
| Utilities | included | $85-$130 | included |
| Totals | $958.50 | $735-$780 | $2,476 |
More Accommodations options in Vila Real de Santo Antonio.
Grocery costs in Vila Real de Santo Antonio, Portugal?
For a small town of around 20,000 people we couldn't believe how many grocery and supermarkets there were for us to choose from!
A brand new Aldi was about a 15 minute walk from our apartment, there is an Intermarche located by the train station, a Lidl and Continente. Essentially there are supermarkets in each corner of town which makes it quite convenient.
We also went to a small Supermercado Corvo right in the center of Vila Real de Santo Antonio that was only an eight minute walk from our apartment. They had a small deli that was always stocked with fresh meat, cheese and pastries.
So if you're coming to Vila Real de Santo Antonio you will have plenty of options and choices for grocery stores!
Groceries in Portugal vs. United States
Our grocery costs cover a wide range of essentials including breakfast, snacks, adult beverages such as beer or wine, as well as household items like toilet paper and detergents.
When comparing the prices to those in the United States, we have discovered that groceries in Portugal are remarkably affordable.
When shopping in Europe, we have noticed that items are typically smaller in size or quantity compared to the United States. While you may find cheap prices for a bag of chips or snacks, be aware that you're also getting a smaller portion.
At the local markets you could easily find 12oz. (33ml) cans of beer for $.73 or a 6 pack of 10 oz (25ml) beers (again everything is smaller) for under $5.
A bottle of wine will run you as little as $2.00 (yes you read that right!) to $10.00. The sweet spot, in our research, seems to be around $2.75 – $4 for a tasty bottle.
| | |
| --- | --- |
| Total Groceries (Includes beverages, Alcohol, snacks, breakfast and household) | $471.54 |
How much did we spend dining out in Vila Real de Santo Antônio?
TIP: Tipping in Portugal is not expected, but 5%-10% is appreciated
Our dining out totals include adult beverages, as we usually have wine or beer with our meals. Since it is really difficult to sort those separately, we included it all together.
Ordering drinks at the local restaurants in Vila Real de Santo Antonio would cost you between $2-$3 for a pint of beer. If a glass of wine is more your thing you could easily find it for between $2.50-$4.00. These prices are similar if not the same to pricing we found during our stay in Portimao.
| | |
| --- | --- |
| Total Dining Out (Meals & Drinks out) | $111.17 |
Want to earn up to 60,000 bonus points for travel? We use our Chase Sapphire Preferred card to earn points for all of our travels and you can to. Sign up and you will get 60,000 bonus points after spending $4,000 in the first three months your account is open.
Transportation costs?
During our time in Vila Real de Santo Antonio we did not have a car. In case we decide to rent a car during our travels we do have our international drivers licenses. We didn't feel we needed to rent a vehicle during our time in the Algarve because there is pretty good public transportation.
We used a combination of public transportation like buses, trains and also rideshares for our travels throughout the Algarve.
We took a few day trips while in Vila Real de Santo Antônio. For our trips to Olhão, and Castro Miram we used a combination of bus, train and rideshare.
Speaking of rideshares, we found that Uber and Bolt's were much more affordable than in the United States.
As an example, our rideshare from Castro Marim back to Vila Real de Santo Antonio cost us only $5.73. It was a great way to get around, and we were very happy with the affordable cost.
| | |
| --- | --- |
| TRANSPORTATION | |
| Rental Car | NA |
| Gas & Tolls | NA |
| Car Insurance | Our U.S. policy covered Credit Card covered Damage Waiver |
| Totals | $30.50 |
Activities in Vila Real de Santo Antonio, Portugal
So what kind of activities and any experiences did we partake in while we were in Vila Real de Santo Antônio? We often try to book experiences that will let us see and explore our surroundings. Usually for our bigger adventures we rely on trusted travel sites such as Viator or Get Your Guide.
But while we were living in Vila Real de Santo Antonio we did not do any big adventures. Since we were in Vila Real de Santo Antonio during the off season, there were not a lot of tours happening. So instead we kept it simple and enjoyed Praia de Santo António beach, exploring the charming town of Castro Marim, and even venturing across the border to Ayamonte, Spain.
We specifically opted to visit the Algarve during the off season, which spans from January to around mid-April. This allowed us to fully appreciate the beauty of the region without the crowds.
During our stay, we made a memorable trip to Castro Marim where we immersed ourselves in the history of its Knights Templar Castle and museum. The best part? The admission fee was a mere $2.37 for both of us!
Our total costs for both of us were:
Our Fixed Costs while Traveling as Nomads
There are a few fixed costs that we will include in this cost of living article that are directly related to our time in Vila Real de Santo Antônio, Portugal.
Travel Medical Insurance
First up we used Nomad Insurance from SafetyWing during our time living in Portugal. SafetyWing provides travel coverage plus Medical benefits worldwide.
The cost to provide both of us with Coverage was: $136.08
Our comparison between SafetyWing and Travel Credit Card Benefits
⚕ Are you covered with International Travel Medical Insurance? Get worldwide coverage with SafetyWing
Mobile Phone Service
We could easily spend less on our phone service by purchasing sim cards or data with e-sims when we travel. But for now we have been using our U.S. T-Mobile service which works just like in the United States during our time in Portugal.
It is also nice that there are a few perks included with our T-Mobile service like Netflix, Apple and Paramount Plus. Although our Paramount Plus did not want to work in Portugal.
We are on the Magenta Plus plan and since Joel is a veteran of the U.S. Air Force, we also get a nice discount.
VPN
We always use a VPN (Virtual Private Network) while traveling both in the U.S. and abroad as an extra layer of protection.
VPN's are also great for unlocking geolocated websites and services like our favorite streaming services while abroad.
We are using Surfshark as our VPN of choice. Surfshark does not log your activity and has an excellent price too.
👉Keep Your Data Safe While Traveling: Sign up for Surfshark ✈
| | |
| --- | --- |
| Mobile Phone & Internet | $112.50 |
| Nomad Insurance by SafetyWing | $136.08 |
| VPN (Surfshark) | $2.21 |
| Fixed Cost Totals | $250.79 |
Now before we get to our total costs, we would like to ask that if you're finding this helpful then share it with others and subscribe to our newsletter for more content like this! Our goal is to help you live an abundant life through slow travel.
Total Costs to live in Vila Real de Santo Antonio, Portugal as Digital Nomads
Now, let's delve into the total costs of our stay in Vila Real de Santo Antônio, Portugal. It's important to note that your expenses may differ depending on your choice of accommodations, dining preferences, and the activities you decide to partake in.
In Vila Real de Santo Antônio, you have the opportunity to spend less, especially when it comes to accommodations.
As digital nomads, our cost of living in Portugal may be higher when compared to locals or even long-term expats who enjoy certain advantages from being in the same place for years.
Our total costs for 2 people living in Vila Real de Santo Antônio were:
| | |
| --- | --- |
| | OUR COSTS in Vila Real de Santo Antônio |
| Total Costs | $1,824.90 |
Should you live in Vila Real de Santo Antonio?
We fell in love with our stay in Vila Real de Santo Antônio, Portugal, and we're already planning our return for a longer visit. The tranquil atmosphere, picturesque walks along the Guadiana River promenade, and leisurely moments spent basking in the sun at our favorite café made our experience unforgettable.
Despite the off-season's limitations, it unexpectedly gifted us with the chance to prioritize our work-life balance and fully appreciate our time in Vila Real de Santo Antonio. It was the perfect blend of work, play, and repeat!
Be sure to check out our other Cost Of Living articles from our travels around the globe.
FAQ for Vila Real de Santo Antônio
How Far is Vila Real de Santo António from Monte Gordo?
Monte Gordo is conveniently located just 3.6km away from Vila Real de Santo Antonio. The quickest way to reach Vila Real de Santo Antonio is by car or rideshare, with a travel time of only 7-8 minutes. Alternatively, you can take a bus for approximately 5-7 Euro. For those who enjoy a more adventurous approach, walking is an option, taking about 45 minutes. Along the way, you can explore the beautiful walking trails that lead through Mata Nacional das Dunas Litorais de Vila Real de Santo Antônio.
What is the historical significance of Vila Real de Santo Antonio?
Vila Real de Santo Antonio, once an influential fishing harbor, has remained a significant coastal town. However, its history took a tragic turn when it was devastated by a tsunami caused by the powerful 1755 Lisbon earthquake. The town was rebuilt within a mere two years, following a grid pattern similar to that of Lisbon. The credit for planning and designing this remarkable "Royal Town" goes to the renowned Marquis of Pombal.
Using our affiliate links (hotels.com, expedia.com, VRBO, Hertz, Chase Sapphire Prefered, Viator, etc.) supports great content on wanderinghartz.com and our Youtube channel.
None of the affiliate links cost you anything or increase the price you pay, and we may earn a small referral commission.
Or if you're feeling generous you can buy us a much appreciated glass of wine (or whiskey)!
Cheers,
Happy Wandering!
Joel and Michelle