National Tile Museum Lisbon: A Fascinating Exploration Of Ancient Azulejos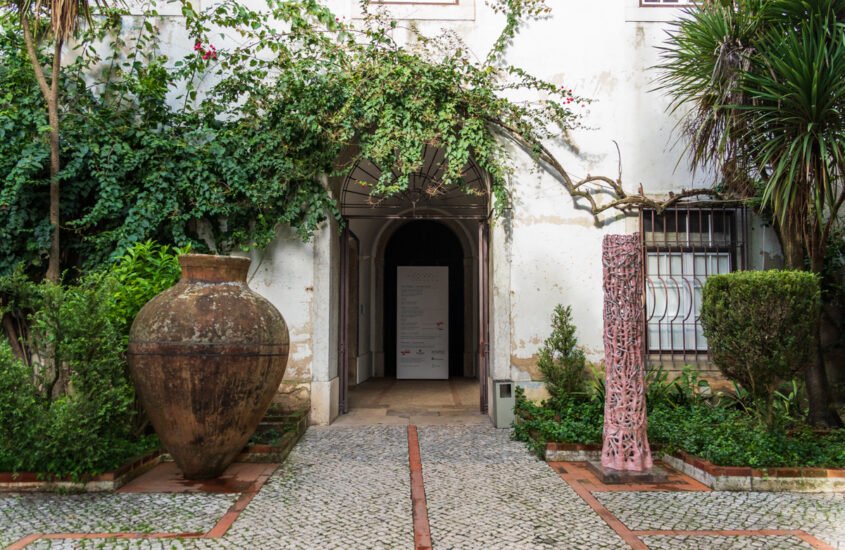 The National Tile Museum in Lisbon, Portugal (Museu Nacional do Azulejo) is a great place to visit if you're interested in the history and art of Portuguese tiles known as "azulejos".
The museum has a large collection of tiles that date from different periods and regions of Portugal.
There are even Islamic tiles from the 15th century moorish rule and Portuguese tiles from the 16th to the 20th centuries.
The museum is located in the Madre de Deus Convent that dates back to 1509, a beautiful building that's worth seeing in itself.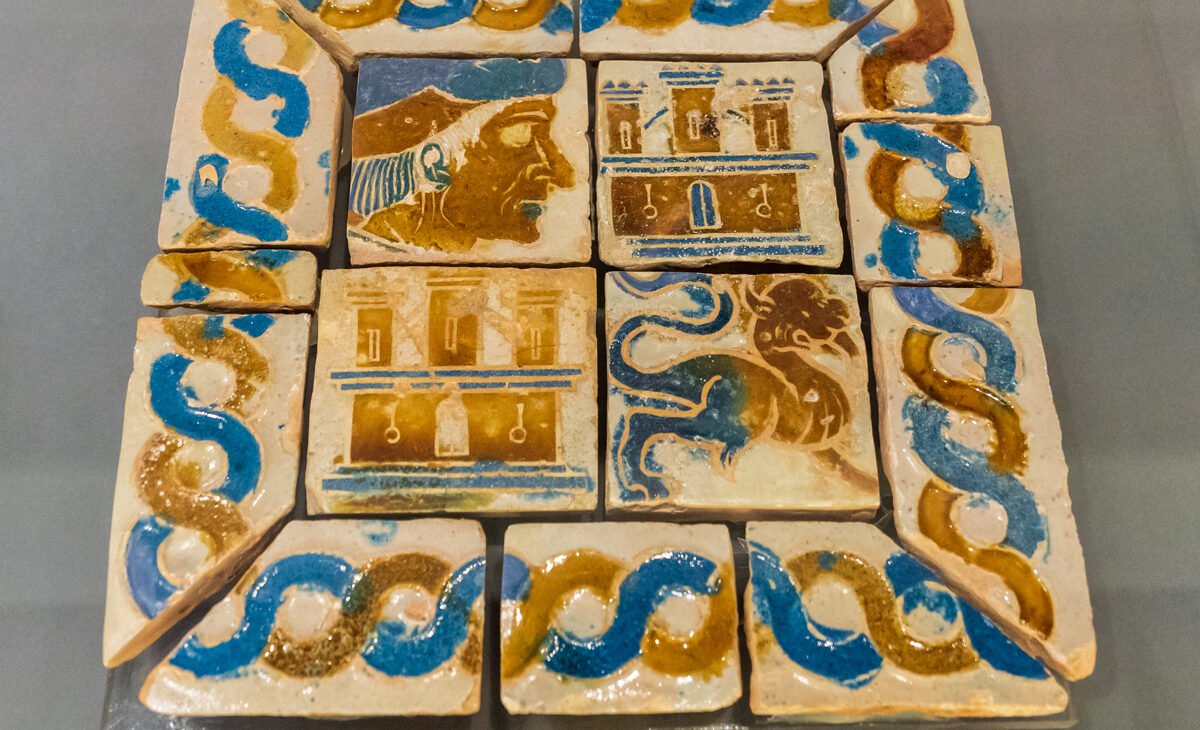 Why is Portugal so famous for tiles?
Since the 13th century, the glazed tiled pavement in Portugal has been a popular form of decoration and adornment.
The popularity of this style of design can be traced back to the Moorish rule in Portugal and Spain.
During King Manuel I's visit to Seville in the 16th century, he was so impressed with the ceramic tiles that he had them brought back to Portugal.
The word Azulejos, which is derived from Arabic, literally means "small polished stone". Today, this glazed tiled pavement is still widely used in Portugal and is admired for its beauty and craftsmanship.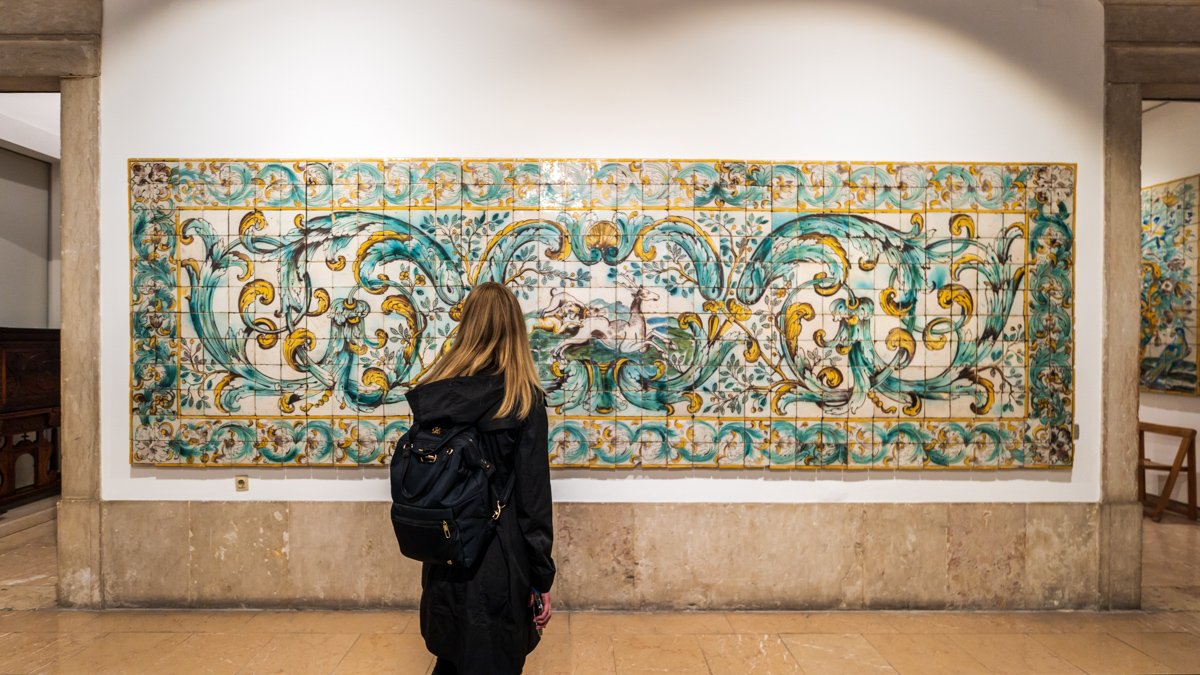 Inside the Lisbon National Tile Museum (Museu Nacional do Azulejo)
The National Tile Museum features an impressive collection of decorative tiles dating back to the 15th century. We saw a variety of ceramic tile types, including hand-painted, glazed, and relief tiles.
The museum showcases different styles and designs, from traditional blue and white azulejos to more modern and abstract pieces. Additionally, there are exhibits on the history of tile-making in Portugal and the cultural significance of tiles in Portuguese art and architecture.
Michelle was especially excited to explore the museum since her background is in graphic design. We loved looking at all of the beautiful Portuguese tiles and vibrant colors as we wandered through each room.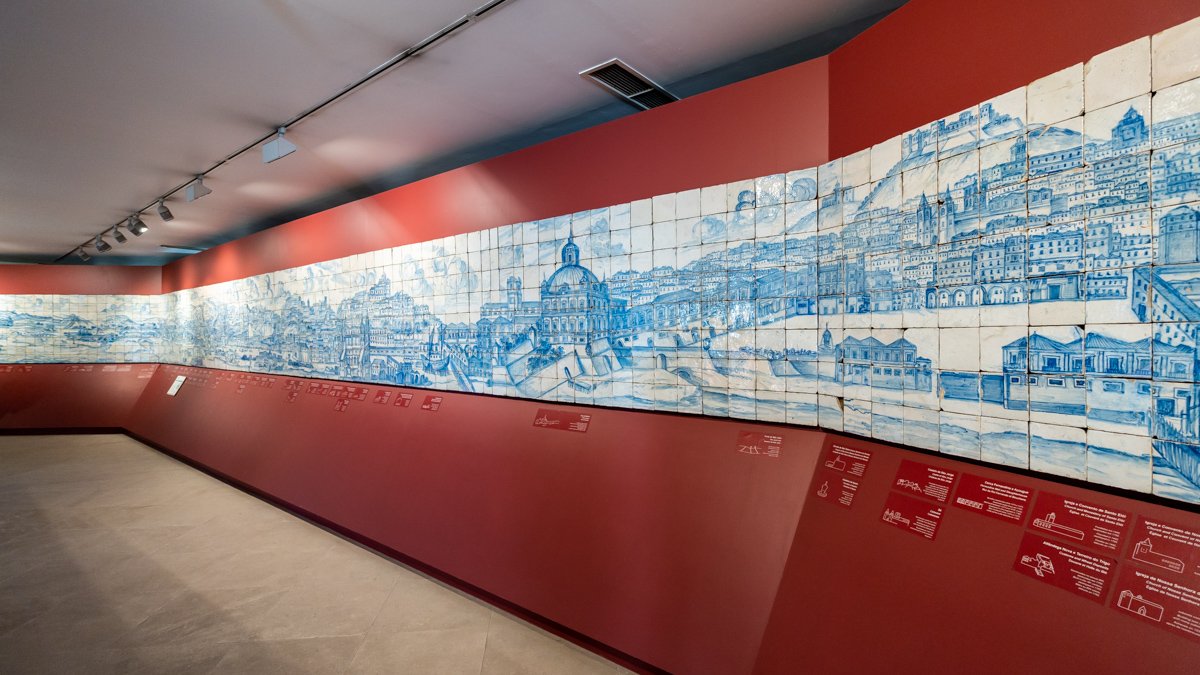 One of the main highlights in the museum is a 75 foot long panel from 1738 that shows what Lisbon looked like before the devastating earthquake in 1755. Do not miss this!
Modern Temporary Exhibitions
Complete your tour by taking the time to admire some of the amazing contemporary artists on display. You will find numerous modern tile installations on display along the second floor.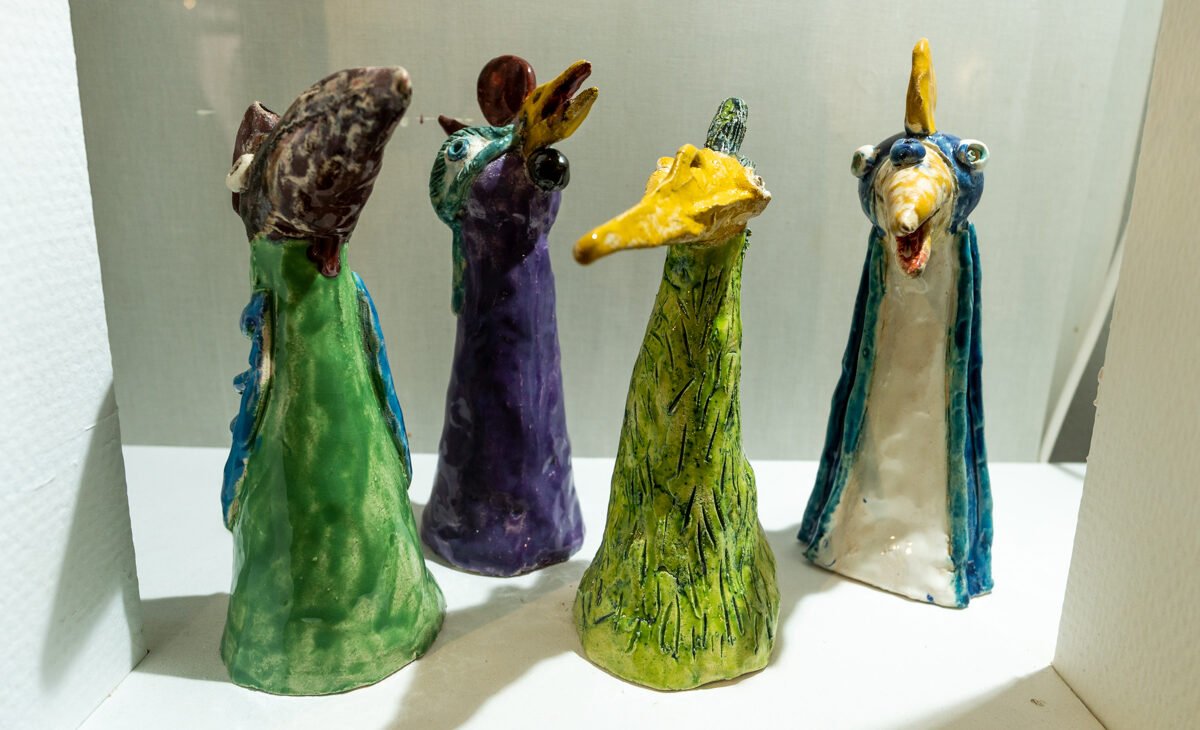 For a unique experience, visit the room dedicated to Portuguese artists from the 20th century to present day. Joel was especially delighted by the ceramic bird sculptures!
The Madre de Deus Church
Located in the Tile Museum, the Madre de Deus Convent is an absolute must-see. Its Baroque style, including its gold over the top decorations, stands in stark contrast to the convent's simplistic structure.
The chapel upstairs is also interesting, with multiple shrines and an elaborately painted ceiling. It even has a view overlooking the church sanctuary below and is a reminder of the beauty of Portuguese culture.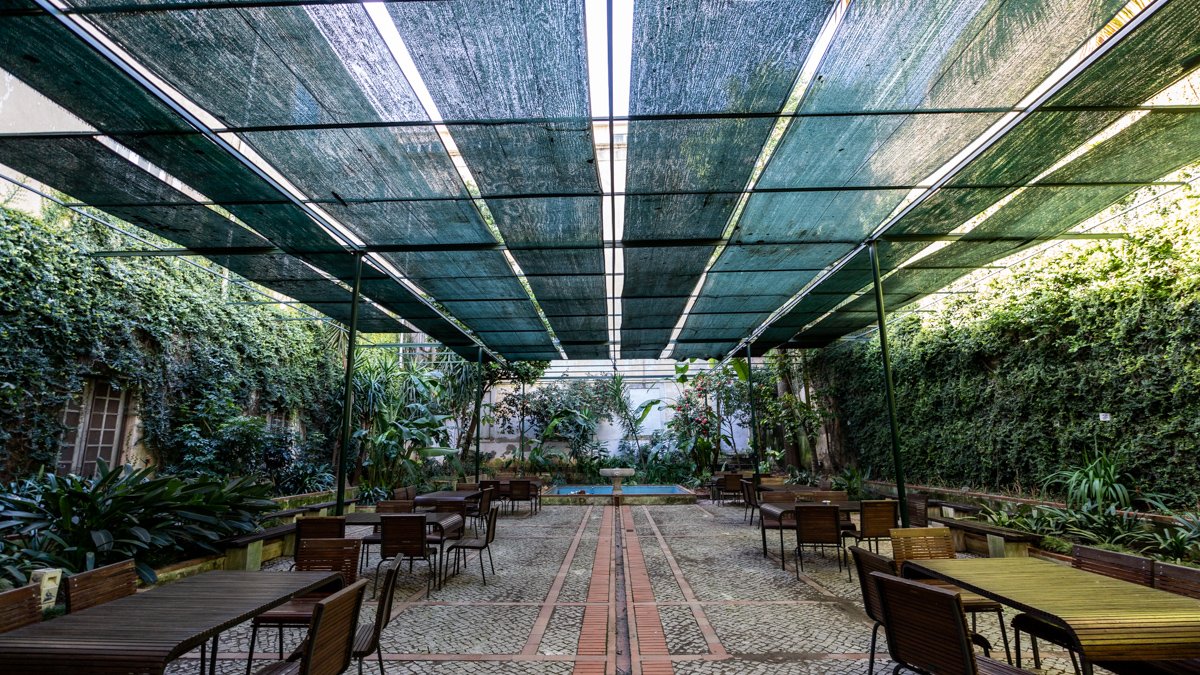 Tile Museum Cafe and Snack Bar
If you're hungry be sure to stop by the Tile Museum Cafe and snack bar. You will find snacks, coffee or a glass of wine. It's a lovely little cafe and offers a nice break from the museum.
On a warm day, be sure to take advantage of the large courtyard outside. Its garden feel has additional art and is a peaceful outdoor area to relax and soak up the sun.
National Tile Museum Lisbon Tickets
We bought our National Tile Museum tickets through the Get Your Guide App, which made it so easy to enter the museum. All we had to do was open up the app on our phones and the attendant would scan the QR code. We suggest buying tickets in advance, as it saved us from queuing up to purchase them. At our time of purchase tickets were $5.41 per person. 
Tickets for the museum can also be purchased through the Lisbon City Card offering 24, 48, or 72 hours of Free admission to the most popular attractions and museums in Lisbon. Not a bad option if you plan on seeing many attractions in Lisbon or just for the convenience.
TIP: The Tile Museum is closed on Monday's so plan your Lisbon itinerary accordingly.
How to Get to The Tile Museum Lisbon
The National Tile Museum in Lisbon is located in the Xabregas neighborhood of Lisbon.
Address: R. Me. Deus 4, 1900-312 Lisboa, Portugal
It's a little out of the way from the more popular Rossio area and in a more industrial part of Lisbon. But don't let that stop you. 
There are several ways you can get to the Tile Museum in Lisbon.
Lisbon Public Transportation
Lisbon has a really robust public transportation system including Train, Subway and Buses. Fares are reasonably priced and easy to navigate.
2023 Lisbon Metro fare prices are:
1.65€ – Single Fares or 1.47€ when "zapping" with a reusable viva vem card
3€ – Trams
2€ – Buses
6.60€ – 24-hour unlimited travel, including Lisbon buses, metro and trams.
Learn more about Lisbon's Metro here https://www.metrolisboa.pt/en/
Walk
If you're in for a long walk then you can expect it to take you about 45 minutes each way to get to the National Tile Museum from Rossio Square.
Metro
To Get to the National Tile Museum in Lisbon via the Metro take the Blue line to the Santa Apolónia station. From there it's about a 20-30 minute walk to the museum.
The National Tile Museum is in fare zone 1 in Lisbon as are most of the tourist areas and the airport.
Bus
The nearest bus stop is Museu Nacional do Azulejo (bus stop 210) which is just across the street from the museum.
The following bus routes have stops here:
From Rossio Square you can expect it to take about 20 minutes to get to the National Tile Museum via bus.
Another great option in Lisbon is using ride-sharing services such as Bolt or Uber to get to the National Tile Museum. This is what we opted to do as it was quick, easy and affordable.
We stayed at a hostel in the Baxia neighborhood in Lisbon and our Bolt ride was only $5.56 to get to the museum. 
Should You Go to the National Tile Museum in Lisbon?
We think the National Tile museum is definitely worth a visit. Not only is it an interesting look into Portuguese history and culture, but it also provides a great opportunity to learn more about the country's art and architecture.
It's a great way to experience a little bit of Portuguese culture and to gain some insight into the country's past.
Want to earn up to 60,000 bonus points for travel? We use our Chase Sapphire Preferred card to earn points for all of our travels and you can to. Sign up and you will get 60,000 bonus points after spending $4,000 in the first three months your account is open.
FAQs
How Long Does the Lisbon Tile Museum Take?
Plan on allowing between 2 and 3 hours to see all of the exhibits, church, and a stop at the cafe. 
We spent a good 2 and half hours learning about and admiring the Portuguese tiles, the convent and Madre de Deus Church. 
Using our affiliate links (hotels.com, expedia.com, VRBO, Hertz, Chase Sapphire Prefered, Viator, etc.) supports great content on wanderinghartz.com and our Youtube channel.
None of the affiliate links cost you anything or increase the price you pay, and we may earn a small referral commission.
Or if you're feeling generous you can buy us a much appreciated glass of wine (or whiskey)!
Cheers,
Happy Wandering!
Joel and Michelle