Here's Why It's Totally Worth Taking a Three Day Trip to Lisbon, Portugal
Lisbon is one of Europe's most vibrant cities, and if you're looking for a short getaway, you should definitely consider visiting. We recently had the opportunity to explore the city and enjoyed every minute of it. From the stunning architecture to the delicious food and diverse neighborhoods, exploring Lisbon was a joy.
If you're looking to get a true feel for the city, we'd recommend giving yourself five to seven days to explore the best of Lisbon. But if you're short on time, we've crafted a three-day itinerary in Lisbon to help you get the most out of your visit.
⚕ Are you covered with International Travel Medical Insurance? Get worldwide coverage with SafetyWing.
How to Get Around Lisbon
Public Transportation in Lisbon
Getting around Lisbon is easy and affordable with the Viva Vem card. With this card, you can use all forms of public transportation, including the bus, metro, train and trams.
The Viva Card costs .50 Euro and is reusable. Just load money on the card and validate it once you board.
We went to a metro station to purchase our cards from a vending machine. After loading our cards with 5 Euro each we were set to explore the city. With this card, you can easily and quickly get around Lisbon and visit all of the city's amazing attractions.
Alternatively, you can also purchase single time based tickets or multi day passes too.
Explore with a Lisbon City Card offering 24, 48, or 72 hours of Free admission to the most popular attractions and unlimited use of the public transportation. Not a bad option if you plan on seeing as much as you can or just for the convenience.
Traveling around Lisbon by Uber or Bolt is a great option and an inexpensive one, too! We were pleasantly surprised to find that the cost of a rideshare was much lower than in the United States.
On our most expensive ride, a 20 minute journey to the train station so we could head down south to the Algarve, it only cost us 11 Euro.
We recommend downloading the apps and using an Uber or Bolt especially if you have luggage. Use code JOELH9Q to earn a discount on your first Bolt ride.
It is far easier than navigating public transportation with several suitcases in tow.
Rideshares are also a great way to explore Lisbon, so be sure to consider this option when planning your trip!
Lisbon, A Walkable City
Walking around Lisbon is one of the best ways to explore the city. Be prepared for some hard work though, as Lisbon is built upon 7 hills and all of the sidewalks are made from cobblestone and marble.
This can be tiresome, so make sure you invest in a good pair of walking shoes with some grip.
When it rains, the streets can get slippery – so take your time and watch your step! With the right shoes, you can explore the city and take in its beautiful sights without worrying about your safety.
Airport Hotel Stay in Lisbon
Since our flight to Lisbon arrived at 11:20pm we opted to stay at a hotel right next to the airport for our first night.
We stayed at Lisbon Star Hotel, which was actually super convenient and only a 5 min walk from the airport. The room was small, which was to be expected, but we were treated to a large and excellent buffet breakfast that was included in our room rate.
This is another hack we use often on layovers or short trips.
We always try to book hotels with breakfast included when in new cities. It's nice to know we don't have to try and figure out where we will be eating first thing in the morning.
We booked our stay on Hotels.com were we also earned credit towards a free room night through the Hotels.com Rewards Program.
CHECK ROOM RATES IN LISBON
Day One A Free Walking Tour and History of Lisbon
After a leisurely breakfast we checked out of the Lisbon Star hotel and moved to our hostel, The Central House Lisbon Baixa. Located in the heart of the city this was a great location for us to start our three days of sightseeing in Lisbon.
We used a Bolt rideshare to make the 24 min move to the Baixa neighborhood for less than 10 Euro.
Walking Tour
Our first day we started with a FREE 3 hour walking tour of the city to get a better understanding of the history and culture of Lisbon.
Our local guide led us to multiple points of interest in Lisbon and was very knowledgeable and entertaining. We always recommend taking a walking tour of a new city to help get your bearings, and this one was no different. Just remember to tip your guide!
Free walking tours can fill up quickly, especially in high season. Here are a few paid alternatives to consider:
TIP: Don't wait in line and pay for the Santa Justa Lift, instead walk up to the Carmo Convent and follow a side street that will take you behind the Convent and up some steps to the top of Santa Justa Lift. Enjoy the view for FREE!
For lunch our guide suggested a Portuguese restaurant not far from where the tour ended at Arco da Rua Augusta, a popular Lisbon attraction from the 18th century. We were lucky to grab a seat at Maria Catita and had some wonderful seafood.
After lunch we made our way to Praça do Comércio, the popular historical landmark and large square. We wandered down to the water and admired the huge cruise ship heading out to sea. The light was turning to golden hour so we decided to stay for a bit and enjoy the atmosphere and sunset.
Our first night ended with a lovely dinner at Dote Cervejaria Moderna. The menu was full of traditional Portuguese dishes, and the atmosphere was warm and inviting. We were delighted with the delicious food and the friendly service.
Day Two Exploring Lisbon and The National Tile Museum
Day two started with breakfast which was a quick walk across the street to Copenhagen Coffee Lab – Baixa. Michelle fueled up on a delicious cappuccino and we both thoroughly enjoyed our light and flakey chocolate croissants.
Next up we decided to visit a lesser known tourist attraction in Lisbon, The National Tile Museum. We purchased our tickets through the Get Your Guide App so it was super easy upon entry. Just open the app on your phone and the attendant will scan your QR code.
You can also get tickets at the door for the same cost as in the app, but we recommend buying hm ahead of time so you don't have to queue up to purchase tickets.
Dive deeper in the National Tile Museum
Michelle especially was very interested in taking in the history and design of the azulejo, the traditional tilework of Portugal from the late 15th century to present day.
Located in the Madre de Deus Convent the Azulejo Museum features a large collection of different types of azulejo, from the traditional blue-and-white tiles to the colorful, modern varieties. The museum also has a wide range of artifacts, from plates and tiles to tools and mosaics. There's also a nice little cafe and outdoor courtyard on the first floor if you want to grab a snack or coffee.
For an in depth tour of Azulejos, Portugal's famous tiles, you can also book a private full day tile workshop and tour for up to two people here.
Lunch at Hell's Chicken
After our morning at the museum we decided to venture up the street a couple of minutes and have lunch at Hell's Chicken and boy are we glad we did! We had a hearty meal of delicious grilled chicken with rice, fresh tomatoes and onions doused in olive oil and crispy fries.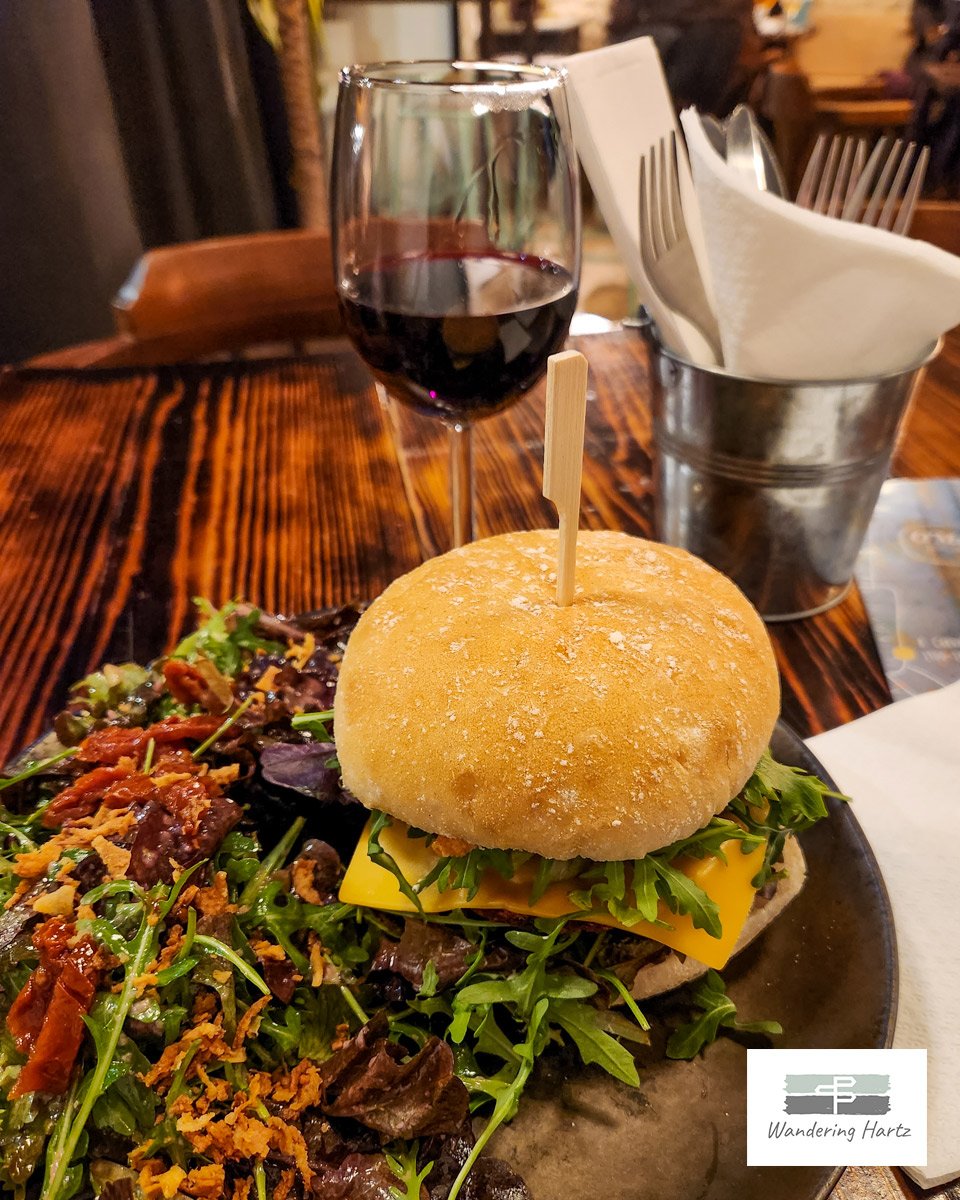 For dinner we used our Viva Vem tickets to take the Metro to a Lisbon neighborhood northeast of where were staying to meet some friends. You will get off at the Arroios metro stop and walk about 10 minutes to the restaurant. O'Malta Bistro is a cozy little café where we enjoyed some tasty food and drinks. If you're in the area we highly recommend to have dinner there!
Day Three Visiting a Top Tourist Attraction in Lisbon, Belem Tower
Lisbon is a very walkable city and you can see most of the historical sights by foot. Belem Tower is one of the top tourist attractions in Lisbon but it's a bit further outside of town.
You will want to get transportation for this journey. We decided to take a combination of the metro and a train which took longer than anticipated. Opps!
TIP: Hop on the 15E tram to visit Belem.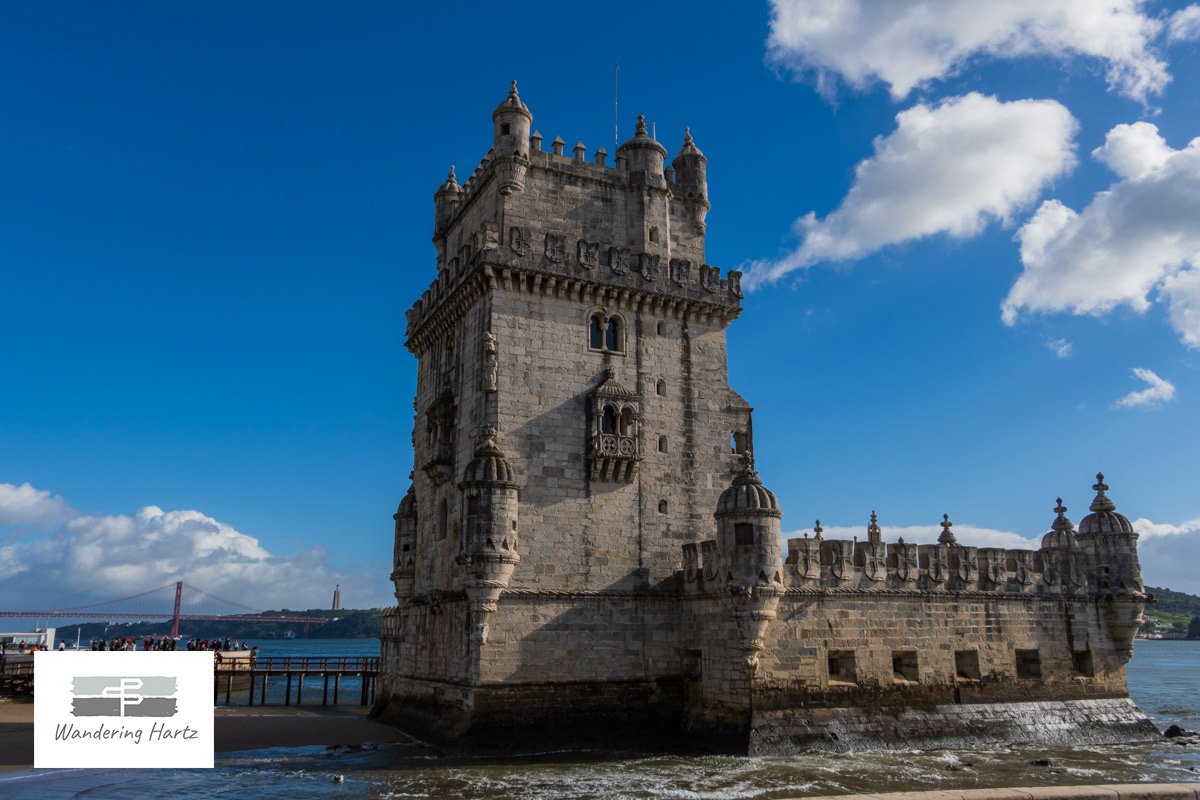 Belem Tower sits along the Tagus River and was constructed in 1514 by the order of King João II. It's one of the only structures that was left standing after the 1755 earthquake that pretty much leveled all of Lisbon. It now stands as a proud symbol of the city's resilience and reminder of the Portuguese explorers.
You can buy tickets to explore the Belem Tower here
If you have time you can head over to the Jerónimos Monastery that houses an archaeology & maritime museum. It's about a 15 minute walk from Belem Tower or a 7 minute ride on the tram.
Get tickets for Jerónimos Monastery
For some of the famous Pastel de Nata in Lisbon visit Pastéis de Belém, just a three minute walk from the Monastery.
We decided to take the bus back to our hostel in the Baxia neighborhood for lunch and to change out some of our camera gear. We quickly found a charming little pizza place called Alho Lisboa, which was just a two minute walk from our hostel. With our bellies full we were ready for our Fado tour later that night.
Alfama Neighborhood and Fado Tour
After hours and hours of researching about Fado music and its various listening experiences, we finally decided to book a tour. We are so glad we did!
Sure, we could have just gone to a restaurant and still heard the wonderful mournful folk music, but with a tour we were able to dive deeper into its rich history and culture. Our guide led us through a 3 hour tour through the Alfama neighborhood where Fado originated from.
The night ended with a dinner shared with new friends, listening to the remarkable performances by two Fado singers. It was such an amazing experience and one we will never forget. We highly recommend booking this tour if you are looking for a truly unique and memorable experience in Lisbon.
3 Days in Lisbon Wrap Up
Overall, our three days in Lisbon were a great experience and we would highly recommend it for anyone considering a visit to Portugal. From the colorful tiled buildings to the delicious food and history, we thoroughly enjoyed our time.
With this Lisbon city guide, you will have all the information you need to plan a successful trip and make the most of your time in the city of seven hills.
👉 VPN WE USE WHEN TRAVELING ABROAD
You also might also like…
Want to earn up to 60,000 bonus points for travel? We use our Chase Sapphire Preferred card to earn points for all of our travels and you can to. Sign up and you will get 60,000 bonus points after spending $4,000 in the first three months your account is open.
Using our affiliate links (hotels.com, expedia.com, VRBO, Hertz, Chase Sapphire Prefered, Viator, etc.) supports great content on wanderinghartz.com and our Youtube channel.
None of the affiliate links cost you anything or increase the price you pay, and we may earn a small referral commission.
Or if you're feeling generous you can buy us a much appreciated glass of wine (or whiskey)!
Cheers,
Happy Wandering!
Joel and Michelle