Visiting Wisconsin: Road Trip to Door County and Washington Island
Road Trip Across Wisconsin
We began our drive starting from Hudson, Wisconsin where we have been staying and we literally drove across the entire state. Upon reaching Green Bay we made our way Northeast up the peninsula that is Door County, Wisconsin. It was about a five hour drive through lots of corn fields and picturesque farms with red barns. Had we more time it would have been a delight to stop along the way and photograph the countryside. On your trip definitely leave time in your schedule to grab a few snapshots! 
Door County Wisconsin
The Village of Ephraim
At first glance Door County reminds me a lot of the movies I'd watch as a kid where the families would go "upstate for the summer". We passed through quite a few small towns that dotted the roadside until we made our way to our destination in Ephraim. The village of Ephraim is known for its charming white buildings, beautiful views of Peninsula State Park's Eagle Bluff and Horseshoe Island.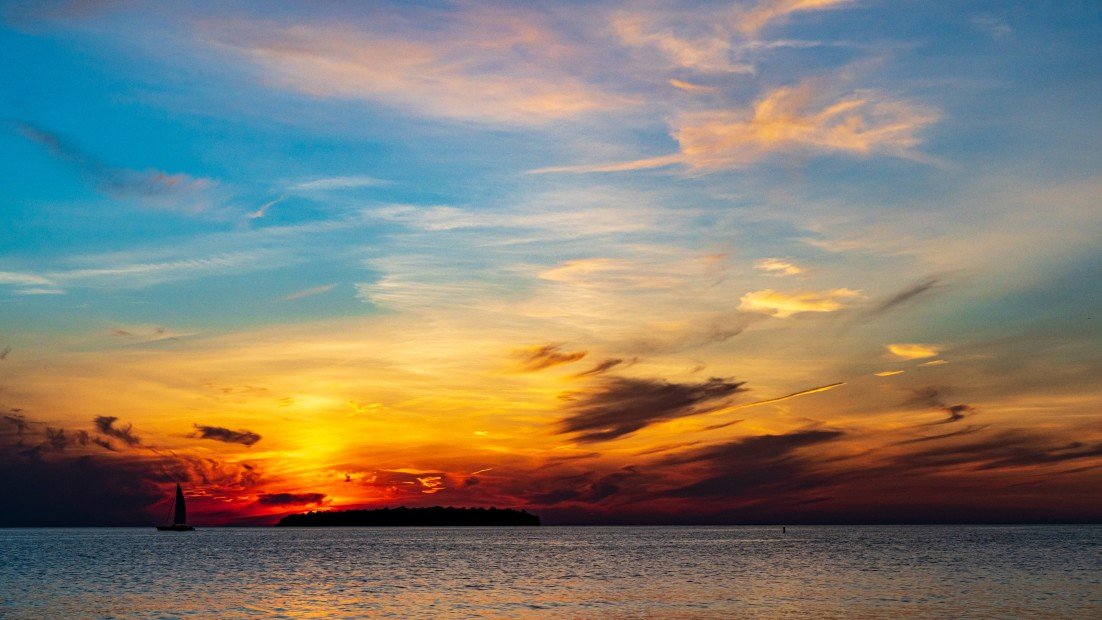 The peninsula opens up to the vastness of Lake Michigan which seemed more like an ocean than a lake. I was already at home. Ephraim has an old time feel mixed with a good deal of resort town shlockiness. Of course I may just be cynical.
Wilson's
Once we settled into our accommodations we ventured out to one of my in-laws favorite places to eat, Wilson's Restaurant and Ice Cream Parlor. This is a fun kitschy type place with a hefty amount of 1950's nostalgia complete with oldies music and jukeboxes. Wilson's is known for their home-brewed draft root beer. Considering myself a root beer aficionado I had to try one and it was quite tasty!
Before heading back to our motel for the night we drove up to Sister Bay to walk around the marina, look at the boats, and enjoy the sunset.
Ephraim Shores Resort
Arriving on the weekend we found the side of the streets packed with parked cars and people filled the sidewalks. We were in Ephraim just before Indepence Day and the town was beginning to hop.
The "resort" we stayed at is an old motel with partial views of the water. It is centrally located within walking distance to multiple restaurants and shops. We were hoping to get some work done while we stayed, which is what we do, work remotely, but it was quite difficult due to the internet speeds unfortunately. 
Hotel WiFi
Unfortunately the WiFi connection in the hotel was quite bad. The best I was able to get was 1.5Mbps down when it would stay connected. Keep that in mind if you plan to stay at this specific resort and need to work or stream videos for the kiddos.
I ended up having to rely my phone's data network which, slightly better, was still truly abysmal. To that end, the cellular and data service for our phones was really spotty even just a mile outside of any town. 
We have T-Mobile and our service constantly reconnected to either AT&T or Us Cellular. Our data connection speed was at best 2g despite claiming 4g on our phones. Kind felt like 2005 all over again! If you are on AT&T or Verizon you may have better coverage than we did.
A Room with A View?
Our room overlooked the bay and between the five quite large trees that literally block 60% of the view, we could still see a bit of the lake. Our small balcony was nice in the early morning before the summer sun would wrap around. Michelle enjoyed her morning coffee on the balcony and we enjoyed sundowners there after watching the sunset along the shore.
There are several Adirondack chairs across the street at the water's edge and a few more on the hotel lawn. Definitely make it to the shore for fantastic sunset views! Get there early though as they fill up fast!
The Room
Our room was a connecting room with queen beds. The room is in need of updating, but it had a few nice touches. The bed was quite comfortable for us as we prefer slightly stiffer beds and we slept really well. It had an additional sink by the small refrigerator which was nice. The armoire had a built in space for a TV that was empty which I repurposed as a standing desk. It also had power with USB connections to charge your devices.
Besides the room being rather outdated looking, especially the bathroom, the Air Conditioner made the strangest noise. It sounded like a dying squirrel a moment after it would stop blowing. This startled us several times in the middle of the night. We ended up turning it completely off before bed.
All in we wouldn't recommend the Ephraim Resorts Hotel if you need consistent and good Wi-Fi speeds during your visit . If you are wanting an unobstructed view from your room of the glorious sunsets, then madebe look elsewhere. It is a fine place to stay otherwise but there are a handful of other hotels like the Edgewater Inn (next door with a good view) and vacation rentals available as in the surrounding area.
WASHINGTON ISLAND
The next morning we were up early to head out to Washington Island. Before we made our way to the ferry we stopped at The Old Post Office Restaurant in Ephraim, just a 2 minute walk from our motel. Breakfast was simple and satisfying and we sat outside on their large patio with nice views overlooking Eagle Harbor. The real standout here though is the fish boil, which I'll get to later on.
Getting To and Around Washington Island
Located at the end of the peninsula, Washington Island is quite isolated. It is only accessible by boat or a daily ferry service. The Ferry is not cheap and getting around the island is expensive. You have been warned.
There are several ways to get around the island. You can take your car on the ferry which will cost you $27 for a round trip ticket plus another $14 per person. Another option is to just pay the $14 per person, walk on and rent transportation near the dock on the island.
On the island there are several transportation options available, bikes, e bikes, UTV, and scooters. All of the Washington Island options are overpriced. For instance, a scooter will run you $45 an hour, $80 for 2 hours or $95 for all day. The UTV is like a gas powered golf cart with seating for 6 or 7. It is also really expensive and it's quite loud. So unless you want dirty looks from the island's locals I'd just drive a car to save money.
Washington Island Eats
Washington Island was a nice treat. There is not much in the way of food choices on the island. I counted only 8 or so restaurants or bars, only a few were open during our trip.
We had a quick bite at Albatross Drive-In which served basic american street/carnival food and ice cream. I had the corn dog and it was acceptable. Michelle had the brat and it was insanely good. If you didn't know already they do bratwurst really, really well in Wisconsin.
They also had burgers, fries, chicken fingers and the like, but definitely get the brat! A new addition was a little Tiki Bar just behind the main building featuring Door County craft beer and wine which we made use of.
Stavkirke Church
After lunch we visited Washington Island Stavkirke, a Norwegian style Stave Church typically built with timber. It was closed for entry due to the pandemic, so we didn't get a peek inside. The exterior of the church was quite beautiful and also creepy at the same time.
The building is stained black with dragon head carvings everywhere which I was not expecting. Although I had also just watched the horror movie Midsommar the night before so that could have been the source of my unease. 
Schoolhouse Beach Park
Next it was onto a really beautiful bay on the North end of the island and a beach called Schoolhouse Beach Park. The "beach" is covered with white limestone rocks and clear blue water. There are a lot of great camping sites among the lovely cedar trees. The campsites are free with a lot of underbrush and really close to water. There are even a few nice benches on the water's edge where you can sit and marvel at the view.
I would recommend some water shoes if you make your way into the water. The stones can be difficult to walk on with bare feet. The rocks are not only so white they almost look bleached, but they are also very round and flat. Making them excellent for skipping. This is a great place for families and kids. It is very popular as there was a decent amount of people there for a Monday afternoon.
Lavender Fields
As we made our way back to the ferry we happened upon several lavender fields. We stopped to check one out. The smell was amazing and the lavender was really quite lovely. Peak season is from July and August so we were there before Island Lavender started harvesting. There is a gift shop located on the property along with some really cool Scandinavian buildings. You could even see into one of them where bouquets of lavender were hanging to dry.
Having spent the day on Washington Island we made our way back to the peninsula. We arrived at the terminal with plenty of time before the scheduled departure.
Be sure to get to the ferry terminal at least 15 minutes prior to departure to get on the ferry. It is first come first served and it can get busy in the summer months.
The return trip leaves approximately every 30 minutes with the last ferry at 6pm. Check the Washington Island Ferry line website for the current schedule.
We enjoyed the 30 min. ferry ride back, taking in the summer air and thinking about dinner.
Back on the Peninsula
That night we decided to try Al Johnson's Swedish Restaurant and Butik in Sister Bay. It's one of the most famous restaurants in Door County so we wanted to see what all the fuss was about. Unfortunately during our visit their new Stabbur Scandinavian Beer Garden was only serving food on Friday's and Saturday's due to Covid-19 restrictions. We were out of luck since it was Monday. If you do find yourself here, definitely try it out, they're known for Swedish pancakes with lingonberries. Be on the lookout for goats grazing on top of their sod roof! 
Like any good traveler we had a backup plan. Our backup plan led us to Fred and Fuzzy's, a fun waterfront bar and grill in Sister Bay. It has lots of outdoor seating, excellent food and stunning views of the water. Parking spots are limited by the restaurant so we had to park up the hill, a 3 minute walk to the restaurant. I had a bratwurst and it was fantastic. I am really getting into the summers in Wisconsin.
Our last full day was spent exploring Ephraim and Sister Bay. Breakfast was a leisurely stroll over to Chef's Hat Cafe. The food and service was great and they had extra seating nestled among the outside garden.
Fish Boil and Fire oh my!
The rest of our afternoon was spent working on some projects back in our room. By dinner time we were more than ready to head out. We had reservations at Michelle's parents favorite fish boil so I was excited to experience an authentic Door County tradition! It was another short walk over to Old Post Office Restaurant from our hotel. Behind the restaurant they had a huge kettle and fire set up with benches surrounding it. I got the hint that something cool was about to happen. 
We were sure to arrive early so we could listen to the boil master explain the process and also learn about the origins of the fish boil. Scandinavians are credited with bringing this tradition over to the country almost 100 years ago.
Our dinner reservations included the fresh caught, and boiled, white fish from Lake Michigan, red potatoes, onions and cherry pie. Whitefish is actually pretty bland tasting. The addition of the melted butter and seasoning provided made the fish really stand out. I was pleasantly surprised by how tasty the meal was overall.
Anderson Dock
As we left Door County on our fourth day we stopped by Anderson Dock. As you can see from the picture graffiti is welcomed on this building. It all started with boater's signing their boats name and the year they docked. There is even an art gallery inside but it was closed at the time of our visit.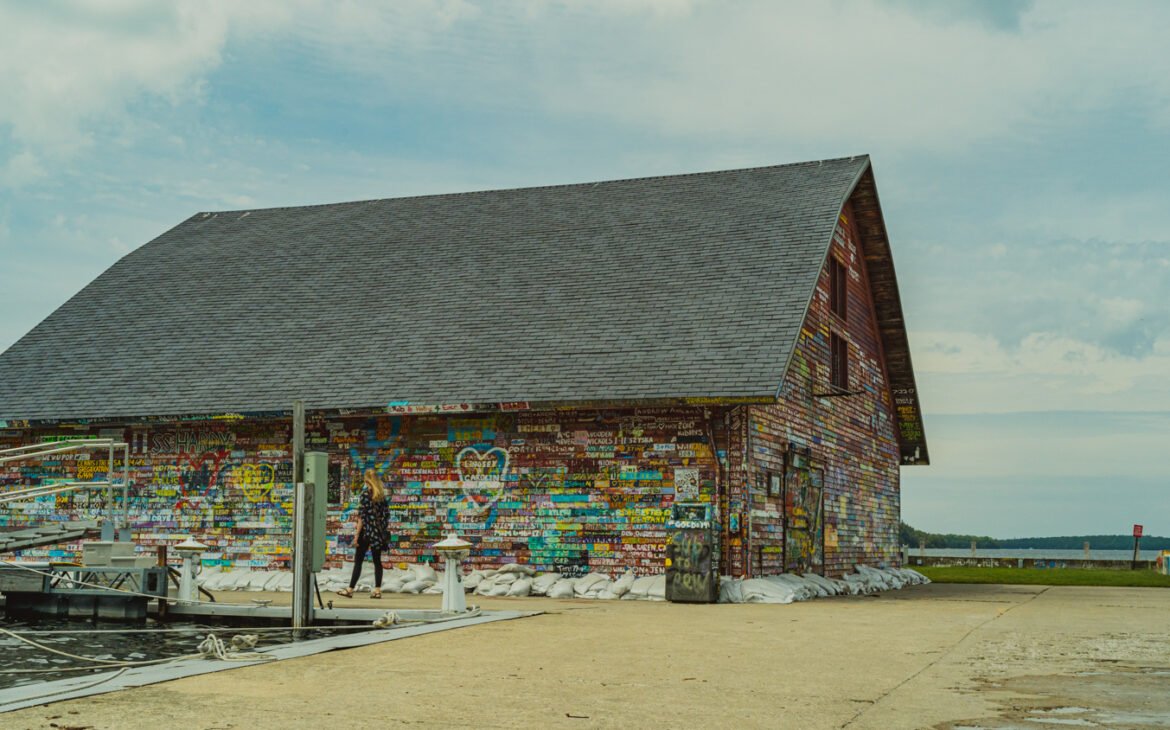 Cave Point County Park
We made one more stop on our way back to Western Wisconsin, Cave Point County Park in Sturgeon Bay. The park is known for its underwater caves, hiking trails and limestone cliffs that overlook Lake Michigan. A Kayak is a cool way to see the caves, dunes and even a shipwreck that is visible on a calm day.  Kayak tours are available through Cave Point Kayak Tour.
Wrapping it all up
Door County was everything I expected and more and we had a really great time. Luckily the weather in Wisconsin during the summer is amazing and you can be outside most of the time. Michelle and I had a really wonderful visit to Door County. There are so many fun things to do and wish we could have stayed longer.
If you live in the Midwest taking a road trip to Door County is definitely worth it.
Midwest Road Trip Travel Times
Milwaukee, WI to Door County: 2 hour and 15 drive
Madison, WI to Door County: About a 3 hour drive
Chicago,IL to Door County: 3 hour and 45 minute drive
Minneapolis, MN to Door County: About a 5 hour drive
Cedar Rapids, IA to Door County: 5 hour and 30 minute drive
Grand Rapids, MI to Door County: About 6 hour drive
More Experiences in Door County
Using our affiliate links (hotels.com, expedia.com, VRBO, Hertz, Chase Sapphire Prefered, Viator, etc.) supports great content on wanderinghartz.com and our Youtube channel.
None of the affiliate links cost you anything or increase the price you pay, and we may earn a small referral commission.
Or if you're feeling generous you can buy us a much appreciated glass of wine (or whiskey)!
Cheers,
Happy Wandering!
Joel and Michelle