Exploring Lisbon's Charm: Baixa Lisbon Portugal Hostel Review
During our trip to Lisbon, Portugal we stayed at The Central House Lisbon Baixa Hostel. This was our second time staying in a hostel in Europe, our first experience was in 2008 on our honeymoon in Prague, Czech Republic, and we were not disappointed.
Located in the heart of the city, The Central House Lisbon Baixa Hostel's convenient location allows for easy access to the best of what Lisbon has to offer.
In this review, we'll take a look at the hostel's amenities, the staff, and the overall experience of our stay. Read on to find out what we thought about this hostel stay in Lisbon, Portugal!
Find Flights to Lisbon with WayAway
The Central House Lisbon Baixa Hostel Location
The Central House Lisbon Baixa Hostel is conveniently located in the heart of Lisbon's historic Baixa district. We were quite happy with the location and it was only an eight minute walk to the Rossio subway station and multiple stops for buses and trams. This made it easy to access the rest of the city and its attractions.
The Baxia area is vibrant and lively, filled with restaurants, bars, shops and attractions that offer a great opportunity to explore the city.
Additionally, the hostel is only a 5-minute walk away from the famous Alfama district, a great place to explore the old city's charm and atmosphere.
With its convenient location, the Central House Lisbon Baixa Hostel is a good choice for travelers looking for an affordable and comfortable stay in the city.
Our Private Room with an Ensuite Bathroom
Not all Hostels are shared dormitory rooms, in fact we booked a private double room (twin) with an ensuite bathroom. It certainly wasn't big at 15 sqm, but it was just fine for what we needed. Afterall, most of our time was spent exploring Lisbon.
Our room had two twin beds pushed together in a typical European style to make a double bed. The mattress was extremely comfortable and the bed also had linens and a comforter.
Not all hostels come with linens, so this is important to verify ahead of time.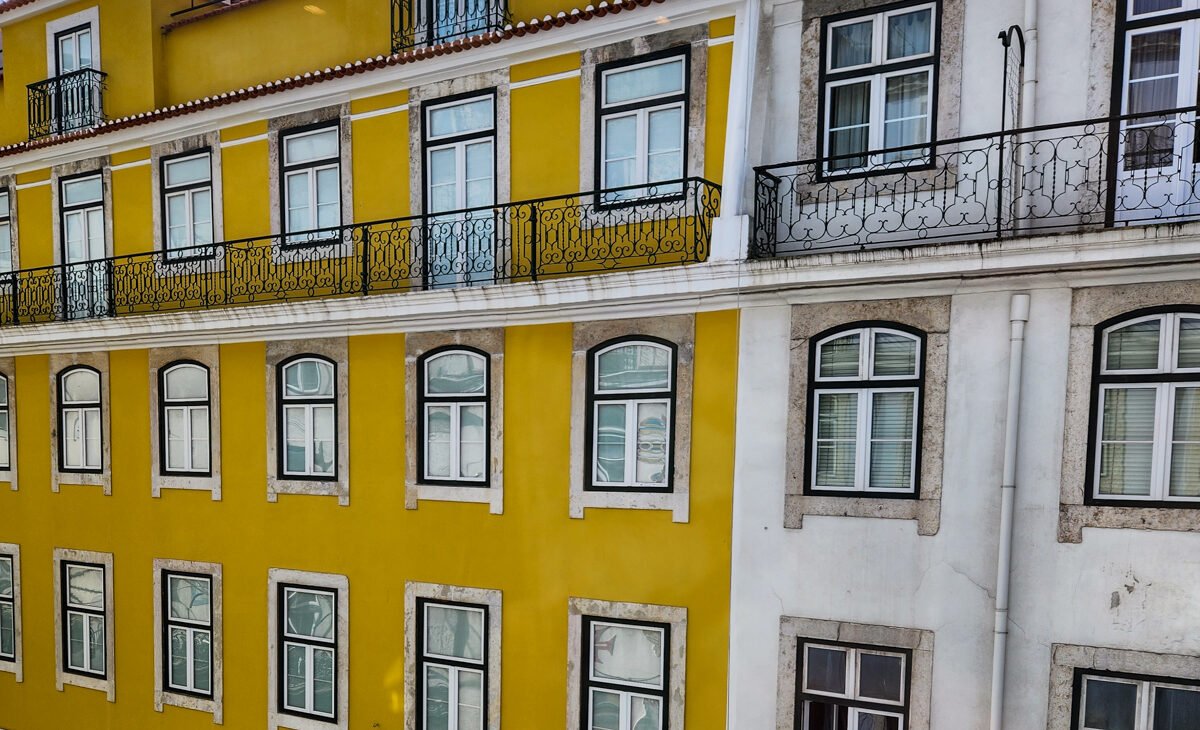 There was a small desk with built in garment rack and shelves complete with hangers. The room also had a nice little bench next to the window overlooking the street below.
The ensuite bathroom was decently sized and included a shower, hair dryer, towels and complimentary toiletries.
Amenities Central House Lisbon Baixa Hostel
Free Wifi
All guests at the Central House Lisbon Baixa Hostel get free WiFi in their rooms and communal areas. We found the the wifi speeds to be pretty slow, but we had strong wifi signal both in our room and the lounge area.
Don't expose your private data while traveling, we recommend Surfshark VPN
General Amenities
A ground floor 24/7 reception desk on the property made it easy to check in to the hostel. The staff were very friendly and always offered assistance for finding places to eat or attractions to visit.
Check in begins at 2 p.m. and Check out is until 11 a.m.
The rooms, halls, and communal areas are also heated and air conditioned depending on the season.
Daily cleaning is also a complimentary option if needed. Personally we prefer to wait a few days to help conserve water if at all for short stays. But it is nice to have it in case your situation is different.
Free Luggage Storage
The Central House Lisbon Baixa also offers free luggage storage. This is extremely helpful if your flight is after check out or if your a bit to early to check in. Allowing you to explore the city in the meantime.
If your staying in one of the dorm rooms you will find lockers available to secure your things while off galavanting.
Buffet Breakfast
A buffet style breakfast is also offered each morning for 7.50 EUR. You can just pay as you go with cash or card at the check-on desk. The breakfast is a continental style with plenty of options for dietary restrictions. There are juices and coffee available as well.
Communal Lounge Areas
You can relax or even work remotely in the communal lounge areas. The bottom floor and entrance has two distinct areas perfect for getting some work done. One side has cushioned benches and tables and the other has both high and low tables with assessable power outlets.
The communal lounge areas also double for enjoying the buffet breakfast or as great place to enjoy a beverage from the bar.
Bar/Lounge
There is a small bar in the communal area offering a limited selection of wine, spirits and beers. Just note that the hours of operation were rather sporadic. We only managed to get a drink once during our stay due to not being staffed on Sundays and Mondays.
Events
The Central House Baixa also holds events in the communal lounge area. During our stay the hostel held a wine tasting which was a great way to meet other travelers! They also host musical guests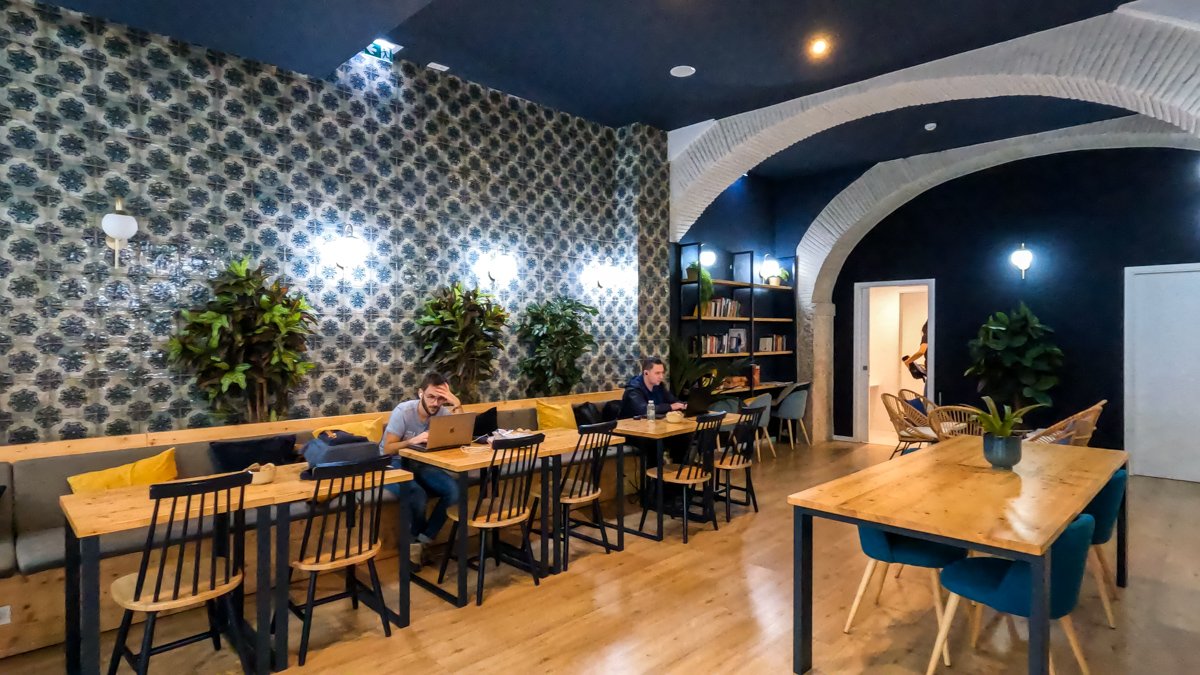 How Much Did It Cost to Stay at Central House Lisbon Baixa Hostel?
Booking a private room with an ensuite bathroom cost us $68.84 a night on average in the off season of January. We also had to pay a 2 EUR city/local tax per person for each nights stay upon checking into the property.
Note that prices can vary quite a bit depending on the season and local events. In fact prices can reach 170 EUR in peak season.
For this stay we booked through one of our favorite platforms, hotels.com. There are plenty of other hostels in Lisbon to choose from as well.
Pros and Cons of Staying at Central House Lisbon Baixa Hostel in Lisbon, Portugal
Staying in The Central House Baixa Lisbon can be a great experience but there are a few pros and cons to consider.
PROS
The hotel is centrally located in the heart of the Old Town
Easy access to public transportation
Plenty of restaurants and shopping can be found in a few minutes walk
Close to numerous historical attractions and surrounded by lovely architecture
The rooms are well maintained, clean and comfortable, making it a great place to rest and relax.
CONS
The biggest drawback was the slow internet speed we experienced. The highest speed we achieved was 2.5 mb down but it was often between 1 – 1.5 mb down.
No TV (which is common for hostels)
The buffet breakfast offered at the hostel was not worth the price in our opinion. We ended up walking across the street to Copenhagen Coffee Lab for breakfast.
Small room also meant little space for luggage. Our small carry-on sized luggage would only fit under the bed opened up, due to its clamshell design.
The bar hours were limited in the winter
Should You Book a Stay at The Central House Lisbon Baixa Hostel?
Overall, our stay at Central House Baixa Lisbon, Portugal, was a pleasant and comfortable experience. The staff were welcoming and friendly and the location was perfect for exploring the city.
But the slow internet speed and lack of a hot breakfast should be taken into consideration.
If you're planning a visit to the beautiful city of Lisbon, this hostel is an affordable centrally located option to book.
Book Your Stay at The Central House Baixa
Even More Cost Effective Hostel Stays in Lisbon
If you're looking for a cost-effective hostel stay in Lisbon, Portugal, there are plenty of options to choose from.
We love using Hotels.com for most of our shorter stays as they offer a range of accommodation types including hostels.
However if you're looking for just hostels, Hostelworld.com is an excellent resource for comparing prices and finding the best Lisbon destination Hostel for your needs.
The website offers an easy to use search engine that allows you to filter based on location, price range, amenities, and ratings.
With a variety of hostels to choose from, you can find the perfect stay for your budget and needs.
Search Hostelworld for Affordable Stays in Lisbon
Nearby Experiences or Sights
Within walking distance of the hostel lies the iconic Castelo de S. Jorge offers stunning views of Lisbon and its surrounding area.
Be sure to explore the Santa Justa Lift and Carmo Convent, as well as the bustling Praça do Comércio waterfront square.
The close proximity to the waterfront and Tagus River also makes it a great choice for sunset views and meandering along the promenade.
Nearby, the enchanting streets of Alfama, Baixa and Chiado offer a range of unique shopping and dining experiences.
⚕ Are you covered with International Travel Medical Insurance? Get worldwide coverage with SafteyWing
FAQ
What exactly is a hostel and how is it different from a hotel?
A hostel is a type of lodging that provides budget-friendly accommodation for travelers. Unlike a hotel, hostels typically provide shared rooms with multiple beds rather than private rooms.

A lot of hostels in Europe offer private rooms with an ensuite bathroom. Other amenities can range from a communal kitchen, shared bathrooms, and a shared living area.
Why are Hostels a great Option for Travelers?
Hostels are a great option for budget-minded travelers, as they often offer significant discounts compared to hotels. Additionally, hostels are a great way to meet and socialize with fellow travelers from all over the world.
How much does it cost to stay at a hostel in Lisbon?
Prices vary depending on the time of year and the type of hostel, but generally range from $15 to $30 a night for a shared dormitory room.
You might also be interested…