Béis Luggage: Carry-On Review For Full Time Travel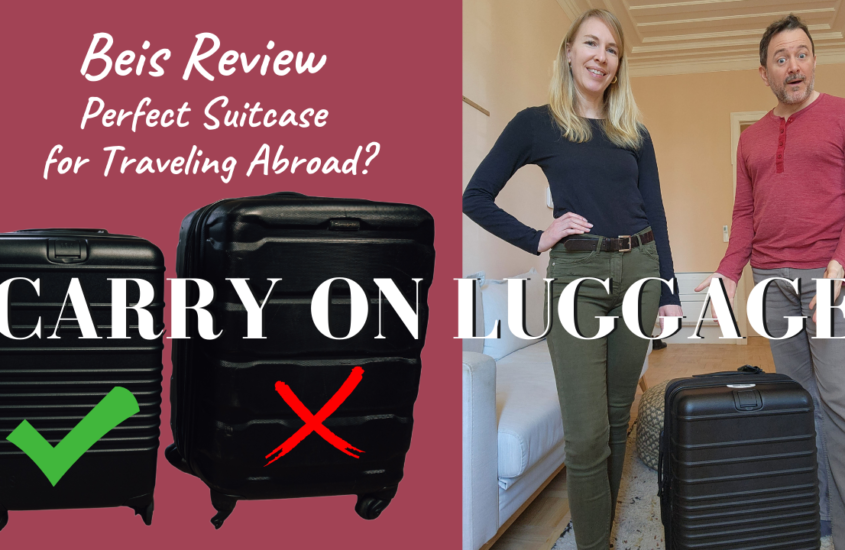 Are you looking for a suitcase that will make your travels smoother and easier? If so, the BÉIS luggage Carry On Roller 21 inch suitcase is definitely worth considering.
After three years of full-time travel, we finally found the perfect suitcase to fit our needs. We read and watched countless reviews and packing videos before settling on the Beis Carry-On Roller Suitcase and so far, we have been extremely happy with it.
Whether you're an experienced traveler, nomad or a novice looking for new luggage, the BÉIS Carry-On Roller 21 inch suitcase is an excellent choice.
Pain Points of Full Time Travel
As digital nomads who blog about travel, we need luggage that's practical and can handle a beating.
Since we're always on the move and using public transportation, it's crucial our bags are easy to handle. We've traveled all around Europe and know that we need suitcases that can fit into small car trunks and that we can easily carry onto trains.
Additionally, our luggage must be lightweight and maneuverable enough to navigate cobblestone streets and the tiny elevators that are common in many buildings.
Lessons from our Last European Trip
During our trip to the Balkans and eastern Europe in 2022 we came to hate travel days.
Our bags were just too heavy!
We had been traveling with our Samsonite 24" Omni PC rolling luggage and a sporty canvas duffle bag for all of our checked luggage. Additionally we travel with a backpack and a personal item each as our carry-on bags.
The biggest problem we had with this setup was when using public transportation like trains. At several train platforms the entrances to the train cars were nearly two feet off the platform.
That meant we would have to lift, and nearly throw, our fully loaded 50 lbs Samsonite rolling suitcase onto the train!
To make matters worse, not all luggage racks on trains were large enough to fit our 24" Samsonite Omni suitcase. We had to resort to leaving it in the back compartment of the train car and that meant usually out of sight.
The Search for the perfect travel luggage
Once our four month trip to Bulgaria, Slovakia and Czech Republic ended we returned to the United States and vowed to lighten our load, repack, and find the perfect travel luggage.
We followed our standard routine of thoroughly assessing all the items we packed in our last trip. We eliminated the unnecessary ones, added important stuff we lacked, and replaced items that served a single purpose with versatile ones. This has become a routine for us over the past three years that helps us pack efficiently and travel light.
Our Criteria for the ultimate long term travel luggage
A we moved forward, we considered the features that would make for the ultimate long-term luggage.
After much deliberation, we identified our criteria for the ultimate travel luggage that would be practical and efficient for our slow travel lifestyle.
Smaller
Lightweight
Double Spinner Wheels
Hardside Outer Shell
Water Resistance
Expandable
Internal Organization
Streamlined Profile
Price
Durability
Security
Smaller
It needed to fit into the racks and overheads of public transportation like European trains. More easily fit in the small coffin sized elevators found in old buildings. The trunks of small cars, ride-shares and taxis.
Lightweight
Ultimately we realized we need to pack way lighter. Traveling with heavy luggage, even slow traveling, was still a hassle. Rather than risk injury handling a maxed out suitcases into trunks, overhead racks and the like, lighter travel luggage was important.
Double Spinner Wheels
Maneuverability is key on travel days. Luggage moves across all kinds of surfaces from smooth floors to cobblestone sidewalks and even dirt roads. The old school inline wheeled roller luggage we had on previous luggage would always get jammed with rocks or seized.
We have found that 360 degree double spinner wheels work the best on all types of terrain.
Hardside Outer Shell
Suitcases get thrown around a lot! Just watch a plane getting loaded. We've found the hard shell to be the best for protecting our belongings from accidental puncture, drops and the like.
A hardside outer shell can add a bit more weight than a soft shell but we would rather pack a few ounces less than the alternative of our clothes' valuables being broken or torn.
Water resistance
It probably goes without saying that we like to have dry clothes and our belongings not ruined by traveling on rainy days. This includes water resistant outer shells and zippers.
Expandable
Having a bit of extra room is very helpful. This is especially helpful as we sometimes have to move heavy items between our luggage and carry-on backpacks to make weight for different airlines.
Internal Organization
Our previous suitcases severely lacked any internal pockets, compartments or an effective compression system.
Streamlined Profile
Besides looking smarter, a more streamlined profile is also an important feature to us. We wanted less bulky bits like protruding handles that catch on things or make it hard to fit in bin or trunk.
Price
The price of luggage is an important factor for our type of travel. Ideally the less we could spend would mean the more we can experience with those same funds during our travels.
Durability
Whatever luggage we would purchase also needed to be high enough quality to last as well. If a zipper gets ruined or a wheel breaks off we want to make sure there is a decent warranty to back it up.
Security
Not having our stuff get nicked is also important. A TSA approved combination lock is also a must have for international travel.
The Goldilocks Scenario
Although we knew it might be a tight fit, we attempted to pack everything into our 20″ Samsonite Carry On, even though it didn't meet most of the criteria. Unfortunately, the suitcase proved to be too small and we quickly realized we needed something a bit larger to accommodate our items.
having already decided the 24" suitcase was too big, and the 20" luggage too small, we found ourselves with a Goldilocks scenario. We had to find the perfect size luggage that wasn't too small or too large, but was "just right".
The perfect luggage for our slow travel needs would have to have more than the 42L of space the 20" samsonite provided but less than the 79L – 93L the Samsonite 24" had. That led us to searching for 21 or 22" luggage options.
BÉIS Carry-On Roller 21 Inch
We first happened upon the Béis travel brand after watching one of Michelle's favorite makeup YouTubers that started traveling full time as a digital nomad, Taylor Wynn.
After exploring the Beis website further, we came across the Carry-On Roller 21 Inch suitcase. This suitcase caught our attention because of its impressive 49-61L capacity despite its compact carry-on size. It seems like a practical and convenient option for our travel needs.
The Away Bigger Carry-On
The Away Bigger Carry On was the next luggage we looked at. We watched fellow full time travel vloggers Brian and Carrie's review of their Away luggage and it looked pretty good with its 47.9L of space and size.
Our two biggest sticking points with The Away Bigger Carry On were the price at around $300 and it wasn't expandable.
Monos Carry-On Plus
The Monos brand is similar to The Away Bigger Carry On. Despite being almost perfect in terms of size, it lacked the expandable feature which was important for us. Moreover, it was still priced $100 higher than the Beis Carry-On Roller.
In our search we also came across several durability complaints concerning Monos outer shells.
Deciding on the BÉIS Carry-On Roller
After literally spending days researching and scouring Amazon, and seemingly the whole of the internet, we came to the conclusion our options were limited for travel luggage that would fit our criteria.
Weighing our options we decided on the Beis Carry-On Roller as the best luggage for long term travel. It fit nearly every one of our criteria and included an extensive limited lifetime warranty.
Being short on time and getting ready to leave on our trip to Portugal we ordered our Beis Luggage from Revolve. We were pleasantly surprised by Revlove's 2 day FREE shipping and had our new luggage in no time.
Pleased with our decision to purchase the BÉIS Carry On, we look forward to having many miles logged with this suitcase, and to the great adventures that lie ahead!
👉 Don't Forget Travel Medical Insurance & Travel Insurance for your Adventures!
BÉIS Carry-On Roller Dimensions
Price at Time of Purchase: $198.00
BÉIS Carry-On Roller 21 inch Key Features
Exterior
Durable hard-sided 100% virgin PolyCarbonate (virgin materials guarantee a higher durability)
Gradient 3D stripe design
Hinomoto 360 degree spinner wheels
Telescopic handle with soft hand cushion for comfort
Retractable bag attach strap – HOLDS UP TO 15LBS
Top carry handle
Side carry handle with weight limit indicator
TSA approved combo locks
Water resistant zipper tape
Expandable (expands to 12″)
Capacity 49-61 LBS.

**we recommend that you adhere to airlines guidelines, please check with your airline for weight limit restrictions
Interior
Butterfly opening (for easy packing/unpacking)
Lined with durable, easy to spot clean, 75D (polyester) with soft brushed hand feel
U-zip flap, with contrast vegan leather trim, one zip pocket & one frosted PVC zip pocket
Detachable, compression flap with zip pocket and mesh packet
Four point compression straps
Zip pouch for keeping small valuables
Separate pouch set for dirty clothes, shoes, undergarments, damp clothing
Pros and Cons
Perfect size for our travel needs since we are traveling and living abroad as nomads


Expandable! From 39L to 61L of interior space

Hinomoto 360 degree double spinner wheels provide easy maneuverability

Zippered main compartment for organization

Separate pouch set for dirty clothes, shoes, undergarments, and damp clothing

4 point compression straps

Slim profile with lay flat handles

Limited Lifetime Warranty

Almost $100 less than the competition

Limited color options compared to competitors


Handle takes up some interior space of main compartment

Retractable bag attach strap not very effective on Carry On Size


At 8.36 lbs. empty, it is a little heavier than we would prefer


Oversized for some international carry on



Benefits:
Perfect size for our travel needs since we are traveling and living abroad as nomads
Expandable! From 39L to 61L of interior space
Hinomoto 360 degree double spinner wheels provide easy maneuverability
Hard PolyCarbonate shell
Zippered main compartment for organization
Telescopic handle
Separate pouch set for dirty clothes, shoes, undergarments, and damp clothing
Water resistant Zippers
4 point compression straps
Slim profile with lay flat handles
Limited Lifetime Warranty
Almost $100 less than the competition
Negatives:
Limited color options compared to competitors
Handle takes up some interior space of main compartment
Retractable bag attach strap not very effective on Carry On Size
At 8.36 lbs. empty, it is a little heavier than we would prefer
Oversized for some international carry on
BÉIS Limited Warranty
Beis also comes with a pretty great Lifetime warranty. Read what the Limited Warranty Covers on their site.
The BÉIS Warranty covers:
Cracks or breaks in the shell
Wheels, handles and telescoping handles that break off or are otherwise no longer usable.
Zippers that break or can no longer open and close.
Tears or rips in fabric that would be considered a defect outside of normal wear & tear
FAQ
What is the best luggage for digital nomads?
The best luggage for digital nomads would be one that is durable, lightweight, and has plenty of compartments and pockets for organizing electronics and accessories. Some popular options include backpacks with laptop sleeves, rolling suitcases with built-in charging ports, and convertible duffel bags with detachable shoulder straps. Ultimately, the best luggage will depend on personal preferences and travel needs.
Should I buy a hard case or a soft case luggage? Which one is a better choice?
When considering check-in luggage options, a hard case presents the advantage of increased protection for more fragile items within. The sturdy material resists crushing from external impacts, reducing the likelihood of breakage. However, a low quality zipper mechanism may tear easily, leading to potential spillage of the contents while the shell remains intact.

It should be noted that hard cases are susceptible to scratches and other cosmetic damage due to rough handling by luggage handlers.
Luggage with soft sides is more resistant to showing scratches. However, they are prone to seams tearing when crushed and puncture. They offer far less protection from inclimate weather and for fragile items within.

What is the TSA Approved Carry On Size?
Approved carry-on size and weight is determined by each airline independently. Maximum Carry-on size for most airlines is 22 inches x 14 inches x 9 inches (56 cm x 36 cm x 23 cm), including handles and wheels. However, it is always recommended to check with your specific airline for their carry on size restrictions.
Is a 22 inch carry-on too big?
It depends on the airline's carry-on size restrictions. Some airlines allow carry-ons up to 22 inches, while others have a smaller limit. It's important to check with the specific airline before packing to ensure that the carry-on meets their size requirements.
What are the best ways to keep your luggage safe while traveling alone in train?
Keep your luggage close to you at all times.
Use a luggage lock to secure your bags.
Avoid leaving your luggage unattended in public areas.
Consider using a luggage tracking device or app.
Avoid displaying expensive items or valuables in your luggage to deter theft.
Be aware of your surroundings and report any suspicious activity to authorities.
Choose a seat or cabin near the luggage storage area to keep an eye on it during the trip.
Consider purchasing travel insurance that covers lost or stolen luggage in case of emergency.
Keep your passport, tickets, and other important documents with you at all times. Do not leave them in your luggage.
You also might like
Using our affiliate links (hotels.com, expedia.com, VRBO, Hertz, Chase Sapphire Prefered, Viator, etc.) supports great content on wanderinghartz.com and our Youtube channel.
None of the affiliate links cost you anything or increase the price you pay, and we may earn a small referral commission.
Or if you're feeling generous you can buy us a much appreciated glass of wine (or whiskey)!
Cheers,
Happy Wandering!
Joel and Michelle