Discover the Wonderful Maritime Museum in San Diego: A Not So Hidden Gem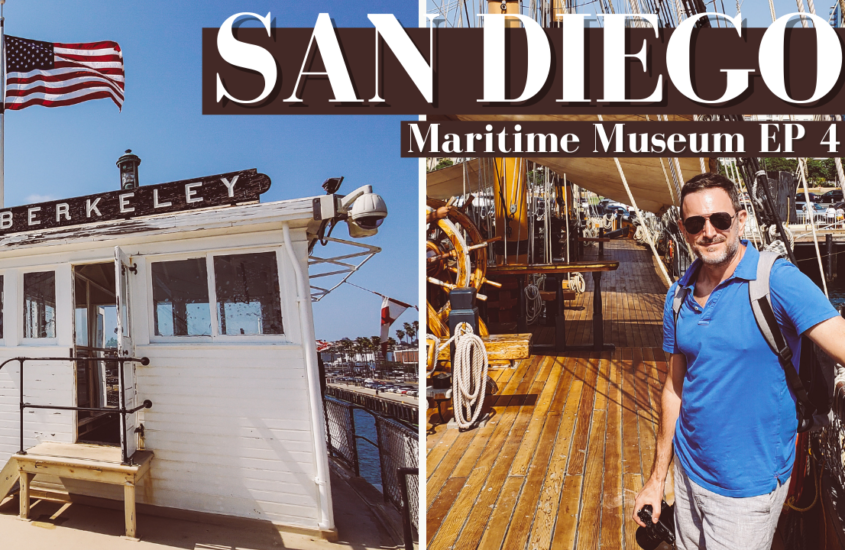 San Diego has a rich maritime heritage due to its location on the Pacific Coast of California, a large Naval fleet, and the San Diego Bay. With Joel's love of sailing we're naturally drawn to visiting anything related to maritime education or just getting out on the water. The Maritime Museum of San Diego was right up our alley!
You can read about a couple of our past sailing experiences in Puerto Rico and Hawaii.
When we realized the museum offers sailing tours and adventures we added on a 45 minute Harbor Cruise for just $10 on their Pilot boat. So we decided to make a day of it and head downtown San Diego to grab some lunch and spend the rest of the day at the museum.
Quick Facts about the Maritime Museum of San Diego
Open Year Round
Expect to Spend 4 to 6 hours to see and explore all of the ships and take in the history
6 historic ships and 2 submarines
4 different Sailing tours (for an additional fee)
Great for families
Not very wheelchair accessible due to the nature of the ships
Offer a Senior and Military/Veteran discount
Parking Downtown San Diego
Parking is always difficult in cities. Our recommendation would be to park at the USS Midway Museum Parking Lot (Ace Parking) at Navy pier, it's $10 for 12 hours so you won't have to worry about feeding a meter. You will want to get there early even on a weekday. We visited on a Tuesday and the lot was fully by 11am.
We ended up at a parking meter across from Solar Turbines after about 30 minutes of searching. The street meter cost us $2.50 hour with a max time of 4 hours that is enforced. Port of San Diego – Downtown San Diego Waterfront Area Parking
Lunch at Portside Pier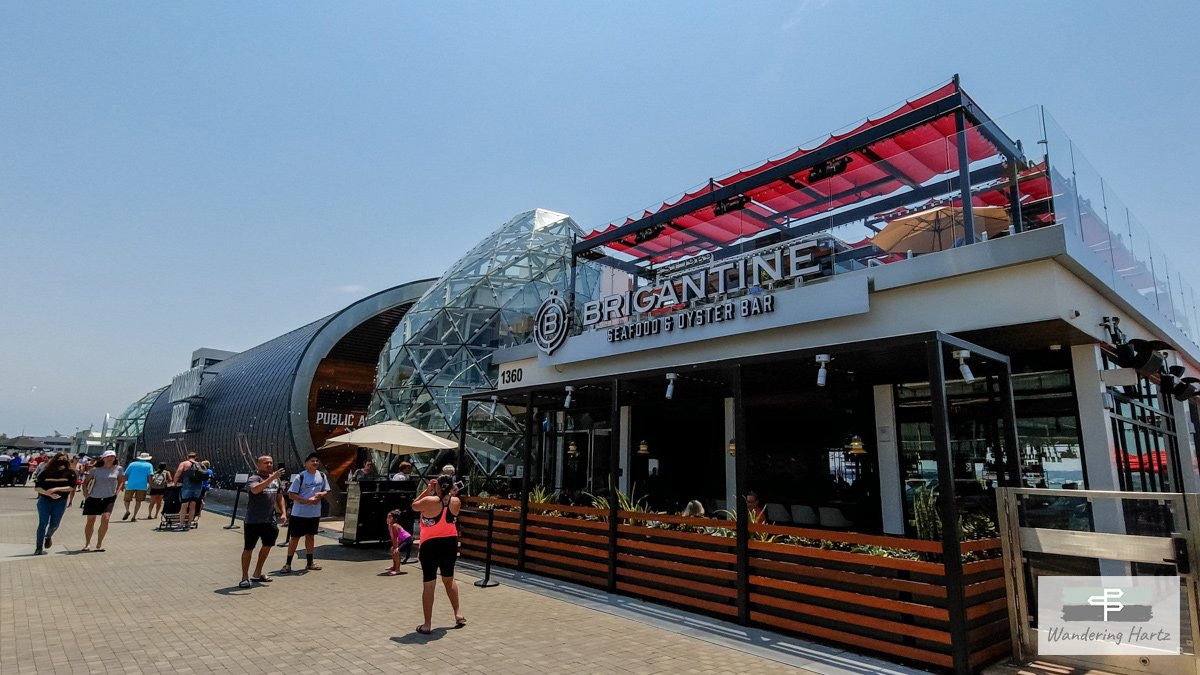 Portside Pier reopened in July of 2020 after some major renovations and was the perfect place for us to get a bite to eat. It's a less than a 5 minute walk from the Maritime Museum with four restaurants to choose from.
We were craving Mexican food so we opted for Miguel's Cocina. This turned out to be an excellent choice. Since our visit was on a Tuesday we took full advantage of Taco Tuesday and enjoyed yummy fish tacos with an open air view of the San Diego Bay.
45-Minute Historic Bay Cruise Aboard Pilot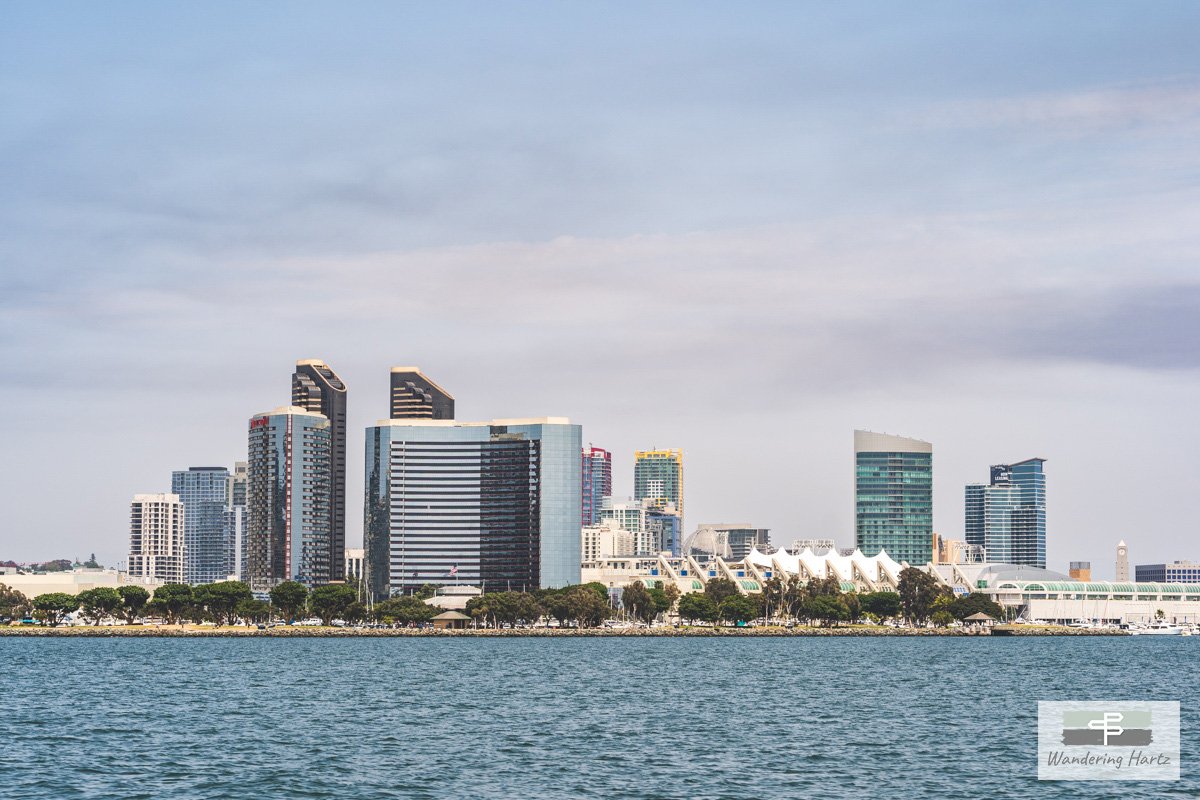 Tickets for the Maritime Museum of San Diego can be booked online or in person. We booked our general admission tickets online which we recommend. Tickets cost $20 for adults, $10 for children and Veterans (with ID) and Seniors get a $5 discount. We appreciated the veteran discount!
Our harbor cruise was booked at the ticket booth at the entrance. You must book the pilot tours upon arrival since they are first come first served. There are multiple daily tours to choose from and we chose the 1:45pm tour.
Tip: Be sure to arrive early to book your Harbor Tour tickets upon entry. Sailing tour tickets are additional to the Museum Entrance fee. The time slot you want may fill up fast!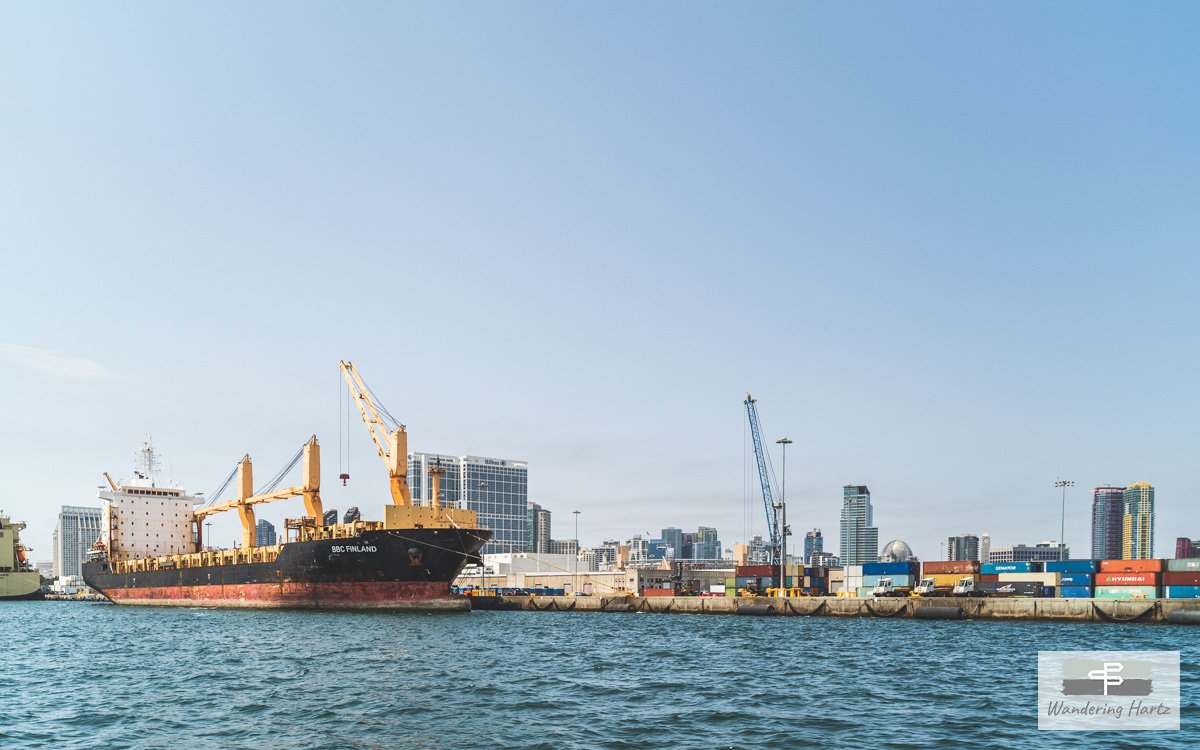 Full from our lunch we boarded the Pilot boat hoping the water wouldn't be too rough! It turned out to be a beautiful calm day for our cruise. It's also a cool way to see a different view of downtown San Diego. Our captain was very informative and did a great job rattling off the history of the harbor. We stepped off the boat, a little wind blown and ready to explore the museum!
More Sailing Tours at the Maritime Museum of San Diego
We love how interactive the Maritime Museum of San Diego is. Being able to walk through each of the different ships really connects you to the history. There are actually several cruises you can take on the museums boats.
Here are some other sailing cruises you can book through the Maritime Museum of San Diego. Note that some may only be available seasonally. We had originally wanted to book a cruise on the San Salvador but it was in drydock undergoing maintenance during our visit.
Want to earn up to 60,000 bonus points for travel? We use our Chase Sapphire Preferred card to earn points for all of our travels and you can to. Sign up and you will get 60,000 bonus points after spending $4,000 in the first three months your account is open.
Maritime Museum of San Diego
If you're a fan of sailing and love maritime history this museum is for you! We loved spending our afternoon here and it's also a fun outing for families. Walking through the tall ships, steamboat, and the submarines really makes one appreciate how people traveled and worked on these vessels. You could easily spend the whole day exploring the 8 boats and the museum exhibits. Be sure to allow for even more time if you go on an adventure sail!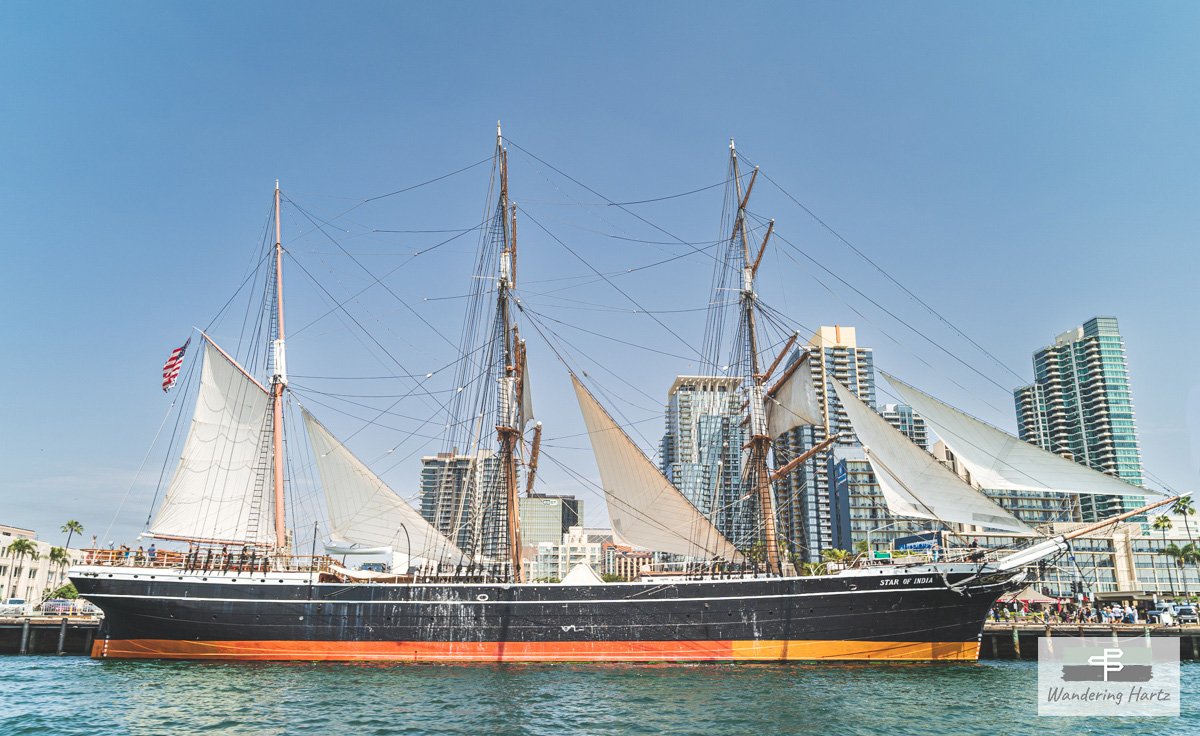 Even though this was our second time visiting the Maritime Museum of San Diego we left wanting to come back again. It's not everyday you get to roam around on the world's oldest active sailing ship The Star of India or check out the HMS Surprise, a replica of 18th century Royal Navy frigate Rose.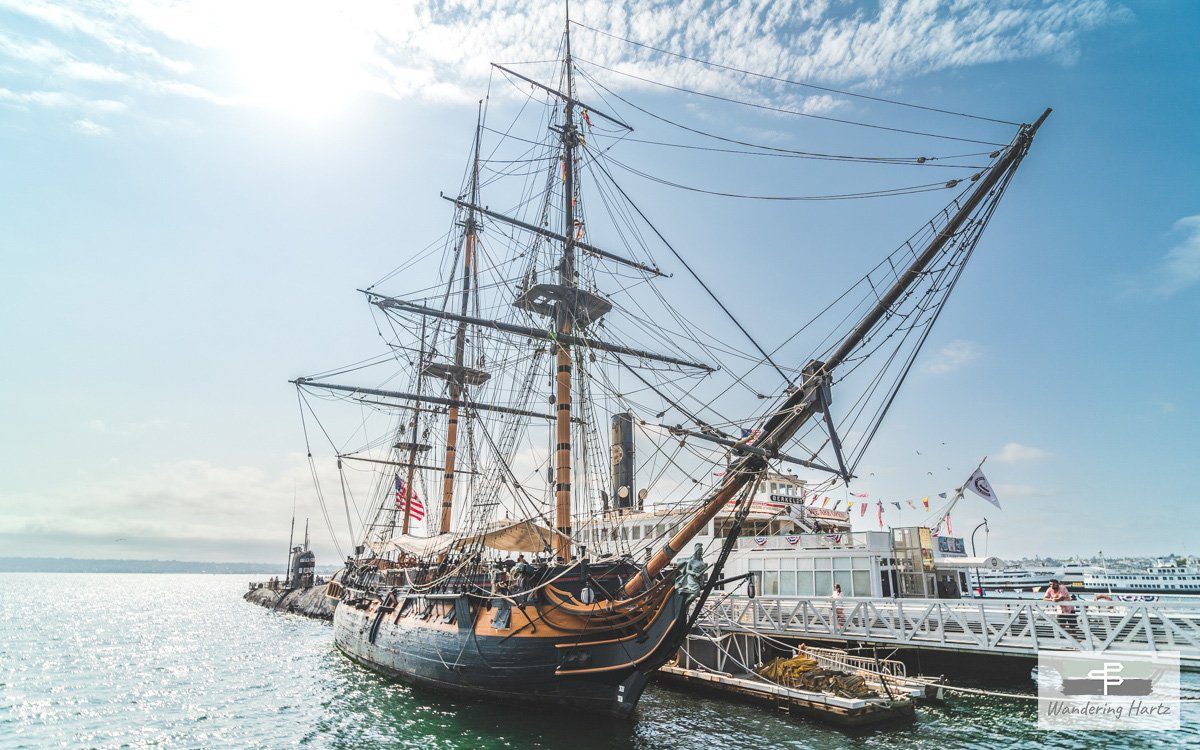 No visit to the Maritime Museum of San Diego is complete without also checking out the USS Midway Museum! It is just a few blocks away and probably were you parked. You will want to set aside a whole day to fully experience the U.S. Naval History!
A Few MORE San Diego Experiences
By Sea
By Land
Places to Stay in Downtown San Diego
Staypineapple Hotel Z in the Gaslamp District
Check Rates: Hotels.com Expedia.com
La Pensione Hotel on the Waterfront
Check Rates: Hotels.com Expedia.com
Best Western Plus Bayside Inn Near the Maritime Museum of San Diego
Check Rates: Hotels.com
Springhill Suites San Diego Downtown Bayfront
Check Rates: Hotels.com Expedia.com
Carte Hotel San Diego Downtown, Curio Collection by Hilton
Check Rates: Hotels.com Expedia.com
Read more about San Diego and California!
Using our affiliate links (hotels.com, expedia.com, VRBO, Hertz, Chase Sapphire Prefered, Viator, etc.) supports great content on wanderinghartz.com and our Youtube channel.
None of the affiliate links cost you anything or increase the price you pay, and we may earn a small referral commission.
Or if you're feeling generous you can buy us a much appreciated glass of wine (or whiskey)!
Cheers,
Happy Wandering!
Joel and Michelle