A Golden Doodle Wine and Travel – Adventures in Pet Sitting in Sunny San Diego
House and Pet Sitting, San Diego here we come!
We had been looking forward to this trip to San Diego since we were asked to do some pet sitting about a month prior. Having just spent three weeks in Wisconsin visiting family and working as we do, on our YouTube channel (you're subscribed right?) this website and our respective other professional endeavors. We were excited to enjoy us some California sunsets.
San Diego is hands down one of our favorite cities to visit in the United States. The weather is amazing and very similar to the Mediterranean in Europe. The beaches are beautiful although the water can be quite cold, actually too cold for our taste!
San Diego holds a special place for Michelle. Michelle's first time on a plane was to visit her family in San Diego. She was 8 years old and it was so different and exotic from the cold Midwest where she grew up. Pretty sure her love of travel and the beach started from those trips to San Diego!
After packing up our things were delivered to the Minneapolis – St. Paul (MSP) airport on what would turn out to be the busiest travel day in over a year.
Traveling on the Busiest Day in over a Year!
MSP was actually pretty slow, surprisingly, and for a moment we thought it might not be as big a deal as the hype in the news. Then we remembered our layover was in Denver. No worries, we could handle it, we told each other. We were both vaccinated, in good health and still pretty cautious around others. An unfortunate symptom of this pandemic.
Our Southwest flight was smooth until the last 20 minutes into Denver. That was the roughest either of us had experienced in some years now, and I've flown on C-130's, not known for a smooth ride. 
Want to earn up to 60,000 bonus points for travel? We use our Chase Sapphire Preferred card to earn points for all of our travels and you can to. Sign up and you will get 60,000 bonus points after spending $4,000 in the first three months your account is open.
Still everyone on board was calm and respectful of mask mandates and each other. Walking off of the plane the Denver airport (DEN) immediately assaulted our senses. People everywhere!
It was loud and chaotic like we had not seen since our return form Kaui nearly two years ago. That time a storm knocked out the power in Oakland and well, that's another story…
The place was packed and we walked up and down the terminal looking for a place to grab a quick bite. After finally finding a suitable place we ordered a plate of nachos and a drink and proceeded to bide our time until our next flight onward to our final destination, San Diego.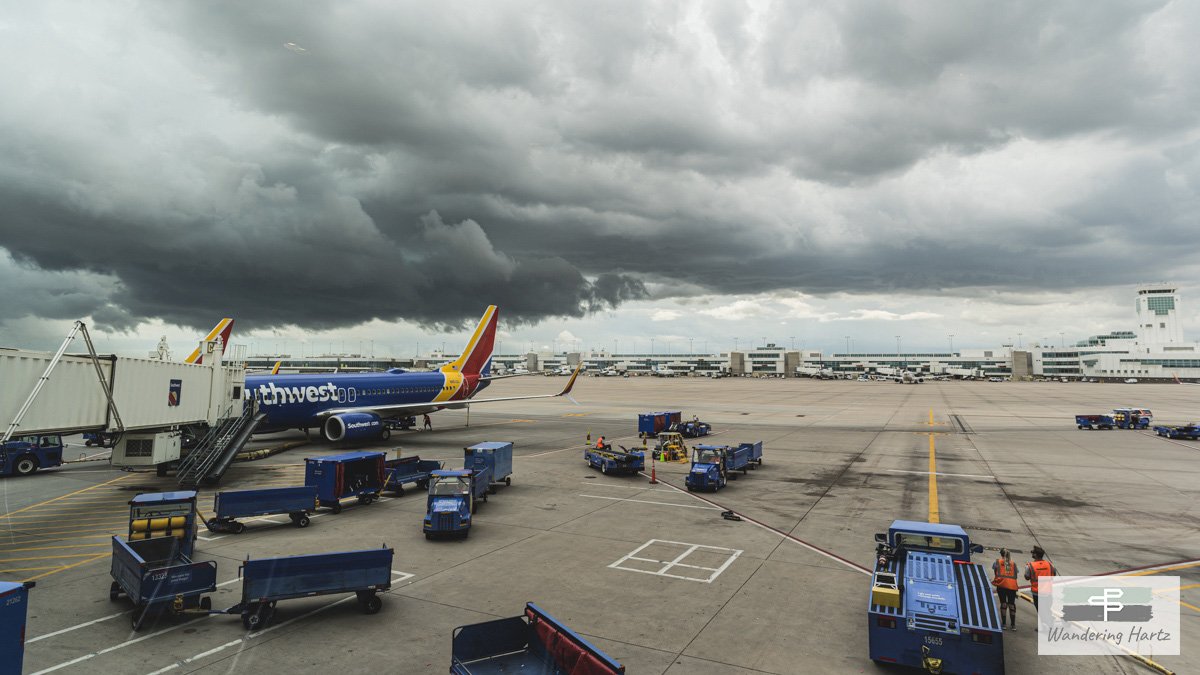 We watched as the remainder of that nasty storm passed and I felt bad for all of the workers on the airport tarmac. Having to fight the wind and rain. It reminded me of years ago when I was in their shoes working in the elements on the flightline.
Pet Sitting in San Diego
Flying into San Diego is actually really cool. The airport is located in the heart of the city right by the water. You get some great views flying over downtown skyscrapers and the ocean as a backdrop. Navigating the airport is also pretty simple. It's not huge like LAX and makes for a quicker and less stressful experience. We were greeted by the loving faces of whom we would be watching their precious Goldendoodle Stella.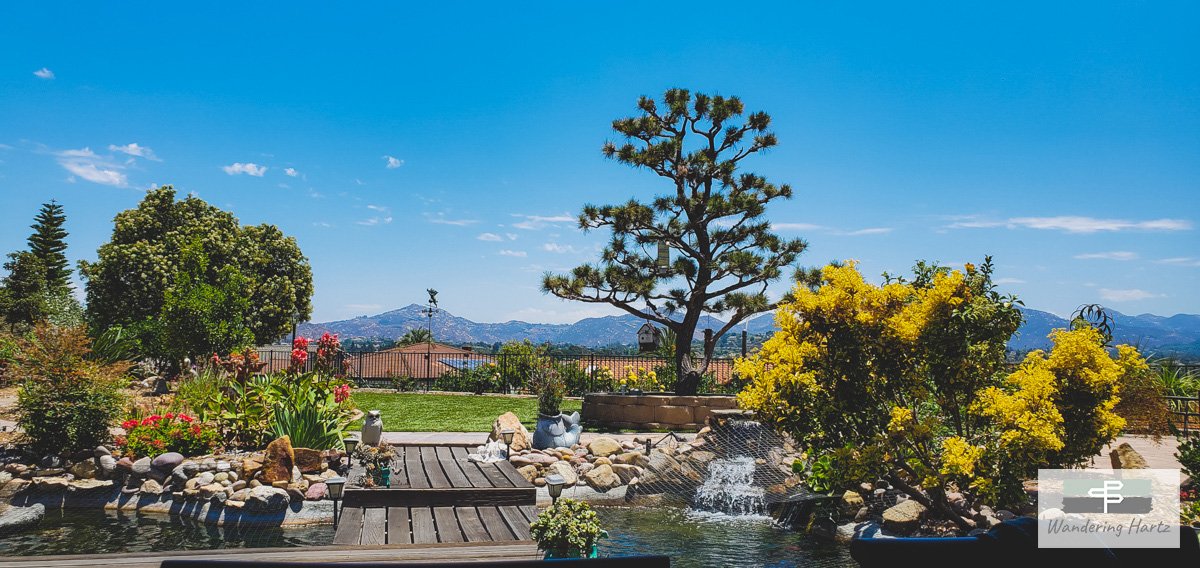 We were excited to help out our family by looking after not only Stella but also a pond of koi, goldfish, and one lone bossy catfish, over 30 fish in total! Traveling full time does have its downsides. Michelle grew up with dogs, specifically standard poodles and Joel grew up with a dog and cat. We both love animals so pet sitting is a great way for us to keep traveling and also get our animal fix!
Settling into our new home for the next two weeks was easy. The home is beautiful with the most lovely view of the valley. Once we learned Stella's routine it was time to wish Michelle's family safe travels and a great vacation. Our days were spent taking Stella on walks, playing ball in the backyard, and lots of doggie cuddles!
Another Byproduct of Travel
We were in San Diego for the 4th of July and enjoyed watching the fireworks across the valley from our resort like setting. Our plans to visit Balboa Park, Downtown, and the San Diego Maritime Museum our first week had to be changed. Unfortunately life had other plans in store for us.
I started feeling really crappy that night, somehow I picked up a nasty cold, probably at the airport, and Michelle was promptly sick 2 days later after mistakenly using my toothbrush. Ah well, it's part of life and part of traveling. We also hadn't been around very many people and hadn't been getting our normal allotment of germs. Something to remember as we all start traveling again!
There were certainly worse places with worse views to suffer through a cold. Our daily walks and cuddles with Stella helped too. Luckily we were both better just in time to begin celebrating my (Joel's) birthday! San Diego has some great wineries so we were really looking forward to trying out a few. The perfect place to celebrate!
Orfila Vineyards and Winery
Orfila Winery in Escondido, CA was only a 10 minute drive from the house so we headed out for sunset. Orfila is a small winery producing French and Italian varietals. You can enjoy 4 wine tastings of your choice for $20 per person or wine by the glass up until 6:30pm. Their tasting room is open daily from 11AM-7PM.
We don't know what it is about the California sun but it is always so golden and beautiful. The quality of light just makes everything so much more amazing. The wine was excellent with lovely views of the vines and San Pasqual Valley. It was the perfect end to day one of Joel's birthday.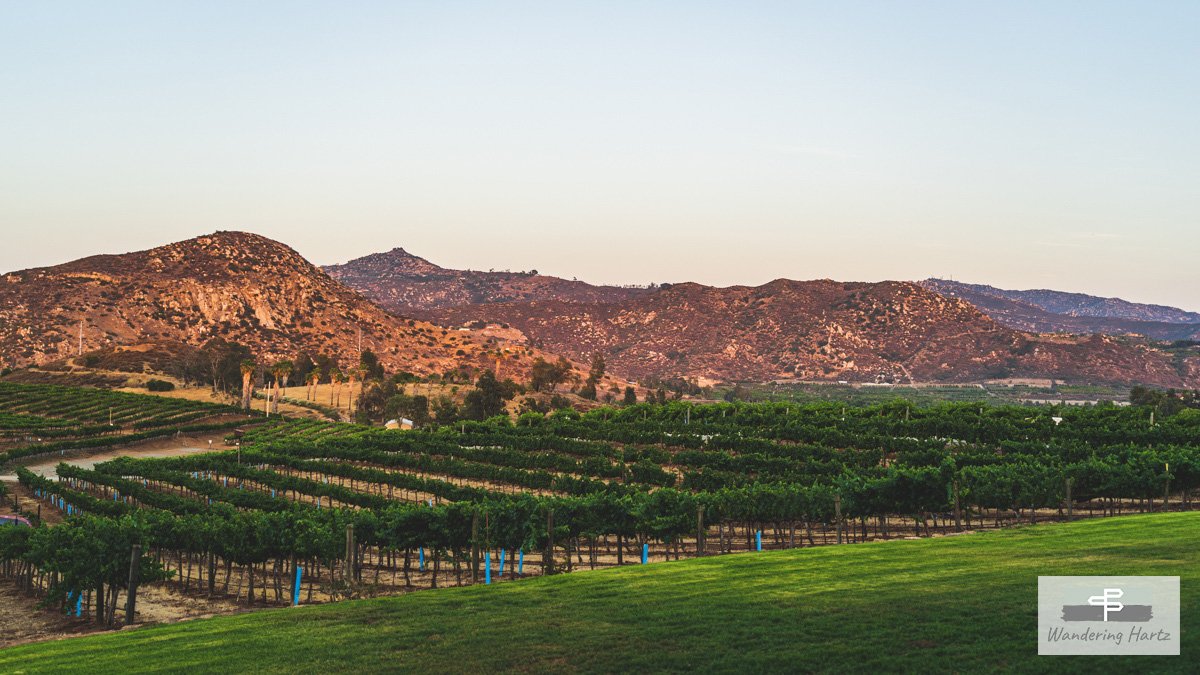 Using our affiliate links (hotels.com, expedia.com, VRBO, Hertz, Chase Sapphire Prefered, Viator, etc.) supports great content on wanderinghartz.com and our Youtube channel.
None of the affiliate links cost you anything or increase the price you pay, and we may earn a small referral commission.
Or if you're feeling generous you can buy us a much appreciated glass of wine (or whiskey)!
Cheers,
Happy Wandering!
Joel and Michelle