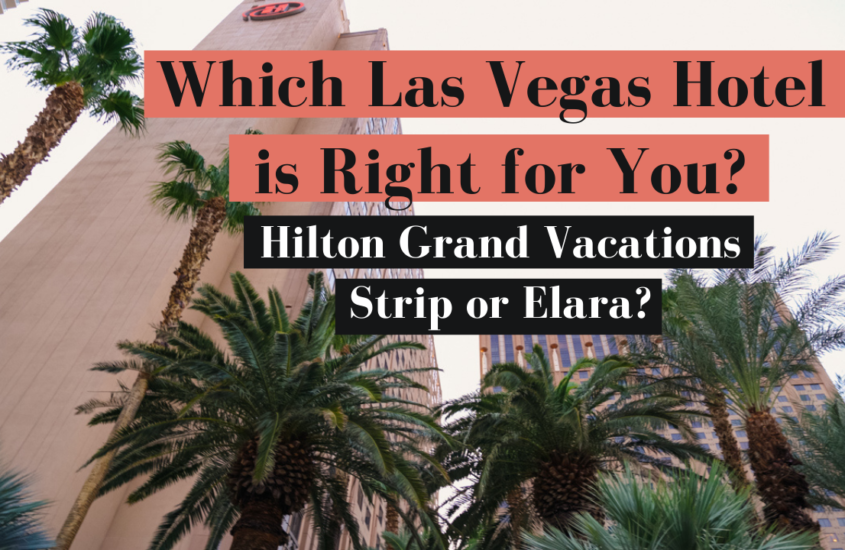 Which Las Vegas hilton Grand vacations is Right for You? The Strip or The Elara
On our most recent trip to Las Vegas we stayed in two different Hilton Grand Vacation hotels on the strip. Both the Elara By Hilton Grand Vacations – Center Strip and Hilton Grand Vacations on the Las Vegas Strip. You can read our full trip report all about our Las Vegas experience here. Over the years of visiting Las Vegas, and there have been quite a few visits for us, we feel that there's definitely some advantages to staying at non-casino resorts. We'll cover more on that and give you the low down on each hotel and our overall thoughts.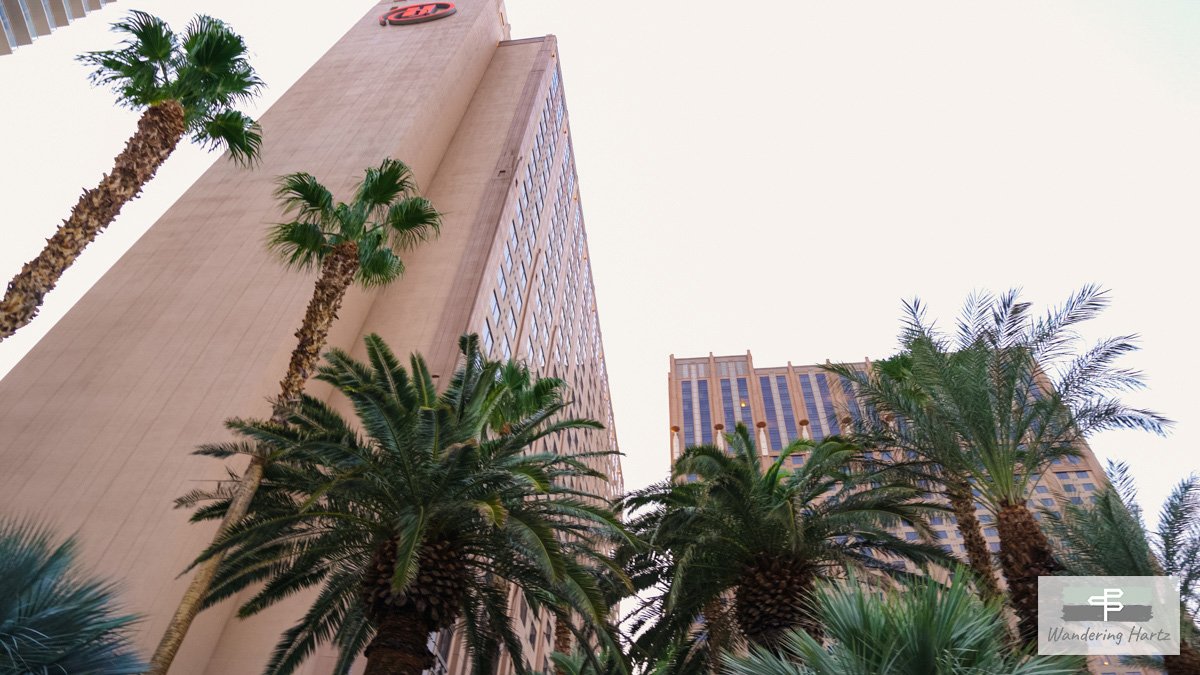 Hilton Grand Vacations on The Strip – Location
We've stayed at this property a couple of times over the years so we knew what to expect. Probably the biggest drawback to this hotel is its location. Located on the north end of The Strip there are fewer casinos and food options within a few minutes walk.
Although one big plus is Resorts World, opened summer of 2021, which is about a 20 minute walk from the hotel (or one stop on the Deuce). Your other options if you want to gamble are Sahara Las Vegas (5 minute walk), The Strat (12 minute walk) or Circus Circus (if you're brave!)
The Rooms at Hilton Grand Vacations on The Strip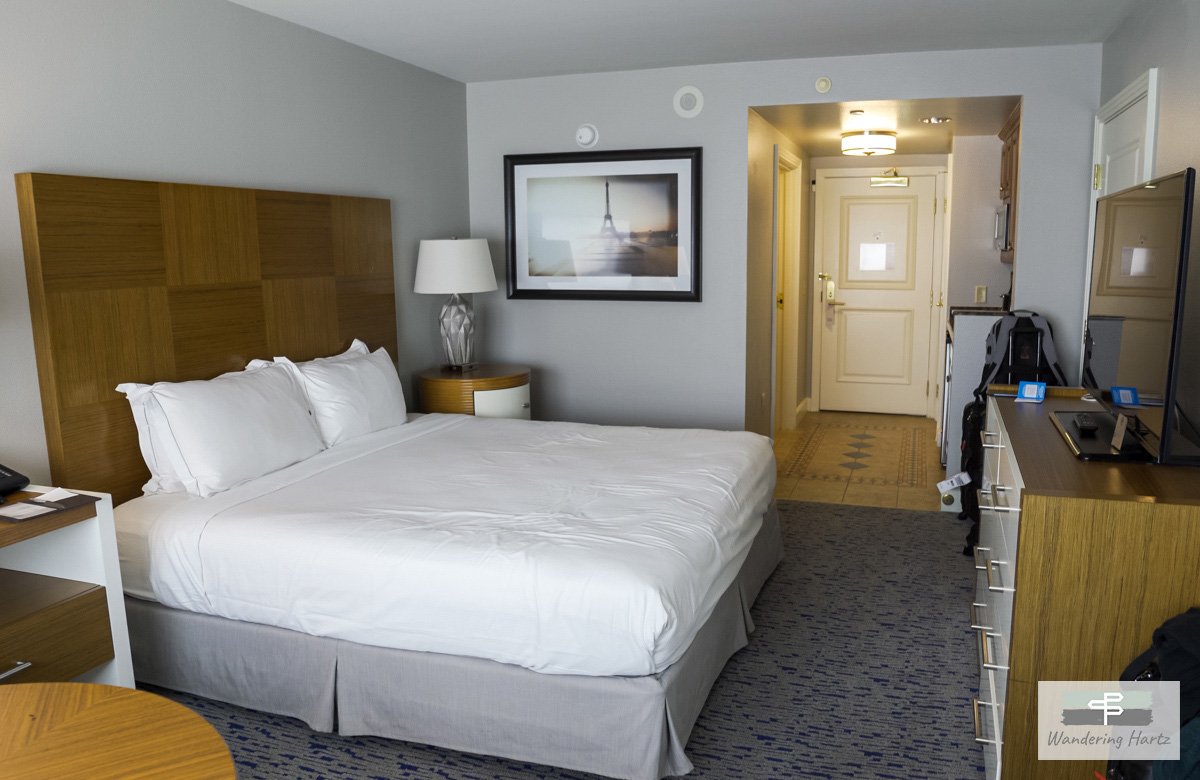 A king studio is about a normal size hotel room, 360 sq. ft. studio with 49-inch TV, DVD player, and kitchenette. The big winner here is the kitchenette! It includes a small sink, mini refrigerator, microwave, coffeemaker, toaster, dishes and utensils. Everything you need to save a few bucks and cook your own breakfast or a meal or two.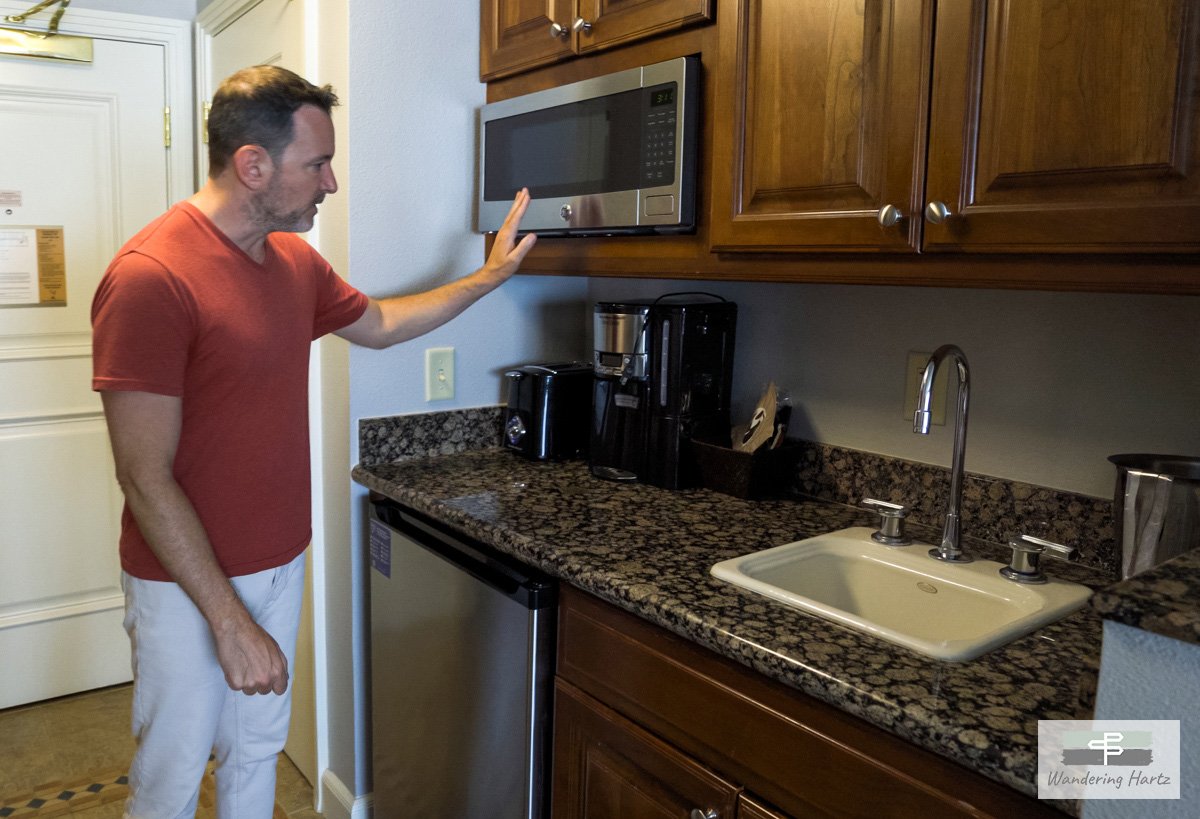 If you need more room the one bedroom is 715 sq. ft. and has a living room with queen sofa bed, 55-inch TV, DVD player, full kitchen, dining table for four, and a stackable washer/dryer. We've stayed in both rooms and prefer the extra space of the one-bedroom.
This hotel is definitely geared toward families with the bigger suites and full kitchens. It's also great if you've booked a longer stay, you can cut down on burning through your vacation money by buying groceries and cooking if you don't want to eat out all of the time. Leaving more money for spending on libations, experiences, shows, gambling or whatever you're into.
The Amenities at the Hilton Grand Vacations on The Strip
We really like the pool at this location, there's lots of places to sit and lay out with little nooks and alcoves you can hang out in.
TIP: The pool stays open until 10PM! Most casino/resorts close their pools at 6PM because they want you inside gambling.
There's even a basketball court, fitness center, business center, onsite restaurant, marketplace/convenience store and two bars. One lobby bar and Waves, the poolside bar..
We definitely like this hotel but would prefer to be closer to mid-strip where all the action is. If you're looking for something quieter or have a family this might be the perfect place for you!
Want to earn up to 60,000 bonus points for travel? We use our Chase Sapphire Preferred card to earn points for all of our travels and you can to. Sign up and you will get 60,000 bonus points after spending $4,000 in the first three months your account is open.
ELARA Hilton Grand Vacations – the Location
This was our first time staying at this property and we really enjoyed it. The location is ideal, mid-strip and connected to The Miracle Mile Mall and Planet Hollywood. Across the street is Aria Resort & Casino and The Cosmopolitan. Both fun places in their own right! There's a ton of food options within a 5-10 minute walk and plenty of choices to try your luck gambling!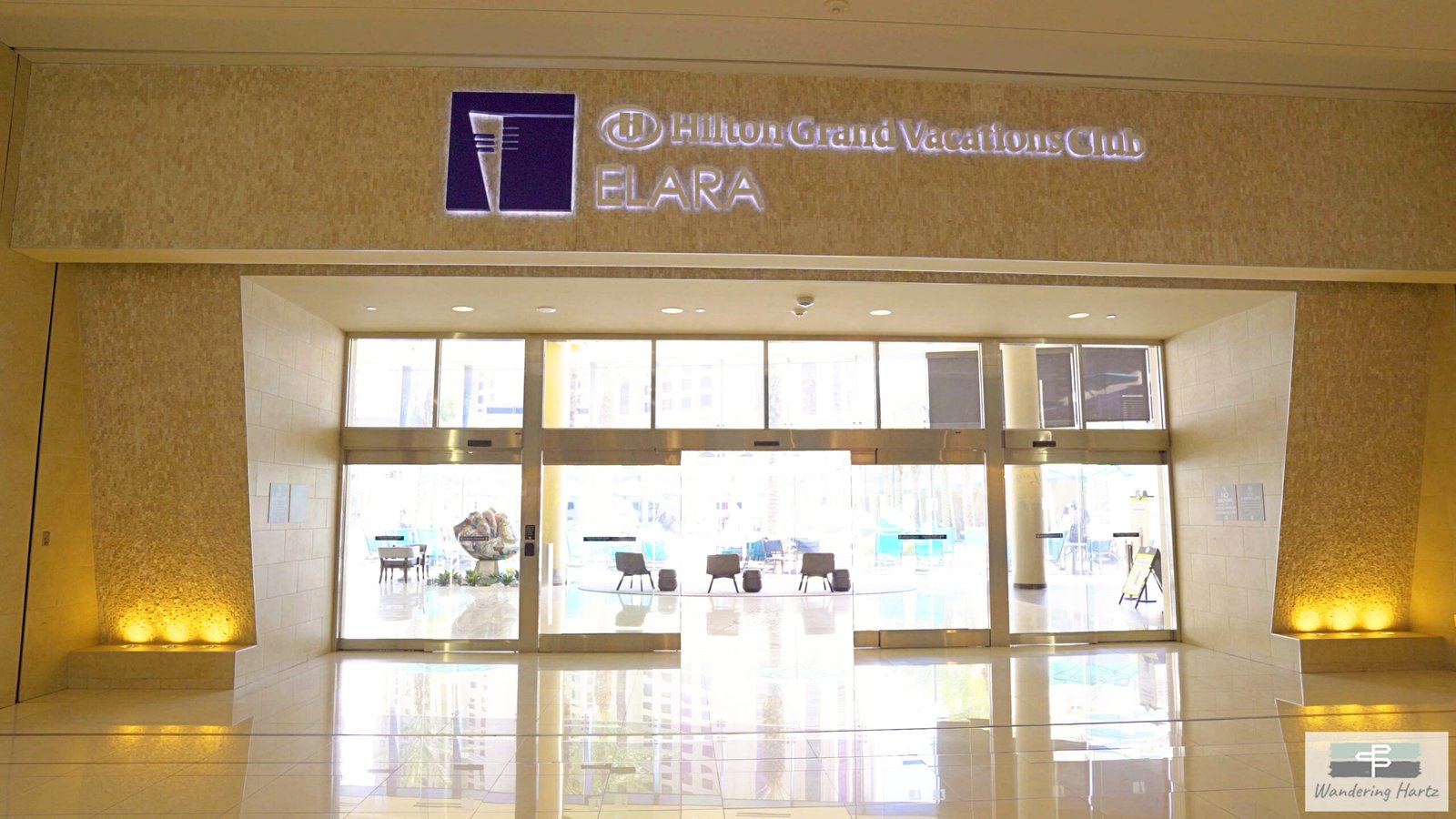 The biggest perk of all is that it is attached to the Miracle Mile Mall which boasts some excellent inexpensive food options and great happy hours.
The Rooms at the Elara by Hilton Grand Vacations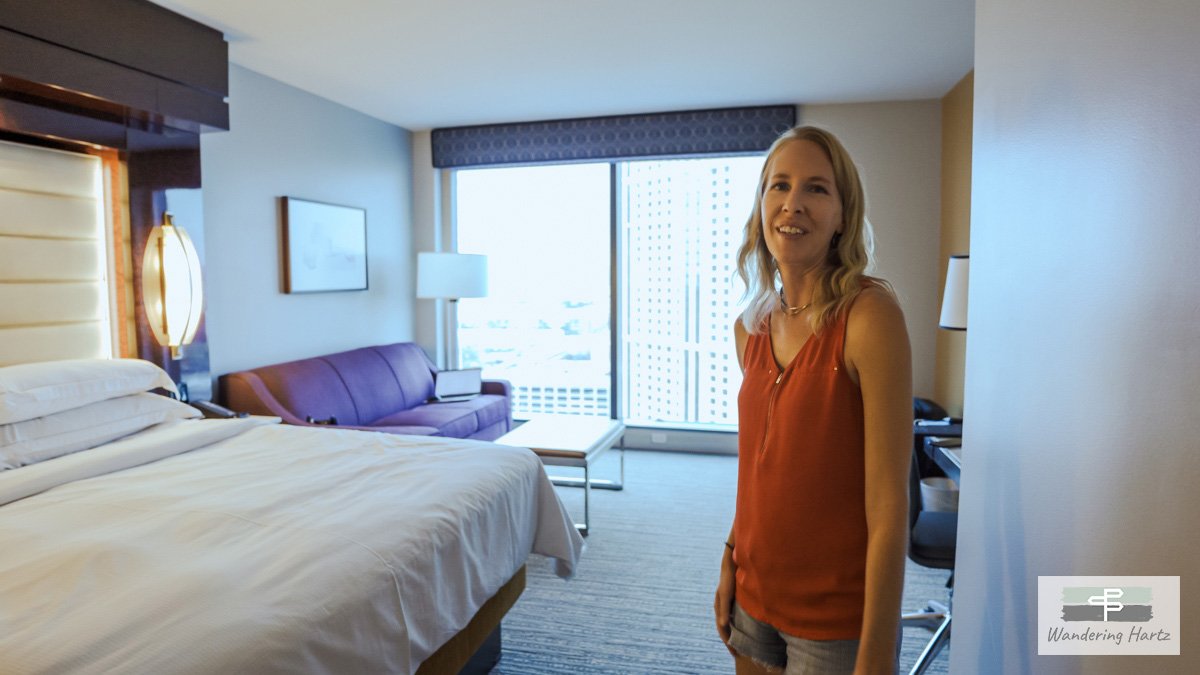 We stayed in the same style of room as at the Hilton Grand Vacations on the Las Vegas Strip, a king suite, but this one was a bit bigger at 372 SF. ft. and the ceiling was higher which made it feel larger.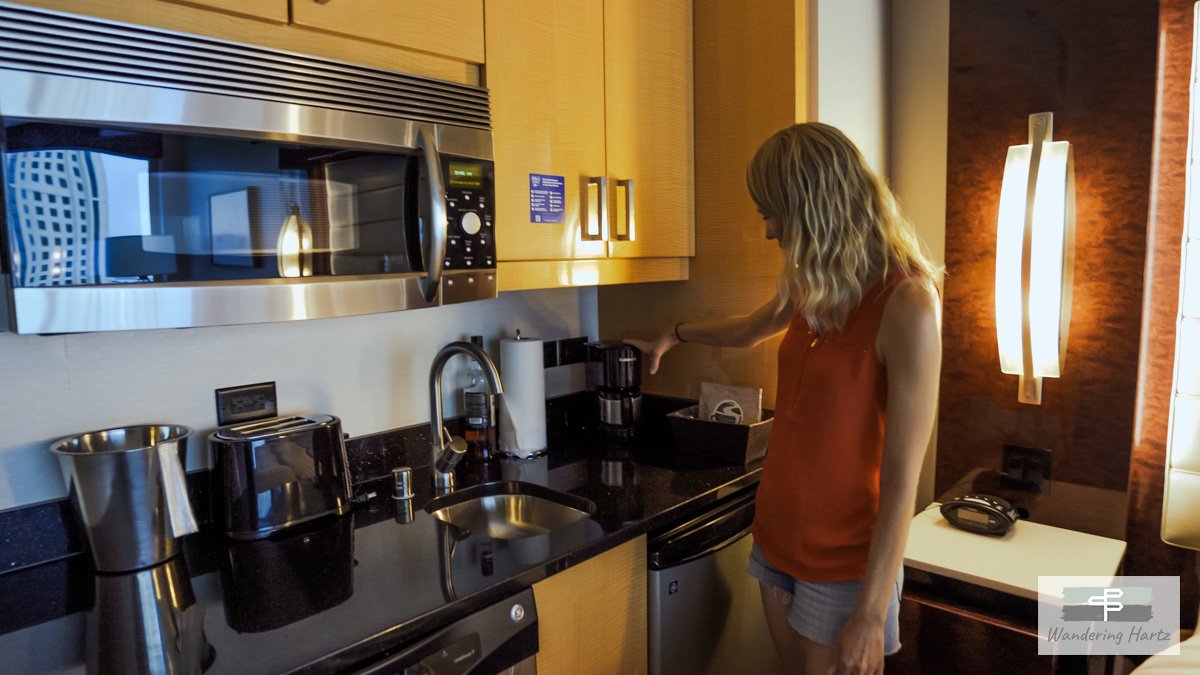 The rooms were more modern and not as dated as the Hilton Grand Vacations on the Las Vegas Strip. It also came with a seating area, sofa bed, 55-inch TV, and kitchenette. Again, the kitchenette is a huge plus in our opinion. It's also really nice to have a toaster, coffee maker and a refrigerator to store your drinks or snacks.
TIP: Most casino/resorts only have a metered mini fridge and if you take something out of the fridge you're charged automatically for it, even if you put it back.
Amenities at the Elara by Hilton Grand Vacations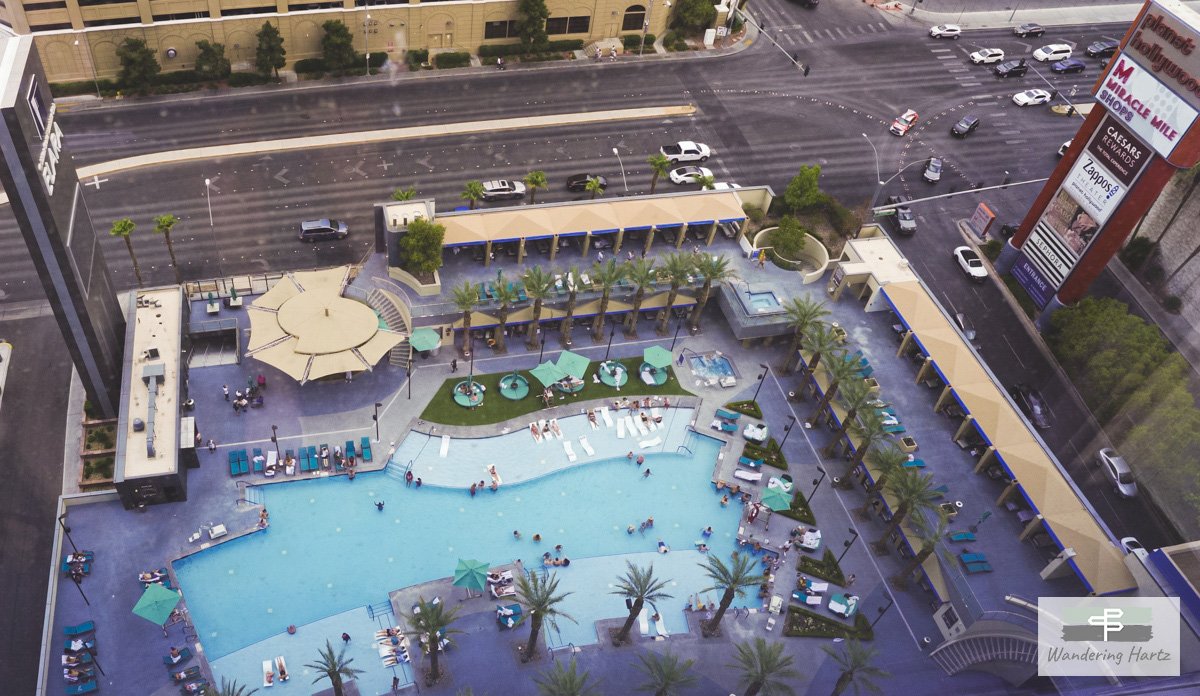 The swimming pool's design isn't as nice as the Hilton Grand Vacations on the Las Vegas Strip, but it's big with lots of chairs and cabanas (for a fee) to pick from. Another nice perk, it stays open until 10PM!
If you need to get your workout on there's a large well equipped fitness center along with a business center, a nice lobby bar that overlooks the pool and on-site restaurant. You can get your caffeine fix and pick up a quick breakfast at Starbucks located inside the hotel lobby.
So which Las Vegas Hilton Grand Vacations would we suggest?
After staying a week in Las Vegas and splitting our time between the two hotels you really can't go wrong with either one.
There's a lot of perks to staying at a non-casino resort. The pools are open longer at night, there are more amenities in the rooms, and shorter lines for check in-check out. It really depends on what kind of experience you're looking for in Vegas.
If we had to pick we would stay at Elara By Hilton Grand Vacations – Center Strip again. The location is great and it's close to a lot of our favorite restaurants and casinos.
You can help us bring you more great content on wanderinghartz.com and our Youtube channel by using our affiliate links like hotels.com, expedia.com, VRBO, Hertz, Chase Sapphire Prefered, Viator and more. 
None of the affiliate links cost you anything or increase the price you pay and we earn a small referral commission.
Or if you're feeling generous you can buy us a much appreciated glass of wine (or whiskey)!
Cheers, and have a safe and wonderful new year full of travel and new experiences!
Happy Wandering!
Joel and Michelle