Happy Hours & Grand Vacations, What Is Las Vegas Like Now?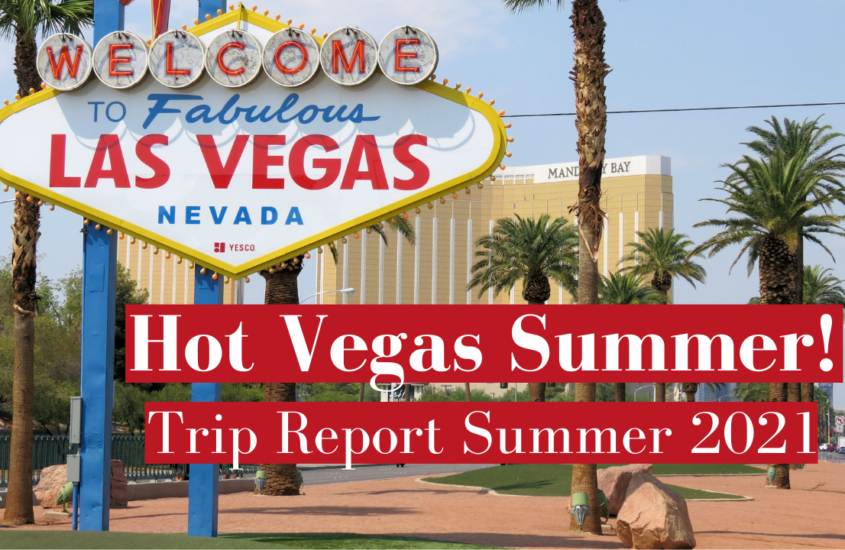 July 2021 Trip Report for Las Vegas
Our last time in Las Vegas was August 2020 when everything had just opened back up so this trip was quite different than last year! Almost a year from when we visited Las Vegas last summer there were a lot less of the draconian safety measures in place at Las Vegas hotels and Casinos. For example last August we had to wear a mask outside at the Mirage and Vdara pools and where watched by security on 2 min rotations. It was really uncomfortable, being watched non stop, and way overkill as it was enforced whether or not you were near anyone and in 110 degree heat!
Is Vegas Back?
This year Vegas was back during our trip! Masks were no longer required for vaccinated people and being highly recommended for non vaccinated people. Although a week later as I am writing this, Masks are back for everyone indoors, regardless of vaccination status due to the Delta Variants recent (July) uptick.
The thermal cameras at every entrance are gone, and no more big brother security types watching your every move at the pool. With that there are a ton of people having themselves a Hot Vegas Summer! It was reminiscent of pre covid times, but with a few caveats (more on that later).
Getting to Las Vegas
We began our Las Vegas Adventure in San Diego where we had spent the last two weeks housesitting and looking after the most adorable Goldendoodle ever! Look for a post about our adventures in San Diego soon! Since we had a ton of points with Southwest Airlines we used them to book our flight out of San Diego International Airport (SAN).
The airport was hopping but we made it though security in less than 5 min. Thank you Pre TSA! With our flight delayed about 10 minutes we still managed to arrive on time and without any crazy people on our flight too. Bonus! perhaps it was because we flew on a Wednesday? Either way we landed at 1:30PM.
Want to earn up to 60,000 bonus points for travel? We use our Chase Sapphire Preferred card to earn points for all of our travels and you can to. Sign up and you will get 60,000 bonus points after spending $4,000 in the first three months your account is open.
Ground Transportation to the Strip
With the forums abuzz with accounts of high transportation costs and long waits to leave McCarran International Airport (LAS) we were expecting to hire a private car, but as it turned out we only waited about 5-8 minutes for an Uber and it was $28 to Hilton Grand Vacations on the Strip. Which is inline with normal rates.
We've stayed at Hilton Grand Vacations property before so we knew what to expect. Check in took about 5 minutes, no line and was super easy. One nice perk is staying at a non-casino hotel. None the less this was the busiest we have ever seen this hotel though and we have stayed here several times. There were lots of families with kids and big groups of adults as well. It would seem a lot of folks were itching for a vacation.
DAY 1 Happy Hours at the Venetian
Once settled in to our room we took an Uber to the Venetian. On previous trips it usually cost us about $8.00 this one was $24! Hmm, seems we were not in the clear and the forums were correct. After that we decided to get a 3 day bus pass for $20 each on the DEUCE.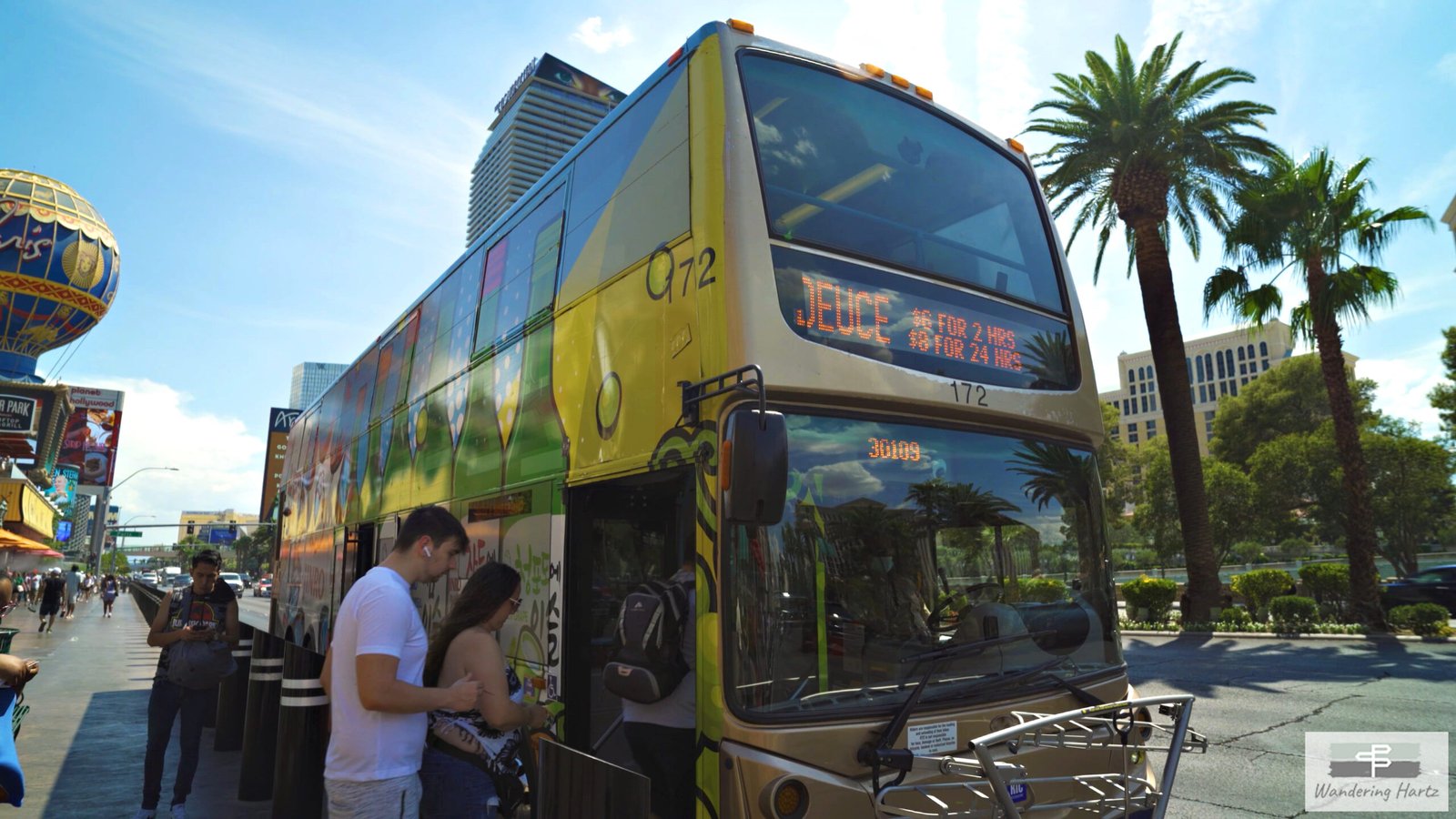 Taking the Deuce
The Deuce is a double decker bus that runs 24/7 from the Fabulous Las Vegas Sign to downtown (Freemont Street Experience). You can hop on and off as much as you like for as long as your pass is still good. Additionally you can use it on any of the other Vegas public bus routes! Not sure why we haven't used this in the past but we will going forward!
Happy Hour?
Having made it to the Venetian we walked to SugarCane Raw bar, our first stop for happy hour. We arrived at 5:15pm and the whole place was already full. Capacity in the restaurant appeared to still be limited and we noticed the bar seats were still spaced out reducing available seating. Onto to Buddy V's to try our luck there. As we were walking to the bar at Buddy V's the hostess stopped and told us we couldn't sit there. Apparently they were on an 1.5 hour wait just for the bar area. Ok, kind of strange as it didn't seem that busy. Looked like maybe they didn't have enough staff.
So we ended up at RockHouse just across from Buddy V's. Not our favorite place since it can get really loud there, but the happy hour drinks were cheap and our bartender was fun to talk to. If you're into wings do try the mango Habanero wings. They were super good with just the right amount of kick. Reminded us of the ones we had in Rincon, Puerto Rico.
Next we made our way though the Venetian some more and ended up at Royal Britannia Gastropub for a nightcap. It's an English style pub and we enjoyed a nice Irish whiskey and lovely Cabernet. They too were short staffed and so it took a minute for our drinks, but it was worth the wait.
DAY 2 – Eating at the Iconic Peppermill Restaurant
Since we work remotely it was a work day. Mostly locked in our room all day we hit the Wave pool bar at the hotel for some food and an excuse to get our vitamin D. After wrapping up our work for the day we finally made it out to Peppermill Restaurant that night and walked there since it was only 10 minutes from our hotel. Arriving at 6pm, there was a wait for the booths in the dinning area. There wasn't a wait for the counter top seating around the kitchen so we found a seat there.
Cocktail service was extremely slow. We waited about 30 minutes for our drinks and food came out before we got our drinks. One thing to note about the Peppermill is that you have two servers, a cocktail server for your festive drinks and a food server. Our food server was great and she kept checking in with us to let us know about the eta of our drinks. The food was better than expected and it's a fun atmosphere inside!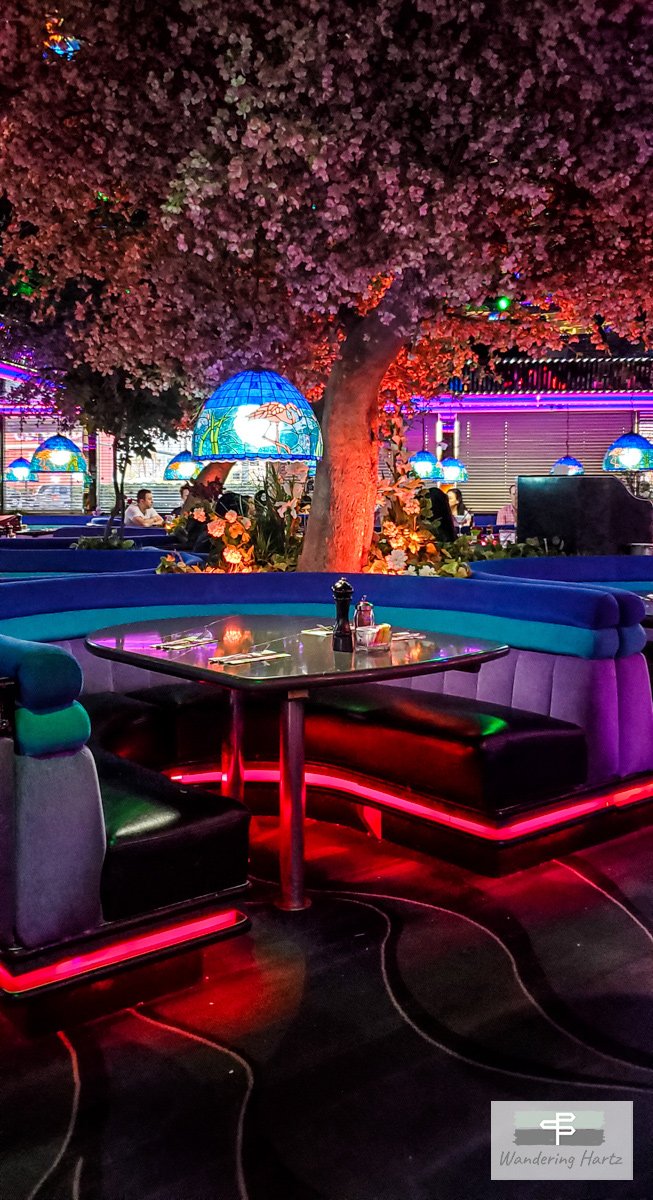 We ended up splitting Steak & Shrimp Scampi that came with bread and a huge salad. With a drink each it set us back $83 with tip. It was just the right amount of food for the two of us.
DAY 3 – A special treat at Chica
Another work day from our hotel but afterwards we took The DEUCE to the Venetian for dinner reservations at Chica. Chica was one of our splurges as it is a pricey restaurant. Having never dined at Chica before we were really impressed with the food, presentation, service and tasty drinks. Overall it was quite excellent! We enjoyed the décor as well, although it is a bit dark inside and so we couldn't get an useable images.
DAY 4 – Exploring the new Resorts World Las Vegas
We decided to keep to the North (quieter) side of the strip today to avoid the swarms of people in the casinos mid strip. After spending our morning at the pool and then we walked to the newly opened Resorts World to do some exploring. Like most people have said it looks and feels like a mall. Resorts World has lots of restaurant options. The most notable is Famous Foods, the food court full of Asian inspired street foods. It is pretty cool but it was also absolutely packed with people!
We ordered food from GOOGGLE MAN'S CHAR KUEY TEOW and it was meh, just ok. We split our dish there as well and that made the $17 price tag easier to swallow. All of the restaurants we looked at were overpriced especially for :"street food" and the draft beer prices started at $10. No thanks.
The casino area was quite smaller than we had expected but it's nice and bright inside instead of dark like a lot of the older casinos. Not sure if we would visit again, maybe for the food court and all of the Asian options but that's it. 
After several years in the works the new Resorts World Las Vegas property is finally open. We stopped by to check it out and see if what others had reported is true… does it look too much like a mall?
DAY 5 – Changing hotels, the Elara Hilton Grand Vacations
Both of our hotel stays during this trip were given to us from Joel's parents. They have a timeshare with Hilton. Despite the stupid guest certificate fee we had to pay to use their timeshare it was free (one certificate for each stay $120 total). As is the problems with timeshares (they are a rip off IMO) we couldn't find any place through their network on the strip that had more than 4 days in a row. None the less, our time was up at Hilton Grand on the Strip and we had to move on to the next hotel.
Our next stop was the The Elara which being connected to Planet Hollywood and Miracle Mile Shops is a fantastic location mid Vegas Strip. We took an Uber down the strip and ended up waiting about 30 minutes to book one because of price surging. Think it finally went down to about $15.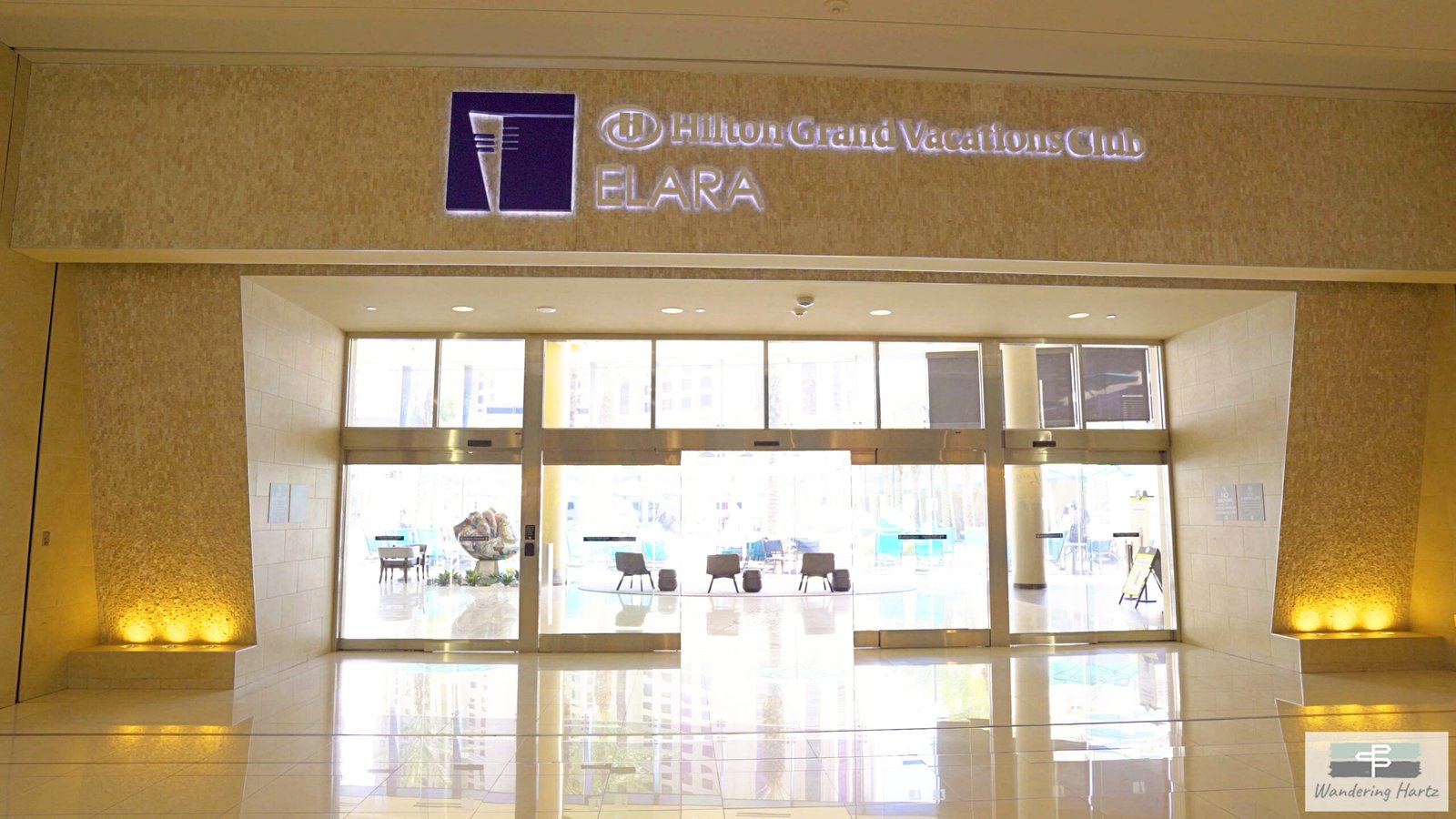 We leaned into to the fact that we had to switch hotels and figured it would be a good opportunity to do reviews of each. Look for full reviews coming soon!
This was our first time staying at The Elara and we loved it. You can't beat the location and the rooms are more spacious too. We had a King studio with a small kitchenette, microwave, toaster, coffee maker and dishwasher. The bed was super comfy and our view didn't suck either.
Lunch at the Miracle Mile Shops
Taking full advantage of the prime location we walked around the Miracle Mile Shops. Weekends are always busier, but we were surprised at just how super busy is was at the Miracle Mile Shops. We ended up sitting at the bar at La Salsa Cantina for lunch. Our bartender was very nice but she was slammed so our service was slow. Again, it looked like they were short staffed with the amount of people she was trying to serve by her self.
The food was pretty good and reasonable priced. We each ordered our own plates and with a drink each. When we received the bill we were not charged for our drinks due to the wait, huge bonus! Thank you so much for that! So with an extra large tip our total was $44.
The Tastiest Happy Hour at Planet Hollywood
Later that night we walked around Planet Hollywood and ended the night at KOI Restaurant, we took full advantage of their super tasty happy hour (Saturday and Sunday 5-9PM). Having never been here before it was quite fancy and we loved the vibe. Since we didn't have reservations we sat in the lounge area.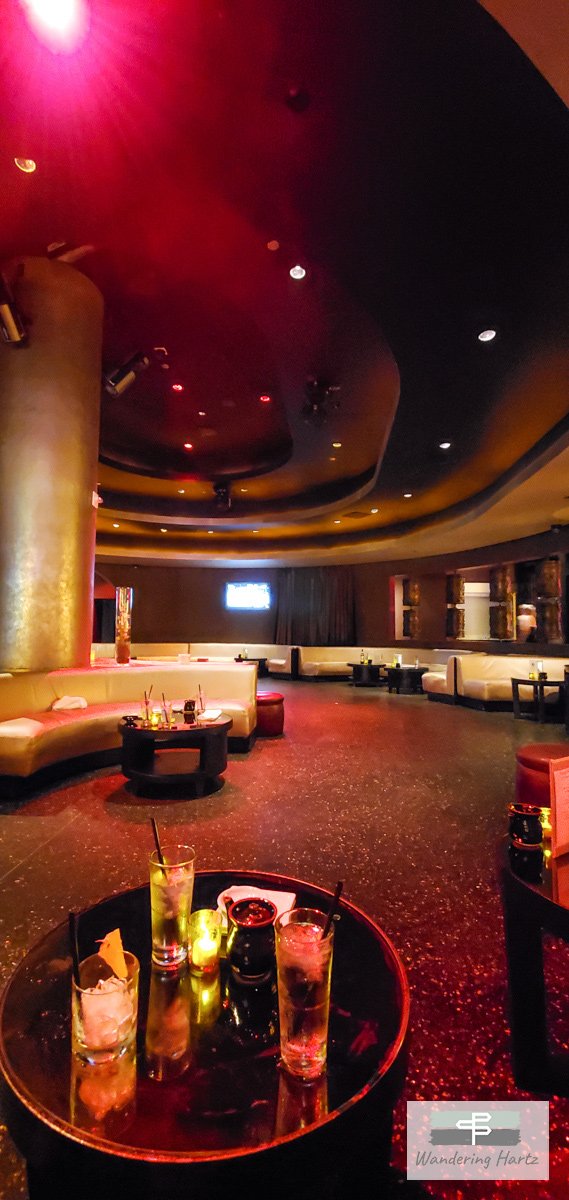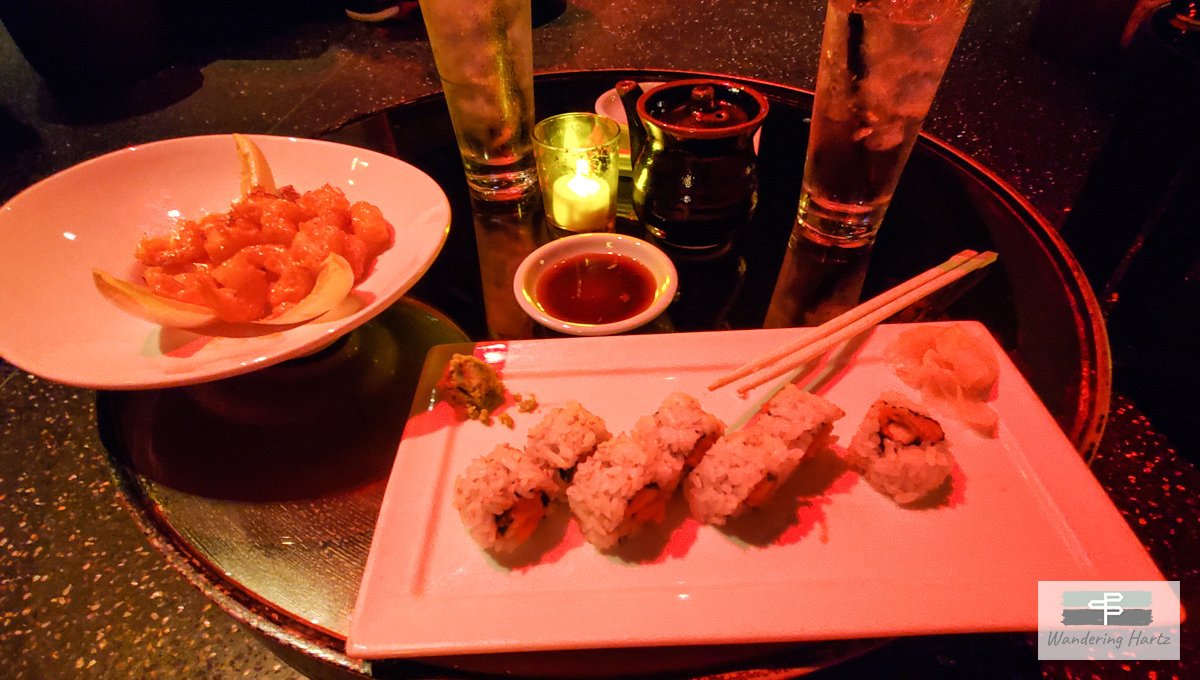 Food and service were great and we ended up ordering three appetizers to go along with some tasty drinks. The Happy Hour menu consisted of the same regular sized dishes but at half off which made for excellent value! Cocktails were $7 which is decent price in Vegas. The food was top notch! Try the Creamy Rock Shrimp and the Spicy Tuna Roll, you won't be disappointed. All in three apps and 3 drinks set us back $60 with tip. We will definitely go back.
More About Vegas Happy Hours
We've come up with a list of helpful happy hour tips to make your money
DAY 6 – Cheap breakfast and a fancy feast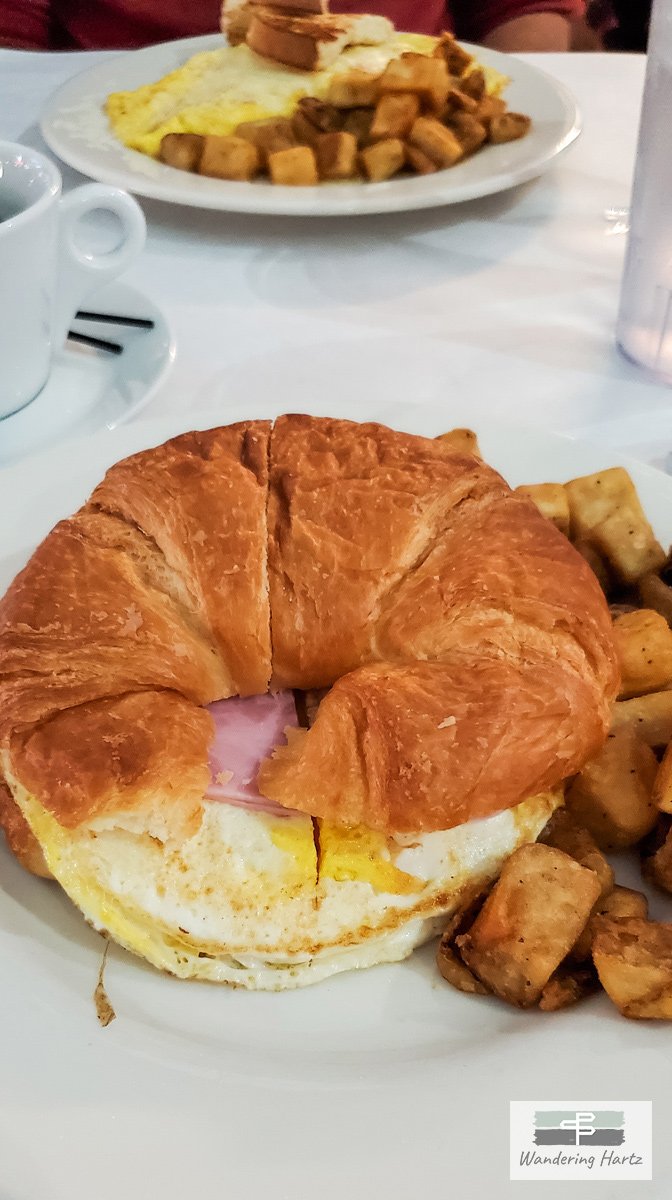 Breakfast was had downstairs and just a few steps from The Elara inside the Miracle Mile Mall at Ocean One Grille. We got there at 9AM and just squeaked by with no wait. Ocean bar and Grille is known for its cheap eats and 3 for 1 drinks. It is one of the best places in Vegas to fill up on the cheap. $5.99 breakfast for the win!
After some more work back in the room we walked around the Paris Resort and Casino before our reservations at 5:30pm at Mon Ami Gabi.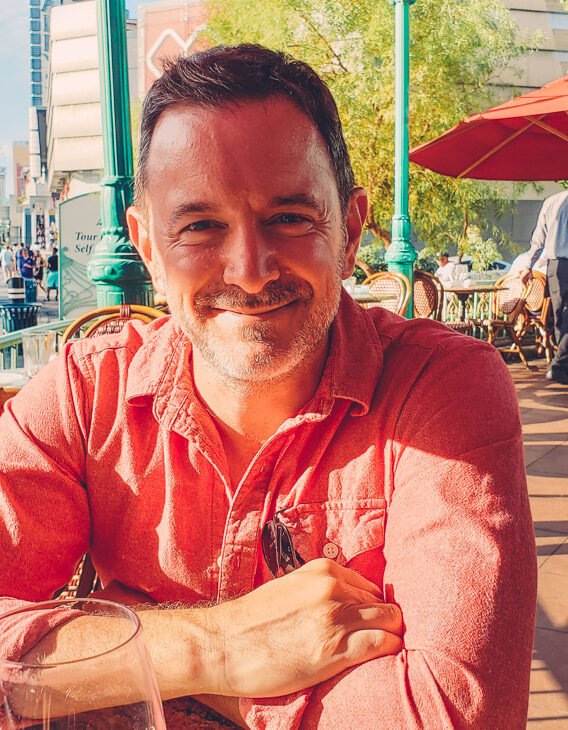 Mon Ami Gabi was our final treat as it was the culmination of celebrating Joel's birthday (week). This was our first time at this restaurant and we chose to be seated out on the patio for some great people watching along with our dinner! This was probably the best service we had out of all of the restaurants on this trip. Our servers were excellent and the food was delicious. If I had to pick though I would go back to Bouchon.
DAY 7 – Blondies, Work and Flights
Oceans One was packed this morning so we tried Blondies for breakfast in the Miracle Mile Mall. We took full advantage of their $4.99 breakfast special! To top it off they have killer deals on breakfast drinks too, Joel had a Bloody Mary for $1!
Since this was our last full day in Las Vegas we spent the day working on shooting b-roll for our YouTube channel. Look for more Las Vegas videos coming soon detailing our experiences. Filming all day made us hungry and thirsty and we ended up at Flights to take advantage of their all day Happy Hour special, 3 drinks for $10 and some appetizers. We had just missed the wine flight deal of the same price and had instead a Margarita flight and a Martini flight. Honestly both were a bit too sweet for our taste.
Back to hotel with plans to hit the pool around 5pm but unfortunately they closed it due to staffing issues. It's usually open until 10PM, bummer!
DAY 8 – Leaving Las Vegas
Inquiring about a later check out with the Elara the best they could do was 11 am "because we were Hilton Honors owners". None the less we had some time to kill prior to our flight. A quick call to the Bell desk to hold our bags and we had an early lunch at Beer Park at the Paris. As the name implies, they have a ton of beer options including beer flights.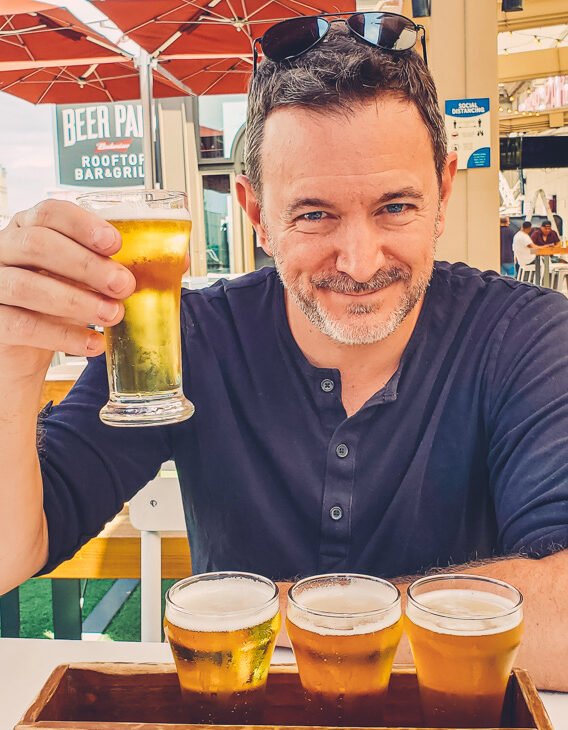 We had the wings and a excellent pretzel along with some drinks that were actually really good with great views of the Bellagio. An added plus was that it was really quiet. Perhaps the 105 degree temperature kept people away but to their credit it is actually well shaded and the fans and misters really helped. The heat doesn't bother us, we have realized in our travels thus far that we seem to like really warm places.
We killed the rest our time walking around The Cosmopolitan and then got an Uber to the airport. We waited about 10-15 minutes for an Uber and it cost $13. Whoohoo!
McCarren International Airport was busy but our Pre-TSA came in again so we went through security in 5 minutes.
WRAP UP!
This was more of a working/eating our way through Vegas type trip this time and Las Vegas is definitely back! Compared to the ghost town we had experienced in August/September of 2020 it was crowded with lots of people at the pools, eating out and in the casinos. It felt like we were back to pre pandemic levels in most places we visited.
We highly recommend getting reservations for restaurants, have lots of patience and just go with the flow if things don't ideally work out. From what we observed lots of restaurants still have staffing issues they're trying to work through, hopefully it will get sorted out soon.
Using our affiliate links (hotels.com, expedia.com, VRBO, Hertz, Chase Sapphire Prefered, Viator, etc.) supports great content on wanderinghartz.com and our Youtube channel.
None of the affiliate links cost you anything or increase the price you pay, and we may earn a small referral commission.
Or if you're feeling generous you can buy us a much appreciated glass of wine (or whiskey)!
Cheers,
Happy Wandering!
Joel and Michelle