Is it a Casino or a Mall? The New Resorts World Las Vegas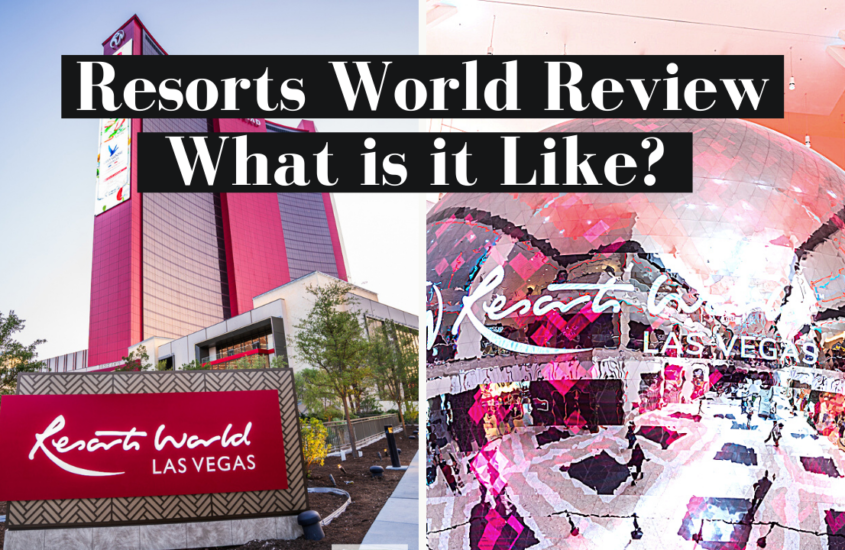 Resorts World Las Vegas is Finally Open
After several years in the works the new Resorts World Las Vegas property is finally open. We stopped by to check it out and see if what others had reported is true… does it look too much like a mall?
From the street the new Resorts World Las Vegas property is dominated by the three deep red towers that house the hotels that are attached to the casino. The three hotels are the Hilton, Conrad and Crockfords. We did not stay in any of these hotels as they were a bit to rich for our budget on this trip. Check out our full Trip Report.
The towers are cool especially with the front of them being video screens as well! I like the red color they chose, its almost exactly the color I have used for years in my photography logo. Overall it is a sleek and elegant contemporary design that is pleasing to look at.
Want to earn up to 60,000 bonus points for travel? We use our Chase Sapphire Preferred card to earn points for all of our travels and you can to. Sign up and you will get 60,000 bonus points after spending $4,000 in the first three months your account is open.
The Location Kinda Sucks
Probably the biggest drawback to the Resorts World Las Vegas is its location. It is on the North end of the strip in no mans land. If your looking for a place to stay where you can walk to other casinos this is not the place. On the other hand, if you are content to stay put and only venture out by other transport, like an ride share or a bus then you cant go wrong.
We've come up with a list of helpful happy hour tips
We stayed at the Hilton Grand Vacations on the Strip which is a 10 minute walk even further down the strip from where Resorts World Las Vegas is located. Trust us there is not much going on on this end. You definitely need to use alterative transportation other than your feet to get into the action.
That Mall Feeling
Upon entering Resorts World Las Vegas you instantly get that mall feeling. It is clean, wide open and bright, just like a mall. I actually like that it is bright inside as so many casino's feel dark and dungeons like. There is a tribute to the old Stardust casino at one end of the mall, I mean casino, as you walk in complete with a little plaque.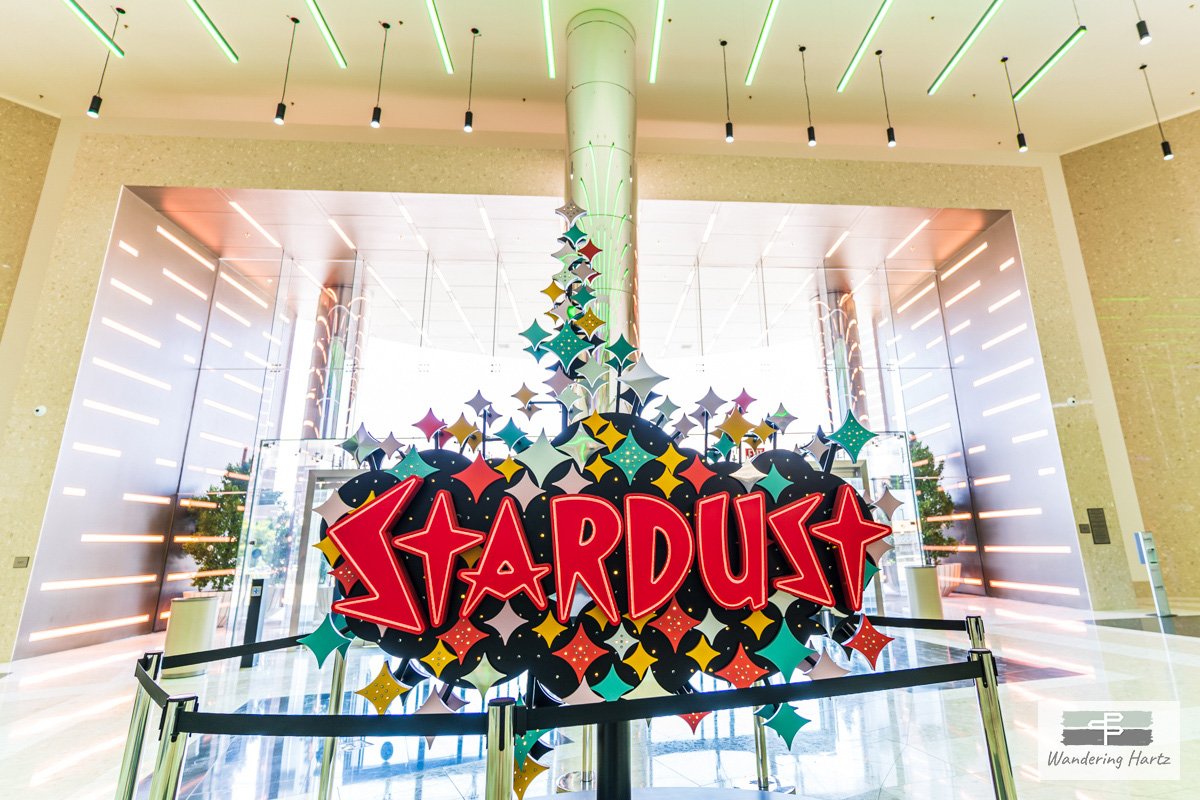 Quite a few other restaurants and bars line the mall like sections of the casino. Fine dinning, casual, a selection of bars and even ice cream and coffee can be found. During our trip in July 2021 it seemed that about a third of these offerings were still not opened or still under construction.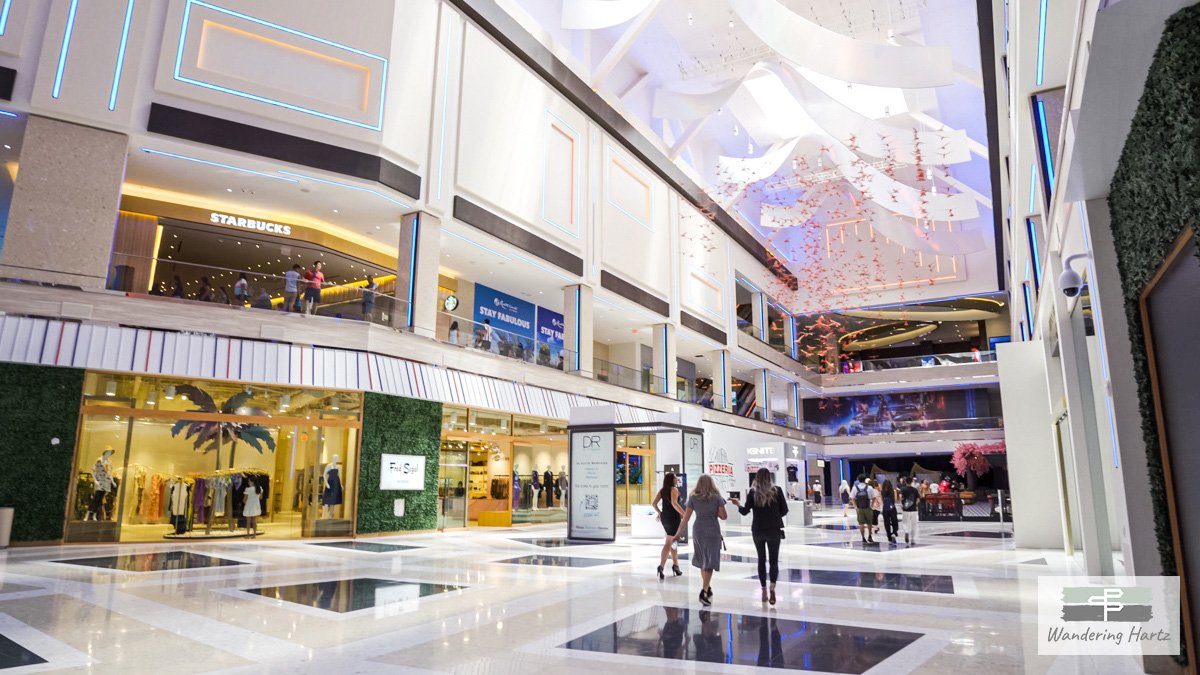 Still you get major mall vibes throughout. Hanging art from the high open ceilings and that giant video screen sphere in the middle adds to this.
A notable mention is that in the basement level you have the much touted The Boring Company hyperloop thingy powered by Tesla cars. Although again it was not in operation when we were there.
Resorts World Las Vegas Casino Floor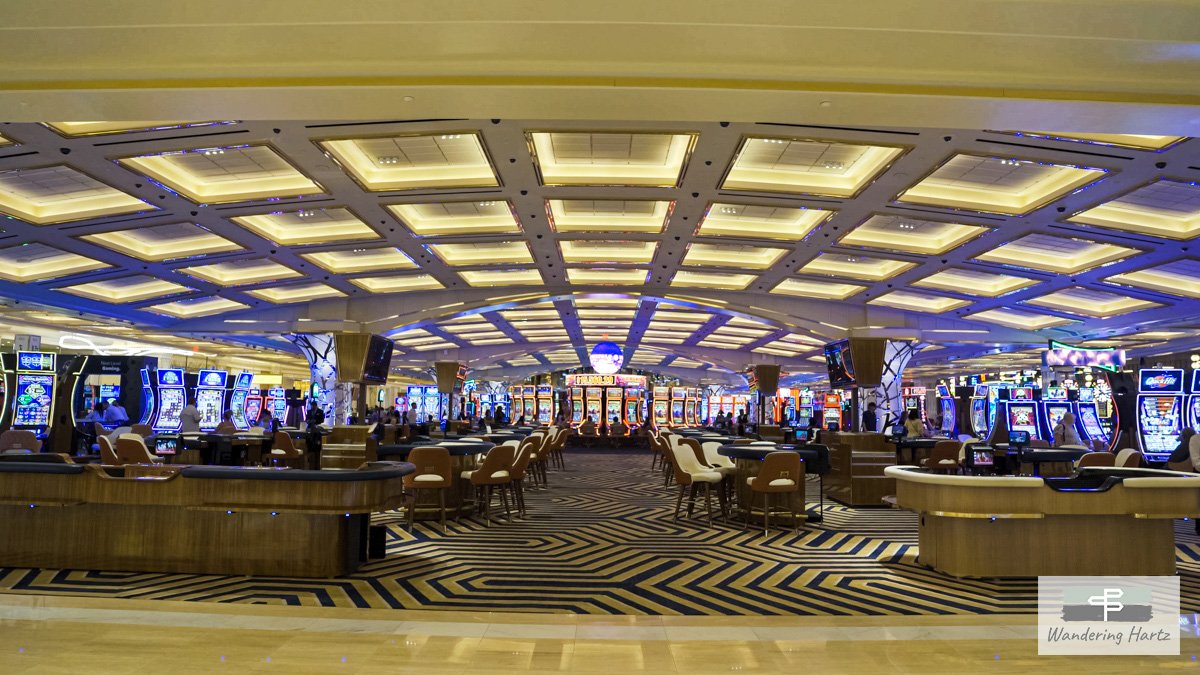 Centered in the middle of the property sits the casino floor of Resorts Worlds Las Vegas. Honestly it is rather small and rather unimpressive. I suppose we were expecting some interesting architecture or anything remotely inspired. That is not the case anywhere we saw on the property. Oh well. Maybe I still long for the kitschy theme elements of 90's Vegas.
Famous Foods Street Eats
We love to eat and we especially love Asian foods. Resorts World Las Vegas is home to their "Famous Foods Street Eats", a southeast Asian style street market food court that runs the length of the casino floor on the south side. It boasts 18 different restaurants all with an easy to use ordering system that lets you order from kiosks through the food court.
The ordering system is simple to use and can be used for all of the restaurants so you dont have to stand in line. You get a simple notification via text when your food is ready and go pick it up. We ordered a dish at Googgle Man, found a table and waited for the notification.
Food court prices are not the most budget friendly but most of "New" Vegas isn't either.
Built for Conferences and Conventions
The second floor of Resorts World Las Vegas is full of conference and meeting rooms along one side and a handful of shops and other "coming soon" businesses. You definitely get a mall feeling when walking the upstairs and looking over the open balcony below. You can tell this place is really catering to mega conferences and smaller conventions the more you walk around it.
Is Resort World Las Vegas Worth Visiting?
I mean sure why not? It is shinny and new, bright and open with three highly rated hotels attached. There are also a ton of food options and that would be the primary reason in our opinion to visit. Note that everything is a bit pricier too. A beer in the famous Eats Street Food court will run you $10, although rest assured you can most likely split the $17 dish you order. That's what we did and it worked out just fine.
Using our affiliate links (hotels.com, expedia.com, VRBO, Hertz, Chase Sapphire Prefered, Viator, etc.) supports great content on wanderinghartz.com and our Youtube channel.
None of the affiliate links cost you anything or increase the price you pay, and we may earn a small referral commission.
Or if you're feeling generous you can buy us a much appreciated glass of wine (or whiskey)!
Cheers,
Happy Wandering!
Joel and Michelle