Why Luquillo Beach Is One of Our Favorite Beaches in Puerto Rico
With its beautiful blue water and wide sandy beaches Luquillo Beach is one of our favorites to visit in Puerto Rico. If you're curious about traveling to Puerto Rico and how to get around the island check out our other articles here.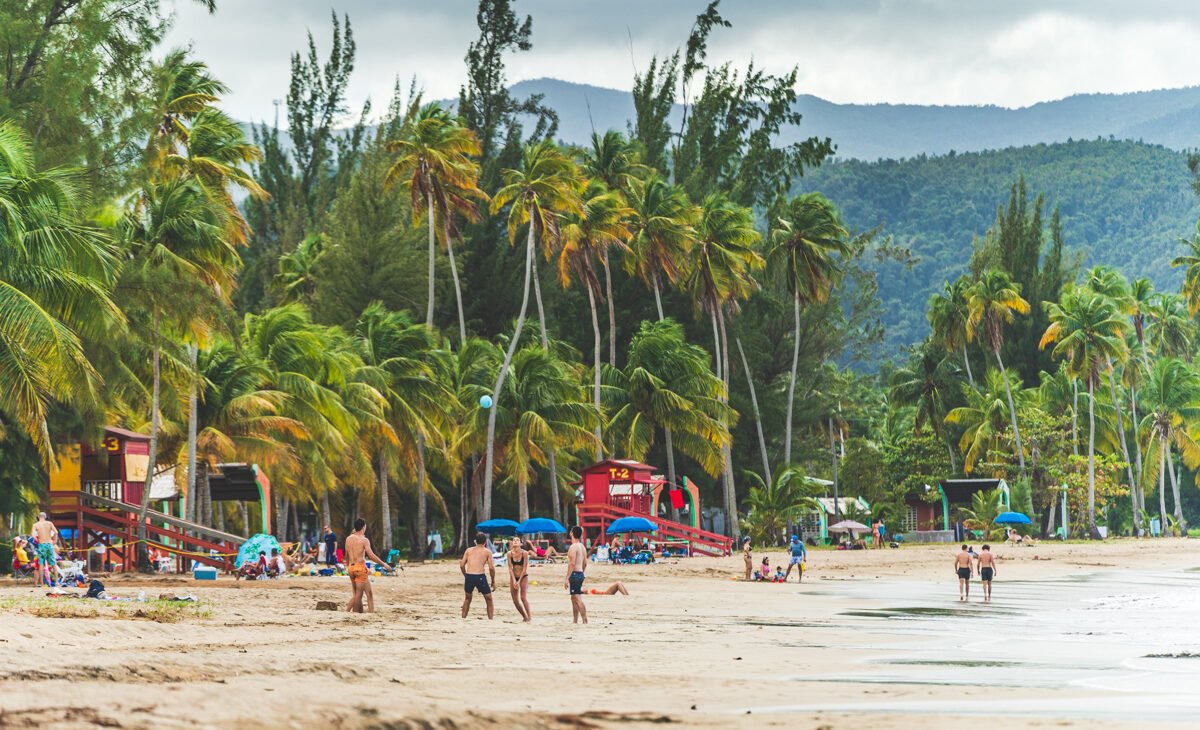 Luquillo Beach is Close to San Juan
Only a 30 minute drive from San Juan and a 10-15 minute drive from Fajardo (which is where we stayed) it's easy to get to Luquillo Beach with lots of parking. We paid $4 to park and chose to hang out at Balneario La Monserrate. 
TIP: Luquillo is close to El Yunque, about a 20-30 minute drive up to the rainforest. So you could start with an early morning hike and then spend the afternoon at the beach!
Epic Views at Luquillo Beach
The beach is wide with plenty of space to spread out and tons of large palm trees and evergreen trees for shade.
The views from Luquillo beach are pretty epic. Looking West the Luquillo Mountain Range and El Yunque Rainforest dominate the background. You can't beat views of the Atlantic ocean North and East were the surf breaks on the reef that protects the beach. 
Since this part of the beach is managed by the Puerto Rico Department of Natural Resources there are restrooms, showers and lots of picnic spots. Do you need beach chairs or umbrellas? There's usually a vendor set up that will rent them out for the day.
Craving ice cream? There's also a few food kiosks on the grounds and vendors walking the beach with ice cream!
TIP: For a small fee you can use the private showers, restrooms and lockers.
Warm Water Year-round and Fun Activities
Calm, quiet and clear water make this an ideal beach for families with young children or if you're wanting to swim. It is even dog friendly! We watched as several happy dogs enjoyed the beach and calm waters. The waves were small and we felt very safe splashing around in the ocean.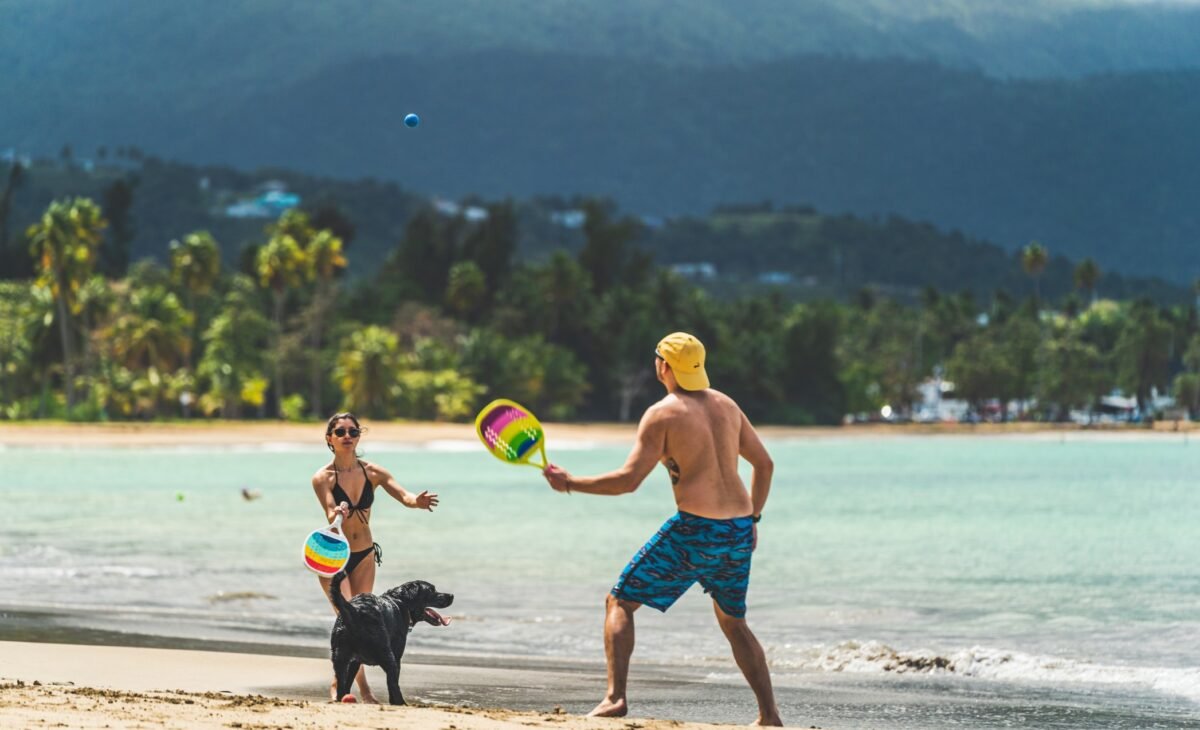 Puerto Rico's location in the tropical Carribean means that the water is warm year round with temperatures ranging from 26 °C (79 °F) between January and March to 29 °C (84 °F) between August and October. Perfect for water based activities like swimming, snorkeling, surfing, diving, and more.
Luquillo Beach even has rental options for the more adventurous! Rent fun toys like Jet Skis and flyboards at the Kioskos De Luquillo.
TIP: For the surfers out there if you're looking for waves head to La Pared. 
Food, Treats and the Kioskos at the Beach
Located next door to the beach park, along PR-3 are the Kioskos De Luquillo. Bars, cafes, restaurants and small souvenir shops are spread out along the roadside and in front of the beach. You can stroll up and down looking for the perfect spot to eat with a huge variety of food options. All of the shops are open air and some even have views of the beach. 
You can usually find parking there as well during the week, but on the weekends forget about it.
A Perfect Beach Outing for Everyone
We really enjoyed Luquillo Beach and highly recommend it for any visit to Puerto Rico. There are also plenty of accommodations in the surrounding area including hotels and short term rentals. 
Staying closer to San Juan? You can also book an excursion with a tour operator that can take you to Luquillo Beach park or even a beach and jungle adventure.
More to Explore Around Luquillo
---
Using our affiliate links (hotels.com, expedia.com, VRBO, Hertz, Chase Sapphire Prefered, Viator, etc.) supports great content on wanderinghartz.com and our Youtube channel.
None of the affiliate links cost you anything or increase the price you pay, and we may earn a small referral commission.
Or if you're feeling generous you can buy us a much appreciated glass of wine (or whiskey)!
Cheers,
Happy Wandering!
Joel and Michelle