Where to Stay in Sofia, Bulgaria's Trendy Capital City
When planning a trip to Bulgaria you'll want to consider staying in Sofia, Bulgaria's trendy capital city. Our travels have now taken us three times to Sofia and we never tire of walking around and seeing the sights. There's plenty of museums, beautiful churches, mosques and parks to keep you busy for a week's vacation in Sofia or even a month-long stay.
Where is Sofia, Bulgaria Located?
Sofia, the capital city of Bulgaria is located in the western part of the country, at the foot of Vitosha mountain. It is easily accessible by plane, car, or bus from other major European cities.
⚕ Are you covered with International Travel Medical Insurance? Get worldwide coverage with SafetyWing
Where to Stay in Sofia, Bulgaria?
When choosing where to stay in Sofia, it's important to consider your budget and preferred location.
If you want to be close to nightlife, shopping and lots of restaurants look for accommodations near Vitosha Boulevard. We always book our Sofia Bulgaria accommodation close to this area.
The first time we visited Sofia we stayed at Hotel Niky. It was a five minute walk to Vitosha Blvd and a short ten minute walk to the beautiful National Palace of Culture and park.
For a more cultural experience, choose a hotel near popular attractions such as St. Alexander Nevsky Cathedral or the National Palace of Culture. This area is where you will find Sofia's 5 star hotels, higher end clothing stores and restaurants.
Want to earn up to 60,000 bonus points for travel? We use our Chase Sapphire Preferred card to earn points for all of our travels and you can to. Sign up and you will get 60,000 bonus points after spending $4,000 in the first three months your account is open.
On our second visit to Sofia, we had just spent a lovely summer in the charming mountain town of Bansko, Bulgaria.
Our studio apartment, with its fun and quirky decor, was a refreshing change from the typical hotel room. It provided us with a comfortable and cozy base to explore the city. The apartment's bright and cheerful ambiance, accented with pops of teal, added to the overall charm of our stay.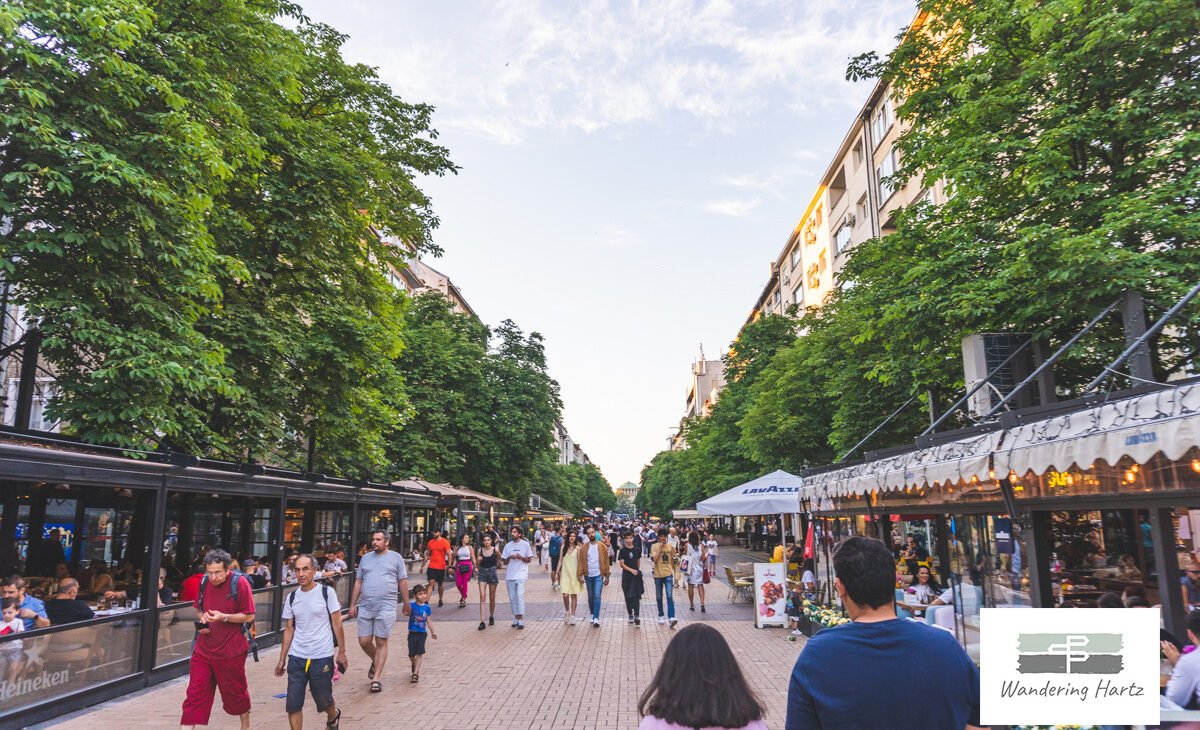 Location
Just three blocks from Vitosha Blvd. our Sofia apartment was in a great location. It was super easy to find all sorts of food, pharmacies, drinks and even a money exchange along Vitosha Blvd. There are also multiple metro stops all within a 10 minute walk. The National Palace of Culture Park is a nice 12 minute walk.
There are even several little markets on the corners where you can find groceries and wine. If you need to print your boarding pass or bus tickets there is a copy and print shop just up the street too.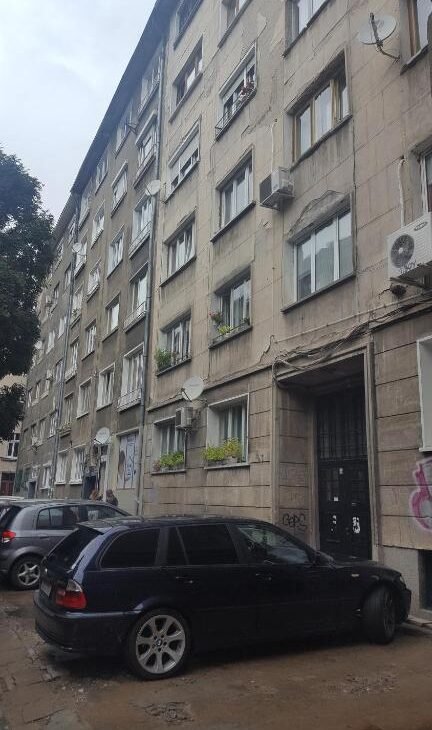 Check In
We reserved our stay at City Center Apartments on booking.com. Check in was easy and we were given directions to the apartment and our host met us upon arrival. This is a cash only property so upon meeting the host we paid our accommodation fee and the host provided us with our key and gave us an overview of our 409 sq foot apartment.
We did have to haul our luggage up a short flight of stairs. We have since made our lives a lot easier traveling around Europe with our Beis luggage which is a lot lighter and easier to manage than our previous luggage.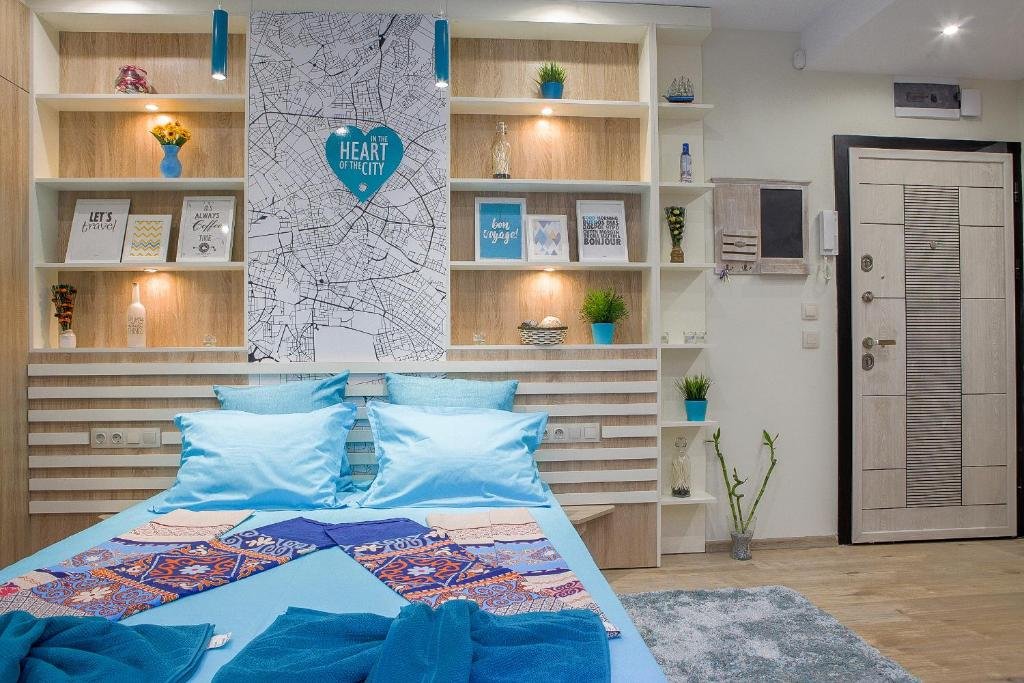 Queen Bed
Even though our apartment was a studio it still felt pretty roomy. The queen bed was super comfortable and we had a good night's sleep the entire time. If you have more than two people in your party, the couch will also extend offering enough room for an adult or two children to sleep.
Kitchen
The kitchen was fully stocked with all the appliances we needed for a convenient stay such as a kettle, microwave and even a small dishwasher which is quite rare. There were plenty of cups, utensils, cookware and a decent sized refrigerator. The host also provided us with cleaning supplies and dish soap in case we needed it during our stay.
Dedicated Workspace
The counter top in the kitchen did have a small little work area with 4 bar stools. It wouldn't be ideal working full time from there but it was fine for three days. Michelle was also able to work from the couch.
WiFi In Room
Wifi was included in the price of our stay and it was fast and easy to connect to.
👉Keep Your Data Safe While Traveling: Sign up for Surfshark ✈
Bathroom
For a studio apartment it had a rather large modern bathroom with an enclosed shower and was nicely tiled throughout.
Noise
We were in the back of the building and our windows opened up to a small inner courtyard so we didn't experience any road noise. It was nice and quiet throughout the night as well.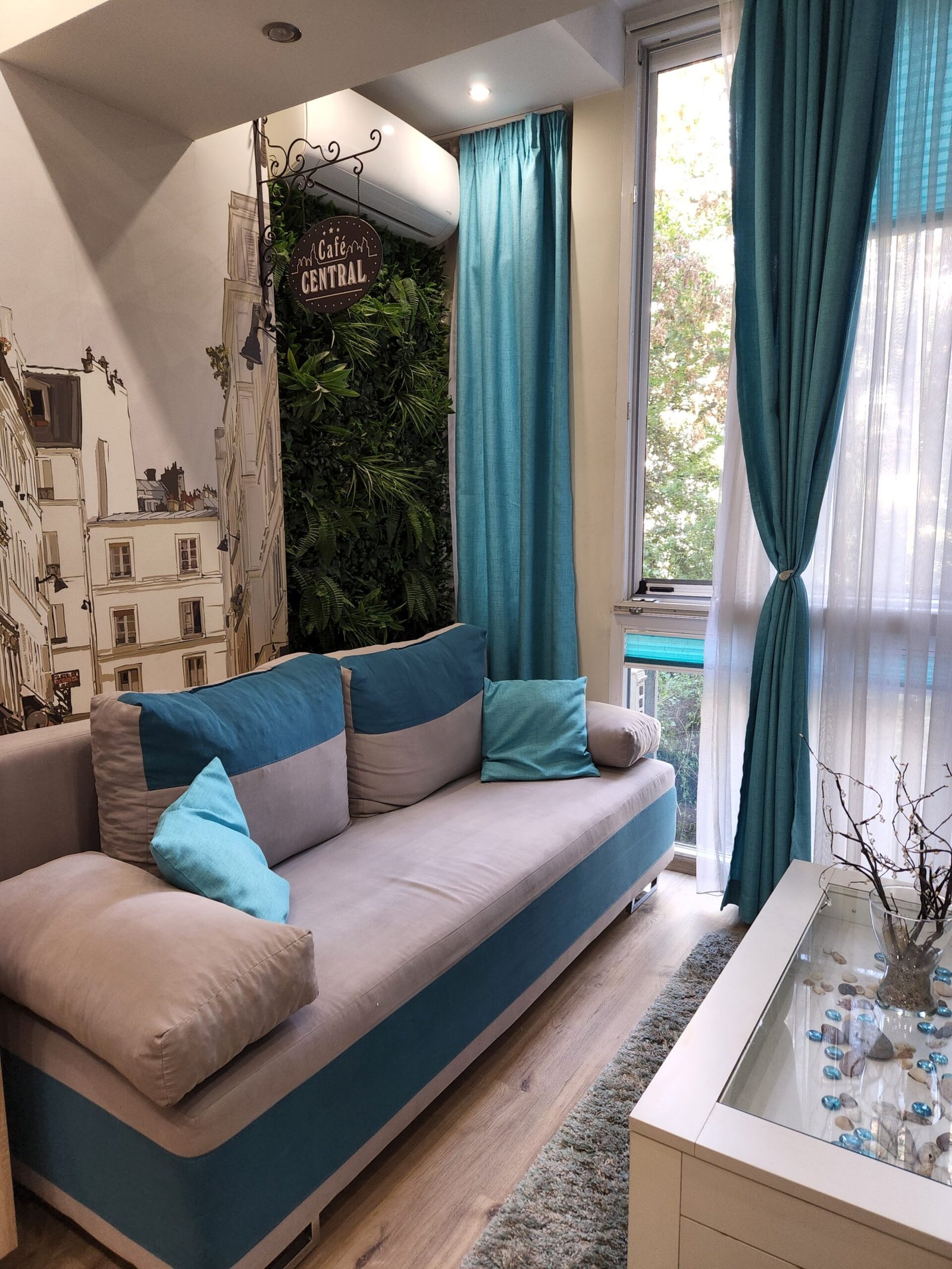 Workout or Meditate Area in the Apartment
This studio apartment doesn't offer much space for a workout. Nor does it have access to a gym or other common space on the property. If you're keen on getting your workout in while staying you could try rearranging the furniture and move the coffee table in front of the window for some yoga or meditation. However, due to the limited space, this may be the extent of your workout options.
Extra Amenities
Large TV
We were pleasantly surprised to have a large 4k flat screen TV in the room. The TV also had easy access to the HDMI ports if you need to connect your laptop to it as a second monitor. It makes Joel's job a lot easier to edit our YouTube videos for our channel when he has a second monitor.
Air Conditioning
Have air conditioning is a really nice perk to have in Sofia, especially during the hot summers. During our stay in September we stayed at a comfortable temperature in the apartment with just the windows cracked. Although we would occasionally smell cigarette smoke wafting in. Welcome to Bulgaria!
Washing Machine
Located in the Kitchen was a washing machine perfect for longer stays. We didn't need to wash anything during our three day stay but there was even detergent available if we had needed to.
Coworking in Sofia, Bulgaria
For digital nomads and full time travelers living abroad like ourselves it's important to know where the coworking facilities are. We found two that were under a five minute walk from the apartment.
NETWORKING Coworking (Vitoshka)
Getting to Central Best City Apartments
To or from Sofia Airport
Arriving at the Sofia Airport you can take the bus, metro, taxi or private car to get to the Central Best City Apartments. You can expect the trip to take between 30 min and an hour depending on traffic and time of day.
If traveling by Bus or Metro see below for pricing. If by Taxi you will need to get a taxi from the taxi stand outside the airport (past baggage claim).
Be sure to have some cash to pay for the taxi. There is an exchange at the airport, we wouldn't recommend changing too much due to unfavorable rates. Use of the Taxi apps are not permitted leaving the Sofia Airport. However you can use a taxi app to return.
A taxi ride should cost you around 20 bgn to or from Sofia Airport to Central Best City Apartments and the Vitosha Blvd. area.
To or from Central Bus Station and Central Railway Station
If you're arriving by bus or train (the stations are across from each other) the easiest way to get to Central Best City Apartments with luggage is by taxi.
We would highly recommend using the TaxiMe App (see below) rather than the taxi stand at the stations. Our first time in Sofia we grabbed a taxi from the stand and lets just say cleanliness was not a priority. Since then we have used the app to get a taxi and have had easy and comfortable rides.
You can expect to pay around 8 bgn by taxi.
If you're determined to use public transport then read on, you will quickly see why we prefer the taxi.
There is a metro stop at the central bus station that will take you to the National Palace stop on Vitosha Blvd. It takes about 5 minutes (3 stops) but you will need to backtrack about 8 minutes (several blocks) to get to Central Best City Apartments.
To get to Central Best City Apartments by tram you will need to get on the tram at Tsentralna gara Square. It takes about 7 minutes and you will need to get off at pl. Makedonia (4 stops) and walk another 5 min or so.
How Do You Get Around Sofia, Bulgaria?
There are several ways to get around Sofia, Bulgaria. The most popular modes of transportation include:
Metro
Sofia has a modern and efficient metro system that connects most parts of the city. There are two metro lines in Sofia, and trains run every few minutes during peak hours.
A single trip travel card on the metro is 1.60 Lev or you can purchase a daily pass for ground transport and underground for 4 Lev.
You can also tap your debit or credit card on an on-board/metro gate reader. As a bonus you can make as many journeys as you want with a daily cap limit of 4 Lev.
Bus and Tram
Sofia also has an extensive bus and tram network that covers most parts of the city. Bus and tram tickets can be purchased from kiosks or from the driver.
Taxi
Taxis are readily available in Sofia, and they are relatively cheap compared to other European cities.
Our preferred method is to use the TaxiMe App. It works just like Uber or Bolt and eliminates the risk of getting scammed or having to haggle with a driver.
However, if you do choose to use a taxi off the street it's important to use only licensed taxis, and to agree on a fare before getting into the car.
TIP: When leaving the Sofia airport to head into the city make sure you go to the taxi stand outside, someone will direct you to a taxi waiting in line. If someone approaches you inside the airport for their services this is usually a scam.
Walking and Cycling
Sofia is a very walkable city and it's our favorite way to get around especially on a nice day. Many of the main attractions are within a 20 minute walk of each other. Cycling is also becoming increasingly popular in Sofia, and there are several bike rental companies in the city.
Is Sofia, Bulgaria Worth Seeing?
Sofia is definitely worth seeing! We quickly fell in love with this charming city on our first visit and have made a point to stay a few nights each time we travel to Bulgaria. One of the things we enjoy the most is how easy it is to get around on foot or by taking the metro.
The city is filled with parks, and during the summer months when the trees and flowers are in full bloom it's lovely to just take a stroll. But Sofia isn't just about nature; it's also a city steeped in history.
We were impressed by the numerous museums, churches, and mosques we came across during our visit. Whether it was learning about the city's ancient Roman history or exploring the stunning architecture of Orthodox churches, there was always something fascinating to discover.
So if you're looking for a new travel destination, consider adding Sofia, Bulgaria to your list. You won't be disappointed!
More Sofia Bulgaria Accommodation
Sofia FAQ
How Many Days In Sofia Is Enough? 
If you're visiting Sofia for a city break or vacation, three to five days in the city will give you enough time to see the main attractions in the city. To see more of what Sofia has to offer we would highly recommend spending a week to visit museums, churches, archaeological sites and indulge in the local cuisine.
What is Sofia Bulgaria Known For?
Sofia is known for its rich history and culture, as well as its stunning architecture. The city is home to several beautiful churches, including the Alexander Nevsky Cathedral and St. George Rotunda, which date back to the 4th century.
Using our affiliate links (hotels.com, expedia.com, VRBO, Hertz, Chase Sapphire Prefered, Viator, etc.) supports great content on wanderinghartz.com and our Youtube channel.
None of the affiliate links cost you anything or increase the price you pay, and we may earn a small referral commission.
Or if you're feeling generous you can buy us a much appreciated glass of wine (or whiskey)!
Cheers,
Happy Wandering!
Joel and Michelle