Where to Stay in Brno, Czech Republic's Second Largest City
When planning a Czech Republic holiday, you'll want to consider staying in the charming city of Brno and the picturesque South Moravia region.
Brno was a delightful surprise for us. We stumbled upon this charming city while attending Traverse, a conference for travel content creators. Over the course of ten days, we were immersed in a whirlwind of press trips, seminars, and leisurely strolls along Brno's picturesque cobblestone streets.
Having experienced the Czech Republic with a visit to Prague in 2008, we were excited to visit another part of the country. With tickets booked, our next task was to pick a hotel or apartment to base ourselves for ten days.
But first… Why visit Brno and where is it located?
Why Brno, Czech Republic?
As the second-largest city in the country and an essential cultural and economic center, Brno has a lot to offer visitors.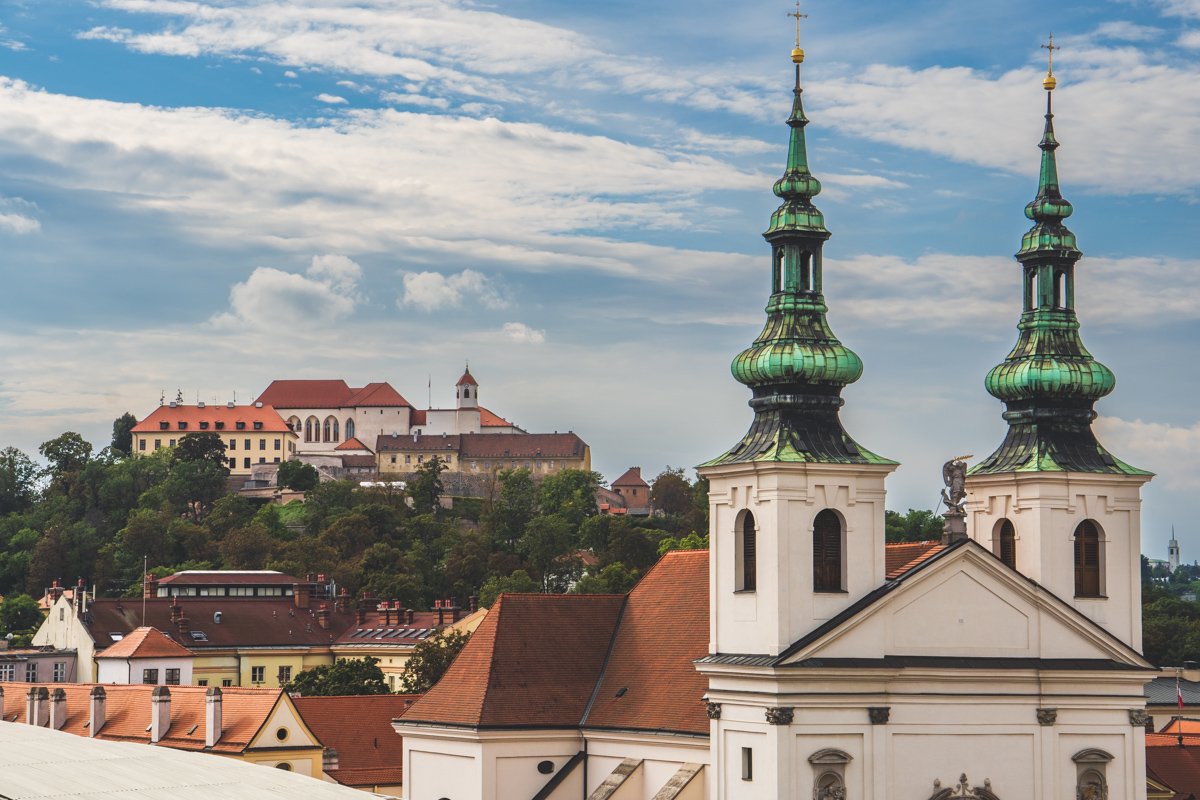 Its vibrant and diverse cultural scene is reflected in its thriving arts and music scenes, as well as in its rich architectural heritage, which includes exciting landmarks like the stunning Špilberk Castle and the magnificent Saint Peter and Paul Cathedral.
Thanks to its location, Brno is also the perfect base for exploring the wider region, which has a wealth of sightseeing opportunities.
The surrounding countryside is equally enchanting, dotted with vineyards and romantic chateaus – perfect for those seeking an escape from the city.
Visitors can easily visit the Moravian Karst, an area famous for its underground cave systems and natural beauty, or take a trip to the nearby cities of Vienna or Bratislava.
⚕ Are you covered with International Travel Medical Insurance? Get worldwide coverage with SafetyWing
Where is Brno in The Czech Republic?
Brno is located in South Moravia, the south-central region of the Czech Republic. It is surrounded by a beautiful countryside landscape, and it is well-connected with the rest of the country by an extensive network of roads and public transport.
From Prague to Brno its an easy 2 hours and 35 minute commute by train. Vienna, Austria (another favorite city of ours) and Bratislava, Slovakia are both 1 hour and 30 minutes by train to Brno.
Prague 2 hours and 35 minute
Vienna, Austria 1 hour and 30 minutes
Bratislava, Slovakia 1 hour and 30 minutes
We consider a Brno vacation to be a great add-on especially if you're visiting any of the three capital cities we listed.
Want to earn up to 60,000 bonus points for travel? We use our Chase Sapphire Preferred card to earn points for all of our travels and you can to. Sign up and you will get 60,000 bonus points after spending $4,000 in the first three months your account is open.
Where to Stay for Your Brno Vacation?
There are plenty of Brno accommodations to choose from in the heart of the city, from budget friendly to 4-star hotels.
Brno is quite compact with great transportation which makes it easy to visit multiple local attractions.
It is easy to navigate with affordable trams and cost-effective rideshares to take you around the city and even out to the suburbs of Brno. Its also a very walkable city, which is how we chose to explore Brno.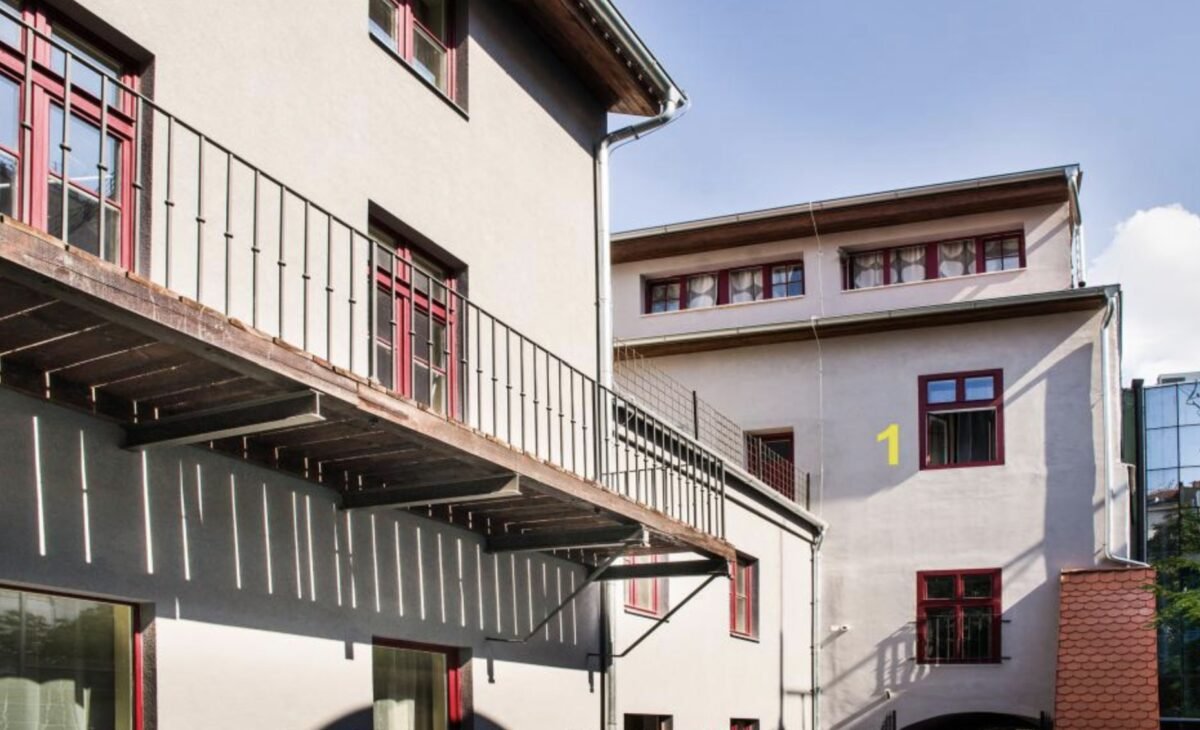 We chose to stay at Dům U Pikové Desítky or the "House at The Ten of Spades", a small apartment style hotel which is quite common in Czech Republic hotels and throughout Europe. Each room has a slightly different layout, and two of the suites even have kitchenettes.
All rooms come with amenities like a mini refrigerator, free toiletries, a flat screen TV, Wi-Fi and a hair dryer.
Location
After looking throughout the city, we decided to stay in the north part of the Old Town, and we were delighted with our choice. Our conference would take place at the lovely 4-star Hotel Passage, so it was a nice 10-minute walk from our boutique apartment hotel.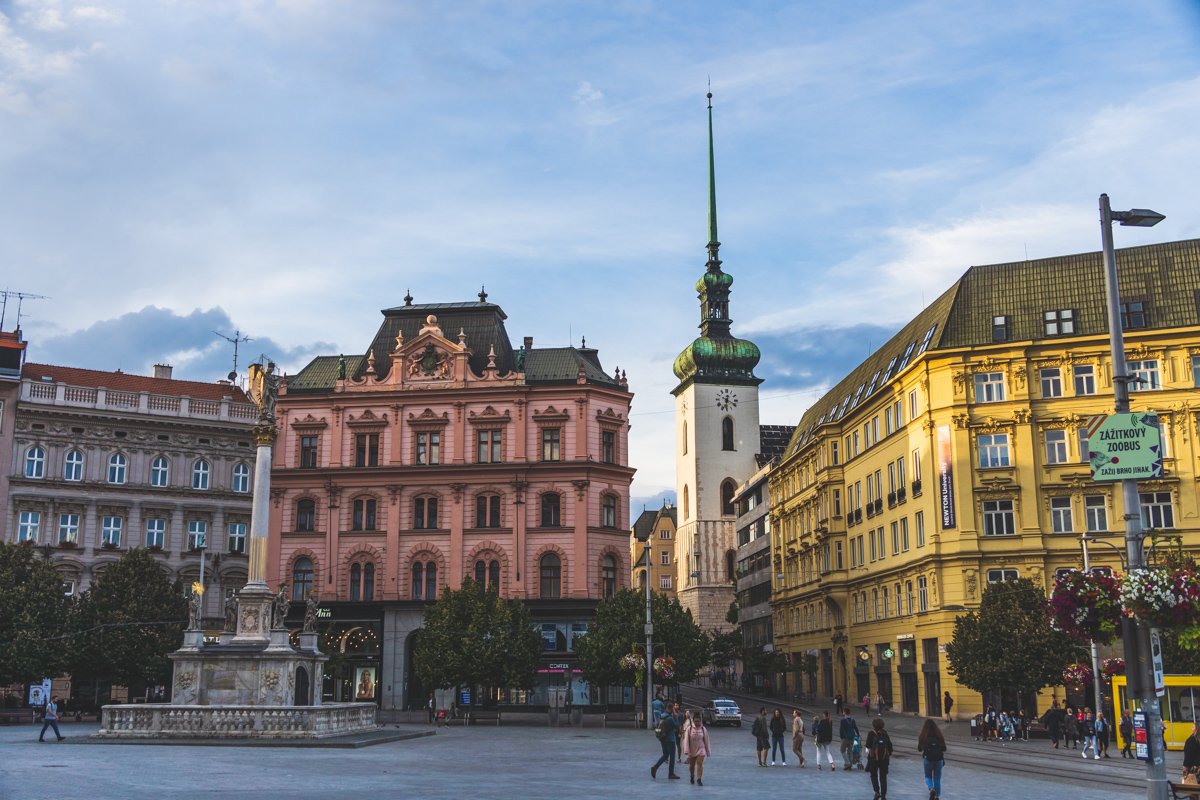 Dům U pikové desítky is conveniently located in Brno, being just a five-minute walk from Nměst Svobody, which is the city's main plaza. The surrounding area is bustling with numerous shopping venues, as well as a plethora of cafes, bars and restaurants to choose from.
Furthermore, visitors to the area can easily access the Kostel sv. Jakuba (St. James Church in Brno) which is a mere two-minute walk away.
Traveling further around the city is also not a problem, as there are multiple tram stops that can be reached within a 5-10 minute walk from Dům U pikové desítky.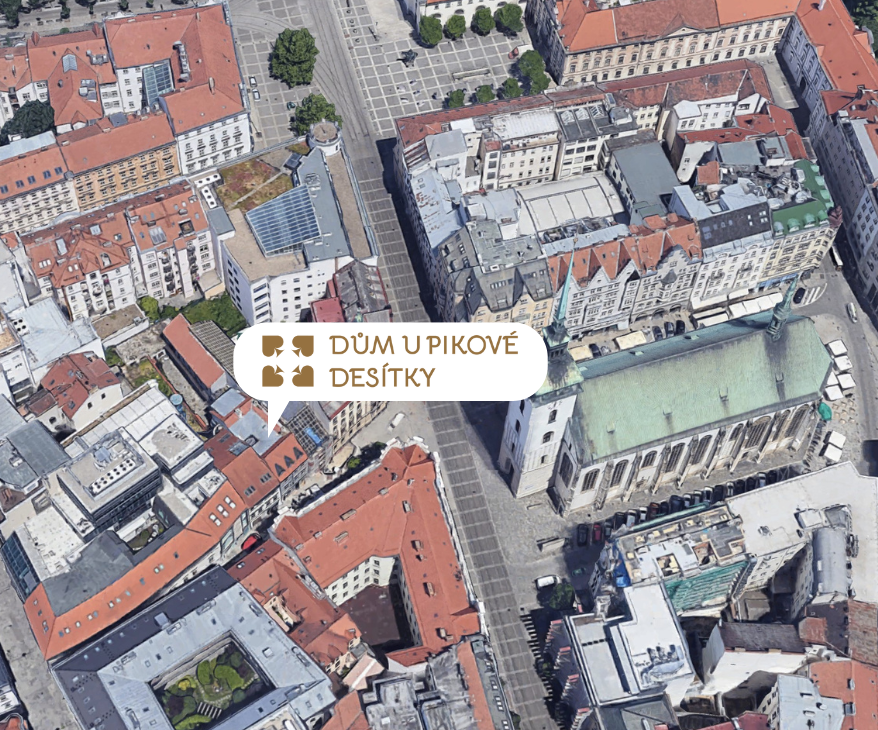 Finding Dům U Pikové Desítky (House at The Ten of Spades) Apartment Hotel Brno, Czechia
Like a lot of boutique accommodations in Europe, finding Dům U Pikové Desítky could be a bit tricky to locate for some.
Google maps does a great job of getting you the correct address and once there, look for a wrought iron gate and a Ten of Spades sign hanging from the building.
You will use a code to open the gate and walk through a small tunnel with a bar on the right, walk past that and into a courtyard.
Check In
There is no reception desk, common area or staff on site. We booked on the platform booking.com and were sent messages with instructions for check in. We also made sure to contact them through Whatsapp in case we needed anything.
Hot Tip: Install and use Whatsapp on your phone when traveling to make free Wi-Fi calls, messages and video chats! Whatsapp is very popular in Europe.
Oh, and in case your phone gets disconnected from your roaming data, like ours briefly did when crossing from Slovakia into Czechia, just restart your phone.
When in doubt, always turn it on and off again!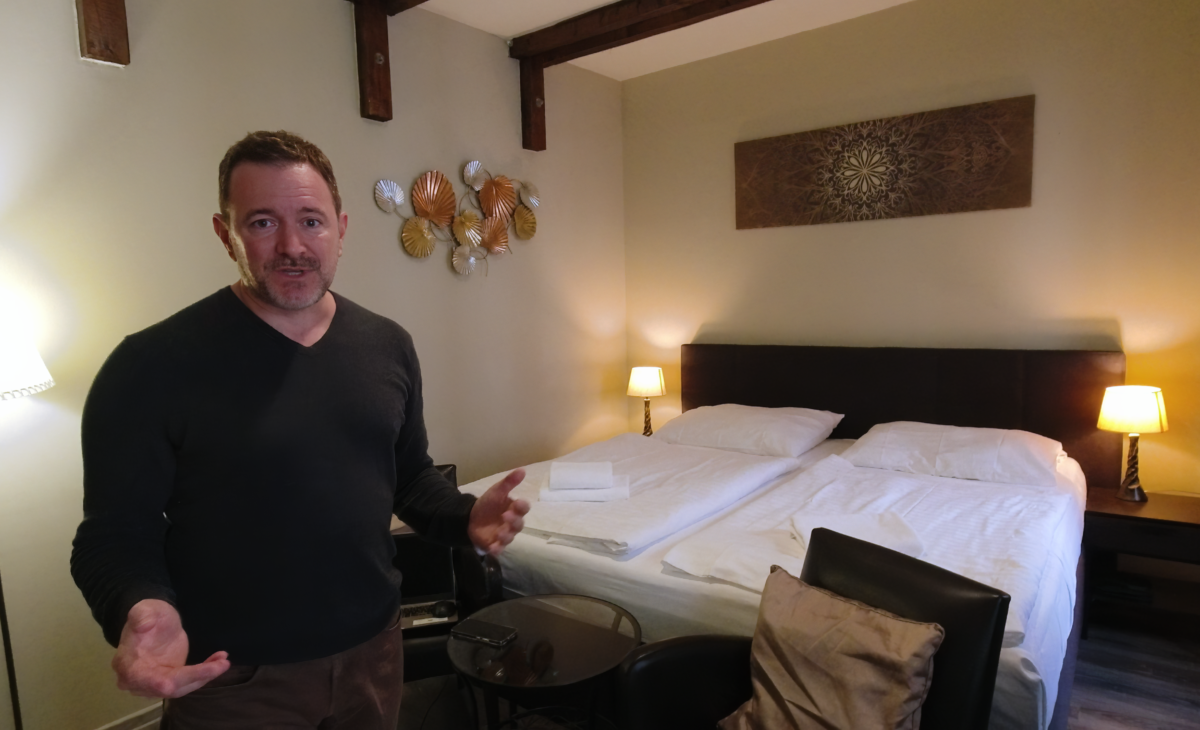 King Room with Bath and Patio
We booked one of their standard rooms and upon arrival found out they had upgraded us to a bigger room (344 feet²) on the second floor with a small terrace.
This was a nice treat but also proved to small hiccup as the hotel has no elevator. Poor Joel had to carry our heavy luggage up two flights of stairs to our room.
We have since upgraded our luggage to Beis suitcases that are much more manageable.
Inside the room we had a small mini fridge, perfect for keeping our yogurts cold for morning breakfast.
Wi-Fi In Room
Wi-Fi is included in your stay like most hotels, and it was quite fast, and we were happy with the speed.
👉Keep Your Data Safe While Traveling: Sign up for Surfshark ✈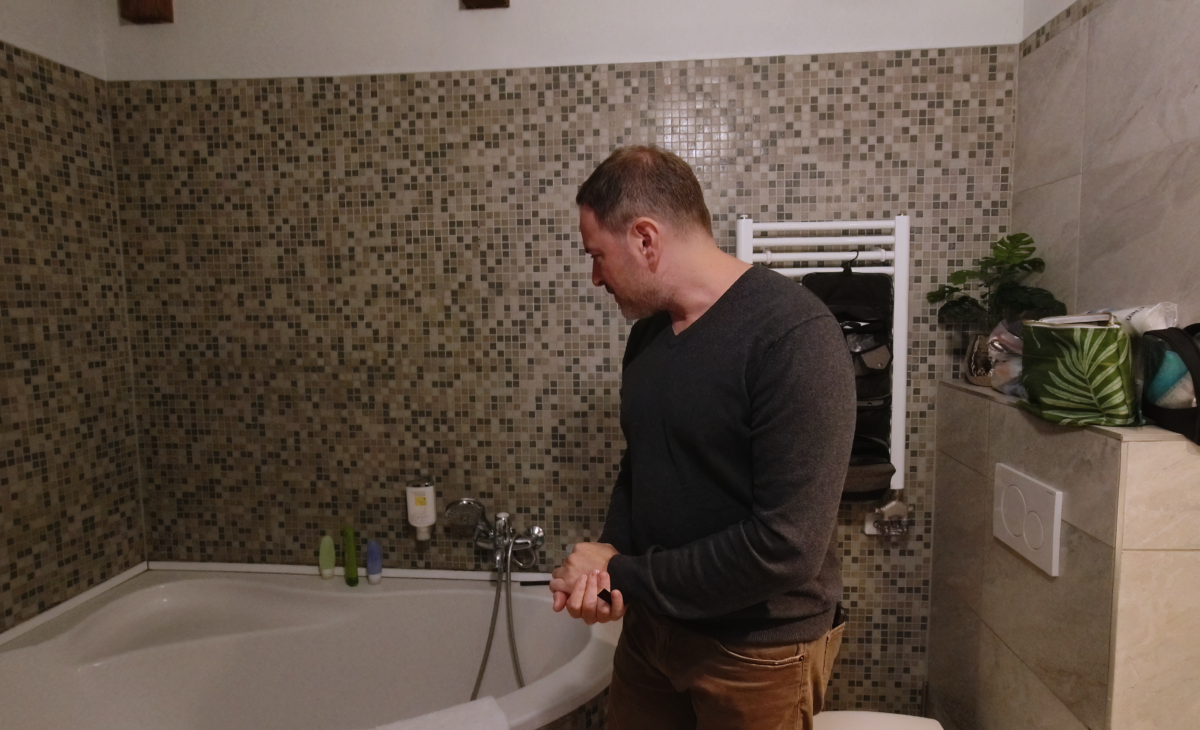 Bathroom
The bathroom was really roomy and large for European standards, and we even had a tub.
Bathing was a bit awkward in the tub. The bath tub had a hand nozzle that was not long enough to use while standing. It seems that we are quite spoiled with showers.
King Bed
One of the biggest treats we had with our stay was the King bed. Most of our stays are queen beds or even separate doubles sometimes pushed together.
The king bed was extremely comfortable with plush pillows and boy did we sleep well!
Terrace
Outside the entrance to our room was a small terrace that overlooked the courtyard below.
I wish we could say we used it more but we really didn't have time due to our busy schedule. We could imagine in the spring and summer months it would be perfect for sitting outside with a glass of wine or a coffee in the morning.
Noise
Even though our hotel stay was located right between busy streets, it was surprisingly quiet.
The rooms are set back off the street and inside a courtyard, so this definitely helps with noise reduction. There were also wooden shutters that did a fantastic job of keeping both the noise and light out.
Extra Amenities
Laundry
As full-time nomads, travelers, and content creators, we typically opt for apartments with in-room washers or laundry facilities. However, for this shorter stay in Brno, we chose a hotel that provides laundry services for a reasonable fee of only 6 euros.
We were able to easily coordinate the the pick up of our laundry with the host.
A simple WhatsApp message was all that was necessary. We just left our laundry in the room they picked it up, washed it, dried it, and even returned it folded for us.
It was a great convenience for our busy schedule.
Breakfast
Unfortunately Dům U Pikové Desítky does not have an on-site restaurant or breakfast offerings.
However, breakfast is offered for 9 Euro at a restaurant about a block from the hotel.
Since our room came with a mini fridge, so it was easier for us to go to a grocery store and pick up yogurt, cheese and some fruit for a quick meal in the room before venturing out.
Should you Stay at Dům U Pikové Desítky Apartment Hotel Brno?
Our stay at Dům U Pikové Desítky in Brno, Czech Republic was a great choice for a comfortable and convenient stay in the city.
It is ideal for anyone looking to take in all the wonderful sights and sounds this vibrant city has to offer. The clean and tidy rooms provided a nice retreat after a long day of sightseeing, seminars, and press trips.
So if you're looking for great, convenient accommodations to explore Brno and beyond, look no further than Dům U Pikové Desítky.
Trust us, you won't be disappointed!
All in all, Brno is undeniably a must-visit destination for everyone looking for a unique and unforgettable travel experience. With its exceptional location, rich cultural heritage, and endless opportunities for exploration, it is sure to capture the heart of every visitor who arrives here.
How to get to Dům U Pikové Desítky (House at The Ten of Spades) Apartment Hotel Brno
Address for Dům U Pikové Desítky (House at The Ten of Spades):
We found it pretty straightforward to get to Dům U Pikové Desítky (House at The Ten of Spades). Here are multiple ways to get there from the main train Station and Bus station, which are across the street from one another.
The most convenient way to get to the hotel is by rideshare. You can easily book a ride with popular rideshare services like Bolt or Uber. The journey should take only 7-10 minutes, assuming moderate traffic.
Please note that your rideshare will drop you off at the edge of Old Town. Old Town is Pedestrian and Tram only. From there, you'll have to walk just one block to reach the hotel.
Tram
One of the many tram stops for Brno is also conveniently located at the main train station.
Hop on the 4 or 9 route to take you into Nměst Svobody (main plaza) which will be about a 7-minute ride.
Get of the tram at Nměst Svobody and you'll walk about 2 minutes to the hotel.
Public transportation tickets are time based and can be purchased with just a tap of your debit or credit card. The cost is just 25 CZK and is good for up to a 60-minute ride.
Walking
If the weather permits and you dont have big heavy bulky suitcases, you can easily walk from the Brno Train Station to the hotel.
It's only a ten to twelve-minute walk, so if you travel light or only have a backpack, your two feet will be just fine, and you'll save some money!
Just note that you will be pulling your suitcase across cobblestone streets the whole way.
Find More Brno Hotels
FAQ
How Far is Dům U Pikové Desítky from the Main Train Station in Brno?
Dům U Pikové Desítky is a quick seven-minute ride by Uber or Bolt from the Main Train Station in Brno or a 10 to 12-minute walk.
Is Brno Safe?
Yes, the Czech Republic ranks as number eight on the 2022 Global Peace Index, so its a very safe country. We were out late at night walking around the city and we both felt comfortable and safe.
Using our affiliate links (hotels.com, expedia.com, VRBO, Hertz, Chase Sapphire Prefered, Viator, etc.) supports great content on wanderinghartz.com and our Youtube channel.
None of the affiliate links cost you anything or increase the price you pay, and we may earn a small referral commission.
Or if you're feeling generous you can buy us a much appreciated glass of wine (or whiskey)!
Cheers,
Happy Wandering!
Joel and Michelle