8 Things To Do In Brno, Czech Republic Beautiful South Moravia
Brno, Czech Republic is definitely worth a visit if you're looking for an off-the-beaten-path destination. It may not have the same level of fame as Prague, but it has its own unique charm that shouldn't be missed.
We already had a taste of the Czech Republic back in 2008 when we visited Prague during our honeymoon, and we completely fell head over heels for the incredible food, wine, beer, and stunning architecture.
As full-time nomads living abroad and slow traveling the world we absolutely love discovering lesser-known cities and countries to explore. That's why we were extremely excited when the chance to attend a travel conference in Brno, Czech Republic came up – we quickly jumped on it!
⚕ Are you covered with International Travel Medical Insurance? Get worldwide coverage with SafetyWing
Is it Worth Visiting Brno Czech Republic
Brno is the second-largest city in the country and offers a lot to visitors. It's a bustling cultural and economic center with a vibrant arts and music scene. The city is also known for its impressive architectural landmarks like Špilberk Castle and Saint Peter and Paul Cathedral.
Brno is a great starting point for exploring the wider region of South Moravia which is filled with exciting sightseeing opportunities. The surrounding countryside is absolutely charming, featuring vineyards and picturesque chateaus that are perfect for a getaway from the city.
Nature enthusiasts can easily visit the Moravian Karst, renowned for its underground cave systems and natural beauty. And if you're up for a day trip, the nearby cities of Vienna or Bratislava are just a short journey away.
We stayed in the heart of the old town which was a fantastic and central location for these 8 fun things to do in Brno.
Visit the Old Town Hall (Stará Radnice)
When visiting Brno climb the 63 meter tower and enjoy breathtaking views of the Špilberk Castle, Cathedral of St Peter and Paul (Gothic), Church of St James (Kostel sv. Jakuba), and the courtyard.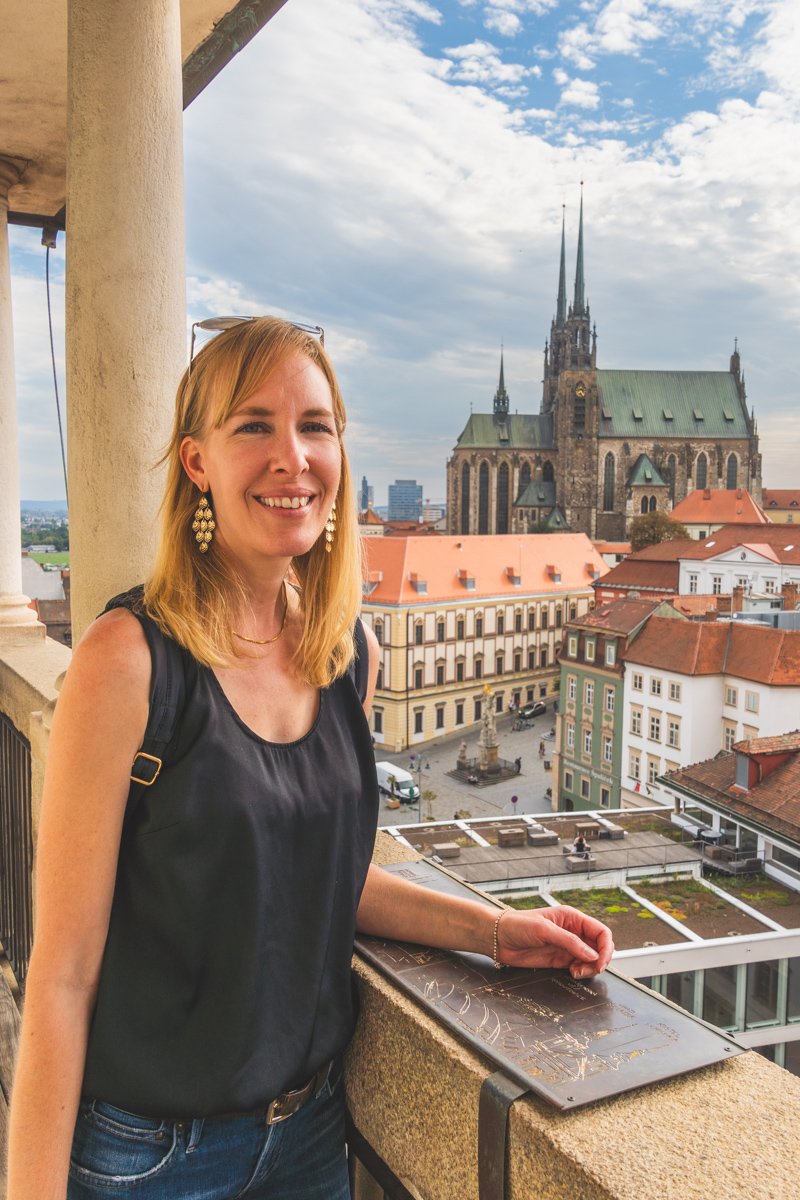 Be sure to bring your camera! The views from the tower are a great photographic opportunity.
Tickets for the tower can only be purchased at the entrance. The last entry is allowed 30 minutes before closing time. You can also buy tickets online!
The courtyard is often used to host various events, from concerts to film screenings. It features 16th-century Renaissance arcades designed by Italian architects, with later modifications in the Early Baroque style.
Don't miss the impressive Gothic Bent Turret, created by Anton Pilgram and located at the entrance to the tower. The tourist information center offers convenient access to WiFi, maps, guides, and tickets for attractions and guided tours.
The best of Brno walking tour takes you the Old Town Hall
Lastly, the tower is home to the Brno Dragon, a large crocodile hanging in an corridor next to the Brno "Wheel."
Špilberk Castle
A well known tourist attraction in Brno, Czech Republic is Spilberk Castle, is an imposing medieval castle that's been around for 700 years. It's a symbol of power and offers amazing views of Brno.
Inside, you'll find a city museum and gallery, and you can even take tours of the old prison in the vaulted tunnels. You can buy tickets online at a reasonable price. Oh, and make sure to stick around for sunset – it's totally worth it!
If you prefer a walking tour, check out these tours that visit the Špilberk Castle: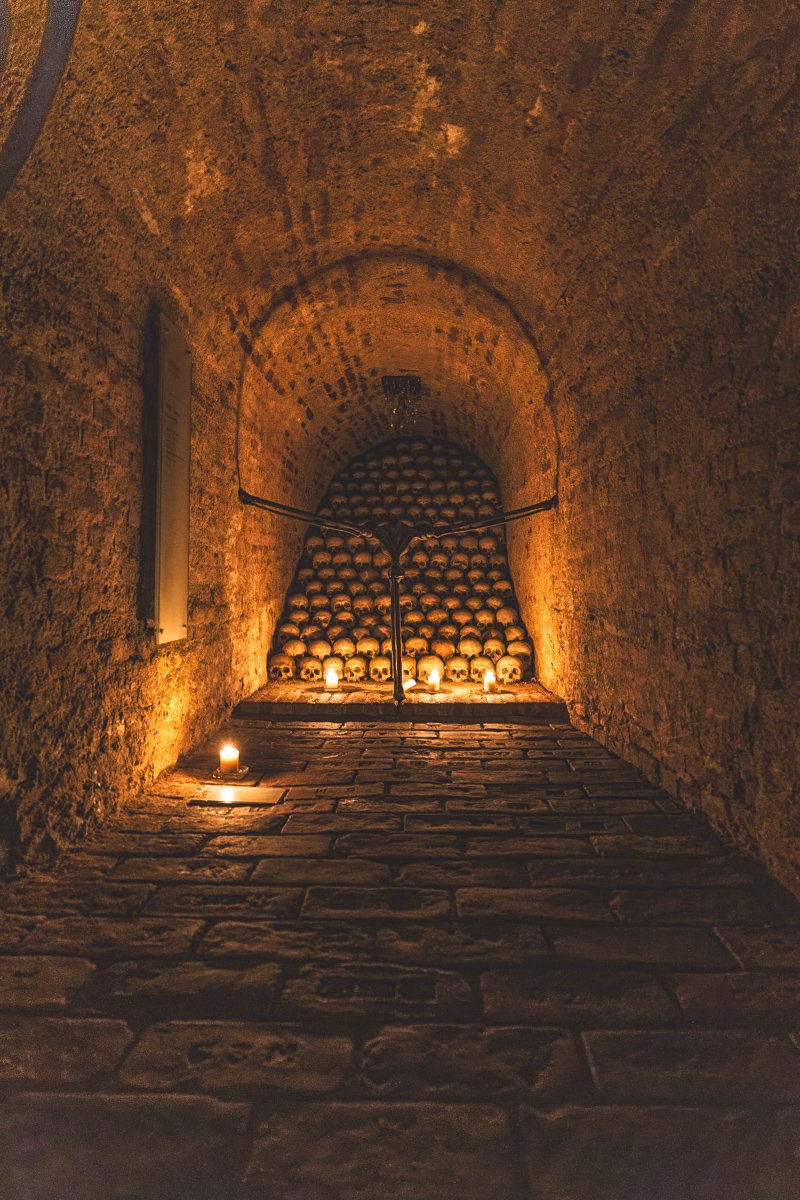 Ossuary at the Church of St James (Kostnice u sv. Jakuba)
Probably one of the more unique experiences in Brno is to visit the Ossuary underneath the Church of St. James. It's actually the second largest ossuary in Europe (in terms of remains), after the more famous catacombs in Paris.
Around 50,000 skeletons were moved into the ossuary to make room for more burials as was common practice in Europe. The guides that lead you through the ossuary are passionate and informative about the history. They share detailed information about the burial practices of the time and the whole layout is well thought out. Plus, they even have music playing as you walk among the bones.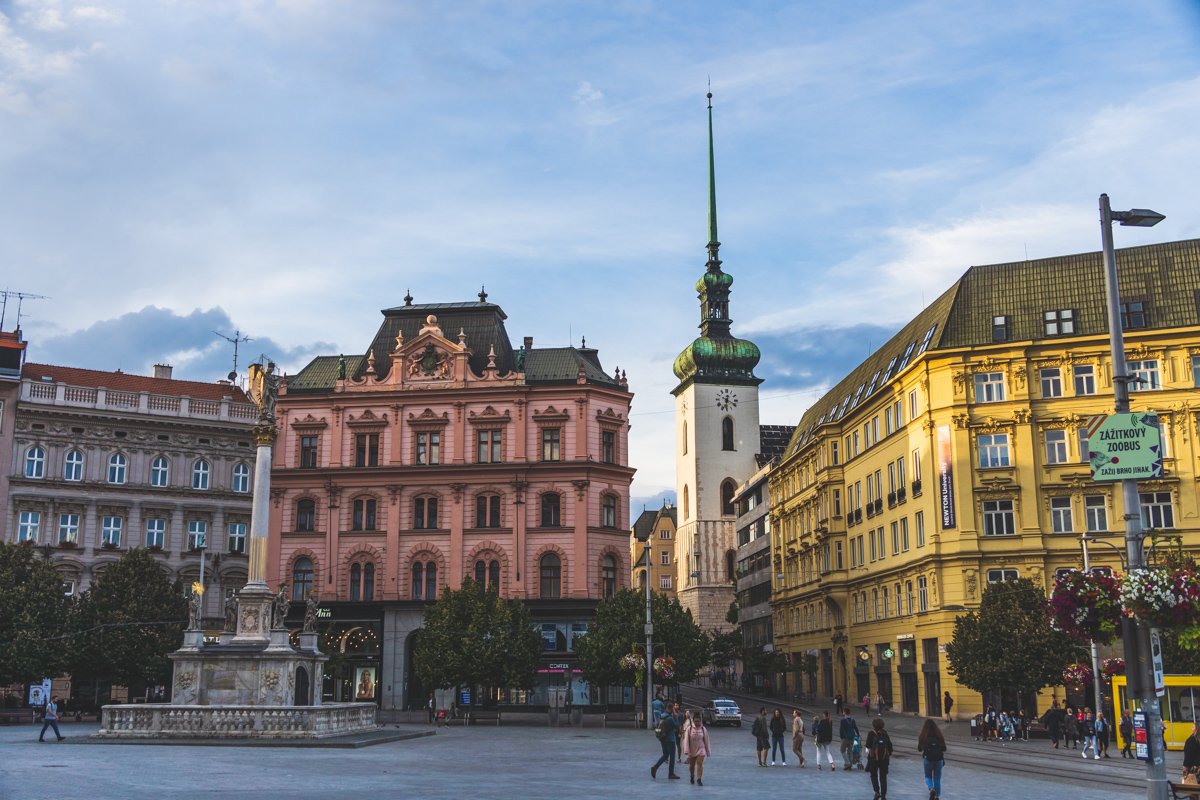 Wander through the Old Town Square
Admire the colorful buildings, charming cafes, and take in the lively atmosphere of the historic Náměstí Svobody Plaza. Don't miss the Astronomical Clock, a symbol of the city's triumph over the Swedish in the 17th century.
Just a short three-minute stroll from the plaza, you can snap a picture with the iconic Equestrian Statue of Margrave Jobst of Luxembourg, a must-see attraction in Brno.
Another five minute walk and you can find yourself at Parnas Fountain, located in Zelný trh square (the vegetable market square). The fountain is a great example of a baroque architectural monuments.
In Zelný trh square you will find a charming farmers market offering fresh vegetables and unique crafts, attracting both locals and tourists. On sunny days, relax on sun loungers, indulge in delicious food, and sip refreshing drinks.
During the holiday season, a charming Christmas market is set up in the square, adorned with a magnificent Christmas tree.
👉Keep Your Data Safe While Traveling: Sign up for Surfshark ✈
Indulge in the Local Brno Food Scene
Don't miss the chance to sample traditional Czech cuisine and local beverages when visiting Brno. Exploring the local food is one of our favorite ways to immerse ourselves in a new city or country.
Brno, being a University town, offers a vibrant nightlife with a variety of bars and reasonably priced restaurants. Here's a couple of recommendations we enjoyed on our trip to Brno.
If you happen to have a craving for Asian cuisine, you're in luck! Brno has a thriving Vietnamese community, and we gladly took advantage of it. We highly recommend trying out Cà Phê Cổ – Brno and Gỗ Brno – Vietnamese Street Food.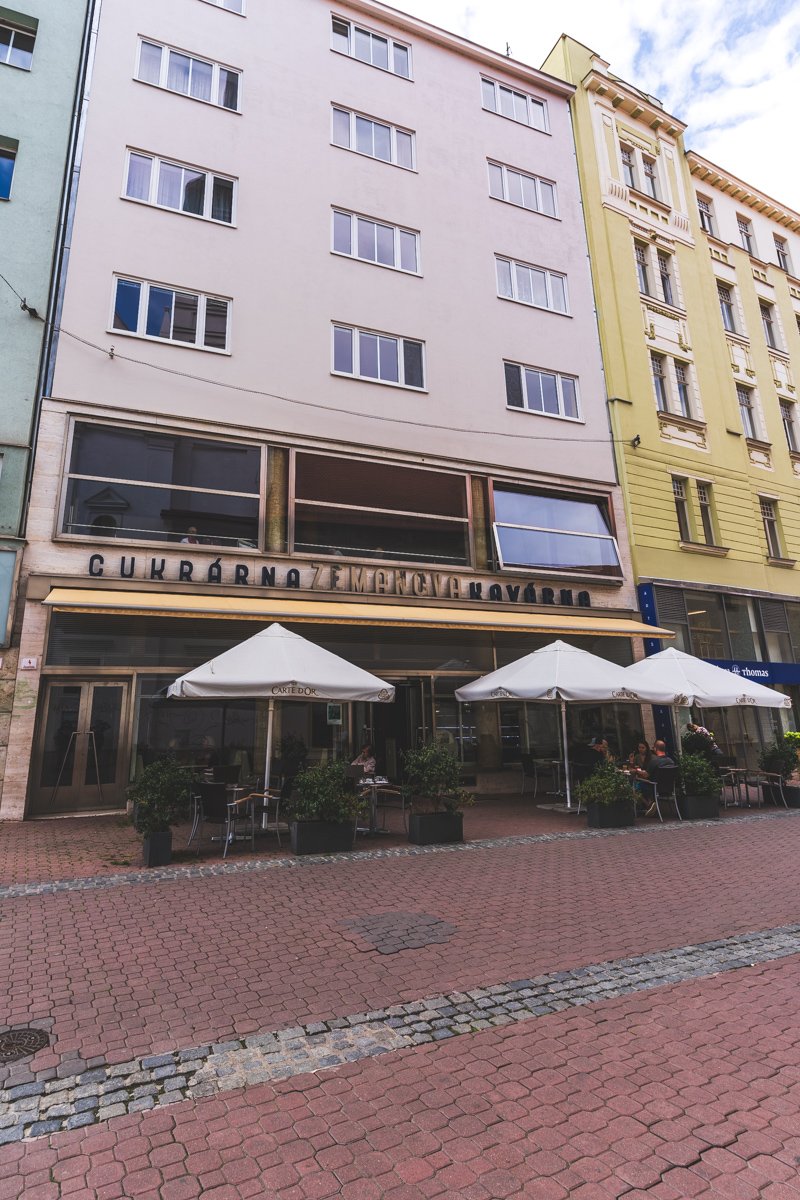 Brno also has a great café and coffee culture with lots of options throughout the city. Don't miss out on an opportunity to take a walking tour when in town. We had the opportunity to join a walking tour led by a local guide who took us on a journey through Brno's coffee shops. Along the tour our guide shared insights into the history of cafes in the city, including the period of communism.
Want to earn up to 60,000 bonus points for travel? We use our Chase Sapphire Preferred card to earn points for all of our travels and you can to. Sign up and you will get 60,000 bonus points after spending $4,000 in the first three months your account is open.
Ferry Across the Brno Reservoir
You can even sail in Brno around the Brno Reservoir. We decided to hop on the number 3 tram from the city center and in just 30 minutes, we arrived at the Přístaviště tram stop.
Taking a ferry ride is a great way to escape the hustle and bustle of the city and enjoy the stunning views of the narrow rocky gorge. You can even do a bit of bird watching and catch a glimpse of Veveří Castle, but more on that later.
The best part is that all the ferries are powered by electric engines, so they're not only quiet but also eco-friendly, reducing air and water pollution.
Veveří Castle
A short day trip outside the city to Veveří Castle is a must see sight in Brno, Czech Republic.
By car it's just a 30 minute drive but if you want to take a more scenic route take the tram from Brno city center and take a 30-45 minute ride out to Bystrc dock. From there, take a pleasant 30-minute ferry ride through the Brno Reservoir to reach Veveří Castle.
Veveří Castle is one of the largest castles in the Czech Republic. It started as a small hunting castle in 1213 and was expanded during the 14th century by Margrave John Henry, who made it his primary residence.
You can opt for a guided tour, which costs around 220 CZK or $10 USD.
If the weather is nice during your visit, we highly recommend taking the scenic route and enjoying the ferry ride to Veveří Castle. Exploring the castle and its grounds was definitely a highlight for us during our time in Brno.
Although technically not in Brno, the Moravian Karst and Punkva Caves are great options for a day trip into the South Moravian countryside. Located about an hour north-east of Brno, the Moravian Karst boasts 1,100 caves, with 5 of them accessible to the public.
Don't miss the Macocha Gorge, which is the deepest gorge in Central Europe, reaching almost 140 meters. It's truly breathtaking! When we stepped out of the cave and caught a glimpse of this "light hole," it felt like something out of a movie.
In the Punkva Caves, you can even take a boat ride along an underground river. And the Catherine Cave is filled with impressive stalagmites.
We had no idea that the Czech Republic had such an extensive cave system, but we had an amazing time exploring it.
TIP: Make sure to wear warm clothes even in the summer it can get quite chilly in the caves.
Brno Wrap Up
Brno definitely surprised us and we really loved our time visiting this beautiful city. Since we only had 10 days in Brno, we're itching to come back and stay for a month or two to fully immerse ourselves in the city and experience everything it has to offer.
If you're finding this helpful then share it with others and subscribe to our newsletter for more content like this! Our goal is to help you live an abundant life through slow travel.
Accomodations in Brno
FAQ
Is Brno Better Than Prague?
Prague is known for its abundance of attractions and activities, but if you prefer a destination with fewer tourists and a more compact city, Brno is an excellent choice.
How Many Days is Enough for Brno?
To fully experience the main tourist attractions in Brno, explore the city, and enjoy a day trip to South Moravia, we recommend a minimum of three days in the city.
Using our affiliate links (hotels.com, expedia.com, VRBO, Hertz, Chase Sapphire Prefered, Viator, etc.) supports great content on wanderinghartz.com and our Youtube channel.
None of the affiliate links cost you anything or increase the price you pay, and we may earn a small referral commission.
Or if you're feeling generous you can buy us a much appreciated glass of wine (or whiskey)!
Cheers,
Happy Wandering!
Joel and Michelle