Life as a Digital Nomad in Bansko, Bulgaria
Our life in Bansko as digital nomads was pretty laid back and easy. Nestled at the base of the Pirin Mountains, the beauty of the mountains dominates your view from every part of town.
Bansko has a rural feel with lots of cows, goats and sheep grazing in nearby fields around town. Their bells could be heard at night and during the day from our apartment. We got used to the lulling sound of their bells clanging while staying on the edge of town. We would even watch horse drawn wagons clip clop during the day pulling carts with hay or supplies to nearby farms in the area.
In the evening kids played out in the streets or rode their bikes as the sun made its long descent. On walks back to our apartment we would pass by the older generation sitting out in front of their houses on the sidewalk. Some sit with friends talking into the afternoon and some just sit by themselves watching as people and cars pass by.
If this sounds idyllic, well it actually was! We loved our summer spent in Bansko so much that we're considering returning next summer!
If you are looking for a similar experience where it is easy to maintain a healthy work life balance then Bansko could be a fantastic option for digital nomads, expats, and retirees.
What makes Bansko a great Nomad Destination?
Despite the small town feel and amazing views, Bansko Bulgaria has become a great Digital Nomad destination due to its low cost of living, ample activities within close proximity to the town and its great expat and retirement community.
The town is small enough you can walk across it in 30 minutes but also has everything you need too. There are loads of restaurants, shops, a lovely town square, parks and grocery stores.
For our non EU passport holding readers it is also currently not in the Schengen Zone. Which makes it a great place in Europe to spend time if you have to watch your Schengen Zone time like we do. As U.S. passport holders we are allowed 90 days in Bulgaria out of every 180 days. This makes Bulgaria a popular place to travel to if you are trying to maximize your time in Europe. 90 days in and 90 days out, rinse and repeat.
Cost of Living for Digital Nomads in Bansko
A huge draw to Bansko is just how affordable it is. Prices increase a bit in the winter months, especially January and February due to the influx of winter sports enthusiasts. The summer and shoulder seasons offer some really great deals.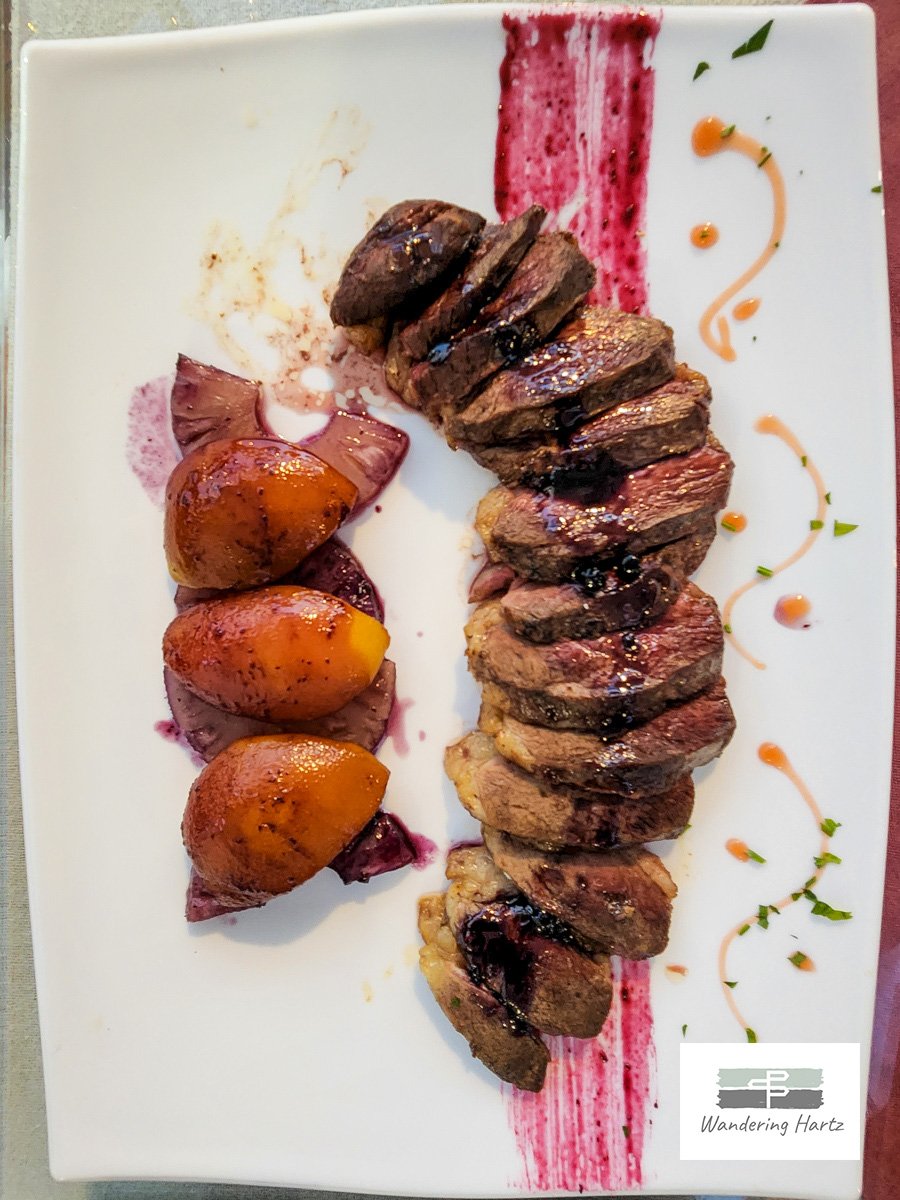 We spent the summer in Bansko and here are a few examples of our costs of living as digital nomads for a month:
Accommodations (Utilities included): $250 per month
Coworking: Most run about $110 a month per person
Dining Out: Great meal for under $6
Drinks: 500ml of draft beer for under $2.5, and a generous glass of wine for $3
Read our full breakdown of our costs of living in Bansko Bulgaria as digital Nomads here.
Things to do in Bansko, Bulgaria as a Digital Nomad
Located at the base of the Pirin mountains, Bansko is known as a winter ski resort since the early 2000's. There's still plenty to do all year round. For the outdoor enthusiasts there are tons of hiking trails, horsebacking riding opportunities, rafting and even rock climbing. You can visit hot/mineral springs, go on a day trip to Greece to dip your toes in the Mediterranean or visit historical sites like the Rila Monastery.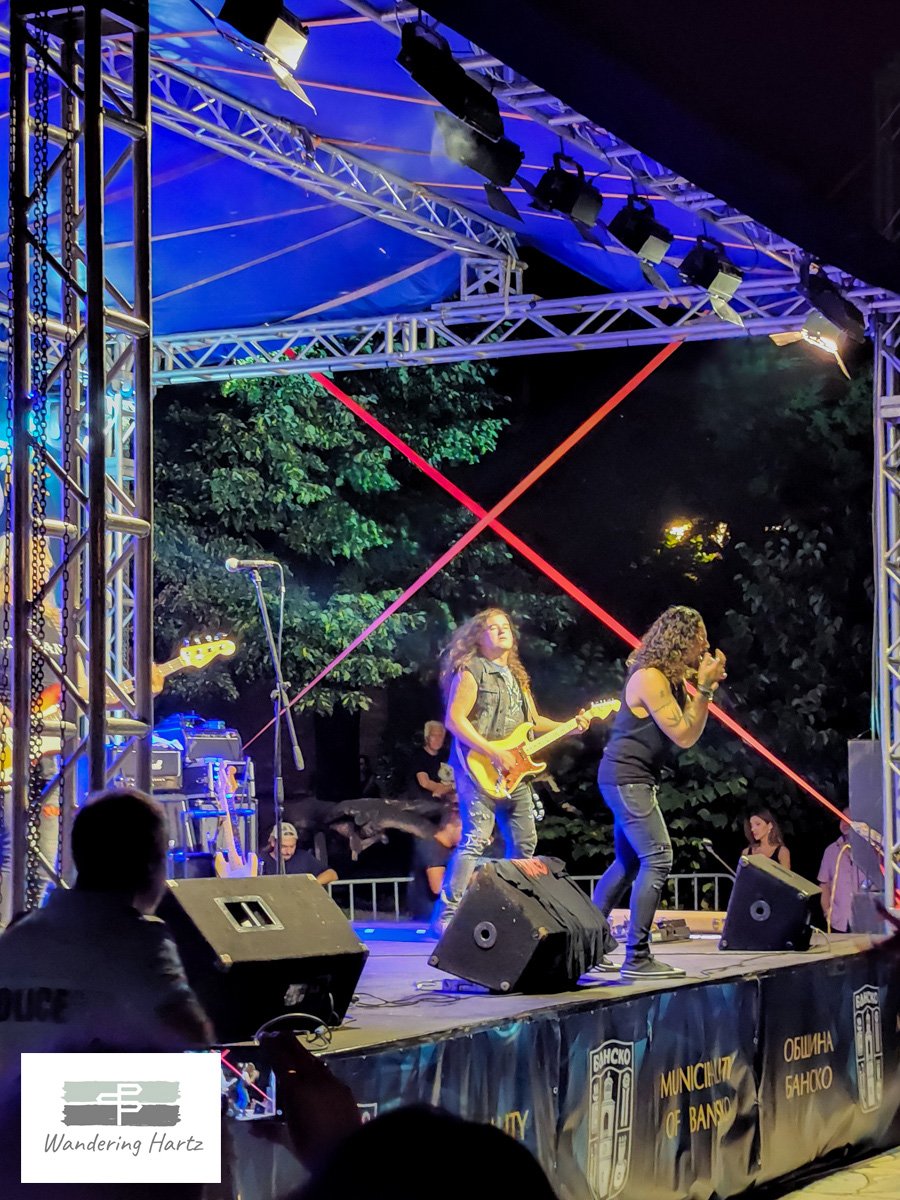 There's even several festivals throughout the summer in Bansko including the popular Jazz Fest, kids festival and our unexpected favorite the rock & roll festival.
History buffs will also get their fill with the region's long and tumultuous history. Settled nearly 8,000 years ago this part of Bulgaria has plenty of ancient ruins, monasteries, wine culture and stories of wars and conquest. Be sure to go on a walking tour of Bansko to learn all about its long history.
Did you know that Bulgaria is the summer home of the black and white storks? We didn't either and were pleasantly surprised by watching the massive birds make huge nests in town atop the church tower and power poles. You can't help but notice them flying overhead or perched high on a rooftop looking after their young. Bansko and the surrounding towns are known to have one of the largest populations of storks in Bulgaria.
Bansko has a Good Nomad and Expat Community
Arriving in a new place as a nomad you always wonder how easy it is to integrate into the community. We were actually quite surprised at how quickly we settled into Bansko. There's a large expat and nomad community who are very friendly and full of great tips and advice. They made us feel very welcome.
There are a few Facebook groups we recommend joining to attend meetups and meet fellow nomads and locals living and working in Bansko.
Bansko Social – Digital Nomads, Coworkers & Friends
Coworking Bansko – Base for Digital Nomads in Bulgaria | Facebook
Coworking in Bansko, Bulgaria
The large expat and nomad community also has a huge concentration of coworking spaces for such a small town. This makes it really easy to meet people and make friends.
With a low cost of living, affordable accommodations and food, Bansko checks all boxes as a great digital nomad hub.
Four Leaf Clover, where we stayed in Bansko, has a coworking space on the property. We mostly worked from there or inside our apartment or local restaurants. You can also find other coworking spaces sprinkled across town.
This is one of the best ways to get integrated into the nomad community in Bansko. You can attend weekly BBQ's, meetups to learn a new skill and activities like wine tasting in Melink or hiking up in the Pirin Mountains.
Coworking Spaces in Bansko
Great Alternative Coworking Options
Alternatively there are quite a few other options for getting work done in town. A handful of restaurants have fast wifi and are friendly to us laptop warriors working while consuming. A few of our favorites were Ginger, Emar and Wine Bar 25.
BanskoLabs is not a co-work, but a local non profit focusing on community learning that is often open for people to freely work from. You can offer a donation or make a purchase from the bar to show your appreciation for the fast internet and plenty of power plugs.
Accommodations in Bansko
Our stay in Bansko was at the Four Leaf Clover, a coliving and coworking apartment complex on the edge of town in Bansko. It's very affordable and quite popular with nomads and some expats. The owner is lovely and welcoming and we settled quickly into life living in Bansko with the community's help.
Learn more about our stay at Four Leaf Clover
Four Leaf Clover is not the only Coliving in town either. Co-working Bansko also has coliving apartments available as well as Coliving Avalon Bansko.
If you're looking for a condo or hotel to stay there are a good number of vacation rentals available and hotels to meet your needs.
Finally there are quite a few private condos that are available depending on the time of year. You can find them via the facebook groups and some of the co-works have lists available, but they can be hard to come by depending on the season.
Easy to get to Bansko from Sofia
Finally Bansko is really easy to get to from Sofia, the capital city's international airport. Flights in and out of Sofia are plentiful and the airport is easy to navigate.
There are several options to get to Bansko from Sofia including by bus, shuttles, car rental and private transfer. Expect to take between 2.5 hours and 4 hours depending on your preferred method.
Check out our guide to Getting to Bansko
Should Bansko be on your Digital Nomad Destination List?
When you consider the quality of life as a digital nomad and the work life balance we enjoyed, we loved Bansko, Bulgaria and highly recommend it. You can't beat the low cost of living, views, relative easy to get there and proximity to Greece and the rest of Europe.
Using our affiliate links (hotels.com, expedia.com, VRBO, Hertz, Chase Sapphire Prefered, Viator, etc.) supports great content on wanderinghartz.com and our Youtube channel.
None of the affiliate links cost you anything or increase the price you pay, and we may earn a small referral commission.
Or if you're feeling generous you can buy us a much appreciated glass of wine (or whiskey)!
Cheers,
Happy Wandering!
Joel and Michelle