Affordable or Not? Bansko Bulgaria Cost of Living for Digital Nomads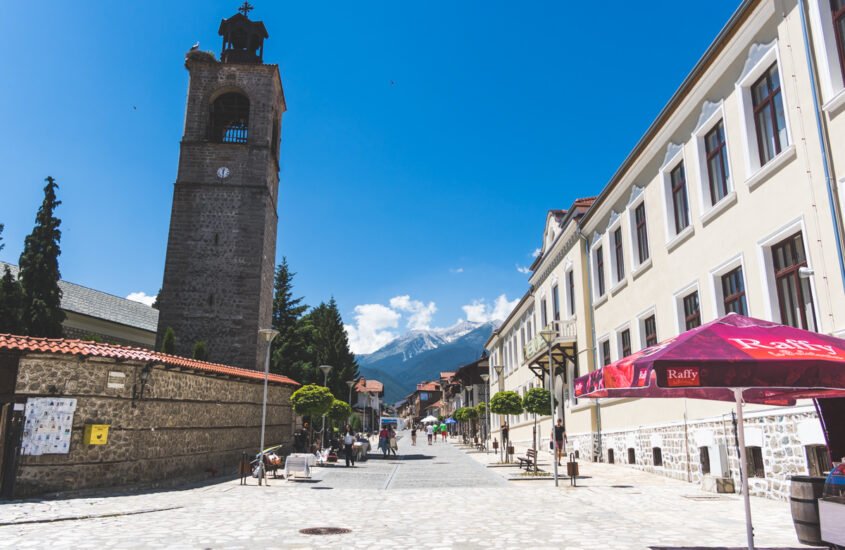 Traveling as a digital nomad can be expensive and we were looking for a place that would provide an affordable cost of living. We found just the place in Bansko Bulgaria. We made Bansko our home for almost 3 months in the summer of 2022. It was our first time out of the United States since 2017 and our first big journey since selling our house and everything we owned at the end of 2019.
We were itching to leave the U.S. after traveling domestically the last 2.5 years so we decided Bulgaria would be our jumping off point for our first adventure back in Europe. Bansko Nomad Fest happened to land during our dates so it was the perfect excuse for us to attend the conference and make the beautiful ski town of Bansko our home for the summer.
Read about Digital Nomad Life in Bansko
In this article we are going to break down our expenses like:
Since we lived in Bansko for 2 months we are sharing both months to give you a better idea of costs.
*All prices are converted to U.S. dollars as of July and August 2022.
How Much is it to Rent an Apartment in Bansko, Bulgaria
Since Bansko is a ski town, prices can fluctuate between winter and summer. The great news is you can find some really great deals in the summer like we did.
We stayed at a Coliving and Coworking Apartment on the edge of town called Four Leaf Clover. We loved our stay there and got to meet some really great people that make it a wonderful community.
| | July | August |
| --- | --- | --- |
| Rent | $230 | $230 |
| Utilities | $19 | $26 |
| Totals | $249 | $256 |
Learn more about our stay at Four Leaf Clover Coliving and Coworking.
More accommodation options in Bansko: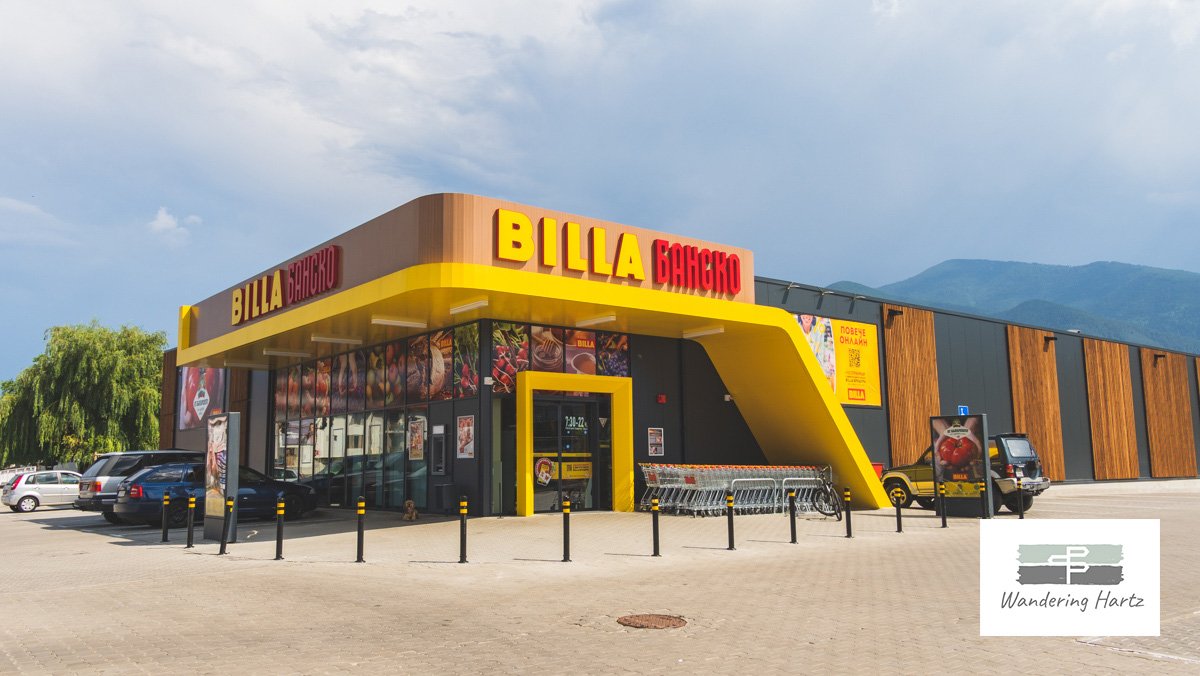 Grocery Costs in Bansko, Bulgaria?
So what is the grocery situation in Bansko? Bansko has a bunch of little corner markets all over town perfect for snacks and drinks but they are not the best for groceries.
Our grocery costs mostly include breakfast, snacks, adult beverages like beer or wine and also included household items like toilet paper, detergents and the like. You will see a little bit of a difference between July and August as we ate out a lot more in July. Bansko is quite an affordable place to dine out which you will see in a moment.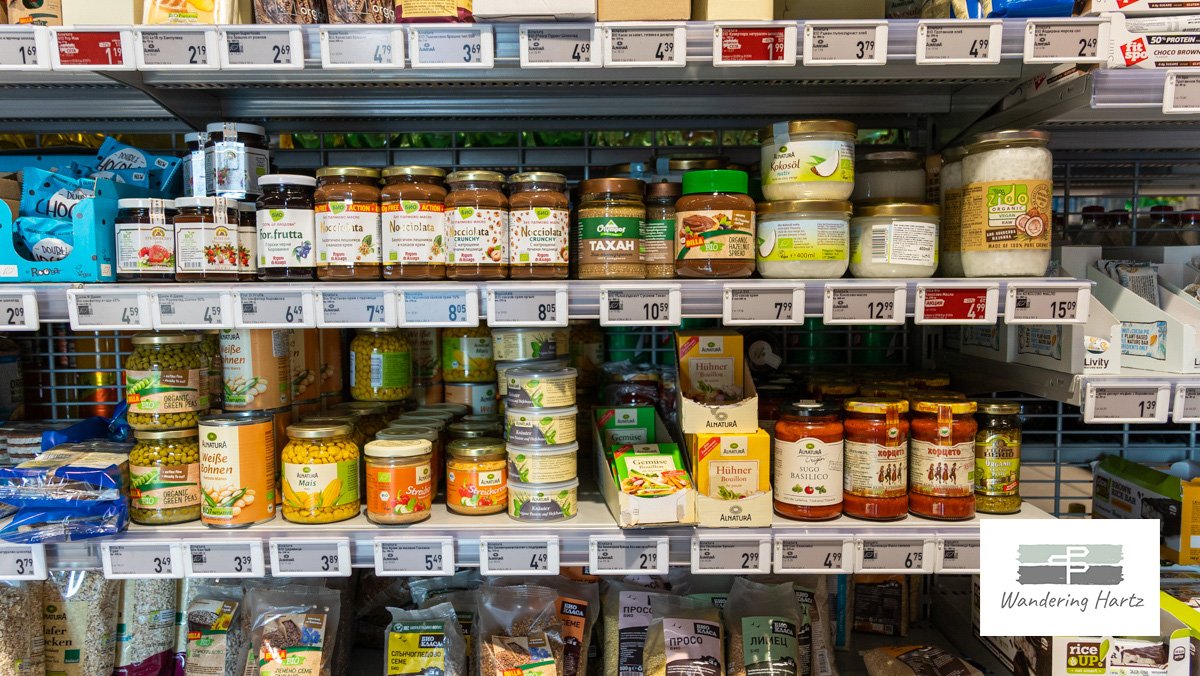 Grocery Stores
For most of our grocery needs we shopped at the new Billa grocery store at the bottom of town. There's also a couple of mid-sized grocery stores in the Gondola area that are open as well during the summer. A lot of locals with cars also shop at the Lidl in Razlog, which is a town just a few minutes from Bansko. Lidl has some different offerings than the Billa but we didn't notice a really big price difference.
Farmers Market on off the Square
Every Sunday there's also a farmers market just off the town square in Bansko. You can pick up lots of fresh local produce at affordable prices. You can even get some locally made wine and Rakia which we refer to as "trunk wine" as it is often sold out of trunks on the side of the road. You have been warned. Nonetheless the farmers market is a great way to support the farmers in the area and mingle with the locals.
| | July | August |
| --- | --- | --- |
| Groceries (Includes beverages, snacks, breakfast and household) | $271 | $234 |
*The difference you're seeing in July was due to having to purchase the household supplies that ended up lasting us into August.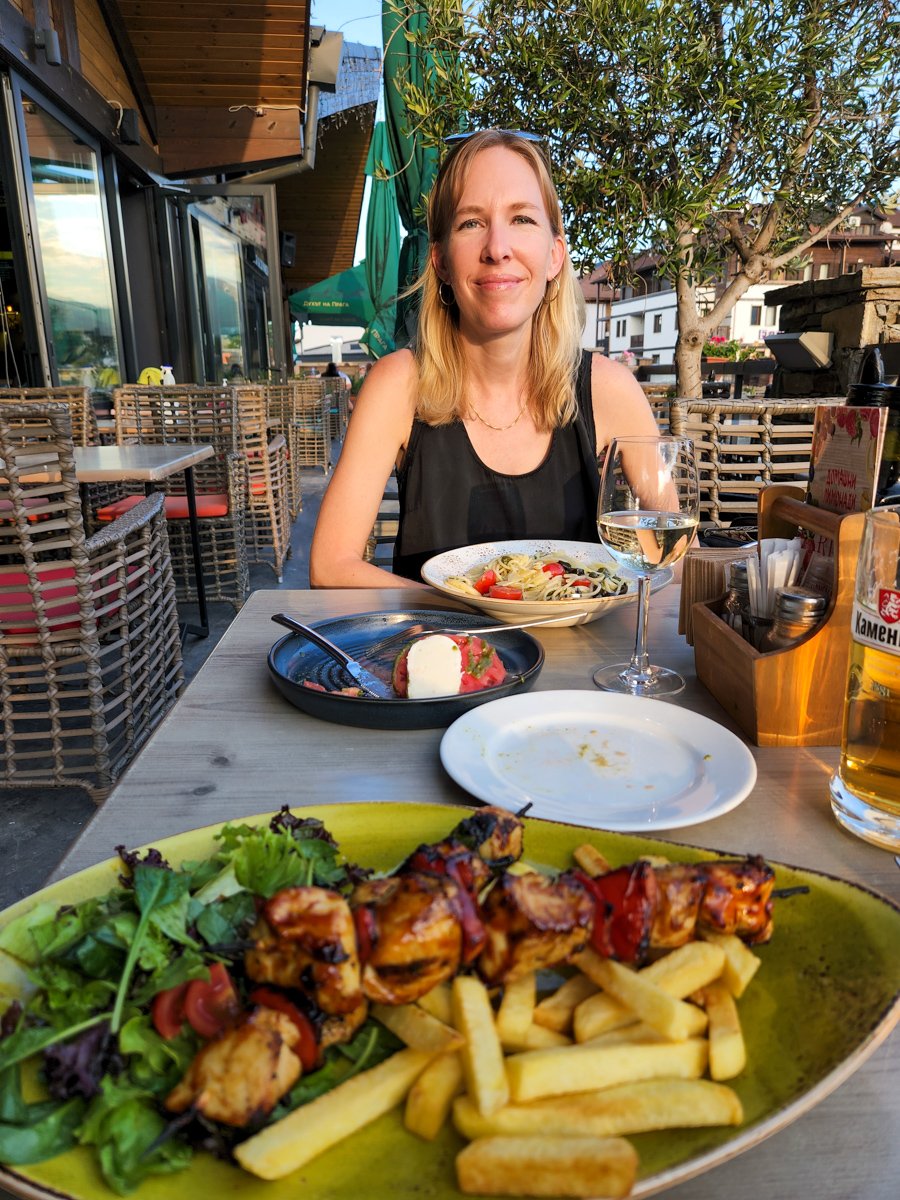 How much did we spend Dining Out in Bansko?
We did an experiment to see what the costs would be if we ate out nearly all of our meals in July. Now this may seem like a lot but we actually ate out nearly every single day, sometimes even twice a day. Keep in mind this also includes tax and tips.
If your not familiar with Europe's VAT (value added tax), it is a flat tax that is built into the price of goods and services. We found that tipping in Bulgaria is not always expected at restaurants like in the United States. The general rule of thumb for tipping in Bulgaria usually ended up being around 5-10% of the total bill.
Our totals also include adult beverages, as we usually had wine or beer with our meals. It is nearly impossible to sort those separately so we included it all together.
| | July | August |
| --- | --- | --- |
| Dining Out (Meals & Drinks out) | $644 | $471 |
| Meals out (Meals with drinks only) | 25 | 17 |
*In August we scaled back our eating out and mostly just did dinners out with and a few lunches.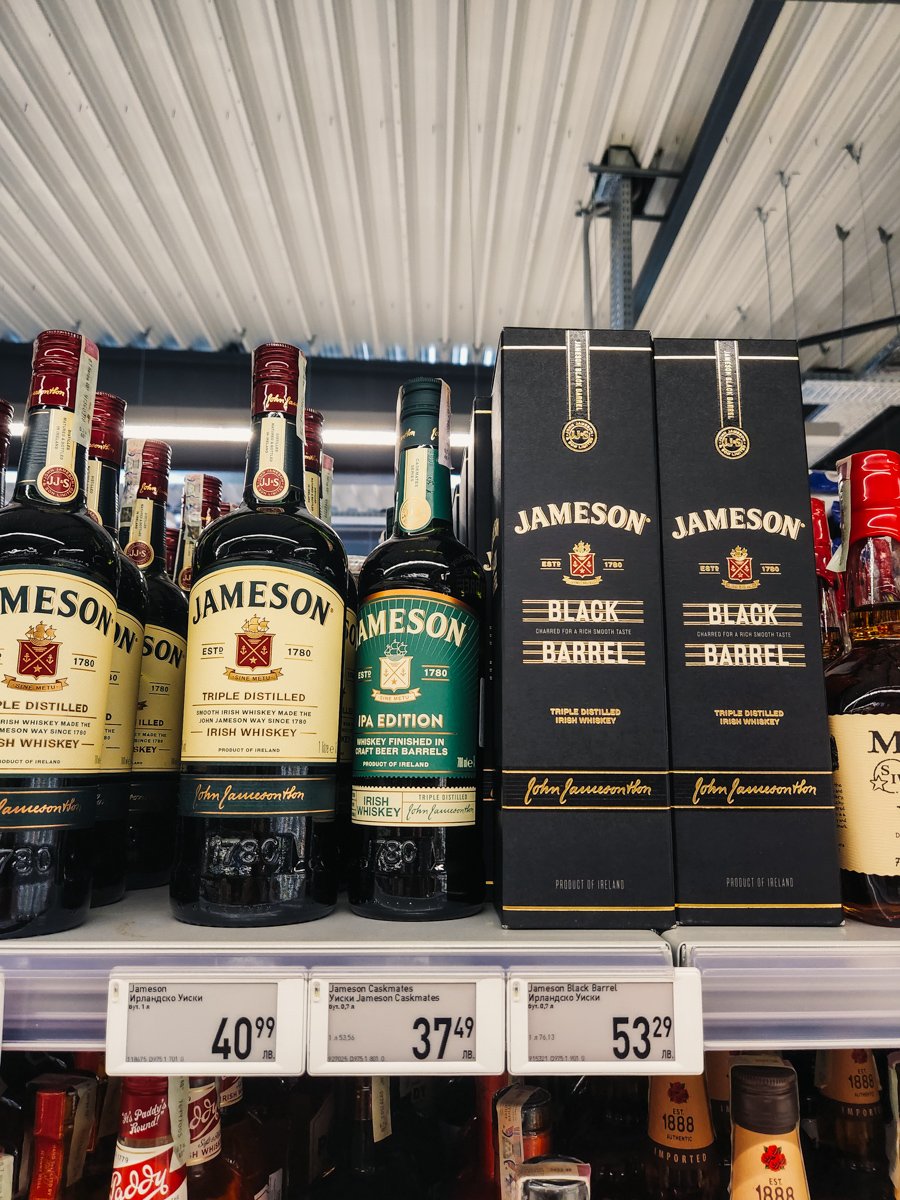 To give you an idea of some drink costs, beers at restaurants were between $1.90-$3 for a half liter and wine was $2.25 – $3.25 for a massive pour. Easily 5-6 oz. pours or around 150ml to 200ml.
Whereas at the grocery store you could easily find a liter of local beer for $.75-1.30 and a bottle of wine for $3-$6. We even found some tasty boxed wine for $6-$9 for 3Liters!
Some other quick foods costs while dining out:
Pizza (26cm) at a restaurant would averaged around $4.50
Shopska Salads were also $4.50 – $6
Duck Margaret with peach and cranberry sauce was $10
Chicken Shashlik (big skewer), shopska salad, garlic flat bread and three glasses of wine was only $26 with tip.
Transportation Costs
Getting to Bansko from Sofia was really easy. There are several options available but we took the bus which was really affordable. Read about how to get to Bansko here.
Once in Bansko we barely used any local transportation as we prefered to walk everywhere. The town is super walkable and it only took 30 minutes to get all the way across town.
Occasionally we got a ride up to the gondola area from one of our fellow coliving members who had a car. Any transportation that was part of an experience we include in those costs.
| | July | August |
| --- | --- | --- |
| Transportation | $41 | $19 |
Our Bus from Sofia cost $21 for the both of us in July and $19 in August (more favorable exchange rate) each way.
Taxis were about $5 one way to get around Bansko and the local bus that takes you up the mountain costs $6 per person each way to get to Vihren Hut.
Experiences
This is our category for all of the activities that we partake in where we are staying. Depending on where we are, we try to book experiences that will let us see and explore our surroundings.
Sometimes we find cool experiences talking with other nomads or on facebook groups. But often we like to book our bigger experiences through a travel experience site like Viator or Get Your Guide.
We took an amazing wine tour to the Melnik region of Bulgaria which you can read about here.
We also visited some local hot springs, went on a fun ATV tour, visited a beautiful monastery and took the gondola ride up into the Pirin Mountains where Joel slid down Europe's longest water slide!
Our total Experiences costs for both of us were:
| | July | August |
| --- | --- | --- |
| Experiences | $128 | $102 |
Our stay in Bansko was actually pretty chill as we are focused on our work life balance, which is the main reason we are travel like we do. Work, Play, Repeat.
Coworking
We know a lot of nomads enjoy using coworking spaces while they travel. They are great for meeting other people and getting the lay of the land. We ended up using the coworking at Four Leaf Clover or worked from our room the bulk of time.
There are a lot of great co-working spaces in Bansko and coworking alternatives too. Read about those and more: Living as a Digital Nomad in Bansko.
The costs of Co-works can started about $110 a month a per person during our stay in Bansko but ours cost us $50 each for a total of $100 each month. Our co-work in our Co-Live was running a summer special! Be sure to check the latest prices to see if it is a good value for your budget.
Learn more about our stay at Four Leaf Clover Coliving and Coworking.
Our Fixed Costs while Traveling
We have a couple of fixed costs that we will include that are directly related to our travels and time in Bansko.
Travel Medical Insurance
Starting with our Travel Medical Insurance that we each carry. We use Nomad Insurance from SafetyWing which provides travel coverage plus medical benefits worldwide. You can read our article about it here.
The Nomad Insurance from Safety Wing cost us $136 for both of us every 28 days. If you're younger than 40 it starts at just $41 a month per person. Oh to be under 40 years old again!
Mobile Phone Service
Next we have a fixed cost with our mobile phones. We have so far chosen to keep our U.S. based mobile service since it offers quite a bit coverage as well as includes our Netflix, Paramount+ and appleTV. We don't really make a lot time to watch all of these but its included in the price.
They really came in handy when we got covid though! On a coworking related note, check out We Crashed on AppleTV!
Our phone service is through T-Mobile and we have the Magenta Plus plan and since Joel is a veteran of the U.S. Air Force we get a discount!
Our coverage includes free wifi calling to the States, texting and 5 gigs of high speed mobile data each month. We actually never went over that 5 gigs each. But if we do, it slows down to 3g speeds.
We can definitely get local sim cards or e-sims and save money on our phone service, but right now it's just more convenient to keep our U.S. plan. We may change this later if we find ourselves in one place for longer.
Of course getting a local sim card is the cheapest way to make local calls in Bulgaria. They run about $17 but we we able to WhatsApp most of the time if we needed to make any local calls. There are quite a few businesses in Bansko that have WhatsApp Numbers.
| | July | August |
| --- | --- | --- |
| Mobile Phone & Internet | $168 | $101 |
Our July costs were a bit higher because we purchased new phones so that reflects some of the initial costs. But generally our service runs us about $110 a month for the two of us.
Total Cost of Living in Bansko as Digital Nomads
Alright now for the total cost for us to live in Bansko, Bulgaria as digital nomads. Again your costs will vary based on your accommodations, dining out and the experiences you partake in. You can definitely spend a lot less than we did, especially on dining out!
Obviously our costs as digital nomads will be higher than locals, expats or retirees who gain a lot more advantages to being in place for years at a time.
So our total costs for 2 people living in Bansko, Bulgaria were:
| | July | August |
| --- | --- | --- |
| Total Costs | $1,737 | $1,419 |
Wrap up
Finally there are other costs costs of living that we are not including like replacing a pair of pants or makeup, as those are pretty specific to your situation. We are also not including airfare and other travel blogger business costs. As these vary or are not relevant to most of our readers. We want to give you a good idea or base of what you can expect to spend while staying in Bulgaria as a nomad.
We hope that this gives you a good idea of the cost of living in Bansko as a digital nomad. You can see just how affordable Bulgaria can be especially when compared to the United States. When you look at the quality of life we were able to achieve we think it is a really great place to come as a nomad, an expat or even a retiree.
It was the perfect place for us to get some work done and also have a lot of fun for a reasonable price.
Using our affiliate links (hotels.com, expedia.com, VRBO, Hertz, Chase Sapphire Prefered, Viator, etc.) supports great content on wanderinghartz.com and our Youtube channel.
None of the affiliate links cost you anything or increase the price you pay, and we may earn a small referral commission.
Or if you're feeling generous you can buy us a much appreciated glass of wine (or whiskey)!
Cheers,
Happy Wandering!
Joel and Michelle