How to Spend Your 3-6 Hour San Juan Cruise Port of Call
The San Juan Cruise port is very popular for Eastern and Southern Caribbean cruises. In fact it is also the largest and busiest in the Caribbean. Most cruise ships will stop at this port of call, especially round trip departures from Miami, Fort Lauderdale and Port Canaveral.
Known for its 500 years of history, shopping, a plethora of dining options, and cultural experiences. This is what makes the San Juan port such a popular spot and lively destination. Best of all, everything is available just a couple of blocks away.
You Might Also Like…
How long do you have at a San Juan Port of Call?
Most cruise ships only dock in San Juan for 6-8 hours at the most. You will want to keep in mind it could take 15-30 minutes to disembark the cruise ship. Reboarding the cruise ship after your shore excursion will also take time. Most cruise ships require you to be fully boarded 90 minutes before departure. That mean 90 minutes prior to 6pm which is the average time most San Juan port of Calls depart.
Keeping this in mind it realistically only gives you about 3 – 6 hours to really enjoy the city. You will of course need to take in consideration any disabilities or the physical conditioning of your group as well. Based on this information we consider this to be a realistic itinerary for a day in Old San Juan.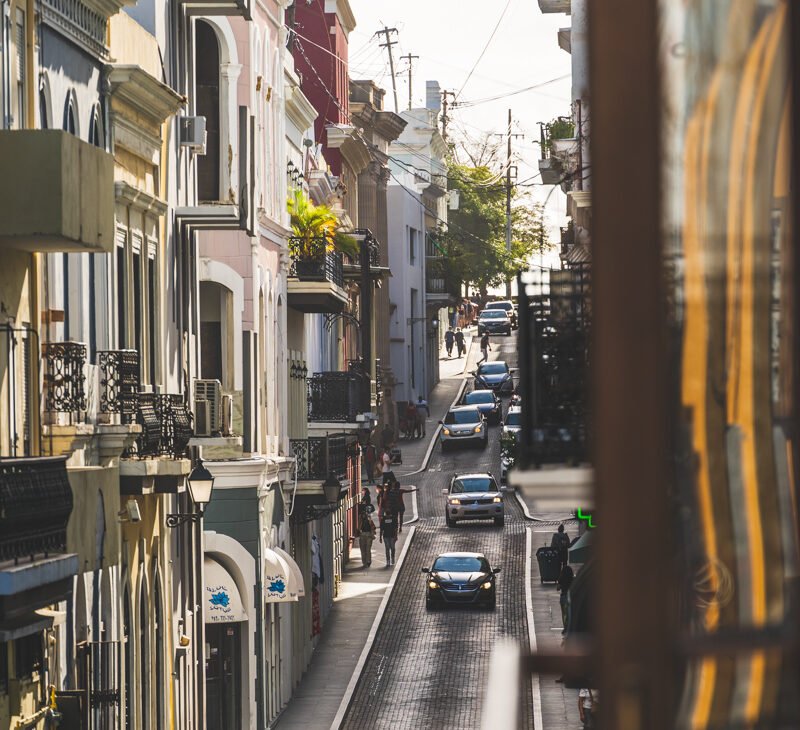 Keep your data private while traveling with Surfshark VPN
Old San Juan
Viejo San Juan! Getting to Old San Juan is super easy from the cruise ship port. The cruise port is literally at the bottom of Old San Juan. You can walk a couple of blocks or take a taxi or rideshare to get into the heart of the ancient walled city. In minutes you will find yourself walking cobblestone streets surrounded by Spanish style architecture.
Our preference to see the city was by foot. It's easy to navigate and there's multiple plazas and parks to sit down and take a break or enjoy an fresh Pina Colada. More on that in a minute.
Rain showers can pop up, you are in the tropics after all, so bring a small umbrella or duck into a coffee shop until the rain passes. We experienced this on our trip to Old San Juan and we managed to duck under an umbrella at an outdoor restaurant.
What to See in Old San Juan
Once you have your bearings, start exploring! One of the best ways to experience any place is to just get lost in it all. Old San Juan is a walled city and very big so you dont have to worry about actually getting lost.
Walk to Calle de Fortaleza and get your picture taken with the hanging street art. You've probably seen this somewhere on Instagram, it's a fun photo op and the art is changed out monthly. During our trip there were pink kites hanging up for breast cancer awareness.
Next, make your way to La Casa Estrecha, (the narrowest house in Puerto Rico). It is just a 4 minute walk from Calle de Fortaleza. You can also enjoy lovely views of the San Juan Bay from a lookout only a few feet away.
Explore the 500 year old Spanish fortress Castillo San Felipe del Morro. Be prepared for lots of sun, there's no shade so wear sunscreen and good walking shoes. This is an impressive castle surrounded by grassy hills and is often full of people flying kites. The entrance fee is $10 and will also get you into Castillo de San Cristóbal. It's definitely worth a visit so plan to spend 2-3 hours exploring.
Guided Tours in Old San Juan
If you want a guided tour during your San Juan port of call instead of doing it yourself, we recommend booking through Viator or Get Your Guide. Here are a few we think you will enjoy:
Flavors of Old San Juan Food Tour is very popular with over 2,800 5 star reviews. The tour is 3 hours long. Plan to arrive 15 minutes early at the meetup point.
Old San Juan Walking Tour– An excellent 2 hour tour that stops at 10 spots. The meeting point is within walking distance to Old San Juan Cruise Piers.
Puerto Rico: Snorkeling with Turtles Adventure- Meet your instructor at the Red Kiosk on Escambron Beach park next to the Hilton. Plan for about 2 hours and only a 6 minute taxi ride from the port.
Puerto Rico: Helicopter Flights – Embark on a helicopter tour and get one-of-a-kind views of Puerto Rico from above. See the diverse beauty of the metropolitan area of San Juan, mountains, coastline, and famous beaches.
San Juan: Ron del Barrilito Distillery Tour – Take a tour back in time at the Hacienda Santa Ana distillery and discover the history of San Juan's oldest rum, Ron del Barrilito. There are three tour options including a mixology class and a tasting tour! The Distillery is located across the bay in Bayamon and is a 20 min drive via a rideshare or taxi.
Want to earn up to 60,000 bonus points for travel? We use our Chase Sapphire Preferred card to earn points for all of our travels and you can to. Sign up and you will get 60,000 bonus points after spending $4,000 in the first three months your account is open.
Where to Eat in Old San Juan
There are lots of options for lunch in Old San Juan. A popular spot with locals and tourists is Cafe Manolin. This will be about a 20 minute walk from Castillo San Felipe del Morro. It can get quite busy during lunchtime so plan accordingly. Creole-style cuisine is served in a diner style setting.
Another great option for traditional Puerto Rican food is the restaurant Barrachina. Located just one street over from La Casa Estrecha. It has ample indoor and outdoor dining and is said to be the birthplace of the Pina Colada so make sure to order one or even several!
Pirilo Pizza, quite popular in Puerto Rico with 3 locations. Known for their extensive pizza selection and drinks. They also serve tapas. It is only a 10 minute walk from the San Juan Port.
Princesa Cocina Cultura, rustic local dishes with a woodsy patio and large Rum selection. 25 minute walk from the San Juan Port.
Or if you're in a hurry and want a quick and inexpensive bite to eat, check out Don Tako for some tasty tacos located on Calle de Tetuan a quick 7 minute walk from the San Juan Port.
Looking for Some Beach Time?
If you're a die hard fan of having sand under your toes you can make your way to Caribe Hilton or Balneario de Escambron. The Caribe Hilton and Balneario de Escambron are surrounded by a large park and you can find local vendors with carts of ice cream and Piraguas. Food options are limited to the offerings at the Hilton.
Like most of Puerto Rico's beach parks you will find bathrooms and showers too. From the port it takes about 6 minutes to drive to both as they are next to each other.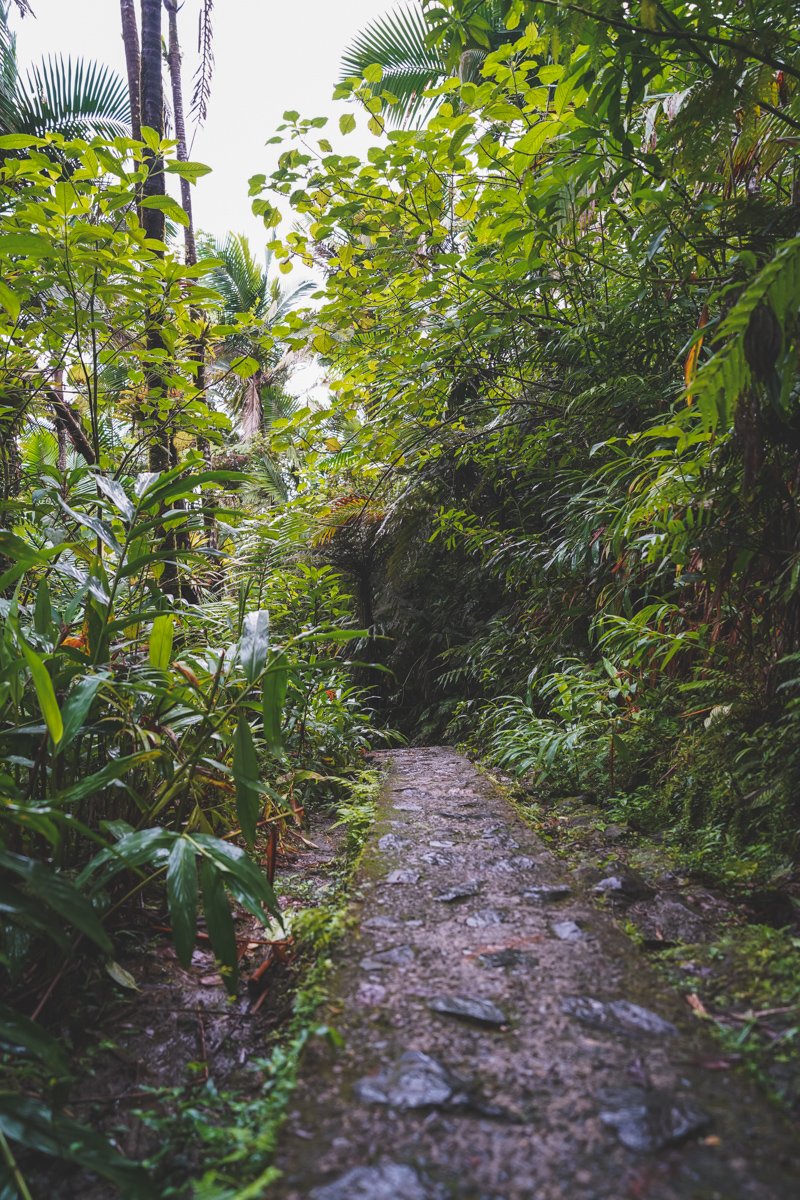 Is There Enough Time to Visit other Parts of Puerto Rico during your San Juan Port of Call?
Puerto Rico is actually a pretty good sized island and as such it takes a bit of time to get around. Hoping to squeeze in a visit to Arecibo, El Yunque Rain Forest, or visit the famous Luquillo beach we hate to say you won't likely have time.
If you have a longer stopover of 5 or 6 hours you might be able to squeeze in an adventure out of town, but our suggestion would be to experience Old San Juan and plan on a return visit to explore more of the Enchanted island. Read our 7 Day Puerto Rico Itinerary here.
Still determined to get outside of Old San Juan? The best way to do this would be to rent a car as most of the tours require you to meet locally. Taxis will be far too costly to venture beyond greater San Juan and rideshares are practically non-existent outside the Metro area. Read our article about how to Get around in Puerto Rico here.
What to Wear for Your Day in Old San Juan
Old San Juan is an old city and that means you will be walking a lot on cobblestones so make sure to wear shoes that have some grip and that are comfortable. Puerto Rico's location in the Caribbean means it's warm all year round in so dress appropriately. Apply sunscreen before you leave the ship or carry it with you in a small backpack. A water bottle, sun hat or baseball cap is also a good idea since the sun is a lot more intense in the Caribbean.
Wrap Up of Old San Juan
Despiste Old San Juan's small size there's a lot more to see and do in than what we have listed. Between sightseeing and lunch these activities will keep you busy for the day. Only having 3 – 5 hours in Old San Juan is honestly not a lot of time to see and experience everything it has to offer. None the less you can still have an amazing time experiencing San Juan on your next Port of Call.
Accommodations in Old San Juan
Using our affiliate links (hotels.com, expedia.com, VRBO, Hertz, Chase Sapphire Prefered, Viator, etc.) supports great content on wanderinghartz.com and our Youtube channel.
None of the affiliate links cost you anything or increase the price you pay, and we may earn a small referral commission.
Or if you're feeling generous you can buy us a much appreciated glass of wine (or whiskey)!
Cheers,
Happy Wandering!
Joel and Michelle