Is Bulgarian Wine Good? Spoiler, it is! We booked a tour and visited Melnik to find out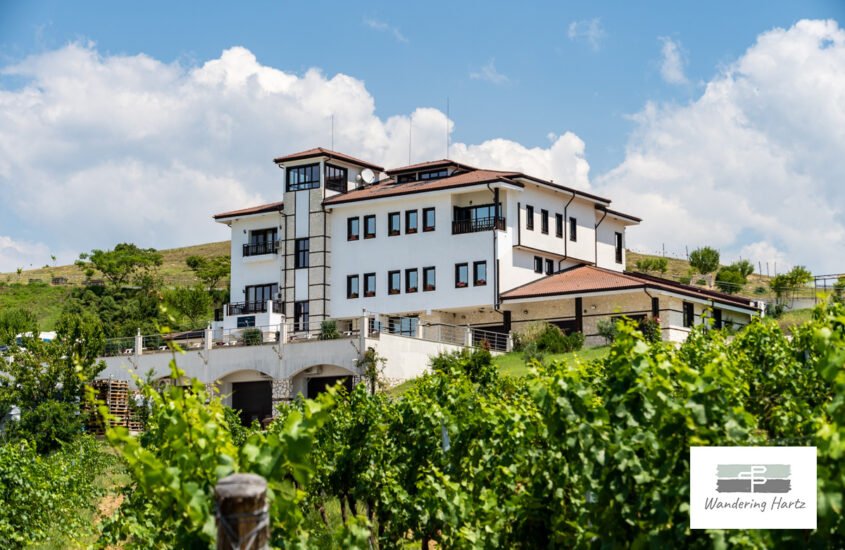 Have you Heard of Bulgarian Wine?
We really didn't know much about Bulgarian wine before we visited Bulgaria.
Prior to the 2.5 months we spent in Bulgaria we only had tried two bottles of Bulgarian wine. After scouring Nashville for Bulgarian wine we had managed to find just one liquor store that had a few bottles from the Thracian Valley in stock, but that was it. What we tried was pretty good, so we definitely wanted to taste more! 
After doing some quick research online and reading Get To Know The Wines of Bulgaria on Wine Folly we had made up our mind to seek out more of this amazing wine.
Once we had arrived in Bulgaria we quickly realized that the famous Struma Valley and the town of Melink, known for some absolutely delicious wines, was only an hour and half drive from our home base in Bansko.
You Had us at Wine Tour
We were staying in Bansko for the Nomad Fest, a digital nomad and remote worker conference we attended. The stars aligned as we discovered that we could book a wine tour through the Nomad Fest conference! We promptly signed up for our Bulgarian wine tour and we can say without a doubt it was one of our favorites. 
⚕ Are you covered with International Travel Medical Insurance? Get worldwide coverage with SafetyWing
Zlaten Rozhen Winery
Our first stop was the lovely and modern Zlaten Rozhen Wine Cellar located in the town of Kapatovo. We drove down a dusty gravel road lined by vineyards. The winery was impressive and quite large with a sleek tasting room.
Our guide led us through multiple tastings of their white wine varietals. We settled on our favorite, Sandanski Misket and left happy, clutching a newly purchased bottle of wine.
Pricing is very competitive, we paid about 10.90 bgn or $5.58 for our bottle of wine which was on sale at the time. Most of the reds wines were priced around 30 – 70 bgn or $15 -$36. 
Villa Melnik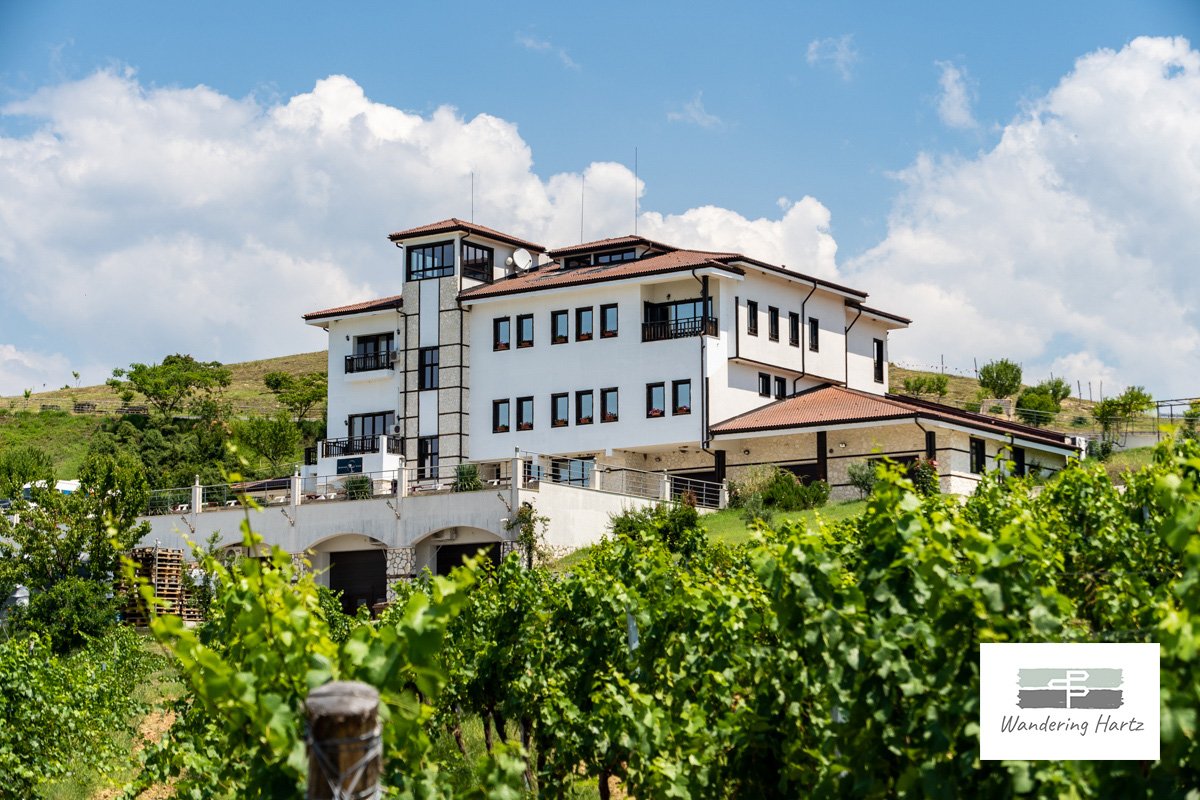 As we approached Villa Melnik we could see the large white building overlooking the green vineyards below. Interestingly the signs were all replaced for a film production that was coinciding with our visit.
We were warmly greeted by the owner and his wife and after looking over the different tours we opted for the full tasting and tour of the vineyard and processing. Why would you do any less?
It was hot and dry, almost 90 degrees but that didn't stop us from enjoying our walk through the vines as Nikola, the proprietor, shared his knowledge with us about each grape. We learned about the unique grape varietals grown in this area from the Broad–leafed Melink vine to the Mavrud, one of the oldest Thracian varieties.
Standing at the top of the winery looking down at his vineyard Nikola pointed out the nearby extinct volcano, Kozhuh. This ancient volcano lends the terroir with sandy soil of limestone and volcanic deposits.
Nikola was also proud to mention that pesticides are not used on the vines nor any kind of damaging processes that would create pollution. The tour continued from the top down of the facility. It is unique in that all of the processing utilizes gravity to move the grapes through production.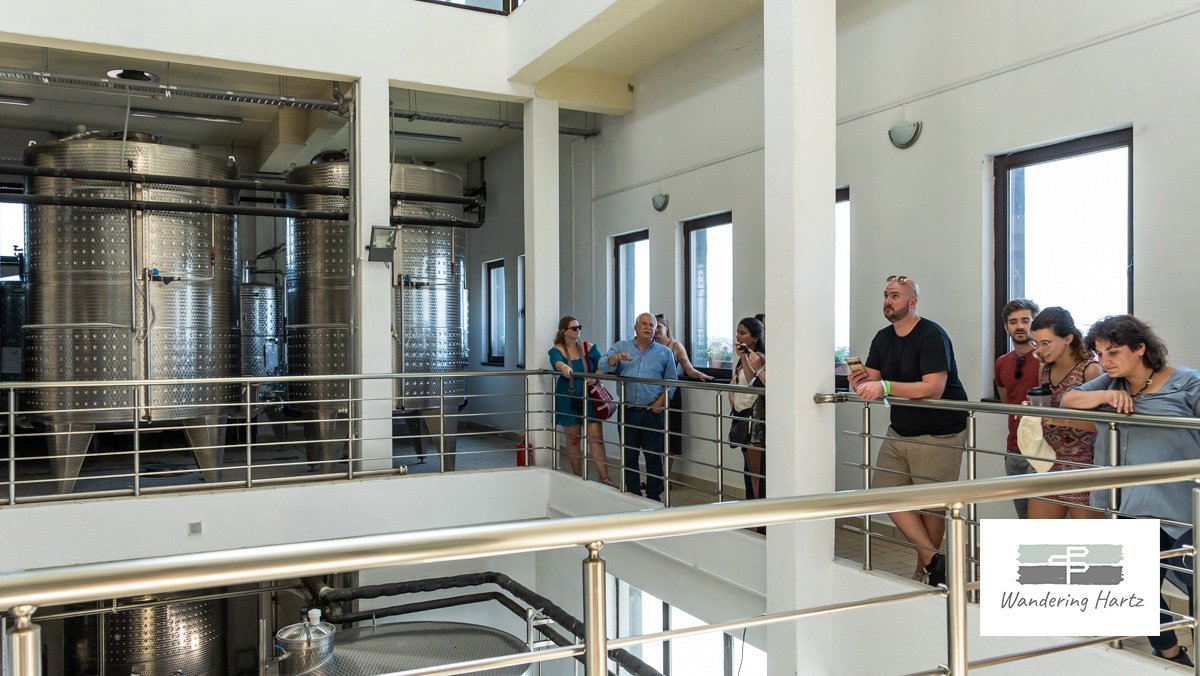 The winery is made up of several floors built into the earth. The end of the tour had us exploring the subterranean cellar dug out of the sandy earth.
The tour concluded with a generous tasting of 6 wines grown and produced on the property. The tasting included a lovely tray of meats, crackers and scrumptious Bulgarian cheeses. Everything was so good! After about 45 minutes we were feeling quite good and it was unfortunately time for us to leave.
Don't forget to buy a bottle on the way out. We only purchased one bottle of Melnik 55 wine and wished we had gotten more!
Book this Tour from Sofia to Melnik and Villa Melnik
Check out this review of Villa Melnik on Trip Advisor
The Smallest Town in Bulgaria, Melnik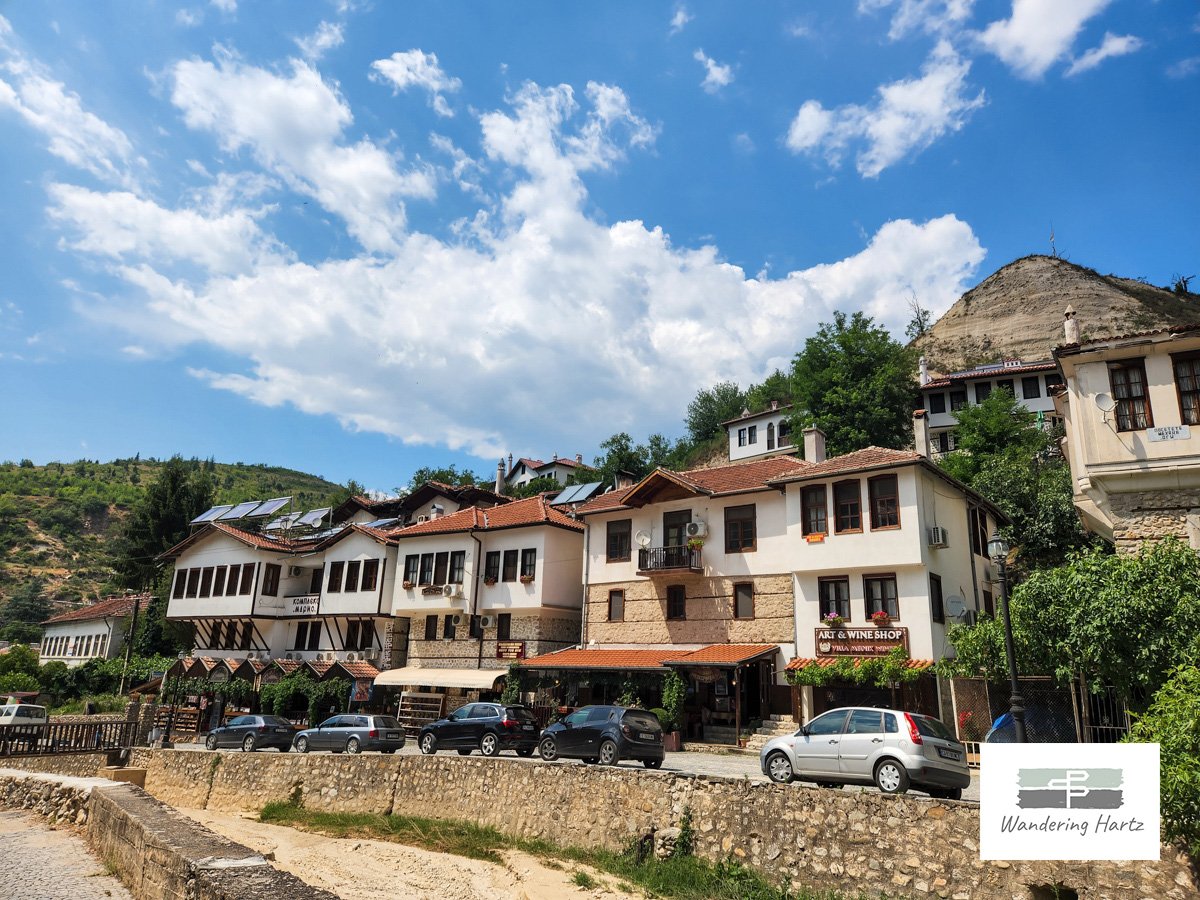 If you start researching Bulgarian wine you'll soon come across Melnik, the smallest town in Bulgaria. With only 208 residents and the surrounding sand pyramids hovering above this unique town it is definitely worth a visit.
A Brief History of Melink, Bulgaria
Bulgaria is one of the oldest countries in Europe so it's no surprise the tiny town of Melnik has an ancient history. The Thracians started producing wine in the 11th century to use in their religious rituals. Melnik fell under the Ottoman Empire and in the 18th century grew in population with the locals selling their goods in Budapest, Wien (Vienna), Venice and Genoa.
This is when Bulgarian wine, especially from Melnik became popular throughout Europe and still is to this day.
Where is Melink, Bulgaria?
Melink is nestled in the Southwestern Pirin Mountains and only 30 km from the Greece border. From Sofia, the capital of Bulgaria, it's about a 2 ½ hour car ride south. 
The two wineries we visited are located in the Struma River Valley. This is the warmest part of Bulgaria with plentiful sunshine and outstanding soil. Ideal conditions for growing grapes.
Our Afternoon in Melnik
With the taste of wine still lingering our driver dropped us off in the charming town of Melnik. We strolled up the street stopping to take pictures just about every two feet.
The tiny town of Melnik oozes character with photo ops everywhere you look. Beautiful flowers and vines hang from the buildings and the Melnik Sandstone Pyramids protrude in the background.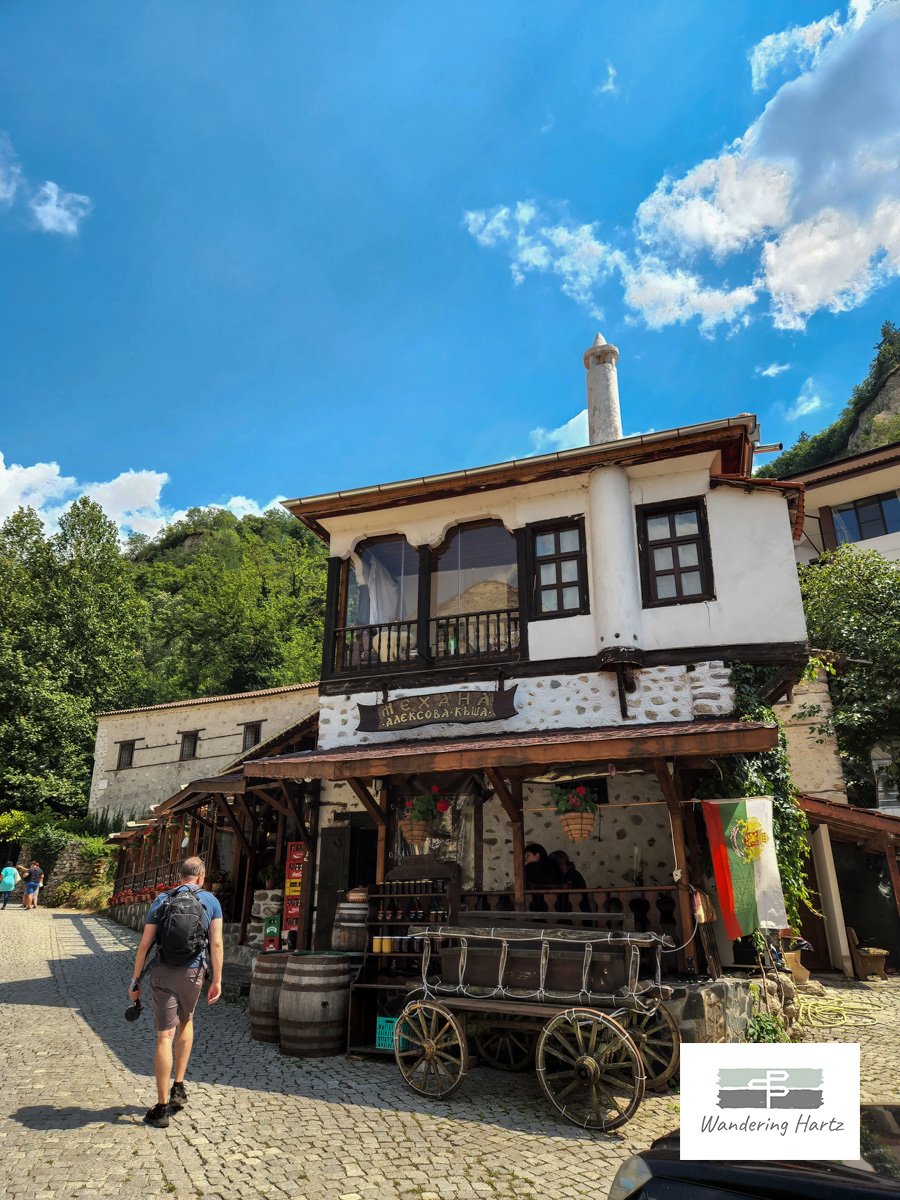 We didn't get too far since lunch was calling us so we settled on a restaurant and spent the afternoon drinking the restaurant's white house wine with our new friends from our tour.
Perhaps a little too much wine was consumed. We won't even get started on the "trunk wine" that is available all throughout the town and beyond. Let's just say we bought some of that too for the ride back!
It was about an hour and half ride back to Bansko and our adventure had one last twist before it came to an end.
Our van overheated about 30 minutes outside of Bansko and stranded us all on the roadside while we awaited another vehicle to deliver us to Bansko. Our group managed to keep our spirits elevated and we nearly finished off the rest of 'trunk wine" in the meantime. Good thing we came prepared!
Is Melnik Worth Visiting?
We would absolutely recommend visiting Melnik and taking a wine tour. It was a wonderful adventure and we made great friends on the tour.
Our suggestion would be to book a tour with a driver so you can indulge in the delicious wine and get back home safely. Touring the wine country in Bulgaria was one of the many highlights from our 2.5 months long stay!
Book Your Own Melnik Tour from Sofia
Things To Do in Melnik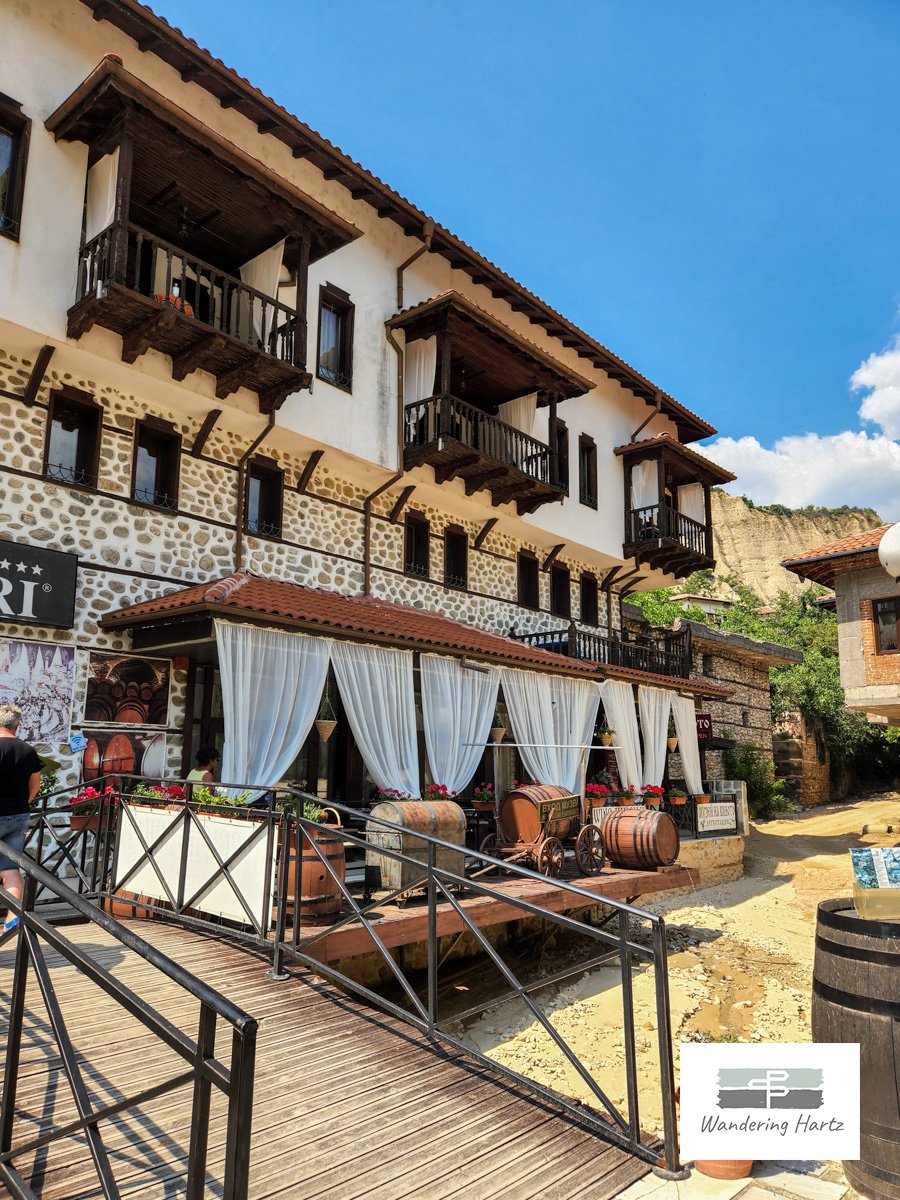 What else is there to do in the tiny town of Melnik? Melnik is pretty small but there are a few more things to do other than dine at some really wonderful restaurants.
Pay a visit to the Melnik Wine Museum. The museum itself is very small but you can also partake in a wine tasting of melnik bulgaria wines. Just be warned that everything is in Bulgarian. 
Visit Rozhen Monastery, it's only a 10 minute drive from Melnik or a nice little hike from town. 
See the Melnik Sandstone Pyramids. You can take an eco-trail from Melnik and take in the views of the interesting rock formations. 
👉Protect your Data while Traveling! Sign up for Surfshark ✈
Staying Around Melnik
Instead of taking a Bulgarian Wine Tour from Sofia, Bankso or Plovdiv you can find some great stays around Melnik.
Melnik Hotels and Accommodations
VRBO Melnik, Sandanski, Blagoevgrad Province, Bulgaria
Sandanski Hotels and Accommodations
Wineries with Accommodations
Looking to extend your time at some of the lovely wineries in Bulgaria ? Book stays at these wineries in the Struma Valley, Bulgaria!
Zornitza Family Estate Relais & Chateaux
More Struma Valley Bulgarian Wineries
Kapatovo Gardens and Vineyards
Using our affiliate links (hotels.com, expedia.com, VRBO, Hertz, Chase Sapphire Prefered, Viator, etc.) supports great content on wanderinghartz.com and our Youtube channel.
None of the affiliate links cost you anything or increase the price you pay, and we may earn a small referral commission.
Or if you're feeling generous you can buy us a much appreciated glass of wine (or whiskey)!
Cheers,
Happy Wandering!
Joel and Michelle