Our First Impressions of Bulgaria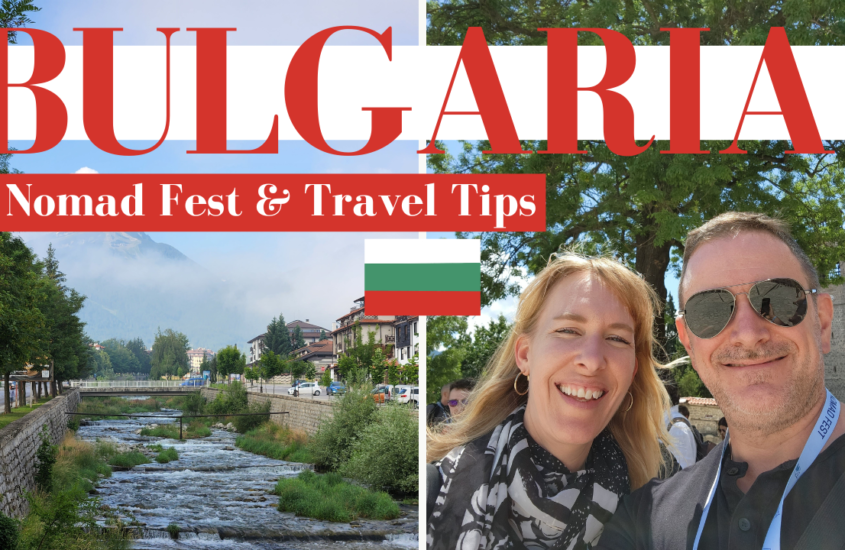 Life in Bulgaria was very good to us. We made the decision to come to Bulgaria so we could attend Bansko Nomad Fest in Bansko, meet like minded people, and get lots of work done. Work? Yep, as nomads and travel bloggers, our office travels with us! Bansko, Bulgaria became our home base for the summer of 2022 and we loved every minute of it!
Where is Bulgaria?
When we told our friends and family we were going to Bulgaria the first question was Where is Bulgaria?
For our American readers Bulgaria is not a country that gets a lot of attention. We all have these notions of Bulgaria from the cold war and communism era. Unfortunately there seems to be a dark void of current information about this lovely country.
Location
Bulgaria is located in Eastern Europe and is part of the Balkans. Bulgaria shares a border with Romania to the north and Turkey and Greece to the south. To the west is Serbia and North Macedonia with the Black Sea to the East.
Most of the people we talked to didn't realize that Bulgaria is part of the European Union but not in the Schengen Zone. This makes Bulgaria a great location for digital nomads or backpackers who need a place to go when their visa time is up in the Schengen Zone. An American passport gets an automatic visa up to 90 days upon arrival.
Currency in Bulgaria
Despite being in the EU Bulgaria has their own currency, the Bulgarian lev. Currency exchange rates fluctuate but during our stay 1 lev was $.52 usd due to a really strong dollar. It is actually pegged at 1.95583 leva to the Euro.
Getting to Bulgaria
We traveled to Bulgaria towards the end of June and amidst the crazy travel chaos that has lead to so many flight delays and cancellations. Luckily we escaped all of the delays with our mid week flight to Sofia. That was even despite a connection in Amsterdam's Schiphol airport and a 5 hour layover in Vienna where we changed carriers.
Arriving in Bulgaria
Arriving in Sofia, the Capital of Bulgaria, we were greeted to a pleasant and easy to navigate airport. Customs was a breeze and we were quickly in the main part of the airport looking at our transportation options.
We made a rookie mistake and forgot to get our international Drivers Licenses before we left the United States. So that means we can't rent a car in Bulgaria. Bummer.
After having already downloaded one of the two apps you can use in Bulgaria to get taxis we ultimately just grabbed a cab out the front door. It was easy to get a cab and we were off on a 20 minute ride to our hotel in the center of town.
Of course another way to get from the airport to your hotel is via an airport transfer which would be ideal for a group or if you're traveling with half of your home as luggage.
Driving through the city we noticed a lot of large Soviet era concrete buildings. Most of which are quite ugly and reminded me of old newsreel footage from childhood. But soon enough we made our way past some lovely parks as we neared the center of town where we were staying.

Accommodations in Sofia, Bulgaria
For our stay in Sofia we chose Hotel Niky. It was basic but nice and came with a continental breakfast. Breakfast was pretty standard with eggs, bacon, yogurt, pastries and fruit.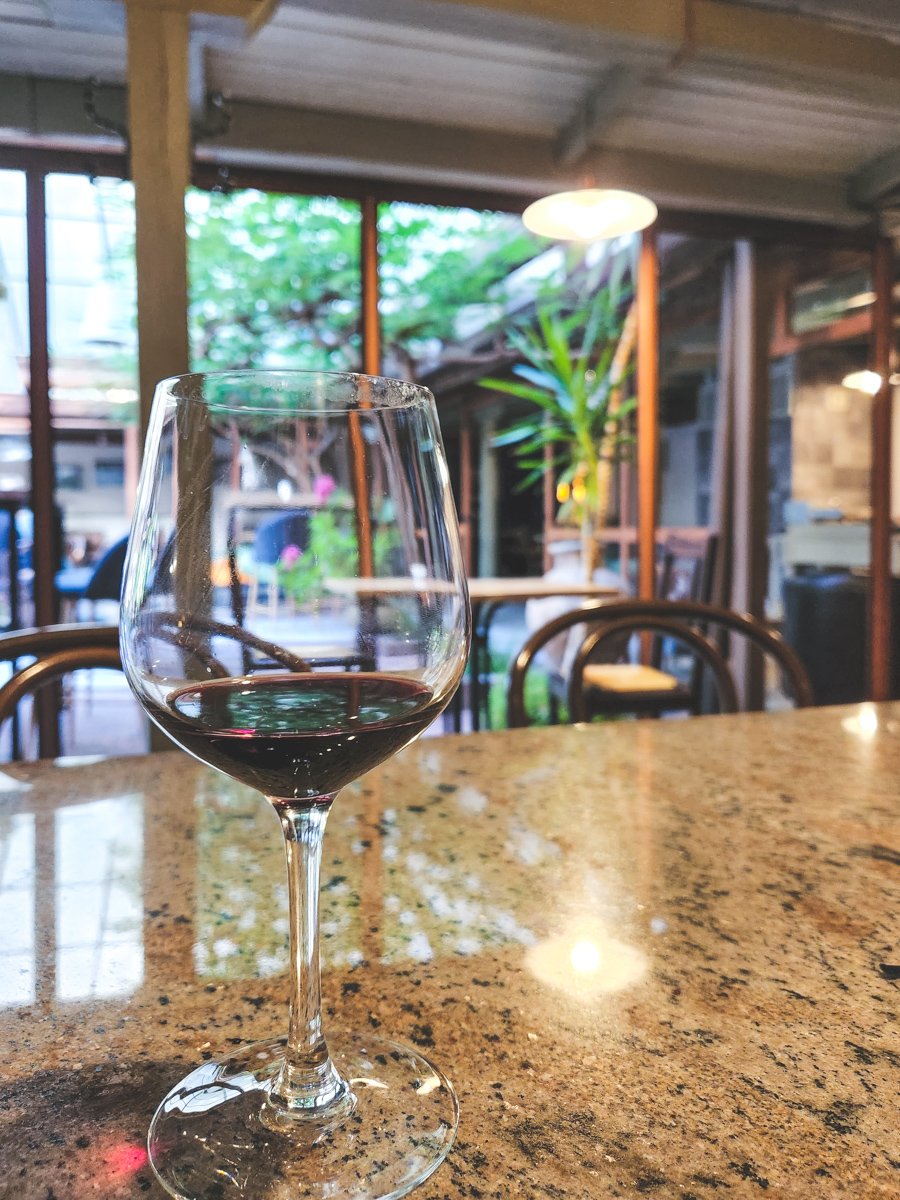 To our pleasant surprise the courtyard at the Hotel Niky turned into a wine bar in the evenings! Apparently this was a recent change. Previously it had been a pub and restaurant prior to the pandemic. Nonetheless we had our first taste of Melnik 55, Bulgaria's own wine varietal and thoroughly enjoyed it.
Hotel Niky is located just three blocks from the main Pedestrian street Vitosha. You can find locals and tourists alike strolling down the street or seated along in a cafe. It was less than a 10 minute walk to restaurants, pharmacies, shops, parks, and a metro station.
We were very happy with the location and would stay there again.
Click here for more information and latest prices
During the evening we walked up and down the Blvd.Vitosha pedestrian street lined with so many restaurants with outdoor seating. We were instantly glad about our choice to visit Bulgaria.
The streets were filled with lots of families and kids strolling along the sidewalks. The cafes and restaurants outdoor seating was always full and bustling especially in the late evening until well past 11pm. The weather was warm and it was nice to see so many people out and about.
Do People Speak English in Bulgaria?
Communication is always tricky, especially in a country with such a unique language and alphabet. We found that in the bigger towns, you will find that a lot of people speak English, especially in Sofia. The majority of our stay in Bulgaria was spent in Bansko, a ski resort and most of the hospitality workers speak some English.
It's a popular destination for people from the UK and all over Europe especially in the winter months for ski season. Once you venture out to the country and more rural areas it will be harder to find someone who speaks English. That is when google translate definitely comes in handy.
What is the Culture Like in Bulgaria?
Coming from the United States, the smile capital of the world it seems, the biggest shock for us is that most Bulgarian people don't smile at you. This is not a bad thing, just something we observed.
In the United States, smiling and saying hello to people is very common, especially in the south. We have since made friends with some local Bulgarians and they are a very warm and friendly people.
The pace of life here in Bansko was laid back and quiet. It seems most people are not in a hurry, except if they're in a car! Driving in Bulgaria is a sport. Everyone drives like they are practicing for the grand prix. Even if only going a few blocks in town.
One significant difference in Bulgaria is YES and NO. Shaking your head back and forth what we would consider No, means Yes to them. Moving your head up and down means Yes to us but to Bulgarians it means No. Definitely confusing! Our advice would be to say Yes (Da) or No (Ne).
Shopping in Bulgaria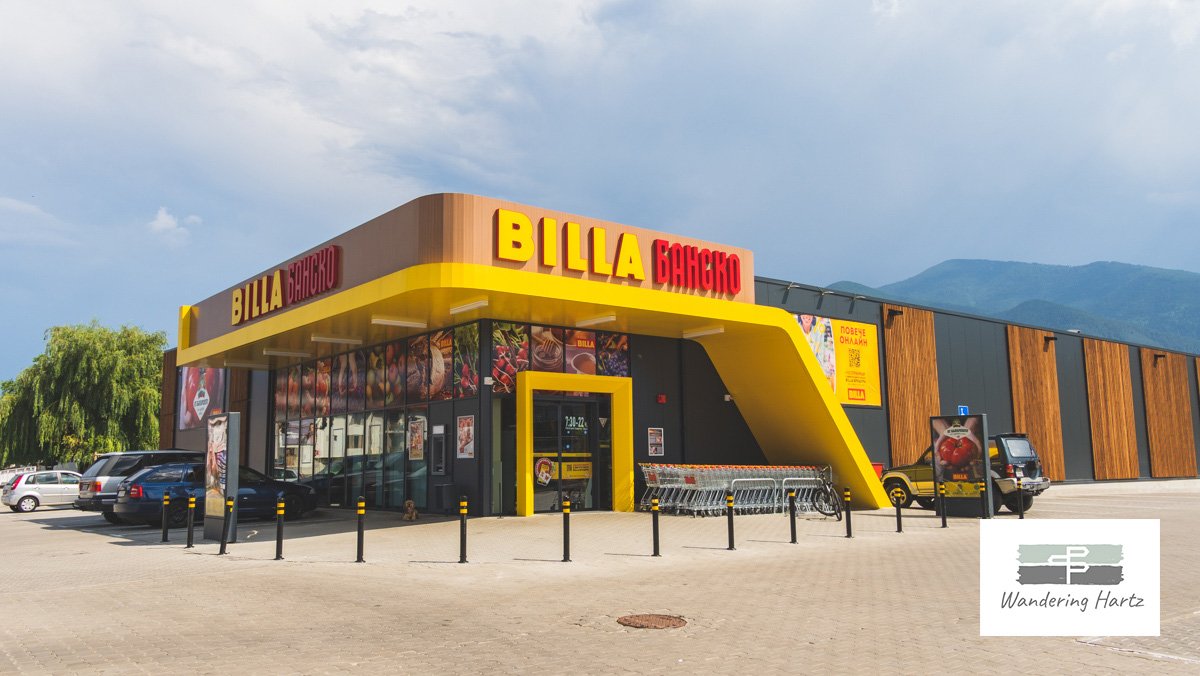 Shopping at the grocery store is very similar to what we are used to in the U.S. with the exception that it's literally all in Bulgarian! We basically shopped for breakfast foods like fresh croissants, yogurts, fruit and eggs and would eat out everyday for dinner and sometimes lunch as well.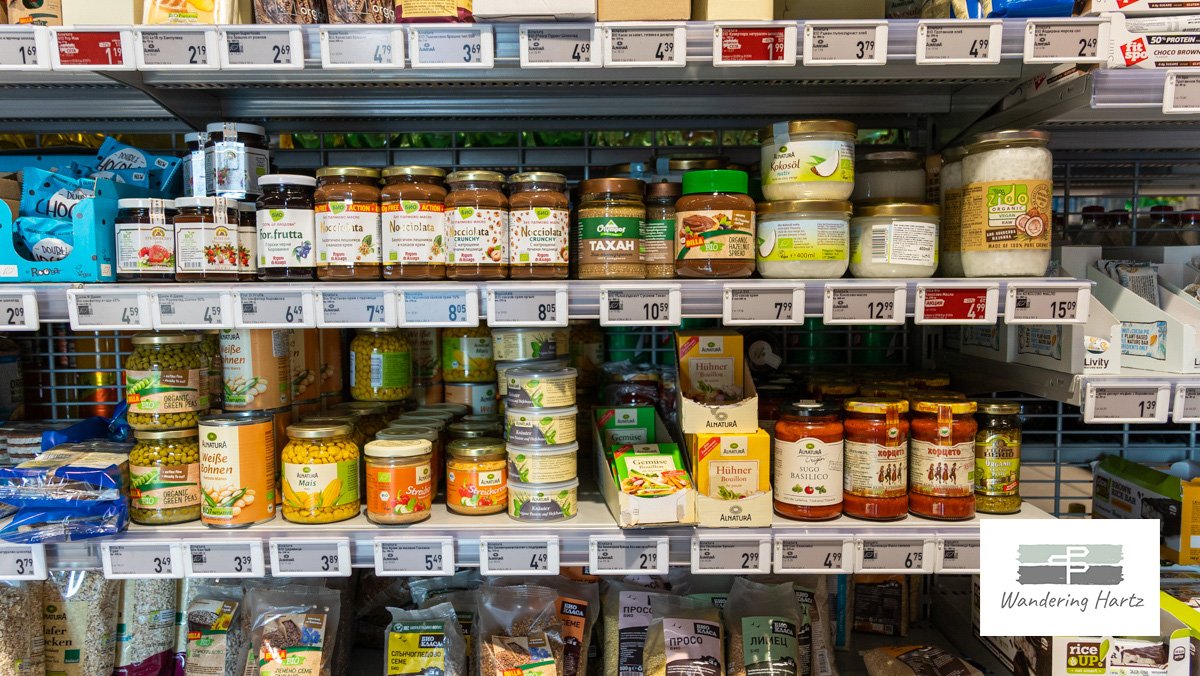 Grocery costs:
It seems meats, fruits and veggies are a little less expensive than they are in the United States.
Cheaper – Pastries, Dairy, Croissants, Alcohol, Chips, Soft drinks and more.
All of the prices already include the Vat Tax so you don't have to calculate extra costs in your head like you do in the United States. The same goes for restaurants.
Dining Out and Eating in Bulgaria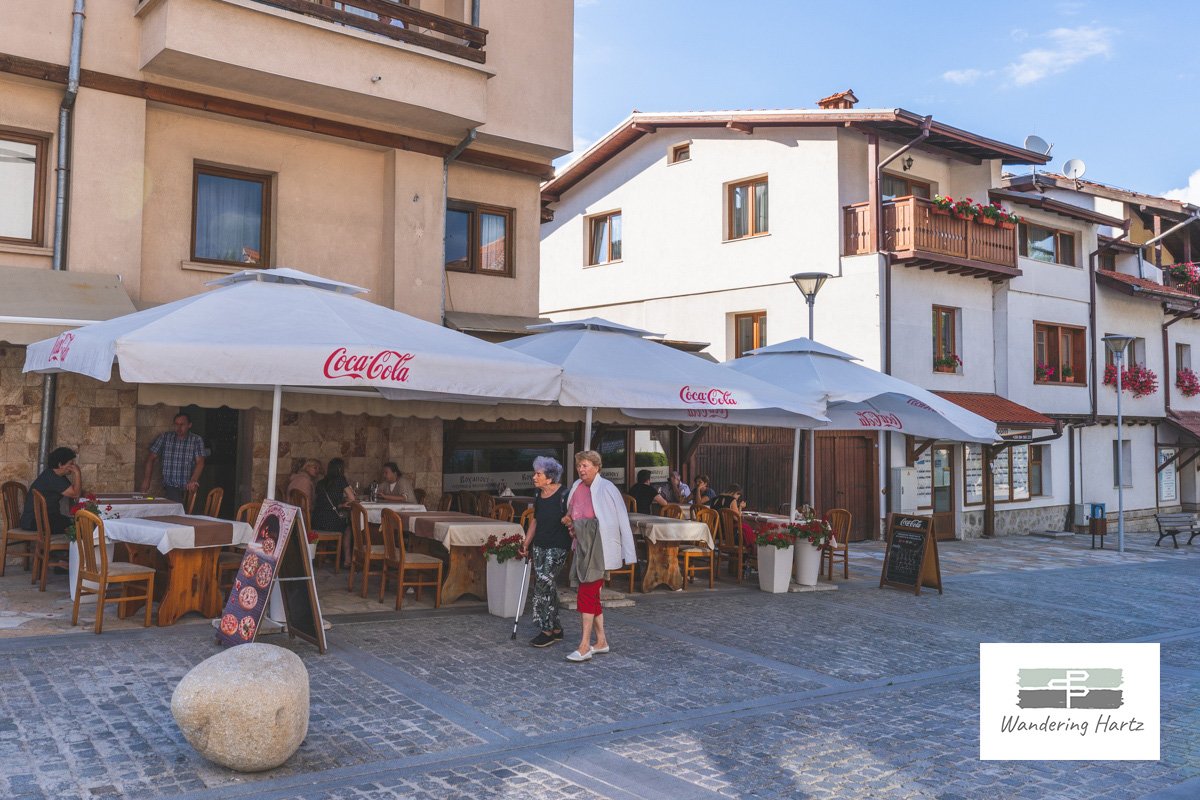 Like most of the dining and nightlife in Europe, Bulgarians tend to eat later. Usually from 7:30pm-10:00pm seems pretty typical. It is not unusual to see entire family's still out eating or relaxing after 10pm.
We love the cafe culture here, in the summer everyone eats outside and almost all of the restaurants have outdoor dining. We've also noticed most of the chairs are quite comfy with padding and even pillows. That's right, comfortable dining chairs! It makes for a nice and inviting atmosphere.
Another thing that surprised us was just how affordable it is to eat out. We had researched quite a bit about the costs of living in Bulgaria. Being from places where tax is always added to the "price" we always forgot that the VAT Tax is included here. That is a 20+% discount on the same equivalent price that you would be used to in the United States.
A glass of wine or beer will cost you $2-$4 at a restaurant. Whereas meals out can be had for $10-$25 for two people with drinks, depending how much food you order of course. Portions in Bulgaria are BIG so we usually split meals to eat for even cheaper. Also tipping is not a huge deal here. It is customary to leave maybe 5-10% at a restaurant, more so in the touristy places.
How Affordable is Bansko, Bulgaria?
Is Bulgaria Safe?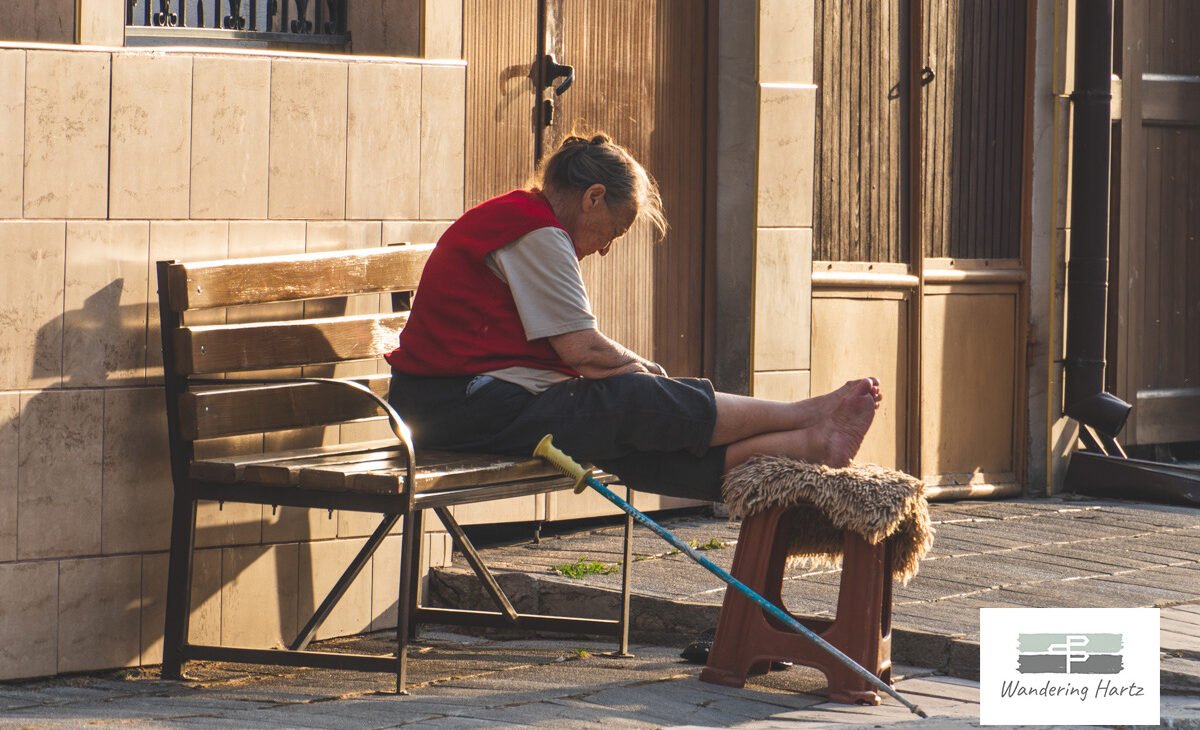 Yes, Bulgaria is safe. We feel very safe walking around, especially in Bansko. In the evening it's very common for people to sit out on the sidewalk in front of their homes so there's always people around. Lots of kids play in the streets and ride their bikes together all over town.
Violent crime is very rare in Bulgaria but you do need to take precautions with your belongings like in any city.
A Land Rich in Beauty
Everywhere you look in Bulgaria you find beauty in the land and the people. Despite some of the cold war Soviet buildings in various degrees of despair, you find architectural gems like Rila Monastery, and Plovdiv.
The landscapes here are also lovely and varied. From mountains that remind Joel of growing up in Washington State to rolling hills and plains. Our time in Bansko certainly spoiled us as we were surrounded by two mountain ranges, The Pirin Mountains to the south and the Rila Mountains across the valley to the north.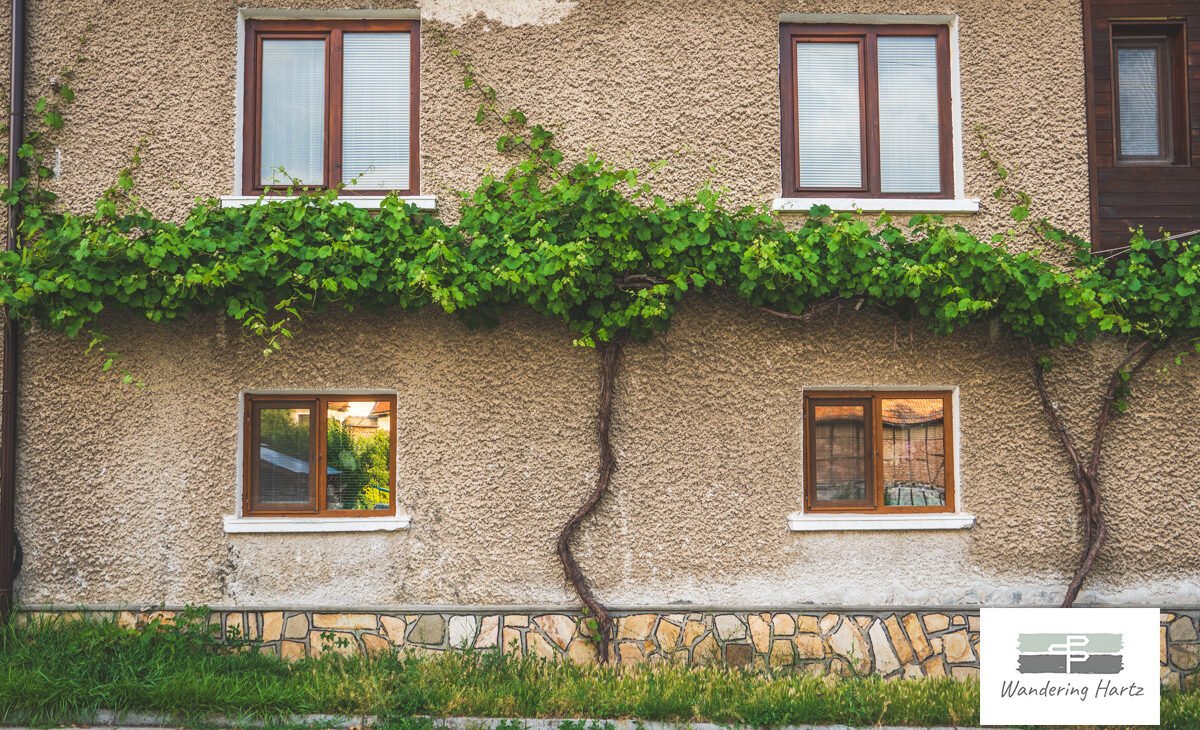 Honestly just walking the streets is so very lovely. From the charming houses with stone walls and lovely vegetable gardens to the bounty of fruit trees and old grape vines crawling up the sides of homes. There are ample opportunities to create so many lovely images for your social feed or to hang on your wall.
Outdoor Paradise Playground
One thing is for sure you will not be bored in Bulgaria. You can do day hikes or multi-day hikes through the mountains sleeping in rustic huts. There's also biking, rafting, swimming, ATV riding, biking, paragliding and horseback riding. Too many to list!
Hot springs and mineral pools are also very popular. We had no idea there were so many of them in Bulgaria! Some are quite nice like the one we visited in the town of Dobrinishte called Alpha Pool and Spa.
Check out more Cool Bulgaria Outdoor Experiences Here
Digital Nomad Community in Bulgaria
Bansko has become quite the hub for digital nomads and remote workers in the last couple of years. There's now a couple of coliving communities in Bansko and lots of coworking spots.
Coliving in Bansko
Coworking in Bansko
Four Leaf Clover Coliving (and Cowork)
BanskoLab (offering co work times throughout the week)
It's easy to meet others from all over the world by becoming a member of one of the coworking communities or participating in group activities. We made several new friends this way during our time in Bulgaria and highly recommend it.
A Country Rich In So Much
Bulgaria is rich in so many ways; history, culture, nature and food. We're so glad we decided to make Bulgaria our first jumping off point in Europe. We were surprised at how easy of a transition it was for us coming from the United States.
We highly recommend it to both vacationers, outdoor enthusiasts, history buffs and other Digital Nomads like ourselves.
Using our affiliate links (hotels.com, expedia.com, VRBO, Hertz, Chase Sapphire Prefered, Viator, etc.) supports great content on wanderinghartz.com and our Youtube channel.
None of the affiliate links cost you anything or increase the price you pay, and we may earn a small referral commission.
Or if you're feeling generous you can buy us a much appreciated glass of wine (or whiskey)!
Cheers,
Happy Wandering!
Joel and Michelle