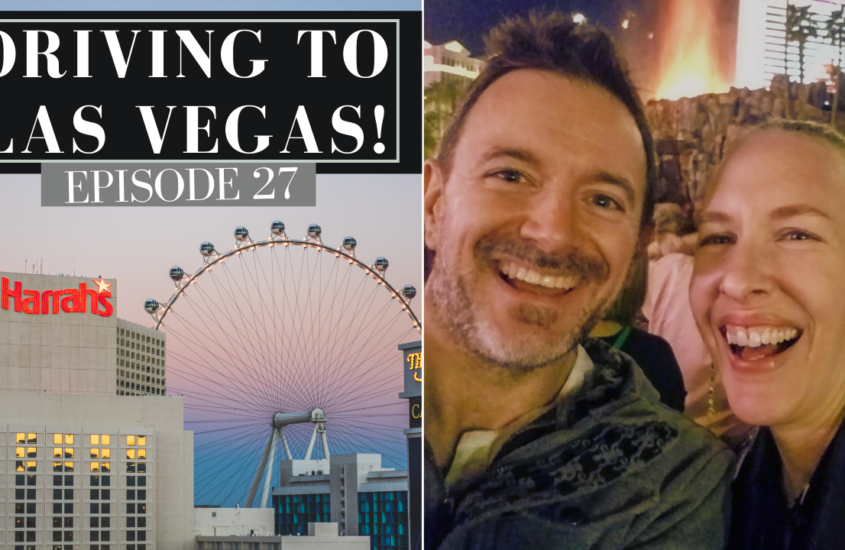 Las Vegas Bound Driving From New Mexico to Nevada | EP 27 Road Trip VLOG
Goodbye Santa Fe, to Vegas and Beyond
Our time in Santa Fe New Mexico had unfortunately come to an end. We are on a schedule after all and will have to revisit this lovely town another time. With the car loaded back up and with coffee in hand we miraculously left on time from our stay at the Los Palomas Bed & Breakfast with our sights set on Las Vegas Nevada. Our plan was for a few days of fun and relaxation which ended up being us eating a lot and working remotely.
We made the 9.5 hour drive though some of my favorite desert landscapes in New Mexico and completely across Arizona before heading Northwest to arrive in Las Vegas Nevada as the sun set!
Our stay at the Mirage Hotel and Casino
Vegas was a treat and we enjoyed daily breakfast buffets at Cravings in the Mirage Hotel as part of a sweet deal we got with our rooms! If your into working out the Mirage has a pretty well equipped gym as well not to mention arguably the best pool in Vegas. It was too cold to enjoy the pool but did get some much needed exercise in which helped to work off some of the excess calories from our eating and Happy Hour frenzy!
Parking at the Mirage (or any MGM property) was free for me as Pearl status MLife member. If your active duty military, veteran, or first responder you can get automatic Pearl status with proof of service. That is a huge advantage as it meant we saved $20 a day on parking alone. You also get additional discounts at the other various MGM properties. They change somewhat frequently so you will need to look it up on their website or using their MGM Resorts app.

CAMERA:
Sony A7III
Samsung Galaxy S8 active
Yi 4K Action Camera
Sony Rx-100V
LENSES:
AUDIO:
Graphics: Envato Elements
MUSIC IN THIS VIDEO:
Would you sell it all to travel?
Let us know in the comments