Awesome Stay in South Lake Tahoe Beautiful Views and Hip Hotel | ROAD TRIP Ep 30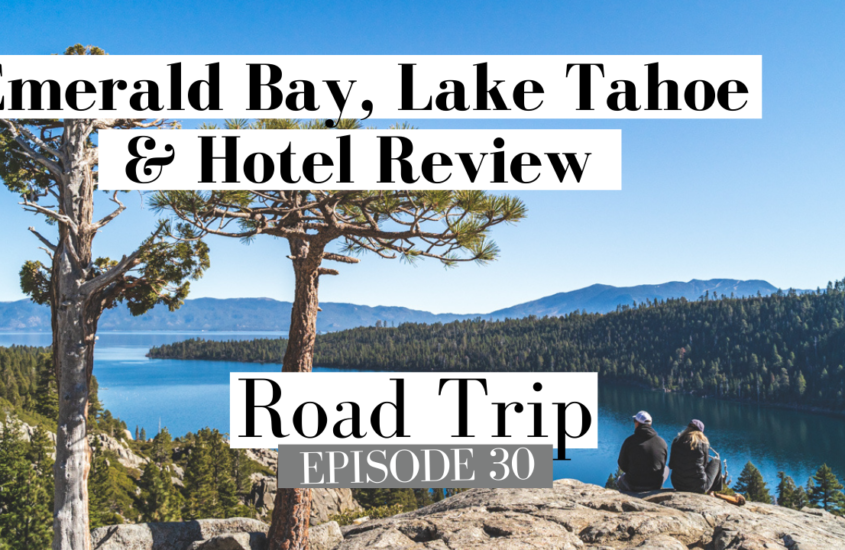 36 Hours in Lake Tahoe, California
Lake Tahoe is known for its amazing views and of course so many awesome outdoor activities! Hiking, boating, skiing, camping, and even a mountain coaster! There are also the casinos on the Nevada side if you're inclined to try your luck. Since we were on our road trip to Washington state, our time in Lake Tahoe was limited and gave us just a little taste of this beautiful part of the Sierra Nevada's.
After spending a few days exploring the Mammoth Lakes area we arrived in South Lake Tahoe and more specifically, to the Basecamp Hotel in the afternoon. Our road trip was in the fall and as such we were still in the shoulder season just weeks away from the official ski season to start. Our timing meant that the Heavenly gondola and resort area was not yet reopened which was a real bummer.
Tahoe Fun Facts:
Largest Alpine freshwater lake in North America
Sits at 6,225 ft (1,897m) elevation
Known for its super clear water and epic views
Surrounded on all sides by mountains
Has some of the best skiing and snowboarding in the United States
Straddles both California and Nevada
Top up on your Southwest Airline Points
Our Stay at the Basecamp South Lake Tahoe Hotel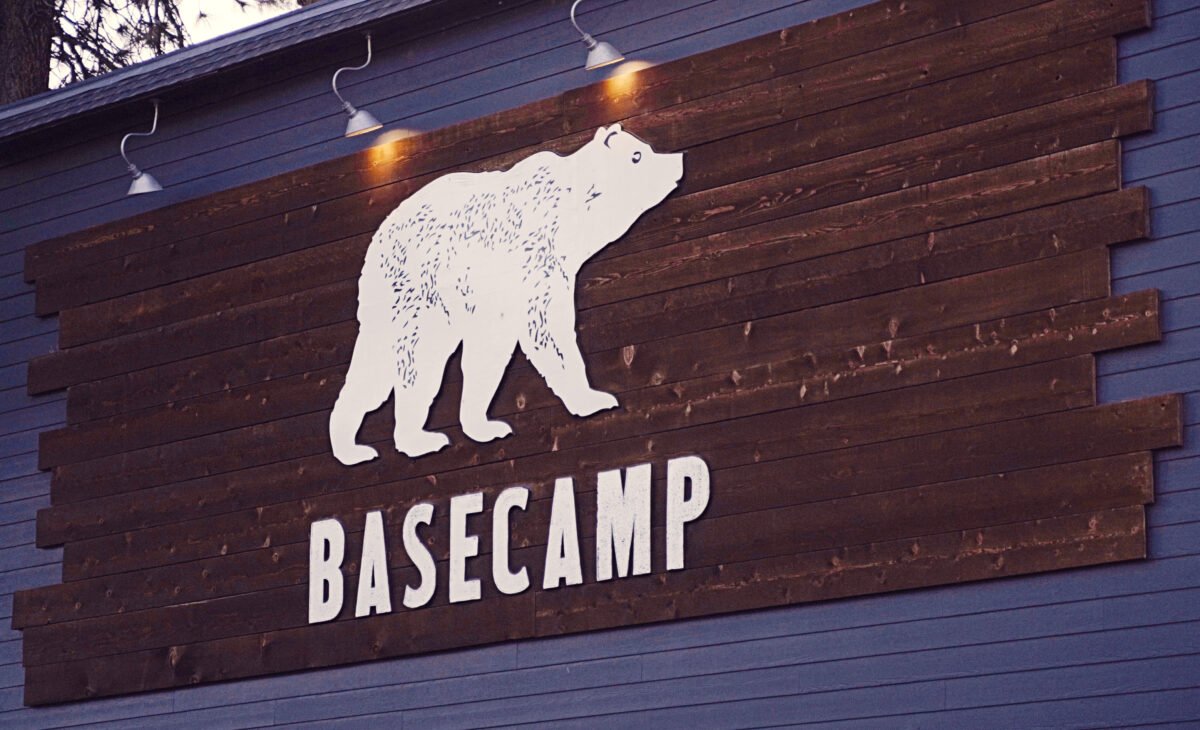 We stayed at the Basecamp South Lake Tahoe Hotel during our time in South Lake Tahoe. Spoiler alert… we really enjoyed our stay! The Basecamp Southlake Tahoe hotel is located quite literally on the state line between Nevada and California.
It is ideally located for access to several casinos, the base of the Heavenly Gondola, and it is just a block or two from Lake Tahoe. There are a number of restaurants within walking distance as well as shopping or you can just chill on property.
We booked our stay through Hotels.com which we use often as we get a free night of stay after each ten nights booked. This is a sweet perk we have taken advantage of especially when we need a room last minute or when we have an overnight layover.
Basecamp South Lake Tahoe Amenities
Basecamp South Lake Tahoe is set up like a ski resort with its large courtyard, free parking, and lots of activities. The hotel has two sides, the courtyard side and the office side.
On the office side there is a small bar inside along with an indoor cozy lobby area with a fireplace. The Courtyard side boasts a large courtyard with a sweet ambiance. String lights, an old airstream and fire pits with lots of seating set a laidback and chill vibe. There is a fun beer garden adjacent to the courtyard with reasonable prices, lots of local beers from South of North Brewing on tap and nightly music. There is also a hot tub, ping pong table, cornhole, and several large decks to relax or socialize.
The hotel boasts 73 stylishly decorated rooms that are ski friendly. They can even accommodate pets in several rooms. There also is free Wi-Fi which is a must for us, and have several Green Measures in place like dual flush toilets and double pain windows for the cold winter months.
Michelle took advantage of the Free & tasty Trailfolk coffee in the lobby. We were not as impressed though with the Free Breakfast offering. During our stay the breakfast was biscuits and gravy, hard boiled eggs, cereals and yogurt.
Standard King Room at Basecamp South Lake Tahoe
We booked a standard king which had plenty of room and its own balcony with partial views of the ridge and Harrah's Casino. The room was decorated with cool reclaimed wood, a desk, TV, mini fridge, large mirror and plenty of space for luggage and skis. The bathroom was pretty decent with a stand up shower, European style toilet and pedestal sink.
Our room stayed warm enough with the exception of the bathroom which was chilly. I can't imagine how cold it might be in the winter months. Our king bed was comfortable and we had enough outlets to recharge all of our electronics which is a necessity for us.
The downsides were just a few for our type of traveling. No gym or laundry and the lackluster breakfast come to mind.
Pricing and Recommendation
Our stay in the November offseason had a huge advantage on price. Our stay cost us $205 (tax included) for two nights. That price is a far cry cheaper than the summer or winter rates that can get up to nearly $400 a night at peak!
Overall we would definitely recommend staying at Basecamp South Lake Tahoe! We would go back in a heartbeat especially when there would be a lot more people staying. It is perfectly set up for communing and making new friends.
You can find a wide range of hotels in South Lake Tahoe to fit pretty much any budget and every type of traveler. We recommend using Expedia or Hotels.com to compare hotel prices to find the best places to stay in South Lake Tahoe or checking out vacation rentals like on VRBO or Airbnb for more luxury or rustic options.
A Short Drive to Emerald Bay
Despite the Heavenly Gondola and activities closed during our stay we carried on with our plan to visit Emerald Bay on Lake Tahoe. It was just a short 30 minute drive from our hotel to the Emerald Bay Lookout point. The drive was really lovely as our route took us along the west shore of the lake with some gorgeous views as we made our way up a ridge that separated Emerald Bay and Cascade Lake.
Inspiration Point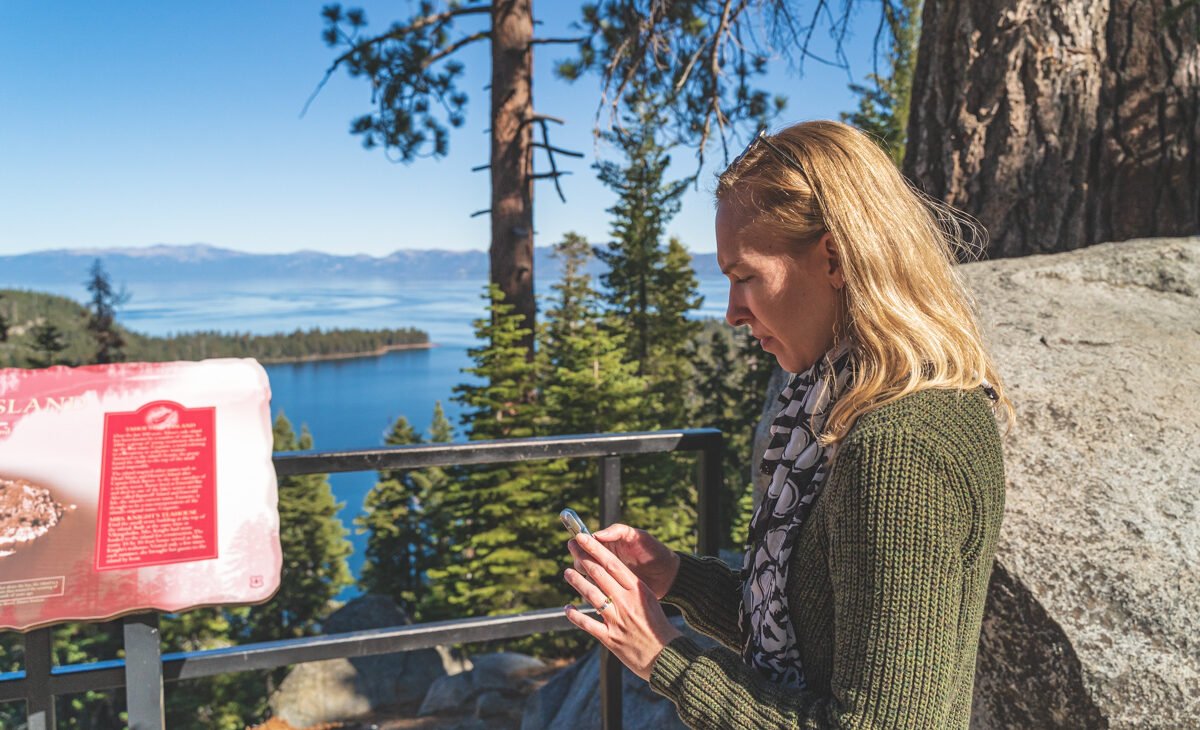 We stopped at the Inspiration Point, the Emerald Bay Lookout for our first views of the bay. It was just off the side of Emerald Bay Road and has about 30 parking spots. This place can get super busy and the parking lot fills up quickly. The road has a large shoulder with additional parking which may be your best option in the busy seasons. The lookout point offers restrooms and a few good spots to view the bay and Fannette Island, Lake Tahoe's only island.
Emerald Bay is stunning. The contrast between the hills covered in evergreen trees and the vibrant blue waters make for pretty amazing photos. The Bayview Campground is just across the street from Inspiration Point which also provides access to several trails that take you to Eagle, Cascade, Granite Lakes. There are several other trails and campgrounds in this area to explore and the Emerald Bay State Park.
We found an even better viewpoint of Emerald Bay just a little further near the Eagle Creek falls. The Emerald Bay Road Vista Point offered this incredible view of the bay and Fannette Island Below.
Emerald Bay State Park
There is a ton more to check out at Emerald bay state park. In addition to the trailhead to the Rubicon Trailhead South the park has a Visitors Center, picnic area, kayak rentals and Vikingsholm.
Vikingholm is a "castle" completed in 1929 as a summer home that sits at the bay's edge. You can read about it here. Now owned by the State of California it is also on the National Registry of Historic Homes and open to visitors in the summer months.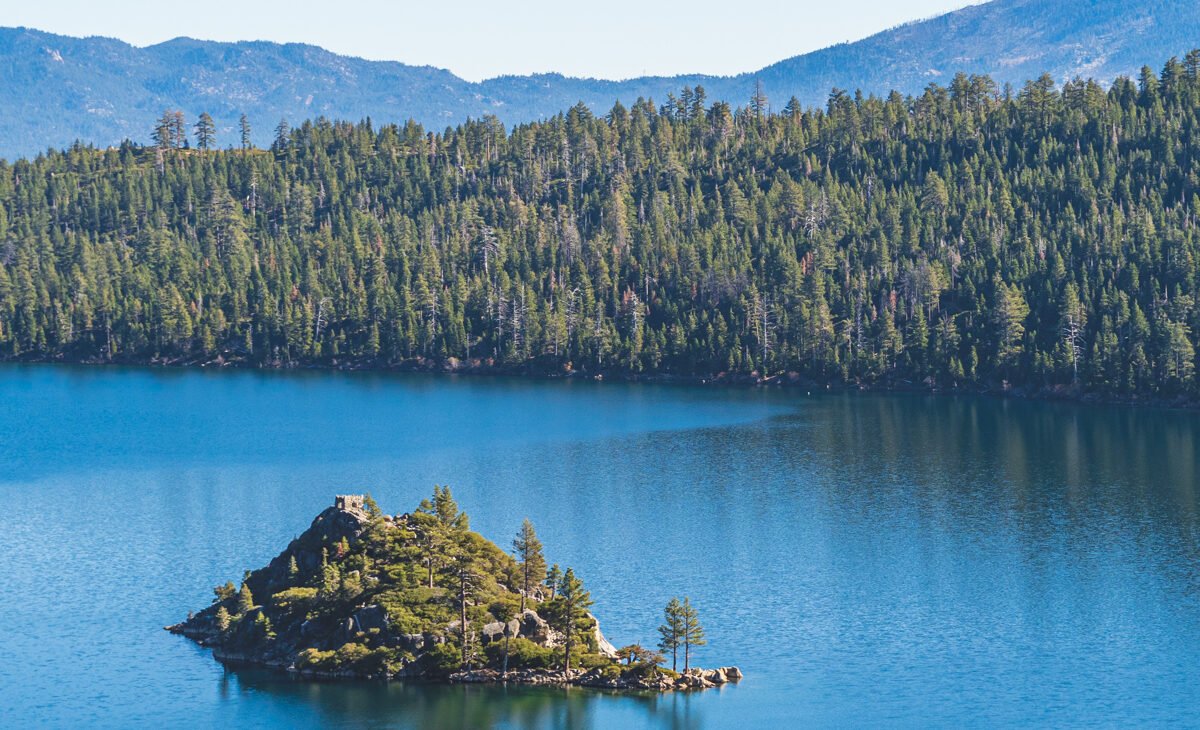 The owners of Vikingholm had also built a stone building on Fannette island with a "tea room". It is still there and you can see the stone building perched atop the granite rock that forms Fannette Island. The only way to visit Fannette Island is by water. The most popular way is by kayak or by boat tour.
Were We Ate in South Lake Tahoe
Red Hut Cafe
As we mentioned, our breakfast options at Basecamp were a little limited so we ventured out to try breakfast at one of the most popular restaurants in Lake Tahoe, Red Hut Cafe. It's a family friendly diner serving breakfast and lunch all day with an affordable menu. We left full, happy and caffeinated, well Michelle was at least and ready for our day!
McP's Taphouse Grill
We ate lunch at McP's Taphouse Grill, an Irish style restaurant located just across the street from the Heavenly Gondola and only a block from Basecamp. It is way more sports bar than Irish Pub and honestly the food was fine, but unmemorable.
Riva Grill
We highly recommend the Riva grill for epic sunsets looking out over Lake Tahoe. We enjoyed happy hour there (not offered at the moment) while taking advantage of their view of Lake Tahoe. They also have a huge patio for outdoor drinks and dining when the weather is nice so definitely check this place out.
Sunset and Trivia Night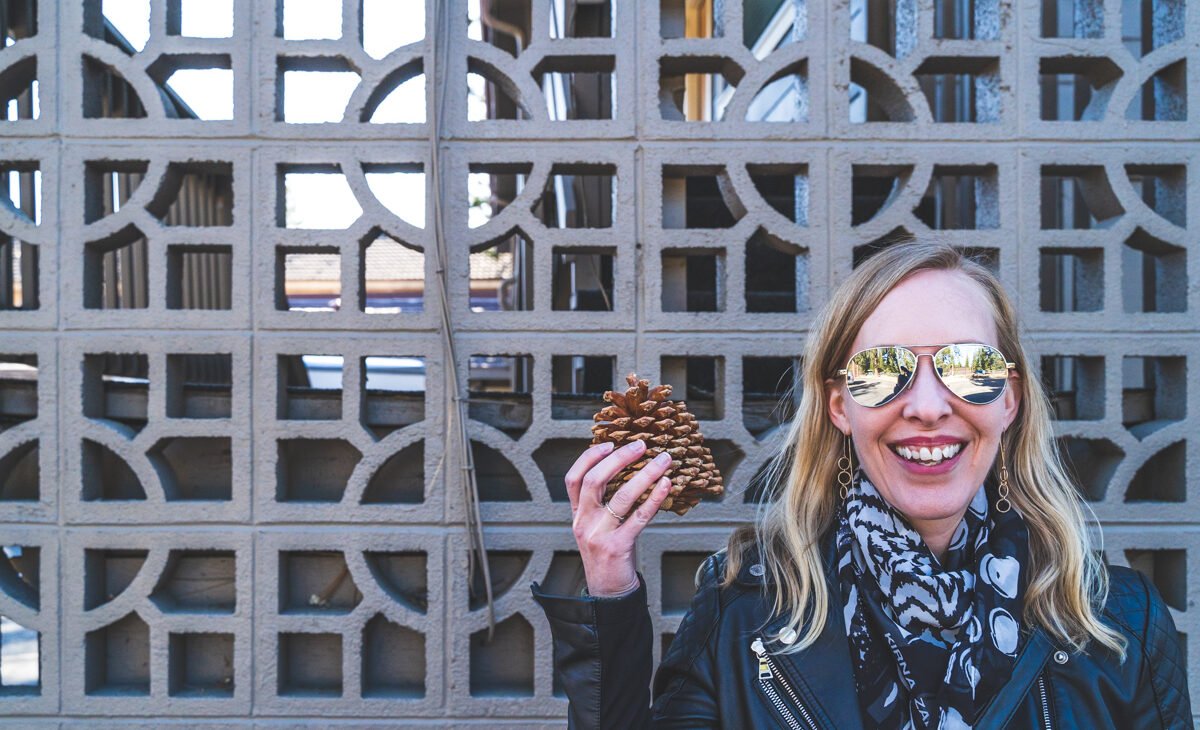 It was fun to just walk around and explore. We came across some of the largest pine cones we had ever seen. It was almost as big as Michelle's head! After working for a few hours back at the Basecamp Hotel we made sure to get out and not miss sunset.
We made our way to the Ski Run marina at the beginning of sunset and took in the moment before a few sundowners and dinner at Riva Grill. Back at the Basecamp Hotel we were invited to join a Trivia Night hosted in the Beer garden. Yet another fun reason to stay at Basecamp South Lake Tahoe!
Trivia night was just Michelle and I against a room full of much younger teams. I was the oldest person in the room by at least 7 years (Michelle) and by 10 – 15 years older than the rest. Perhaps it was our age and experience, or maybe we were just less drunk (read: hold our liquor better), but we came in 2nd place and even won a free beer!
Tahoe is Expensive
There were a few fun activities we wanted to do which had not yet opened for the season or were just too pricey. We had originally planned on taking the gondola up to the Heavenly ski resort and explore what it has to offer. I was specifically wanting to do the Gondola, Ridge Rider mountain coaster, and explore the hiking trails.
Despite being closed, all of the activities at the Heavenly Resort are pricey. The Gondola is $59 adults, Gondola & Mountain Coaster combo is $85 adults. We almost experienced a scenic sunset tour on Lake Tahoe for $100 per person but we tried to book at the last minute and were too late.
Oh well, I guess it gives us yet another reason to return to Tahoe! Nonetheless we still had a great time.
One could easily spend a week or more in Tahoe and still not see and do everything. Heck if we could figure out a way to stay for the summer we would! But it is an extremely expensive town especially the lodging, food and activities. We would not suggest it for anyone on a budget unless you're camping the entire time.
The next morning we would set out again for our last two days of our road trip. We had a stay booked in a haunted hotel in Oregon and then the final drive to the Puget Sound in Washington State.
We hope you also enjoyed our VLOG of this part of our journey. More importantly we hope you were able to pick up a few tips and things to do in South Lake Tahoe that you can use to plan your trip there.
Using our affiliate links (hotels.com, expedia.com, VRBO, Hertz, Chase Sapphire Prefered, Viator, etc.) supports great content on wanderinghartz.com and our Youtube channel.
None of the affiliate links cost you anything or increase the price you pay, and we may earn a small referral commission.
Or if you're feeling generous you can buy us a much appreciated glass of wine (or whiskey)!
Cheers,
Happy Wandering!
Joel and Michelle
Camera, Equipment and Music used to Make this Video
CAMERA:
Sony A7III
Samsung Galaxy S8 active
Yi 4K Action Camera
Sony Rx-100V
LENSES:
AUDIO:
Graphics: Envato Elements
MUSIC IN THIS VIDEO: