Explore the Beauty of Fort De Soto Park in Pinellas County, FL
Discover the beauty and serenity of Fort De Soto Park in Pinellas County, Florida. Located along the shores of Florida in the Gulf of Mexico, Fort De Soto park offers visitors a glimpse into the region's past while providing a variety of recreational opportunities. From hiking and biking to boating, fishing and birdwatching there is something for everyone to enjoy at Fort De Soto Park.
Where is Fort De Soto Park?
Fort De Soto Park is located just 20 minutes south of downtown St. Petersburg and 40-50 minutes from Tampa. This Pinellas county park is located on the tip of Tampa Bay and the Gulf of Mexico. Fort De Soto is the largest of the Pinellas county parks. The park covers over five interconnected islands (or keys) and is 1,236 acres.
How much does it cost to get into Fort Desoto Park?
Fort De Soto is free to visit but if you arrive by car there is a $5 charge to enter. Fort De Soto park hours are 7am to sunset everyday.
Map of Fort de Soto Park from Pinellas County
Fun to be had at Fort De Soto Park
Fort De Soto Beach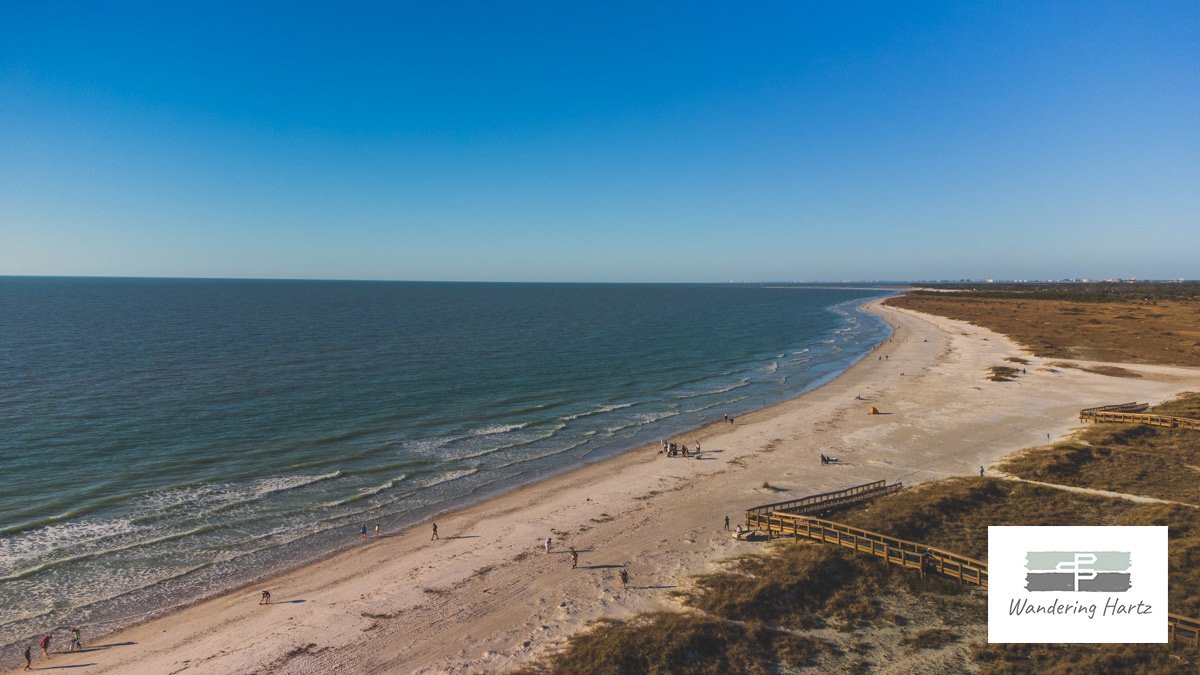 Our first stop at Fort De Soto park was to visit the beautiful 3 mile long white sandy Fort De Soto beach. If you have been following our blog you probably guess that though! It is the perfect spot to enjoy a lovely walk along the beach or drop your blanket and relax. Hundreds of shells lined the beach, sparkling in the midday sun. Michelle enjoyed looking at all of the intricate designs and colors of the shells as we walked barefoot in the squishy sand.
Tip: Alcohol is not allowed on the beach
Swimming at Fort De Soto
Swimming at Fort De Soto is a great activity for beach-goers of all ages. The pristine white sand beaches, crystal clear waters and abundant wildlife certainly don't suck. The water is usually pretty calm all year round but can get cold in the winter months from December through February. In case you are wondering "are there alligators in Fort De Soto". There are no alligators at Fort Desoto since it is salt water. So feel free to swim, paddleboard and kayak to your heart's content.
Bird Watching at Fort De Soto
The park is also known for its incredible bird watching opportunities. Over 328 species of birds have been documented at Fort De Soto and new ones are added almost every year. We stopped in an open grassy field to watch multiple birds fly from their nests to the ocean looking for food. Or you can take a Private guided Bird Tour of Fort De Soto park Be sure to bring your camera!
Bring your Camera! Just not your Drone. Drones are not allowed at Fort De Soto Park
Kayaking and Canoeing in the Mangroves
Kayaking and canoeing are also popular activities at Fort De Soto. With its vast expanse of shallow waters and numerous mangroves, visitors can explore the many coves and inlets of the park. During mating season if you get lucky you might see manatees and dolphins. There will be plenty of fish and birds to spot like conches, starfish, seahorses and jumping fish called mullet.
Check Viator for More Fort De Soto Tours and Experiences
Fort De Soto Camping
If you're looking for a peaceful camping trip, Fort De Soto Park is the perfect spot. Fort De Soto campground has 236 camping sites with loads of amenities. You can find picnic tables, grills, water, electricity, washers, dryers, sanitary disposal stations, modern restrooms, showers, and special sites for camping with pets.
Fort De Soto camping reservations can be made online with site fees ranging from $37.86-$48.03 per night. You can reserve your camping spot up to 6 months in advance. If you're a local Pinellas County resident show your ID and reserve up to 7 months in advance.
Dog Park on the Beach
Speaking of our furry friends, if you bring your pets you will find the Fort De Soto dog beach park right next to Bay Pier. There are two fenced-in areas near the beach for small and large dogs with water stations for the hot days. From our spot at Bay Pier we enjoyed watching lots of dogs happily playing and splashing about in the water.
Bay Pier with Views of Sunshine Skyway Bridge
The Bay Pier is one of two fishing piers at Fort De Soto. It's also where the ferries leave for Egmont Key and Shell Key. We ended our day at Bay Pier and we couldn't have been luckier with the weather. We enjoyed the absolutely incredible Sunset over the Gulf of Mexico to the west and views of Tampa Bay and the Sunshine Skyway Bridge to the east.
Visit Egmont Key or Shell Key By Ferry
The best way to explore the beauty of Egmont Key or Shell Key is to take a ferry from Fort De Soto. The ferry service runs daily during the spring and summer. Leaving from Fort De Soto to Egmont Key and Shell Key, it offers a great way to see the islands. You can swim, look for shells, and visit Fort Dade, left over from the Spanish American war. Shell Key is a large nature preserve and if you're so inclined you can even camp overnight!
There are no facilities or bathrooms on Egmont or Shell Key since they are both nature preserves. If you're planning to camp on Shell Key you need a permit that will run $6 per day. Make sure you bring, use, and remove portable toilets.
Shell Key Ferry from Ft. DeSoto Boat Ramp in Tierra Verde, FL
Egmont Key Ferry from Ft. DeSoto in Tierra Verde, FL
Fort De Soto
The park and its namesake Fort De Soto was completed in 1900 and named after the Spanish explorer, Hernando De Soto. The fort was constructed with both concrete and shells, along with stone. Though it was abandoned in 1923, the fort was still used for a variety of purposes.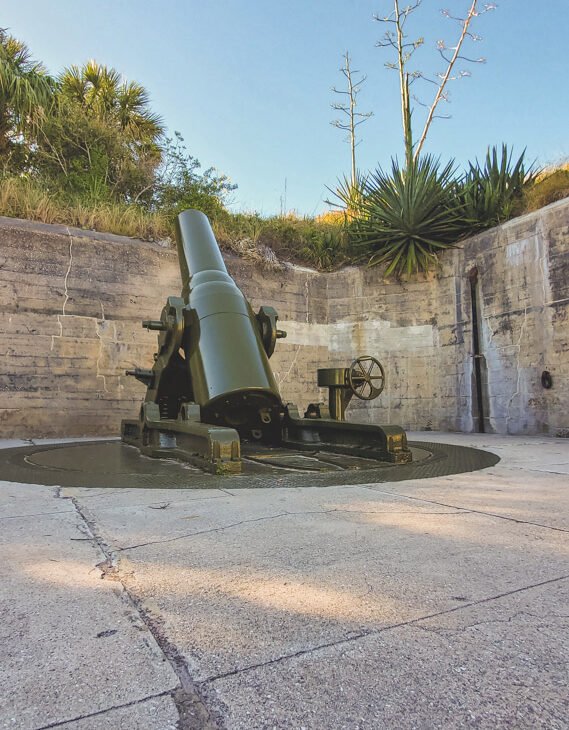 During World War II, Mullet Key, part of the fort's grounds, was even used as a bombing range by the United States military. In 1948, the fort was sold to Pinellas County, and in 1963, it was made into a park for the public to enjoy. There are four 12 inch motors and two 6 in Armstrong Guns still at the park fort. Infact, the batteries were placed on the National Register of Historic Places in 1977.
Be sure to stop by the Quartermaster Museum on Mullet Key to learn even more about the history of Fort De Soto park fort.
We enjoyed pursuing the grounds, artillery holds and firing galleries and it was quite a bit bigger than we expected. Fort De Soto is a great way for kids to get a hands-on history lesson while having fun exploring the fort and grounds. Take the stairs to the top for some epic views of the Gulf of Mexico and Tampa Bay.
Fort De Soto Wrap Up
Fort De Soto Park in Pinellas County, FL is a beautiful place to explore and relax. With its white sand beaches, magnificent sunsets, and abundant wildlife, it offers a chance to get away from it all and enjoy nature at its finest. We really enjoyed exploring the park and it was one of our favorite places to visit during our time in St. Petersburg Florida.
Whether you're looking for a relaxing beach getaway or an adventure-filled camping trip, Fort De Soto Park is a great destination for everyone.
You might also be interested in these Florida articles:
Accommodations near Fort De Soto Park
Using our affiliate links (hotels.com, expedia.com, VRBO, Hertz, Chase Sapphire Prefered, Viator, etc.) supports great content on wanderinghartz.com and our Youtube channel.
None of the affiliate links cost you anything or increase the price you pay, and we may earn a small referral commission.
Or if you're feeling generous you can buy us a much appreciated glass of wine (or whiskey)!
Cheers,
Happy Wandering!
Joel and Michelle