A Travel Guide to Our Favorite Florida Beach, Siesta Key
When our trip to Maui, Hawaii was pushed back due to pandemic lockdowns we needed to find another alternative to the warmth and beauty of the islands. After all we had to find an alternative to keep our endless summer going! That is how we ended up spending five weeks in Siesta Key, Florida.
Siesta Key, Florida
The gulf coast weather was a great substitute for Maui and we were happy to be there. Michelle had already been to Siesta Key with her friends on a girls trip a couple of times and loved every minute of it. So it was a pretty easy decision for us to stay there a little over a month and work remotely.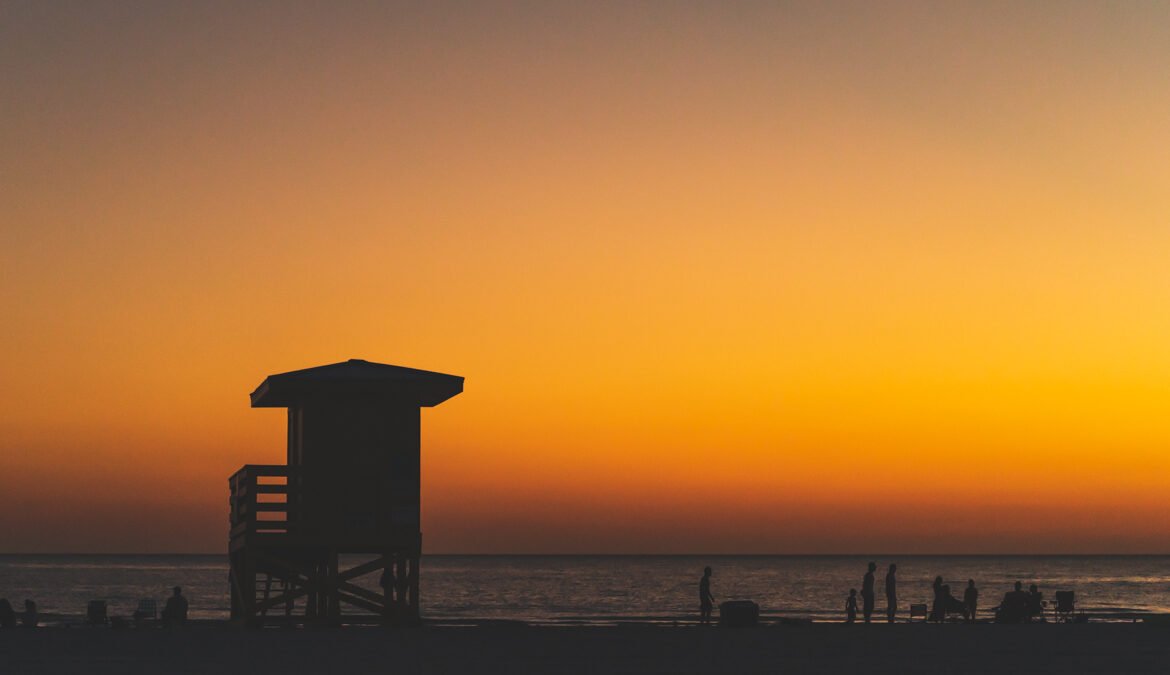 Siesta Key Beach
Looking for one of the best beaches in the United States? Siesta Key beach is consistently ranked as one of the best beaches in the United States. The quartz sand is powdery soft and dazzling white. Joel calls it powdered sugar for his toes! It's a great place to bring kids as well, the water is usually warm, calm and very shallow. Perfect for just splashing about with little ones.
The sunsets are spectacular along the Sun Coast and we spent nearly every evening watching sunset from the beach. It was the perfect way to end each day! Joel also got to perfect his sunset photography which was pretty sweet!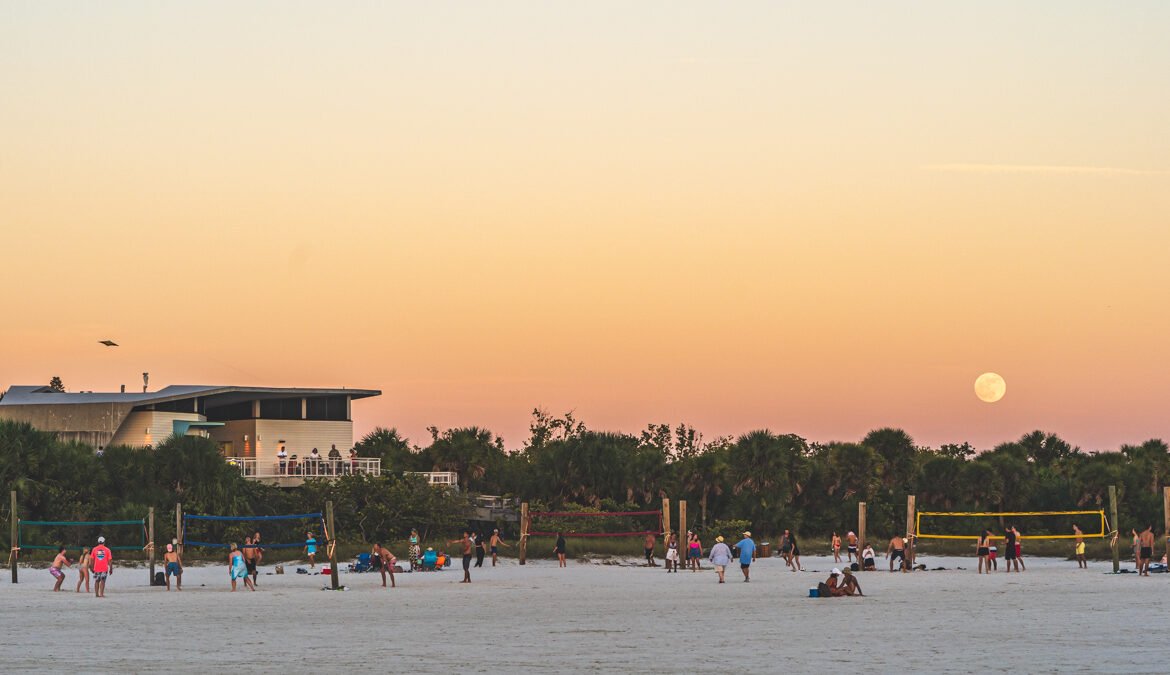 The Island of Siesta Key
Siesta Key is just 8 miles long so it's super easy to get around. The island has two bridges that connect it to the mainland. Siesta Drive on the North side and Stickney Point Road about midway down the island. On the North and South parts of Siesta Key you will find the bulk of the residential areas. Condos, resorts and hotels pretty much line the entirety of the gulf side of the island.
The island has Four Beach parks along the gulf side.
Sarasota Beach
Siesta Key Beach
Crescent Beach
Turtle Beach.
If you're looking for convenience, our vote is to stay in or near Siesta Key Village. It will put you super close to Sarasota Beach on the North of the island as well as Siesta Key Beach. Those are our two favorite beaches.
Siesta Key Village
Staying near the Village you will be able to walk to the beach, restaurants and get groceries all within 5-10 minutes. There are multiple dining options in Siesta Key Village from fine dining to small cafes. They even have mini donuts, Michelle's favorite, although not necessarily a food group. There is something for everyone and you will not be disappointed.
Cute boutique shops line the streets along with plenty of beachwear and t-shirt stores. One of the two grocery stores on the island is in the village as well. For the adult beverages you can find a liquor store next door to the grocery in the village. Be prepared to pay extra as prices are a bit higher on the island.
If you're on a tighter budget we would suggest to go off island to Publix, Walmart or drive about 20 minutes south to an Aldi and stock up for however long you plan on staying.
Stickney Point Road and Midnight Pass Area
On the Middle part of the island you will find the bulk of the boat and watersport rentals. This area is not as quaint as the Village but offers plenty of more reasonable priced dining and nightlife options as well. There is a grocery store on the corner and several places to get beer and liquor within walking distance.
You can also access Crescent Beach at Siesta Key Beach access point 12. This is the only public access point on this part of the island. The condos and resorts can be quite vigilant against people trespassing on their properties so unless you're staying there use the public access.
This part of the island does not have as many stops for the Siesta Key Breeze past Stickney Point Road and Midnight Pass road intersection. To travel South down to Turtle Beach via the trolley you just need to wave it down if you see it on its way.
What to Do on Siesta Key
How about relax! Most of our time was spent at the beach, watching the boats on the intercoastal waterway and enjoying the pool at our condo. If you can't sit still for too long then even though it's a small island there's so much to do.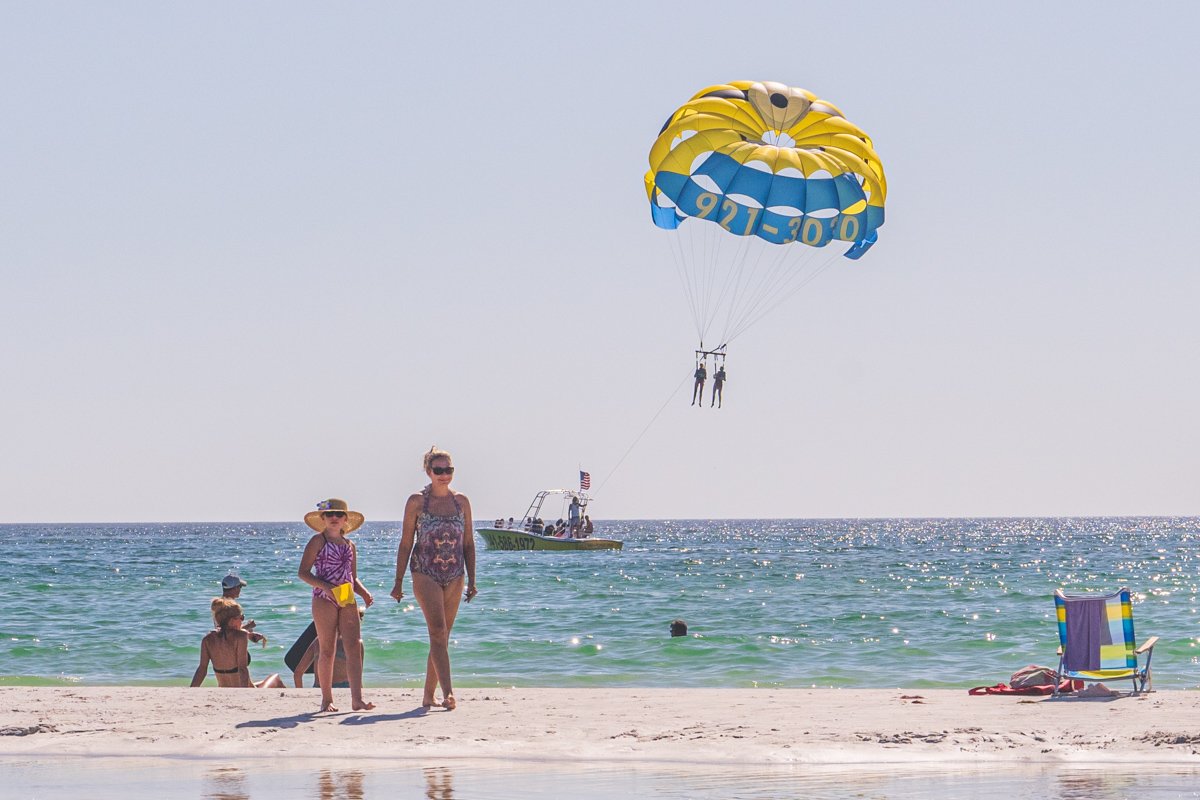 You can rent kayaks, paddle boards, boats, Jet Skis, Scooter-cars (a 2 seater car, 50cc engine), golf carts and more. For the more adventurous you can even go parasailing which a couple of Michelle's friends have done and loved. There's also fishing, golfing and so much more.
You can plan your trip at the Visit Florida website, it's easy to use and really helpful.
Awesome Siesta Key Area Experiences
Besides the amazing beaches of Siesta Key, can we say powered sugar sand again, there are a ton of other experiences to be had in and around Siesta Key. Here are a few you ought to try:
Location
Siesta Key is located on the Gulf Coast of Florida about midpoint of the state. It's about a 25 minute drive from the Sarasota Airport and 15-17 minute drive from downtown Sarasota. Depending on your budget you can rent a car at the airport and drive yourself or use a rideshare company like Uber or Lyft.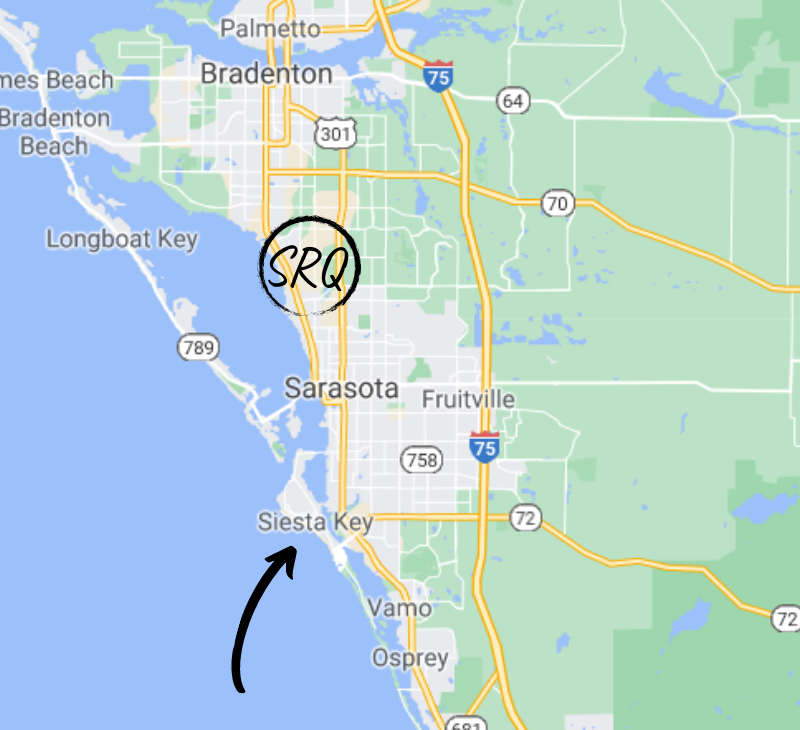 How to get to Siesta Key
Traveling by Air
Getting to Siesta Key Florida is quite easy now with two major airlines now servicing Sarasota International Airport (SRQ).
Check Flights to Sarasota & Tampa with WayAway.
Southwest Airlines added service directly to Sarasota International Airport (SRQ) at the end of 2020. You no longer limited to flying into Tampa International Airport (TPA) if you're a Southwest Airlines passenger. Yep that means you can use your Southwest points to get to Siesta Key now! A plus for keeping costs down on your next Florida beach vacation.
Want to earn up to 60,000 bonus points for travel? We use our Chase Sapphire Preferred card to earn points for all of our travels and you can to. Sign up and you will get 60,000 bonus points after spending $4,000 in the first three months your account is open.
Delta also flies to SRQ as it has done now for years. Personally Delta is our Favorite international airline and Michelle's choice to get to Siesta Key up until this year. There are many other airlines that have domestic or international routes in to SQR like Allegiant, American, United, Aer Lingus, KLM, Air France, Air Canada and more.
One way Drive options from Tampa International Airport to Siesta Key, Florida
Alternatively you can Fly into Tampa International Airport (TPA) and drive down to Siesta Key.
Transportation Costs to get from Tampa to Siesta Key
Driving Times to Siesta Key From Major Florida Cities
For those adverse to flying or prefer to make it a road trip here are some general drive times to Siesta Key, Florida:
Departing City:
Tampa: 1 Hour 10 Min.
Miami: 3 Hours 30 Min.
Jacksonville: 4 Hours 12 Min.
Atlanta: 7 Hours 25 Min.
Nashville: 11 Hours 20 Min.
Chicago: 18 Hours
Where to Stay on Siesta Key
We would recommend staying near Siesta Key Village if it's your first time visiting. You will be within a 5-10 minutes walk to the beach, bars, restaurants and shopping. Almost all of the accommodations will be either short term rentals or small resorts/cottages.
Prices will range from $150-500 a night depending on what time of year you visit. January, February and March are high season so keep that in mind when booking.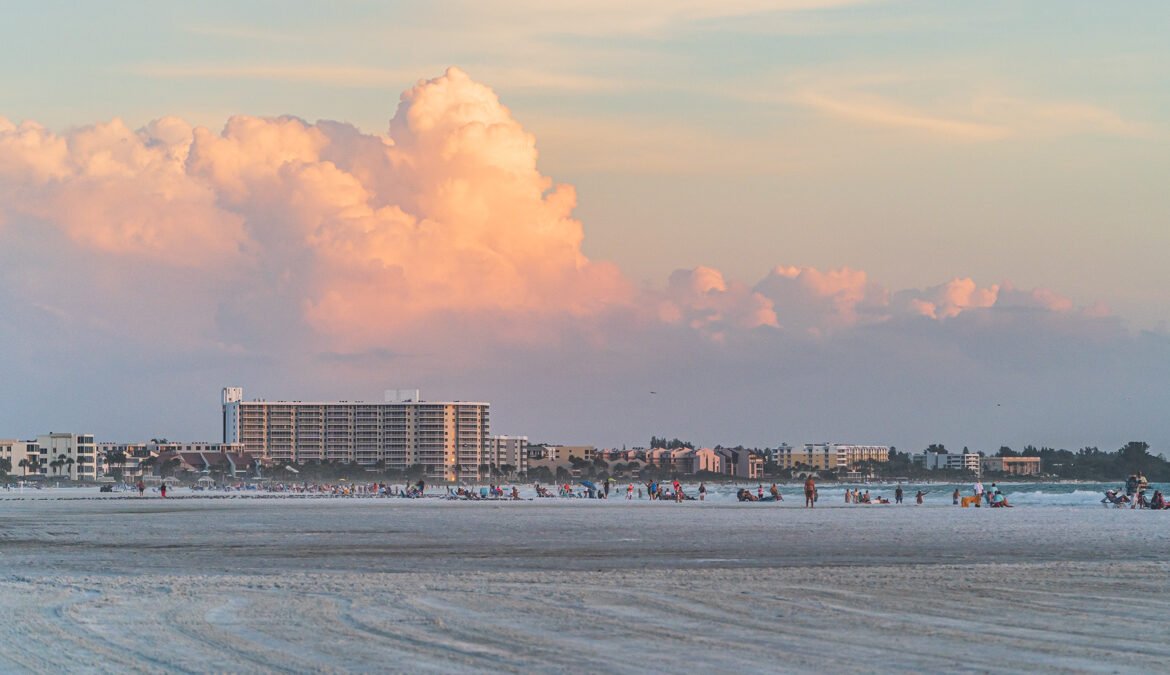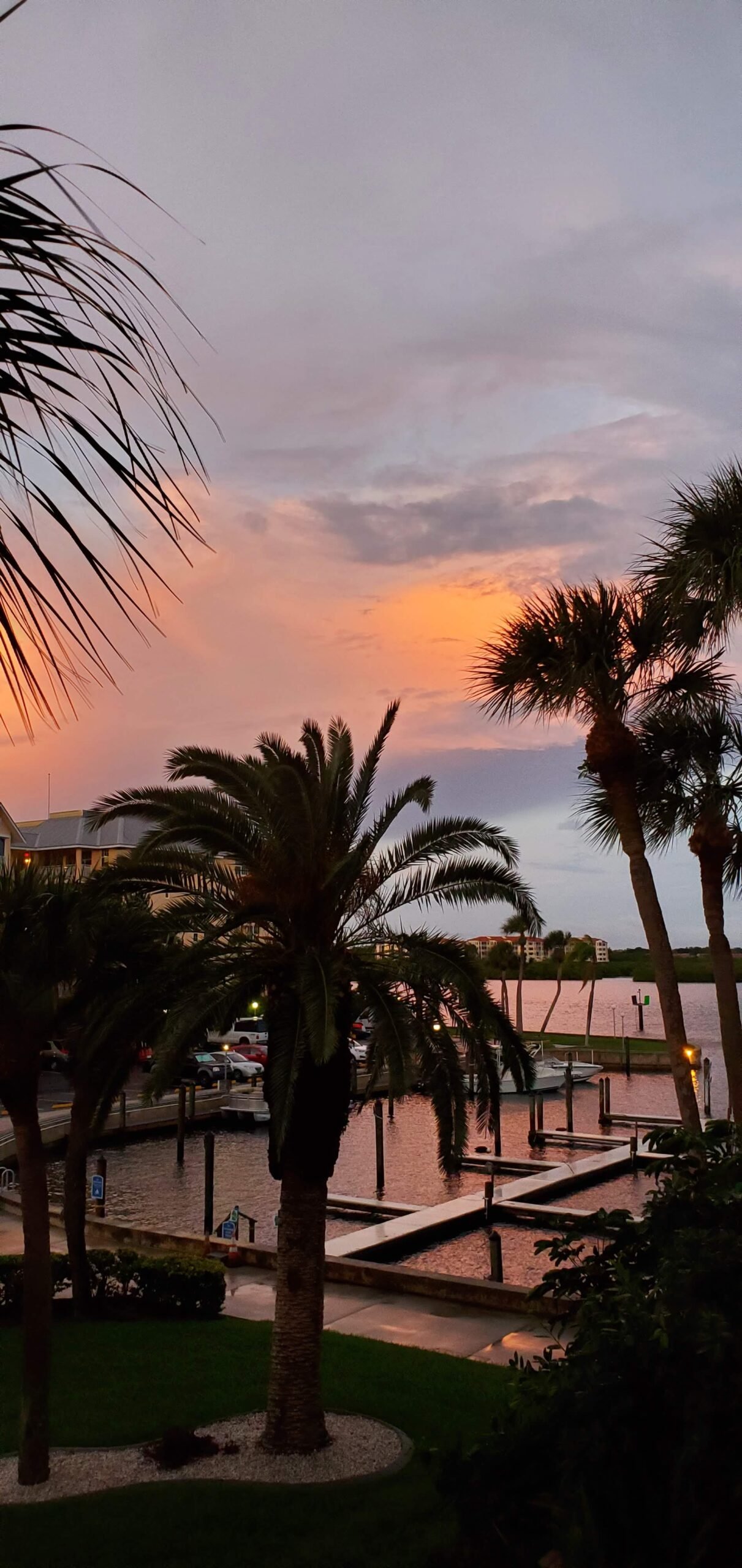 If you're looking for something a little further out of the village and more affordable try the bigger condo/apartment complexes. We stayed at Harbor Towers Yacht and Racquet Club and loved it.
The beach was about a 10 minute walk, we could sit on the back bay and watch the boats pass by on the intercoastal waterway. Plus it has a gym, pool and tennis courts! It was perfect for us!
For Additional options you can check Hotels.com, VRBO or Expedia to see what is available for your dates.
TIP: The beach closer to Siesta Key Village is a lot quieter than further down where the big access area is and the beach pavilion. Beach Access 2, 3 and 4 if you're looking for a quieter experience.
Getting Around on Siesta Key
Having a car is great but if you're on a budget like us it just wasn't the best use of our money to rent a car for 5 weeks.
Luckily there's a free trolley called the Siesta Key Breeze and it runs up and down the island about every 30 minutes.
It's mostly hop on hop off and just tell the driver where you would like to be dropped off. It has limited hours and can fill up quickly on the weekends or in high season.
There is an app you can find for iOS and Android in their respective stores and it's supposed to show both trolleys in real time on the island. The Siesta Key breeze App stopped working for about 2 weeks during our stay but we still had no problem using the Free Trolley!
There's also several privately run "Free" shuttles that operate on tips only. Theses "Free" Shuttles operate much later hours than the Siesta Key Breeze trolley and are your best bet for larger groups.
Generally they only operate on the island but you can ask each operator if they will be willing to take you across to the mainland. You can also get ride shares on the Island from Uber and Lyft but we found them best for going off island.
Free Siesta Key Shuttles to call
We used both of these Free Siesta Key Shuttles and would recommend them. Just be sure to leave a tip!
Siesta Key Frog hop Free Shuttle (844) 376-4467
Siesta Key Disco Free Shuttle (941) 952-8294
Our Top 5 Restaurants on Siesta Key
Uber Eats is also available to get food from the surrounding area. Use our code eats-gaz05 to get $20 off your first order ($25 min. & no additional cost to you)
If your into cooking your own food you can do what we did and have your groceries as well as your adult beverages delivered! Yay Florida!
Use our code JHARTZ113C1 for $15 free on your first Instacart order.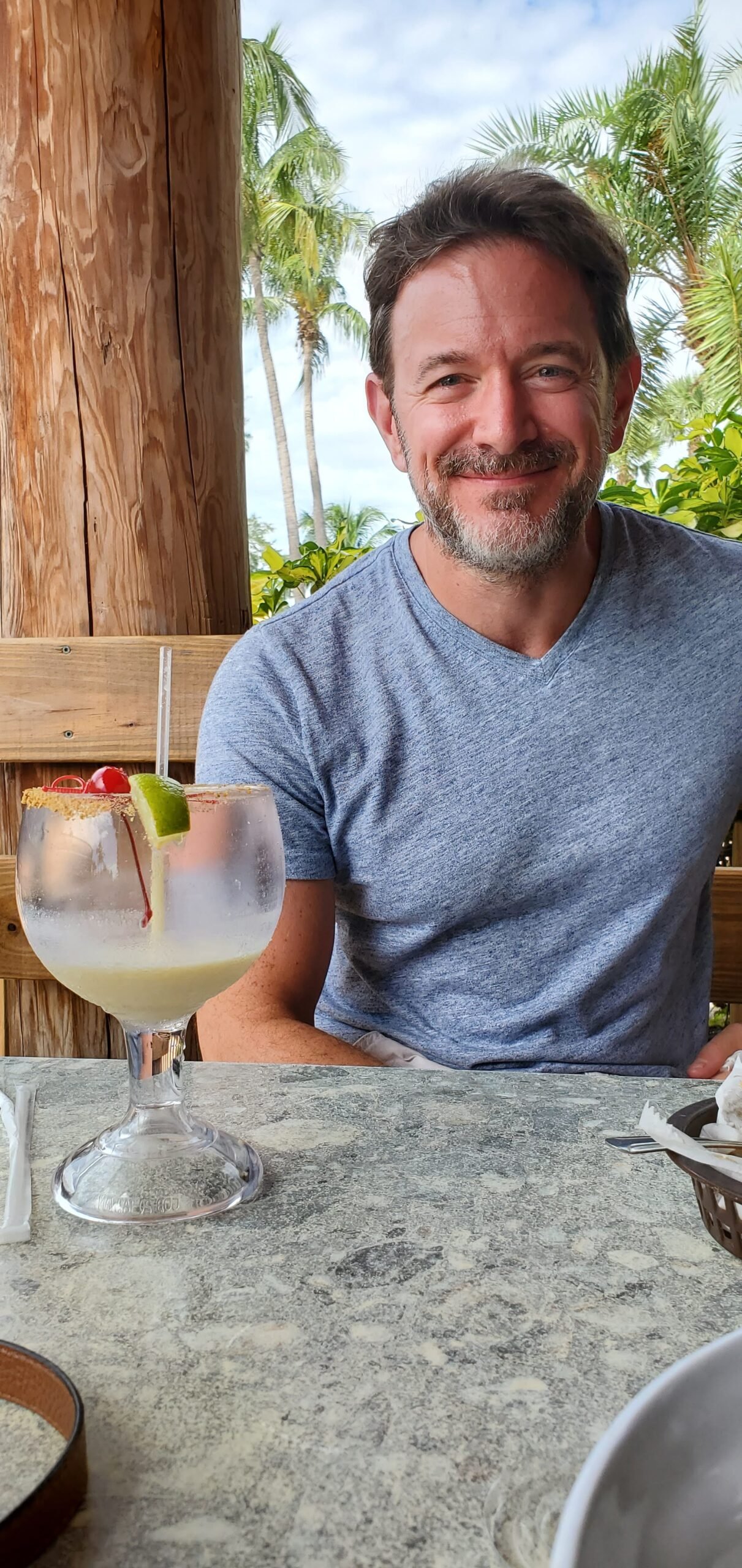 Should You Visit Siesta Key
In a heartbeat YES! We enjoyed every minute of our time on Siesta Key.
It was the perfect place for us to work on our work life balance. Work on creating content and writing travel articles while enjoying the beautiful weather, beaches and just having fun!
It is so easy to get around the island especially with the Siesta Key Breeze and the Free Rides. And there are quite a few great restaurants and bars to enjoy.
If your a photographer like Joel, or just want to practice, then you'll have plenty of amazing sunsets and lifeguard huts to photograph.
Using our affiliate links (hotels.com, expedia.com, VRBO, Hertz, Chase Sapphire Prefered, Viator, etc.) supports great content on wanderinghartz.com and our Youtube channel.
None of the affiliate links cost you anything or increase the price you pay, and we may earn a small referral commission.
Or if you're feeling generous you can buy us a much appreciated glass of wine (or whiskey)!
Cheers,
Happy Wandering!
Joel and Michelle