Mediterranean Like Views and Wine the Cordiano Winery in San Diego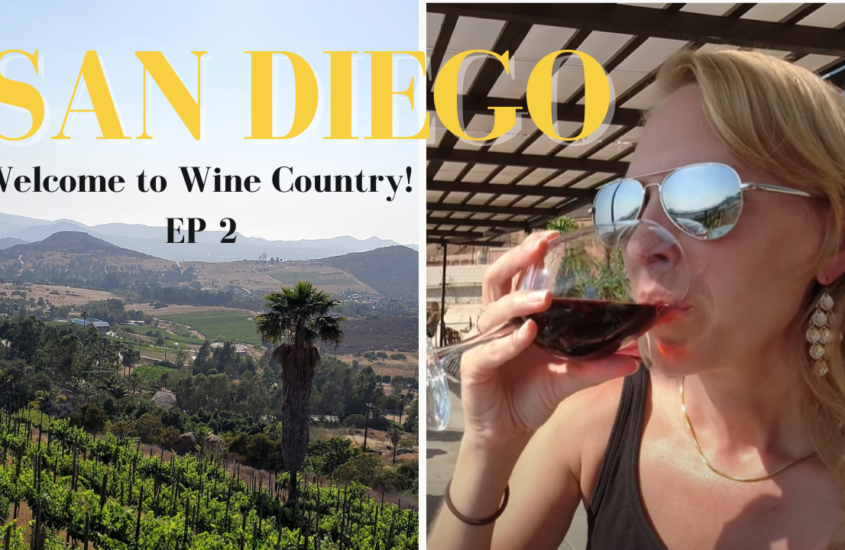 The second week of our stay in San Diego turned out much better than the first. We were on the mend from our colds and ready to explore! You can read about our first week house/pet sitting here ->A Golden Doodle Wine and Travel – Adventures in Pet Sitting in Sunny San Diego.
More Wine Please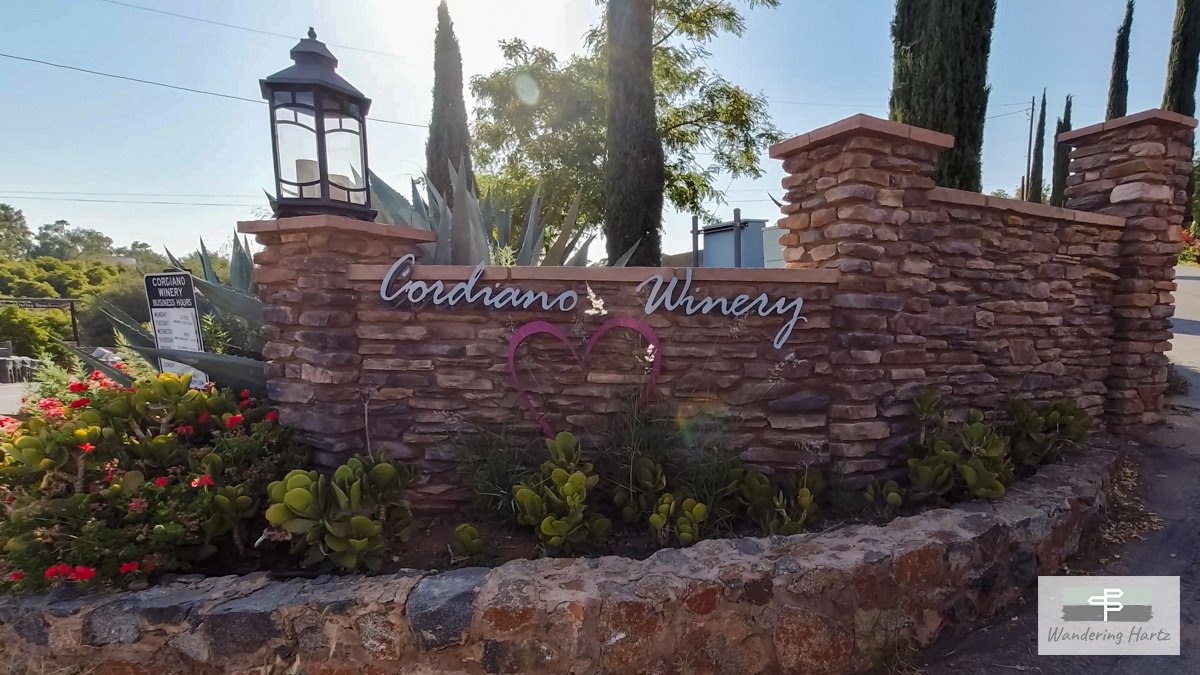 Eager to go visit another winery, we opted for the picturesque Cordiano Winery. Michelle had already been to the Cordiano Winery a couple of times with her family. Since Joel hadn't been yet and we were still technically celebrating his birthday, it seemed a no brainer.
San Diego's Wine Country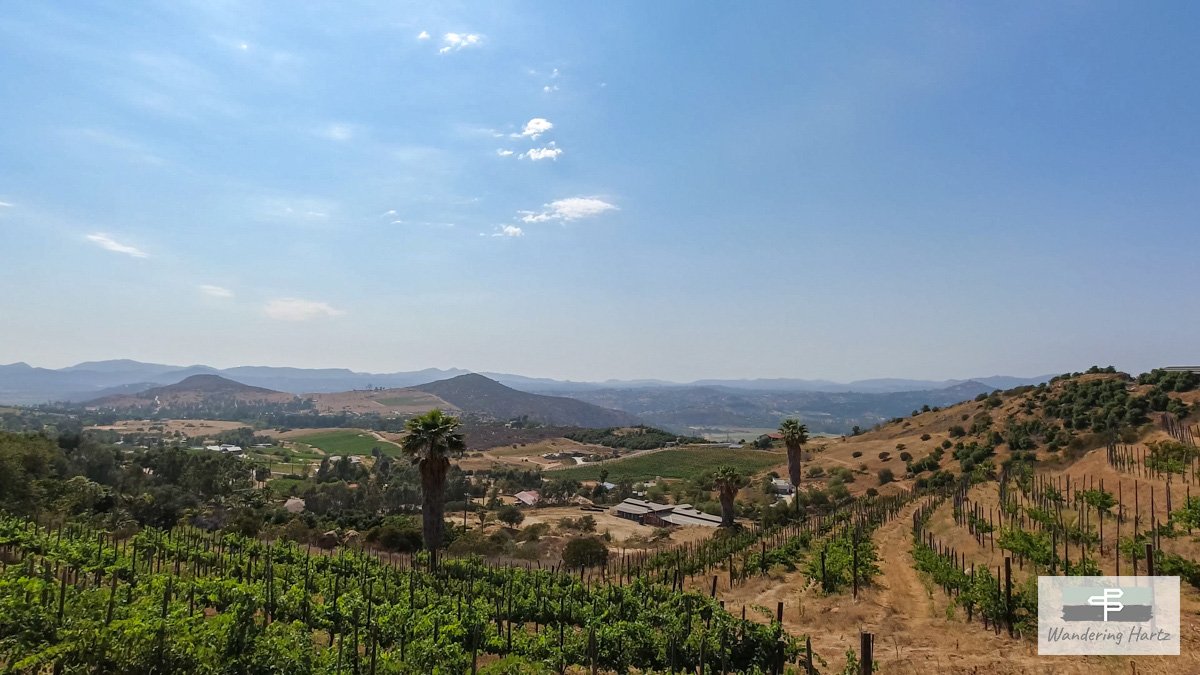 The drive up to Cordiano winds through the hills of the Highland Valley in north county San Diego. Highland Valley is just on the other side of the hill of the more well known San Pasqual Valley. This area is known for wineries and amazing views reminiscent of Italy.
The cool ocean breeze and whispers of fog in the morning mixed with the warm climate draw similarities to the Mediterranean. It also creates the perfect growing conditions for grapes. We passed multiple wineries on our drive and wished we had left earlier so we could have stopped at a few more.
After looking on Google Maps we counted around 15 vineyards and wineries in the area. If you're a wine lover you could easily spend 2 or more days here sipping and tasting wine and enjoying the spectacular views. The makings of a wonderful weekend!
Great Wine and Good Eats
One of the reasons we chose Cordiano is because they have a restaurant on premise. As of right now you have to make reservations which have a 2-hour table limit.
Cordiano Winery hours of operation are Wednesday – Sunday​ 12:00 PM – 6:00 PM. The last seating is at 6pm and the kitchen closes at 7pm. You have until 8pm to enjoy the views and your wine as the winery closes at 8pm. Another bonus is you are serenaded with live music every Wed/Fri/Sun.
Michelle has had multiple meals off the menu and you can't go wrong with anything. Pizza and salads are a great option if you're going with a group. Add a bottle or 2 of wine for the table and you're set for a great night.
On this visit Joel had the Salmon Salad and Michelle the Spaghetti Carbonara, both were really tasty. We enjoyed our delicious meals while looking out across the valley as the sun began to set.
Since it was just the 2 of this time we decided to partake in their wine tasting flight. The flight included 3 reds, 1 white and 1 dessert wine AND includes a Cordiano souvenir glass for $20.
Michelle's favorite wine was the Sangiovese and we purchased a bottle to enjoy back at our pet sit while watching Stella the Doodle run around in the backyard.
Stay for the Weekend
We would definitely recommend visiting Cordiano Winery and only wish we had realized how many other wineries were in the area during our stay. On our next visit to the San Diego area we will make it a priority to visit as many of the 15 other wineries as we can.
Here is a short list of a few more wineries, accommodations and wine related experiences in the San Diego area we have added to our list to explore. Add them to your own list for your next visit.
More San Diego Area Wineries we Want to Visit and You Will Too!
San Diego Wine Country Accommodations Close by
Rancho Bernardo Inn & Spa, walking trails, golf courses & casual dining, plus tastings at Bernardo Winery.
Check rates: Hotels.com Expedia.com
SpringHill Suites by Marriott San Diego Escondido/Downtown An all suite hotel with stylish décor is just 7 miles from the San Diego Zoo Safari Park and only 5 miles from the 5-acre arboretum at Kit Carson Park.
Check rates: Hotels.com Expedia.com
The Ranch at Bandy Canyon Rustic cabins, equestrian center, petting zoo, and a pool.
Check rates: Hotels.com Expedia.com
Stunning Serene Studio with Private Patio and Hot Tub a VRBO Located in Rancho Bernardo
Check rates: VRBO.com
Escondido Home on 6-Acre Vineyard Estate w/ Views! another VRBO Located in Escondido
Check rates: VRBO.com
San Diego Wine Experiences you Should Book
In the meantime if you find yourself there drop a comment to let us know which are your favorite wineries to visit in the area.
Next up we visit Balboa Park in the heart of downtown San Diego
Using our affiliate links (hotels.com, expedia.com, VRBO, Hertz, Chase Sapphire Prefered, Viator, etc.) supports great content on wanderinghartz.com and our Youtube channel.
None of the affiliate links cost you anything or increase the price you pay, and we may earn a small referral commission.
Or if you're feeling generous you can buy us a much appreciated glass of wine (or whiskey)!
Cheers,
Happy Wandering!
Joel and Michelle
More California Articles