Exploring Stunning Mammoth Lakes, June Lake, Mono Lake, Convict Lake
Our ROAD TRIP Continues Exploring around Mammoth Lakes EP 29 VLOG
With only one more full day to explore in Mammoth Lakes we hit the Starbucks in the village for some quick fuel before setting out. Our day had us doing a bit of work first, since well, we couldn't really avoid that for too long. I made sure to get our clothes freshened up too. Just because we are vagabonds of sorts we don't have to smell like hobos!
With everything sorted we packed up the car with our camera gear and made our way to Convict Lake.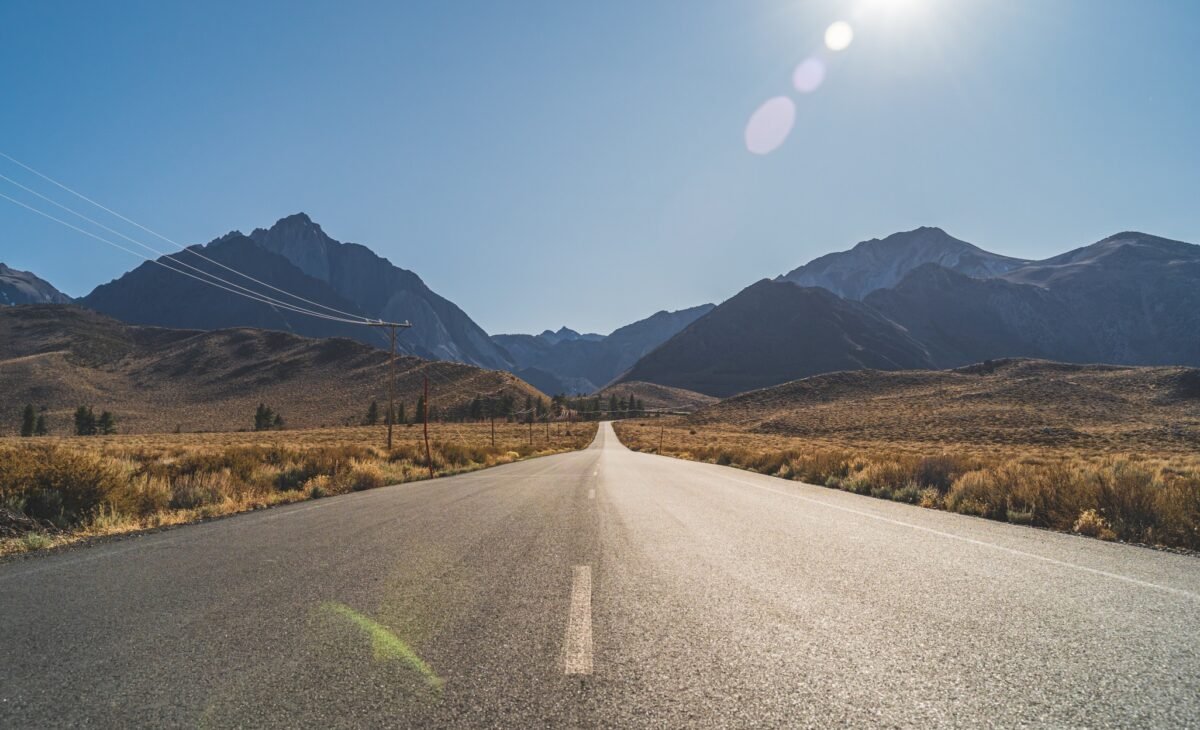 Convict Lake
I have to confess that I have been to Convict Lake before, actually it was about a year and a half prior to this trip. I had produced a music video for country music artist Chase Rice called "Eyes on You" and Convict lake played a role in the video.
"Eyes on You" video is an epic adventure themed road Trip full of fishing, skiing and camping. One of my duties was to find all of the locations and Convict Lake was a treat. Michelle had not been here despite a trip in this area of California as a youth. So it was with great pleasure that I made sure this stop was on our to do list on our move across the country.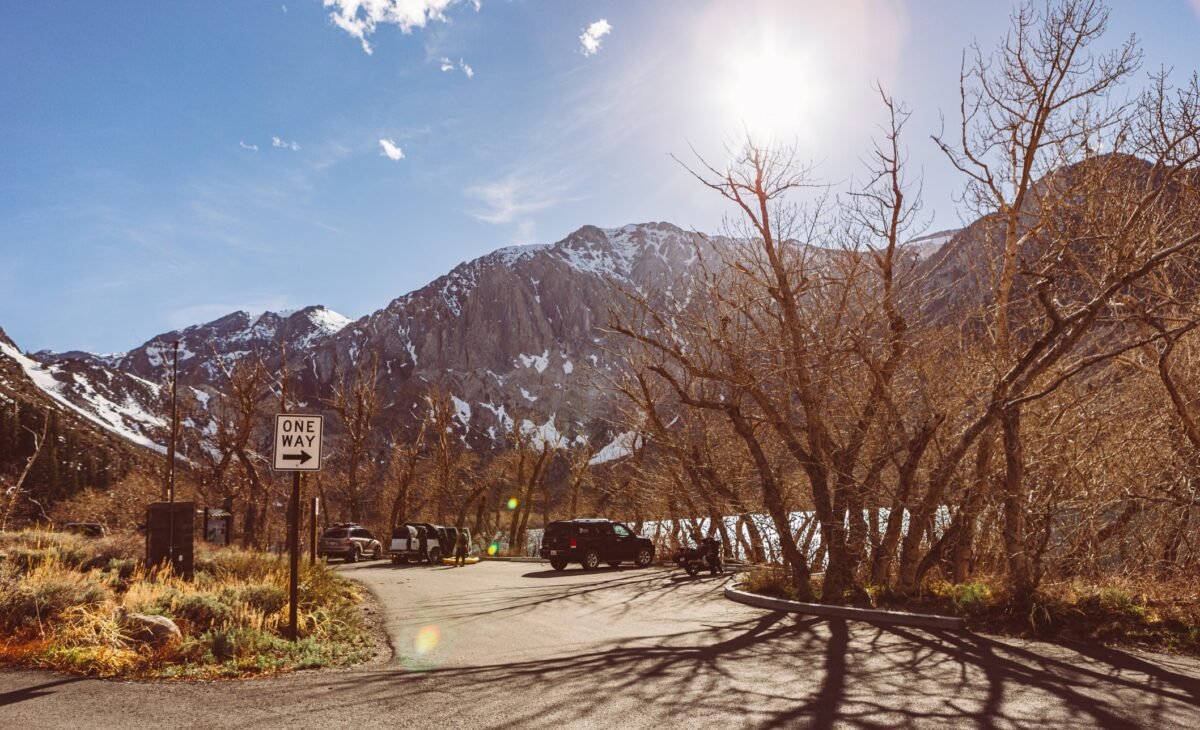 Convict lake gets it's name from a group of literal convicts, 29 in total, who escaped from Carson City, Nevada in 1871. After being pursued they had made their way up to head of the creek that feeds Convict Lake and were located by the local Sherriff posse. Needless to say a shootout ensued and the lake was known as Convict Lake ever since.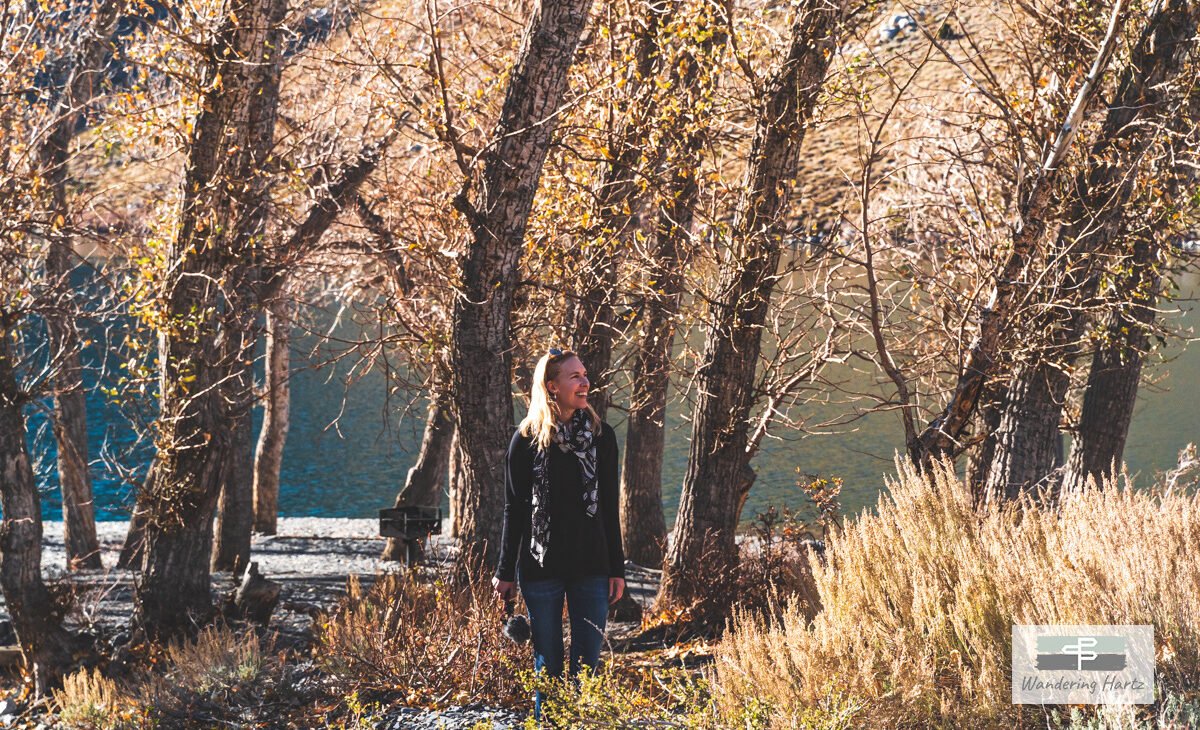 The lake is quite well known for its fishing, camping and 2.5 mile hike that circumnavigates it's deep mountain waters. The trail also connects with backcountry trails that go deep into the Sierra Nevada's. Although we didn't visit it, there is a small rustic resort here and a restaurant that caters to the fisherman and adventure seekers that flock here in the summer months.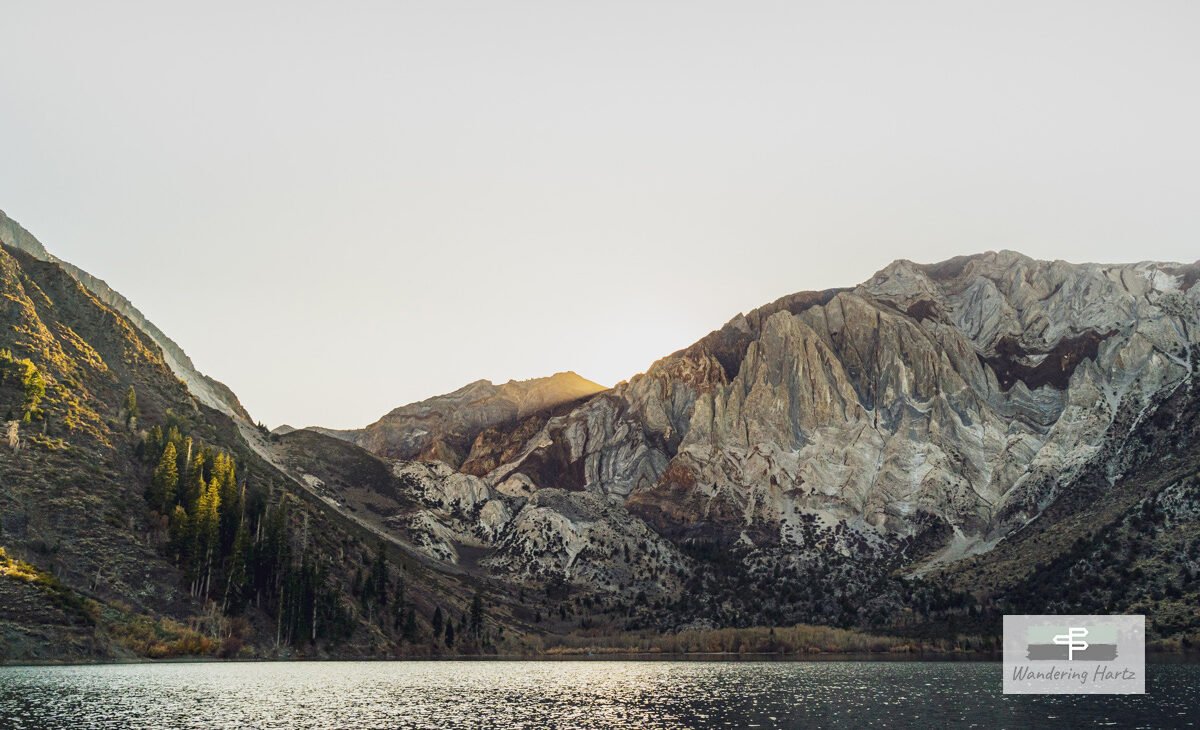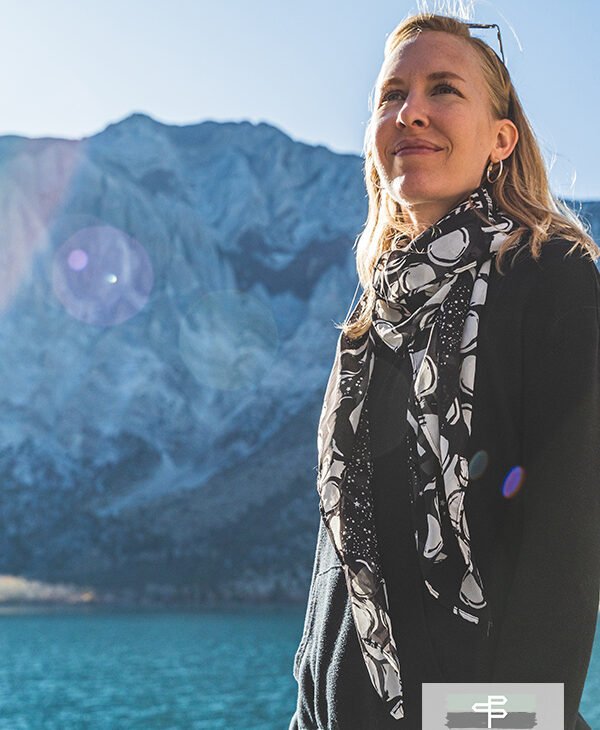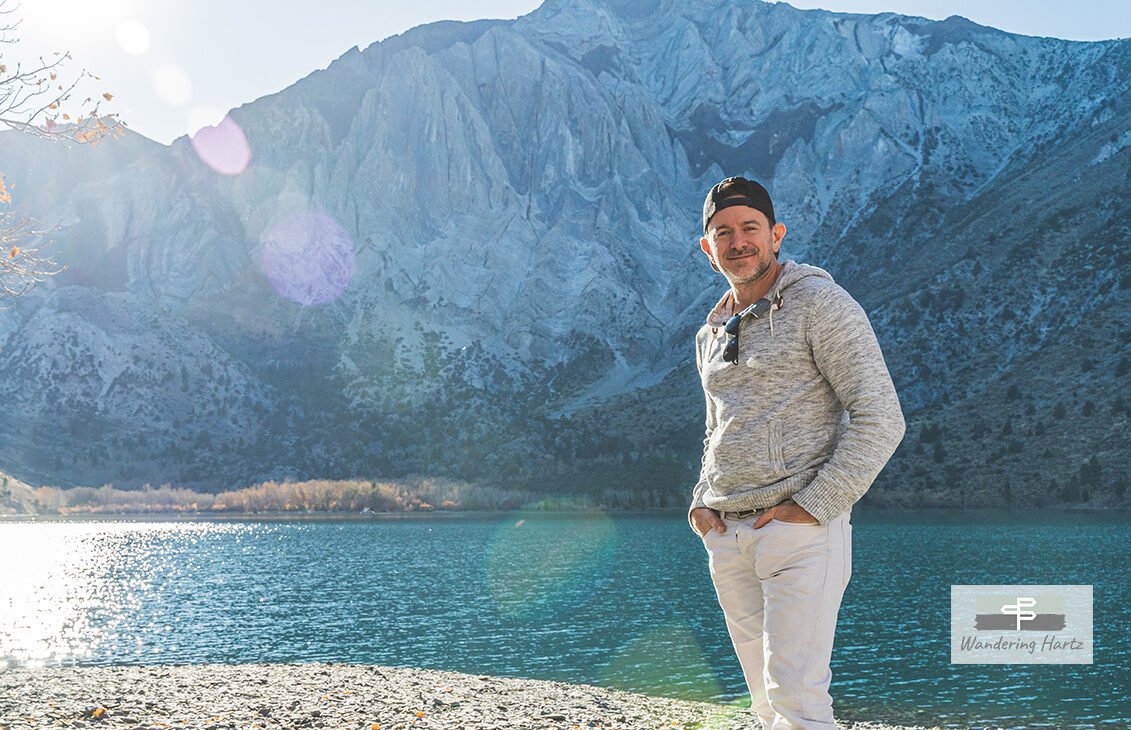 I was sure to grab a few pictures while we were here this time, as the last time I had my hands full with wrangling our crew for the music video. We stayed until the sun set behind the sheer granite cliffs of the mountains. This being early November once that sun went down, so did the temperature!
Happy Hour at The Distillery
We quickly made our way to the car and then hastily made our way back to Mammoth Lakes in order to try and make it to happy hour at The Distillery. What seems like a cruel twist of fate for all of us photographers and filmmakers, Happy Hour always seems to coincide with sunset. There ain't no justice it seems.
Arriving with a few minutes to spare to ensure our discounted libations, we had found our way towards the gondola in the Mammoth Village and promptly ducked into The Distillery. The Distillery is aptly named and the establishment not only makes some fine and tasty spirits for sale off premise, but also functions as a bar and restaurant too. With a rustic and stylishly industrial interior the copper stills are the centerpiece and first thing you notice. Beautiful and functional!
We promptly ordered from the barkeep and decided to try cocktails made entirely on site, as you do when the opportunity presents itself. Michelle ordered a gin cocktail, The Bees Knees and fond it quite satisfying. I tried the rum and went with one of my favorite's the classic Mojito. It was delicious. We didn't try the food as we had already made plans to eat dinner at Smokeyard BBQ located on the ground floor of The Village Lodge where we were staying.
Where's Breakfast?
After filling up on ribs at the Smokeyard BBQ we had made our way to the warmth of our room and its fireplace the night prior. The next morning was to be our last few hours in Mammoth Lakes as we were checking out, packing the car up and headed North. Our first mission was to find a filling breakfast. Michelle had her hopes on a small quaint restaurant called the Sidedoor. Unfortunately for us the restaurant hadn't opened up that morning. Turns out someone forgot to come to work.
Good thing there were more breakfast options within easy walking distance of our hotel. We made our way to our next, or rather second choice, Toomey's. Tommey's is a classic café with a HUGE breakfast menu. They were not messing about. We each ordered separate dishes and ate as much as we could. Unless you are are about to spend six hours on the slopes, you can easily split the dishes. We forced as much down our gullets as we could as we knew we were going to be pretty busy with our next few stops we had planned.
June Lake
The drive out of Mammoth Lakes was so beautiful! We took the Mammoth Scenic loop, a curvy road though a lovely stand of forest which connected us back up with Highway 395. We recommend this route as it also avoids driving back through town. After a few miles of more amazing vistas we arrived at the turn onto route 158 the June Lake Loop which if taken the whole way back to 395 is a 25 mile loop around June Lake, Gull Lake, Silver Lake and Grant Lake. Immediately we knew this was going to be a lovely drive!
June Lake is know as the Switzerland of California due to the rolling hills in the valley surrounded by dramatic mountain peaks. It is a resort community known for a plethora of outdoor activities. In the summer it is quite the popular fishing destination, boating, kayaking, swimming and it even has a small beach. The winters make it a great destination for families and beginner skiers at June Mountain Ski Resort.
After exploring by car for a bit we made our way around the loop and back to Highway 395. I was sure to stop for a few photographs along the way before continuing our days adventures to Mono Lake.
Mono Lake
Mono Lake is an prehistoric salt lake with the remnant of an ancient volcanoes. It technically called Mono Lake Tufa State Natural Reserve. The lake is over 1 million years old! It is made even more unique by the mineral formations called Tufa that can be found all throughout the lake. There is a great visitors center with lots of information about the history of the lake geologically and more recently.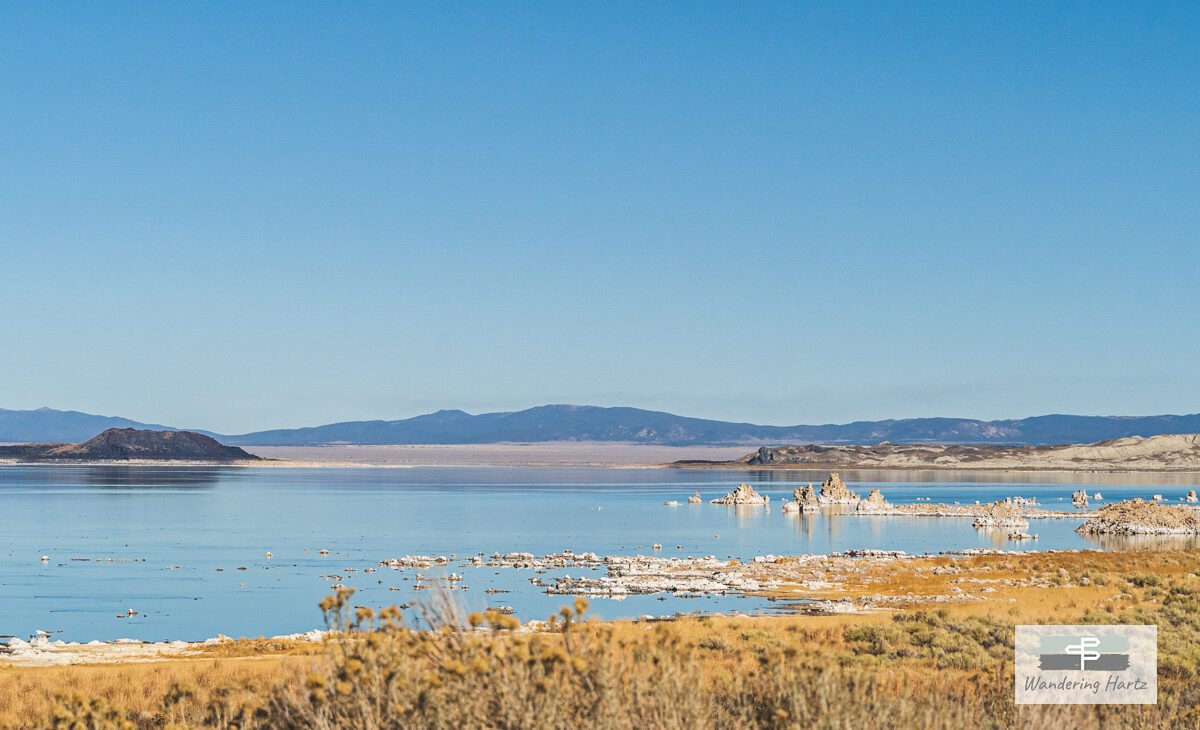 Fun fact: there used to be a marina and the lake was a huge draw due to the density of the water. It is MORE dense than ocean water and old-timers used to claim soaking in it had healing properties.
We really enjoyed our stop here. As with nearly every place we have visited on this trip, I wish we had more time to explore further. The reserve has a lot to offer besides hikes and swimming. You can camp, boat, cross country ski and bird watch too. It is home to between 1 – 2 million birds like Osprey.
Oh to have more time
If you make your way to the Mammoth Lakes area we highly recommend spending at least a week to explore. I feel like we just barely grazed the surface only to expose even more interesting and beautiful sights. As such, we left Mono Lake and hopped back on Hwy 395 for South Lake Tahoe where we had booked our next couple of nights stay.
We drove hwy 395 and took the North route to South Lake Tahoe which impressed us with more majestic views as we crossed back in Nevada. This wouldn't be the last time either as you'll see in the next vlog we literally stayed on the State Line between California and Nevada.
Our stay in this video:
Using our affiliate links (hotels.com, expedia.com, VRBO, Hertz, Chase Sapphire Prefered, Viator, etc.) supports great content on wanderinghartz.com and our Youtube channel.
None of the affiliate links cost you anything or increase the price you pay, and we may earn a small referral commission.
Or if you're feeling generous you can buy us a much appreciated glass of wine (or whiskey)!
Cheers,
Happy Wandering!
Joel and Michelle

CAMERA:
Sony A7III
Samsung Galaxy S8 active
Yi 4K Action Camera
Sony Rx-100V
LENSES:
AUDIO:
Graphics: Envato Elements
MUSIC IN THIS VIDEO: