Amazing Cloud Forest Hike to Mt Britton Tower
El Yunque Rainforest has a lot to offer as far as hiking. We decided to start with a hike to Mt. Britton Tower since it's one of the longer trails and has beautiful views. It's a 1.3 km moderate walk with a 198 meter elevation gain. Expect to spend about 45 minutes hiking to and from the tower. It took us a little bit longer since we also stopped to take lots of pictures and video.
El Yunque is the only tropical rainforest in the United States National Forest System. It's biologically diverse and breathtakingly beautiful as we discovered for ourselves.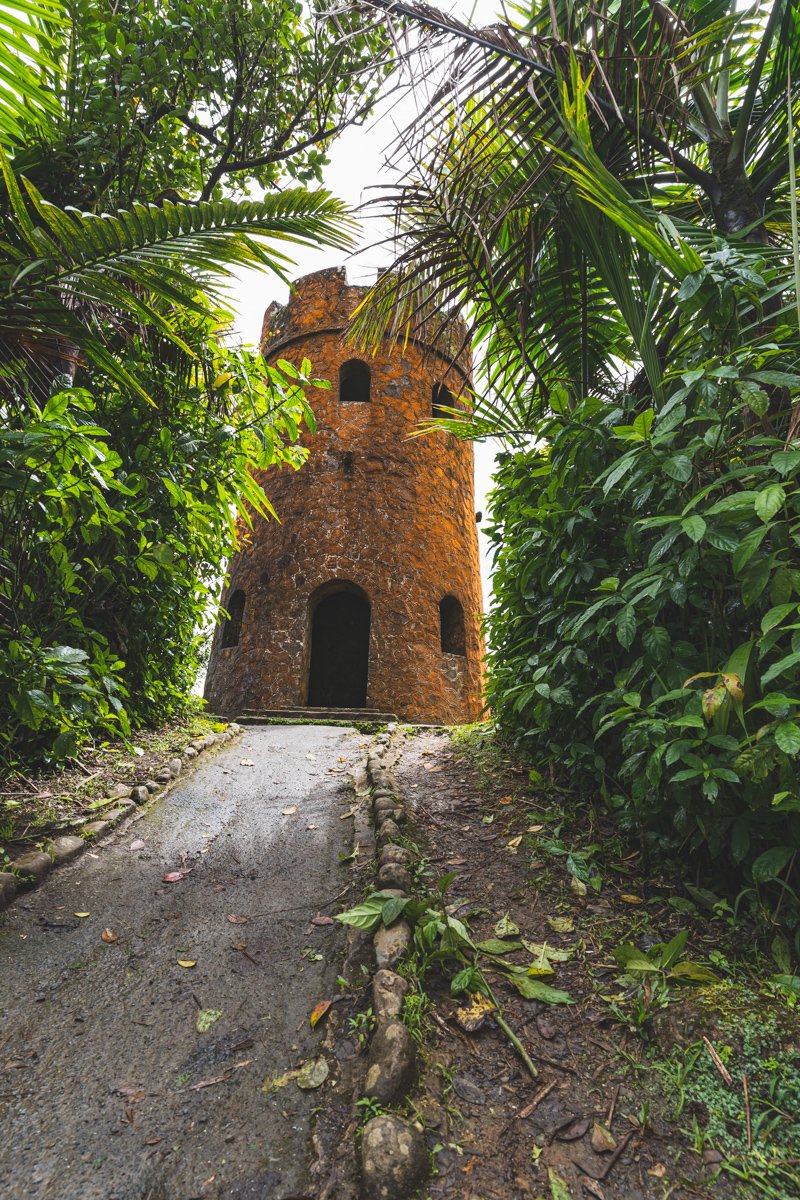 History of Mt. Britton Tower
The tower was built by the Civilian Conservation Corp in 1937-38 and is constructed out of stone. The tower and trail are named after botanists Nathanial Britton and his wife Elizabeth Knight Britton. They surveyed and identified a large number of native and endemic trees and plants in the Luquillo Mountains in 1912.
Want to earn up to 60,000 bonus points for travel? We use our Chase Sapphire Preferred card to earn points for all of our travels and you can to. Sign up and you will get 60,000 bonus points after spending $4,000 in the first three months your account is open.
How To Get to the El Yunque National Forest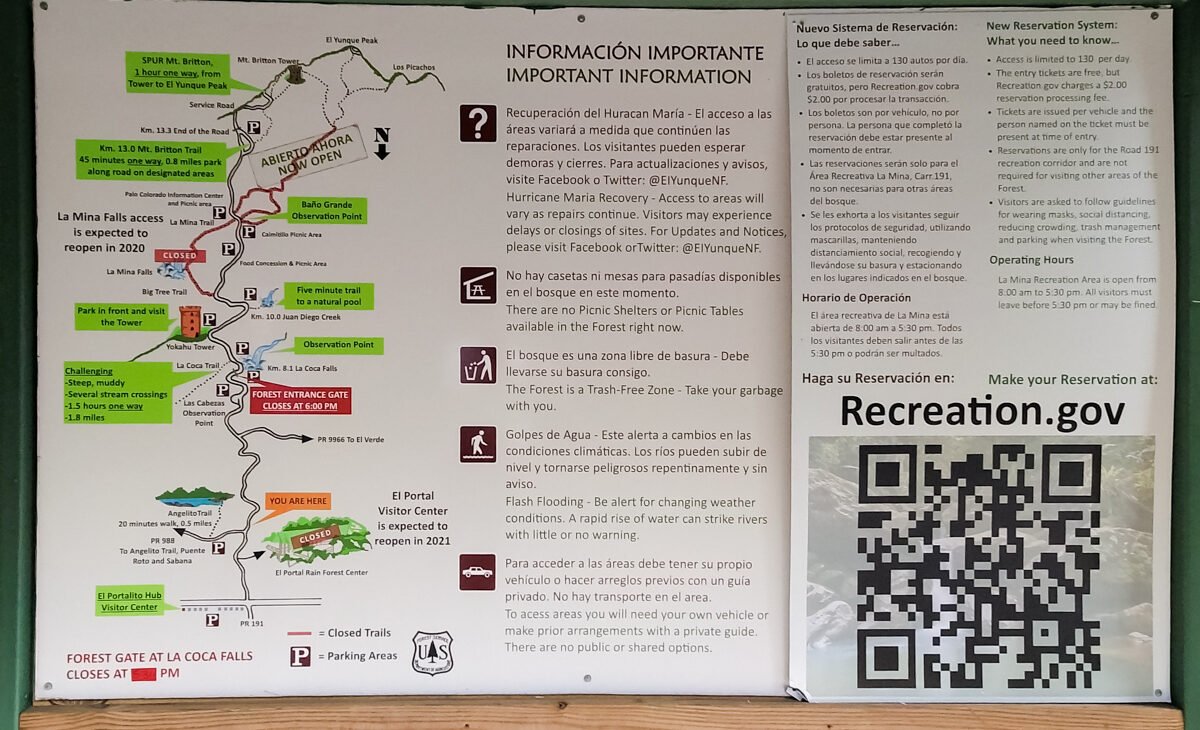 El Yunque is an easy day trip if you're staying in San Juan. Plan for a 45 minute to 1 hour drive depending on traffic if you're coming from San Juan. If you're staying in Luquillo it's only a 10-15 minute drive and if you're in Fajardo add another 10 minutes.
Depending on how much time you have to explore will determine the best way to visit El Yunque. If you have loads of time to explore and want to see every natural feature then booking a rental car would be your best option. If your short on time or nervous about dodging potholes or the narrow roads, then a tour might be your best option. None the less it is easy to navigate and we had no trouble using our phones GPS.
Rental Car
Renting a car is by far the best option if you have the time or even better already have the rental car. You can book a rental car for just the day but logistically only if you are staying in the Greater San Juan area, or Fajardo. There are just not as many car rental options on the island outside of the major towns of San Juan, Fajardo, Aguadilla, Mayagüez and Ponce. Read about getting around in Puerto Rico here. Driving yourself you will need a time reservation ticket.
Rideshares Taxis and Private Cars
FYI if you were planning on booking a Rideshare, they are not allowed in the park and don't operate outside of San Juan. Taxi or private car services are also not allowed inside El Yunque without a special permit.
Book a Tour Operator
Booking one of the many tours that take you into the El Yunque National Forest is actually pretty easy. There are a lot of providers offering excursions to different areas of El Yunque including the La Mina area. You may be able to book a tour though your hotel or through Viator, Expedia or GetYourGuide.
Here are a few highly rated ones we found that include transportation from San Juan:
El Yunque National Forest Half Day Tour – admission to La Mina area and El Portal de El Yunque visitor center
El Yunque National Forest Tour from San Juan – This tour is outside of the La Mina area
Casual One- El Yunque Rainforest, Waterslide, Beach, Dine, and Shop w/ Transport
note: Entry ticket reservations are not required for tours booked with an authorized tour operator under a special use permit.
During our trip we had a rental car so we drove to El Yunque from our Vacation Rental in Fajardo. Once on Carr 191 the drive up is a lovely, windy and sometimes narrow road but easy to navigate.
Admission is $8 and open daily from 9AM-5PM. The visitor center is located along Carr 191 before you get to the heart of El Yunque and your reservation ticket is not required.
Reservations for the La Mina Recreation Area
The Mt. Britton Tower is located in the La Mina Recreation Area. SInce it reopened in 2021 there has been a $2 timed entry reservation system in place. Read more about the La Mina Recreation area.
Book your tickets here: El Yunque Reservations.
What to expect on the Mt. Britton Trail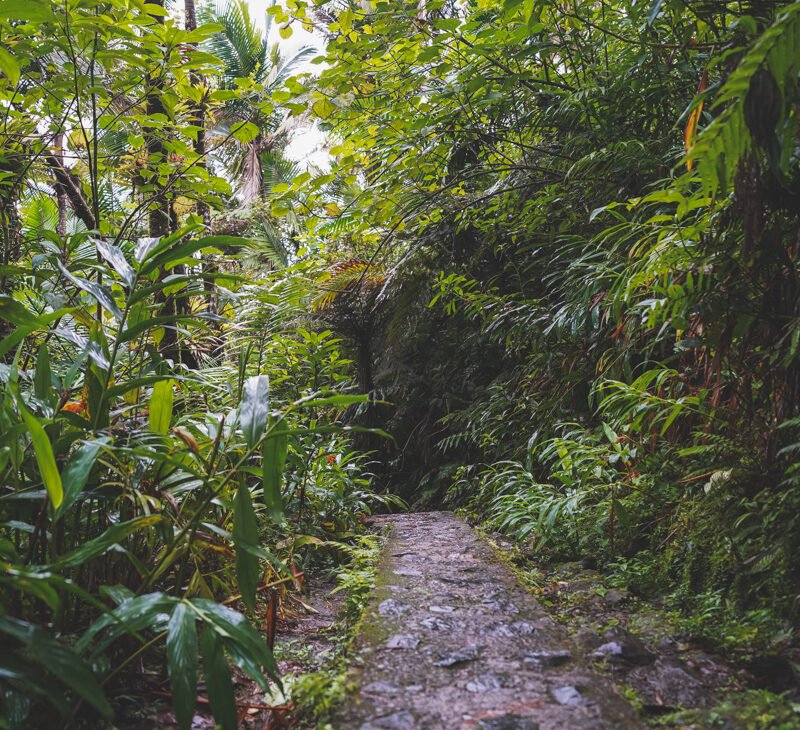 Trail Conditions
The trail up to the Mt. Britton tower is well maintained and made of stone that is easy to navigate. There is a small section where you will walk on a park maintenance road. It rained on us on the way up and due to the stone path our feet stayed dry. We highly recommend you wear proper footwear as the stone path can get a bit slippy in places.
Wildlife
Along the trail you will hear plenty of the local wildlife. Most prominently is the Coqui, Puerto Rico's native frogs. They make a lovely sound which they are named after. Also be on the lookout for the 95 bird species, bats, reptiles and more! Sadly though we only spied a few anoles on our hike, perhaps due to the winds that day. Read all about El Yunque's wildlife.
What to Wear
The El Yunque rainforest receives an average of 120 inches of rain a year! You will almost certainly get rained on during your time on the trail. It is a rainforest afterall. So you will want to be sure to bring suitable clothing. Dress in layers because if the sun comes out it can be warm and quite nice.
The good news is it is quite refreshing and since you're in the tropics, also warm.
Bring a raincoat with a hood, hiking boots, backpack, water, and a snack. We based our hiking day by looking at the weather each day and hoped for the best.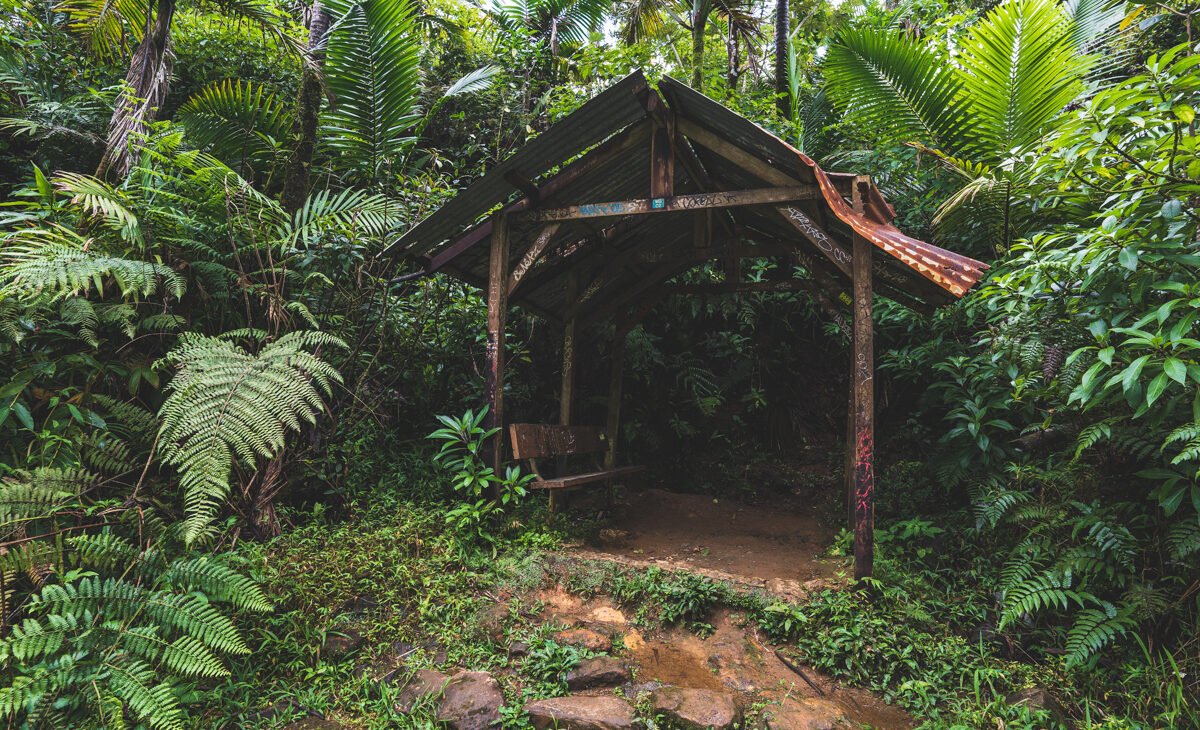 In the case that it does rain during your hike through a cloud forest, rest assured there are 4 shelters along the way you can duck into. Although some have fared better than others after the last few hurricane seasons.
Panoramic Views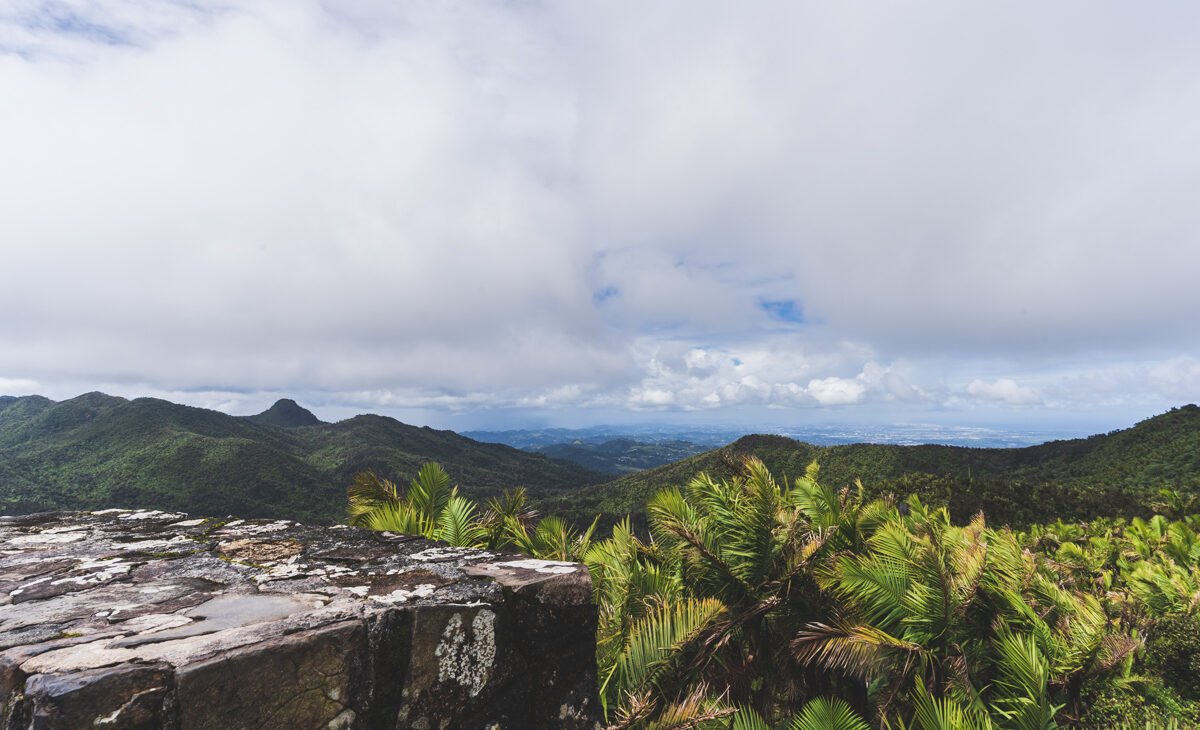 Once at the top the views are gorgeous! The Mt. Britton tower offers a 360 view of the northeast corner of the island. On a clear day you can see San Juan, Luquillo, Atlantic and Caribbean.
Tip: Wear proper footwear that can get dirty! It can be slippery on the trails and muddy.
More Tips
No or limited cellular coverage
Download the National forest App for it here
Watch your time so the rangers don't have to search for you at closing time!
If there has been a lot of rain or inclimate weather be prepared for closures
Hurricane season is June – November
Rainy season is May, August – November
Bring Proper footwear
Pack a poncho or rain jacket
Take breaks if you need them
Bring your camera
Mosquito Repellent
The Mt. Britton Trail is a must do in our opinion on your visit to El Yunque. It's not very often one gets to visit a rainforest. And walk through a cloud forest!
If you want to nerd out check out this awesome General Technical Report about El Yunque National Forest