Our guide to Getting the most from your Treasure Island Florida Vacation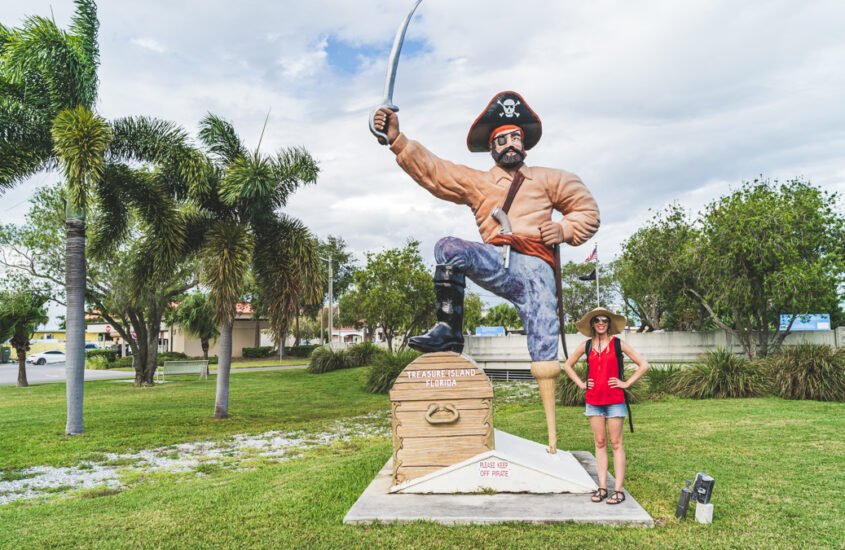 In the search of a warm place to stay in the Fall and Winter we had our eyes set on Hawaii. But then our Hawaii plans kept fizzling out due to the travel restrictions. So we needed to look elsewhere in order to keep our plans of warm weather exploring in place. That's when we decided to look at Florida's Suncoast.
We had initially booked a sweet stay on Siesta Key just outside of Sarasota but our plans got moved up a bit so we needed to book another stay in the interim. So we began our search and came across this place called Treasure Island just off the gulf coast and only about an hour north of Siesta Key.
Is Treasure Island Florida actually and island?
The first thought we had was, is Treasure Island actually an island? We weren't sure if it was in fact an island or just a resort area named after the famous Robert Louis Stevenson novel to evoke a sense of adventure.
It turns out that yes, Treasure Island is a real island in Florida. In fact it's part of the barrier islands on the Gulf Coast of Florida just outside of Saint Petersburg and the more well known Tampa Bay area. With a local residential population of about 6,800 it's small and more intimate than the more popular St. Pete Beach.
Picking a Place to Stay on Treasure Island
A smaller community that was also close to so many things sounded right up our alley. After some more research we decided this would be a great place to book a VRBO. There are also plenty of hotels to choose from on Treasure Island like the Treasure Island Beach Resort or the colorful Bayside Inn & Marina too.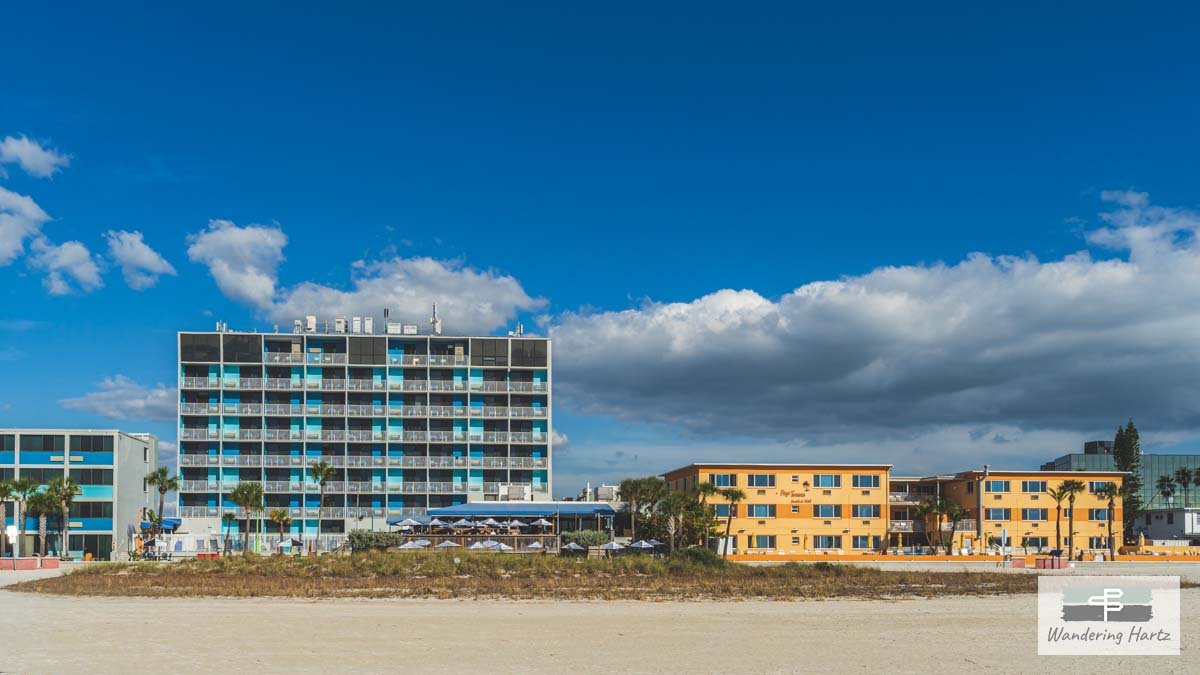 As we settled into our VRBO and started exploring it became pretty evident we would be very happy here. Due to our traveling situation in 2020 we didn't have a car. So we needed to find a place that was walkable, close to a grocery store, and hopefully close enough to walk to the beach. Treasure Island checked all of those boxes and more!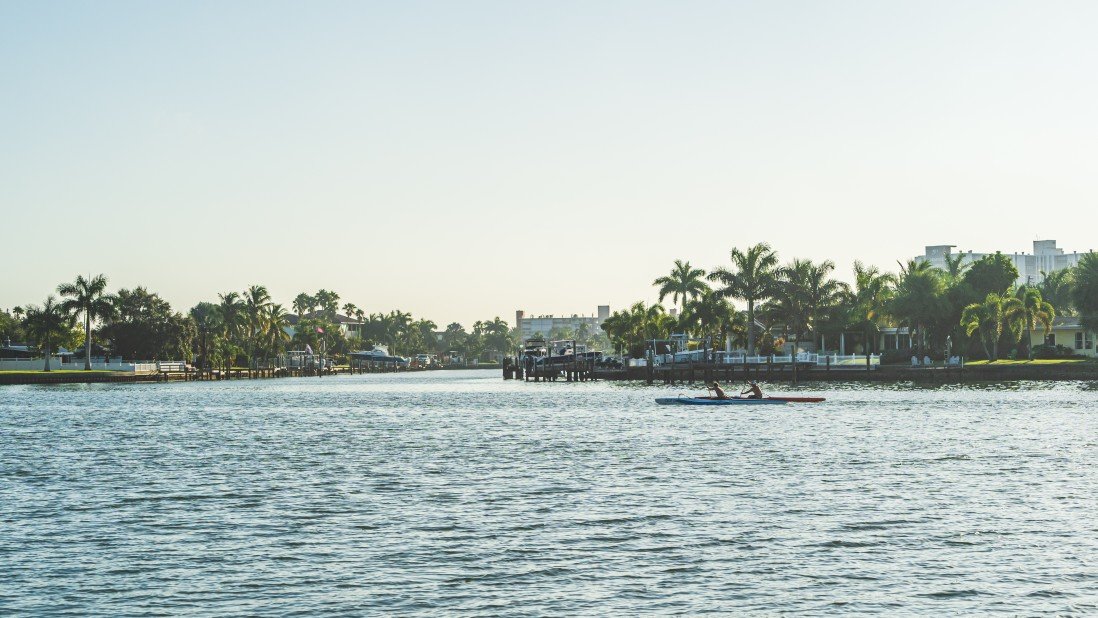 We were pleasantly surprised by the laid back beachy vibe, friendly locals, and the huge white sand beach.
Want to earn up to 60,000 bonus points for travel? We use our Chase Sapphire Preferred card to earn points for all of our travels and you can to. Sign up and you will get 60,000 bonus points after spending $4,000 in the first three months your account is open.
Getting Around Treasure Island and the Surrounding Area
If you have a car during your stay on Treasure Island, it is good to know that there's plenty of public parking and most of the restaurants and bars have their own lots as well. If you are like we were and don't have a car during your stay on Treasure Island there are plenty of ways to get around.
Public Transportation Along the Suncoast
Using the public transportation to get around the 7 mile treasure Island and surrounding area is easy and inexpensive. We used the Suncoast Trolley a couple of times and you can ride it all the way from Clearwater Beach down to Pass-a-Grille for $2.25 each way or get the all day GO card for $5. You can even purchase the GO card on the trolley.
Tip: Download and install the Transit App. It provides real time local transit for over 200 cities worldwide and the app is free!
Renting a Car on Treasure Island
If you're looking to rent a car for a few days rather than your whole stay there are options. You can find the car rentals Enterprise, Budget, Avis, Dollar and Hertz located just a few miles south from Treasure Island on St. Pete Beach. We rented from Budget and they were easy to work with, the process was smooth and the car was clean. 
Renting a car at the Tampa International Airport
The easiest way to rent a car is upon arrival at the Tampa International Airport (TPA). There are a plethora of car rental options available from all of the major rental companies. This is your best option if you plan on exploring the Suncoast during your stay.
Free & Cheap Rides on Treasure Island
There are also a few "Free Rides" that will pick you or your small group up and take you pretty much anywhere up and down the coast for tips. They are usually shared rides so you may be in a vehicle with other people as well. Call ahead to make sure there is enough space for your group and note they can get busy in the evenings. In our experience it usually took about 15 – 20 minutes for a pick up.
Available from 8am – 3 am they will drive you up and down the Suncoast from Clearwater to St. Pete Beach
Pay five I'll drive is an Open air Golf cart that seats up to 8 people or you and your beach gear. Serving Madeira Beach, Treasure Island, Saint Petersburg, and portions of Redington Beach. Give Perinda a call or text and she will pick up and drive you for $5 each way.
Rideshares on Treasure Island
Of course it is also really easy to get a ride share via Uber or Lyft. We did this a few times and it was between $8 – $16 each way to get from one end of St. Pete Beach to Treasure Island which is the next island up. Rates can vary with demand so its good to check it on the app ahead of time or use Ride.Guru to get a good estimate.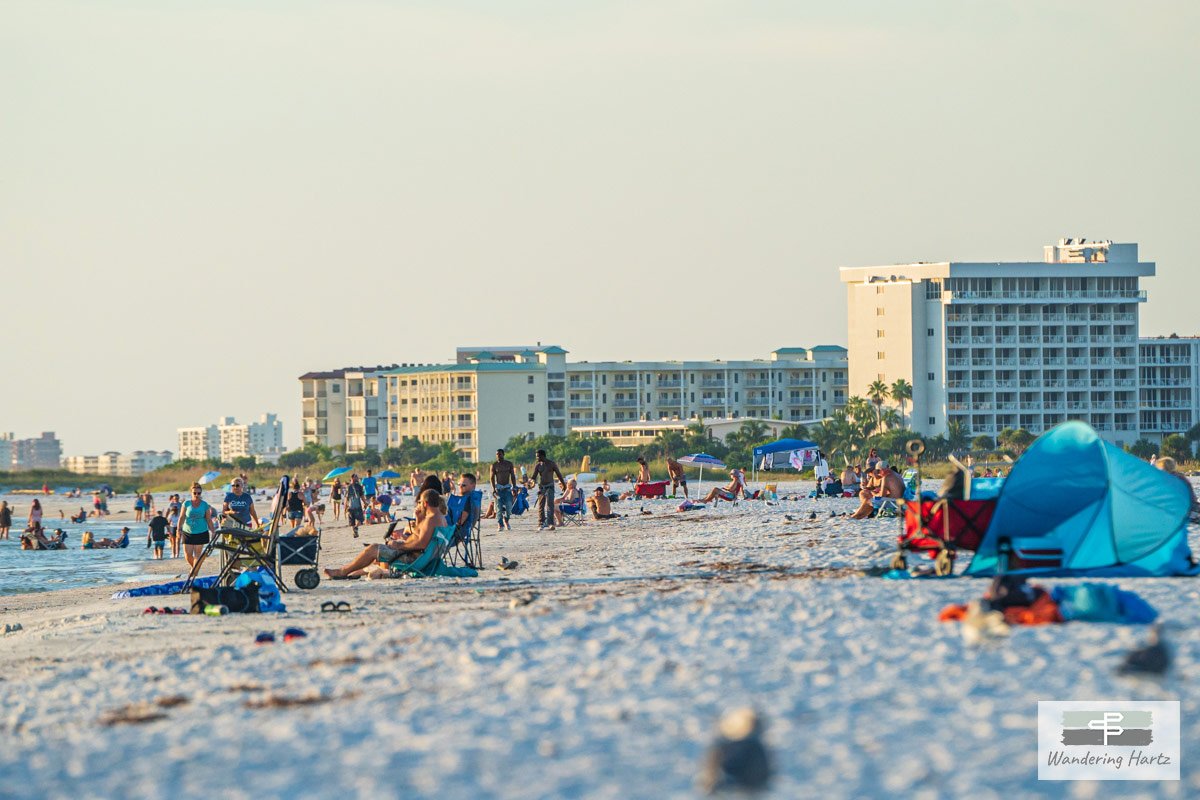 Walking Treasure Island
Walking the island was our preferred way to get around since it gave us exercise and some vitamin D at the same time. The island has good sidewalks and crosswalks spaced for easy pedestrian access. Or our favorite way is to walk along the beach to our destination, what we call the scenic route. You can even pop in for a tasty beverage at one of the beach restaurants along the way as an excuse to get some shade too.
Tip: We recommend that when you use the sidewalks be sure to press the button so it flashes. The local laws require cars to stop for pedestrians, but fellow tourists may not be as familiar with the requirement. Be safe and have a blast.
Treasure Island Beach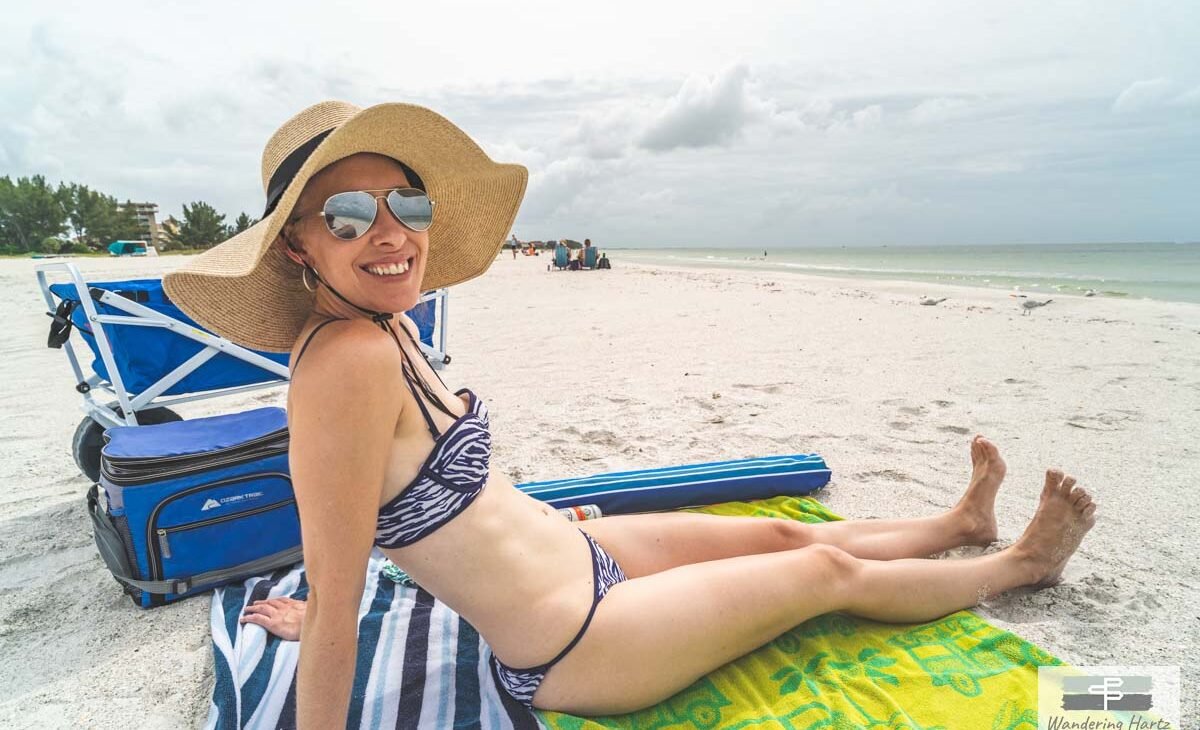 Finding a quiet spot is pretty easy with almost 4 miles of beaches, a huge slide for the kids, and it rarely gets overcrowded. Look for the distinctive blue and orange seagull signs to find parking. As of Oct.1 2021 it's $3 per hour to park at the public beaches.
Tip: This beach in particular is wide and pretty big with no shade. Bring lots of sunscreen, a beach umbrella and get a beach cart so you can pack snacks, a cooler and drinks and roll them out easily onto the beach.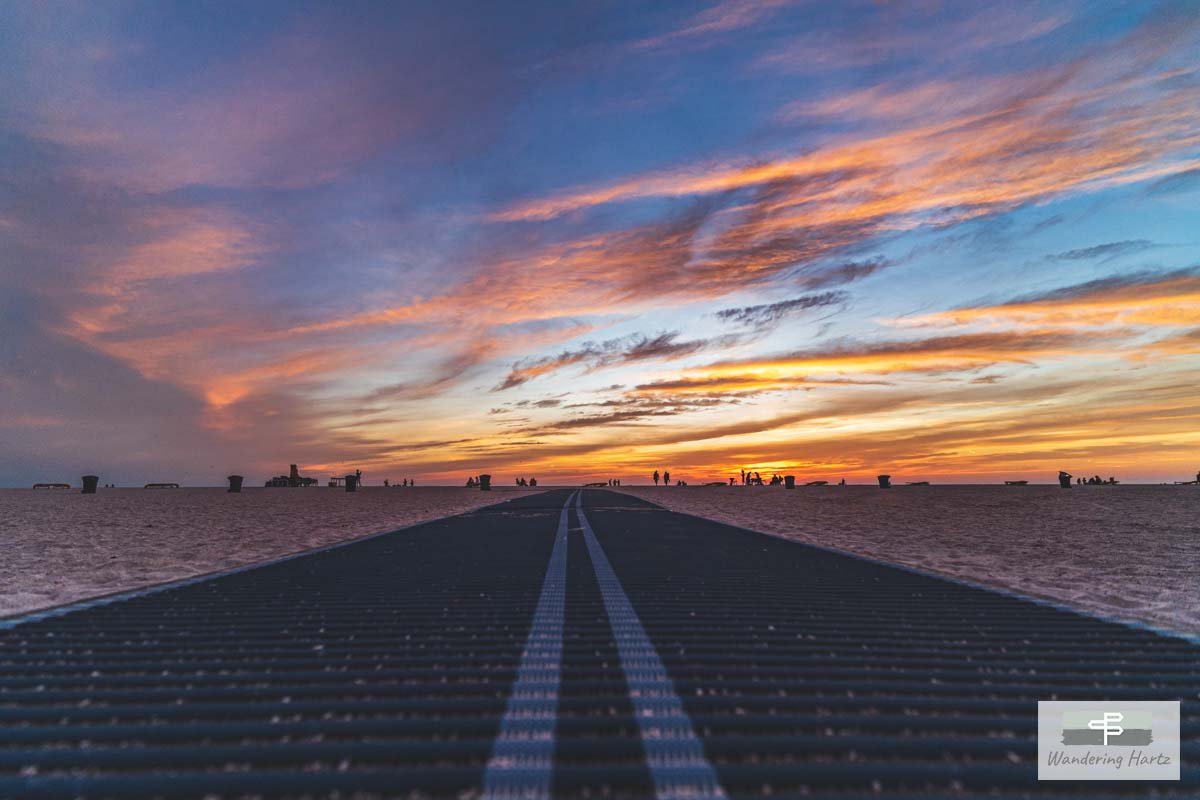 We spent a lot of time at this beach, mostly enjoying the epic sunsets every night. There is even a nice boardwalk that runs parallel to the beach, great for a morning run or an evening stroll. There are also public restrooms and vending machines.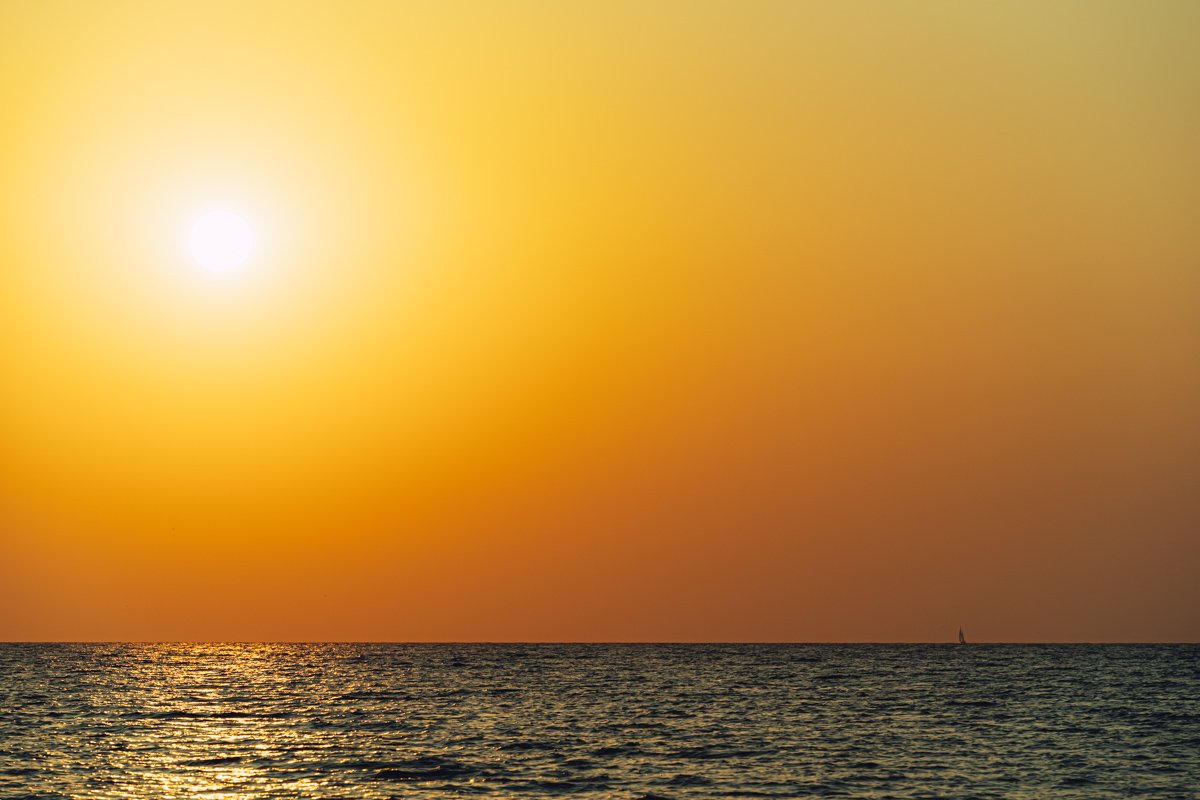 Things To Do on and Around Treasure Island
Sand Sculptures
Treasure Island is the Sand Sculpture Capital of Florida and we were lucky enough to see it in 2020. Sanding Ovations presents "Sandlantis, a Sand Sculpting Exhibition and Competition," Nov. 18-21, 2021. There will be a beach food court, beer garden, kite flying and fireworks Saturday night. This event takes place every year, it's a great family outing with some really cool sand sculptures!
Pics of Sand sculptures from last year.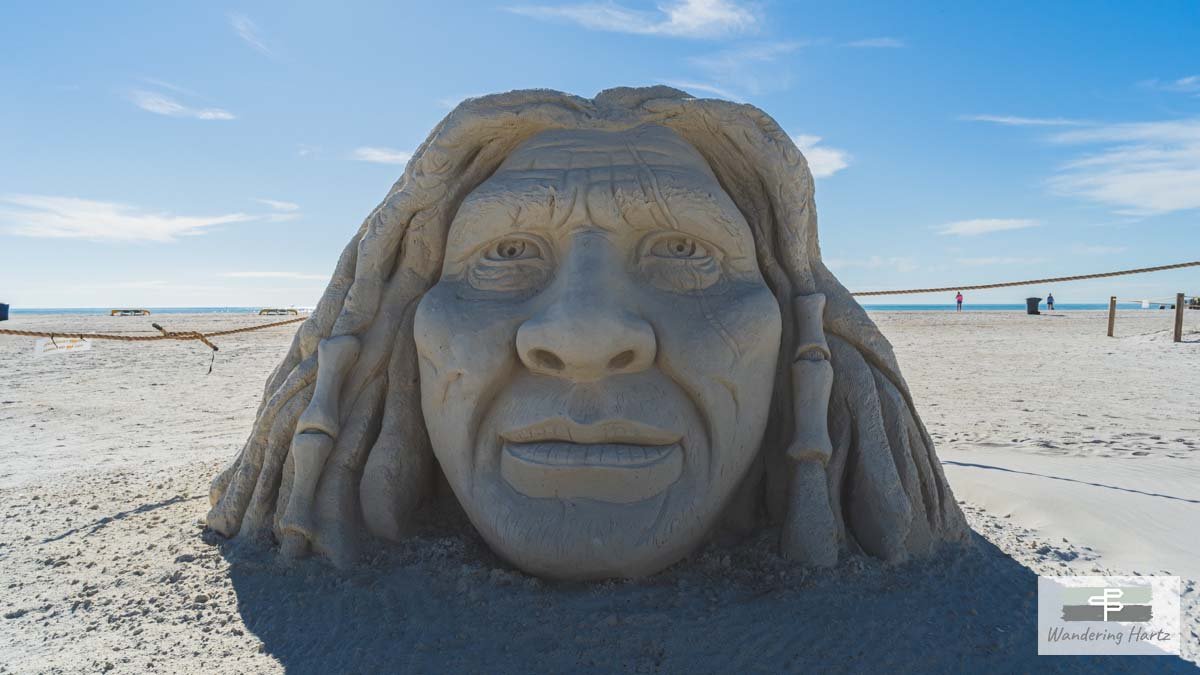 If you're looking for an actual sailing experience on a Whitby 42' Center cockpit ketch named Boomerang Love. Check out Suncoast Sailing . Advanced reservations are required. You can book a day sail or sunset sail. This company is very highly rated on Tripadvisor and Viator. BYOB
Wildside Sunset Cruises sails on a beach catamaran that holds up to 18 people. No sails and no wind required for this sail that leaves from Treasure Island and sails down to St. Pete Beach for a stop on the beach. BYOB
Treasure Island Drum Circle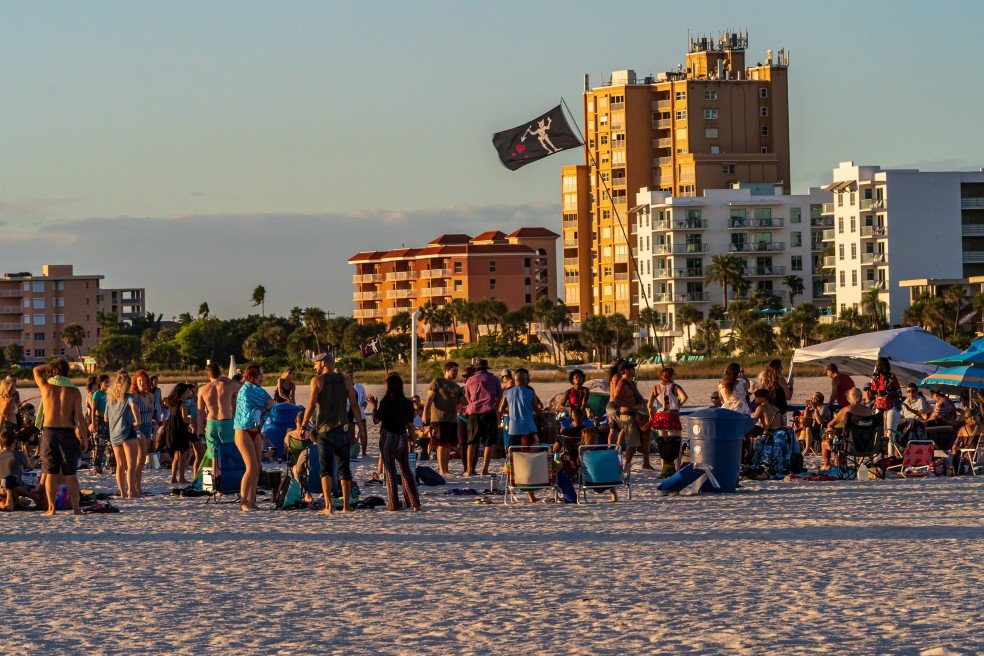 Every Sunday, it starts around 4:30pm. Definitely something to experience, you can watch from the sidelines or join in!
Take a casual tropical themed sightseeing cruise with live narration, a buffet and open bar with Calypso Breeze Tours . Takes you through Johns Pass and along Madeira beach. Lots of birdwatching and even some dolphins. They have a Daysail Tour or a Sunset Party Tour option available. It leaves Madeira Island at Johns Pass.
This Helicopter Tour of Treasure Island, John's Pass, Don CeSar Resort & Bay leaves out of Albert Whitted airport in downtown St. Pete but it offers some pretty amazing views of the Suncoast! Definitely bring a camera for this experience. If you take this tour then be sure to spend time in St. Petersburg
Here is another one for the thrill seekers. Parasail Flight at Madeira Beach leaves from Madeira Beach, the next island north of Treasure Island and offers some pretty unique views of the coast. You take off and land from the beach and can even go single, tandem or even triple! All ages 5 and up can fly and they have an outstanding safety record and tons of excellent reviews!
Sit back and relax on a catamaran cruise to the secluded Egmont Key Island. Snorkel, explore the historic lighthouse and Fort Dade, and maybe even spot a dolphin or two. Plan on 4 hours of sailing on a 60 ft catamaran leaving out of St. Petersburg. The trip passes under the Skyway Bridge and gives you two hours at Egmont Key to snorkel or explore.
Experience the "world's most beautiful theme park" with a full-day entrance ticket to Busch Gardens Tampa Bay, featuring exciting rides, roller coasters, and over 2,000 animals from around the world.
Ride some of the best roller coasters in the country
Meet more than 300 species of animals at Tampa's largest zoo!
Enjoy live shows
Book a multi-park ticket for admission to SeaWorld Orlando, Aquatica Orlando, and Adventure Island Tampa Bay
Our Favorite Treasure Island Restaurants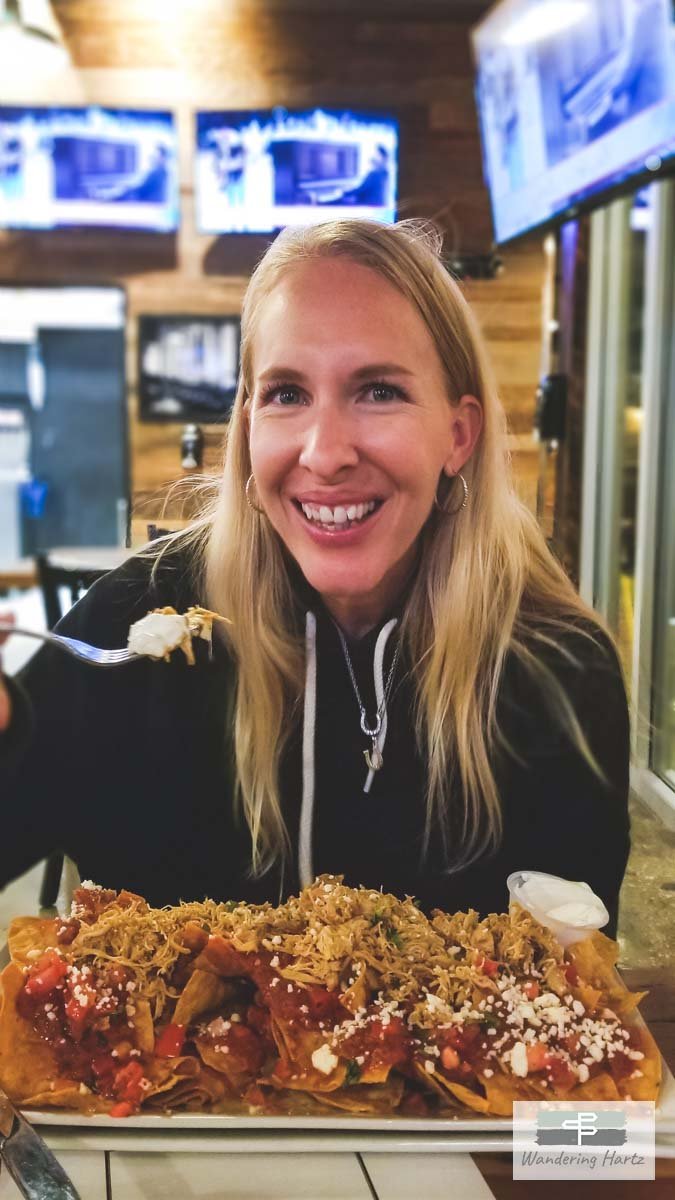 You will find plenty of tasty food and beachfront restaurants with views of the ocean. Which I mean come on, isn't that why we come to the beach?
We also found Treasure Island to be pretty affordable if you take advantage of happy hour deals. Here's a rundown of some of our favorite restaurants.
The Floridian Cuban Sandwiches – They specialize in traditional Cuban sandwiches. We always split a sandwich because they're so big. A perfect place for lunch or snack after a day at the beach.
Ricky T's Bar & Grille – A lively sports bar with an open air patio. They have live entertainment 7 nights a week. We ate here a couple of times. The service was friendly and fast and the food was great!
Tooties Sugar Shop – Ice cream, coffee and mini donuts (our favorite). You can even watch them make your mini donuts to order! Super fresh and so tasty!
Sloppy Joe's on the Beach – A fun touristy restaurant with great views of the gulf. A large menu serving breakfast, lunch and dinner. You can't go wrong with the wings or fish tacos.
BRGR Kitchen & Bar – Located inside Treasure Island Beach Resort. Great views with an open patio. We took advantage of happy hour, Monday through Friday between 4 and 6 PM for BRGR's Social Hour, featuring discounted drinks and savory lite bite specials.
Sea Dog Brewing Co.– House brewed beers with a large bayside patio and boat dock. Take advantage of Happy Hour from Mon.-Fri 2pm-6pm. We highly recommend the Nachos!
Caddy's on the Beach Beachfront cafe located on Sunset Beach. Happy Hour is Monday-Friday 8pm-11pm. $4 Wells, $5 House Wines, $5 Select Cocktails, Bottomless Mimosas and Sangria everyday from 8AM-11AM. Live Music, Thursday, Friday, Saturday & Sunday starting at 6pm. Read more about Caddy's
We spent 2 wonderful weeks living right in the heart of Treasure Island. Our mornings were filled with sunny walks watching pelicans, seagulls and dolphins in the canal. Our nights consisted of dreamy sunsets on the beach and just enjoying the glorious October Florida weather.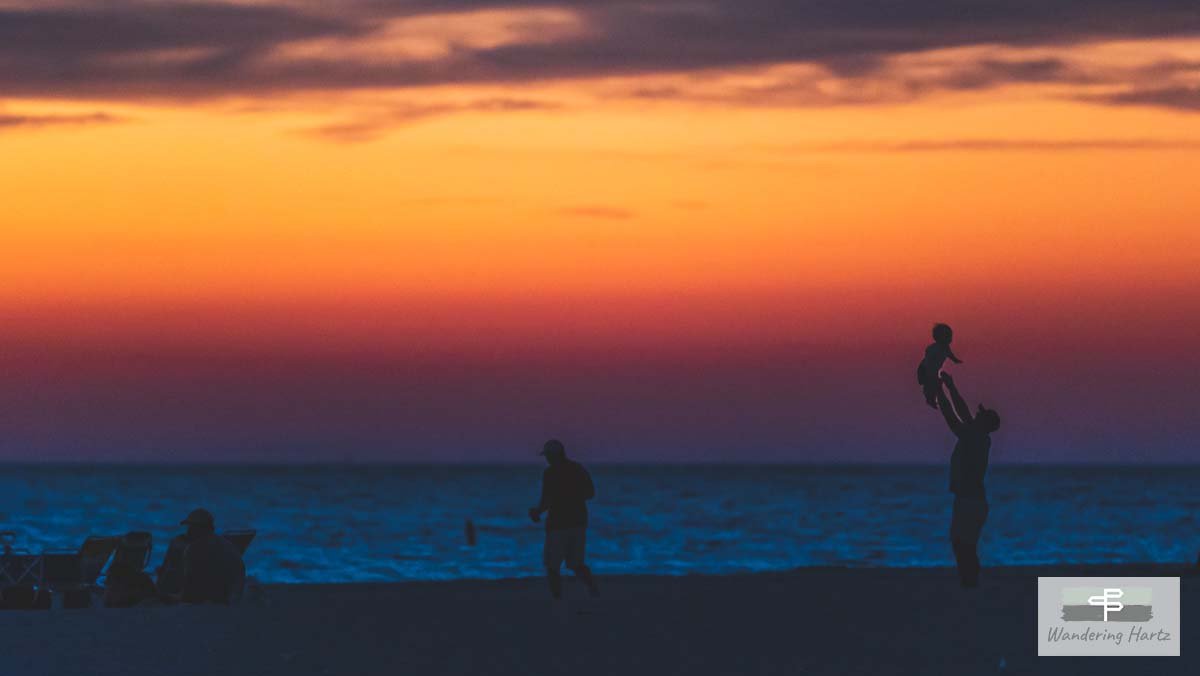 It was the perfect spot for us to get a lot of work done (on this website and our Youtube Channel), relax and reflect on the year. In our opinion Treasure Island is a great place for couples and families. You can be as busy as you want or just take it easy and be a beach bum. No one will judge you!
Using our affiliate links (hotels.com, expedia.com, VRBO, Hertz, Chase Sapphire Prefered, Viator, etc.) supports great content on wanderinghartz.com and our Youtube channel.
None of the affiliate links cost you anything or increase the price you pay, and we may earn a small referral commission.
Or if you're feeling generous you can buy us a much appreciated glass of wine (or whiskey)!
Cheers,
Happy Wandering!
Joel and Michelle