We Made it Florida! Our Treasure Island Stay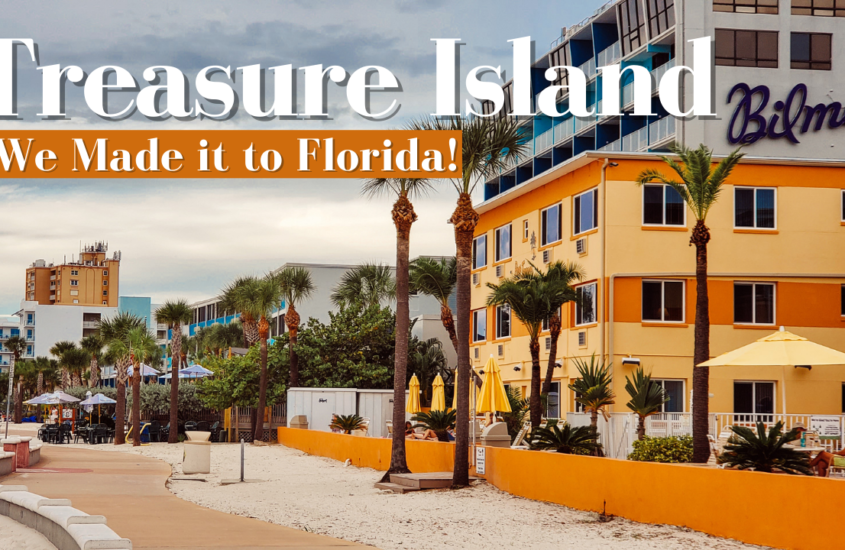 Suncoast or Bust!
When planning our stay in Florida we were already new we wanted to start out along the Gulf side. Michelle had spent a lot of girl trips in the area and I had had been for a video shot I produced a few years back. We both already new we loved the area and settled on Treasure Island to start our Florida Adventures.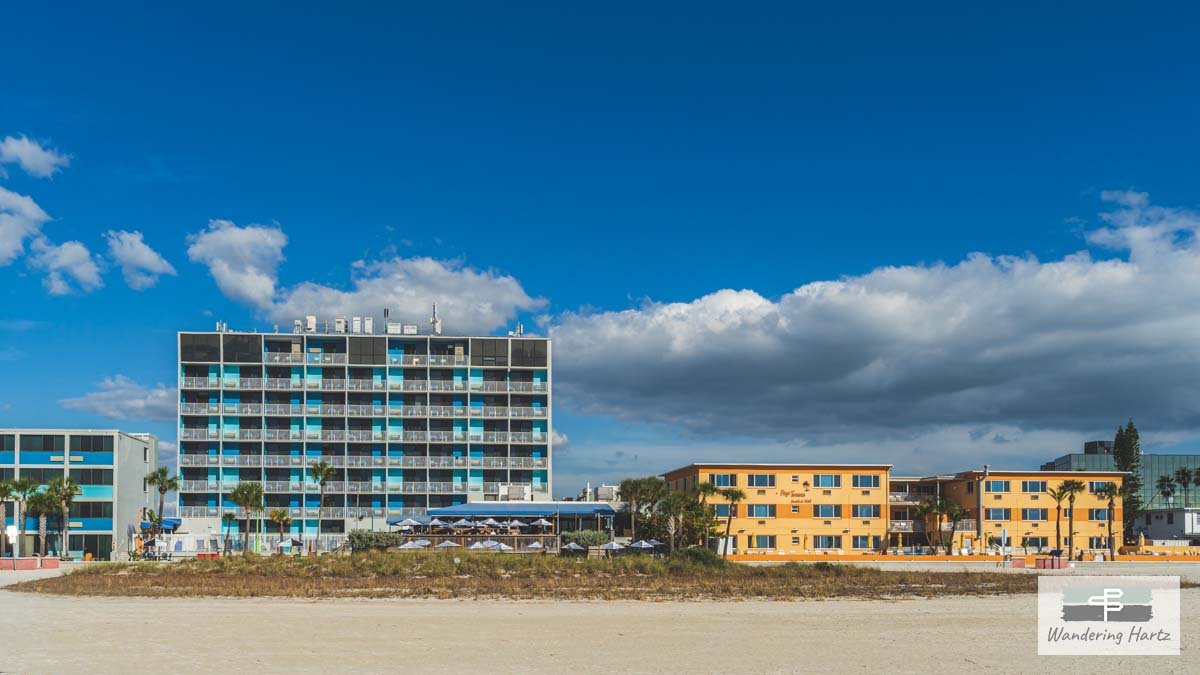 As we touched down at the Tampa airport we were super excited to check out a new part of Florida. Our final destination was Treasure Island, one of the barrier islands located close to the more well known St. Pete Beach area. Treasure island is easy to get to and is only a short 30 minute drive from the airport. We grabbed an Uber and soon found ourselves at our VRBO on Treasure Island and settled right in.
Want to earn up to 60,000 bonus points for travel? We use our Chase Sapphire Preferred card to earn points for all of our travels and you can to. Sign up and you will get 60,000 bonus points after spending $4,000 in the first three months your account is open.
Our Perfect Vacation Rental
Our VRBO was situated in a small 12 unit condo right along the back of the island and in with full access to the intercoastal waterway. It was a two story building in good repair which is always a good sign, and had a lovely little pool in the center. Our unit came with a parking spot which we only used on our last day when we picked up a rental car.
Immediately we loved our condo and determined it was the perfect size for the two of us! The decor was tasteful and we had a nice big 4K tv. It even came with our favorite cooking tool, a small crockpot to our surprise. Crockpots are something we found we can't live without even on our full time travels.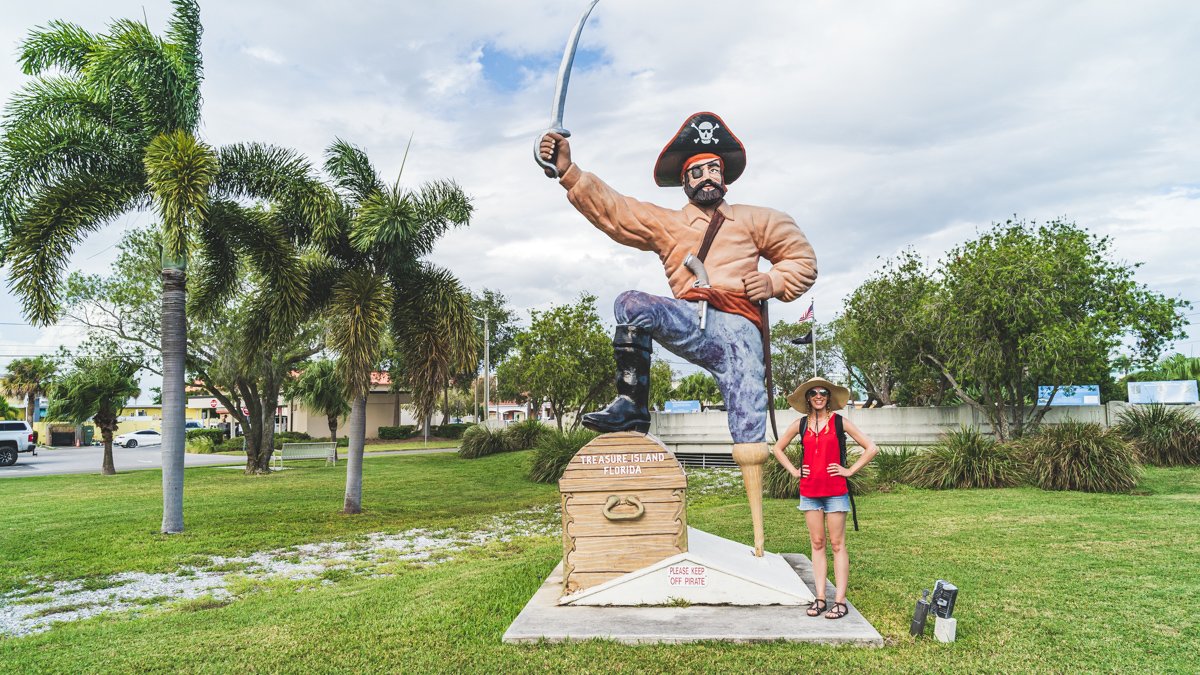 The location of our VRBO was ideal and walkable to groceries, multiple restaurants, and right in the heart of Treasure Island. Our favorite restaurants were Sloppy Joe's for sunset views, The Floridian for an amazing Cuban sandwich and Tootsies Sugar Shop for mini donuts! There is even a lovely park with a giant Pirate Statue and an outdoor workout area!
Since the condo complex sits along Boca Ciega Bay most of our mornings were spent on the back dock enjoying the view and watching the sun rise. Okay maybe we caught just a couple of sun rises. Nonetheless it was also a lovely place to chill after a long day of work or play.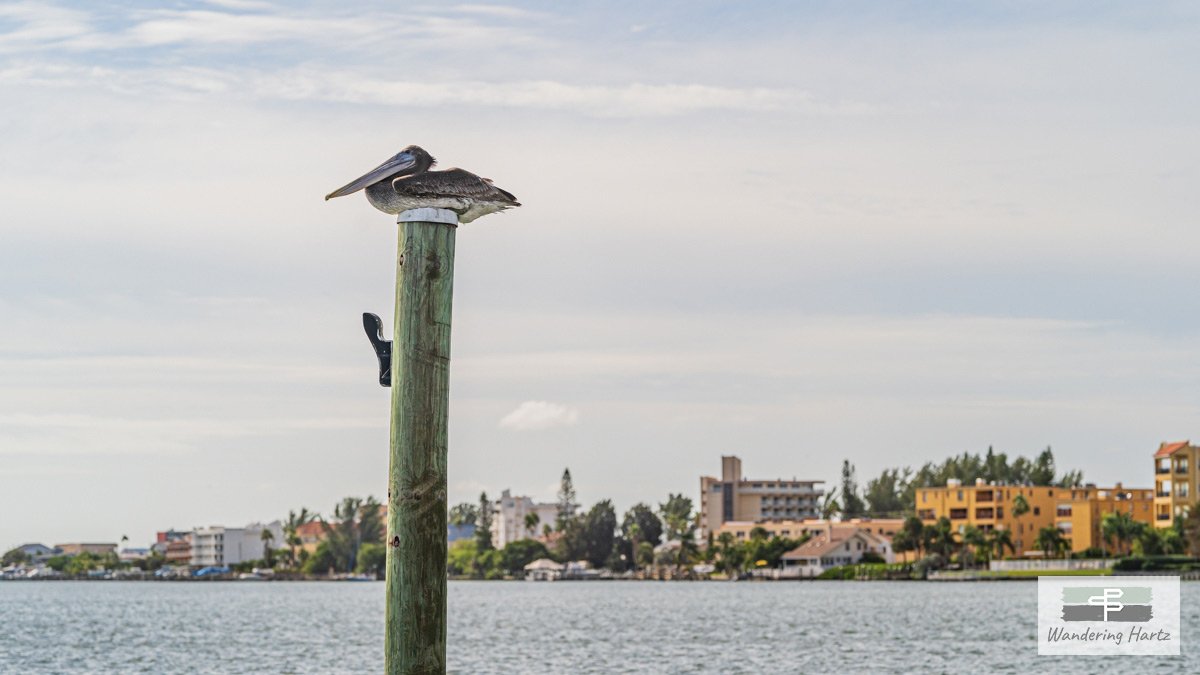 We saw jellyfish, lots of birds, little lizards and even dolphins! Best of all, our VRBO is only about an 8 minute walk to Treasure Island beach.
Treasure Island Beach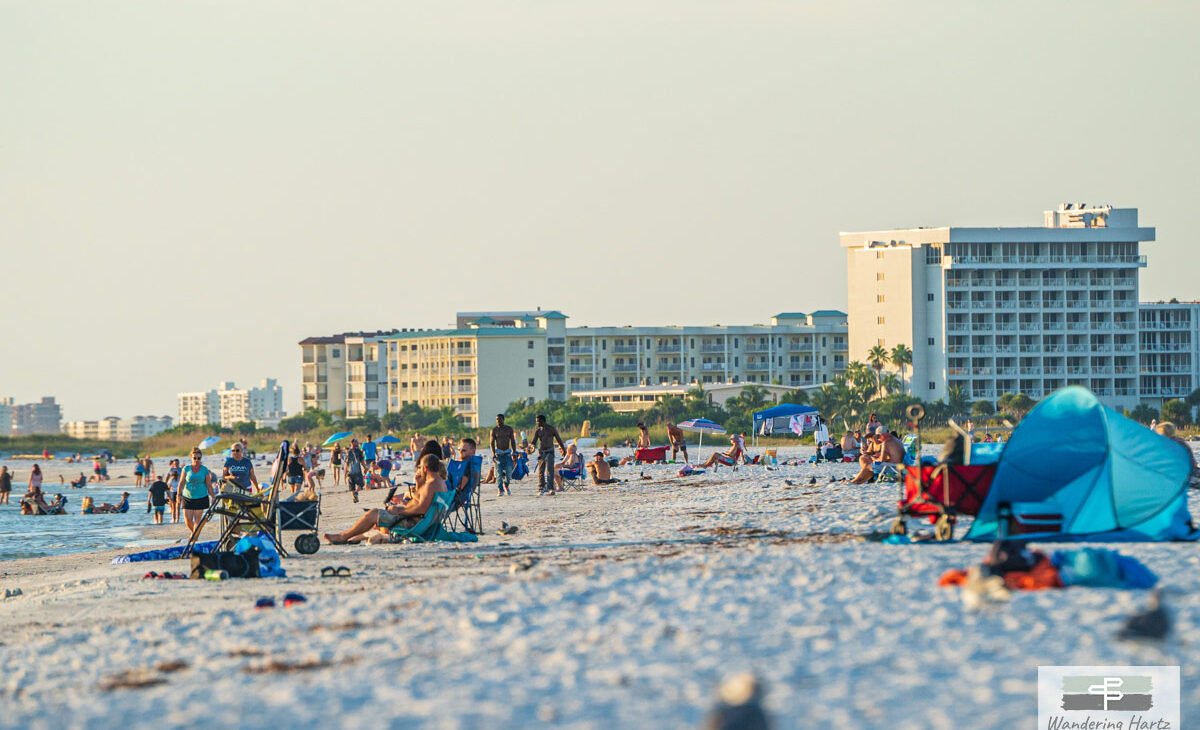 Treasure Island Beach is huge with ample space to spread out. There's also a nice boardwalk that runs parallel with the beach, great for a morning run or an evening stroll.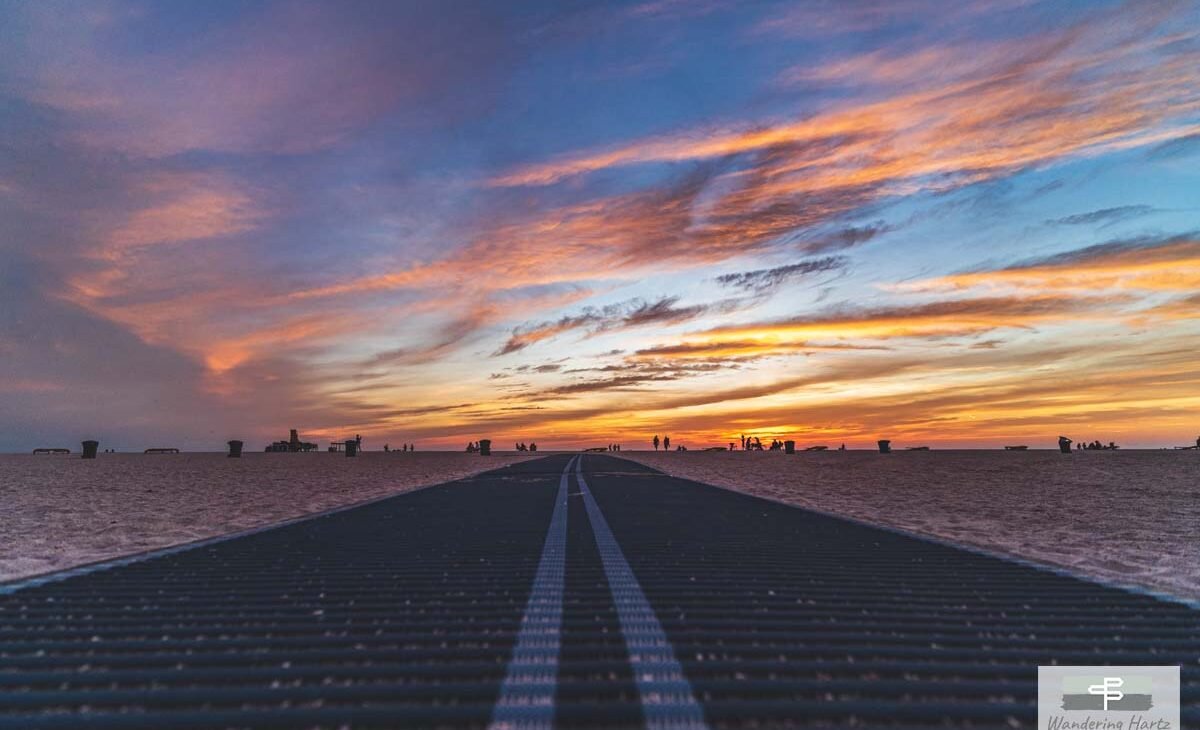 In between working from our little condo we managed to get in a couple of beach days. Our vacation rental host provided us with a beach cart that came in quite handy. We could pack our cameras, cooler, towels, and easily pull everything out to the beach. Trust us, you want a cart, the beach is huge and takes a few minutes to make your way to the water!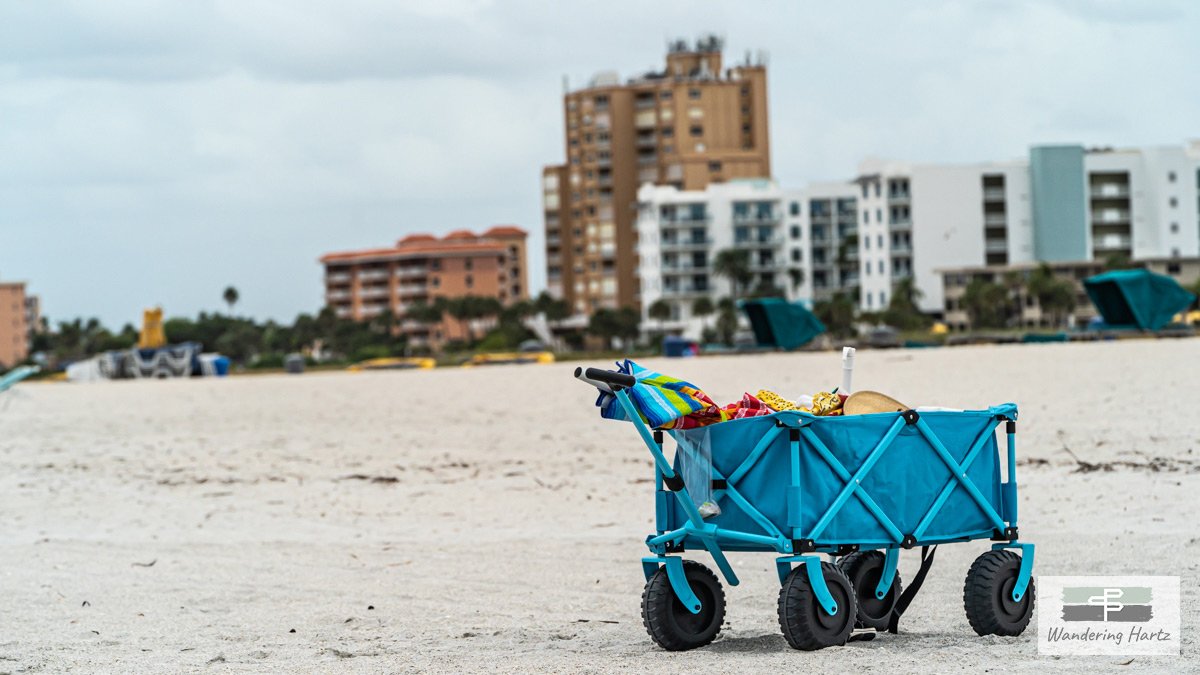 Trust us, you want a cart, the beach is huge and takes a few minutes to make your way to the water!
We loved the beautiful sunsets on the Gulf Coast and enjoyed how they change every night. We only missed a few over our two weeks stay on the island. Another great thing about Treasure Island beach is you can bring your favorite adult beverage to go along with your sunset views. There are only a few beaches along the Suncoast that allow alcoholic beverages FYI.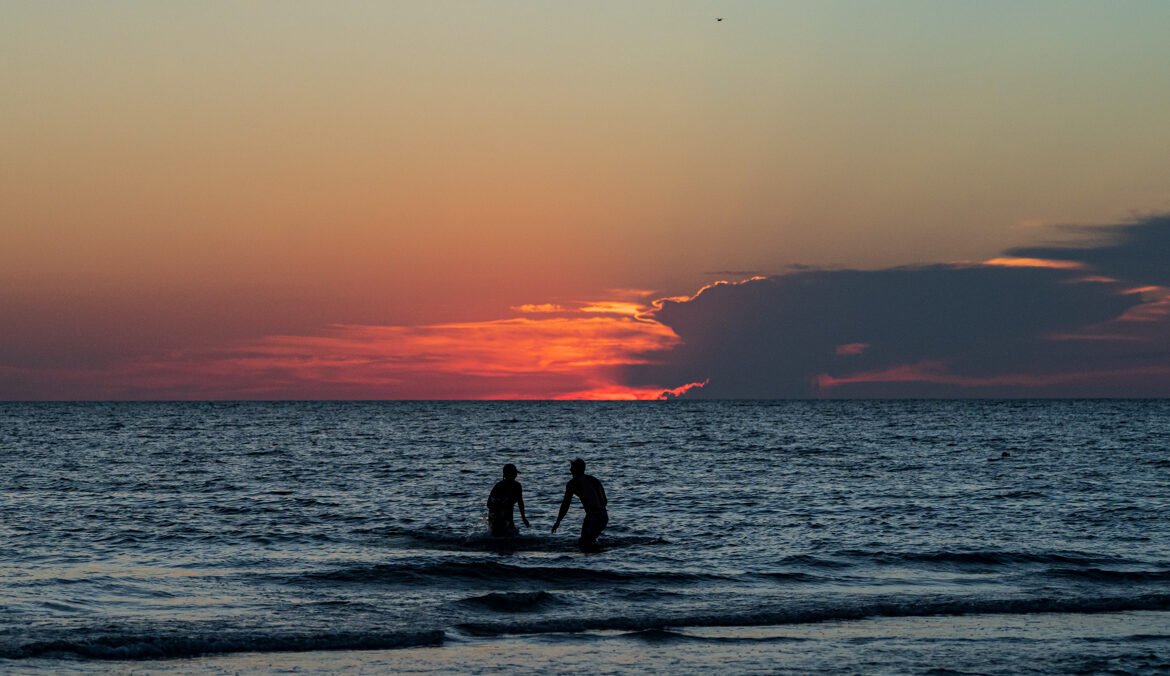 Our stay on Treasure Island couldn't have been better. We really felt right at home and soaked up the warm weather. Check out our guide to Treasure Island, we have a whole blog post about how to get around, where to eat, and what to see!
Prefer to be in a hotel?
Using our affiliate links (hotels.com, expedia.com, VRBO, Hertz, Chase Sapphire Prefered, Viator, etc.) supports great content on wanderinghartz.com and our Youtube channel.
None of the affiliate links cost you anything or increase the price you pay, and we may earn a small referral commission.
Or if you're feeling generous you can buy us a much appreciated glass of wine (or whiskey)!
Cheers,
Happy Wandering!
Joel and Michelle