Five Rincon, Puerto Rico Beaches You Need to Experience
Puerto Rico is a top vacation spot in the Caribbean, with stunning beaches, lush rainforest, vibrant culture, and welcoming locals. But if you're looking for the perfect beach experience, look no further than the five stunning beaches along the coast of Rincon, Puerto Rico.
We were lucky enough to spend a month living and working in Rincon Puerto Rico and were able to experience each one of these beautiful Caribbean beaches.
In Rincon you can witness some of the Caribbean's most beautiful sunsets, surf and snorkel, and partake in a variety of water sports and beach activities. Whether you're looking for a peaceful tropical getaway or an exciting beach adventure, Rincon's beaches are sure to give you the perfect experience. Read on to discover the five Rincon Puerto Rico beaches you won't want to miss.
Domes Beach Rincon
One of the best beaches in Puerto Rico, Domes Beach in Rincon is also one of the best surfing spots in Puerto Rico. Located just below the Rincon Lighthouse, we spent an afternoon having lunch and drinks while watching the surfers. Domes Beach is renowned for its excellent waves, drawing in surfers from all over the world.
Surfing competitions are held yearly, usually in December or January so keep that in mind when booking a stay. Hotels and vacation rentals will fill up fast.
The name Domes Beach comes from the decommissioned nuclear facility sitting just behind the beach with its white dome. It also makes for some cool pictures with the white dome backdrop against the surf and sand.
Domes beach is a great spot for sunbathing and hanging out along the shore, but swimming isn't recommended due to the rocky bottom and large waves.
Facilities at Domes Beach
There is no lifeguard or restrooms at the beach but there are facilities a short walk at the lighthouse.
Parking at Domes Beach
The best way to access Domes beach is to park at the Rincon Lighthouse. There is parking on the beach but we would only recommend that if you have a jeep or 4X4. We did see someone get their car stuck in the sand trying to leave the beach. Hope it wasn't a rental!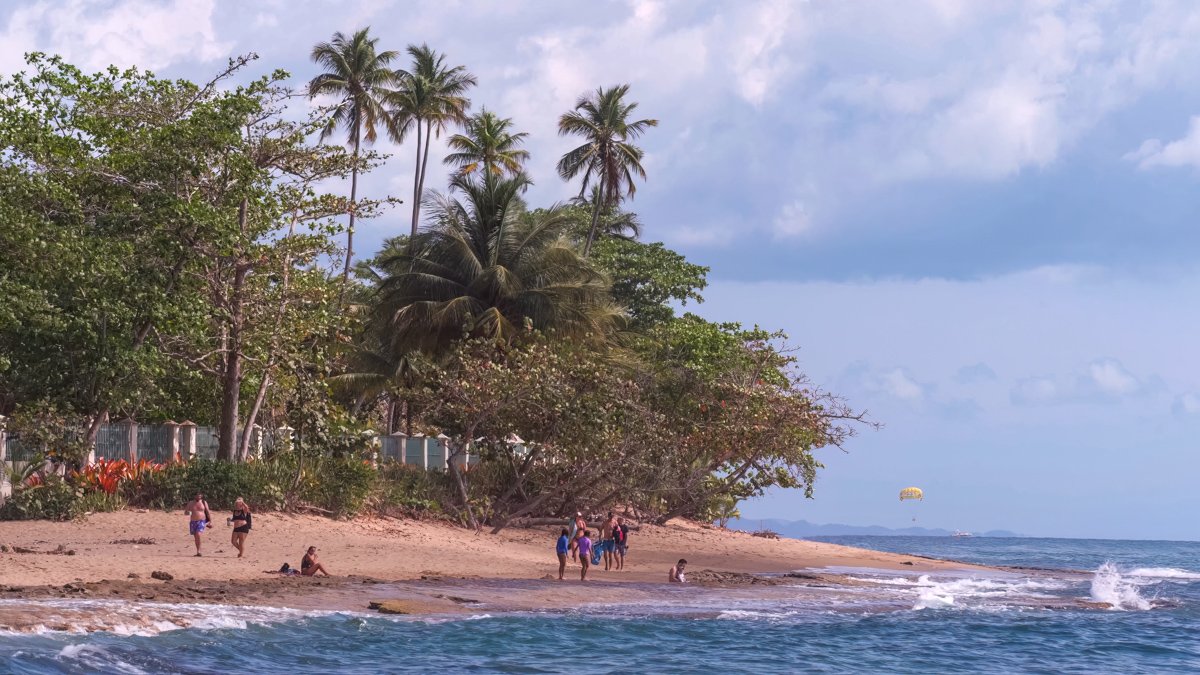 Playa María (Maria's Beach)
If you take a two-minute drive south from Domes Beach, you'll find yourself at Playa María (Maria's Beach). This beach is the perfect spot for beginner and experienced surfers alike, and during the winter months it's especially great for surfing.
On the way to the beach, you can take advantage of the walking paths and trails, and take some great Instagram photos on the swing.
Most of the shoreline at Maria's beach is quite rocky but there's plenty of shade provided by trees. You will want to wear water shoes if you go into the water.
After a full day of surfing, take a break and have lunch at Caddy's Calypso, where you can watch the surfers, take in the ocean views and listen to live music. Maria's Beach is an idyllic spot for a day of fun in the sun.
Facilities Playa Maria
There's no facilities like public restrooms at the beach. However there are nearby restaurants where you can get a snack or drink and use possibly the bathroom there.
Parking at Playa Maria
You can find free Parking at Playa Maria. There is a dirt lot with plenty of space and room for cars. The entrance by the restaurant is the most accessible for most cars. There are dirt roads that lead to additional parking which is not recommended for rental cars as it is very rutted and uneven.
The dirt parking lot can get muddy when it rains. You may also be tempted to park along the road, but it is not recommended unless you like paying parking tickets.
There is another entrance to Maria's beach along carr 4413, but you best have a jeep or 4×4 to use it. If you take a rental car on the dirt road you will damage the rental and ruin your vacation.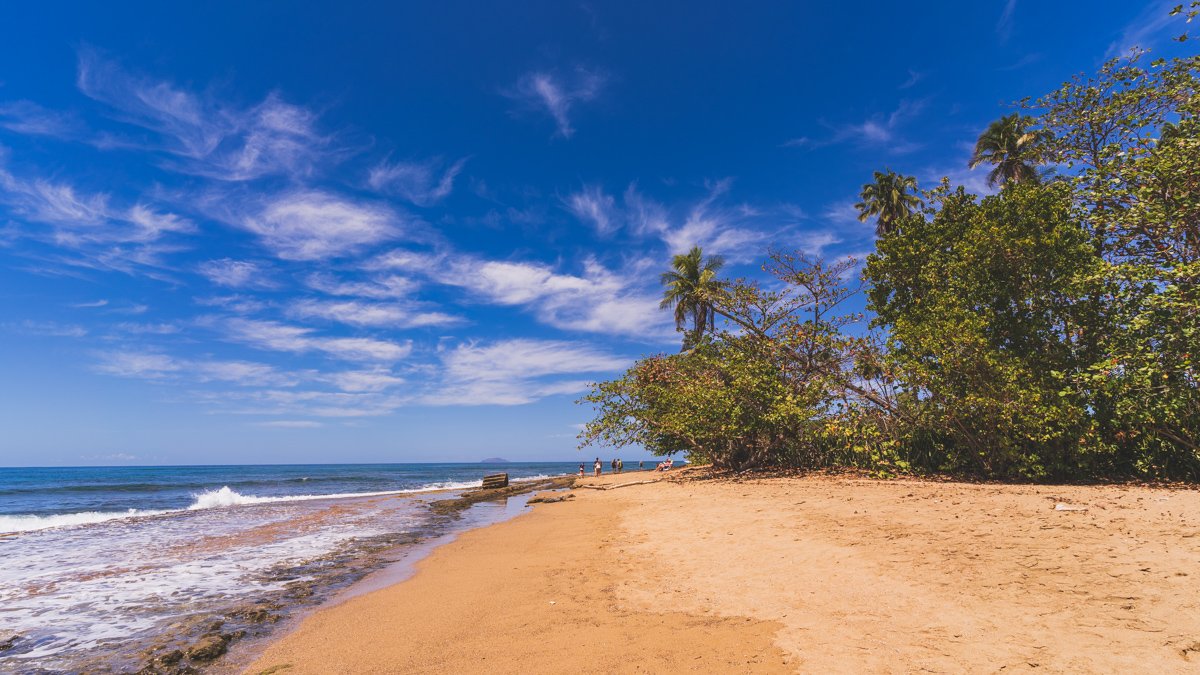 Playa Tres Palmas or "Steps Beach"
Tres Palmas or Steps Beach, as it's usually referred to, due to the iconic concrete stairs sitting in the water, is a popular marine reserve and beach in Rincon.
Playa Tres Palmas is renowned for its excellent snorkeling opportunities during the summer months, when the waters are calm. Usually mid April through October is the best time to snorkel.
We would recommend wearing fins and long sleeve rash guards and snorkeling gear in case you get pushed against the coral by waves.
Underwater you should be able to spot spiny lobsters, reef fish, turtles, elkhorn coral and maybe even dolphins!
Do not try to snorkel during the winter months, the waves are too large and it can be dangerous. We watched a family try to go snorkeling while we were visiting in February and they gave up pretty quick.
If you're just visiting the beach to walk around or watch the surfers definitely wear water shoes. The exposed coral can be very slippery and sharp. There's also sea urchins to watch for if you are wading in the waters.
We spent a couple of hours at Tres Palmas so Joel could photograph the surfers while Michelle happily sat under a tree in the shade.
Parking at Playa Tres Palmas or Steps Beach
Parking at Playa Tres Palmas can be tricky. There is a paved road leading to a small paved lot, but it is narrow. There is only room enough for one car to pass in spots.
The lot is limited with only room for about 4 or 5 cars. You will find that everyone parks along the narrow road. In total it can fit just over fifteen cars.
We got there in the morning on a weekday and when we left, the parking lot was quickly filling up. It is important to get there early if you want to secure a spot, as the lot may fill up quickly on busier days.
Upon leaving we noticed visitors were parking along the main road 413. This is NOT recommended as 413 has no shoulder near the entrance to Playa Tres Palmas. Parking along PR 413 is dangerous and you car will likely get side swiped by passing cars or ticketed.
Yoga at Steps Beach
If your interested in an epic yoga experience you can have it at Barefoot Yoga y Bodega. It is located next to the parking lot at Playa Tres Palmas and offer daily yoga sessions at 9 a.m.
We didn't parktake on our trip to steps beach. A class will set you back $20 but that includes a mat to use.
Doña Lala Beach
Getting closer into the town of Rincon you'll find Dona LaLa Beach. This is probably one of the most popular beaches in Rincon and close to some of the vacation resorts. It's a nice place to relax with a wide sandy beach and free of rocks.
Doña Lala Beach is a great place for families and the water is usually more calm than Domes Beach or Playa Maria.
There are two main access points to Doña Lala Beach, on the South side of the beach near the Aloha Surf Grill and on the North end of Dona Lala is the Balneario Publico de Rincon. This recreational area has kiosks selling drinks and snacks as well as plenty of shelters with tables for rent too. You will also find showers to wash off salt water and sand.
On the North side of the beach you will also find the Rincon Harbors outdoor mall and you'll find restrooms. There's also a beachfront bar, Harbor Restaurant, and ice cream shop too.
It's only a seven minute walk into the main plaza in Rincon where you'll find lots of restaurants, cafes and shops.
Parking at Dona LaLa Beach
There's plenty of free parking at Dona LaLa beach. On the South end of the beach is a large paved lot just off of PR 115. On the North end at Balneario Publico de Rincon you will also find two large paved parking lots with free parking.
Playa Los Almendros
Los Almendros beach is a real hidden gem in Rincon. Located right in front of vacation rental complex, it was perfect for nightly walks to take in the breathtaking Caribbean sunsets. It also provides a great view of Desecho Island. The beach was consistently clean and the sand was soft and warm on our toes.
During the winter the water can be choppy with big waves and strong currents. We only got in the water a couple of times. Mostly wading in or splashing our feet along the shore.
It was very quiet during the week, with us being the only ones on the beach at times. On the weekends, however, the beach was busier, with locals coming to BBQ, fish, and hang out for the day.
Enjoy a peaceful walk along Playa Los Almendros
The atmosphere was always relaxed and inviting. We felt so lucky to have such a beautiful beach right at our doorstep!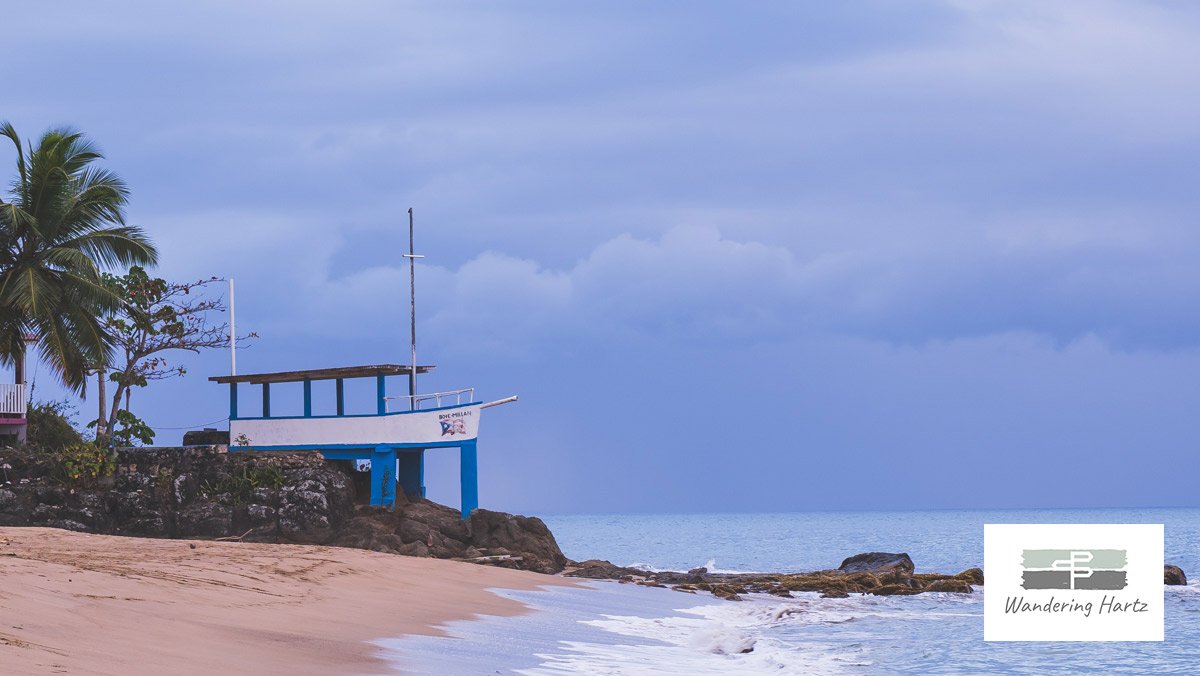 Famous Bote de Millán 
Don't miss Bote de Millán, a concrete boat structure located on Almendros Beach, making for a fun and unique tourist attraction. The path to get to the boat structure is on private property, so visitors should be respectful.
From the lookout point of Bote de Millán, visitors can spot wildlife and hopefully the majestic humpback whales that migrate through the Mona Passage in the winter months.
We were lucky enough to catch sight of a small pod of whales during our stay! We were on one of our daily walks along Play Los Almendros! Joel ran back up to our condo to get his camera but they had moved alone by the time we got back to Bote de Millán.
Parking and Facilities at Los Almendros Beach
This beach has no public facilities and the parking situation is quite poor. Most people park on PR 429, behind the apartment complex where we stayed.
If you don't want to park there and risk your car getting hit by passing vehicles, you can drive down PR 115 Interior and park next to Sol y Play Condos. However, it's important to note that this beach is not easily accessible and parking options are quite limited.
Final Thoughts about 5 Rincon Beaches you Need to Experience
Rincon has some of the best beaches not only in Puerto Rico but the Caribbean for surfing. Even though we don't surf, we still had a great time exploring the beaches in Rincon. We loved watching the surfers, the ocean views, sunbathing and the amazing sunsets. 
Surfing aside, there are so many fun things to do in Rincon. Be sure to give yourself enough time to enjoy it all.
If you looking to hike in a rainforest then check out our article Amazing Cloud Forest Hike to Mt. Britton Tower.
You might also be interested in…
More Rincón Adventures!
Full-Day West Puerto Rico Tour Leaves from San Juan Metro and visits multiple places including Rincon Lighthouse!
Beginner Surf Private Lesson in Rincon (May – Dec)
Guided Coral Reef Scuba Tour / 1 tank (Certified Divers Only) Meets in Stella!
Beginner Scuba Diving Tour ***NO EXPERIENCE NEEDED***
Guided Coral Reef Snorkeling Tour Meets at Steps beach
FAQ
Where is Rincon Puerto Rico?
Rincon is a town located on the west coast of Puerto Rico. It is situated between the towns of Mayaguez and Aguada, and is nestled between the Caribbean Sea and the Atlantic Ocean.
Can You Swim in Rincon Puerto Rico?
It is advised to exercise caution when considering swimming in Rincon, Puerto Rico, particularly during the winter season. It is recommended that visitors carefully select a suitable beach for swimming. The optimal period for swimming and snorkeling in Rincon is from April through October.
Does Rincon have nice beaches?
Yes, Rincon has beautiful beaches. It is known for its excellent surfing and pristine coastline.
Using our affiliate links (hotels.com, expedia.com, VRBO, Hertz, Chase Sapphire Prefered, Viator, etc.) supports great content on wanderinghartz.com and our Youtube channel.
None of the affiliate links cost you anything or increase the price you pay, and we may earn a small referral commission.
Or if you're feeling generous you can buy us a much appreciated glass of wine (or whiskey)!
Cheers,
Happy Wandering!
Joel and Michelle