Discovering the Hidden Gems of Rincon Lighthouse and Domes Beach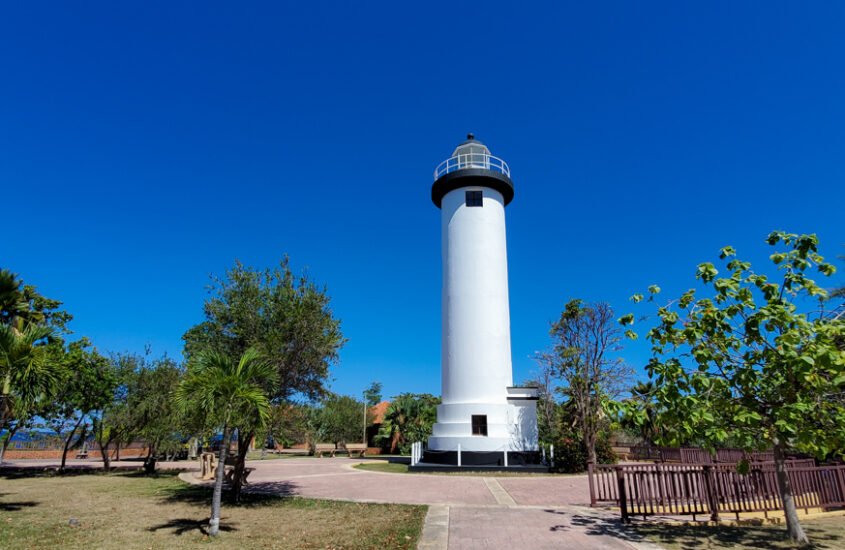 Rincón, Puerto Rico is a popular tourist destination for its breathtaking beaches and picturesque sunsets. Located in northwest Puerto Rico, Rincon offers a unique combination of adventure and leisure. From surfing and fishing to exploring the historic Rincon Lighthouse, there is something for everyone.
With its stunning beaches, rich cultural heritage and abundance of outdoor activities, it's no wonder why Rincon is one of Puerto Rico's most treasured towns.
In this article we will share one of the best things to do in Rincon, a visit to the faro de Rincon!
El Faro Park
El Faro Park, surrounding Rincón Lighthouse in Puerto Rico, is an ideal location for those looking to enjoy a tranquil stroll. With tree-lined pathways, benches for rest and relaxation and a lookout point with views of the Caribbean Sea, the park is a popular destination among locals and visitors alike.
The El Faro park is accessible and accommodating to visitors. It features wide, handicap accessible walkways, and a small restaurant where guests can stop to rest and enjoy the incredible views of the ocean.
The park is also great for whale watching! If you're visiting during winter (Jan-Mar), you might even spot some humpback whales in the Mona Passage. And if it's a clear day, Desecheo Island is visible too.
El Faro park also offers a great spot to watch as surfers brave the waves of Playa Maria and Domes beach.
Rincon Lighthouse (Faro de Punta Higuera)
The Rincon Lighthouse, known locally as El Faro Rincon Puerto Rico, is a must-see for visitors to Rincon. It's one of the most iconic landmarks in the Caribbean island.
Originally built in 1892 by the Spanish government, the lighthouse has been rebuilt after an earthquake in 1922. It has since been reopened to the public.
The lighthouse stands tall at an impressive height of 68 feet. It is one of the oldest lighthouses in Puerto Rico and one of many historical landmarks.
The views from the top of the lighthouse are breathtaking, and it's also an excellent spot for photographing coastal landscapes or spotting passing humpback whales.
Located along the West coast of Puerto Rico, the Rincon Lighthouse is not easily missed!
Sitting atop the Punta Higuero outcrop, this beautiful landmark offers breathtaking views of two of the best surfing beaches in Rincon. Both Domes and Maria's Beaches are two of the region's most renowned surfing destinations. 
Domes Beach Rincon
Domes Beach, located just below the iconic Rincon Lighthouse in Puerto Rico, is a popular spot for surfers during the winter months.
It is one of Rincon's best beaches for catching good waves in the winter. The beach was named for the white dome of the "BONUS" decommissioned nuclear reactor. The white dome is visible from the lighthouse area.
The beach is known for its big waves and perfect conditions for surfing.
We ended up spending one afternoon in March watching the surfers trying to catch the perfect wave. If you're a surfer or want to spend time at Domes Beach there is a path from the lighthouse down to the beach.
When winter comes around, the water can get pretty choppy, so it's best to keep the kiddos in the shallows if you're planning to take a dip.
Sunset Views – Lighthouse Bar Rincon
Visiting the Rincon Lighthouse in Puerto Rico is an unforgettable experience. One of the best parts about it is the stunning sunsets you can watch from the Ola Sunset Cafe.
Ola Sunset cafe offers a variety of delicious empanadas and drinks to enjoy while taking in the view. The cafe also has tables and chairs on the lookout deck, allowing visitors to get the perfect spot to take in the sunset or Domes beach below.
The food was delightful and the drinks were good, making it a great way to end a day of exploring this historic lighthouse.
How to Get to the Rincon Lighthouse and Domes Beach
Visitors can access the El Faro Park and Rincon Lighthouse by traveling along Highway 413. The drive to the park and lighthouse from the Rincon town center should take no more than 5 minutes.
For those staying in the nearby area of Stella like we did, expect the journey taking only about fifteen minutes. 
Parking at El Faro Park and the Rincon Lighthouse
There's a large free parking lot and overflow parking located in a field across the street. We've heard it gets quite busy on the weekends so your best bet is to go during the week or on a weeknight.
Visitors to Domes Beach in Puerto Rico can take advantage of the same parking lots available for the Rincon Lighthouse Park. However, if you are travelling in a 4WD vehicle, you can also brave the sand roads leading to the beach and park in a few spots there instead.
The Perfect Outing in Rincon
Rincon, Puerto Rico is a beautiful destination for anyone looking for a unique and memorable outing. A visit the the iconic Puerto Rico historical landmark, the Rincon Lighthouse, and Domes beach are a must do in Rincon.
We loved spending our afternoon at the Rincon Lighthouse and went back twice during our stay.
It's a great place to just hang out with friends and family and soak up the lovely Caribbean weather.
There's plenty of room for kids to run around in the park or splash in the water at Domes Beach. Parents can partake in a cocktail and lounge in the sun.
The vibe is super chill and makes for a perfect day out in Rincon, Puerto Rico.
Be sure to grab a tasty bite to eat at the Ola Sunset Cafe! Finish the day watching the sunset with a local Medalla beer.
With plenty of outdoor activities nearby, such as surfing and kayaking, it's easy to make a day trip out of visiting Rincon Lighthouse and exploring all that Rincon has to offer.
These are just SOME of the landmarks that you should see when visiting Rincon. There are many more to be discovered!
More Rincón Adventures!
Full-Day West Puerto Rico Tour Leaves from San Juan Metro and visits multiple places including Rincon Lighthouse!
Beginner Surf Private Lesson in Rincon (May – Dec)
Guided Coral Reef Scuba Tour / 1 tank (Certified Divers Only) Meets in Stella!
Beginner Scuba Diving Tour ***NO EXPERIENCE NEEDED***
Guided Coral Reef Snorkeling Tour Meets at Steps beach
Stays in Rincon Puerto Rico
Using our affiliate links (hotels.com, expedia.com, VRBO, Hertz, Chase Sapphire Prefered, Viator, etc.) supports great content on wanderinghartz.com and our Youtube channel.
None of the affiliate links cost you anything or increase the price you pay, and we may earn a small referral commission.
Or if you're feeling generous you can buy us a much appreciated glass of wine (or whiskey)!
Cheers,
Happy Wandering!
Joel and Michelle