Puerto Rico by Road: Unforgettable Drive from Fajardo to Rincón
Come along on our journey as we drive from Fajardo, Puerto Rico to the beautiful west coast town of Rincón. Whether you're a local or a tourist, the drive from Fajardo to Rincón is a must-do. Along the way, you'll be able to take in stunning views of the coast from the highway. We stopped at Playa La Poza del Obispo in Arecibo and experienced high winds and massive waves! Join us for a fun road trip to one of Puerto Rico's best surf towns, Rincon.
How Far is Rincón from Fajardo?
The drive time from Fajardo to Rincón takes approximately 3-4 hours, depending on traffic and whether you take toll roads. If you choose to drive the scenic north route through San Juan and Arecibo, the driving distance is approximately 124 miles. So make sure you plan your route in advance and allow plenty of time to get to your destination!
How do you get to Rincón Puerto Rico?
There are a couple different ways to get to Rincón Puerto Rico depending on what part of the island you're starting on.
For most visitors to Puerto Rico the most common way to get to Rincón is to rent a car and drive from San Juan. The driving distance from San Juan to Rincon is around 94 miles.
The fastest route to get to Rincón from San Juan will require a toll pass to take Route 22 from San Juan to Arecibo. Then, hop on Route 2 and switch over to Route 115 in Aguadilla and that'll take you straight to Rincon.
If you're looking for an unforgettable experience, check out Puerto Rico's PR-413. It is a small spur road off the 115. You'll take in some of Rincón's best beaches – Playa Maria and Steps Beach – and be treated to some incredible views of the Mona passage.
Since we needed to renew our car rental in Aguadilla, we chose to take the north route to Rincón from San Juan. We followed the more scenic route 2 along the northern coast leaving San Juan. It is a great option if you do not have the convenience of a toll pass.
As you traverse the picturesque Puerto Rican countryside and Northern coastline, you are sure to be mesmerized by the breathtaking sights. With various stops along the way, you will be able to soak in all that nature has to offer and truly appreciate the beauty of this region.
Can you drive from one side of Puerto Rico to the other?
You can drive from one side of Puerto Rico to the other side via a network of roads and toll roads. It can take up to 4-5 hours to drive from one side of Puerto Rico to the other. There are several factors, including traffic and whether you utilize the toll roads or not, that will affect your drive time.
Read our in depth guide about driving in Puerto Rico here: Puerto Rico Travel Guide 2023 – How to Get Around In Paradise.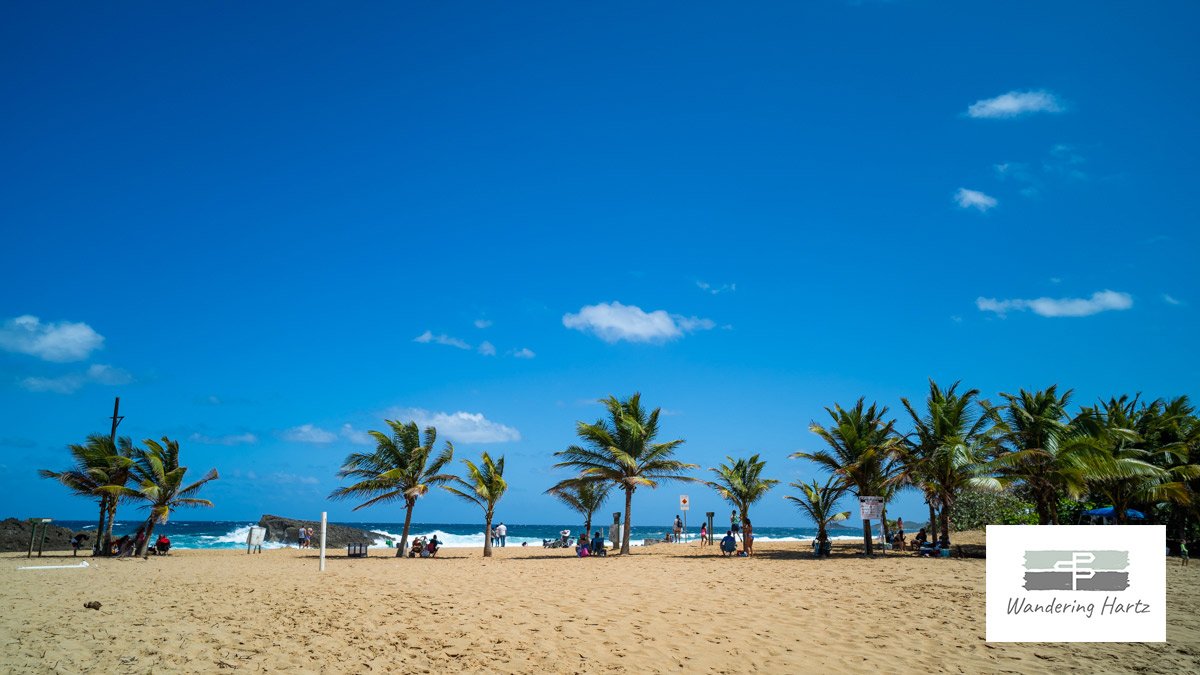 Playa La Poza del Obispo in Arecibo, Puerto Rico
There are plenty of beautiful places to stop along the way to Rincón from San Juan. Since we were ahead of schedule we made our way to one of Puerto Rico's amazing beaches, Playa La Poza del Obispo in Arecibo! This stunning beach is the perfect spot for a day of swimming, sunbathing, and relaxation.
Located on the northern coast of Puerto Rico, Playa La Poza del Obispo is a small beach that offers plenty of tranquility and beauty. The beach itself is a long stretch of sand, dotted with palm trees and surrounded by lush vegetation. The crystal-clear waters are perfect for swimming, and the waves in the lagoon are gentle enough for children to enjoy.
Playa La Poza del Obispo is the perfect spot to relax. You can take a leisurely stroll along the beach, find shade under a palm tree or find a spot to lay out and enjoy the sunshine. The beach is also great for snorkeling, kayaking, and fishing.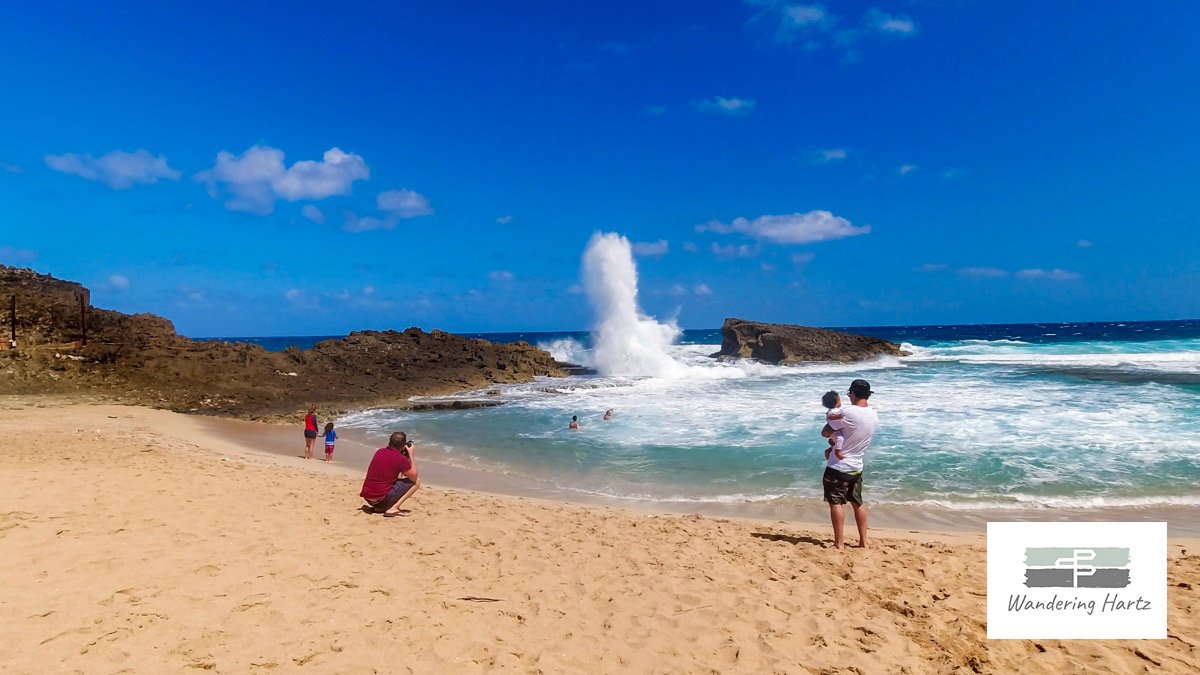 During our Visit Playa La Poza del Obispo it was Windy and Dramatic
On the day we arrived at Playa La Poza del Obispo a storm had rolled through the night before. We had been dealing with gusty winds on our drive to Rincón. As we pulled into the parking lot for Playa La Poza del Obispo we could already see the massive waves breaking on the reef surrounding the lagoon. It was pretty impressive!
On a non windy day Playa La Poza del Obispo is usually calm and perfect for swimming. The rock formations create a protected barrier for the pool/lagoon. For calm water conditions the best time to visit is May through late summer. Just exercise caution on rougher days. A rogue wave can come and sweep you out to the ocean so be aware of your surroundings.
Arecibo Lighthouse and Historical Park
If you're looking for a great family-friendly place to visit in Puerto Rico, the Arecibo Lighthouse and Historical Park is a must-see. Located right next to the beautiful Playa La Poza del Obispo, the park offers a variety of activities for kids of all ages.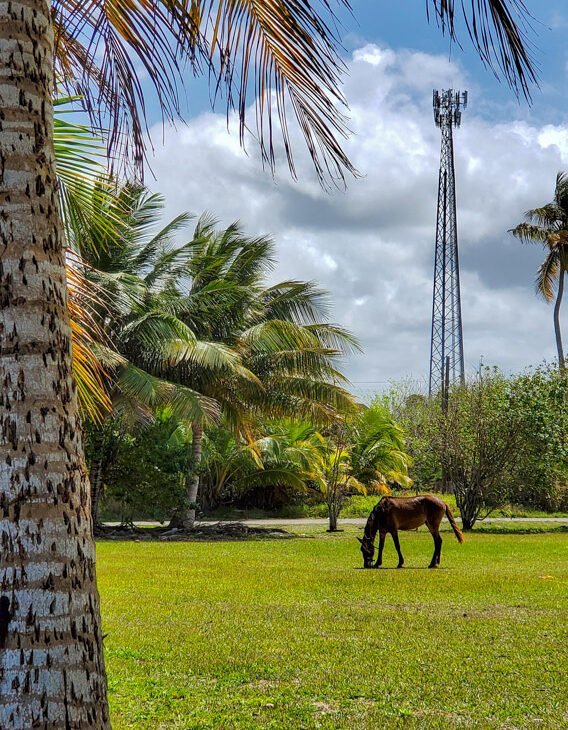 The entrance fee is $12 for adults, $10 for children and a $3 parking fee. Inside the park, visitors will find a small aquarium, a splash pad, and some pirate themed ships to explore. Kids will love the pirate ships, and parents will appreciate the educational aspect of the aquarium. You can easily make the park and beach a full day adventure so plan accordingly.
Want to earn up to 60,000 bonus points for travel? We use our Chase Sapphire Preferred card to earn points for all of our travels and you can to. Sign up and you will get 60,000 bonus points after spending $4,000 in the first three months your account is open.
Hernández Marín International Airport (BQN)
The Hernández Marín International Airport (BQN) is the gateway to some of the best beaches in Puerto Rico. Several airlines offer flights to the Rafael Hernández Marín International Airport, including Jetblue, Spirit, United Airline, and Frontier. This makes it a great option for travelers who want to stay on the west side of the island, like Rincón or Cabo Rojo.
Not only does the Hernández Marín International Airport offer a number of flights, but it also boasts a number of car rental companies such as National, Alamo, Sixt, Ace, and Charlie Car Rental. This means that you can easily rent a car and explore the area at your own pace.
With windswept salty hair we headed back to our car and drove to the Hernández Marín International Airport in Aguadilla to swap our rental car.
On this trip we rented from Sixt car rentals and made the stop to process the paperwork to rent our car for the next 28 days. Despite a power outage in the area due to the storm the day before, renting our car was a much quicker process than our experience in San Juan.
Power fluctuations are quite common in Puerto Rico so be prepared. Luckily Sixt was able to get our rental sorted out the old fashioned way, with pen and paper, and get us back on our way to Rincon.
Rincón, Puerto Rico
Leaving the Aguadilla airport for Rincón, we drove along Route 2. Coming in from just below Rincón, we drove through Añasco before reaching our destination in Stella. We passed by Mirador de Añasco on route 115. This is a brightly colored scenic lookout tower with sweeping views of the sea. A great place to get a selfie and stop for a snack or enjoy the views with a cold Medalla beer in hand..
We drove the final stretch of our journey from Añasco to Rincón on narrow and winding Route 429 until we arrived at our apartment complex, Macor By the Sea.
Along the way, we encountered a brush fire along the side of the road, which was nothing like the Northeast corner of Puerto Rico where we had spent the last month. It was far drier down here, and it was easy to see why these brush fires were so common.
Where do you stop on the way to Rincón?
When you're planning a road trip to Rincón, there are plenty of places to stop along the way. Depending on your route, you could take a detour to some of the area's most popular attractions.
Isabella, a beach town known for snorkeling at Shacks Beach. There is also a giant stone sculpture Monument to Cacique Mabodamaca made to honor Taíno chief Mabodamaca.
Dorado, Just 35 minutes from San Juan where you can play golf, stay in luxury resorts and shop.
Crash Boat Beach in Aguadilla, a sandy beach with clear water and diving dock.
Arecibo Observatory, the science and visitor center is open. Tickets are $13.80
So, if you're looking for a road trip that is sure to be an unforgettable experience, look no further than the drive from Fajardo to Rincón. We really enjoyed our drive across the island and it's a great way to see some beautiful scenery. So start planning your trip today and get ready for an unforgettable journey!
Using our affiliate links (hotels.com, expedia.com, VRBO, Hertz, Chase Sapphire Prefered, Viator, etc.) supports great content on wanderinghartz.com and our Youtube channel.
None of the affiliate links cost you anything or increase the price you pay, and we may earn a small referral commission.
Or if you're feeling generous you can buy us a much appreciated glass of wine (or whiskey)!
Cheers,
Happy Wandering!
Joel and Michelle