Our Amazing Beach Front Stay in Rincon Puerto Rico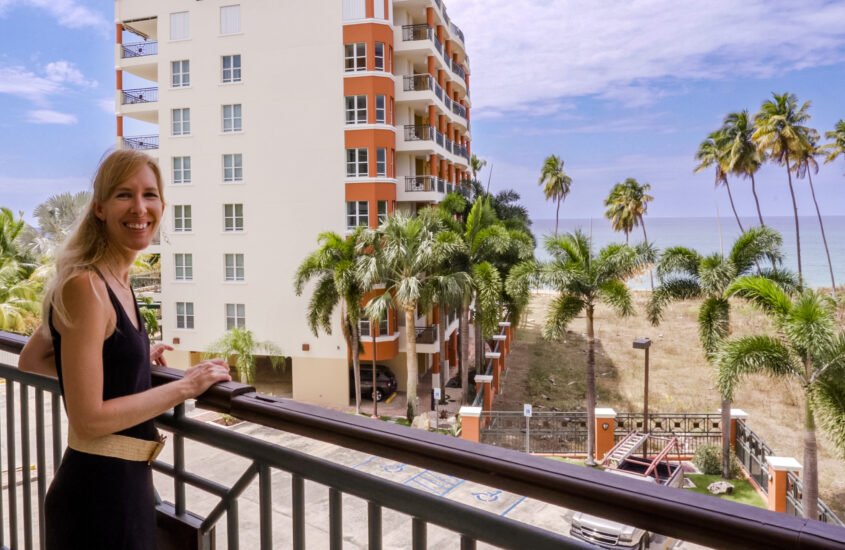 Welcome to the beautiful Rincon Puerto Rico, the chill and relaxed surf town situated on the west side of the island. Our stay in Rincon was truly an amazing beachfront experience, and we were absolutely mesmerized.
We experienced stunning sunsets from our balcony and a peaceful beach with beautiful blue water just a two minute walk from our door. Read on to learn more about our amazing stay and the breathtaking beauty and relaxation that only Rincon can provide.
Beach Front Condo at Macor By The Sea in Rincon
When searching for the perfect play to stay for our month in Rincon, we wanted to find a quite, peaceful place with views of the the sea. We read some reviews that it can get loud in Rincon with people partying and blasting music on the weekends. Our search lead us to the perfect stay a little bit out of town, just south of Rincon in Stella.
It's only a 5-10 minute drive into Rincon depending on how bad the traffic is. The roads can get backed up a bit as you make your way into the town center and to many of Rincons beaches.
Inside our condo
The condo at Macor By the Sea was nice, bright and homey with 2 bedrooms and 2 bathrooms, a luxury stay for us. The absolute best part about our condo was the view. From the balcony of our room, we were able to take in the breathtaking views of the beach and the ocean. The sunsets were simply stunning, and the sound of the waves crashing against the shore was incredibly peaceful.
Our apartment had two 55" 4k TV's. One in the living room and another in the master bedroom. The kitchen was full stocked with all of the appliances we needed and a full sized refrigerator. We had a stacked washer and dryer and even a nice breakfast nook. As digital nomad travel bloggers (say that three times fast) we were very pleased with the very speedy internet! Perfectly suited for us or anyone who may work remotely or even going to Puerto Rico on a workcation!
Property Grounds and Amenities
Our unit also had a parking spot big enough for two vehicles and a decent sized elevator making it easy to get to our apartment with our luggage. Despite a lack of air conditioning, our condo was equipped with effective ceiling fans and plenty of windows for good airflow. We never had any issues with it being too hot during our stay in March. We run a bit cool and thrive in the warm tropic heat with a nice ocean breeze.
The property boasts a huge deck with tables and chairs that leads out to the beach. There is even a play area for children complete with oceanfront views. A small gym and community room sit next to the pool and deck area. One of the best parts was the large outdoor grilling station and kitchen area where we cooked a lot of our meals. Dining outside on the deck every night was a dream come true, and the sound of the waves was our soundtrack!
Macor by the Sea also has a lovely pool and hot tub, perfect for a quick dip if we didn't want to go into the ocean. It was also perfect for just chilling in the pool and enjoying the lovely view of the Mona Passage or the sunset.
Property is Equipped with a Backup Generator
Additionally the property has a backup generator for when the power goes off line. This happened several times during our stay in Puerto Rico. The island is not known for having the most consistent power grid. We encountered a bit of an issue with the generator being so close to our building; in order to reduce the sound levels and eliminate the diesel fumes that would waft in, we had to close some of the windows on that side of our apartment.
Power to the property was usually restored within a hour so it was only a minor inconvenience. We would use that as an opportunity to head to the beach or pool for an impromptu break.
Almendros Beach Rincon
The condo complex is located on Almendros Beach, a beautiful small stretch of sand that almost seemed like our own private beach at times. We would go for walks in the morning and in the evening and have it mostly to ourselves. The only time it was busy during our month-long stay was on the weekends.
The water, as in most of the Caribbean, was warm and inviting. We stayed in Rincon the month of March and the waves at Almendros beach were still a bit rough at times. Rincon is great for surfing but not the best place for swimming during the winter months in Puerto Rico.
Bote de Millán Playa Los Almendros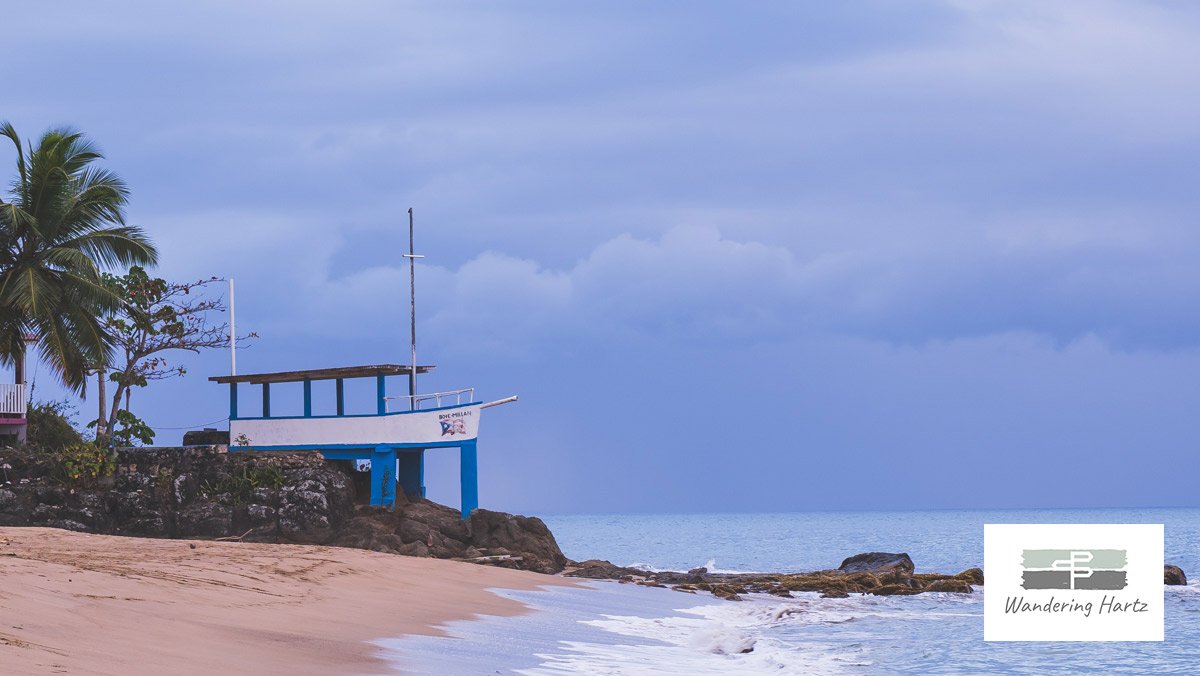 A fun tourist attraction on Almendros Beach is a concrete boat structure, Bote de Millán. The path up to the boat is on private property so do be respectful. It's a great little lookout point to try to spot some wildlife or the humpback whales that migrate through the Mona Passage in the winter months. Bote de Millán also makes for a great photo opportunity!
Other Stays in Rincon
If you're looking for a unique place to stay during your travels to Rincon, you'll have plenty of options to choose from. During the winter months, the town is bustling with surfers from all around the world, so there's a wide variety of accommodations to fit all types of travelers. From luxurious resorts to cozy surf shacks, there's something for everyone at any budget.
Whether you're looking for a quiet place to relax or an epic beachfront party, Rincon has you covered. There's no better place to explore the Puerto Rican coastline than at Rincon!
Book Your Stay in Rincon:
Rincon Wrap Up
We had a wonderful time staying at the Macor By the Sea in Rincon. It was a great location for us to work remotely, with its proximity to the beach, the nearby town of Rincon, and the amazing sunsets. We had a wonderful time exploring the area and taking in the beauty of the Caribbean Sea. We strongly recommend this condo for anyone looking for a great Caribbean vacation spot or to work remotely from in Puerto Rico.
Using our affiliate links (hotels.com, expedia.com, VRBO, Hertz, Chase Sapphire Prefered, Viator, etc.) supports great content on wanderinghartz.com and our Youtube channel.
None of the affiliate links cost you anything or increase the price you pay, and we may earn a small referral commission.
Or if you're feeling generous you can buy us a much appreciated glass of wine (or whiskey)!
Cheers,
Happy Wandering!
Joel and Michelle